Nooky Box Signature Series: Curated Adult Boxes | Manifest your fantasies with curated toy collections. Our Signature Series has a box for everyone!
Our Launch Story

When The Nooky Box had its concept launch in 2015, we introduced our original subscription service with our first crowdfunding campaign that raised over $10,000. We had a vision of curating sexual experiences for every body – and it's still our mission's core today.
We believe in making pleasure accessible and fun for all genders, sexual orientations and relationship structures. Sex toys are fun and healthy, and we think that's what sex should be too.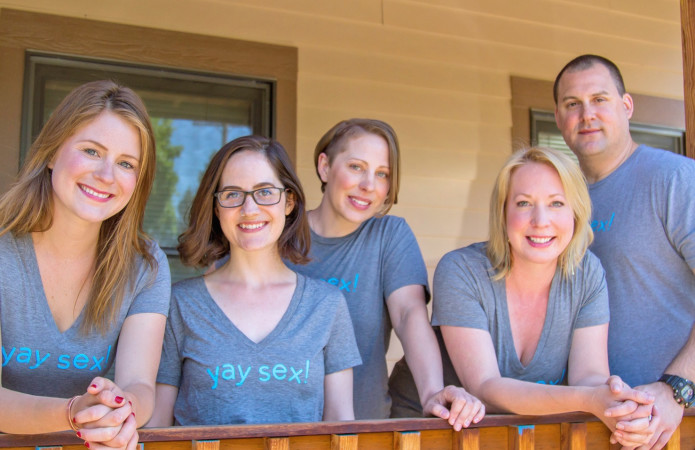 Our backers agreed then, and we think you still do now!
Sifting through the endless options of available toys can be time-consuming, expensive and oftentimes leads to disappointment and frustration. The sex toy market is saturated with inferior products and suppliers who prioritize their profits over your body's health and safety. The prospect of navigating this online maze can be daunting.
Boxes That Come Again & Again…

Don't worry, we got you!
For The Nooky Box team of professional pleasure-hunters, sourcing the best products is our full-time occupation – and we love our jobs. Our sexual health experts and guest curators consistently find the most unique, well-designed toys and reliable products available. Then we bring them to you in one discreetly delivered package every three months!
Our quarterly boxes give you enough time to experiment with each collection before the next one arrives, but that doesn't mean you won't be counting the days till you see your next package in the post.
Signature Series: Coming Evolution

It's been almost two years since our first crowdfunding campaign, where our community of backers helped launch The Nooky Box with 71% of our overall funding goal. Many of our original backers are now satisfied customers. Their feedback and overwhelming support has been critical to the foundation and growth of our company.
"Well, it's safe to say I have a new favorite Adult Subscription Box. I certainly wasn't expecting to love this box as much as I do. My very first The Nooky Box was a total success."
–Sarah Zimmerman | A Year Of Box
Thank you. Seriously, you're the reason we're here.
Since then, we've evolved our vision of what The Nooky Box can provide and how we can better participate in the cultural conversations around sexual health and pleasure. We're expanding to include a one-stop online marketplace for reliably amazing adult toys from Nooky-approved manufacturers.
The Nooky Subscription Box isn't going anywhere; we're passionate about continually introducing our customers to new toys and products that expand their sexual palette and experiences. That being said, there's nothing wrong with knowing exactly what you want!
If you've got a particular itch you're dying to scratch, the Signature Box lineup is here to serve those desires directly.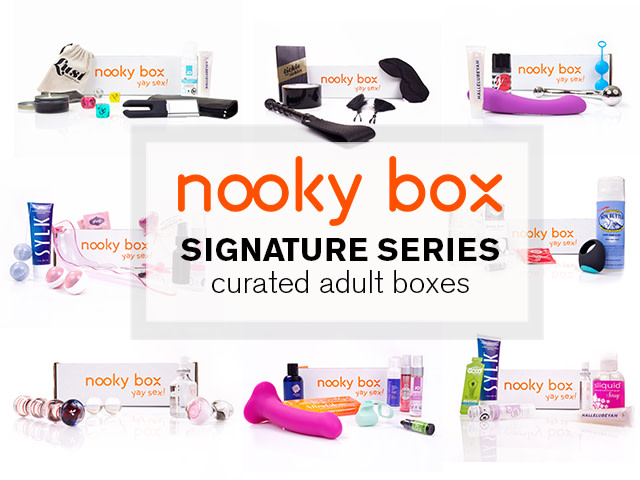 You spoke. We listened.
The Nooky Signature Boxes are here to fill the gap between your fantasies and the bedroom. While our customers love the subscription box, we realize that it's not the perfect solution for everyone's sex life; so we developed a line of stand-alone boxes, each curated with a unique spectrum of experiences in mind.
Our Signature line will be consistently available in our online store, so that our customers can choose to purchase one (or more) at a time. Each focuses on a different theme worthy of your attention and exploration; and can be selected based on your particular interests and intentions. We're launching with 8 boxes but have even more in mind!
Help our campaign reach our stretch goals to find out what else is coming to the Signature Line!
The Nooky Signature Series

NEW! BJ Box
Here's everything you need to help your next oral experience ascend to otherworldly levels of pleasure. Check out the new curated signature BJ Box.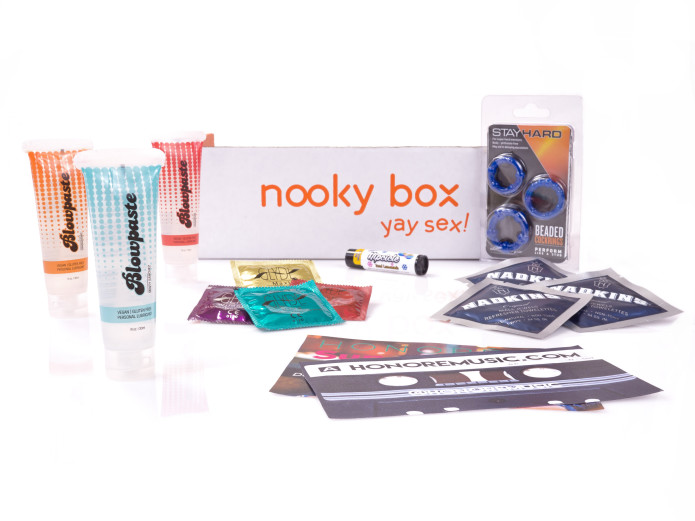 INCLUDES:
Blowpaste – Minty Sanchez – 1 oz.
Blowpaste – Orangasmic – 1 oz.
Blowpaste – Cinnamoan – 1 oz.
Nadkins Male Jewel Refresher Towelettes – 3 pack
Stay Hard Cock Ring – 3 pack
Glyde Condoms Mixed Set
FREE downloadable sexy song by Honore
How to be a Blow Pro (artwork by Jack Sexto)

Anal Box
Come harder. This Signature Box contains all the keys needed to unlock your backdoor pleasures. Aiming to make prostate play fun and accessible for all sexual orientations, this box includes a variety of products that will please both beginners and experienced anal players. The double-feature of complementary toys give you two very different (but equally mind-blowing) designs so that you can explore your inner workings.​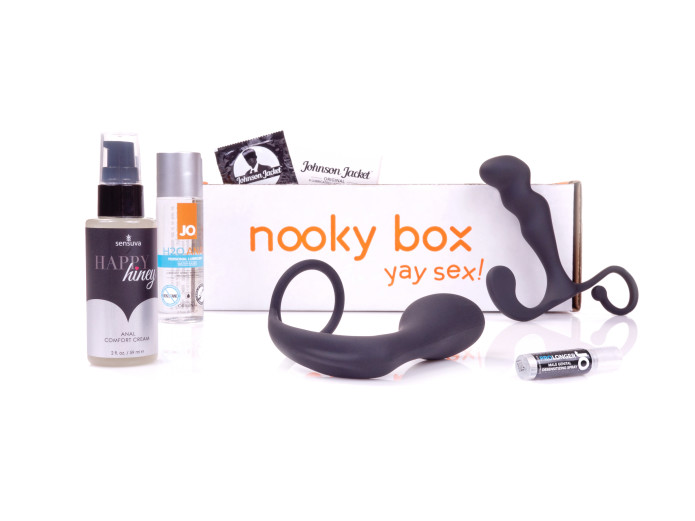 INCLUDES:
Classic Prostate Stimulator by Pipedream
Ass-gasm Cockring Plug by Pipedream
Sensuva Happy Hiney
SystemJo H2O Anal Lube
SystemJo Prolong Spray
Johnson Jacket Condoms

Betty Box
Curated by vaginas for vaginas. This Signature Box has everything needed to bring a smile to your divine feminine lips. Arousal oils are just teasers to the powerful vibe and harness-ready dildo inside. We know aftercare is key to keeping your body happy and healthy, and this box has an arsenal of products to help keep your body in balance.
​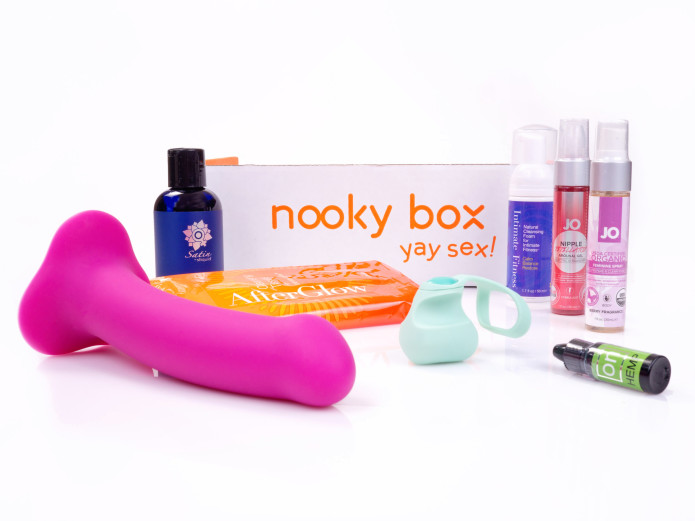 INCLUDES:
Magnum Fun Factory Dildo
The Fin Finger Vibe
SystemJo Organic Feminine Spray 
SystemJo Nipple Titillator Arousal Gel
Sensuva Hemp Arousal Oil
​Sliquid Satin Lube
SHE Intimate Fitness Natural Cleansing Foam
AfterGlow Wipes

Bro Box
Hey, bro! This Signature Box is made for the single guys out there. The Nooky Box is hooking you up with everything you need for your next hookup. Travel sized lube, condoms and a vibrating cock ring; you'll be prepared with everything you could need for any sexcapades on the horizon. We've also included the Fleshlight Quick-Shot masturbation sleeve so you're covered on those nights spent solo.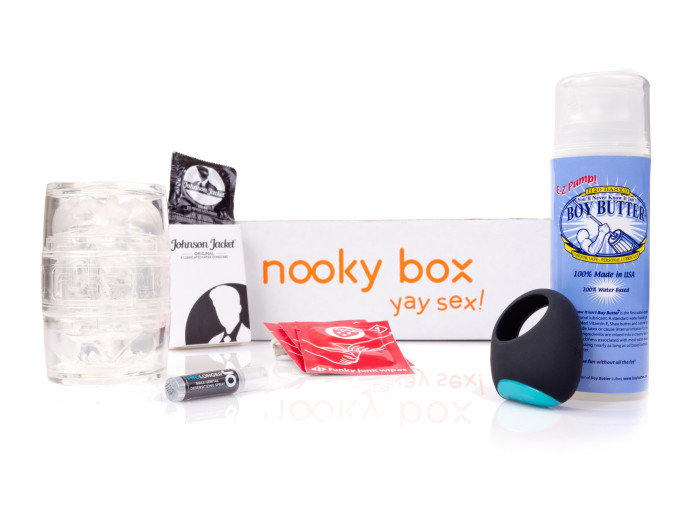 INCLUDES:
Fleshlight Quickshot Vantage
PicoBong Lifeguard Ring Vibe
SystemJo Prolong Spray
Johnson Jacket Condoms
Boy Butter Lube
Funky Junk Wipes

G-Spot Box
Go deeper. The G-spot was part of the 20th century female sexuality puzzle, and while most of the speculation around its location and validity has been put to bed, there's still much to explore! Just to be clear, the G-spot definitely exists. This Signature Box is full of items intended to arouse your whole body, as well as some of the most popular toys on the market (like the magical Njoy Wand) that hit the spot just right.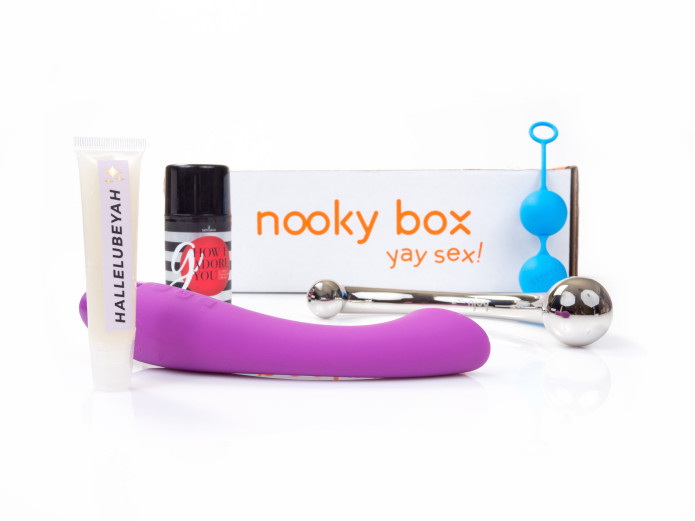 INCLUDES:
Njoy Pure Wand
PicoBong Moka G Vibrator
BFit BSwish Ben Wa Balls
Lovability Hallelubeyah Lube
Sensuva G-Spot Arousal Cream

Kink Box
Ready to go further? Pick a safeword and lean into the edges of your fantasies; it's time to explore the kinky world of BDSM. This box offers a critical array of introductory tools to the trade. Bondage, impact and sensory play are vast worlds ready for exploration; can you handle it?​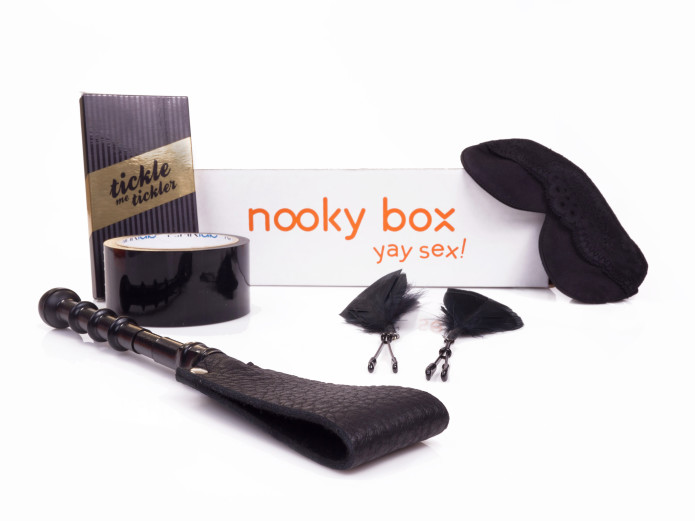 INCLUDES:
KinkShop Short Leather Paddle
Bijoux Feather Nipple Clamps
KinkLab Bondage Tape
Bijoux Feather Tickler
Desirables Lace Blindfold

Travel Box
Wanderlust? This is the Signature Box to help infuse your travels with luxury eroticism throughout your entire vacation. Silent vibrators, luggage-safe massage oils and an assortment of travel-sized pleasures await you!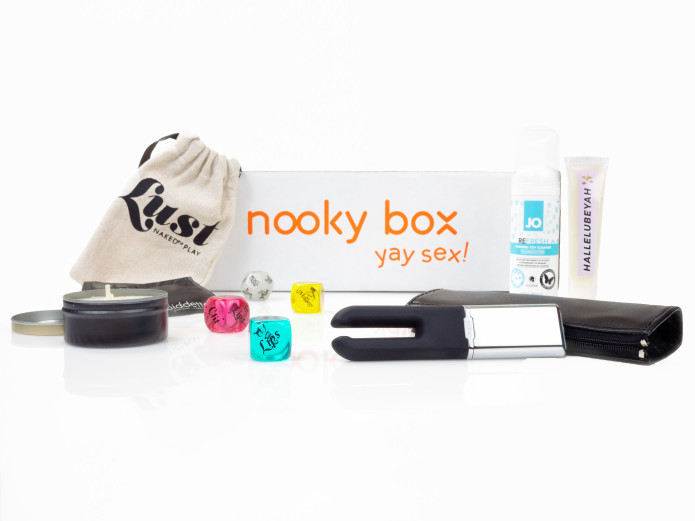 INCLUDES:
Duet Vibrator by Crave
Bijoux Massage Candle
Naked Play Dice by Lust
System Jo ReFresh Foaming Toy Cleaner
Lovability Hallelubeyah Lube
Vespa Denim Toy Bag
Biddette Before & After Wipes

Glass Box
These toys are a true melding of sex and art. This Signature Box has more than one masterpiece inside, and everything else you might need to explore the intoxicating chill of hard glass pressed in exactly the right places. Durable, sanitary and spell-binding to look at; with proper care, these toys can bring you pleasure for years to come!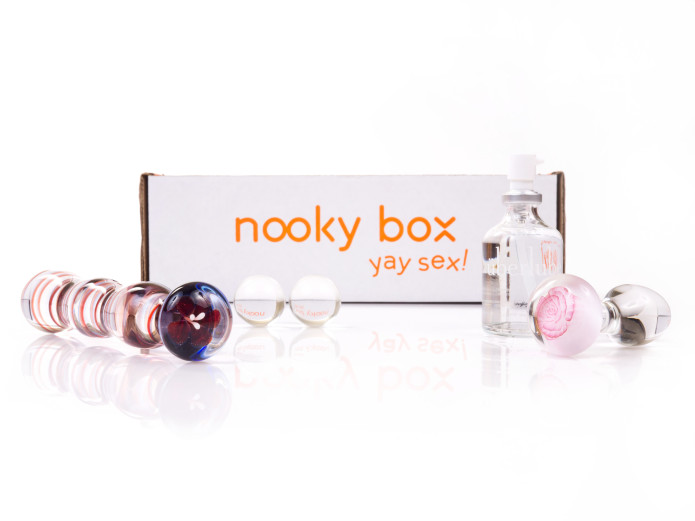 INCLUDES:
Hedonic Glass Dildo
Hedonic Glass Butt Plug
Pipedream Icicles Glass Ben Wa Balls
Uberlube

Menopause Box
We see you, and we're listening. Trust us, you want what's in this Signature Box. Curated with toys and products aimed at the nuances that accompany life's changes, this collection is a mature spin on Nooky-approved classics for female pleasure. Curated by Maureen Pollack creator of the WaterSylde.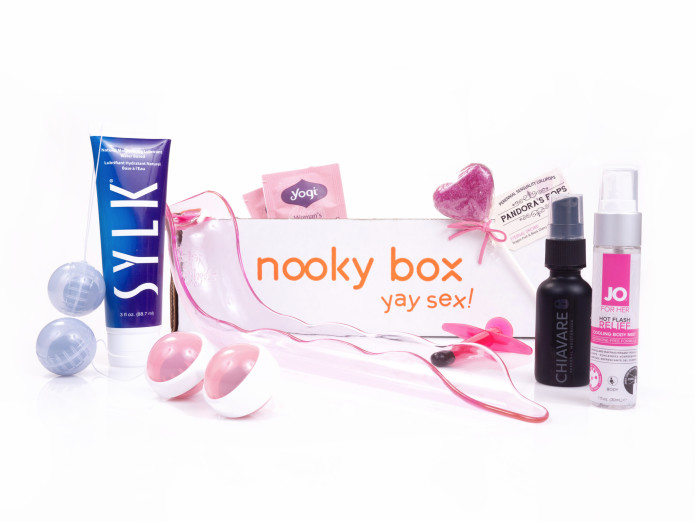 INCLUDES:
WaterSlyde
LELO Luna Beads Classic
SystemJo for Her Cooling Mist
SYLK Lube
Chiavare Lube
Lube Shooter by KinkLab
Pandora's Pop Orchid Eternal
Yogi Woman's Raspberry Leaf Tea
Lube Box
Get wet. At least once in every person's lifetime they need to take a deep and inquisitive journey into the world of sex lubes to learn what works best for their preferred type of play. This Signature Box gives for a broad taste of the spectrum available from some of the most trusted brands. Finding the formula that fits your body's needs can reduce all kinds of friction in the bedroom.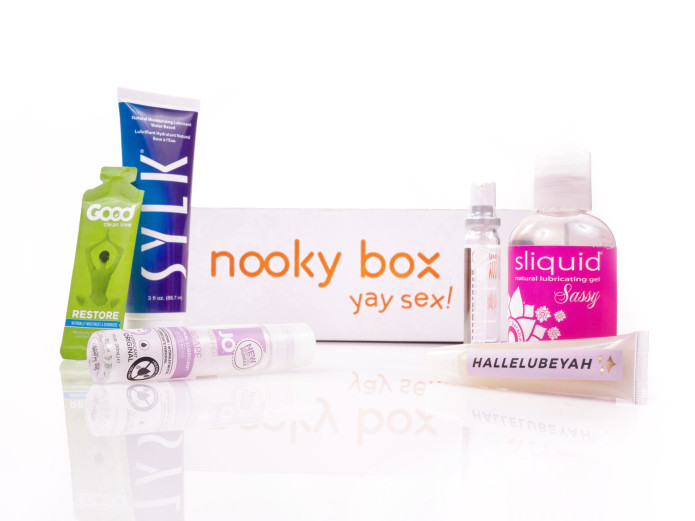 INCLUDES:
SystemJo Agapé
Lovability Hallelubeyah Lube
SYLK Lube
Sliquid Sassy
Uberlube
Ultimate Lube Selection Guide

The Nooky Box Team

We're a team of passionate entrepreneurs, sex advocates and health educators, and enthusiastic sex toy aficionados.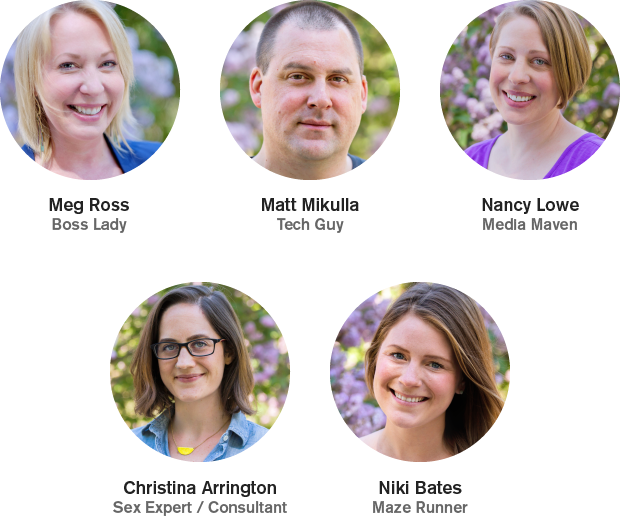 Project Timeline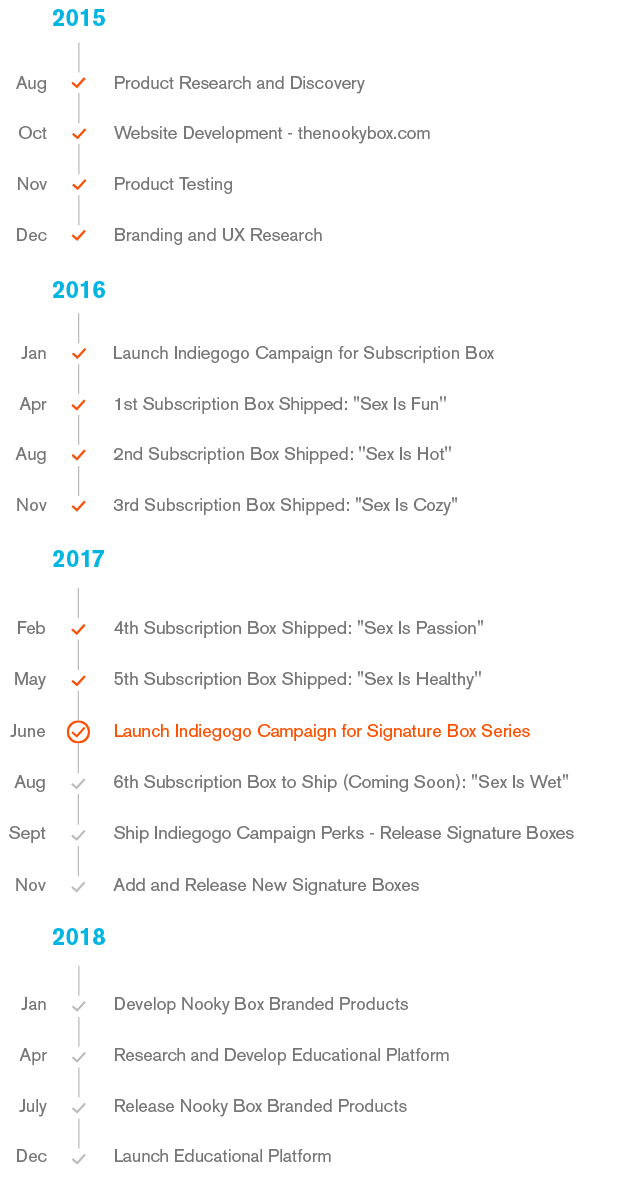 FAQs

How are the Nooky Signature Boxes different from the Nooky Subscription Boxes?
We're launching our Signature line with this campaign, which includes eight curated collections (with more added as stretch goals!) that'll be consistently available for purchase via our website. In contrast, subscriptions ship every three months and the contents are a surprise each quarter.
Will I still receive my perk Signature Box if you don't meet your funding goal?
Yes! We are committed to keeping our promises to our backers. We chose a flexible funding goal, and are confident in our capacity to fulfill all rewards even if the unthinkable happens, and we don't quite meet our goal.
Will my Nooky Box be shipped discreetly?
Of course. The packaging we use is completely discreet so that only you will be aware of the exciting experience that awaits inside each box.
What are the shipping charges and where do you ship?
For pledges under $125, shipping is calculated based on weight and location. All pledges above $125 include FREE shipping.
We ship to the United States and Canada; at this time we do not ship internationally.
Can I back this project anonymously?
Yes, IndieGoGo allows the option to donate money to a project without including your contact information. When you're ready to make your donation, check the box that says "Don't display my name on the campaign page."

I've only used my [sexytimes product] once, can I return it?
So sorry, once it's touched your box (or any other area), it can't go back into its box. We'll ship a replacement for defective products, but otherwise all sales are final.
But what if I haven't opened my product and it's still in the original packaging? Can I return it then?
Nope, all sales really are final. If you can't make that toy your best friend, share the love and give it to your best friend!
How about refunds?
If there is an issue with your order or account, we would be happy to help you resolve the situation which may include a refund in certain scenarios. However, we do not offer refunds once the products have been received.
I'm a little nervous… or new… or… is this going to be too much for me?
Being a bit nervous is totally natural. Everyone comes to The Nooky Box with different levels of experience and comfort. We've curated each box so you can feel confident in the experience as a whole. All of our boxes are appropriate for beginner-level sexploration, but the toys are advanced enough to please even the most seasoned veterans.
Can I buy for someone else?
Absolutely! Signature boxes make excellent (and seductive) gifts.
I'm single; can I still get in on the Nooky action?
We certainly think so! Other folks are fun to play with, but being single doesn't need to be a barrier to pleasure. Many of our collections and featured toys are amazing for solo play as well as with a partner. Here at The Nooky Box we strongly encourage all folks to get curious about their own intimate terrain. Knowledge is power, after all, and you'll be a much more informed guide the next time you do have a playmate.
Do you take requests?
We like to consider ourselves good, giving and game. At the very least, we're always open to suggestions. If you have a great one, we'd love to try and work out the logistics to make it happen. Drop us a line to see what we can do about making your fantasy a reality!
Thank you!

Your support matters; we appreciate every dollar donated, every post shared, and every positive word offered on this project we hold so dear to our hearts. Empowered sexuality is our passion, and we're thrilled you're willing to join us on that mission.