NORD-T -craft tea with Nordic forest goodies! | No additives, no nonsense. With real herbs and berries from northern forests.

We want to make a difference in tea – and do it with a Nordic twist. Our craft teas are a representation of our Finnish heritage. They are plain and straight out natural, as we blend outstanding pure loose leaf teas with forest goodies from the North. Have you ever wondered why tea blends are filled with aromas and additives? We did, and wanted to change that. That is why our blends are crafted using only actual berries and herbs. There are no hidden ingredients or artificially enhanced flavors. When you brew a cup you can be sure it's all natural!
Why we are bringing NORD-T to Indiegogo?
A real tough challenger to the big corporate brands, NORD-T has been growing so quickly that it makes our hearts jump with excitement! The revolution is catching on and NORD-T is now found in more shops, tea houses and homes than ever before. We are taking our products to Indigogo so that we can reach more of you and enabling NORD-T to grow.
Ensure we get enough berries and herbs harvested during our short but oh-so-bright Finnish summer! For that we need more hands on deck and capital to purchase the ingredients from the lovely Finish farmers and producers.
Improve our package to be better, even prettier and easier to use. If we go over the target goal we will also make the first steps towards expanding our production and packing our beloved teas in neat little bags for better convenience on the go or at home.
Level up our production in tiny countryside town of Kihniö, Finland
Expand to more countries in Europe and beyond so you can find us in your favorite store near you soon.
We believe making a change in tea markets from industrial flavored tea blends to real craft teas. So be part of making a difference and get onboard!
What makes NORD-T special?
It's the fact all of our ingredients are grown by the most skillful farmer of them all- Mother Nature.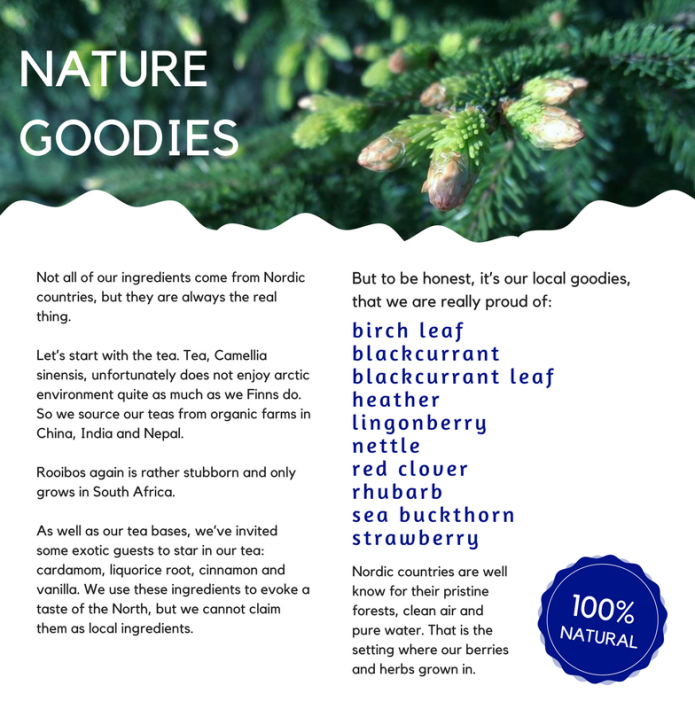 What awesomeness have we prepared for you?
We've bundled up neat packages to choose from as you back us up. Some of the coolest are limited editions, so make sure to get them before no one else does.


Our friendship goes all the way to being little kiddies living in same neighborhood and going to Sunday School together. But we grew up, travelling separately to far-flung countries and drinking many a brew. It was not until a common friend invited us to a breakfast in Helsinki – and Mirka got served a cup of tea not worth paying for – when we started to talk about changing the tea culture in restaurants and cafeterias. We wanted to ignite love for tea in the same places that had well-trained baristas pouring cappuccinos, espressos and creating wonderful foam arts to their customers.
One thing lead to another, and when we dug deeper to tea, we noticed most tea blends offered on the market were filled with industrial flavorings, artificial aromas and additives. We knew we had to do something, so we started making our own blends. NORD-T, Nordic tea, was born from our love to the forests and fields of northern lands. We started to make tea blends where absolu-tea-ly all ingredients come from the most skillful farmer of them all- Mother Nature.
This is what's it all about – the teas
We have now 11 teas to be proud of and with help of you, tea lover, we're setting up the business to blend some more. So let's meet our current darlings!

All of our craft teas are done with real chunks of freeze-dried Finland grown berries. 
Nordic countries are well know for their pristine forests, clean air and pure water. That is the setting where our berries and herbs grown in. So some of them are grown in wild nature, some in small farms.
Our certified organic ingredients: all of our tea leaves are organic
Wild-grown ingredients: birch leaf, heather, lingonberry, nettle
From small farms and suppliers: blackcurrant, strawberry, red clover, rhubarb, sea buckthorn

Share the love!
If you can't financially contribute, we completely understand. You can still be an important part of the campaign! Any help matters, so help us make some noise! Here's exactly what you can do:
share the campaign over social media (Facebook, Twitter, Instagram, whatever works for you!) 
send an email with a link to your friends who you think will love NORD-T
connect us with people you think might be able to help by emailing [email protected]
follow us on social media and sign up for our emails
And that's all there is to it. We are super duper excited to have you with us. Thank you!
We are also sharing more of us in social media:
Instagram
Pinterest
Or read more on our website.
xoxo, 
Mirka and Nina