OhTea: Trans-Fat-Free, Shake-To-Drink Milk Tea! | Empowering you to create healthy & delicious Milktea Anytime, Anywhere.
The Trans-Fat-Free, Shake-To-Drink Milk Tea
Dear Indiegogo backers, our products are already made and ready to ship. Our team is a long time fan for the crowdfunding community and we'd like to give back with honest & discounted offers. Enjoy now!
A ground-breaking 100% fresh, zero trans fat shake-to-drink milk tea.
We provide an experience where you can bring all the best ingredients with you, easily shake into delicious milk tea wherever and whenever you want a sip!
Unlike typical milk tea in the market which uses powders and artificial flavors, we believe that the best milk tea can only be made from high-grade, fresh-brewed tea leaves. Thus, we only collect the competition-grade, first harvest tea from their true origins such as Fujian China, and Sri Lanka. Then, the local farmers use a low-heat baking process to help develop the aroma of the tea and make sure every brew brings the best flavor even to critique standards. After countless experiments and tastings, we are confident that OhTea delivers the best tea flavor that guarantees your satisfaction.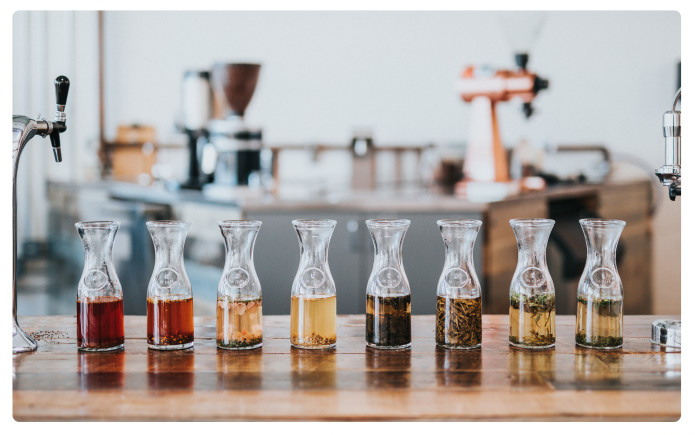 Our packaging withstands high heat from hot water so it serves as both packaging and container. We put ingredients into this uniquely designed bag that seals the fresh flavors. All you need to do is pouring warm or cold water to make everything alive and shake it to blend everything together. We also strongly recommend throwing the milk tea into the refrigerator for 2 hours after you shake it to enjoy the ice-cold version!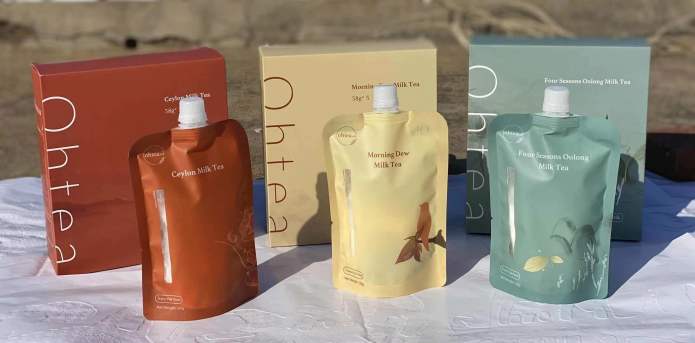 The package can lock the fresh taste for hours long, so there's no more hassle of finishing your milk tea after opening – take a delicious sip whenever, wherever you like and bring it with you all day long!
The freedom to make the milk tea of your own style
You can enjoy our product ice or hot, strong or light, whichever way you like! If you are tired of the preset sweetness level and taste of the RTD drinks, you would definitely love the way Ohtea is designed. If you want a stronger and sweeter taste, you can put hot water into the package, and shake vigorously to let the full taste come out. However, if you are someone who prefers lighter, and less sweet beverages, just use room temperature water to steep, and enjoy when it reaches the sweetness level you desire.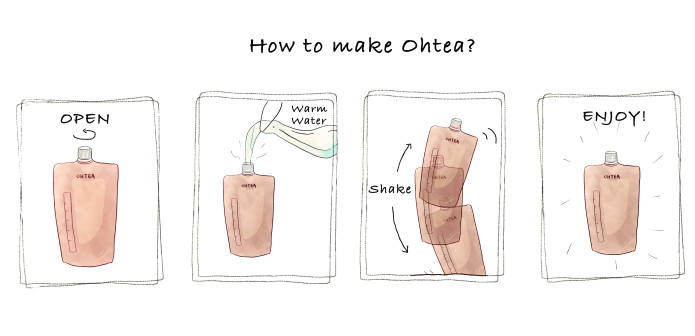 The power of supporting small tea-farmers
At Ohtea, we understand it might be a difficult time for many small business owners. We chose to only partner with small but quality tea-farmers of lesser scale to help them maintain their business growth. We want to carry this mission forward to always support traditional tea-farming techniques and ancient tea-roasting methods. 
Our Products
There are three main parts of ingredients in the product: original tea leaves, New Zealand milk powder, and non-dairy powder. For the non-dairy powder part, it does contain ingredients like regular sugar, soybean oil, and palm oil; however, there is no wheat/gluten in the product, and no trans-fat. We selected a premium source of ingredients to only make sure that the products you get from Ohtea taste totally different from the beverages you had before. As soon as you open the package, you can smell the fresh and pleasant aroma of the tea leaves. After the water is added, the tea leaves slowly mix with the milk powder and develop a sweet, creamy, and well-balanced taste of the milk tea that you cannot resist. 
Every tea type has its own magical taste when mixing with the milk, we select the three signature tea types with distinctive aroma and body, and we want to share their origins and uniqueness with you.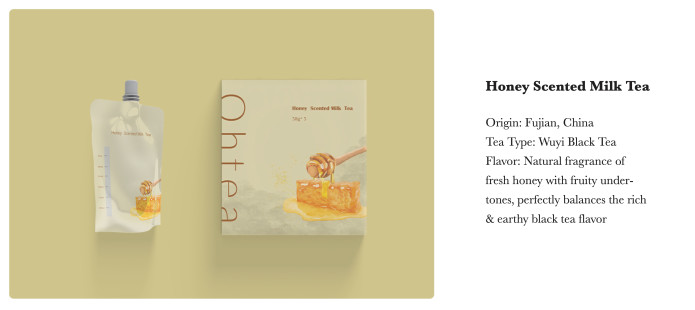 Wuyi black tea is the very first black tea grown in the world originated from the Wuyi Mountain region in China. Wuyi black tea has a signature smoky and fruity flavor and produces a natural honey scent when brewed. The high mineral content of the soil, the humid climate, as well as the narrow valley come together and enable the tea to grow without the risk of scorching or bitterness, but contain rich minerals, vitamins, and antioxidants. The thin, twisted leaves produce a sweet fragrance before steeping; once brewed, the tea offers up aromas of smoky caramel and earthy, rich wheat flavors with a hint of sweetness.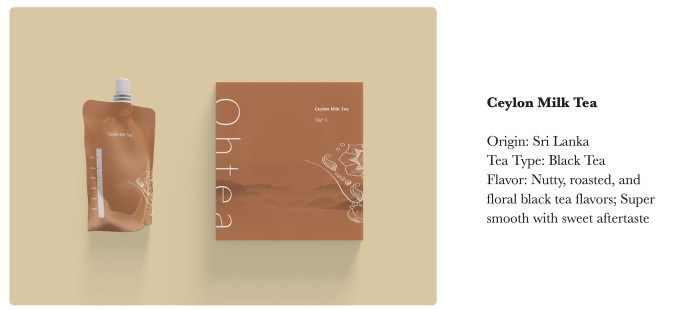 Ceylon black tea refers to the geographical region, Sri Lanka (previously known as Ceylon) is the most famous black tea around the globe. The high-grown black tea offers a bold, full, and brisk palette. It has medium-to-full tannins and some notes of citrus, chocolate, or spice. Ceylon is among the best teas which have a distinct flavor, aroma, and strength with a burgundy brown body.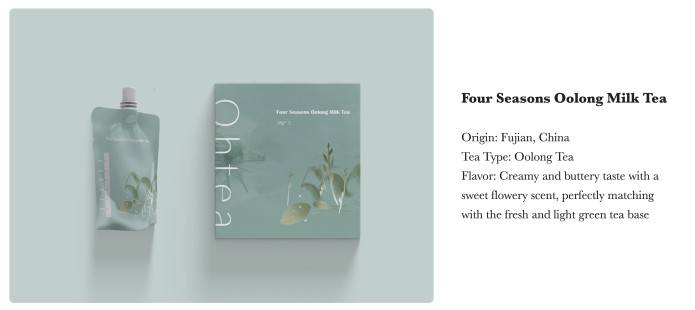 Four Seasons Oolong tea is a high-mountain tea that has been hand-picked and hand-processed by traditional methods. For typical tea types, only the first harvest of the year produces the best tea flavor. However, Four Seasons Oolong remains the same quality all year round. The tea body is extremely smooth and light. When brewed, it has a delightful floral and sweet taste with a stronger creamy finish.
Why We Did It
It's simply not possible to have a great tea shop right next to you. Every time when we want fresh milk tea, we have to go through a long and painful line. How about those on the grocery shelf? Sadly, the convenient beverages are artificially flavored, and … freshly brewed tea is always the best. Oh, you can definitely order delivery, but what about the associated cost… does it make you hesitate every time you place an order?
What if there is a new way of making fresh and delicious milk tea so that we can enjoy it whenever and wherever without compromising its taste? Boom, we have created the perfect solution: OhTea, and it changes everything.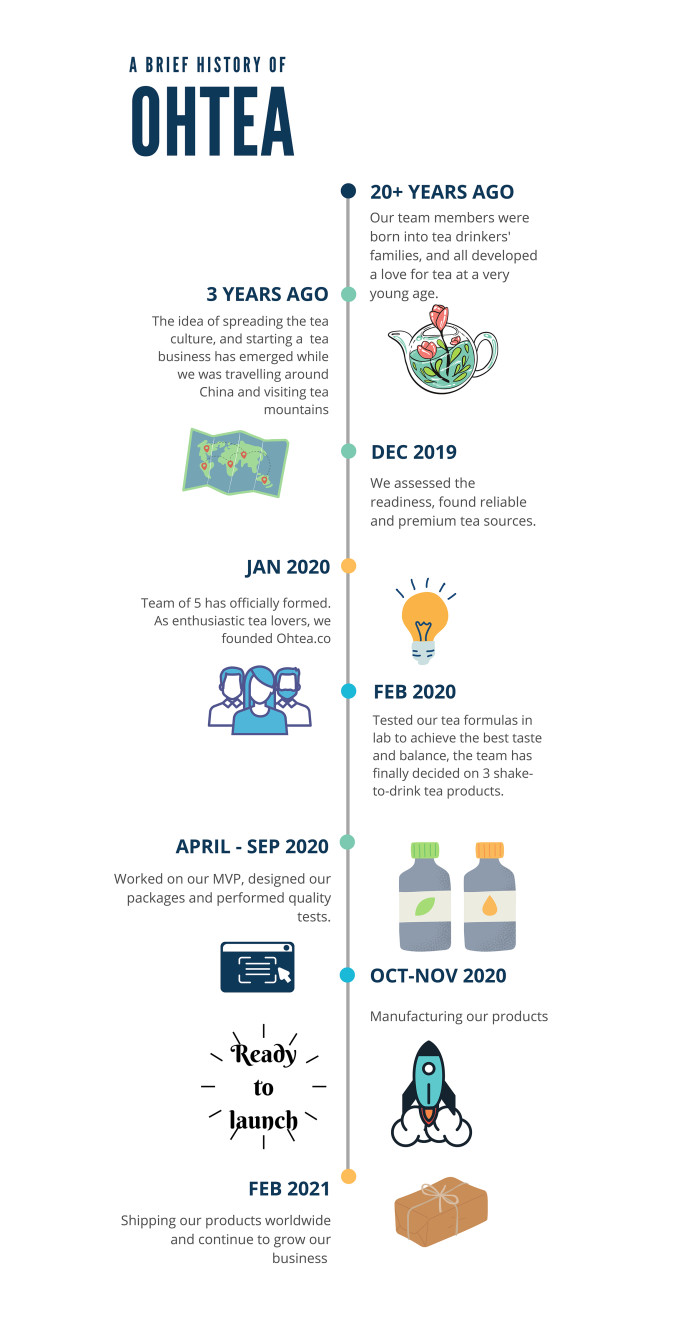 In the journey of crafting our shake-to-drink tea beverage, we have tasted the best products in the market and been through 15 iterations of design and prototyping. It's hard to find the best ingredients from origins such as Fujian, China, and Sri Lanka, and even harder to produce balanced recipes. The team has physically assembled, tested, and debated which is the "right" drink to "wow" you, our friend, and tea lover.
BTW, you might not even know, Shake-to-drink milk tea has already become a phenomenon in Asian countries like China and Korea. Join us, and the millions of shake-to-drink tea lovers; Let's Make Milkea Great Again! 😉
What We Need & What You Get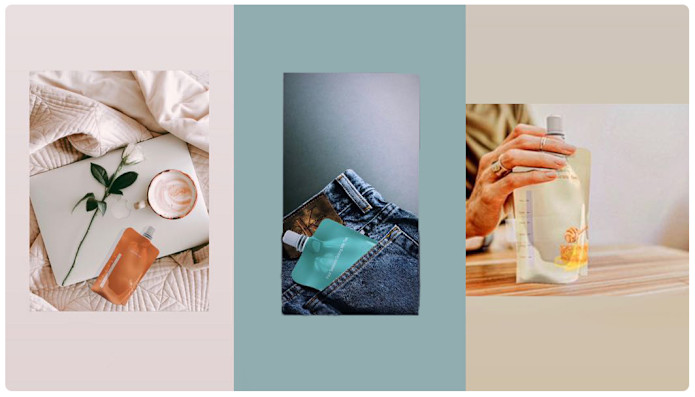 We come from diverse backgrounds and are all passionate about tea. Although we work in different industries–tech, art, business–we deeply care about what we drink and what we deliver to you.
We believe the best product can only be made from the best ingredients. Ohtea is committed to actively engage these tea farmers and deliver the most authentic taste without the middleman. One sip is all you need to tell the difference.
We think the best design does not need to be sophisticated – our ideal is to make great products that are simple to make and fun to indulge. Thus, we are proud to bring you this shake-to-drink tea – delicious, freshly made by YOU to enjoy anytime, anywhere!
We are asking $5,000 to kickstart our manufacturing & supply chain. And we are aiming for $15,000 to make our product a real business. Our plan is to deliver the first batch to our Kickstarter supporters and scale-out the production size and start selling online – make this great product available to every corner of the world.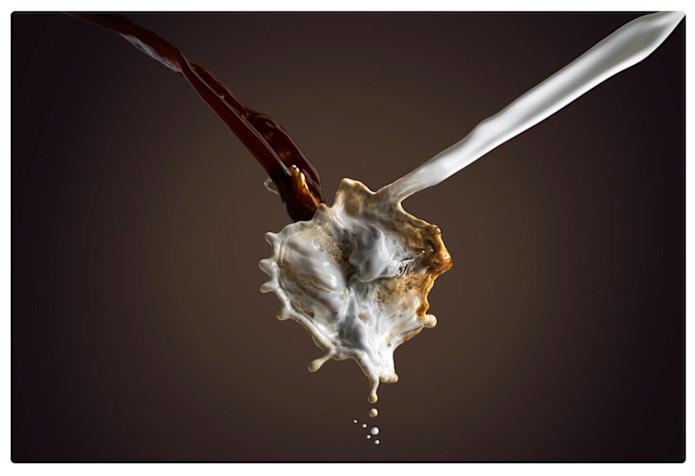 Lastly…
I vaguely remember those years, when I had long working hours and high labor intensity, and felt that I couldn't make it, it was just a cup of milk tea, which allowed the afternoon shift to continue and recharge my body and soul. Such simple happiness makes the afternoon sunshine even more bright. Looking for that pleasant temperature in your intense life, you can always continue to move forward. In this sense, milk tea is a spiritual beverage.
From the old Tea Horse Road to the world-famous milk tea, the passion for tea never stopped. Originated from China, now onto the World, we know Ohtea.co brings you not only tasty products but also an embodiment of the culture that brings people together. When we meet new friends from different backgrounds, we'd love to welcome everyone with a cup of tea, extending our love and respect.
Risks & Challenges
We take your trust in us seriously and are so excited to welcome you as part of this journey. By the end of our campaign, we will be ready to release the pledge manager for our backers so we can start the manufacturing process as soon as possible. Although we have accounted for possible issues that may arise during shipping, customs, and manufacturing, we strive for transparency and will communicate the successes and challenges we encounter at a minimum of monthly updates. We're committed to you in each step of this journey, and appreciate your overwhelming support and accountability as our backers. Thanks for your constant encouragement as we continue to expand the wonderful world of tea! COVID-19: Our production partner and other suppliers are back to normal since the beginning of May 2020, so we don't expect any delays as of right now. We're closely monitoring the situation and will provide you with regular updates if any delays occur. Thanks for being so tea-rrific!