One Bowl Community Kitchen | Changing the world ONE BOWL at a time.
WHO ARE WE?
We are a team of passionate volunteers cooking together since 2014 and dedicated to make everyone part of the community: Allwin, Jessy, Emilie, Morten, Val, Sreeram, Jairam, Hasha, Nicolae, Agnieszka, Fanny and many many more smiling faces!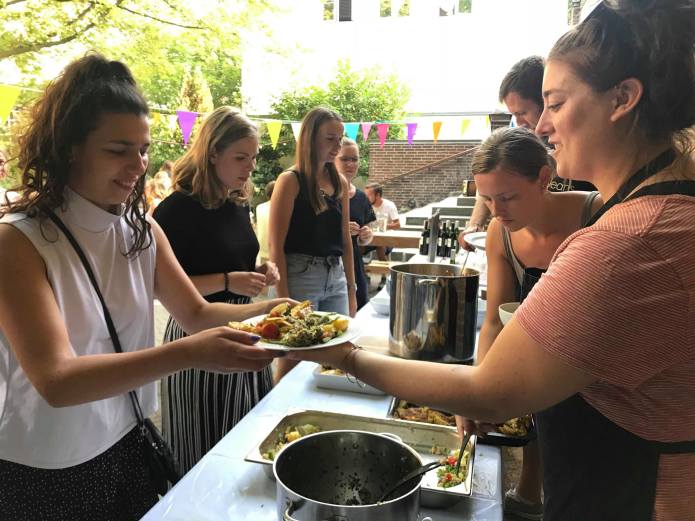 A "PAY AS YOU FEEL", COMMUNITY-BASED, PLANT-BASED KITCHEN​
Throughout the last 4 years, One Bowl has continuously evolved, going back and forth between regular community dinners and pop-up events at various locations. But whichever the shape this adventure took, One Bowl has always been an open space for all to come and share the value of good and nourishing food that is thoughtfully prepared by a team of devoted volunteers.
Meals at One Bowl are offered on a "pay as you feel" basis in order to ensure a proper meal to everyone, regardless of one's situation. This means that there are no set prices on any food or drink at One Bowl. Whether you are in crisis, need a friend or just a cozy meal out in your local community that doesn't break the bank, we are delighted in welcoming you to eat, share and spend an evening with us.
Together we can support each other, establish a safe space for all, and fight against food insecurity, loneliness, and social exclusion. We want to change the world One Bowl at a time!
WHY DO WE NEED YOUR HELP TODAY?

In September 2018, we took a giant leap and got the keys to our own designated space, your community kitchen, in Copenhagen Nordvest district. The past 4 years have demonstrated that our concept responds to the clear and enormous need that people have for a community in a city like Copenhagen. We are now ready to open 5 days a week, every week!
To make this dream possible we are reaching out to all of you out there! We have invested everything we have as an organization in the project, and for the first time, we are asking for help from everyone who believes this inclusive place should exist for good.
In order to get the last pieces of kitchen equipment to open by the end of October and pay for the first 3 months of rent, we need to raise a total of 200.000 DKK. This amount would also allow for the hiring of one permanent staff member coordinating the kitchen work and the numerous volunteers to make sure One Bowl is open and running. We are aware that this amount is substantial and cannot be reached in one day. There will be steps on the way to best prioritize the money allocation.
By donating big or little you are taking part in building a community and you contribute to fighting loneliness, food insecurity, and social exclusion in Copenhagen! Yes, all of this!  
HOW WILL WE BE USING THE FUNDS?
STEP 1: 80.000 kr.
This will cover the rent of the restaurant for November and December (36.000 kr), an oven to cook our famous turmeric crispy potatoes (22.000 kr), and the salary of a part-time staff member in November and December (22.000 kr).
STEP 2: +30.000 kr (110.000 kr)
This will cover the costs of the dishwasher so that our volunteers do not have to beg for mercy every night doing the dishes (18.000 kr), a vegetable cutter to make beautiful and delicious fresh salads (6.000 kr) and some stoves (6.000 kr).
STEP 3: +40.000 kr (150.000 kr)
It will cover the salary for a part-time staff member for January (11.000 kr), the lease for a long awaited (!!!) coffee machine for 6 months (10.000 kr) and it will pay back the loan we took to cover October rent (19.000).
STEP 4: + 50.000 kr (200.000)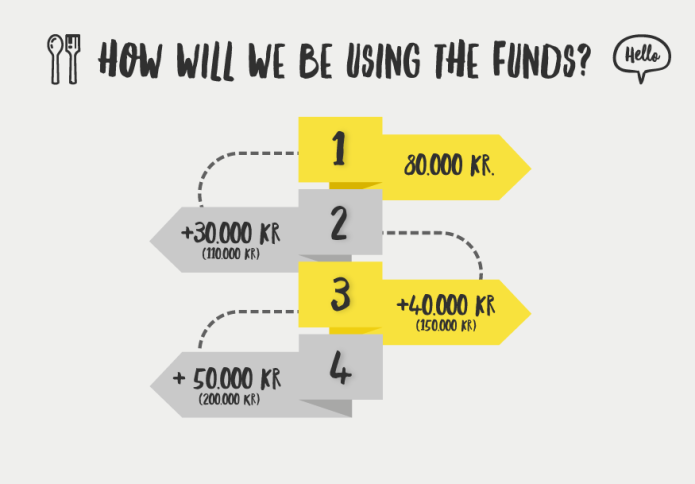 WHAT DO YOU GET FROM IT? 
We are thankful for every donation, big or small. No matter the donation size, you are making a difference by investing in community.
"Never doubt that a small group of thoughtful, committed citizens can change the world; indeed, it's the only thing that ever has." (Margaret Mead)