ORLY Bed: The new age of bedding | Take control of your bed today.

ORLY is introducing birch fiber with high technology components to make world-class bedding with unrivaled comfort. 
Historically, birch trees have been used to make tea, produce tar, build model airplanes, and craft canoes. Next up: birch-fiber bedding. Struggling to get some shuteye? Here are some top sleeping tips. According to the director of Charlottesville Neurology and Sleep Medicine Center, cool conditions can really improve your chance of rest. ORLY bedding uses 70% birch fibers to help regulate your temperature during the night.
The birch fibers are intertwined with super-soft Supima cotton and antibacterial silver nano-beads. You also get a touch of tea tree oil, which offers a range of skin benefits.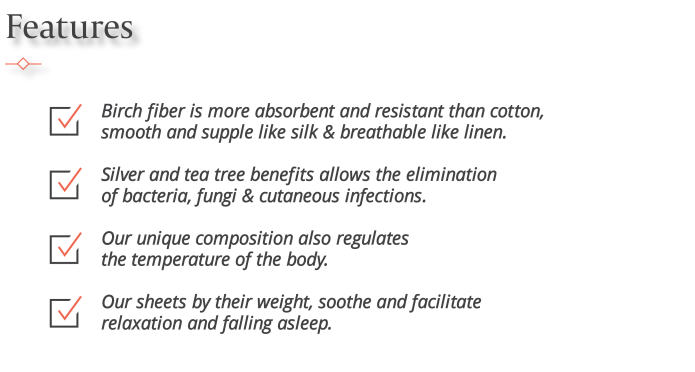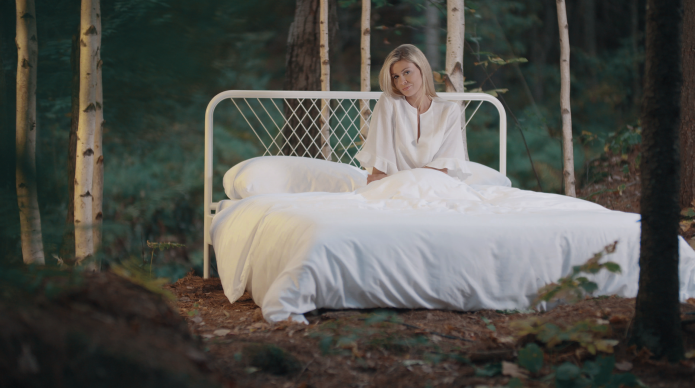 By utilizing the incredible benefits of pure silver and infused with tea tree essential oil incorporated directly into the heart of the fiber. ORLY has created a unique, innovative product boasting remarkable virtues and promoting total wellness. Our mission was to design a collection of bedclothes combining comfort with technology to bring on the best, most incomparable sleep experience possible. 

But that was not enough. After the first wash, the fabric becomes denser and heavier. Our sheets by their weight help to soothe, relax and calm before sleep. The sensorial effect can calm and improve body awareness.
Our product is not a weighted sheet, but it perfectly envelops the body and helps the comfort and the appeasement.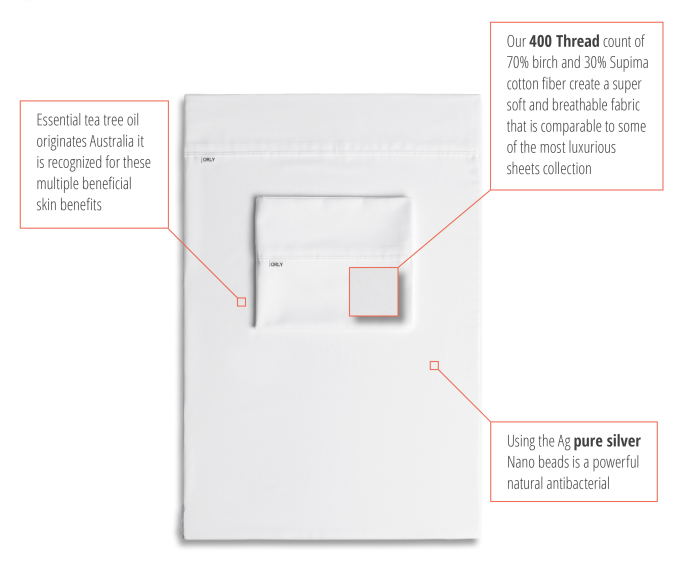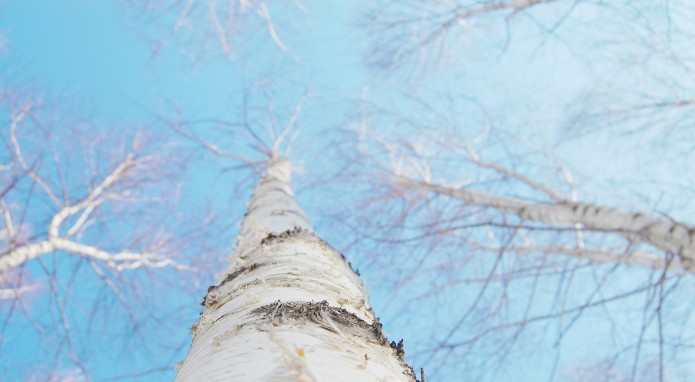 Many studies have shown that the average bed was the ideal home for these micro-organisms. What is the purpose of taking care of our health if we sleep surrounded by these unpleasant guests?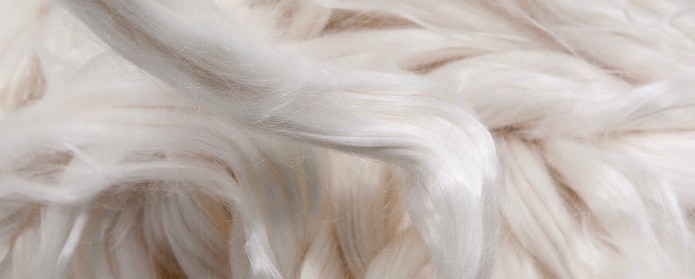 It's funny how the small things can often make such a big difference. You can spend thousands on a luxury king-sized bed, yet your comfort levels will be dictated by the sheets you choose. Spending an extra $20 can be the difference between writhing around in a pool of sweat and enjoying instant shuteye. Most bedding is made from cotton or linen. Both materials have their strengths and weaknesses. ORLY's birch wood-fiber bedding seems to combine the best of both worlds, while adding a few upgrades of their own. These may be the comfiest sheets you ever own.
Our dynamic duo of fibers: 70% Birch / 30% Supima Cotton.
Birch fiber is renowned for its temperature-regulating capacity. This exceptional natural filament can be as warm as wool in the winter and as cool as cotton in the summer. Compared with regular cotton sheets, the birch sheets feel more like silk. They are also more absorbent and resistant to abrasion. In addition, ORLY bedding has all the breathability of high-quality linen.​
Supima cotton, for its part, is grown exclusively in California and is reputed to be the cashmere of cotton. To start with, the individual fibers are longer than those of other cottons, which gives it a good deal more softness and strength.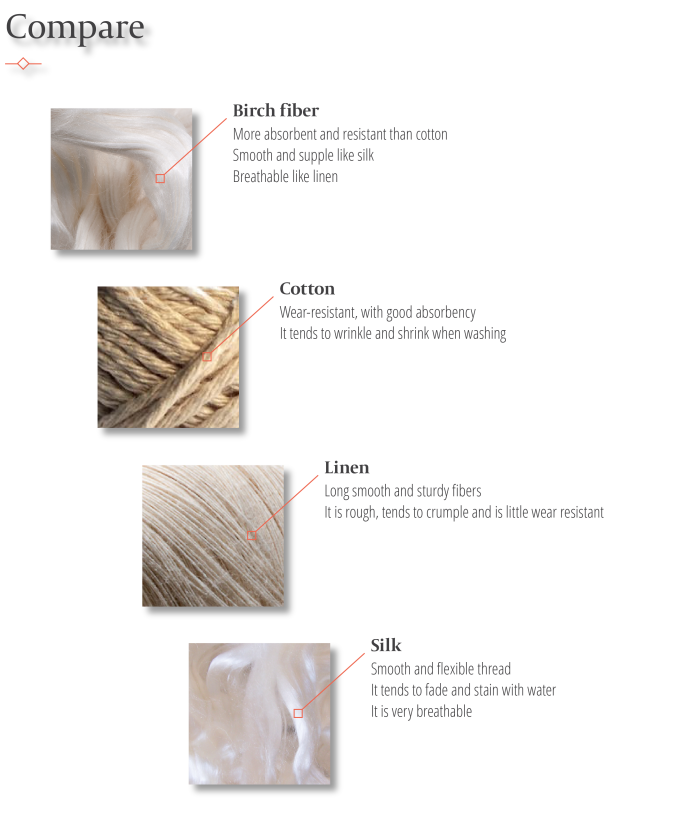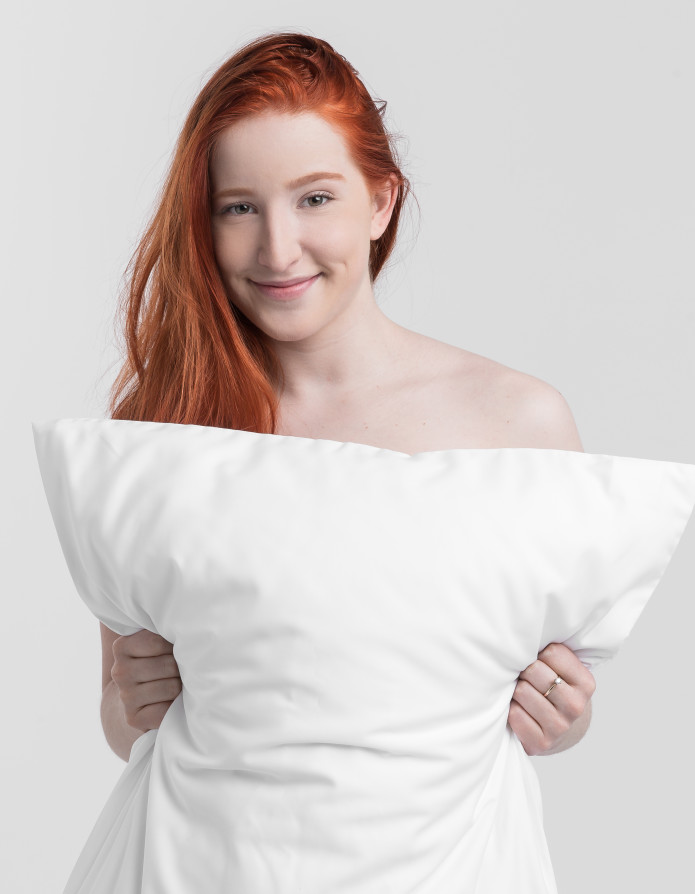 Our tremendous technical duo 
The use of silver nano-beads adds to the weight, of course. But the primary purpose of including this precious metal is to keep your bedding hygienic. Silver naturally kills off bacteria — hence its use in surgical equipment. The final key ingredient is tea tree oil. Aside from smelling nice, this essential oil has antiseptic, antiviral, antifungal, and antiparasitic qualities.​
Pure silver (99.9%): The antibacterial qualities of silver have been known since ancient times, but today's new technology enables us to incorporate it optimally as nano-beads right into the heart of the fiber before the thread is even spun. 
Pure tea tree essential oil: Tea tree essential oil has also been used for a long time, notably for its therapeutic properties. Renowned for its antiseptic, antiviral, antifungal and antiparasitic properties, it provides an indomitable natural barrier to undesirable germs.

After as little as one night of use, your pillowcase and sheets can accumulate a ghastly range of bacteria, allergens and fungi. Dermatologists accordingly recommend washing your pillowcases and sheets every two or three days.
How to ensure that these natural and super-comfortable fibers remain comfortable for humans but disgusting for our micro-friends. By incorporating our tremendous technical duo, using silver is a powerful natural antibacterial combined with the virtues of the tea tree essential. It allows the elimination of bacteria, fungi and some skin infections. As a bonus: it regulates the temperature of the body and relieves the irritated skin and stops the itching!


The presence of pure silver and tea tree essential oil near a virus, fungus, bacterium or any other unicellular pathogen deactivates its oxygen-generating enzyme—its chemical lungs, in other words. After a few minutes, the pathogen basically asphyxiates and is destroyed before it has a chance to reproduce. Advanced technology now allows us to weave coated nano-beads of our technology directly into our fabric. These fibers are proven to prevent bacterial growth on the fabric surface.
The best part: All natural – Eco-friendly – No harsh chemical ingredient is used in our fabrics; Just our unique Birch fibers & Supima cotton and antimicrobial silver & tea tree essential oil.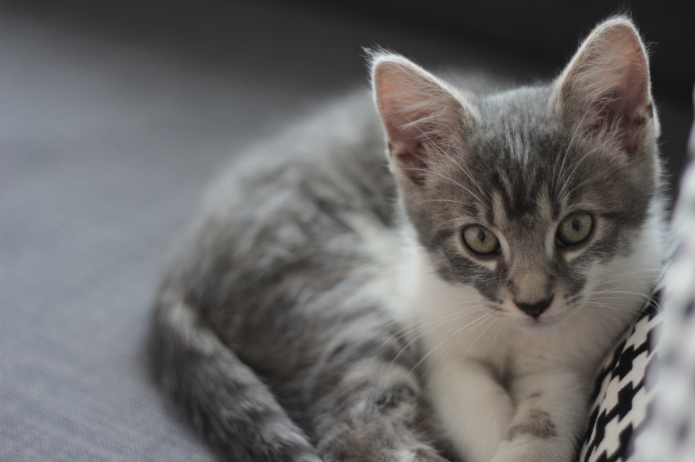 Your pet may be bringing more than love and warmth to your bed. With ORLY Bed, the fabric of your sheets will no longer fear the micro-organisms that bring your four-legged friends.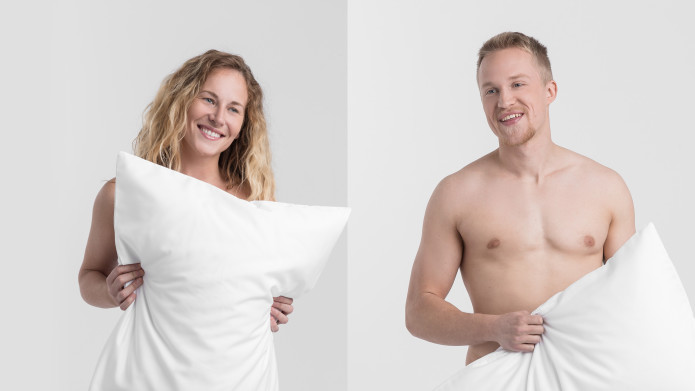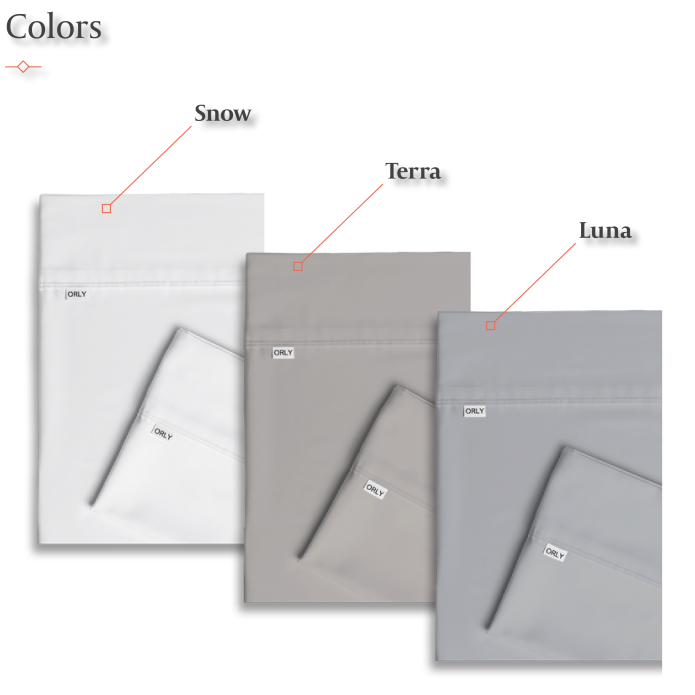 The ORLY sheets are now available in 3 colors. You can select any size, and at the end of the campaign we will contact all of our backers to confirm your color selection.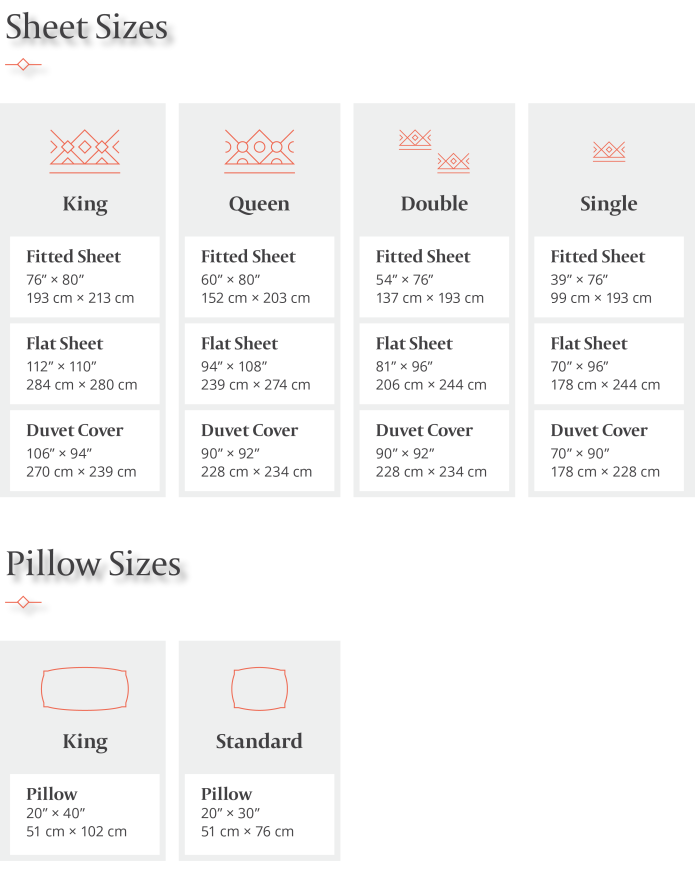 Our sheets are made close to us, so you can have a custom-made perfectly adapted to your mattress (European size, US etc …)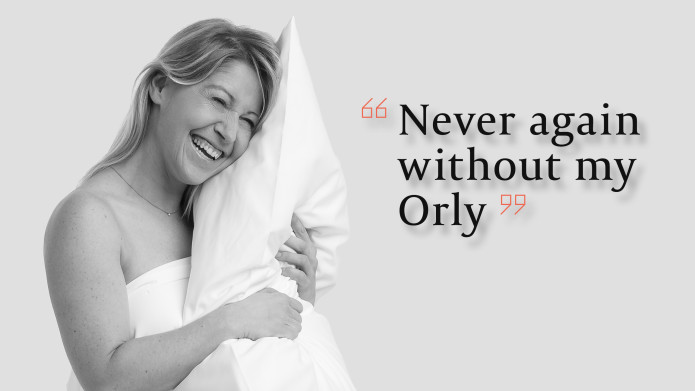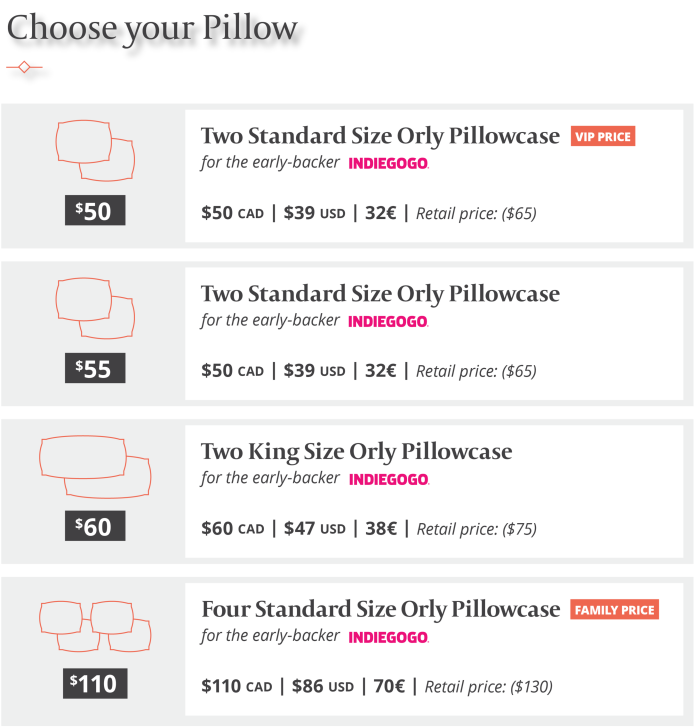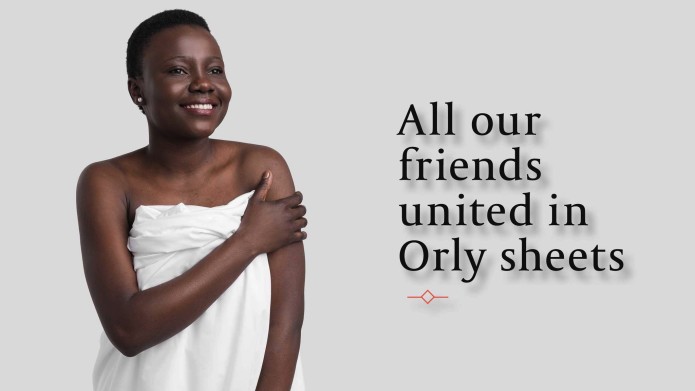 ORLY is committed to manufacturing products that exceed the most stringent safety and environmental protection standards. All of our products therefore follow strict guidelines; they are also mindful of human ecology through bio-compatibility and the fact that no harmful substances are used in manufacturing. 
ORLY products are tested in accordance with the strictest antimicrobial standards: ASTM E2149 and the Oeko-Tex Standard 100 certificate. They are tested under dermatological control, allergen-free and HRIPT- and TCFS-certified.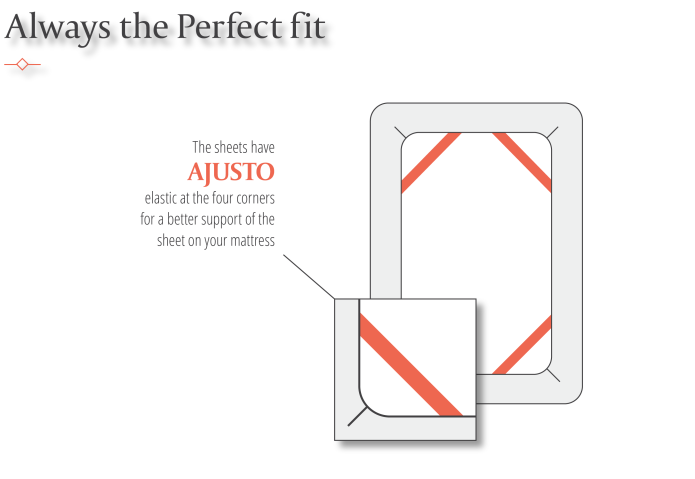 For mattress between 13 inches and 15 inches cut the 1 inched elastics, which are at the four corners of the fitted sheet for easy adjustment to your mattress.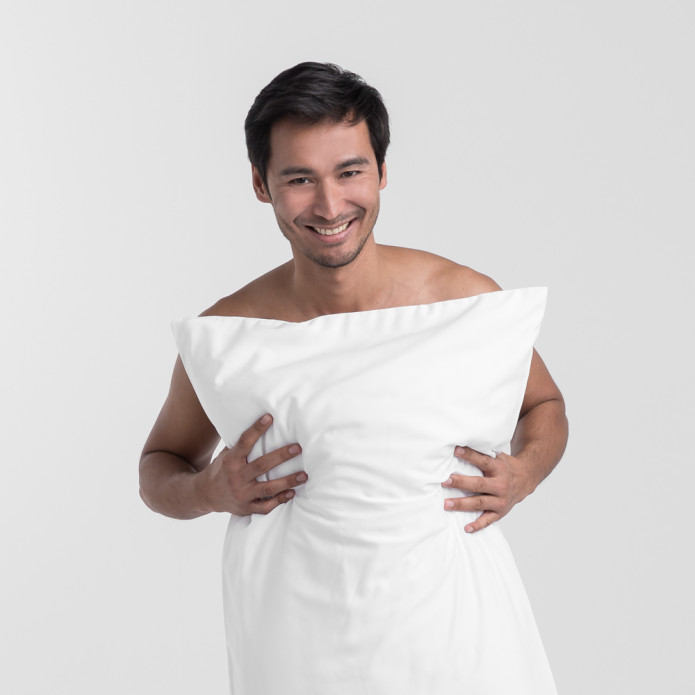 However, our unique technical Birch fiber fabric has been developed to stay fresh, clean and comfortable night after night – regardless of how often you throw them into the washing machine.
– We recommend washing every 7-10 days with your normal laundry. 
– Machine wash in cold or warm water, do not Bleach.
– Tumble dry at low setting or hang to dry.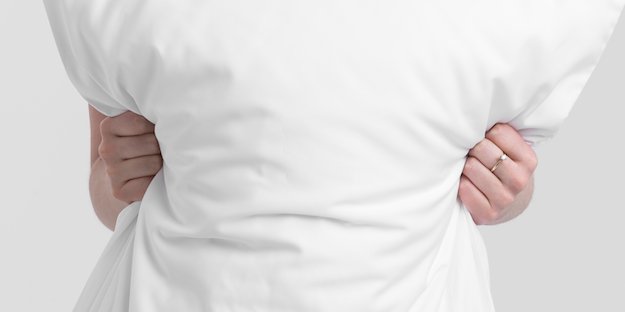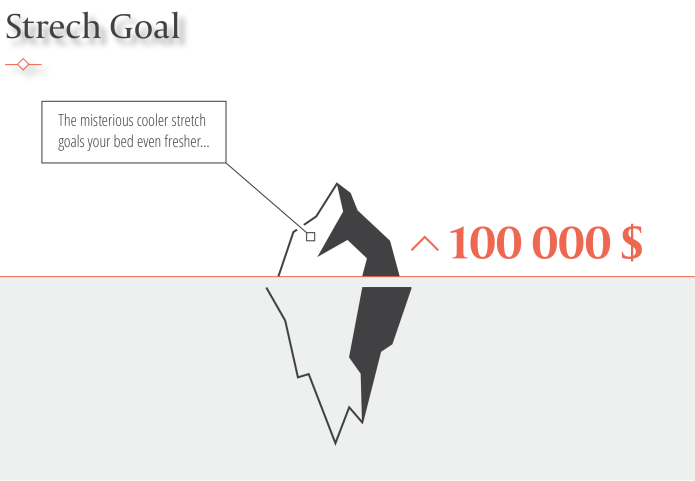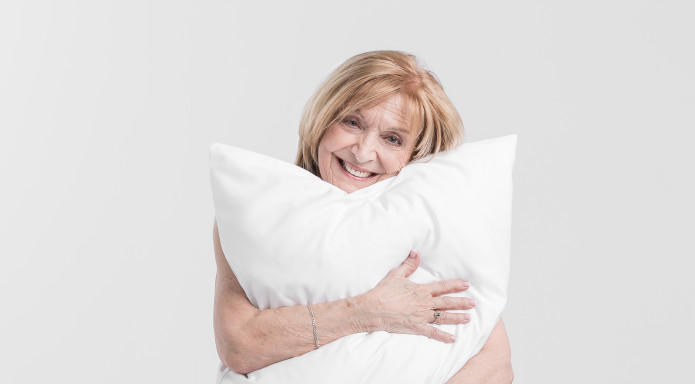 Risques et défis
We are committed to both quality and timeline, but if we are forced to choose between the two we'll choose quality because we know that's what you expect. That should unforeseen issues come up, we will handle them with the utmost transparency and care for you, our backers.
Our product is totally manufactured close to us with a product supply that we can control, our only limits are that of the manufactory which produces the product. We're incredibly proud of our supply chain and have a confidence that we can make what we say. If order volumes exceed our expectations, it might take slightly longer to fulfill orders.