OTARI: World's Most Interactive Workout Mat | Stream Fitness & Yoga Classes from Top Instructors with Live AI Pose Feedback.

 

Live yoga and fitness classes with world class instructors streaming from the Otari studio. Get real-time pose and form feedback with Artificial Intelligence.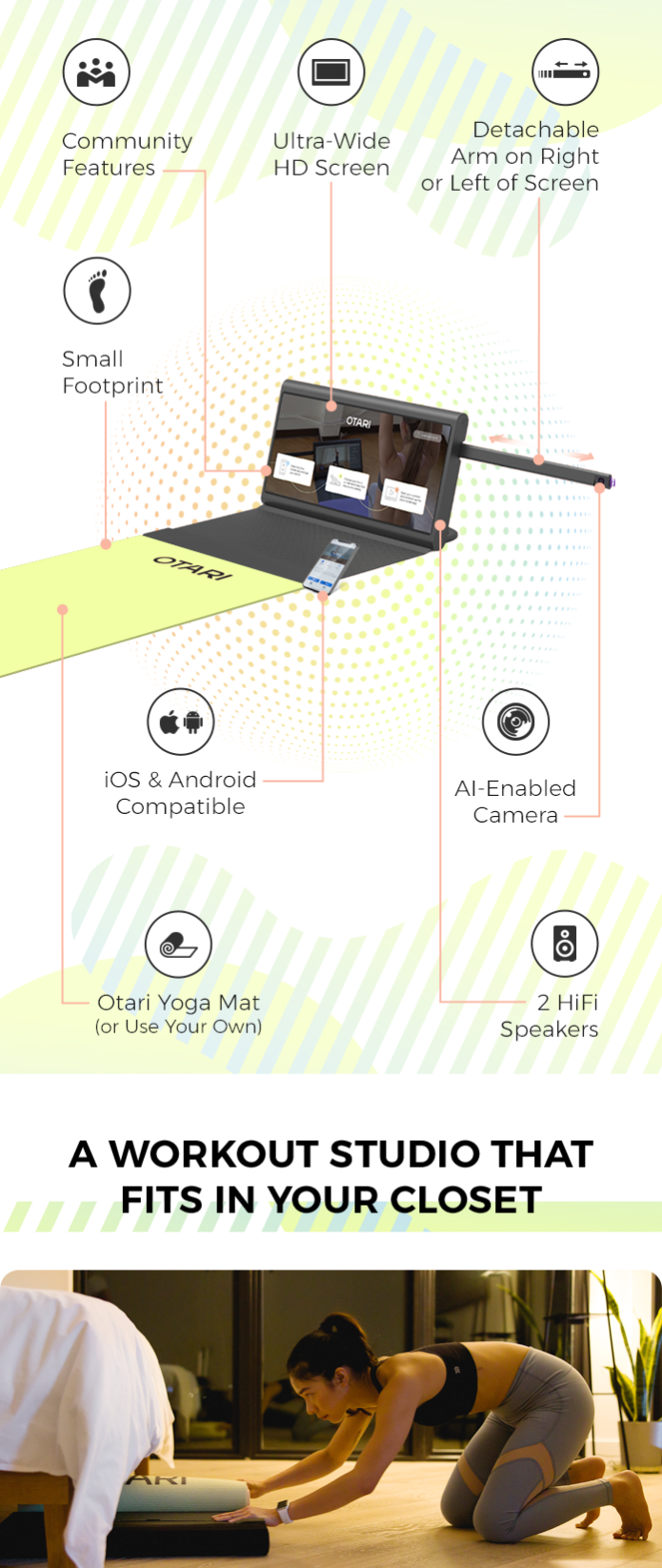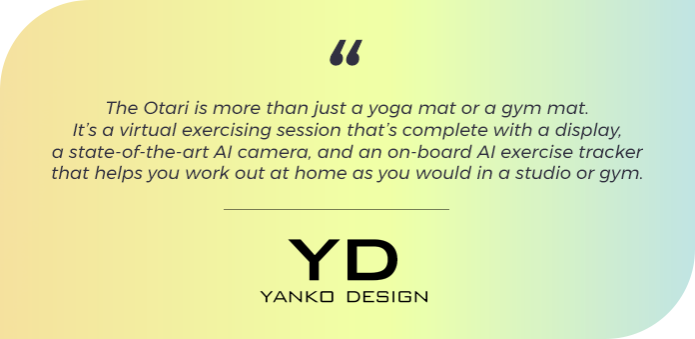 Expert instructors lead top-quality sessions and motivate to keep you engaged. Choose a class for the workout your body needs. Just as you'd expect in the studio, they're here to keep you motivated, disciplined, and accountable.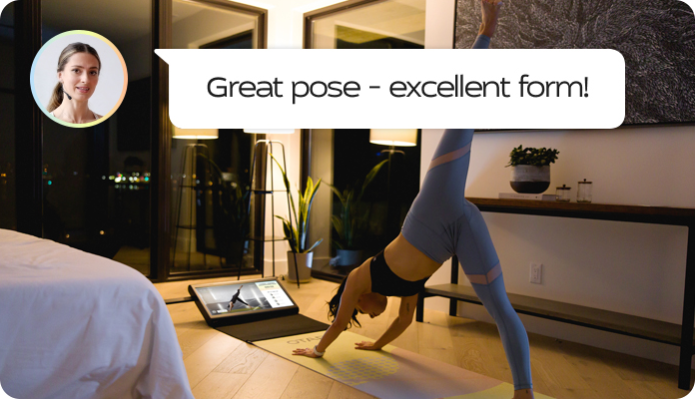 OTARI's intelligent form analysis technology with an instructor's personalized guidance ensures an effective workout each and every time.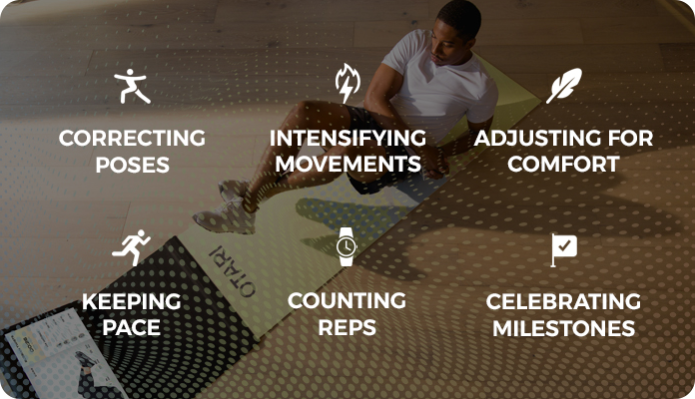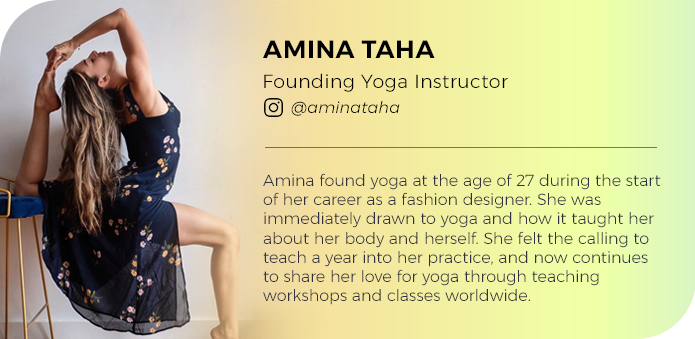 Follow Indiegogo on Instagram and Otari on Facebook and watch our 30-minute class with Otari Yoga  Instructor Amina Taha.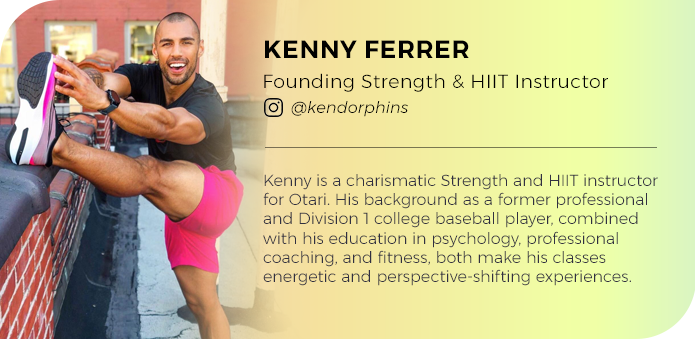 Lindsey is a Broadway actor and yoga instructor – performing in shows such as Wicked and Bring It On The Musical, and teaching at studios and corporate spaces in New York City. She makes yoga accessible to "every body," and helps students turn up the volume on their intuition. Expect precise alignment, a-ha moments, and humor!

Otari's Smart Camera Arm is uniquely offset at the ideal angle to capture the most accurate assessment of your form. From your Chaturanga Flow to your most intense cardio session, Otari continuously analyzes whole-body form with your data never leaving the privacy of the device.
As you work out, the Otari camera captures "keypoints" representing the relative position of each joint location in real time.
 These keypoints plus additional proprietary data points are cross-referenced against appropriate ranges determined by our team of expert fitness instructors, triggering opportunities for feedback.
Otari understands your pace and can tell the difference between slacking off and pushing you too far – and appropriately guides you in either scenario.
Your workout metrics are tracked and used to continuously refine your workout – reps, form, balance, heart rate (with smart watch integration), and more feed into the Otari system to create a more personalized experience the more you use it.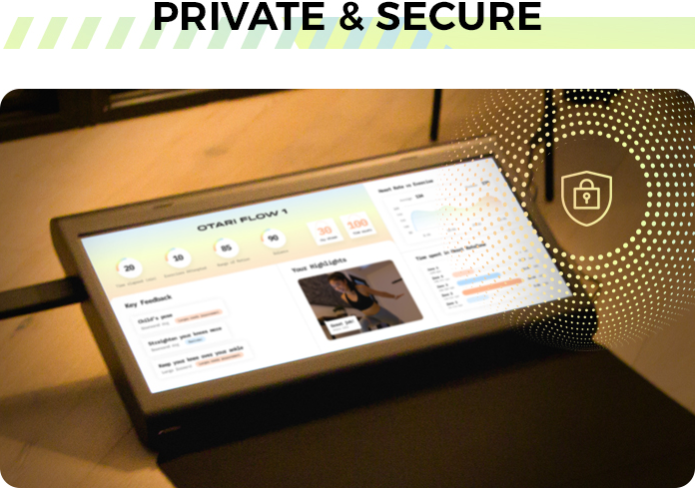 All of this processing takes place locally within your Otari Studio – which means your data NEVER leaves the device unless you opt to share it.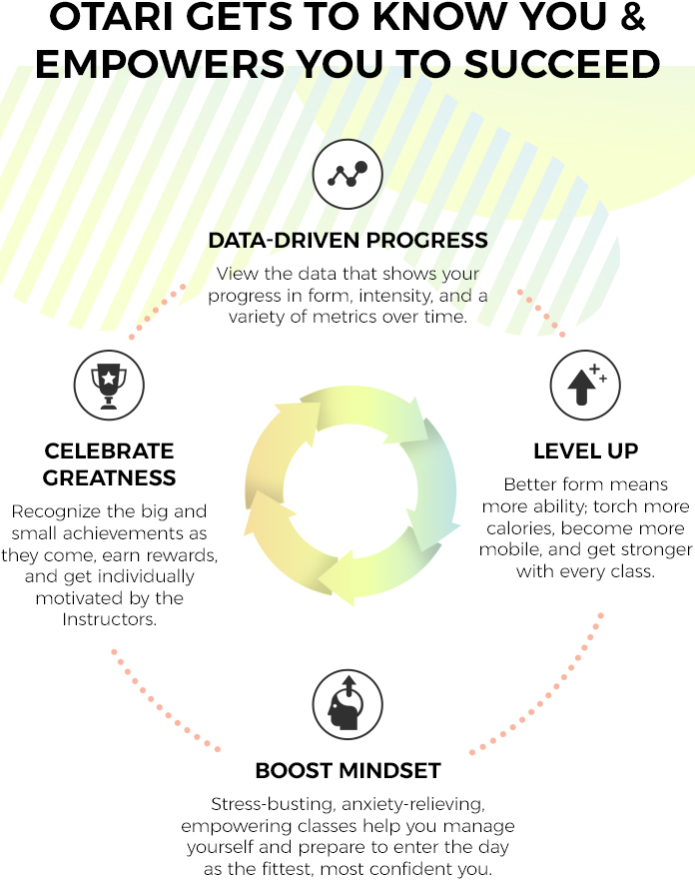 Immerse yourself in a live class with engaging instructors who inspire directly from the studio. Receive on-screen and pre-recorded audio feedback in your instructor's own voice – exactly the way they would give it to you in a 1:1 personalized session.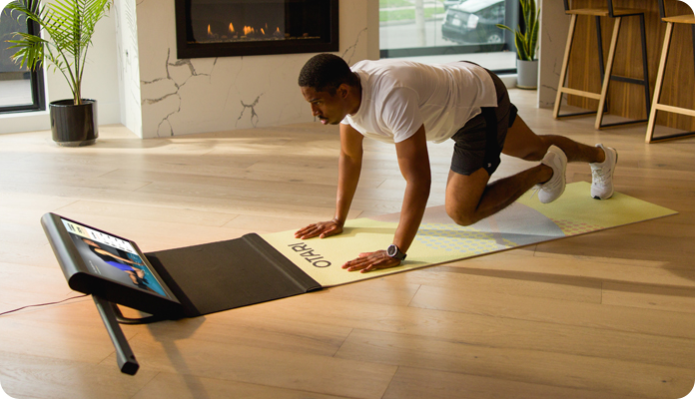 Watch classes on your own schedule, with instruction and feedback delivered in real time based on intelligent pose analysis data.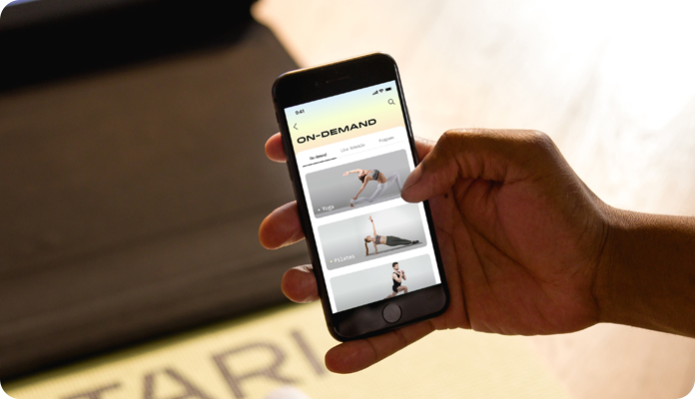 Stay motivated with workout buddies from across the nation. Join your community and hold each other accountable.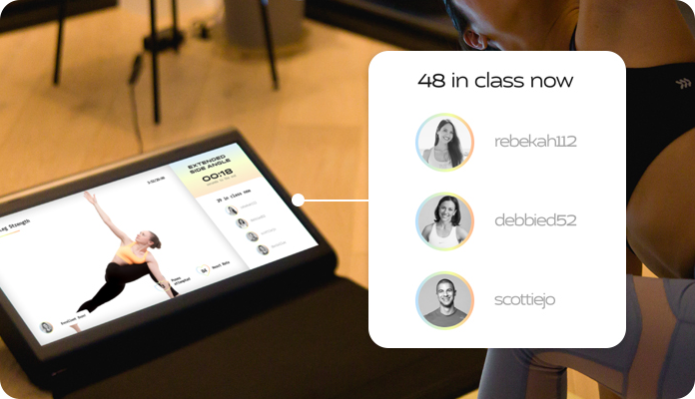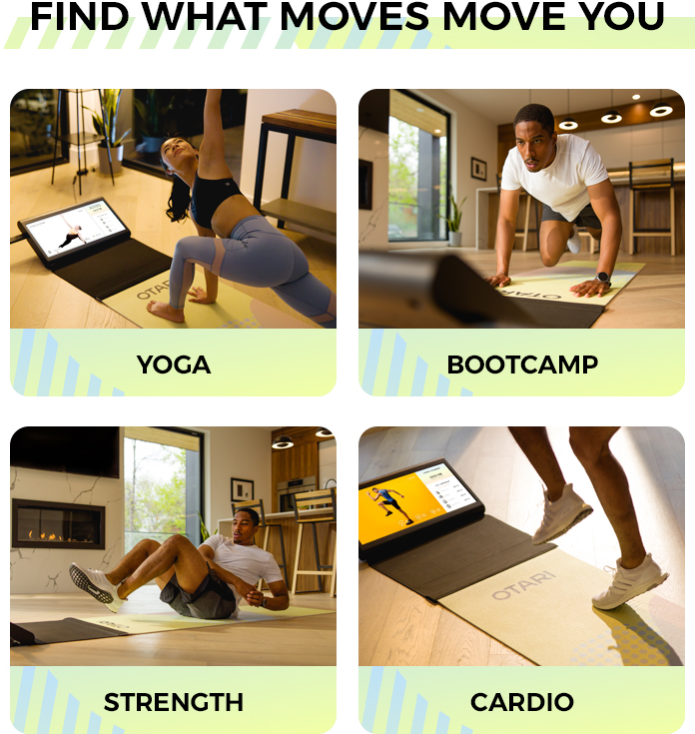 Stay motivated with workout buddies from across the nation with in-app chat and message boards, Join an on-demand class with friends and hold each other accountable.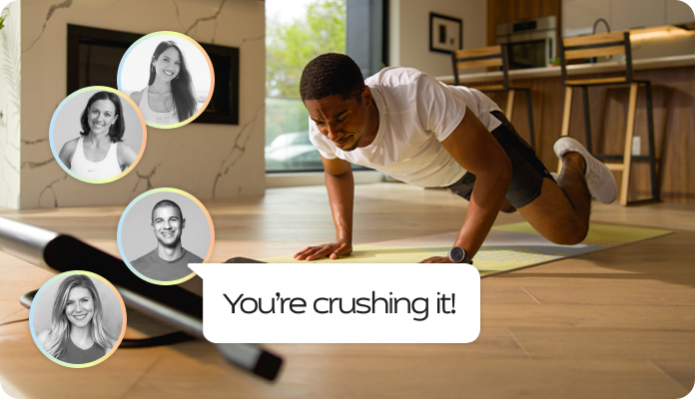 Send & Receive "Good Vibes" with others taking the same class as you.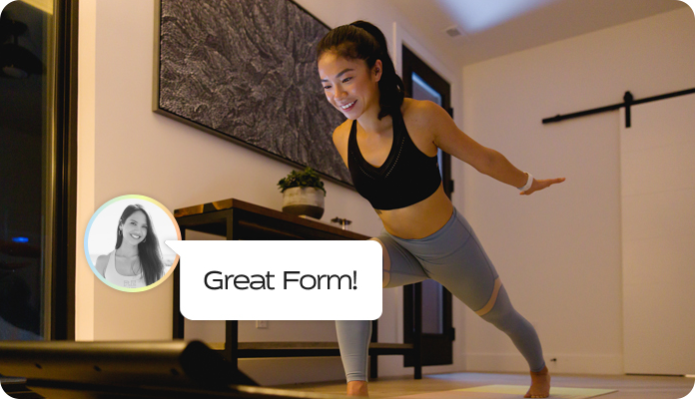 Not all classes are competitive, but if competition is your thing – see how you stack up against others with team challenges and output goals.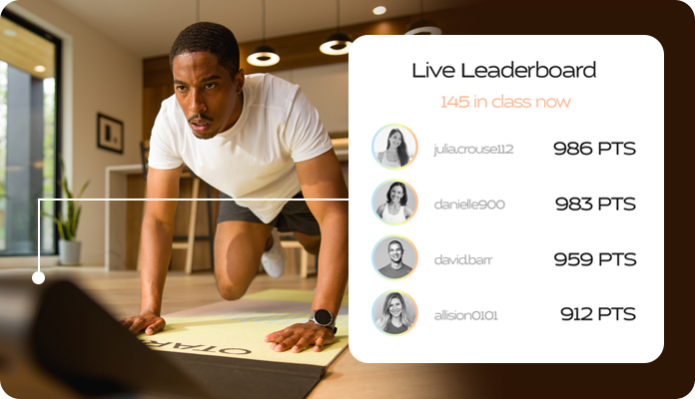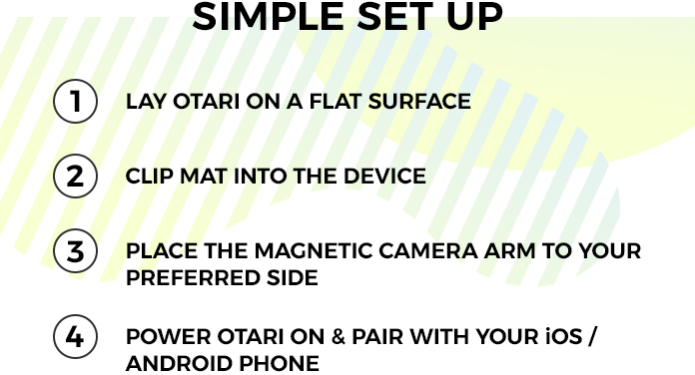 Get classes and track your progress easily with the Otari app.
Each Otari membership comes with 4 user profiles that you can set up.   Share your Otari with a spouse, parent,  or a friend!
 
COMPLETE IN-HOME STUDIO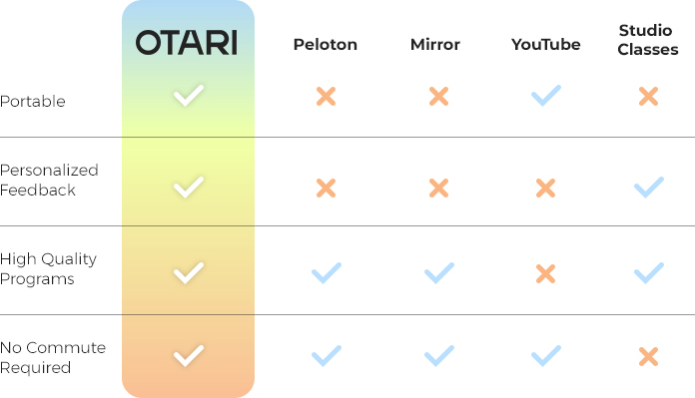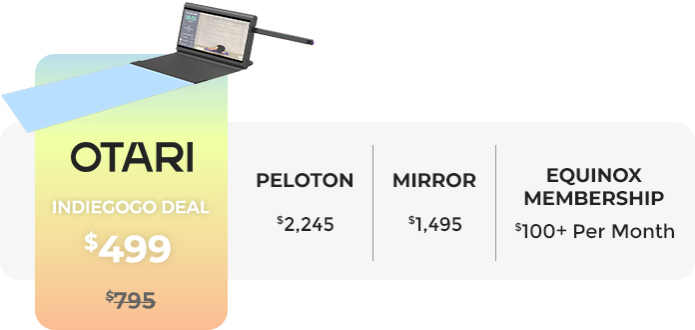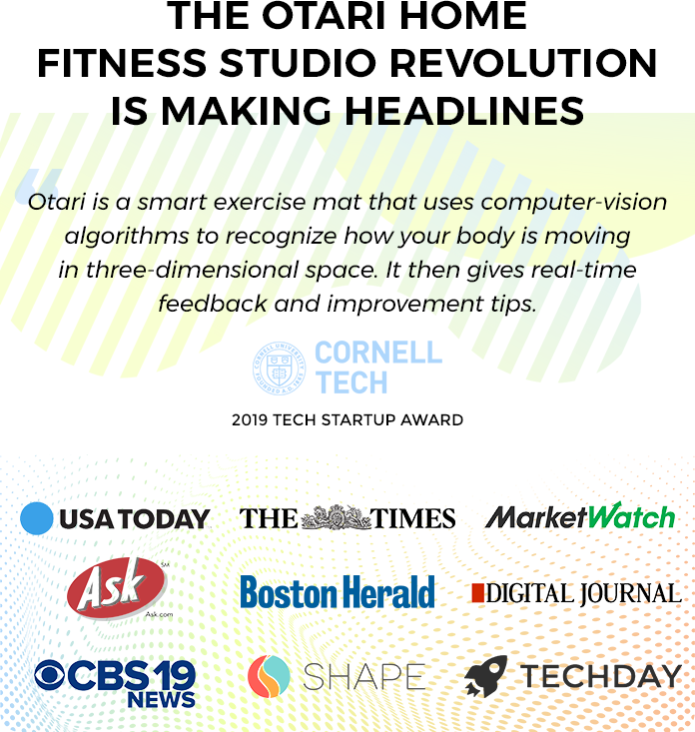 Delivery Guaranteed
Your contribution with us is a  guaranteed purchase, That means if you order Otari with us, you will get it, guaranteed. 

Help us get to $200,000 and unlock the option of adding  OTARI yoga mat color options.  We will send a survey out and you get to help choose the two new colors!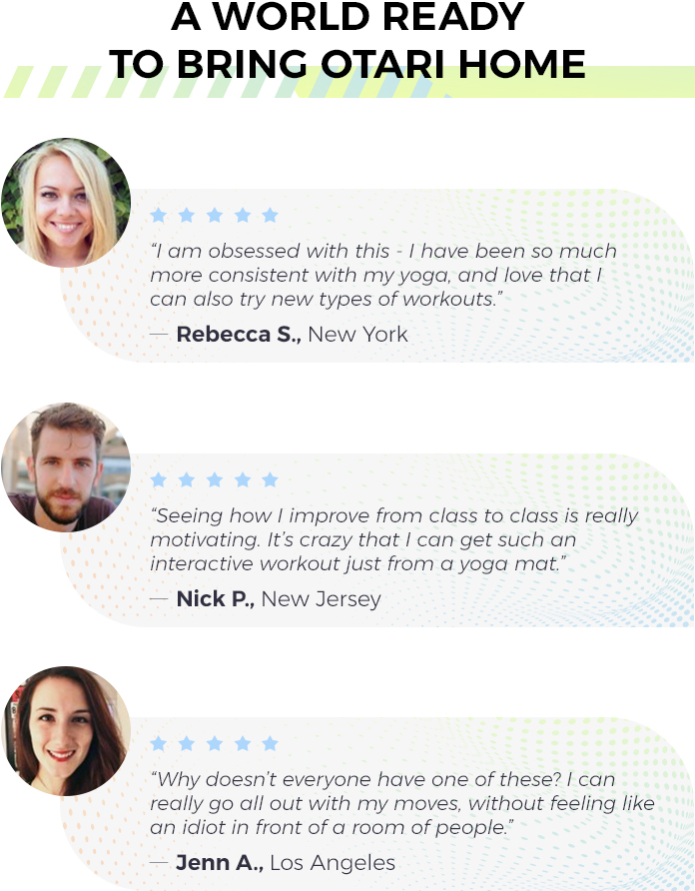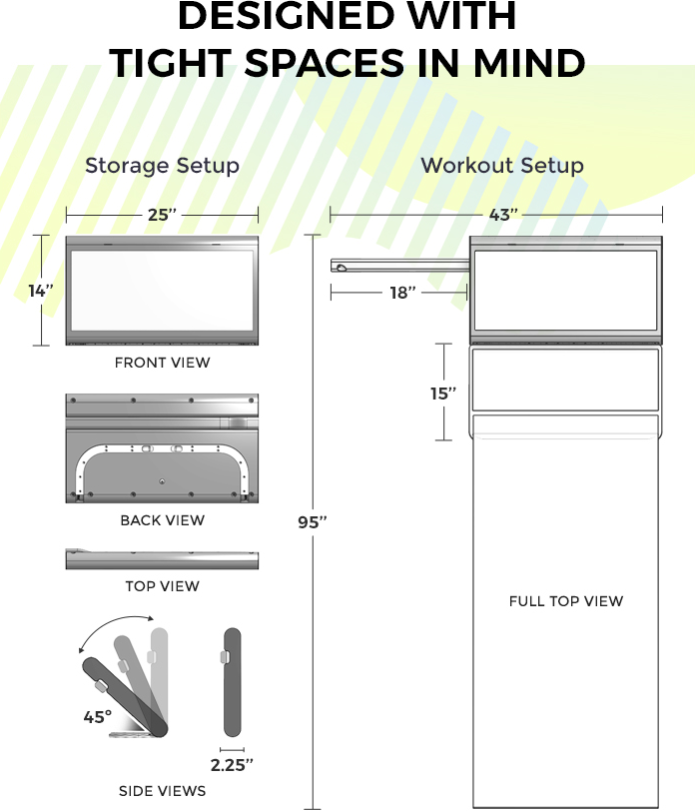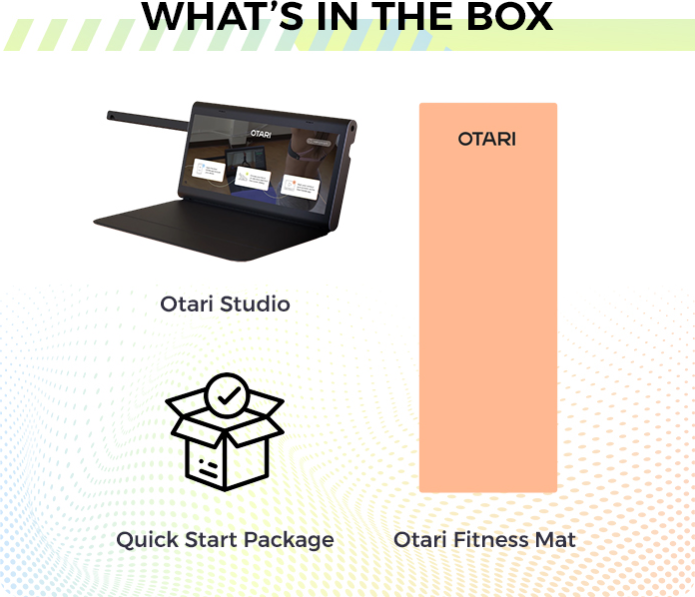 What started as sketch is now a reality. Multiple design and prototype iterations over the years have finally resulted in a tested and proven design and technology.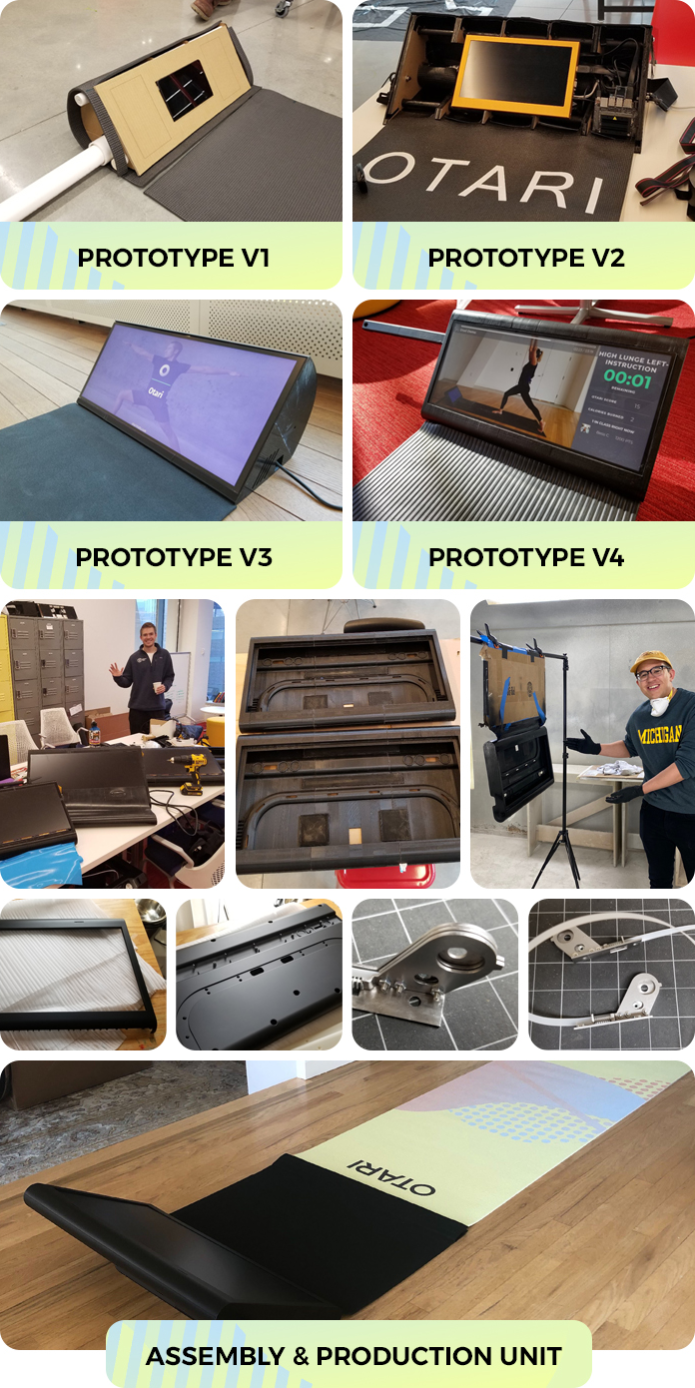 Our team is made up of previous athletes and fitness enthusiasts that have the heart and soul necessary to bring Otari into the home. Even more important, we have all individually lived the disappointment of having a less than rewarding home workout and the intimidation of showing up to a group class filled with experts.
We've learned that there is no "get fit in 30 day" plan that works for everyone, and that premium streaming content is much more effective when it is personalized for you.  No one person is at the same point in their fitness journey, and we know from our own experience just how important it is that Otari meets you exactly where you are.  Your time and energy are the most important things you have to give each day, and we're equally committed to delivering an engaging experience you can look forward to each and every time you step on the mat.  For us, Otari is about embracing fitness as an everyday lifestyle, and that's why we are so excited to experience Otari with the same mindset we know our customers share.
The Otari family is about inclusivity, because we know we are all better when we are supporting each other and celebrating milestones together.  Simply put, we love working on Otari, and can't wait to share it with you!

Chris brings a background in data science and computer vision to Otari, most recently doing AI research at Facebook. He's had multiple false starts trying to learn yoga over the past 5 years – group classes were intimidating as a newcomer, and YouTube videos lacked structure and feedback. Chris cares deeply about building inclusive fitness experiences that support growth in the privacy of home. 

Skyler has a strong background in embedded devices and software development, most recently at PwC. He was an avid soccer player his entire life before a string of hip injuries and physical therapy sessions introduced him to the world of at home exercise routines.  Skyler is driven to build scalable workout systems that are personalized to everyone's unique life journey and goals.

Joelle has spent most of her career developing consumer lifestyle brands. She was drawn to Otari when she saw how easy it makes squeezing in a studio-quality workout whenever she has a few spare minutes. Joelle understands the value of anything that elevates and simplifies a busy person's lifestyle, and is excited to spread the word about something that has been such a game changer in her own life.
JOIN US AND SHARE OTARI WITH THE WORLD
Refer a backer and get one more month of the Otari App!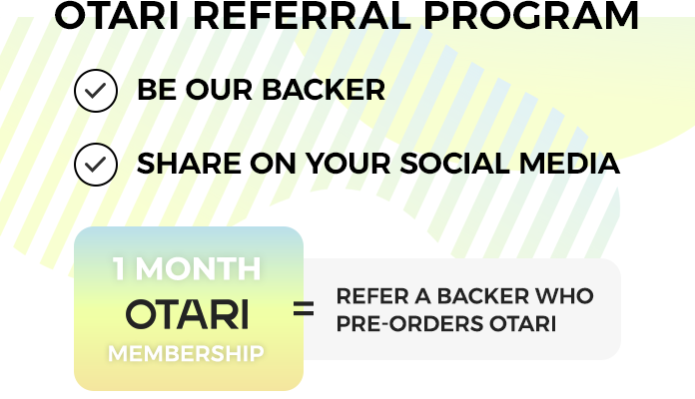 WE'VE MADE IT SIMPLE AND EASY!
1. Log in to your Indiegogo account. Go to the Otari campaign page and copy your unique link.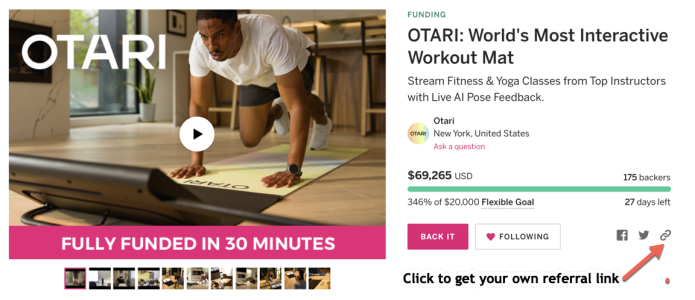 2. Paste the link to any web site with high traffic, such as your mailing list, Facebook, Linkedin, personal blog, Pinterest, Twitter, Instagram or any forum you regularly visit.
Share this link with members of large Facebook/Linkedin groups. There are a lot of popular Facebook and Linkedin groups that you might consider sharing with.
3.  We track all your referrals and will let you know by the time campaign ends how many free months you've earned to add to your Otari membership.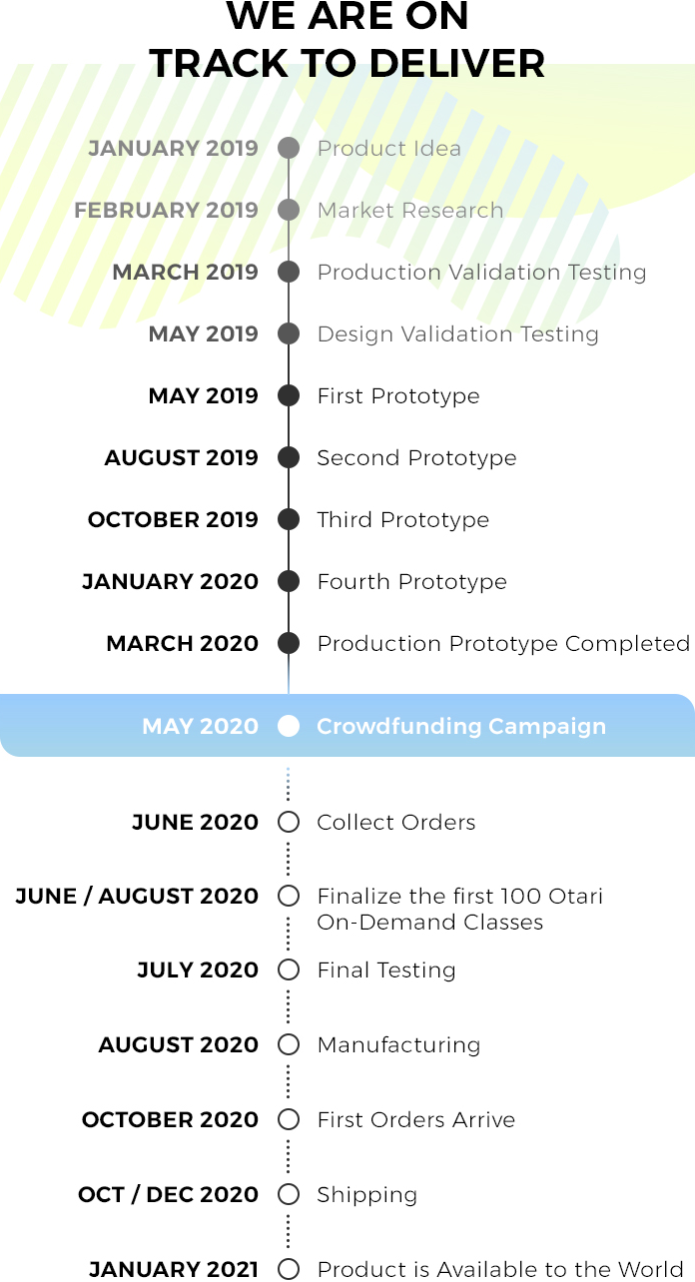 We will ship to the U.S, Canada, and a limited number of countries. VAT and GST are not included. Please see the reward/perk  for details on the shipping cost that applies to you.

We plan to ship starting in October 2020*. We will keep you up to date on our progress and the expected delivery date of your order. *Actual ship dates may vary. We will keep you notified of your product ship date.

By backing now, you'll get to own an OTARI at this one-time, exclusive to Indiegogo low pricing. You also get exclusive access to provide us valuable feedback that will shape future generations of OTARI

Earn 7% cashback







Rainfactory is a multiple-award-winning crowdfunding marketing agency that operates as a marketing department for growing brands. Rainfactory's experienced team & data-driven, battle-tested approach ensure long-term market dominance for eCommerce start-ups.