Pan2Can – A Household MultiTasking Gamechanger!! | A combo dust pan and trash can, functionally engineered to sit upright or laid down to sweep inside.
Pan2Can… It's In the Can!
Pan2Can is a unique solution to optimize your home cleaning routine. It's combination design of both a dustpan and trash can, gives you a multi-tasking trash can with multiple uses.
Pan2Can
One of the most precious gifts we can give ourselves is more time. A few extra minutes a day can add up to a whole extra hour each week for you to use in your most favorite way possible. Cleaning is time-consuming. It's often the mundane necessity to our daily routine at home (alongside cooking, washing, folding, dusting…you get the idea!)
Pan2Can is Consciously Inventive and
An Incredible Tool for The Elderly & Disabled 
Pan2Can's design is engineered to be fully functional regardless of whether you are seated, standing or even laying down(!) – The Pan2Can will hold and retain whatever mess you need to sweep away inside.
For everyday sweeping and raking, whether inside or outside, Pan2Can is great for so many tasks:
Winter leaves covering your garden? Not a problem
Looking for a fast solution in-between your Hair salon clients? You've got it
The constant grind of picking up after your pets? Fear fur no more
Dreading the aftermath of that party? introducing Pan2Can as your shipshape savior

Storage is Simple
Its compact size (approximately 18″ x 10″ x 9″) makes Pan2Can easily portable with a built-in handle. It can be easily hidden away under your office desk, workshop table, stored under in kitchen cabinet, or any other domestic or professional workstation. The storage options are truly endless!
Multipurpose Magic
As well as sweeping inside and raking outside, the Pan2Can also fits under most standard kitchen sinks, while also serving as a "catch-all" when there is a water leak. Speaking of water, Pan2Can is a great alternative to use as a water bucket for mopping.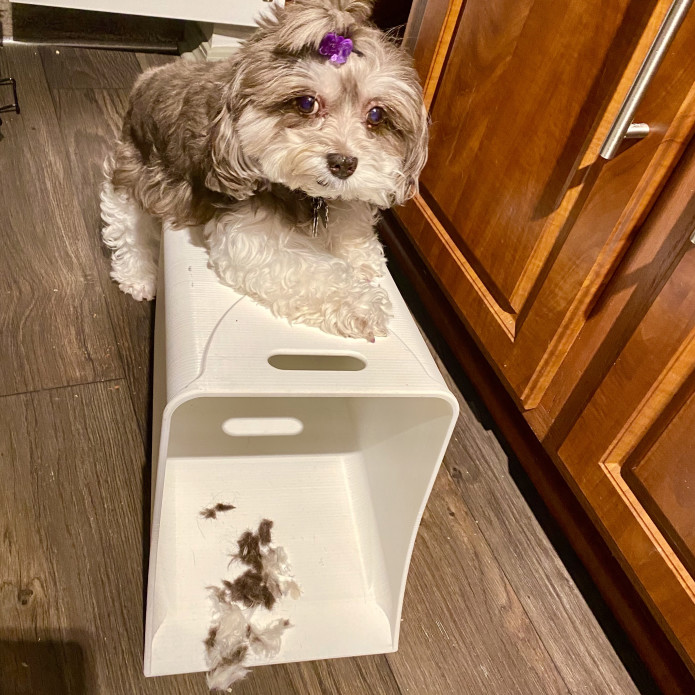 Crafted with Care
HI! I'm Deirdree, the owner of DeirdreeDsign, Inc. I am a seasoned graphic designer turned product designer, and now, the proud owner and inventor of the Pan2Can (patent and trademarked).
One of the things I most love about the Pan2Can, is that it can be a valuable aid for the elderly and those with disabilities; those who find it difficult to squat or stoop down while sweeping inside or outside of the house. I've designed the Pan2Can with this in mind – It is easy to maneuver by adjusting it with a broom while sweeping, and very little bending is required.
As a Caregiver to my wonderful father for 16 years, I explored ways we could better provide support within the home. It motivated me to help other caregivers and those that may need that extra help, The concept of Pan2Can derived from this, and my Father and our beloved cocker spaniel, Destin (Dezi) were key contributors to the development and design, specifically in testing where we developed and discover the many different uses of my product. As a proud daughter, dog owner, designer, and owner of Pan2Can, I am committed to developing and bringing Pan2Can to market, using trusted, proven, and durable materials, so every Pan2Can product will guarantee quality and longevity.
Your Help to Launch Pan2Can
I am looking for backers to help me fund the manufacturing and distribution of the Pan2Can. Our plan is to raise at least $111,000 towards the plastic injection molding for its first production run and distribution of the Pan2Can.
For almost 20 years, I have developed this concept, tested it throughout our home to perfect its uses – it's been a true labor of love. I have now been working diligently for the past 24 months; from tweaking the design drawings and function, to producing prototypes, to completing the patent and trademark process.
Now we're ready to get this important project funded – After 20 years, I am hoping that we can finally make this happen.
The impact the Pan2Can can make to those in need, as well as caregivers is so important – I will be giving a percentage of revenue to caregiving organizations, such as AARP Caregiver's Support and their affiliates
Please consider funding this project with me, it can truly make an impact on people's day-to-day lives.
I'm happy to answer any questions. Thanks!