PARISIANA: Savor a new level of Espresso enjoyment | An amazing cup to reveal the full taste & aroma of your coffee, making it more intense each sip.

CLICK HERE TO ORDER YOUR PARISIANA CUPS
CLIQUEZ ICI POUR COMMANDER VOS TASSES PARISIANA
The texts translated into French have the sign (FR) before.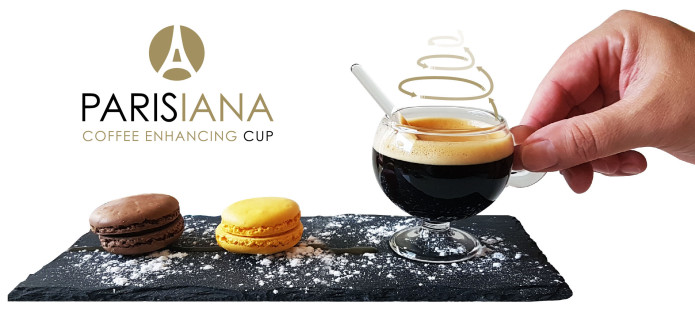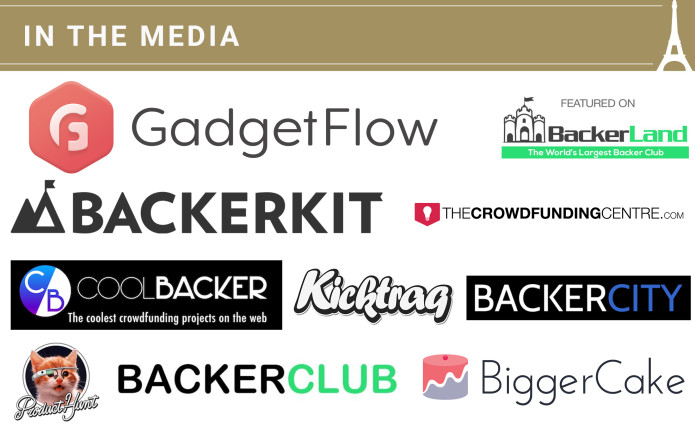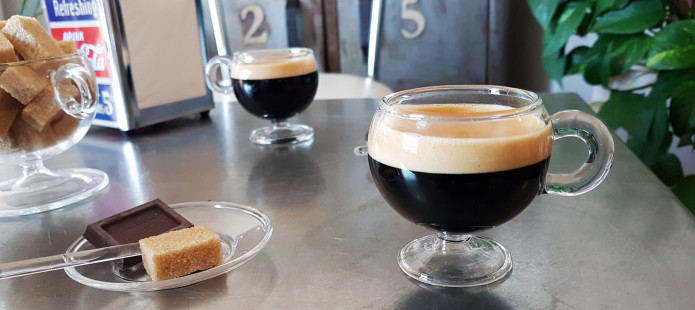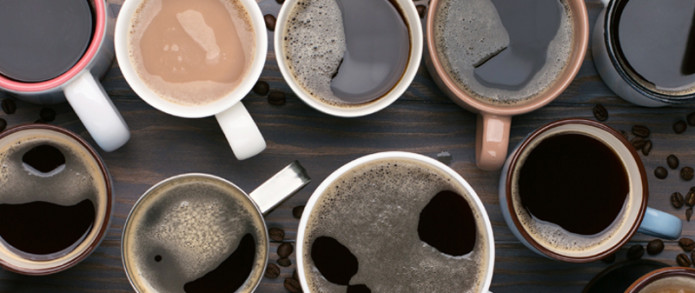 There are millions of different espresso cups but none satisfy us perfectly. That's why we decided to create one that would concentrate the best qualities of all the existing cups and that would enhance the pleasure of tasting our espresso every time with people we love.
Our innovative cup combines all the qualities of great espresso cups into one.
(FR) Il existe déjà des millions de tasses à expresso différentes, mais aucune ne nous satisfait parfaitement. C'est pourquoi nous avons décidé d'en créer une qui concentrerait les meilleures qualités de toutes les tasses existantes et renforcerait le plaisir de déguster notre expresso à chaque fois avec les gens qu'on aime.
Notre tasse innovante combine toutes les qualités d'une parfaite tasse à espresso.



It's scientifically proven, 90% of what we perceive as a flavor comes from our sense of smell. To design our coffee cup that enhances the flavor, we chose the balloon shape that is very use for wine glasses.
The PARISIANA cup works like a balloon wineglass. Its curves help to concentrate the aromas above the cup. In addition, this form makes it possible to compact the coffee foam when it is formed to make it tastier.
In addition, visually, it gives your espresso an unique pearl shape that makes it even more delicious.
(FR) C'est scientifiquement prouvé, 90% de ce que nous percevons comme une saveur provient de notre odorat. Pour concevoir notre tasse à café qui rehausse la saveur, nous avons choisis la forme de ballon qui est très utilisée pour les verres à vin.
La tasse PARISIANA fonctionne comme un verre ballon pour le vin. Ses courbes aident à concentrer les arômes au-dessus de la tasse. De plus, cette forme permet de compacter la mousse de café lorsqu'elle se forme pour la rendre délicieuse.
De plus, visuellement, elle donne à votre l'expresso une forme de perle unique qui le rend encore plus savoureux.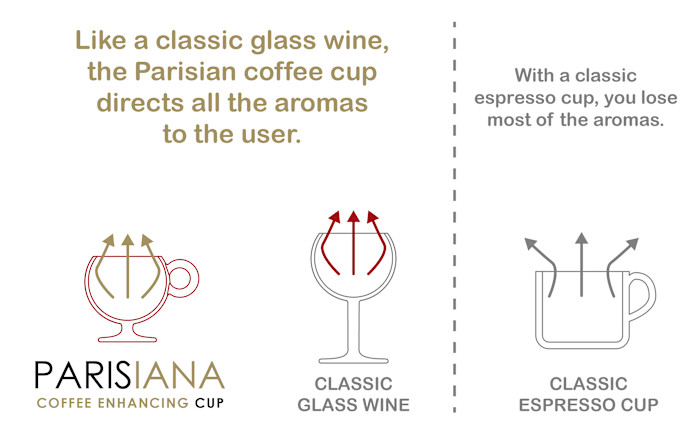 The coffee cup "PARISIANA" has been designed by a designer who loves coffee. Each of the lines has been designed to allow you to enjoy your espresso like never before. This cup will make the tasting of an espresso more enjoyable.
Thus, its shape in a wine balloon allows:
to direct the aromas above the cup to concentrate them in your nostrils, 
to increase the volume of the foam thanks to the meniscus,
to densify the foam,
to give your coffee a pearl shape to make it beautiful, 
to keep the coffee grounds that could spoil the tasting.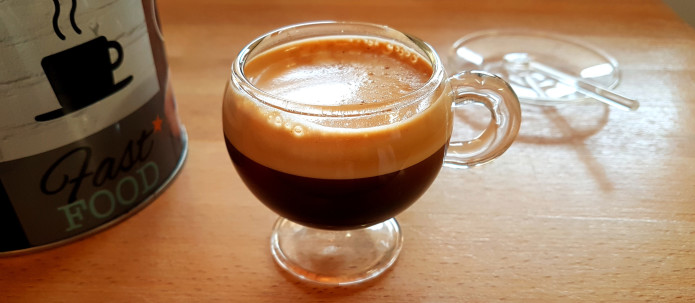 (FR) La tasse à café "PARISIANA" a été conçue par un designer qui adore le café. Chacune des lignes a été conçue pour vous permettre de savourer votre espresso comme jamais auparavant. Cette tasse rendra la dégustation de votre expresso plus agréable.
Ainsi, sa forme en ballon à vin permet :
de diriger les arômes au-dessus de la coupe pour les concentrer dans les narines,
d'augmenter le volume de la mousse grâce au ménisque,
de densifier la mousse,
de donner à votre café une forme de perle pour le rendre beau,
de garder le marc de café qui pourrait gâcher la dégustation.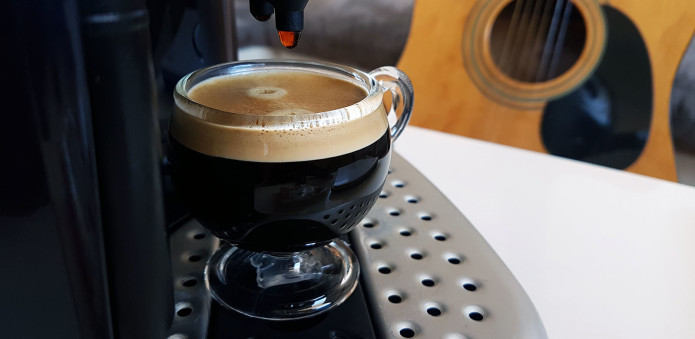 Have you ever seen such a delicious, dense and thick foam? The balloon shape creates turbulence favorable to the foam and makes it more compact once at the top.
The lovely glass handle allows you to take coffee without burning and without cooling the coffee.
The glass thickness of 3mm keeps the coffee warm without cooling it. It is largely sufficient for professional quality. The cup looks really solid in the hand.
The foot gives the illusion that the coffee floats and allows to put it on a table without burning it and without cooling the coffee. The saucer is no longer necessary.
This cup is the first cup in the world that can be suspendable like a wine glass but also stack to simplify storage.
It is very strong and easy to wash by hand or in the dishwasher. The cup goes to the oven up to 500 ° C because it is made of high quality borosilicate glass.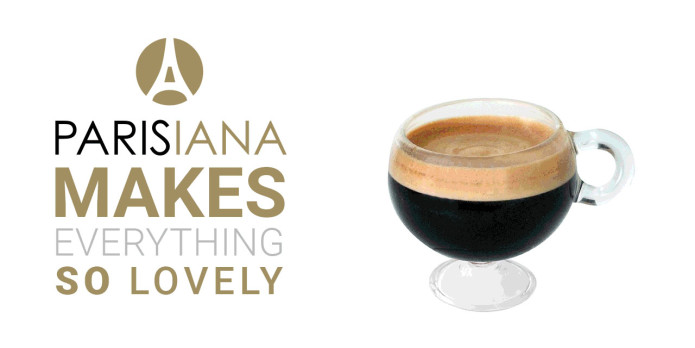 (FR) La belle poignée en verre vous permet de prendre le café sans se brûler et sans le refroidir.
L'épaisseur de verre épaisse de 3 mm maintient le café au chaud sans le refroidir. Elle est largement suffisante pour une qualité professionnelle. La tasse paraît très solide dans la main.
Le pied donne l'illusion que le café flotte et permet de le poser sur une table sans le brûler et sans refroidir le café. La soucoupe n'est plus nécessaire.
Cette tasse est la première tasse au monde à pouvoir être suspendue comme un verre à vin mais également peut également s'empilée pour en simplifier le stockage.
La tasse est très résistante et facile à laver à la main ou au lave-vaisselle. La tasse va au four jusqu'à 500°C car elle est en verre borosilicate de haute qualité.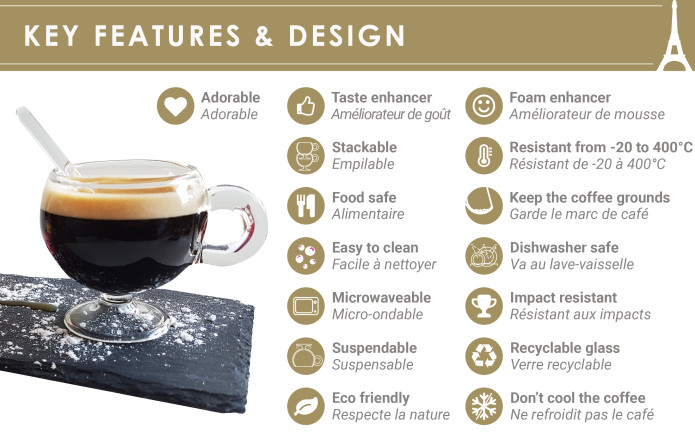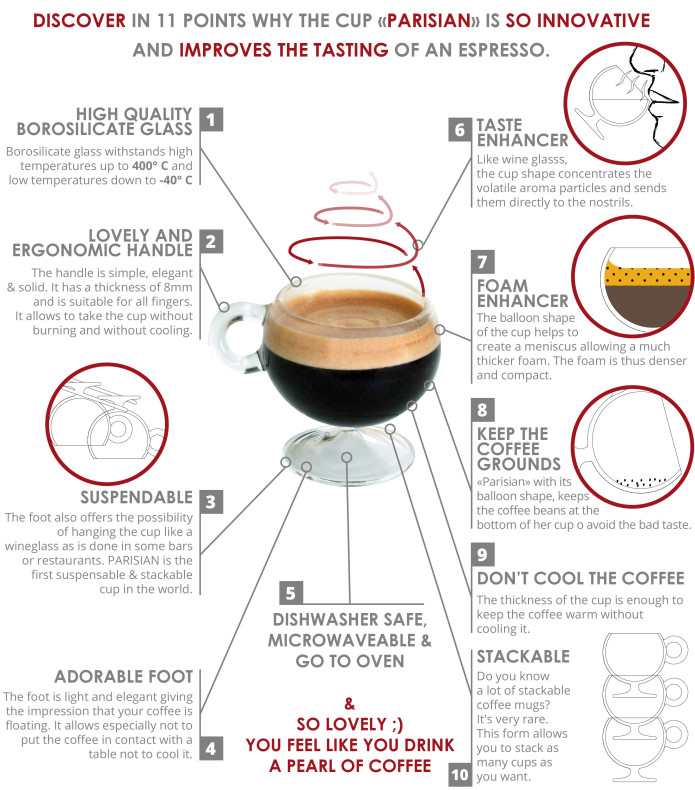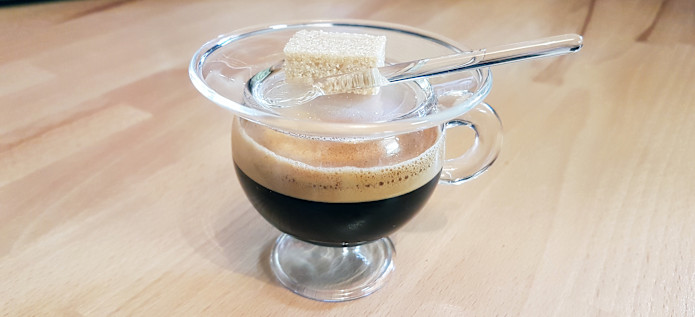 The saucer also attaches perfectly to the cup to preserve heat while presenting the spoon, cookie or sugar.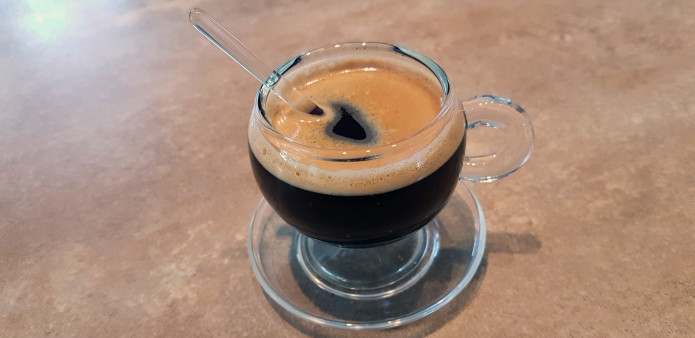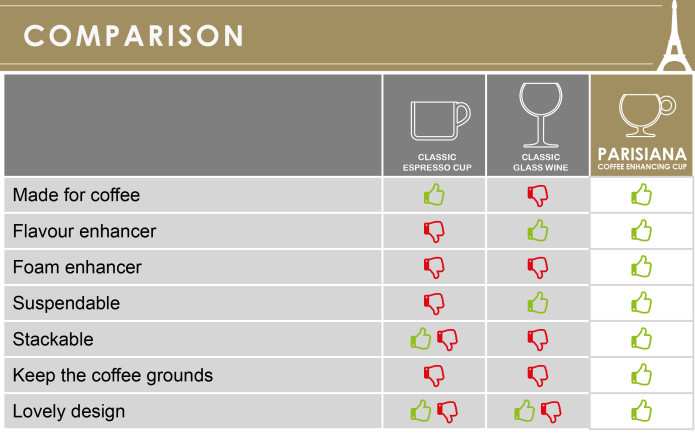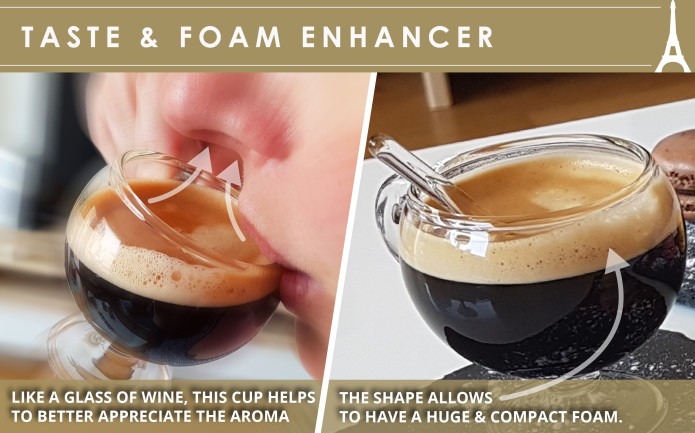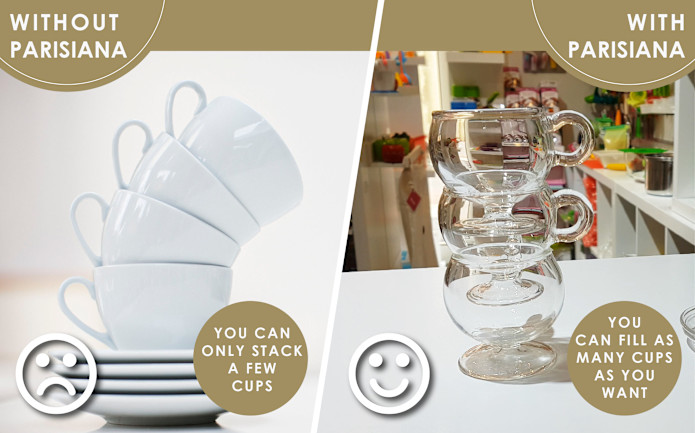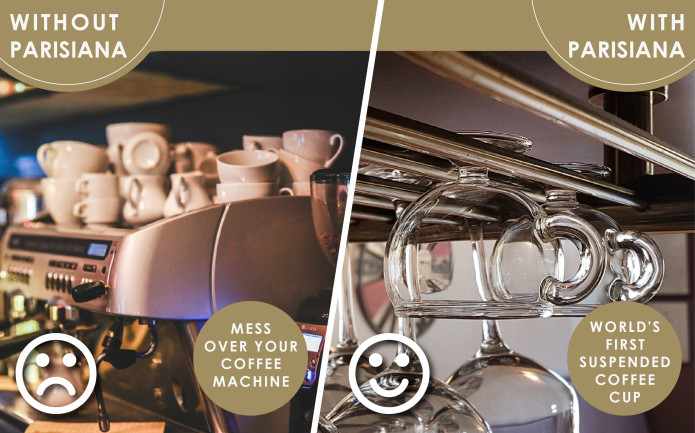 PARISIANA coffee cups can also land on machines but it's more stylish & professional on rails;)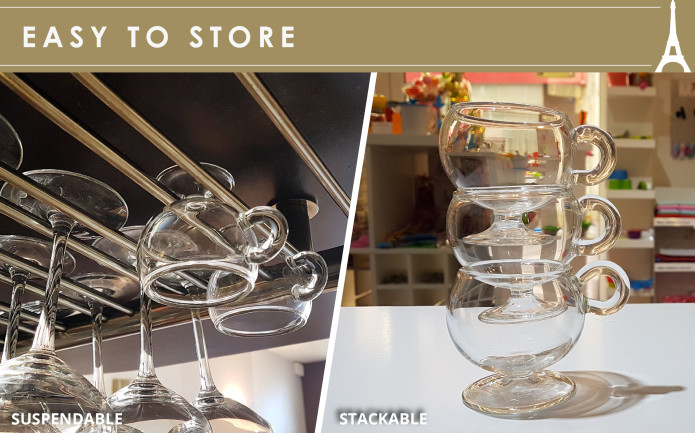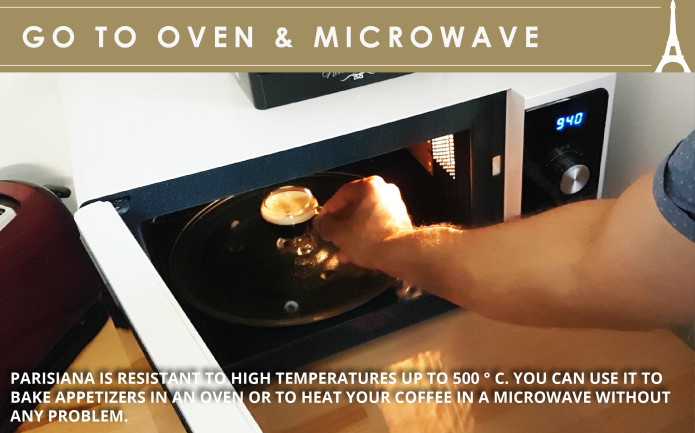 (FR: PARISIANA résiste à des températures jusqu'à 500°C. Vous pouvez l'utiliser pour cuire des entrées dans un four ou réchauffer votre café dans un four micro-ondes sans problème.)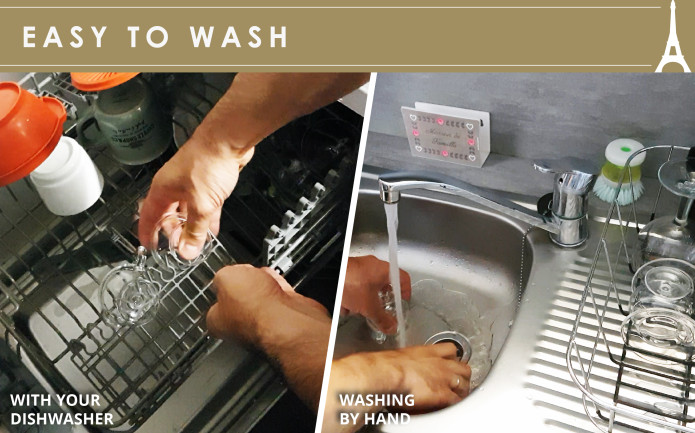 The cup is made with a single component of high quality borosilicate glass. There is no glue, the glass is baked at over 1500°C.

You can also use your cups PARISIANA to present :
your aperitifs,
your entries,
your desserts,
your cocktails or
your shooters.
With the PARISIANA cup, imagine all the happiness pearls you could create for your family and friends.
The creative possibilities are limitless.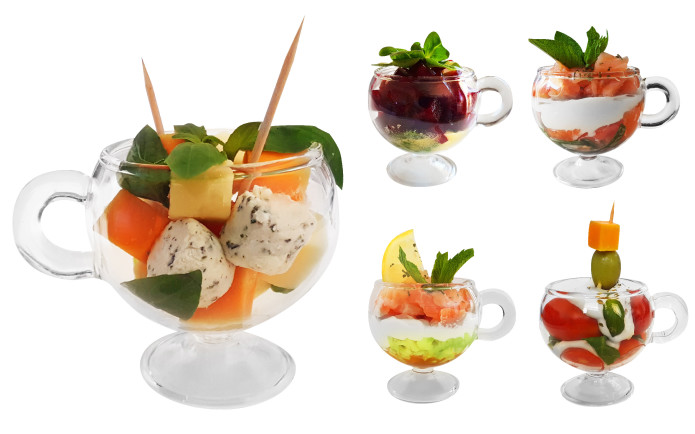 (FR) Vous pouvez également utiliser vos tasses PARISIANA pour présenter:
vos apéritifs,
vos entrées,
vos desserts,
vos cocktails ou
vos shooters.
Avec la tasse PARISIANA, imaginez toutes les bulles de bonheur que vous pourrez créer pour votre famille et vos amis.
Les possibilités créatives sont illimitées.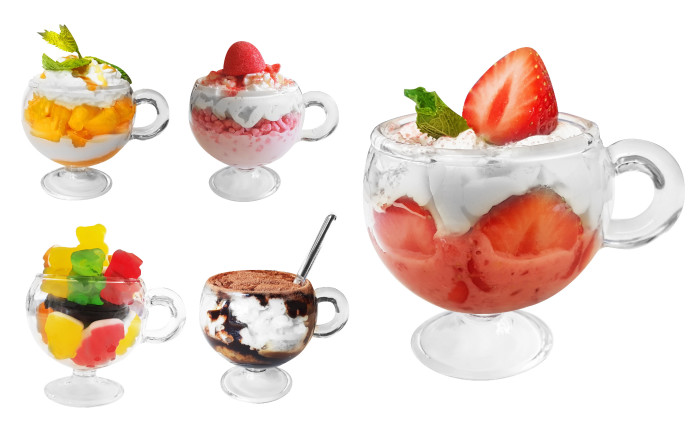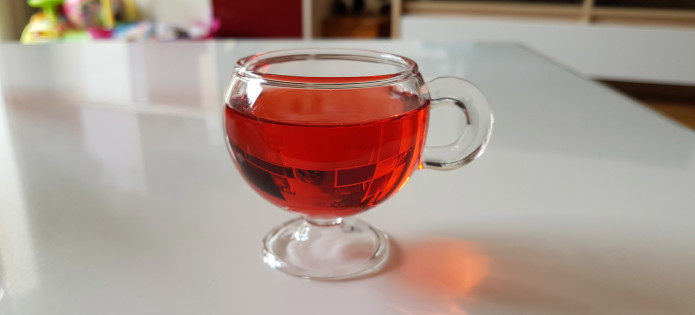 PARISIANA is an original way to present your shooters or cocktails.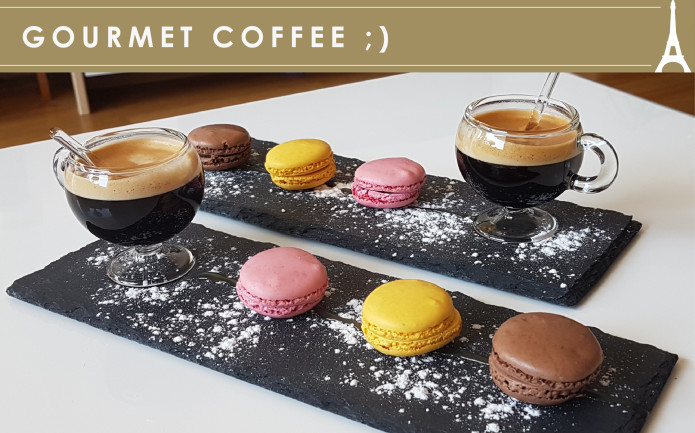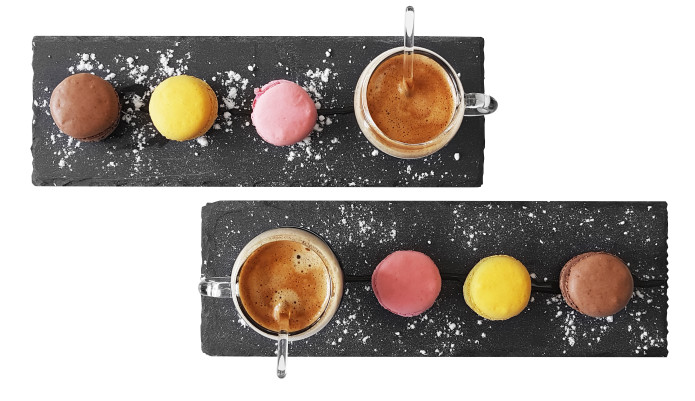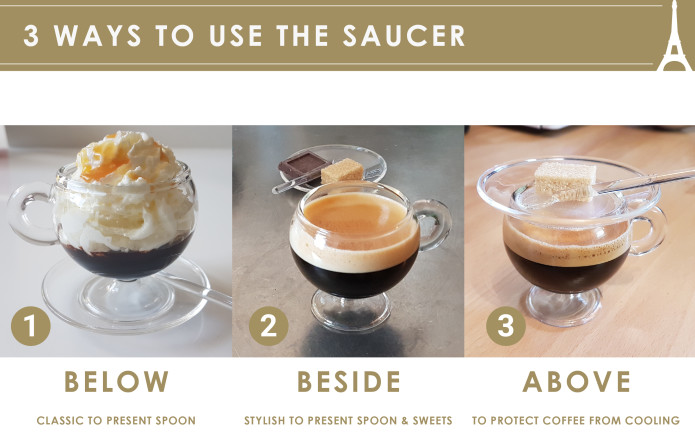 Everyone knows or has heard about the city of Paris in France and its culture of Parisian cafés. France is also very popular for its wine culture and its famous wines.
(FR) Tout le monde connaît ou a entendu parler de la ville de Paris en France et de sa culture des cafés parisiens. La France est également très populaire pour sa culture du vin et ses célèbres vins.

But do you know that when the coffee beans arrived in Paris, Parisians were drinking their coffee in wine glasses? Simply because when the coffee beans arrived, all the Parisian cafes did not have ceramic cups. Still today, some Parisian cafes still serve your espresso in a wine glass at the counter in memory of that.
This PARISIANA coffee cup has a shape inspired by this story, offering a unique design and ideal characteristics to enjoy a good espresso as you would enjoy a good glass of wine. It is for this story that we chose to call this cup PARISIANA.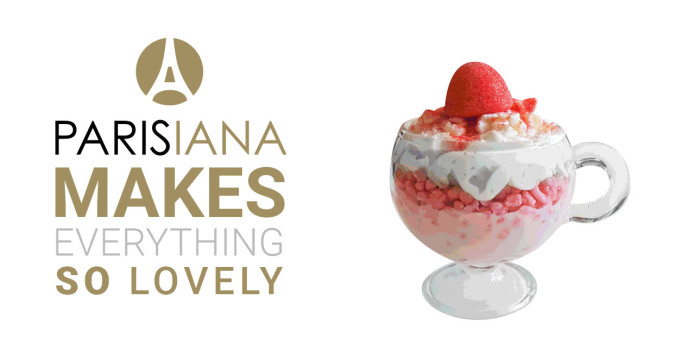 (FR) Mais savez-vous que lorsque le café en grain est arrivé à Paris, les parisiens buvaient leur café dans des verres à vin? Tout simplement parce que lorsque le café moulu est arrivé, tous les cafés parisiens n'avaient pas de tasse en céramique. Encore aujourd'hui, certains cafés parisiens servent toujours votre espresso dans un verre de vin au comptoir en souvenir de cela.
Cette tasse à café PARISIANA a une forme inspirée de cette histoire, offrant un design unique et des caractéristiques idéales pour savourer un bon espresso, tout comme un bon verre de vin. C'est pour cette histoire que nous avons choisi d'appeler cette coupe PARISIANA.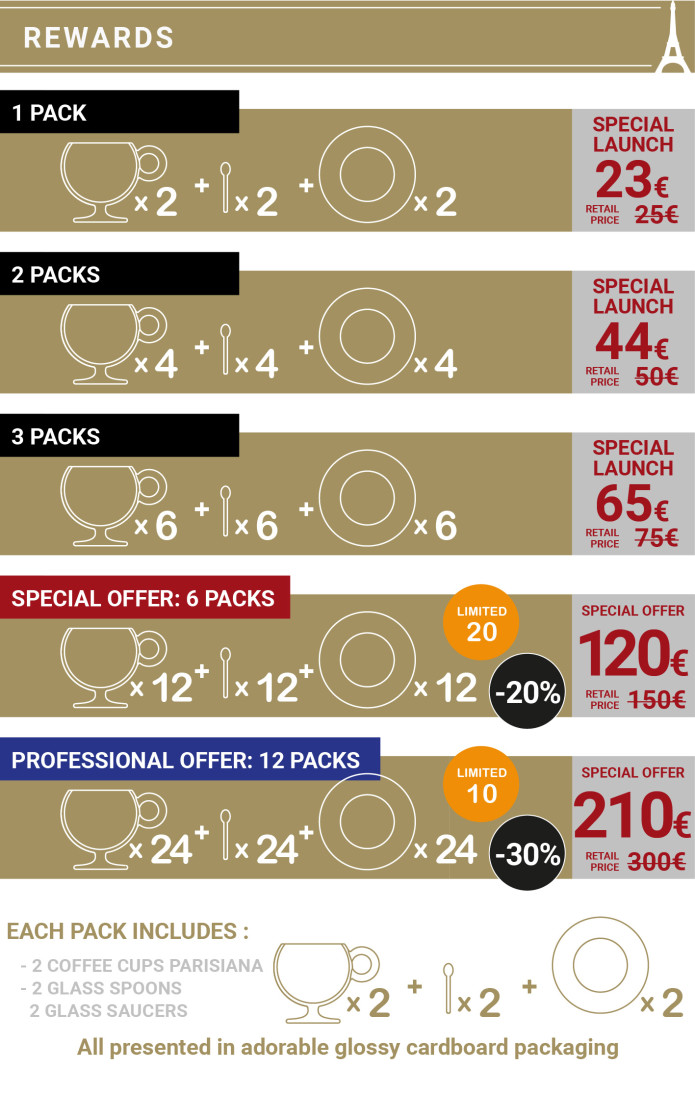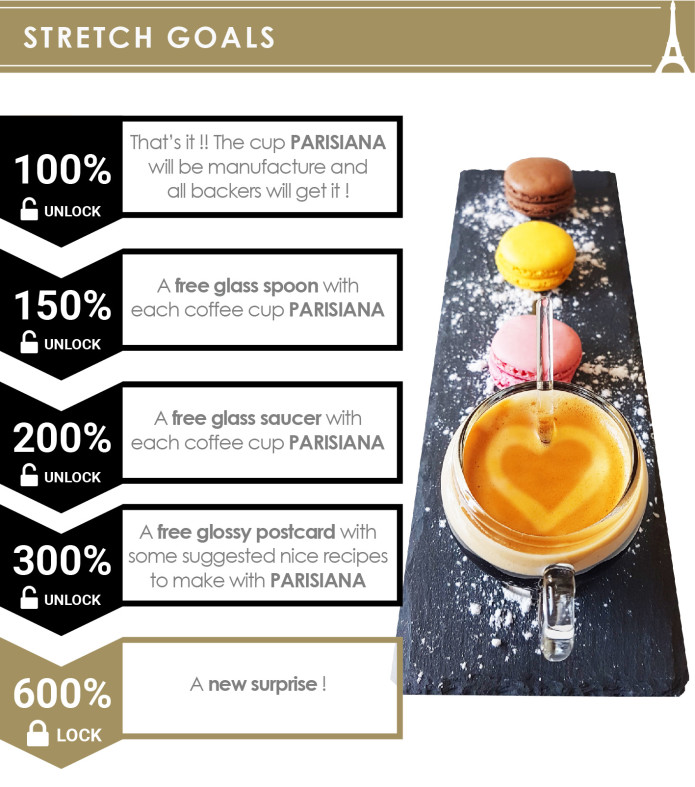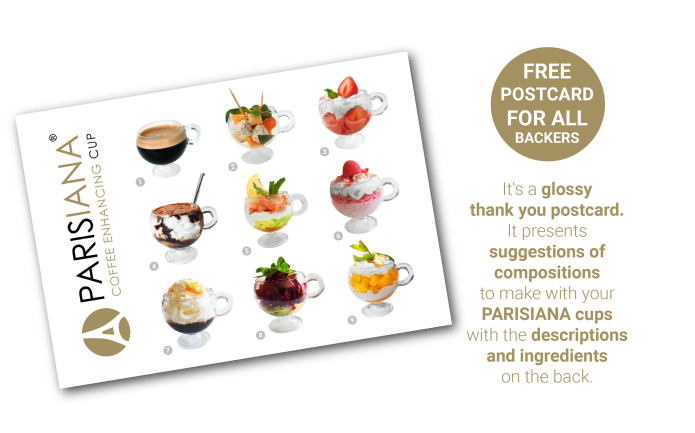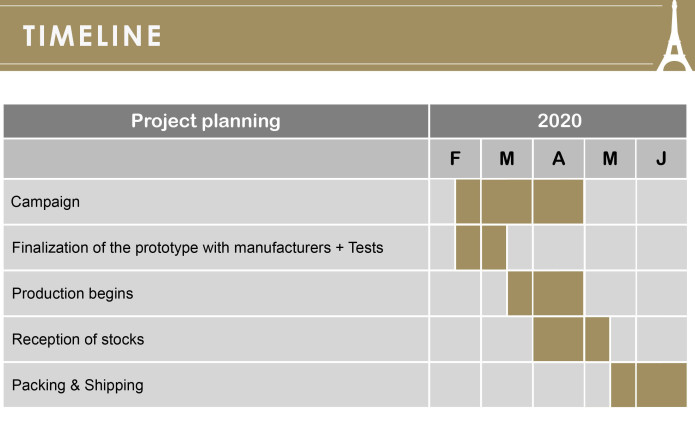 We already have experience of 2 campaigns on Indiegogo for shipments around the world. The packaging will be refurbished so that the cups do not break.
We ship worldwide with a low shipping cost. When shipping, all contributors will receive a tracking number.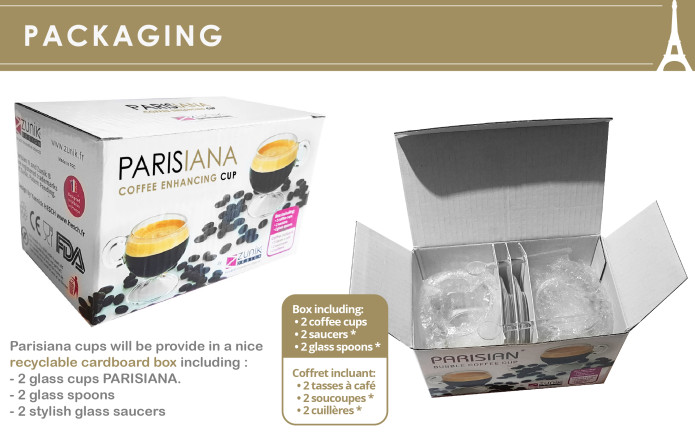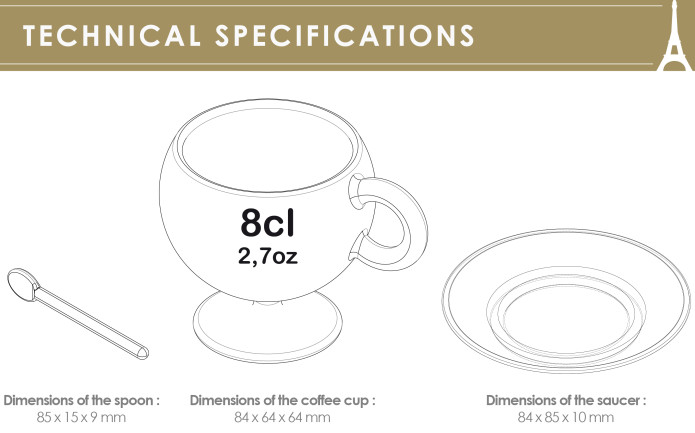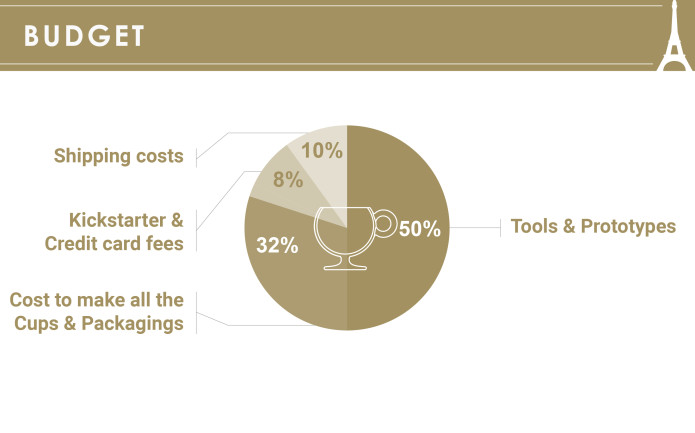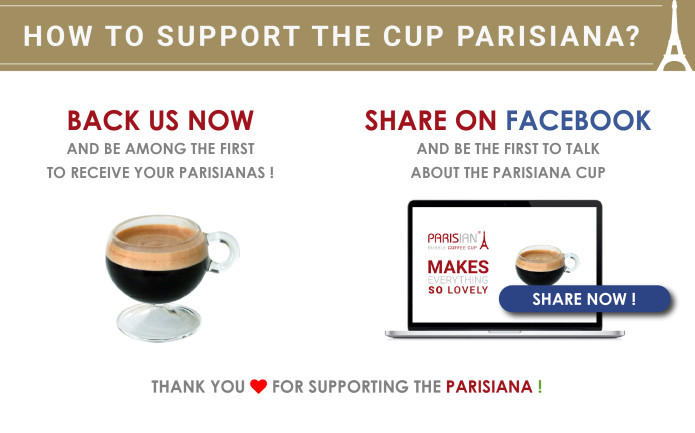 Zunik was created by French designer Yannick HESCH in 2017.  This brand was created to invent and create new simple products to  simplify our daily lives. Our team intends to propose many other fun and  practical objects in the future. Zunik works primarily for the  development of innovative everyday objects for the kitchen and  home. We  want our products to be both lovely and creative.
(FR) Zunik a été créé par le designer français Yannick HESCH.  Cette marque a été créée pour inventer et créer de nouveaux produits  simples afin de simplifier notre quotidien. Notre équipe a l'intention  de proposer de nombreux autres objets amusants et pratiques dans le  futur. Zunik travaille principalement au développement d'objets  quotidiens innovants pour la cuisine et la maison. Nous voulons que nos  produits soient à la fois beaux et créatifs.

Yannick HESCH was born in France. He studied at the  European  Design Institute of France and obtained a Master of Industrial  Design at the University of Salford in England. He has worked for more  than 15 years as an industrial designer and graphic designer. He works  between Lyon and Paris and has already advised more than 300 companies.  He is passionate about everyday objects because he thinks that one lives  better when one is surrounded by beautiful and good objects. He loves  cooking and that why he has invented the Oriboard, the MeoMitt and the PARISIANA 😉 He has already won many awards for his work, including a medal at the Lépine International  Competition.
(FR) Yannick HESCH est né en France. Il a étudié à l'Institut  Européen du Design de France et à obtenu un Master de design industriel à  l'Université de Salford en Angleterre. Il travaille depuis plus de 15  ans comme designer industriel et graphiste. Il travaille entre Lyon et  Paris et a déjà conseillé plus de 300 entreprises. Il est passionné par  les objets du quotidien car il pense que l'on vit mieux quand on est  entouré de beaux et bons objets. Il adore cuisiné et c'est pour cela  qu'il a inventé l'Oriboard 😉 Il a obtenu de nombreux prix dont la  Médaille de bronze du Concours Lépine et le Prix Lumières de la Société  Lyonnaise des Inventeurs et des Artistes Industriels (SLIAI).