PAT-Unlocking the Secret to Pain Relief | PAT uses your body's natural current to treat pain in a way that's never been done before.
We set out to create a life changing, portable pain relief device that was totally different than a standard TENS unit.  After 25 years of research and development, PAT is finally here.  Our perception of pain and the process of healing are electrically driven functions of the body. We have created a microcurrent therapy device that mimics your body's natural current to alleviate your pain. No more pills, no more searching for relief, no more gimmicks that don't work. With PAT, you can stop trying to just block the pain and start treating it at the source.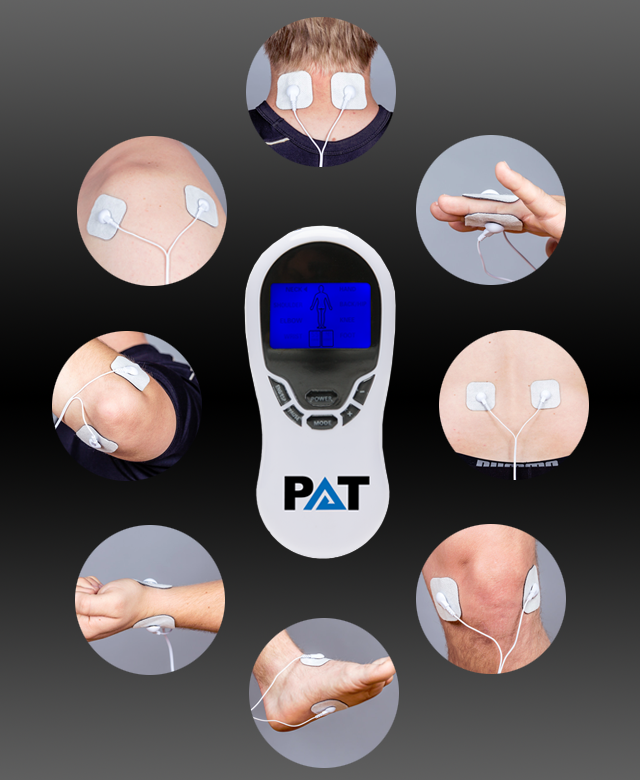 PAT has 8 settings for different body parts and will treat numerous disorders including:
Neck: Arthritis, muscle strain, partial disc herniation, degenerative disc disease, ankylosing spondylitis
Shoulder: Arthritis, tendinitis, bursitis, rotator cuff tear or sprain, muscle strain
Elbow: Tendinitis, arthritis, sprains and strains, bursitis, tennis elbow, golfer's elbow, ligament damage
Wrist: Carpal tunnel syndrome, arthritis, sprains and strains
Hand: Arthritis, tendinitis, sprains, ligament damage
Back: Sciatica, degenerative disc disease, arthritis, muscle strain, partial disc herniation
Hip: Arthritis, bursitis, hip impingement, snapping hip syndrome, muscle strain
Knee: Arthritis, bursitis, tendinitis, Osgood-Schlatter disorder, ligament damage
Foot: Tendinitis, arthritis, Achilles tendon sprain or partial tear, ankle sprain, tarsal tunnel syndrome, plantar fasciitis
These are just a few of the conditions PAT will treat. Anything that has caused inflammation in any part of the body is a great candidate for PAT.

100% drug free
Lightweight, slim design
Portable/Wearable
AutoPATic (optimized, pre-set therapy settings). Treatment turns itself off automatically
Can be set up to treat in less than 1 minute
Backed by 25 years of research
1 year satisfaction guarantee
Uses silver electrode pads that distribute the current evenly. Replacement pads are $8.95 for two sets including shipping, enough for an average of 30 treatments.

PAT is made by Marchan Medical and we need your help. We have them in stock but we need to obtain final FDA clearance to get them out to people who need pain relief. Backing this campaign will help us achieve that goal. Also, we need your help in our campaign to give as many PAT systems as possible to our heroes–military and first responders.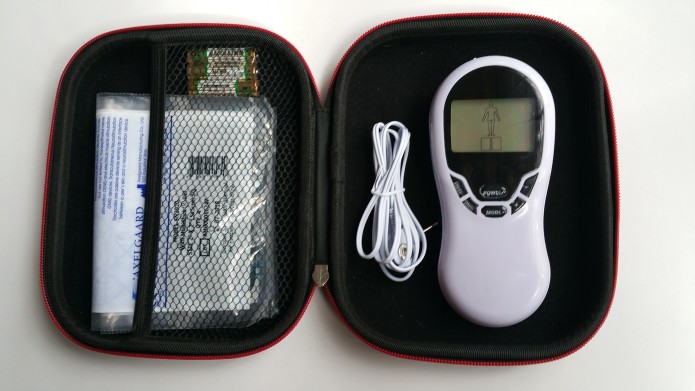 With each PAT system you will get the main unit, wire, batteries, manual, case, and 4 sets of electrodes (enough for an average of 60 treatments). You also get a one year satisfaction guarantee starting the day your PAT is delivered.

You will have the opportunity to be the first to own PAT and will get a 30-40% discount by supporting us. The earlier in the campaign you join, the more discount you get. Also, please see we have perks where you can support our efforts to give PAT to all of our heroes that have pain.
Heroes to us are first responders, active military, and veterans. They put their bodies at risk to protect us every day. Many of them develop chronic pain as a result. Please see the perks that enable you to contribute to this cause, whether it is donating PAT to a hero, outfitting a first responder station, or simply contributing whatever you can to support giving PAT to these heroes.

During our testing and usability studies, many people successfully treated their pain. We found that PAT actually relieves pain a lot better than we ever dreamed. Here are a few of their comments:
"I have had three neck fusion surgeries and for many years have had continued severe neck pain and great difficulty sleeping. After using PAT  a few times, it not only has relieved much of my pain but allows me to sleep through the night !" – Peggy, Virginia
"I  make jewelry and the tendonitis I had in my thumb made it very difficult and painful to do my work. PAT has eliminated the pain in my thumb and now I use it regularly for aches and pain throughout my body from fibromyalgia. I love it!" -Deb, South Carolina
"I was in the midst of a men's basketball league season and my worn out knees were getting worse every game.  As a former college soccer and basketball player, my knees have suffered a lot more abuse than the average Joe!   I began using the device and, within a few days, my knee felt better. I then began using it on both knees and was able to play relatively pain free the next few games.  My only regret is that I had to give it back as it was a test unit!  Once these are available, I will be at the front of the line!" – Bob, Michigan
"I am a triathlete and had intense knee pain. I couldn't run without pain for over a year. I treated my knee two times and the next morning was able to run without knee pain. It's magical! -Claire, Ohio
"I have suffered with carpal tunnel symptoms for years and was in severe pain at the end of each work day until I started using this device. After only a few uses… I felt relief. Now my wrist and arm are pain free." – Pam, Tennessee
"I had wrist and shoulder pain for over 1 year that never seemed to heal. After just a few weeks my wrist pain was gone. A little while longer and my shoulder didn't hurt either. I was honestly wondering if I would be able to throw a baseball or football with my boys in a few years. No doubts now" -Justin, Georgia
"This device is amazing! No more shots in my knee. The pain is completely alleviated. I also had pretty severe joint pain in my hand. It's completely gone. It's changed my life."- Jamie, North Carolina

In simple terms, when you place the electrode  pads on the area that hurts,  PAT's current passes through the inflamed cells that are causing the pain. This healing current, which mimics the body's natural current starts a sequence of effects that results in the cells returning to normal, When the cells are normalized, the pain is relieved.

What is the difference in PAT and a standard TENS unit?
TENS units use as much as 1,000 times more current than PAT. They are designed to temporarily block pain. By using much lower currents, PAT mimics the body's natural currents so that the tissues that are causing the pain begin to normalize and thus pain is reduced.
How many treatments will it take me to get relief?
There is no set number of treatments. A recent muscle strain may feel 50% better after one treatment and gone after three. However, chronic pain may take a 5 or more treatments to feel a difference. Why is this? The longer you have the pain, the longer it may take to get rid of it. However, the majority of people begin to feel some relief by the second treatment.
How hard is PAT to use on myself?
PAT is very easy to use. Since the treatments are automatic based on the body part treated, all you have to do is apply two electrodes, connect them to the PAT device, turn it on, and choose the part you are treating. After the treatment is over, PAT will turn itself off.  For more information, see the owner's manual.
Can I treat any painful area no matter what causes it?
With the exception of treating over known cancer areas, on the head or the front or sides of the neck, you can treat any part of the body that is causing pain.
Can more than one person use the same unit?
Yes, as long as they use a different set of electrode pads. Many people treat their whole family with one unit by ordering a set of electrode pads for each member of the family.
What do you mean by your One Year Money Back Guarantee?
Up to one year after delivery, if after using PAT you are not getting pain relief, you can send it back to us for a refund.
Do I need to see my physician before I use it?
There is no prescription required for PAT. However, if you don't understand why you are having the pain, we encourage you to see your physician to properly diagnose it. For example, if you have any concern there may be a fracture, see your doctor.
Do I have to worry about shocks?
No, the current used is direct current operating at 40-250 millionths of an amp. We say, you will only be shocked at how great it works!
Who should not use PAT?
Do not use PAT if you have a cardiac pacemaker, defibrillator, or other implanted metallic or electronic device.
Can I use it if I am pregnant?
No, the safety of PAT and all other TENS devices have not been evaluated to treat pregnant women.
Can I use PAT anywhere?
Yes, as long as PAT doesn't get wet, you can treat anytime and anywhere. This can be while walking, riding, or even at work.
What does PAT stimulation feel like?
Most people do not feel anything at all but it is common for people with sensitive skin to feel some tingling during the first phase which is from 10-15 minutes. This does not affect the treatment.
Are there any side effects?
No, the only thing you may experience is slight skin irritation under the electrode pads. Marchan Medical offers hypoallergenic pads if you need them.
How many treatments can I get before I need to change electrode pads?
This depends on the condition of your skin and many other factors. However, most people get at least 15 treatments from one set of electrode pads. You use the electrodes until they will no longer stick to your skin. We supply you with 4 sets of electrodes when you originally buy PAT. More can be ordered at marchanmedical.com.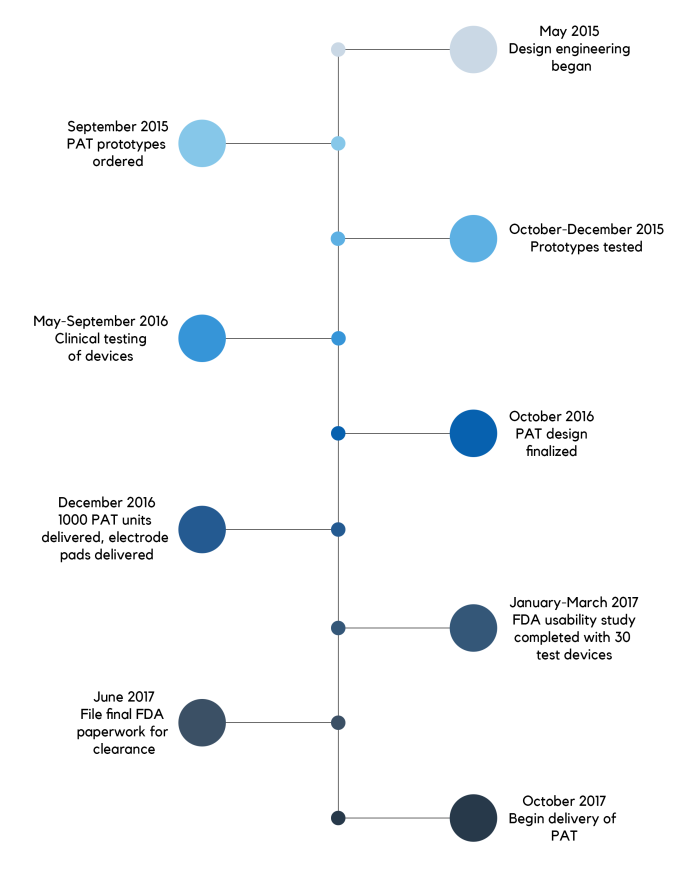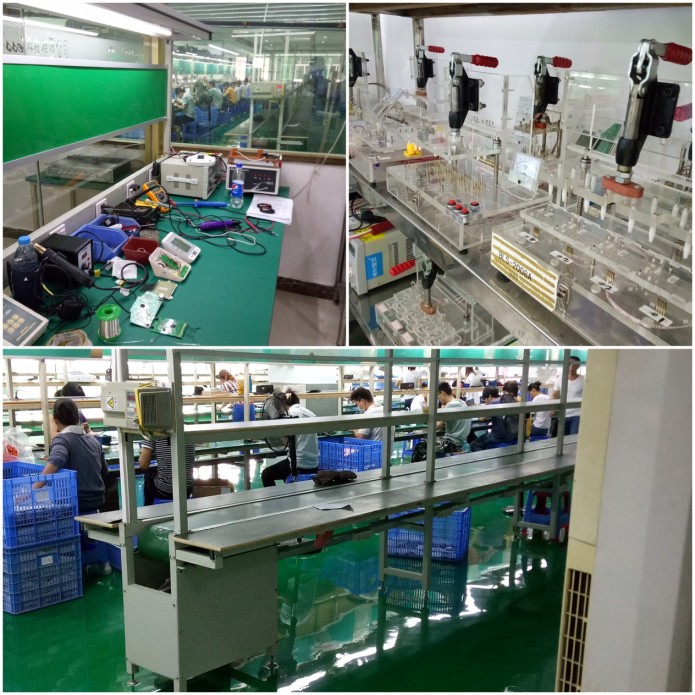 PAT is manufactured by Bless Electronic Technologies Co., Ltd. The electrode pads are manufactured by Axelgaard Manufacturing Co., Ltd. in California.

As we've said, our only hurdle is our final FDA clearance. Our FDA consultant is ready to file the paperwork as soon as this campaign ends. We believe that we have done everything necessary to ensure quick FDA clearance.
That is our only risk. We have 950 PAT systems in stock ready to ship and we have completed all the clinical testing and usability studies. Our manufacturer is ready to gear up production for up to 50,000 units per month. Our electrode pad manufacturer in California can deliver as many pads as we need. In other words, we are ready to ship the day we get our FDA clearance.