PERUANITA'S FOOD | I want to make known the variety of peruvian native food in my country and in the world
My name is Lucia Echevarria. I study Administration at USIL University.  I am in the last semester.I'm quite interested in volunteering helping people to improve human quality of life, I also belive that entrepreneurship and social responsibility will contibuite to achieve this goal.
 last year I had the idea of make my own entrepreneurship, which consisted in create a food store to sell  native products from different regions of my country. I was looking for revaluate our products and revaluate the work of small and medium-sized farmers, as well as to improve people nutrition.
When I finished my business plan, I realized that in order to put the store into operation, it would require a lot of investment, which I didn't have. That is why I decided to bring one product for the Andes to sell in Lima City. That product was the "imilla potato" that is a variety of Peruvian native potato that grows in Puno, 3800 meters above sea level. They are sown and harvested without chemicals or pesticides.
The potato sale was a success, selling 100 kilos in two days. The persons in Lima had never tried that variety of potato. In Peru we have more than 3000 varieties of potatoes but in Lima we only eat 4 or 5 types of potaoes.  Which motivated me to continue bringing new products. However, I don't have the money to bring more
Actually I take the order through whatssapp and I deliver potatoes by moto delivery. I use special bags made of jute (as seen in the photo). Also  I take take care of the environment. I have 40 clients that buy these delicious potatoes every month. My dream is to increase the quantity of products, until I can set up our own store. I know I have a long way, so I go step by step.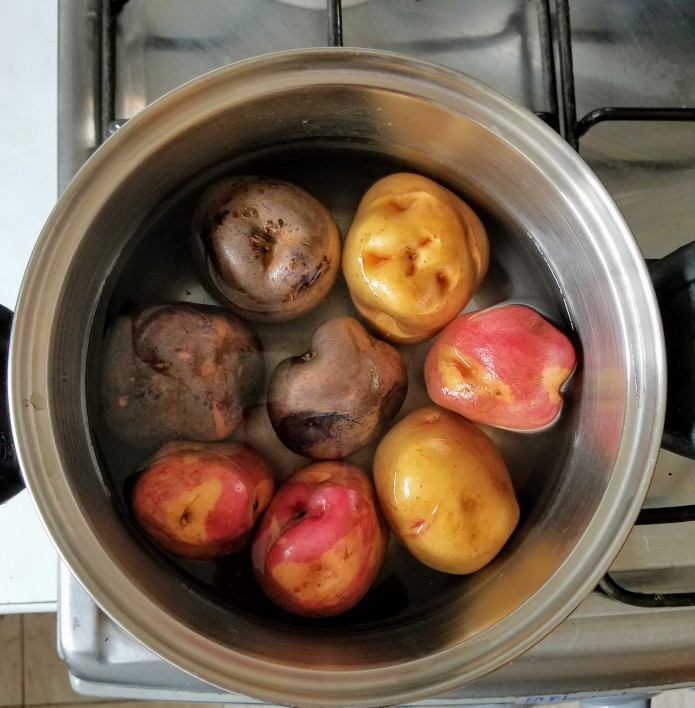 Puno is in southeasterm Peru between the shore of Lake Titicaca and Andes Mountains. Also Puno is the fisrt major hub in the constant migration of indigenous people of the Andes to the larger cities of Peru. Most of them come from agricultural communities seeking better opportunities for education and employment.
The impact of this Project is to make known the imilla potato and other different types of peruvian native products.

I Also seek to be a intermediary between small farmers and the people looking to consume organic foods. So they can access to Lima market and increase the sell of their agricultural products.
What we need?
Thanks to your collaboration, we will be able to achieve some of our goals this year as:
Bring two new native products from Puno such as "multicolored quinoa" (Andean grain) and yacon (fruit)

Increase the amount of Kilos from 100 to 200.

Attend more customers by delivery, today we serve 40

Distribute the products every 15 days, today is once a month.
What you get?
Each person will get a personal thanks (Virtual High Five). Every support counts and I will be grateful! Also I will greeting when update facebook page.
Other Ways You Can Help
Spread the word! Tell all your friends and families!