PICO: A garden in your palm. Growing is fun again! | Telescopic LED lights, multiple mounts, and self-watering system brings thriving plants everywhere.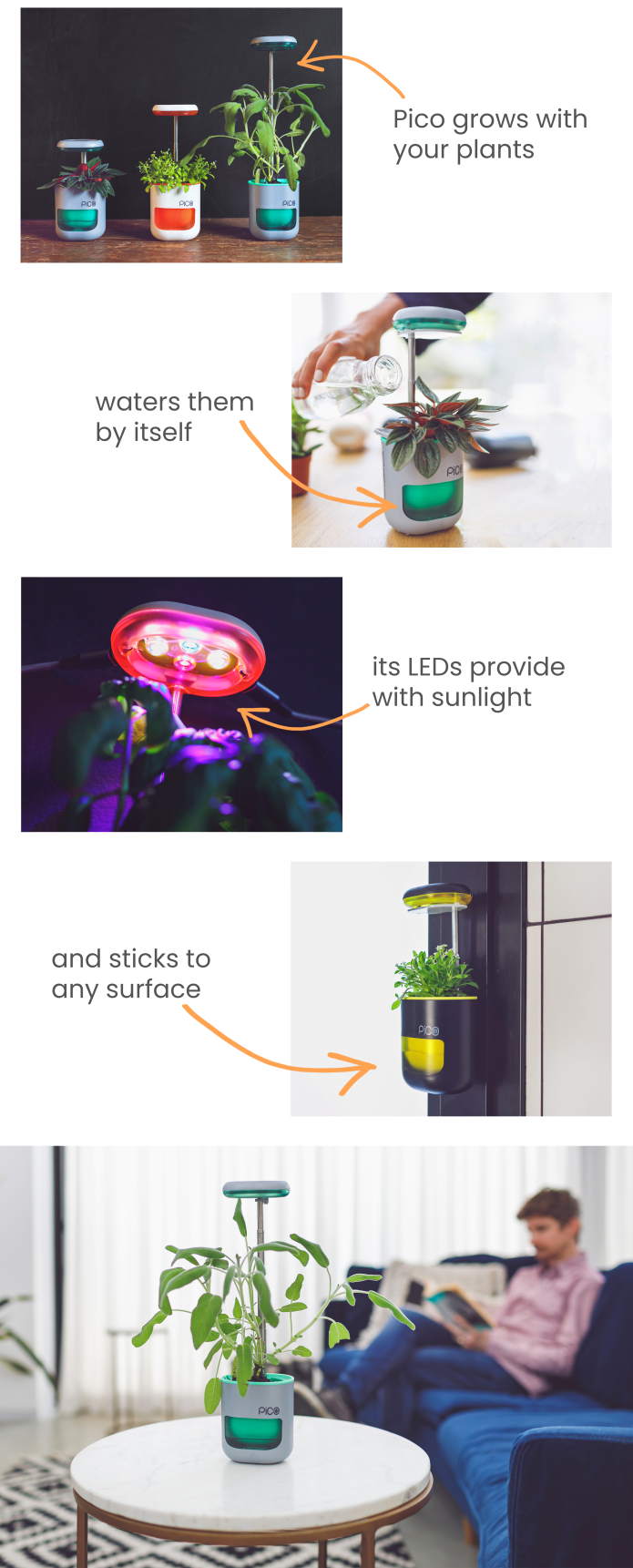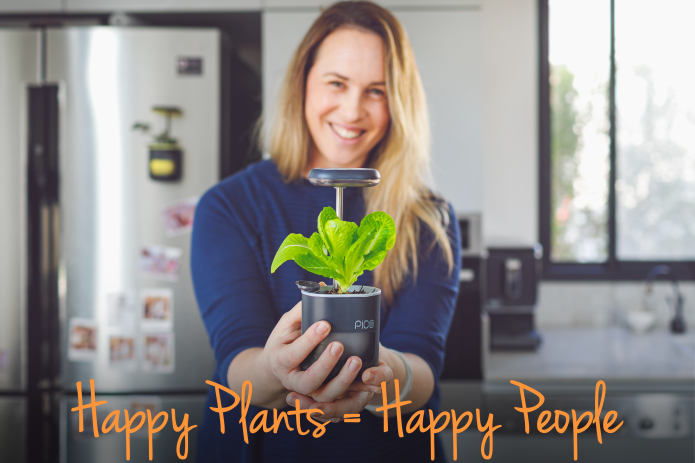 Pico will help you take your first steps into the magnificent world of growing plants. Easy and affordable, it ensures your plant journey is a success from day-one.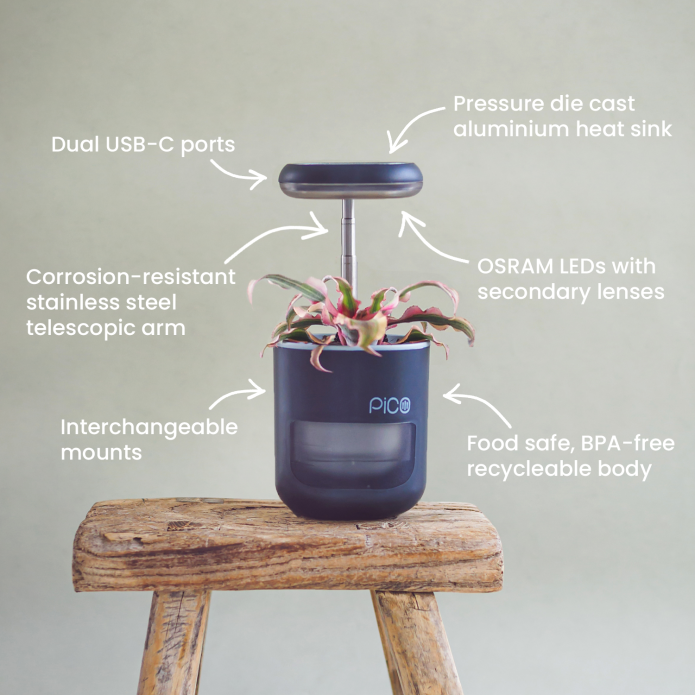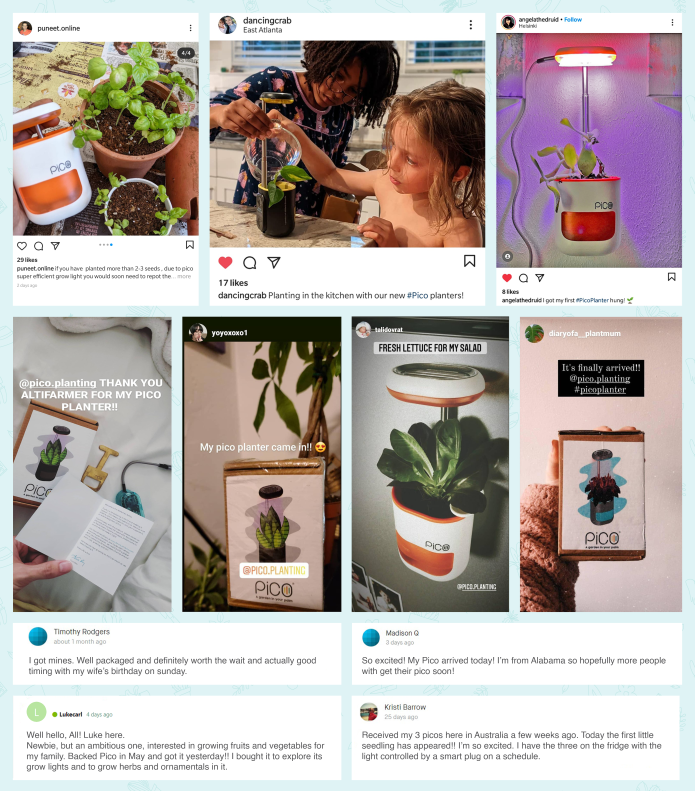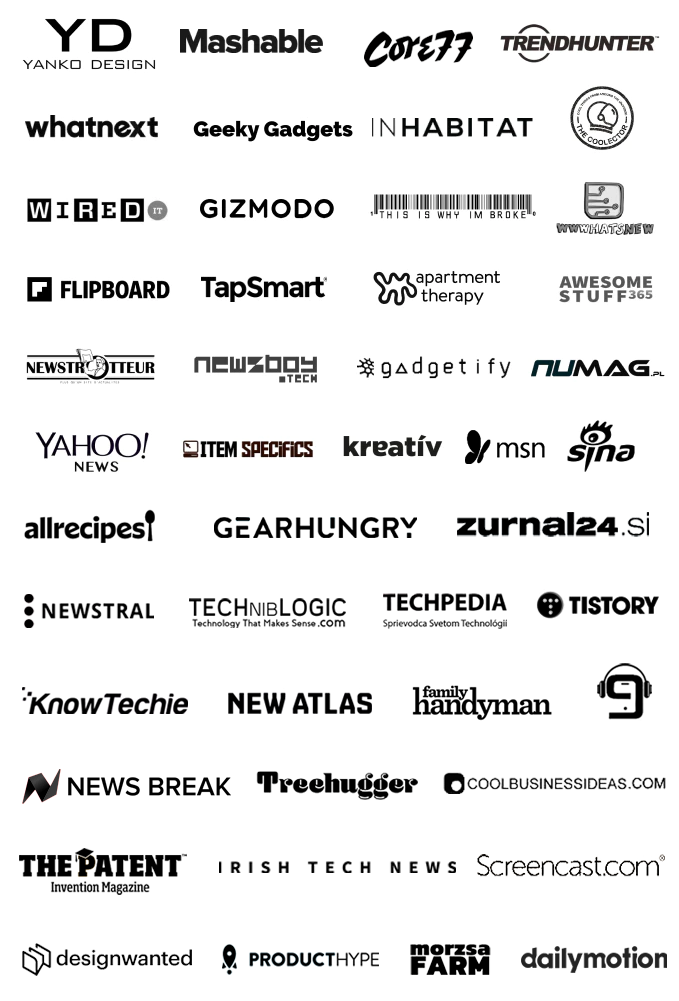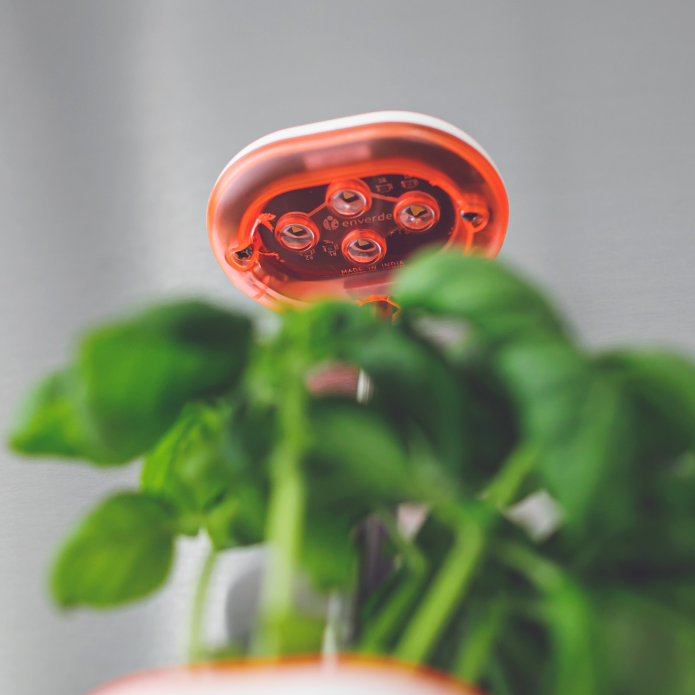 Growing plants indoors around the year can be tough because they require lots of direct sunlight to thrive. Unfortunately, you can't carry sunlight around to make sure your plants get the energy they deserve.

Thanks to Pico's multi-spectrum LED grow lights, giving your plant enough light isn't a problem anymore; with it, you too can #GrowLikeaPro.     
The LEDs are mounted on an easily-adjustable telescopic arm—because plants grow like crazy under our LEDs! Reminiscent of a vintage radio antenna, it grows alongside your plants. As they extend upwards towards the light, extend Pico by up to a foot in height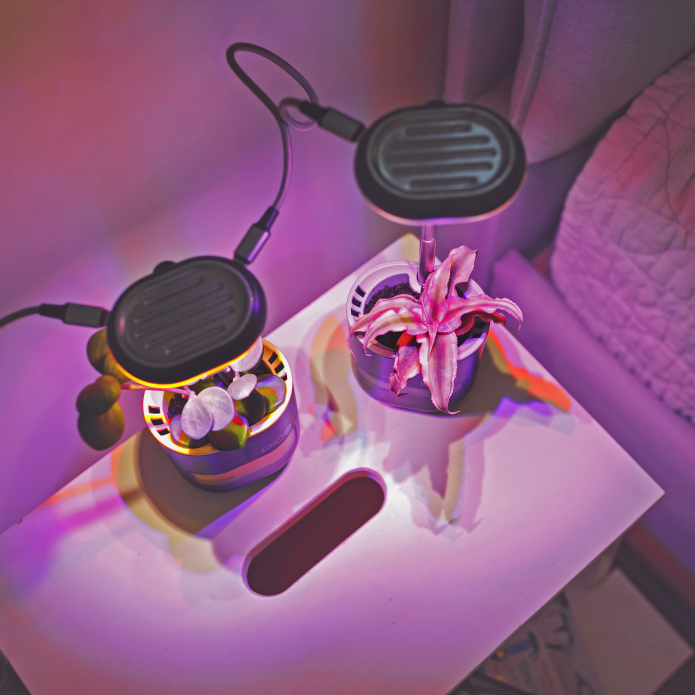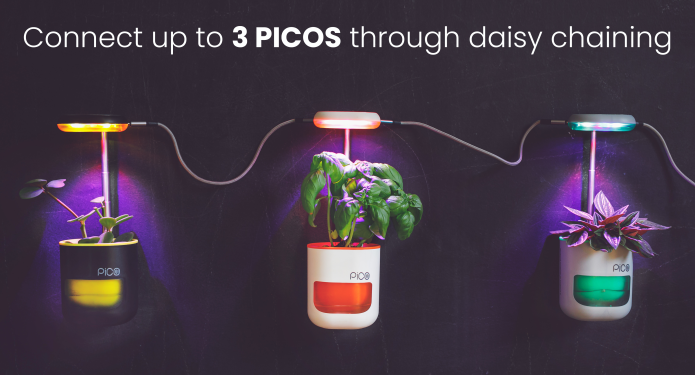 With its USB Type-C ports on both sides, you can chain up to 3 Picos together with a regular phone charger. Or build yourself an indoor jungle with 6 Picos powered through a 5V 3A charger! Just connect cables to either side, and each Pico will accept and pass-through power to the next one.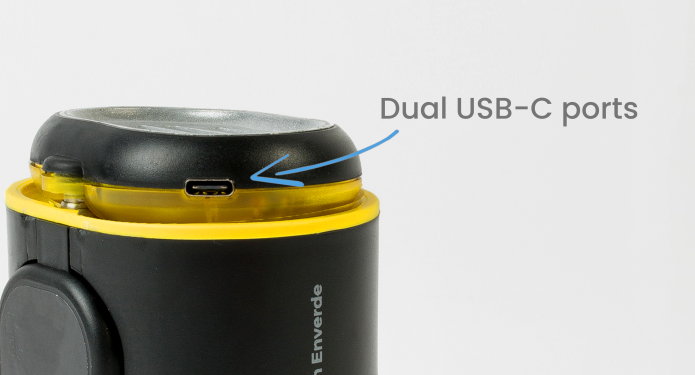 Power Pico through any USB Type-C cable. Included with your Pico are 2 cables to get you started, a short double-ended USB-C and a 3 meter (10') super-long cable, along with magnetic organizer loops to help route the cable around fridges, windows or anything else magnetic. You may use any phone charger to power the Pico and the optional Pico-timer to automate it.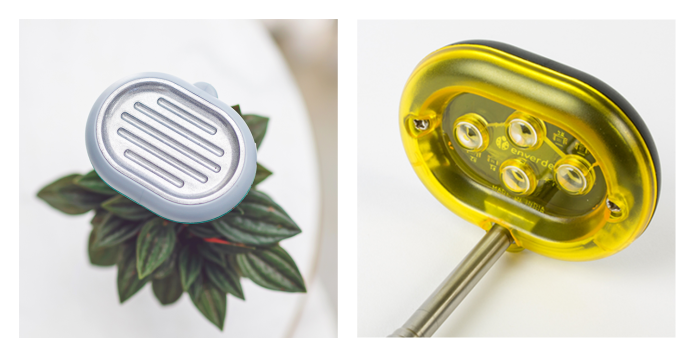 The Aluminum heatsink makes the LED module rigid and lightweight; it also helps the LED chips last longer through its excellent heat dissipation.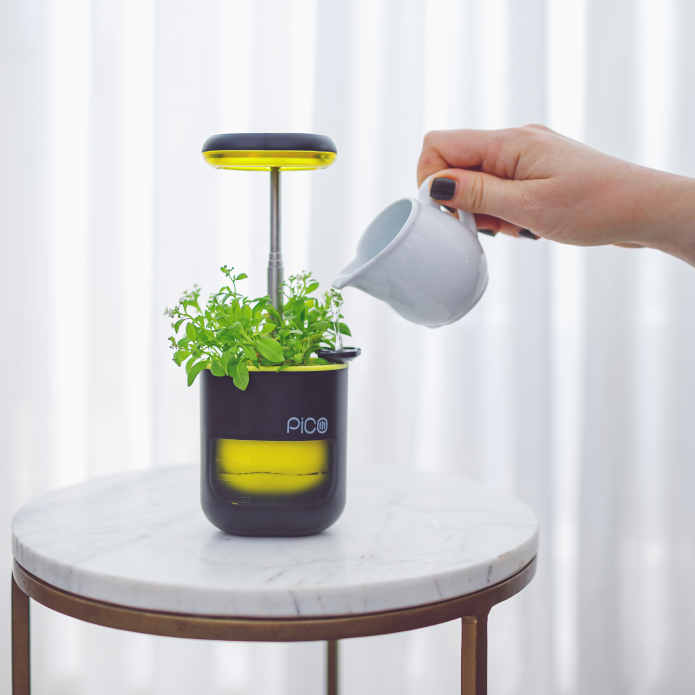 Regardless of how busy you are, Pico's watering system makes sure your plants have as much water as they need—no more, no less—to sustain their health and beauty. All you need to do is top-up once a week.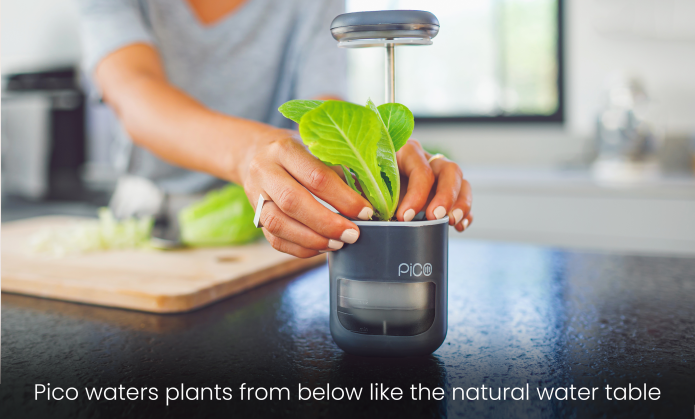 The transparent window lets you know when it's time to top up, typically once a week. Employing just capillary action and gravity, this design does not require any power supply or involve a motor or pumps. Your plants will also grow quicker and healthier due to root oxygenation from below, provided by the ventilation holes.      
Watering too little can kill your plants, but so can too much. Getting it right takes time and experience. Not many of us have it. With Pico, that's all taken care of for you!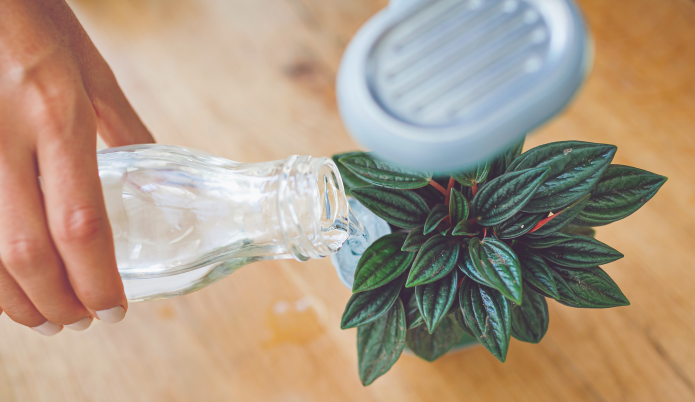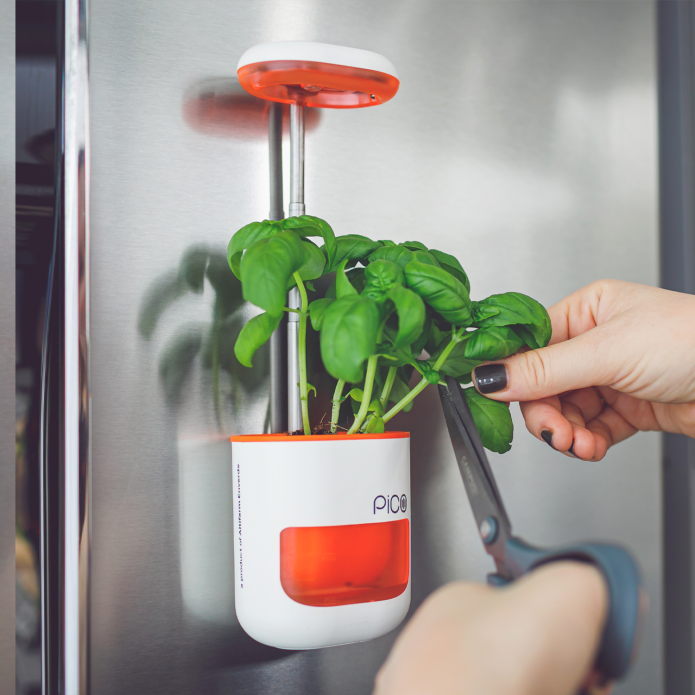 Plant pots take up space. They often can only be placed on flat surfaces by windows, which limits your options.
With Pico, any place is a good place to grow some plants.
Work desk? Check. Fridge? Check. Wall? Check. Glass window, bathroom or even in a vehicle? Check, Check, Check.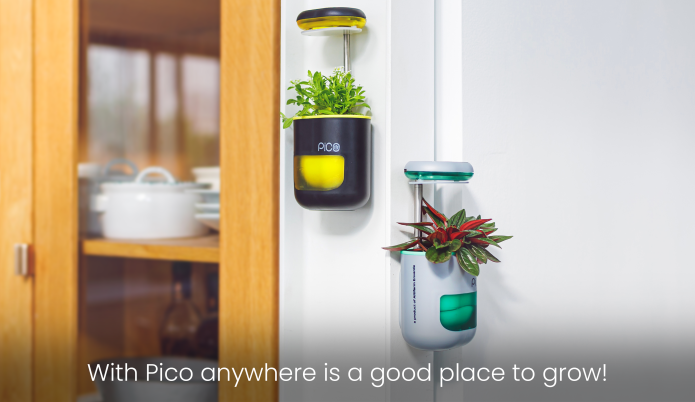 All 3 interchangeable mounts are included with your Pico.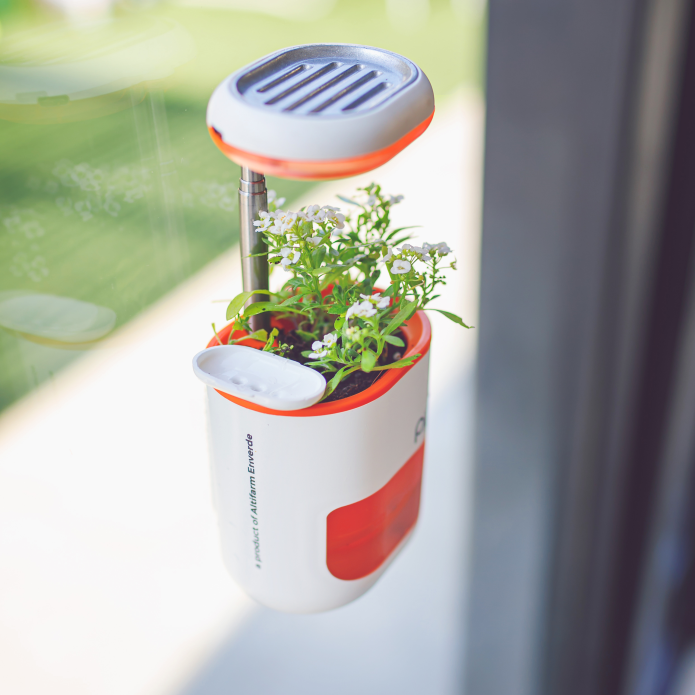 Why several mounts?  Because when it comes to plants, you can't have too many and you might want them everywhere.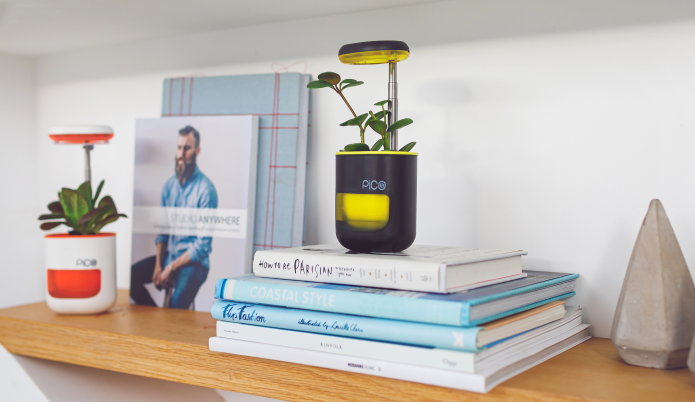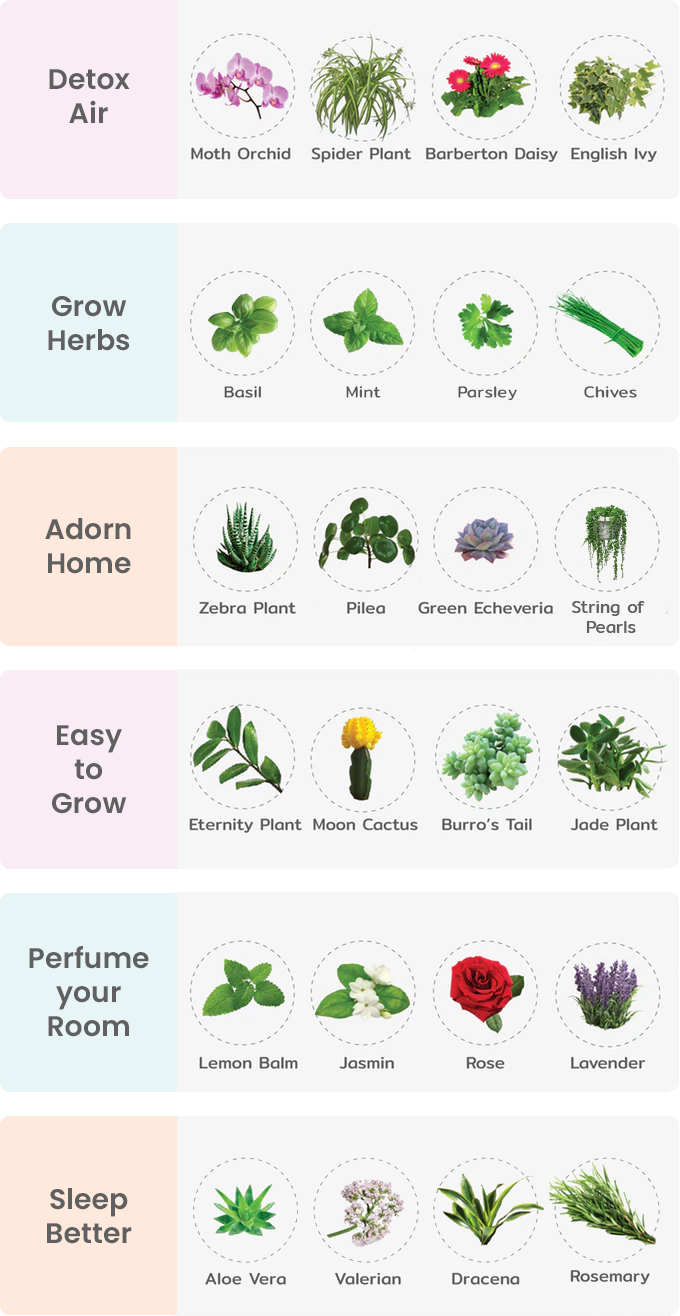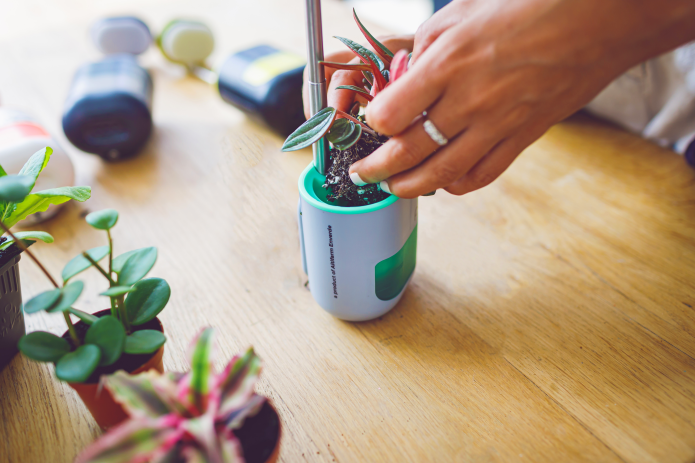 Research has long suggested that indoor plants have a positive effect on the human mind and body. Studies show up to 60% reduction in depression, over 40% in anger, and just under 40% in anxiety. And at work, plants have increased the productivity of the office by up to 15%!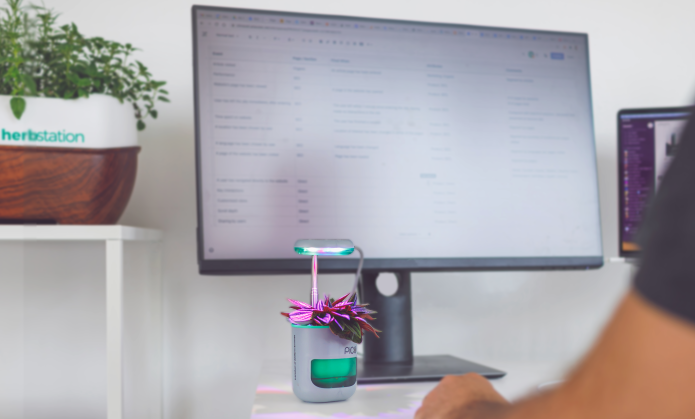 Plants have been proven to improve motivation and concentration, increase energy levels and decrease fatigue. And thanks to the transpiration and evaporation of water from plants, they increase the air quality and improve eye strain and skin health, and reduce the spread of airborne diseases.

Always wanted to have fresh edibles at hand? Imagine being able to throw your own homegrown, organic basil onto that bowl of pasta, or some fresh mint on your chicken. 
No more runs to the store for that missing ingredient, having to wash the pesticides and chemicals off of your leafy greens.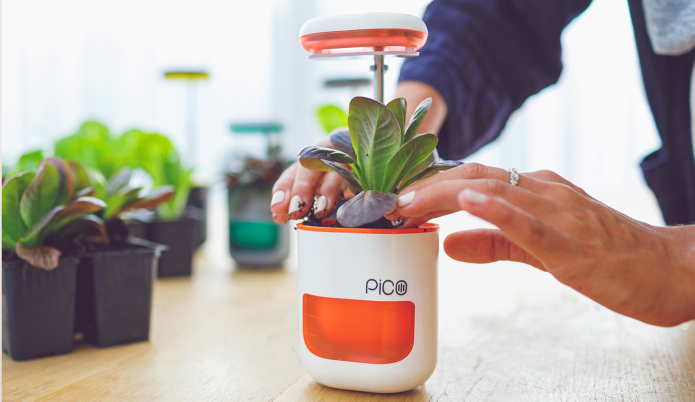 Growing edible plants can be a challenge. And while the end result is often worth it, it is a commitment most people find difficult to make. With Pico, we made sure to get all variables just right, so you can grow your favorite herbs at home without a hassle.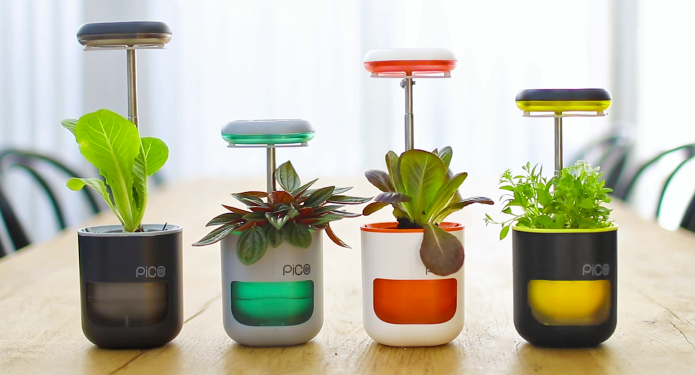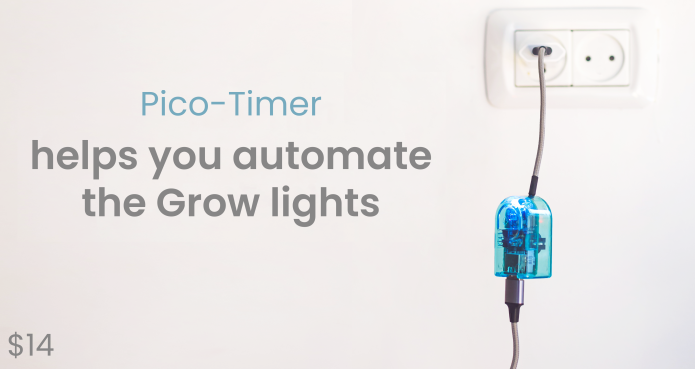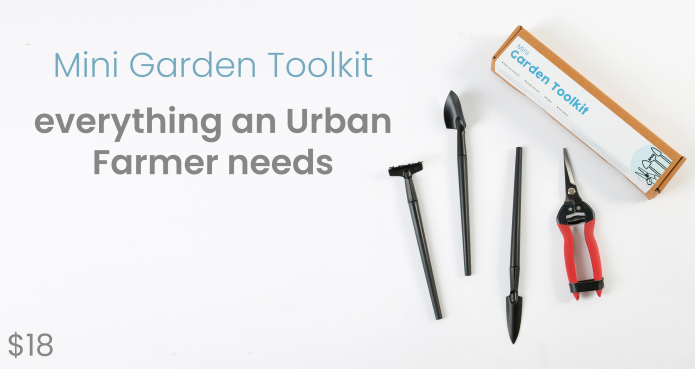 Shipping Table


Pico comes assembled and ready to grow. Just take it out of the box, add some soil and water, and a few of your favorite seeds. Plug it in and watch your plants thrive!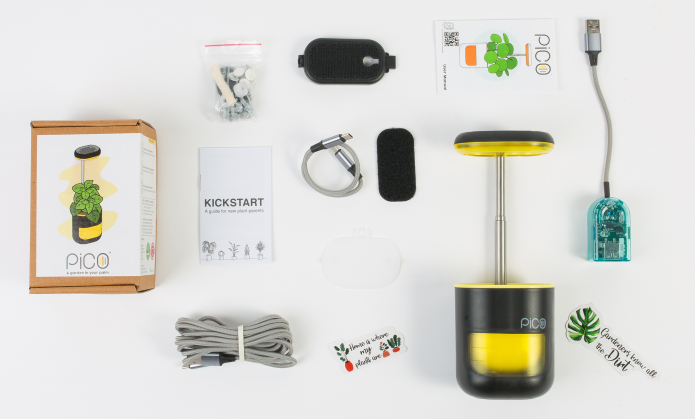 *Pico-Timer is not part of the standard kit
What's included
 1X Pico (preassembled and ready to use)
 1X Power cable -2.5m
 1X Daisy chain cable -0.3m
 3X Interchangeable mounts (Magnetic, Velcro, Wall mount)
 2X Funnel  
 5X Cable organizer
 1X LED diffuser  
 1X Spare wick 

We're Altifarm Enverde, a startup based across the USA and India. We strive to offer a healthier and wholesome way of life to all. We believe in Your Right to Grow, Anywhere, Anytime.

Our design team behind Pico
Our first campaign was for Altifarm, which led us to switch from a Product Design studio into building home farming products. Altifarm is our flagship home farm with grow lights, greenhouse and mobility packs.
Last year we launched Herbstation, a more sophisticated compact indoor farm. We've just completed fulfillment to our Kickstarter backers around the world.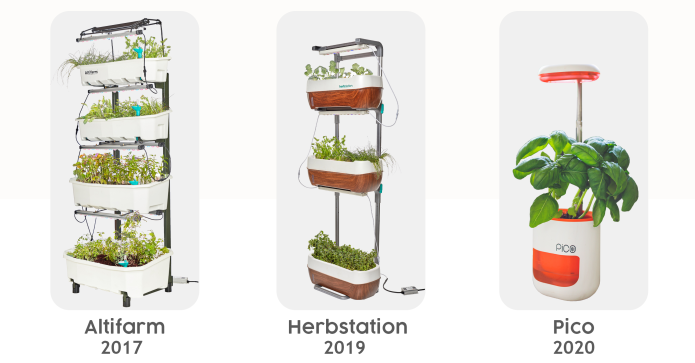 Compared to the other two, Pico is a tiny—but only in size and not in ambition. Our goal with Pico is certainly big—to bring as many people as possible into the fold of Urban Farming. Now anyone can connect with nature and #GrowlikeaPro!


Is it possible for a Pico to grow enough to replace grocery shopping? Certainly not! 
With our products Altifarm and Herbstation, we help people grow a substantial amount of fresh produce at home, with soil-based and soil-less methods. If anything, most items that are consumed fresh—the ingredients for salads, smoothies, soup, garnish—Altifarmers grow enough to meet a family's requirements when planned and rotated well.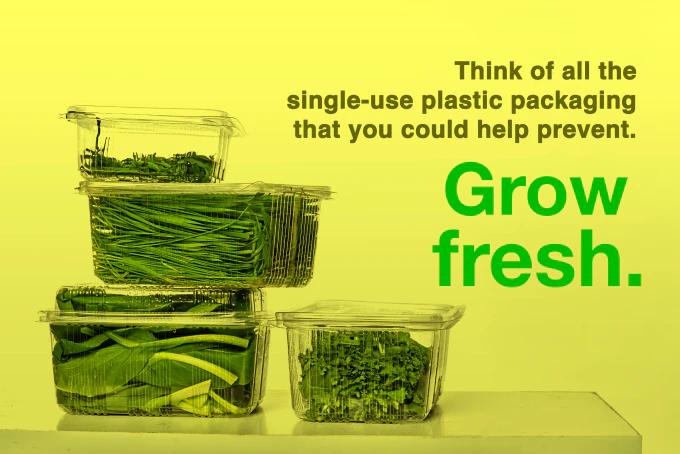 With Pico, our aim is to bring up the conversation around sustainable practices in food, and by participation, to have a greater appreciation for fresh produce among family members, including children. 
You don't need fertilizers or pesticides when you grow your food at home—no transportation, refrigeration, or even washing is required. And certainly, no single-use plastic packaging is involved.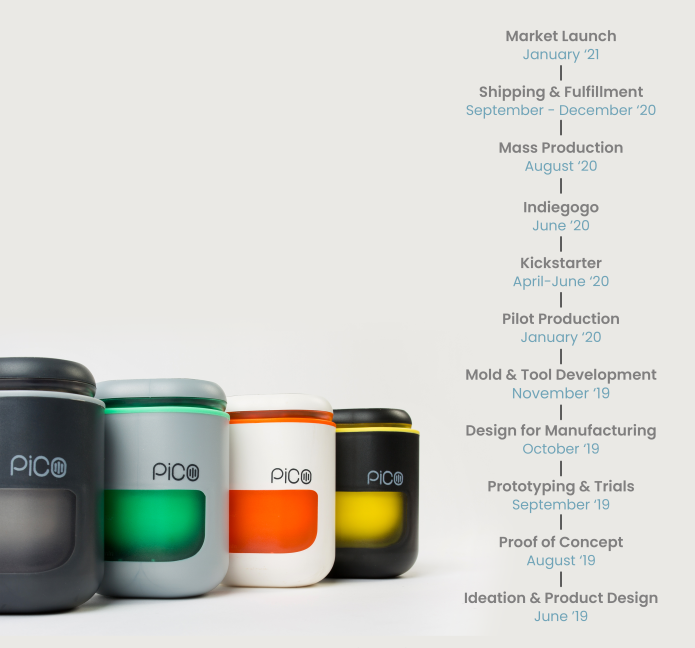 For Business Inquiries, write to [email protected]
For Shipping Queries, write to [email protected]
Any other questions, please write to [email protected] 
The campaign is fully managed by The Crowdfunding Formula (TCF), the biggest digital marketing team responsible for the top crowdfunding campaigns. Join our campaigns in raising an average of $1.2M.