Pico C – Craft Brewing For All | Craft Beer Your Way – Easier, More Affordable, More Fun!
The new Pico Model C is a smart craft beer brewing appliance that allows anyone to brew 5L kegs of professional quality craft beer using ingredient-and-recipe PicoPaks from great craft breweries around the world.  Pico C builds on the technology created for its big brother, the award-winning Pico Model S but is even easier to use and more affordable.  In fact, Pico C is the easiest way to brew fresh craft beer from breweries around the world or custom craft your own brew innovations.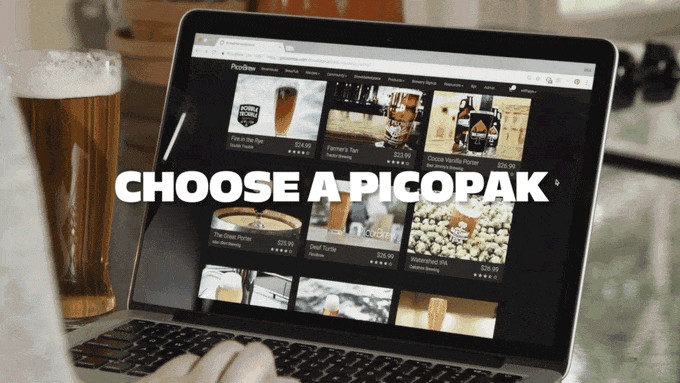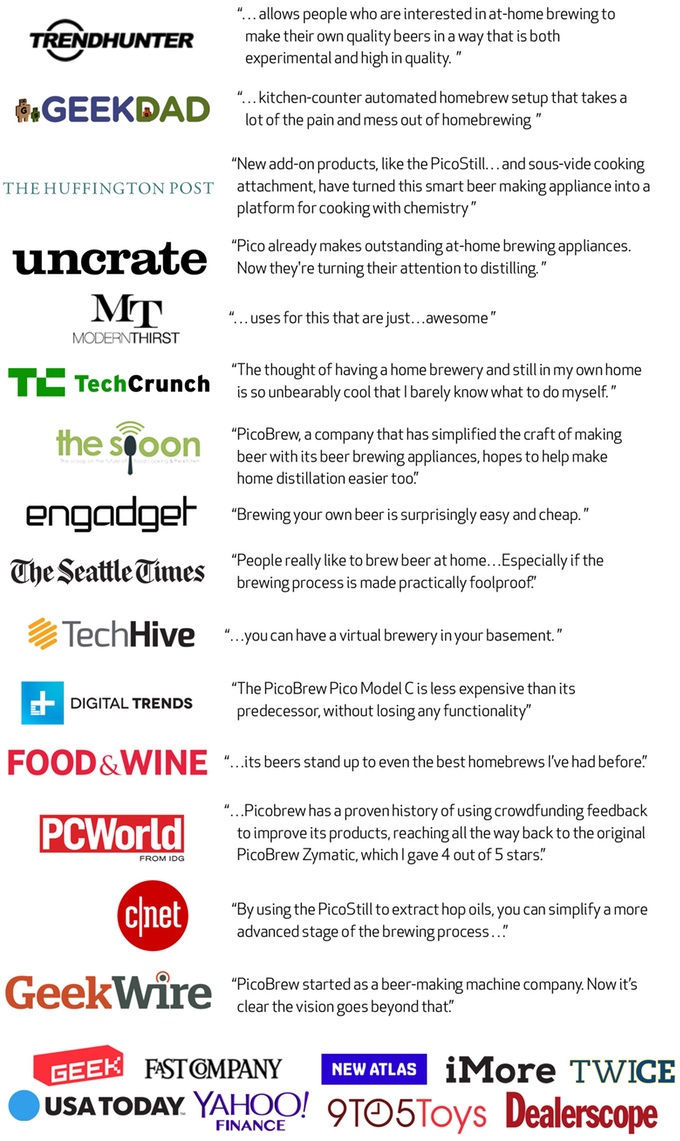 Find the articles here! Trend Hunter, GeekDad, The Huffington Post, Uncrate, ModernThirst, TechCrunch, The Spoon, Engadget, The Seattle Times, TechHive, Digital Trends, Food&Wine, PC World, CNET, GeekWire, USA Today, Geek.com, Yahoo Finance, New Atlas, iMore, The Spoon, 9TO5Toys, and Dealerscope.

Quality & Freshness
Fresh craft beer has all the aroma and all the taste that the brewmaster wants you to experience. And it doesn't get any fresher than brewing it yourself!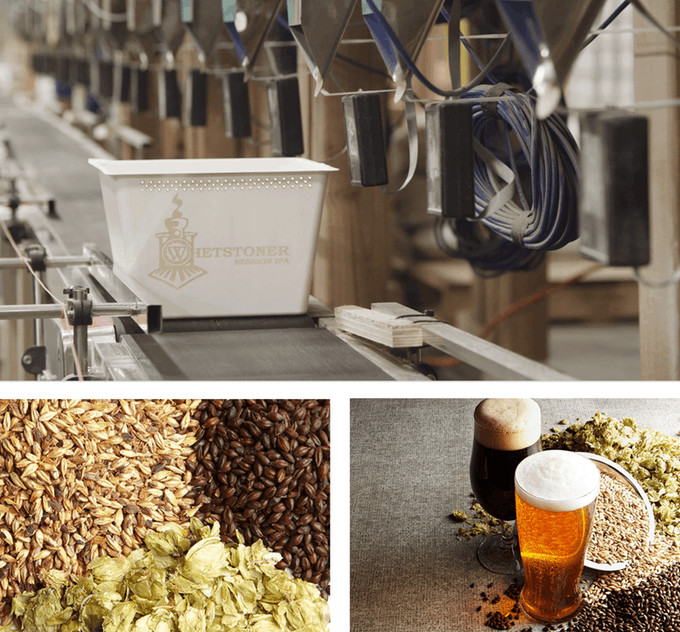 Selection
Explore PicoPaks from craft brewers and breweries around the world.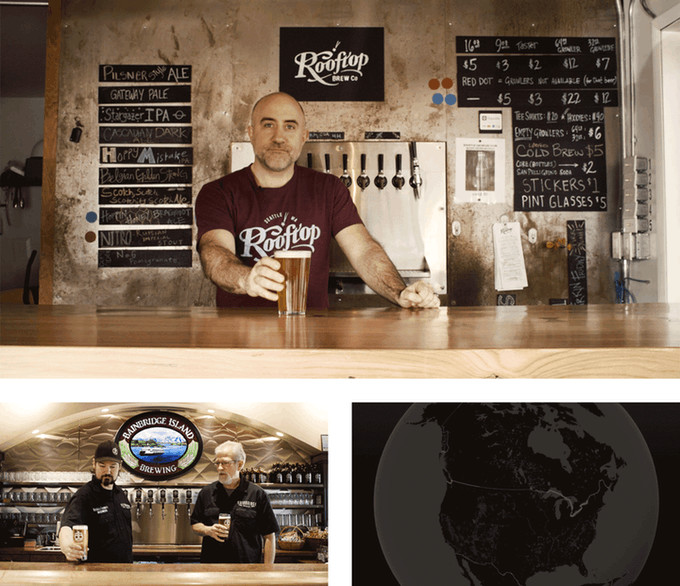 Personalization
With Pico, you can personalize great brewery recipes to your taste by dialing up or down the IBUs (bitterness) and ABV at brewtime.  Craft beer your way!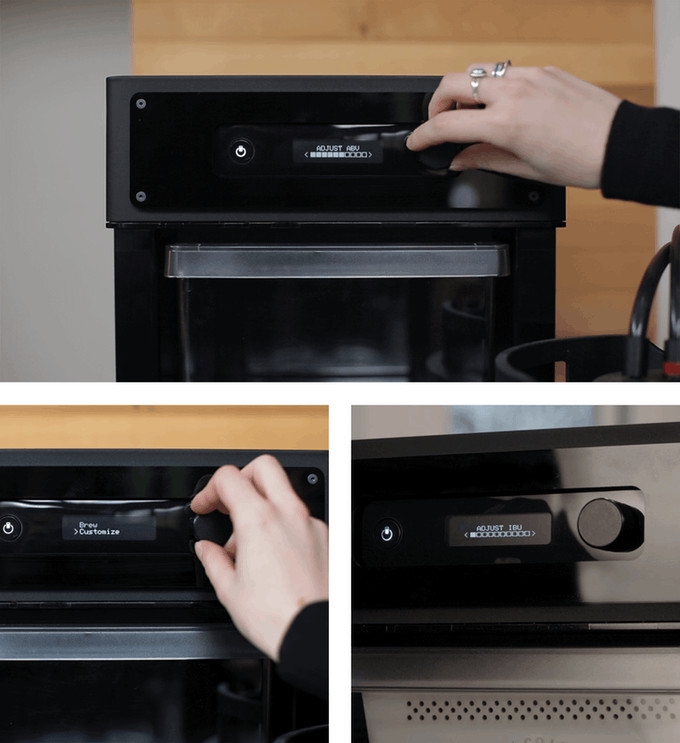 Saving the Environment
Producing beer at large commercial breweries involves transporting all that beer + metal cans or glass bottles over thousands of miles:  lots of pollution and energy waste.   Instead, brew local using your own water, then compost your PicoPaks or even feed the spent grain to your livestock.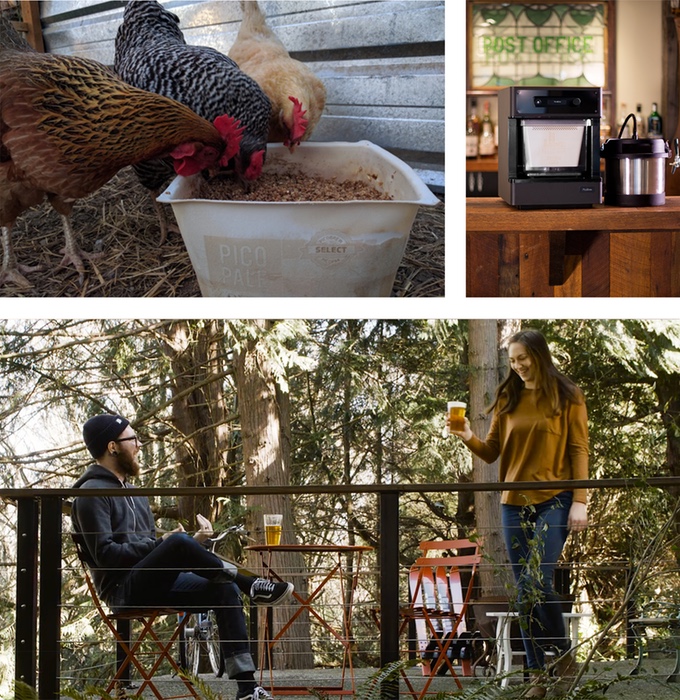 PicoBrew's global marketplace for PicoPaks, the BrewMarketplace, allows customers to find great craft beer by exploring ratings and recommendations and even communicating directly with the brewer.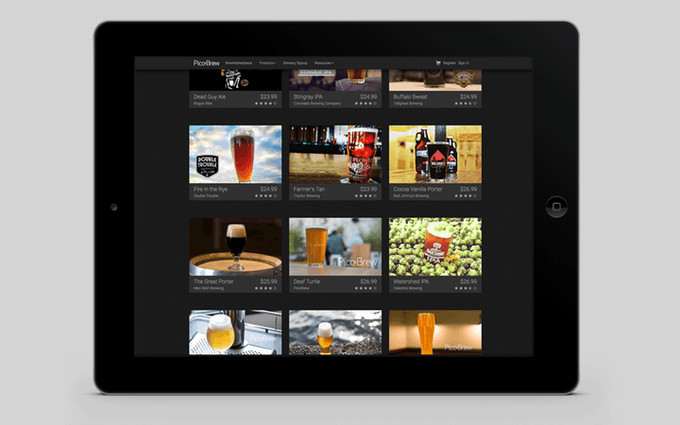 BrewMarketplace allows you to discover and purchase not only great craft brewery PicoPaks but also Paks designed by other homebrewers with unique and exciting recipes. Discover the next great brewmaster's recipes, support your local craft brew community, or explore great beer from around the world. Finding your beer has never been easier! 
Meet our Brewery Partners

Now Pico brews more than beer! We're excited to add Kombucha PicoPaks to the lineup, initially in three great flavors: Classic Lemon ($14.99), Ginger Malt ($16.99) and Lemon Malt ($16.99). Kombucha, a fermented tea, is a popular beverage in the health and wellness community that is said to aid digestion and stimulate the immune system. Pico users may brew kombucha PicoPaks in their Picos like they brew craft beer: simply insert a PicoPak, load a keg and reservoir with water, and select "brew". Once PicoPak kombucha is brewed users may add a SCOBY (the bacteria and yeast starter culture) to their fermenting keg and let it ferment for approximately 7 days. Coming soon to BrewMarketplace!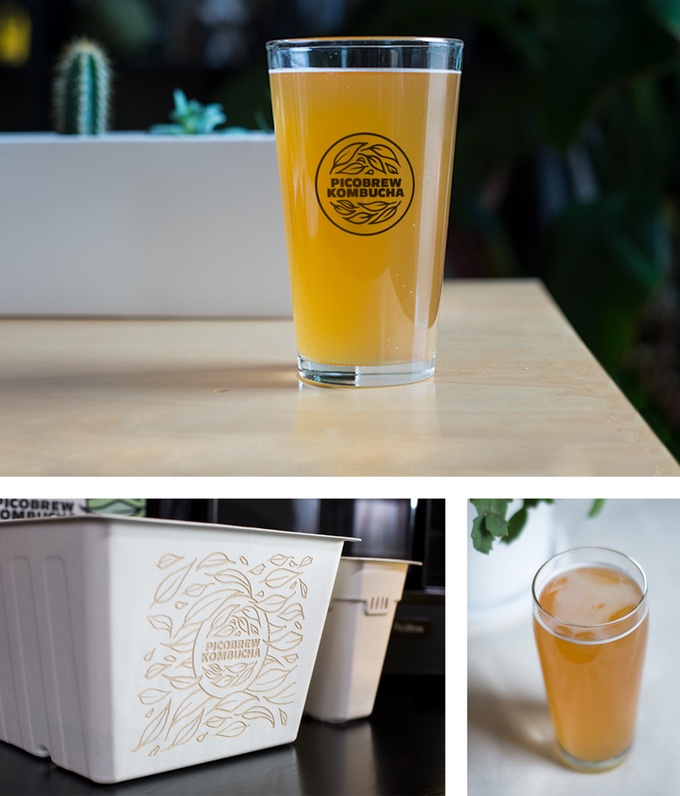 The FreeStyle PicoPak BrewCrafter gives you the ability to create your own unique craft beers by simply dragging and dropping grains and hops into your custom PicoPak so you can achieve the flavor and style you desire! PicoBrew does the heavy lifting of sourcing ingredients and packaging your creation to deliver a truly customized and unique craft brewing experience.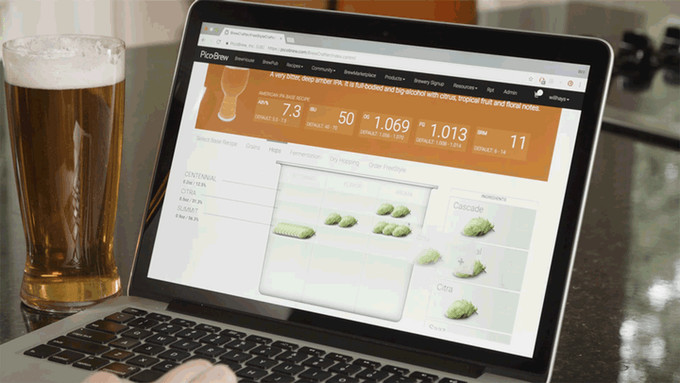 Manage your craft brewing life with our new BrewPulse mobile app:  its your whole craft beer pipeline at your fingertips!  This new iPhone and Android app allows you to explore new PicoPaks but also keeps you up to date throughout the brewing process. You can monitor each of your creations as it progresses from brewing through fermentation and carbonation and finally into your refrigerator for consumption. Shop. Explore. Brew. Enjoy.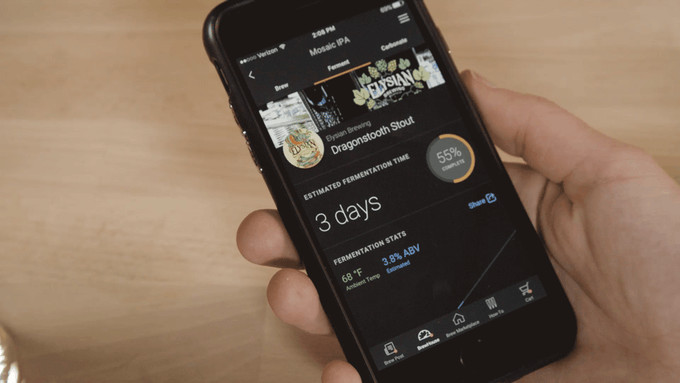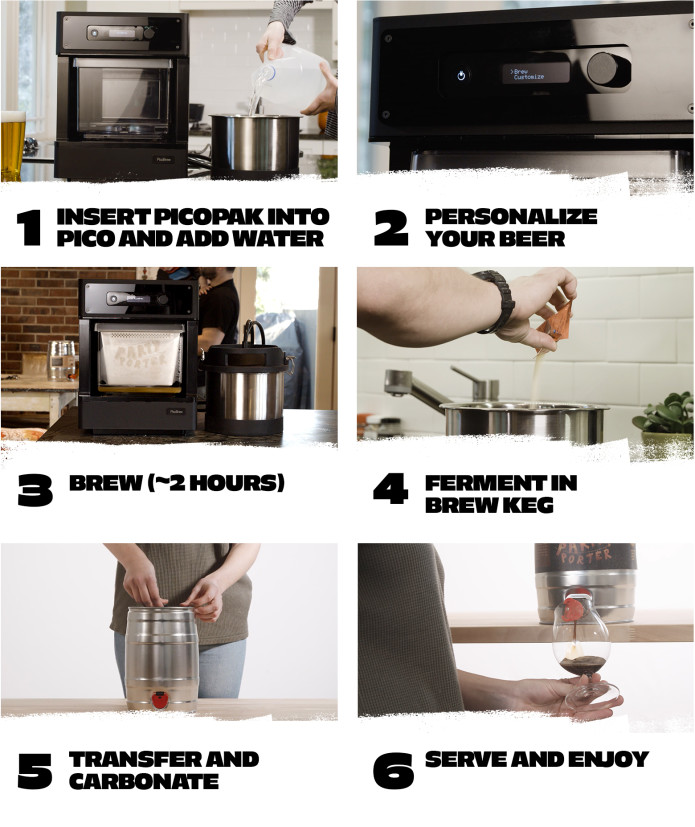 PicoPaks are ready-to-brew compostable grains-and-hops ingredient kits together with the secret brewmaster process parameters to brew them. Our PicoPaks are produced in collaboration with and are licensed from award-winning breweries worldwide.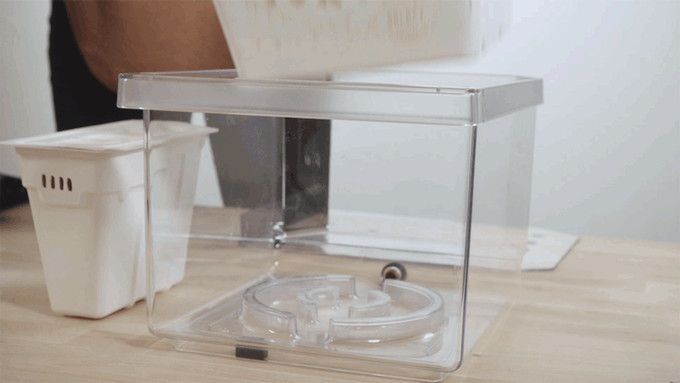 Each PicoPak is recognized instantly by its RFID tag as it is inserted into your Pico. Recipe control parameters that guide heating and fluid flows are then downloaded automatically over WiFi to enable total precision craft beer-brewing.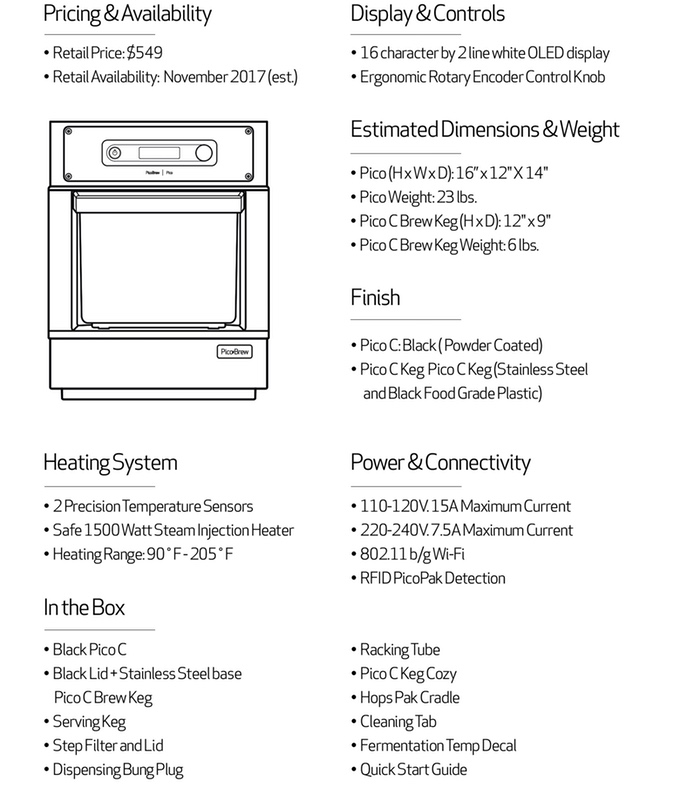 With a Pico you are not only brewing award-winning recipes from all over the globe, you are brewing them on award-winning equipment. PicoBrew has been the recipient of many prestigious awards and honors including 3 CES Innovation Awards, an IFA Best of Show, multiple Editor's Choice picks… We've received so many awards, in fact, that Fast Company recently named PicoBrew one of the 2017 Top 10 Innovative Food Companies in the World!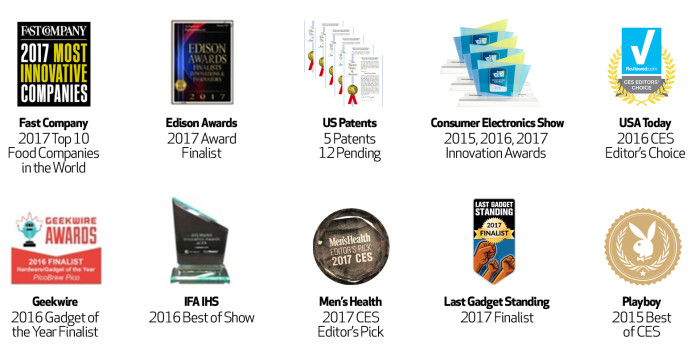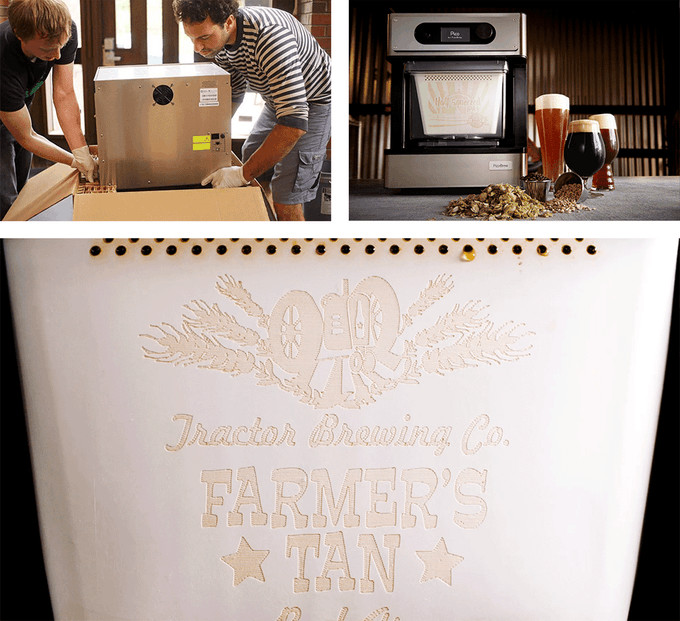 We founded PicoBrew in 2010 with the vision of democratizing craft beer by allowing anyone to brew their own great beer leveraging the expertise of the craft beer community.   In 2013 we launched the world's first fully automatic all-grain beer brewing appliance, the PicoBrew Zymatic.   After two more years of hard work we launched the PicoBrew Pico (Model S), the world's first true consumer countertop craft beer appliance, and along the way invented the PicoPak compostable grains and hops recipe pack as well as partnerships with hundreds of craft brewers around the world.   The Pico Model C is the simplest, most affordable craft brewing appliance ever, and builds on 7 years of pioneering and leadership in the craft beer space.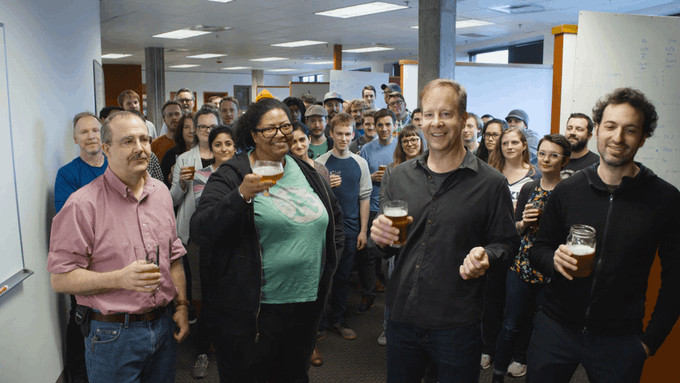 PicoBrew is a team of 57 dedicated craft beer lovers and technologists (in that order) who cut their teeth in various respectable roles at big companies, but decided it was much better to work for a small company and make products that make people happy. We like great craft beer, and it makes us happy to craft the ultimate crafter of craft beer for you!