Polar Ice Tray: Perfect Ice for The Perfect Drink | Freeze a crystal clear ice sphere at home. Enjoy high-quality drinks without going out to a bar.


Are you wondering why the drinks you make at home don't taste as good as the ones you buy at a bar? Do you know that ice has huge impact on drinks? Do you have to spend a lot of time chiseling ice before you drink? 
Then Polar Ice Tray is what you need.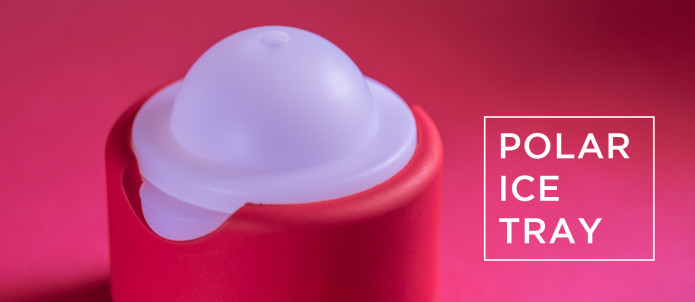 Perfect for drink lovers and home parties, Polar Ice Tray is the first ever patented device that allows anyone to make a sphere of crystal clear ice in an ordinary home refrigerator. 
Now let's see why Polar Ice Tray, and clear ice, can make things all better.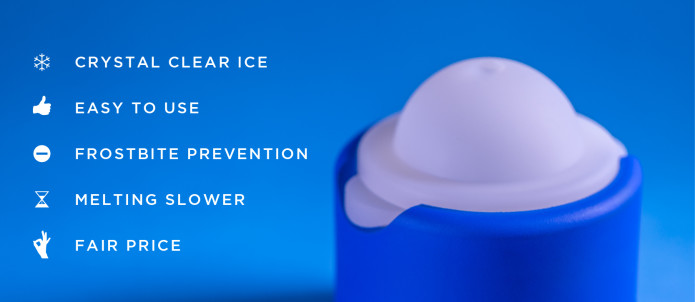 CRYSTAL CLEAR ICE: the unique, patented design separates water molecules from impurities. Clear ice brings out the best taste of drinks.
EASY TO USE: 1. Add water 2. Put it into a freezer 3. Wait for 8-12 hours. 4. Enjoy your drinks with crystal clear ice! 
FROSTBITE PREVENTION: the Polar Ice Tray is made of PU foam and silicone mold; it never causes frostbite. 
MELTING SLOWER: ice made from our tray has a round shape and a relatively big size, so it has less surface area than general ice cubes. That means the clear ice in your drink melts slower, and your drink stays colder for longer without dilution.
FAIR PRICE: an 50% off the average selling price of similar products!



It enhances the taste of your drink.
The ice that comes out of your freezer contains air bubbles and other impurities, which can ruin the taste of your drink. Crystal clear ice, on the other hand, is flavorless and odorless.
By lowering the serving temperature of your whiskey or mixed drink, clear ice enhances your beverage by adding a cold, crisp taste.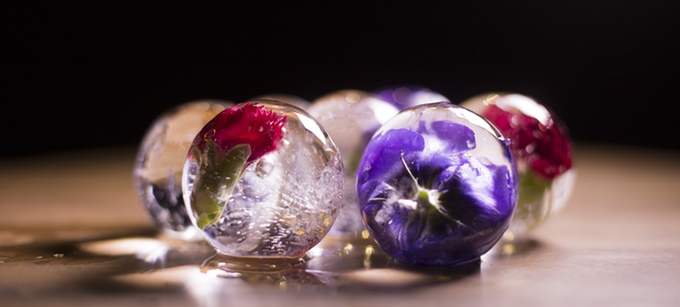 It looks fascinating. 
Shining with dazzling brightness, or glimmering under dim light, crystal clear ice in your fancy craft drink transforms your beverage into an
exquisite work of art.
Moreover, adding a flower or piece of fruit between the silicone layers can turn your clear ice into an amazing show piece! It's perfect for a romantic occasion and it's a great way to impress you friends!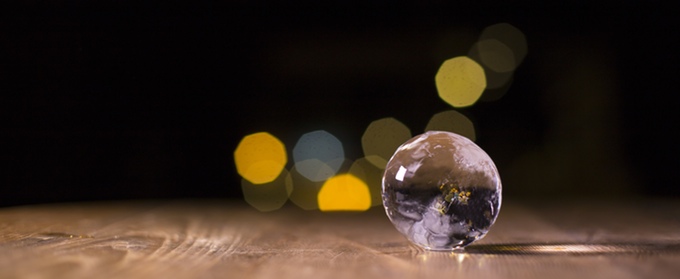 Yes, for the sake of health. 
No air bubbles or impurities in your drink that's soon going down to your stomach.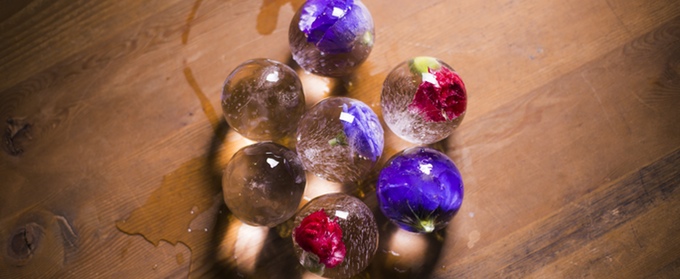 (Size: 108 x 108 x 108 mm (LxWxH). Crystal Clear Ice Sphere:  6 cm diameter, which fits nicely in a whiskey tumbler)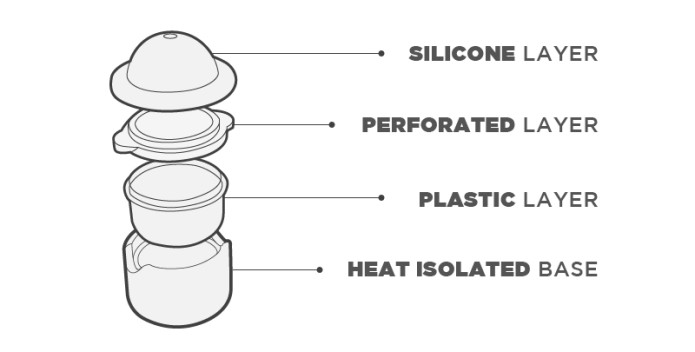 We've been researching how to make clear ice since 2008. Our goal was to find a simple, elegant solution. Existing techniques only partially solved the problem. That's when we turned to the nature to find our answer!
Inspired by the natural ice-forming pattern which takes place in lakes and rivers, we've designed a dual-chambered system that separates the clear ice from the impurities in the water.

Ordinary ice trays allow ice to freeze from the outside in, trapping air and impurities to the center. Polar Ice Tray insulates all sides of the tray except the top, so only the surface of the water is exposed to the cold. As a result, the water starts to freeze from the surface.
By allowing the water to freeze gradually from top to bottom, layer by layer, air and impurities are compressed to the bottom, forming a layer of opaque or "white" ice. Our dual-chambered technology allows easy separation of clear and white ice.

1. Place the silicone layer on top of the perforated layer, and then put the perforated layer on top of the plastic layer. Ensure each piece has a tight seal to prevent leaking.
2.Slowly pour water into Polar Ice Tray via the hole on top of the silicone layer, until the water flows out of the hole. (Do this slowly because the air needs time to get forced out of the tray.)
3.Place the assembled components into the insulated base. Next, place the Polar Ice Tray into the freezer and wait 8-12 hours. 


To make crystal clear ice, set your freezer to medium (-0.4F/-18C). Leaving your freezer at a warmer temperature takes a longer time to freeze, while using a colder temperature may cause needle-like bubbles to form. 

Fill the tray only 90% full of water to allow for expansion. 

After pulling your Polar Ice Tray out of the freezer, let your tray rest 3-5 minutes. This makes it easier to remove the clear ice.

To store your crystal clear ice, put it in a ziplock bag and keep it in the freezer. 
More ideas on making your life prettier…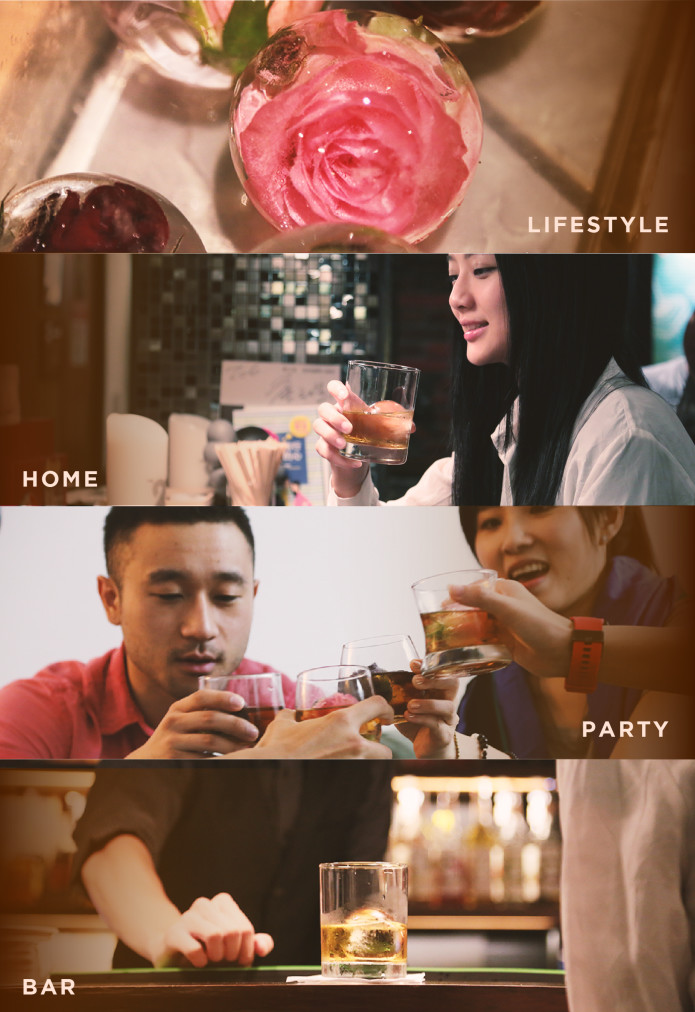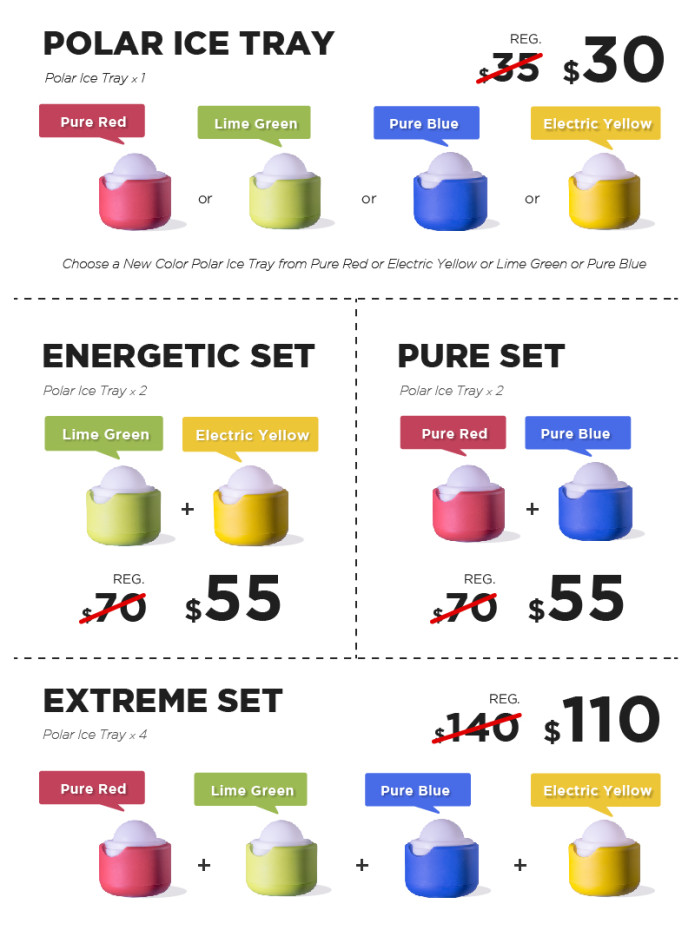 Delivery
Our U.S. inventory has gotten through customs and is ready for sale on Shipping Now!  Buy one for friends and family or add to your collection!