Pop-Up Pet Door 2.0 – It Lets the Dogs Out | Magnetically attaches to sliding glass doors & screens. Pops up in 5 secs and instantly folds away.
'STILL EARLY' PERKS JUST RELEASED

LETTING YOUR PETS OUT JUST GOT A WHOLE LOT EASIER.



POPS UP MAGNETICALLY IN SECONDS AND FOLDS AWAY INSTANTLY, SO YOU CAN STILL LOCK YOUR DOOR WHEN YOU LEAVE HOME.


WHY PRE-ORDER ON INDIEGOGO?
Indiegogo is the only place where you can pre-order Pop-Up Pet Door 2.0. Backers of our campaign will receive their pet doors much sooner than the rest of the world and for much much cheaper! *As the campaign continues, pricing on Indiegogo will steadily increase. Reserve yours now by selecting a perk in the size that best fits your pet.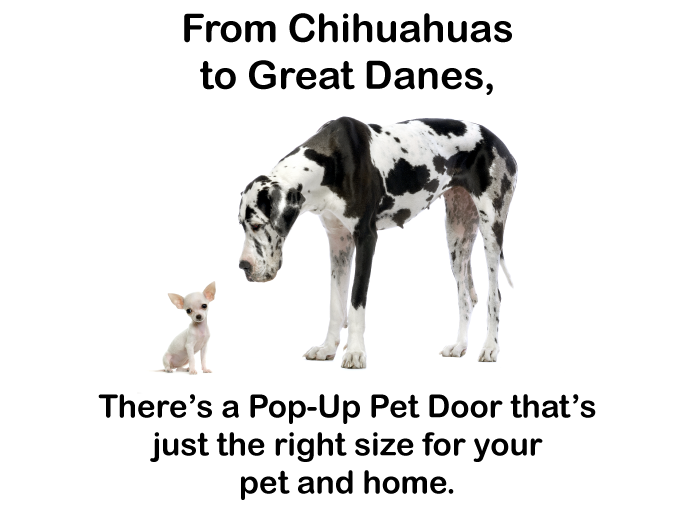 Since early 2018, we've delivered 10,000 doors around the world. We've listened to all of our customers' valuable feedback and produced the new and very much improved prototype that you saw in the video. We're so excited to run our very first crowdfunding campaign on Indiegogo to manufacture our second-generation model. With your help, we'll deliver Pop-Up Pet Door 2.0 to the global masses and make pets and people's lives a whole lot easier.
 

Pop Up Pet Door 2.0 is a revolutionary solution that lets your pet outside without you having to open and close your sliding door each and every time. It was designed for the typical pet owner who does not want a permanent and costly pet door . This one snaps in magnetically when you want it there and comes down just as fast when you don't!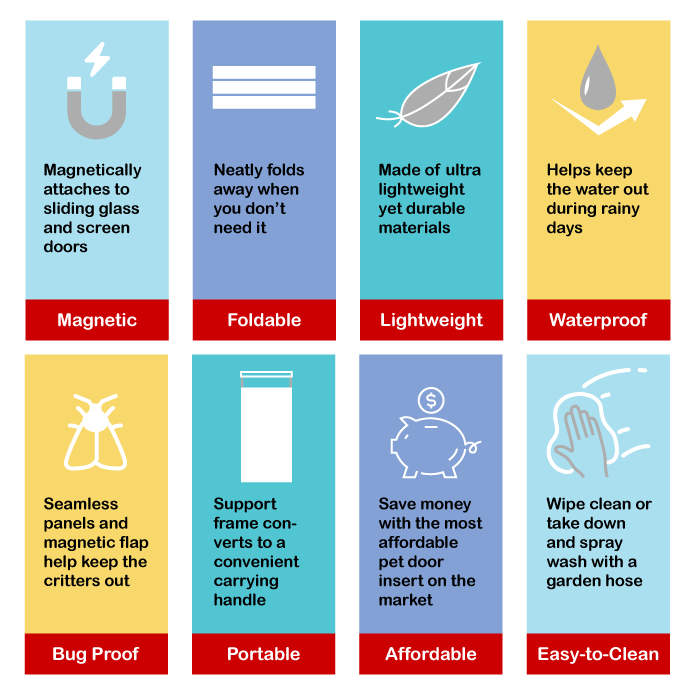 Competing pet door inserts range from $100 to $300+ and do not offer the portable features and larger sizes that you see here. Pop-Up Pet Door 2.0 is the most affordable, yet truly reliable solution on the market today.




*Shown here is a working prototype sample. The final product will have the magnetic logo in red, and the transparent flap will be laser cut to minimize open space in between the framing. This will help to keep the bugs out!



The original Pop-Up Pet Door is limited to doors that are 80″ in height. Version 2.0 now fits doors up to 96″ and heights in between. The new ADJUSTABLE SUPPORT FRAME allows you to adjust the overall height of the pet door to get that exact fit! NOTE: If you have a 96″ tall door, don't forget to get the 16″ EXTENSION Add-On at check-out. Cost is only an extra $12.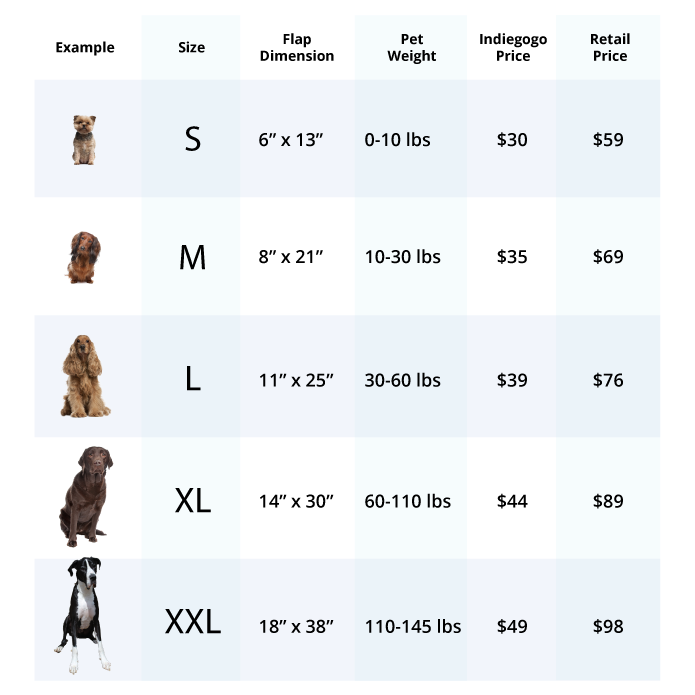 Easiest way to decide which size to get is to measure your pet's width and height with a tape measure. If your pet measures less than the "Flap Dimension", then it will fit through the opening. If you have more than one pet, just get the bigger size. Small pets can easily push through the larger flaps too.


Because your pets simply can't wait, you also have the option to get Version 1.0 at less than half of retail price, shipped with FREE USA shipping in 1-2 business days! Just select the "Version 1.0" Add-On, at check-out. *Version 1.0 is only available in SM, MD & LG.


It's so easy. Just check the size guide above for the Pop-Up Pet Door that fits your largest pet, then select the Perk that matches that size. If you have a non-standard 96″ tall door, you will be given the option for a 16″ Add-On at check-out. Follow our timeline below and our frequent campaign updates to know when to expect your perk(s) to get delivered. Yes, you can buy more than one and even send a few as gifts!
HURRY HURRY! As our promotional (Loyalty Discount, Early Bird) perks sell out, we will continue to release more units at closer to retail prices. Get yours while it is still HALF OFF!

Buying more than just one? Simply complete your first transaction, then revisit this campaign to start another. You'll have the option to specify a different delivery address if it is intended as a gift. OH, and if it is a Christmas present, we'll be sending out digital eCard templates for you to delivery personally, since our perks won't be delivering until Late February.

Pop-Up Pet Door 2.0 comes fully assembled:



1. Simply affix an INCLUDED metal strip to the top of your doorframe.
2. Unfold and magnetically attach the top of the pet door to the metal strip.
3. Adjust the bottom support frame for an exact fit!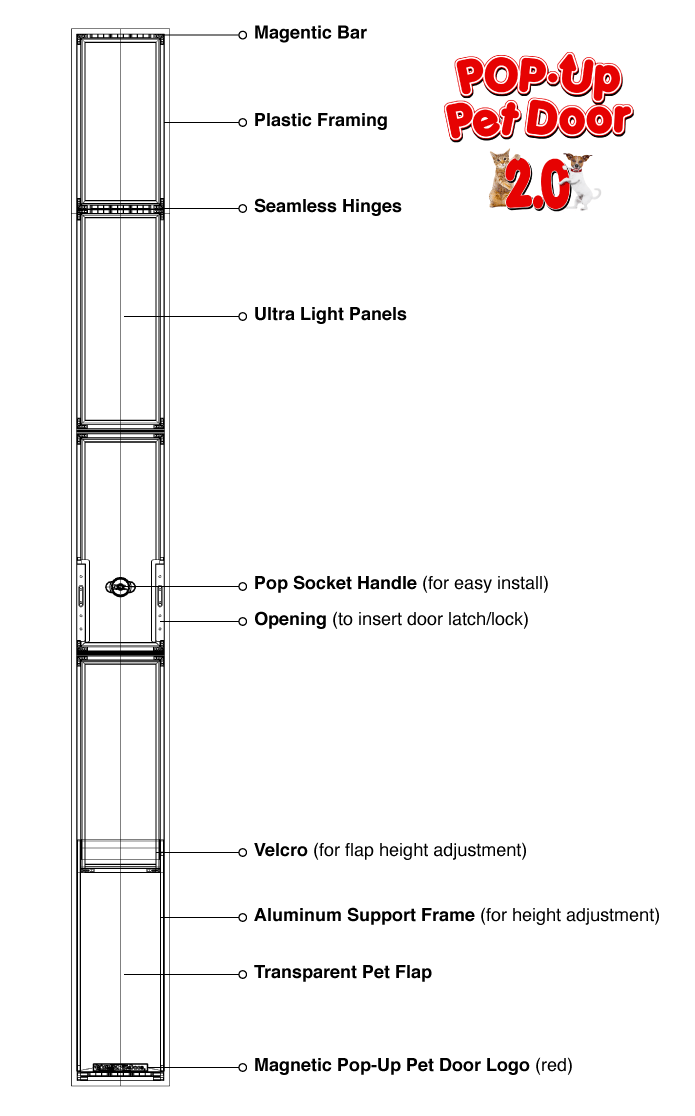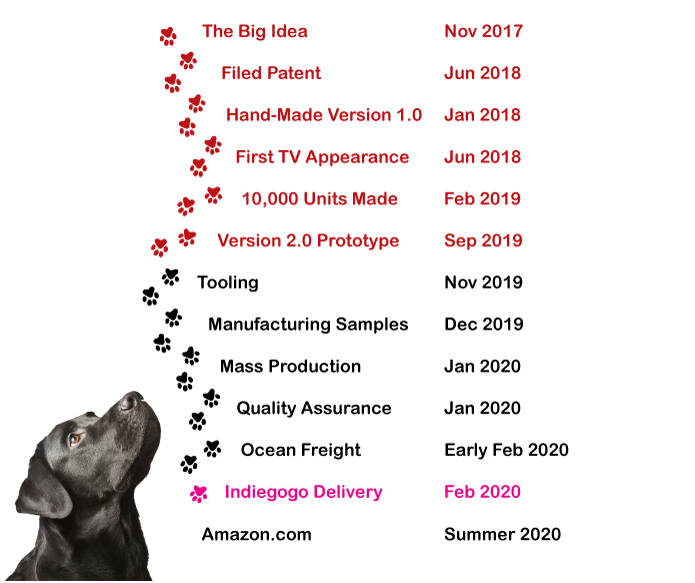 Our campaign goal is set at $20,000 to finance tooling and sampling costs. This will also finance a long-awaited trip to our factory, where we'll personally inspect and approve the units before delivery. If you can help us get to this critical point, we have additional investors that will double down to get production under way! 
 

Renee Kay
is a mother of two grown children and a dog lover extraordinaire. She started three companies and has invented and brought to market several products. Renee has appeared in multiple media channels, and has been involved in numerous philanthropic endeavors, including efforts to find homes for pets in animal shelters.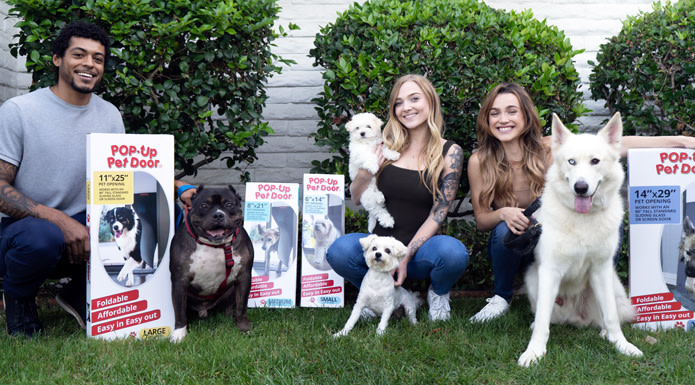 From my family to yours, THANK YOU so much for your support!
~ Renee Kay