PortaPresso: The first portable espresso maker | The first truly portable espresso coffee maker that grinds beans, boils water and froths milk..
The Porta Presso: The first truly portable espresso machine.

While you appreciate good coffee, you don't have the resources to hand-craft the perfect espresso coffee anytime, anywhere. So we created The Porta Presso to give you a barista experience wherever you are.
Traditionally it's the job of a barista to accurately brew any given bean into that perfect cup of espresso coffee. However, The Porta Presso has been designed to brew coffee in a specific, precise and consistent way anytime, anywhere.
The world's first portable lithium battery operated espresso machine that is able to grind beans, boil water, extract coffee and heat/froth milk all seamlessly in a compact state of the art device.
All orders include free worldwide shipping.
View updates of The Prota Presso development here
THE DESIGN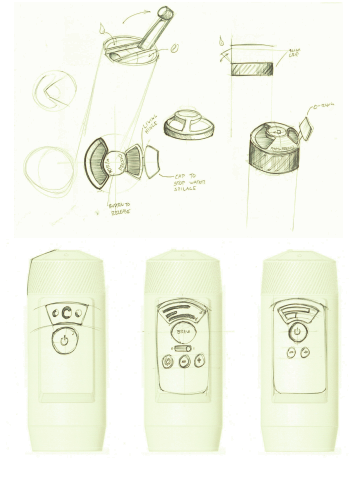 The Porta Presso has already undergone an intense design phase to get to the near perfect design that it is today. With its sleek form guided by its functional parts. It will have carefully honed mechanisms combined with smart technologies in a coffee maker that is sleek, stylish and minimalistic. Each aspect of The Porta Presso has been carefully designed to ensure that it is truly portable whilst maintaining a high quality of coffee by making The Porta Presso lightweight, compact and a practical addition to any situation.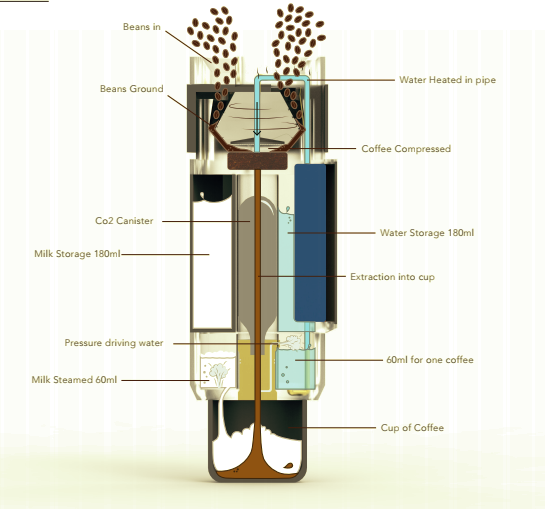 HOW IT WORKS
Fill The Porta Presso with fresh beans, tap water and milk (optional) at the start of your day or trip into the appropriate clearly labelled slots. The Porta Presso will hold enough milk, water and coffee beans to make a cup of coffee. The milk and water level will be physically visible.
When you are ready to brew, twist the planetary grinder 3 times to grind your fresh beans and twist the dial 90° to compact your grinds. 
Turn The Porta Presso on, you will then choose your type of coffee via the built-in LCD screen on downloadable smart device app and The Porta Presso will do the magic for you, boiling the water to the required extraction temperature of 98°, applying the optimal pressure of 17 bar the coffee will be reluctant to pour for the first 9 seconds to ensure a rich flavour. 
The total pour time will be approximately 27 seconds before the milk that has been heated to 65° (unless customized by the user) is added and the appropriate amount of froth achieved.

FUNCTIONAL PARTS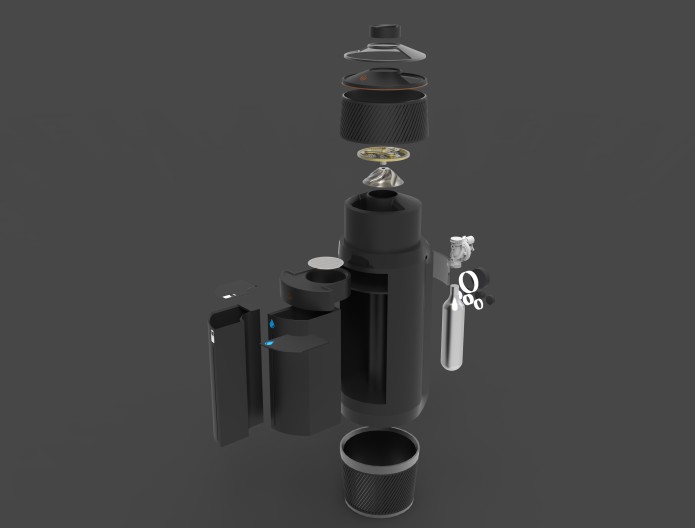 GRINDING/COMPACTING
The grinding and compacting of the beans will be an important stage to ensure you get a high-quality barista tasting coffee. Why is that? If the beans are not finely ground or properly compacted, the resulting coffee will be weak. On the other hand, if the beans are ground too fine or compacted too tight then when the water passing through to make the shot will take too long to pass through the grind thus resulting in a terribly tasting burnt coffee.
That is why after extensive research and testing The Porta Presso will come preset on the optimal settings for that perfect grind and compacting. And for you coffee experts, The Porta Presso will have the option to change your settings to your preference if you prefer a slightly different setting.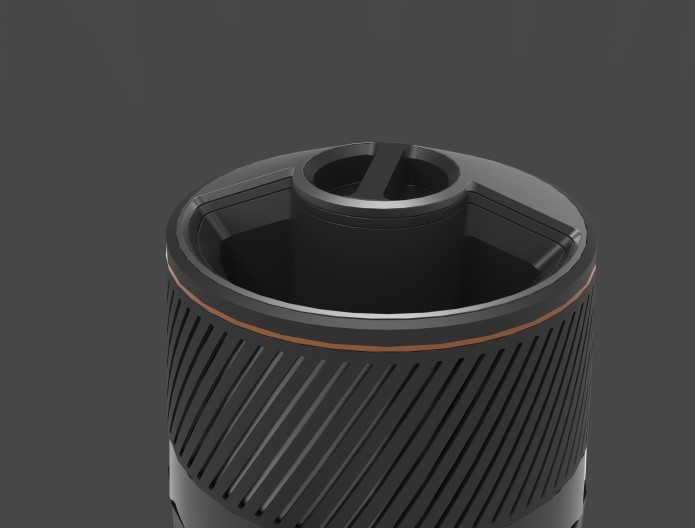 How will The Porta Presso grind and compact the beans?  The Porta Presso has a built-in planetary geared grinder and compactor which is easy to use yet effective. The planetary grinding system will hold up to 57g of coffee beans (3 coffees worth). The grinder will effectively grind at a 1:5 twist ratio simply meaning you only need to twist the grinder 3 times either way to grind the perfect amount of 19g of coffee grinds. The compactor will be integrated into the grinder and requires the user to simply twist the top 90º.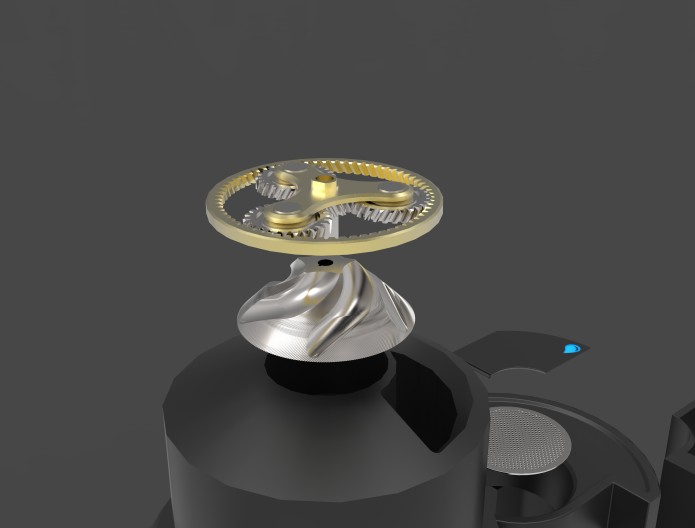 LCD SCREEN
The Porta Presso will feature a 30x55mm built in LCD screen which serves an array of purposes. The LCD screen allows the user to refine their coffee so that its just how they like it with the option to simply use the pre set coffee settings. Users will have full control over the temperature, strength and amount of froth so that each person's coffee can be personalised to their liking. With the option to adjust a pre-set coffee or start from scratch and fully customise your own coffee and save it so that The Porta Presso will remember your settings for next time. 
The Porao Presso's LCD screen can also be used to show the time remaining on a brew once it has commenced so that you know when your coffee's ready. It also shows battery life and remaining CO2, alerting you when either is running low.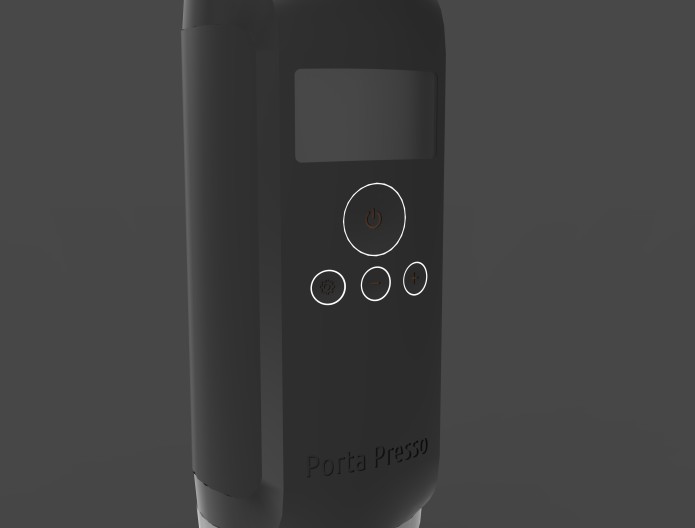 DRINKING CUP
The Porta Presso Cup has been intuitively designed so that it is sleek and minimal, yet it fits into a standard cup holder. The Porta Presso cups come in an assortment of colours so that you can get the cup that is right for you. The cup is able to be seamlessly attached and detached from The Porta Presso machine, curating a whole new user experience.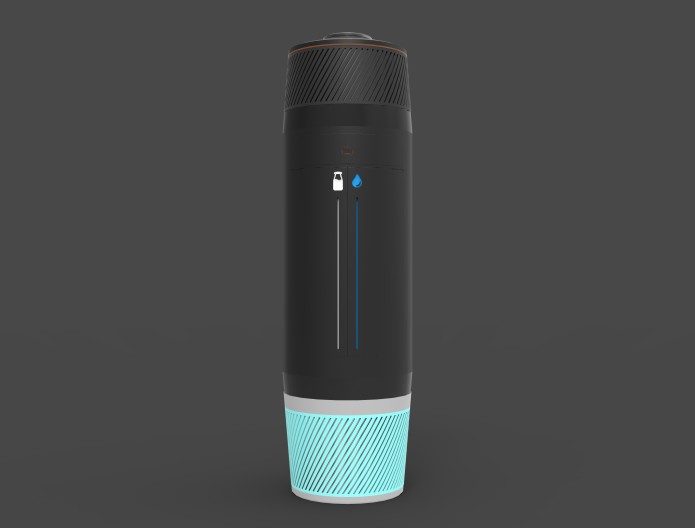 REPLENISHING BEANS & C02
To make The Porta Presso even more easy for coffee drinkers, you will be able to conveniently order fresh bean sachets and/or CO2 canisters from The Porta Presso app or website.  They can be delivered to your doorstep at the touch of a button.  Choose from a one-off delivery or a subscription.  Alternatively, use your own!
AS SEEN ON…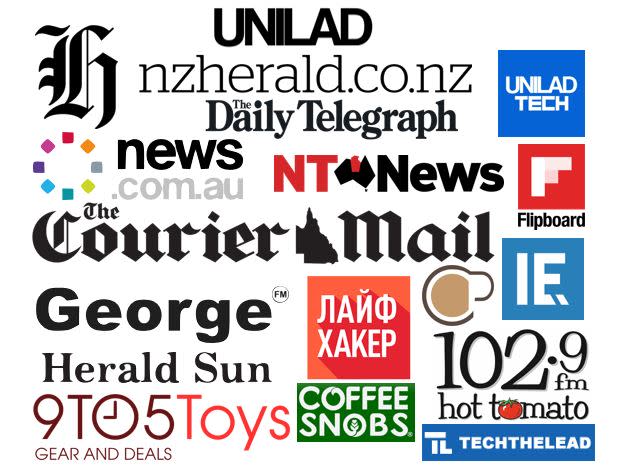 OUR STORY
We are a young couple (18 and 20) from Auckland, New Zealand with a love of coffee!  Having both worked as baristas in the past we saw the opportunity to create something that had never been done before.   
Our love for coffee led us to searching the global marketplace for an espresso coffee machine that could make a great tasting coffee and was entirely portable. After discovering that there was no existing product that could grind/compact beans, boil water and heat/froth milk the idea for The Porta Presso was born.With an ever-growing demand for coffee, we envision The Porta Presso as something that will make a practical addition to any situation. For the past year, we have teamed up with and worked alongside leading New Zealand product design company Global Design Production to turn our concept into a reality.  We appreciate any help and support we can get on this journey!  
Frequently Asked Questions
WHY C02?
After extensive research and careful consideration, we decided to opt for the C02 canister concept over a mini water pump that we had also designed. This is because the C02 canister allows The Porto Presso to be able to function with a smaller battery and thus have a sleek, stylish and minimalistic appeal on the go whilst having all of the functionalities of a traditional espresso coffee machine, allowing it to be easily portable. Each canister will be able to make at least 15 coffees and has been designed to be extreamly user friendly to replace. You will easily be able to buy extra canisters from your local shops or via The Porta Presso's website to get them delivered to your door.
WHY BEANS?
A coffee isn't a coffee without the authentic taste of freshly ground beans. We envisioned that The Porta Presso would create a coffee that is as authentic as the coffee you would get from your local barista. Nobody likes the unauthentic taste of coffee capsules and pre-ground, dry beans. However should you find yourself without any fresh beans, The Porta Presso will still allow you to use pre-ground beans.
Is the Porta Presso easy to clean?
All the parts you will need to clean will be 100% removable and dishwasher safe – the grind waste compartment, the milk container and the water container – the grinder is also able to be washed. Simply throw them in the dishwasher for a good cleaning if you're done with your Porta Presso for the day. If you're wanting to make another cup of coffee simply dispose of the used grinds and attach the clean cup or simply rinse out the already used cup and you're good to go again.
Is international shipping free?
Yes, international shipping is free for all perks. 
What does the PortaPresso include?
All Porta Presso's include The Porta Presso, a charger, manual, 1 cup, and 2 CO2 canisters to get you started.
Where can I buy CO2 canisters?
You can purchase these from most cycling stores, our website and/or subscription service and inevitably in most major supermarket chains.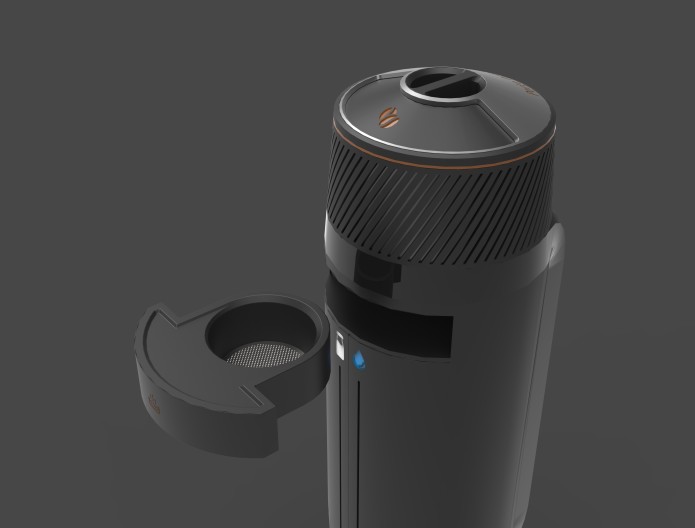 STRETCH GOALS
$150,000 – CHARGING DOCK
The Porta Presso charges with a standard micro USB charging cord which is common among devices with the option to plug it into a wall socket, a car cigarette lighter or any other USB supported charging devices.
Our stretched goal is to make a wireless charging dock that will allow you to simply place your Porta Presso onto it at the end of the day and simply pick it back up again when you are ready to use it.  If we reach this stretch goal, everyone who pledged towards a Porta Presso will also receive a wireless charging dock.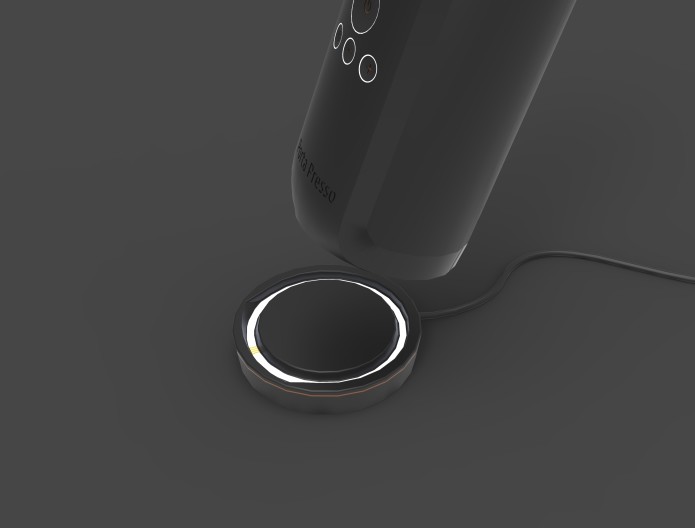 $200,000 – INTERACTIVE CUSTOMISATION
An interactive customisation page on our website allowing you to completely customise The Porta Presso to your personal preference.  You will be able to choose the colour and materials, whilst visually seeing what it will turn out like!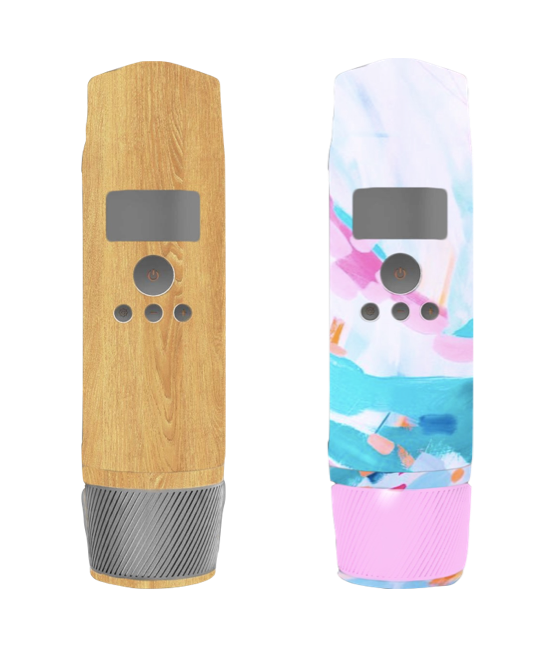 $300,000 – SMARTPHONE APPLICATION
Our final stretched goal is that at the simple touch of a button, The Porta Presso will prepare the perfect cup of coffee for you, anytime, anywhere.  Schedule a brew to your personal drinking habits, or sync a brew to your smartphones alarms.  The Porta Presso will be ready when you are.  Whether this is the alarm that wakes you up in the morning so that you can roll out of bed to a freshly made coffee or your lunchtime work break.   Fine tune your coffee with the simple swipe of a finger, whether this is hotter, stronger, weaker – you can tweak at will.  At the touch of a button, the app will also allow you to order fresh bean sachets and/or CO2 canisters which will be delivered to your doorstep.

WHAT'S NEXT?
Compressed air system development 
Electrical system development 
Concept form testing through 3D print models 
Design development & 3D print sign off
Machining for functional prototype
Testing of machined functional model 
Refinement of model – CAD files ready for production
Final functioning sample ready
Begin manufacturing
Finish manufacturing
Ship rewards to backers
SPECIFICATIONS
Patent pending
Dimensions: Width 90mm x height: 320mm
 7.4V Battery 
12g Co2 Canister 
How can you support us?
We need your help to make The Porta Presso successful. As well as supporting us by following us on Facebook and/or Instagram and purchasing your own Porta Presso to help our campaign you can also tell your friends and family about us by sharing our page on social media.
Watch all PortaPresso videos on our YouTube channel by clicking here.
View any up to date information on PortaPresso at www.ThePortaPresso.com