Priti Yoga & Exercise Mat by The Priti Collection | A beautiful, eco-sustainable, reversible, budge-proof yoga mat designed for everyone.

imagine.
Imagine feeling one with your yoga mat. No toxic PVC. No stink or greasy feel.
But soft, durable, substantial, budge-proof, natural and breathable…like your favorite pair of jeans. You desire protection, confidence and stability— to take your practice to the next level.
Yoga practice is supposed to bring balance to your health, mind and body. So why are most yoga mats made with toxic chemicals like PVC? Truth is, these man-made substances can harm your health and the environment. We felt it was time for a change. Introducing the PRITI MAT 1.0.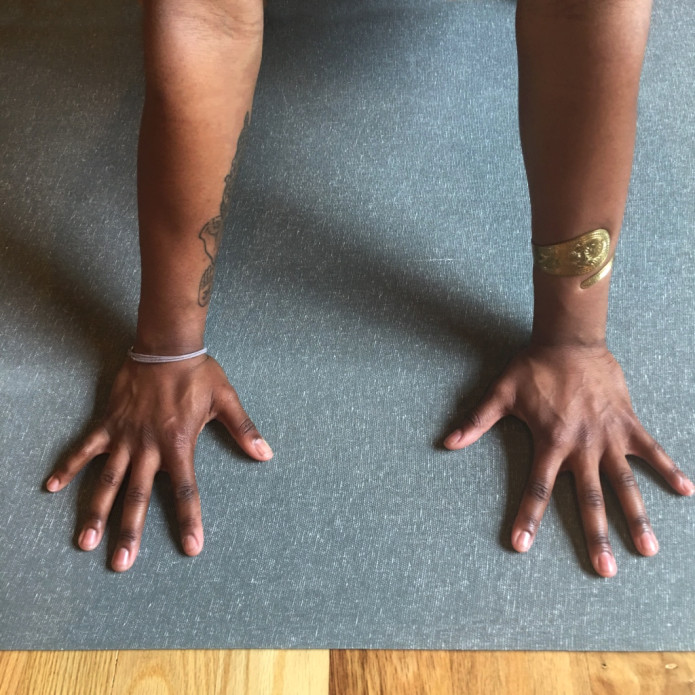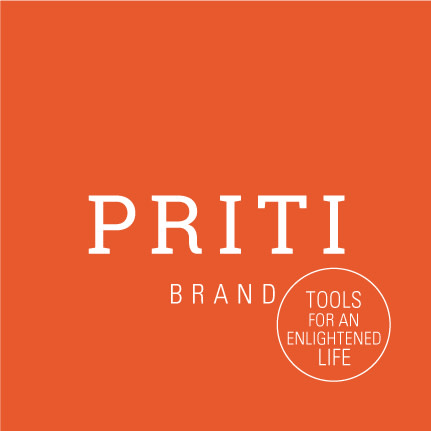 we are the priti collection.
Over the past 3 years, we have successfully launched an eclectic array of necessary, modular products that enhance one's yoga and meditation practice while supporting cotton growers, artisans and communities. We passionately believe that yoga goods can be as enlightened as those who practice yoga strive to be themselves.
Our first product was our handwoven yoga blanket. This was our first quest: to explore precious Indian cotton, traditional weaving techniques and the best thickness and weight to assist when practicing yoga. Then we added color-coded folding lines and educated practitioners on how our blankets make a versatile prop— a tool to protect your body.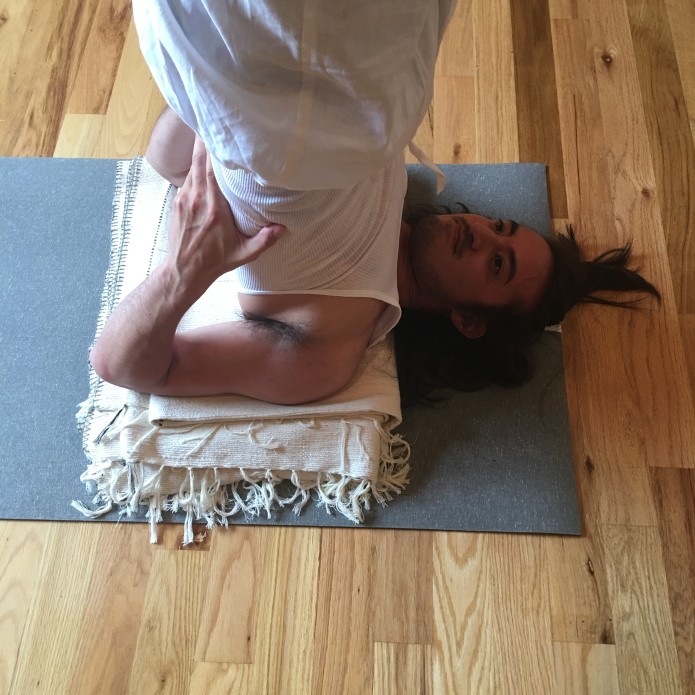 our story
I'm Joanna Feldheim, Founder|Creator of The Priti Collection. One day during yoga class, I thought, "Why am I practicing on a fake, potentially harmful PVC MAT?!" I couldn't figure out their relationship to the yoga experience.
As a creative director and product developer, it's my job to solve problems by making sound products that are relevant, functional and aesthetic. I saw the PVC yoga mat as a problem and decided to do something about it. I created Priti with one simple mission: to bring quality, accessibility, beauty and sustainability to our yoga props and beyond.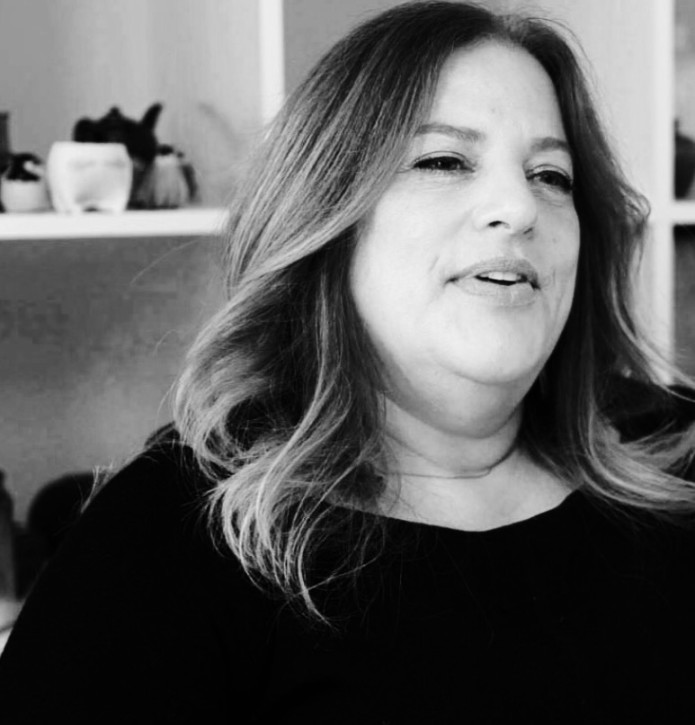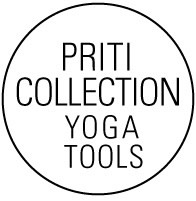 We spent one year developing, testing and perfecting our yoga mat. We created a small sampling and are asking beginners and seasoned teachers for input. Given the steep competition out there, expectations were very high. So far we have received rave reviews!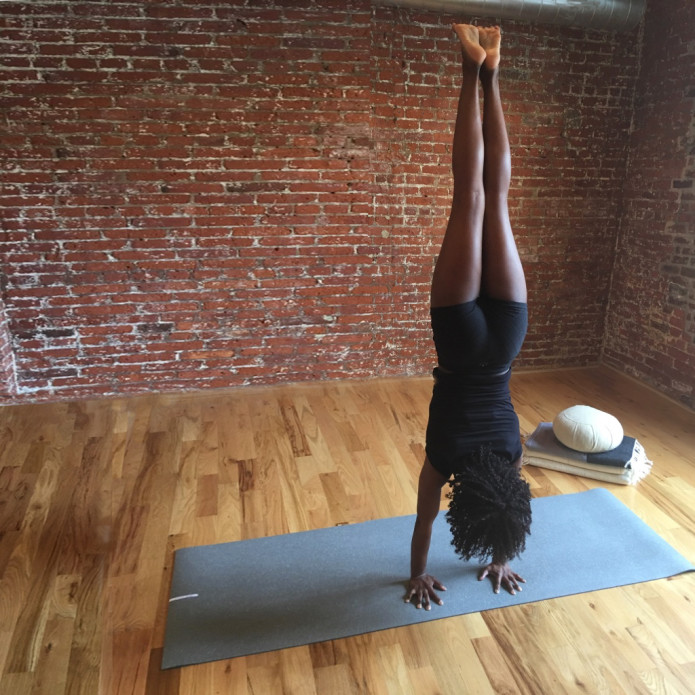 introducing priti mat | 1.0
a natural yoga mat made from sustainably harvested tree rubber.
Our goal was to create the best quality mat that is natural, non-harmful and free from PVC, TPE and OEKO-TEX. And unlike other rubber mats, the foaming agents used to create this mat are non-toxic. Our PRITI MAT/1.0 combines comfort and performance— It's soft yet solid, non-slip and budge-proof with just the right substance, weight and padding for your body. It is thick, eco-sustainable and reversible. It's not smelly, flaky or sticky. We know you want to feel protected, confident and stable— to go to the next level. And— we also know you are a sucker for aesthetics.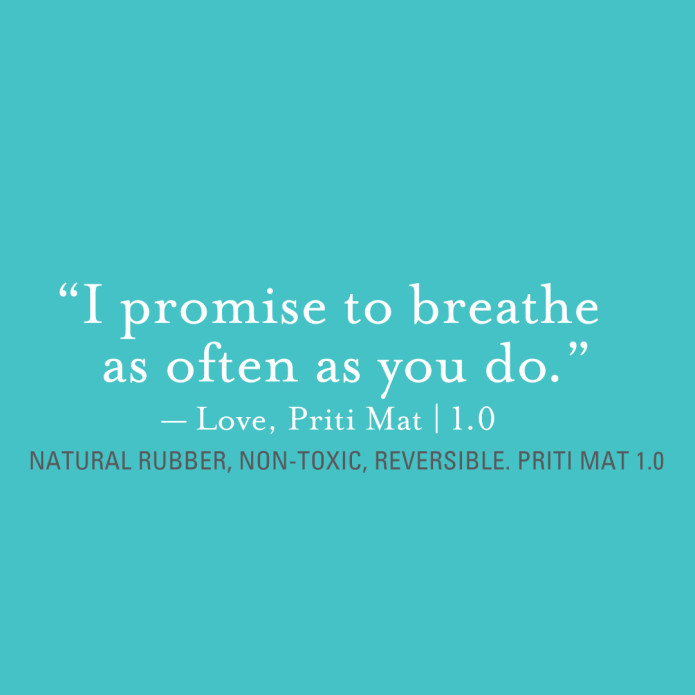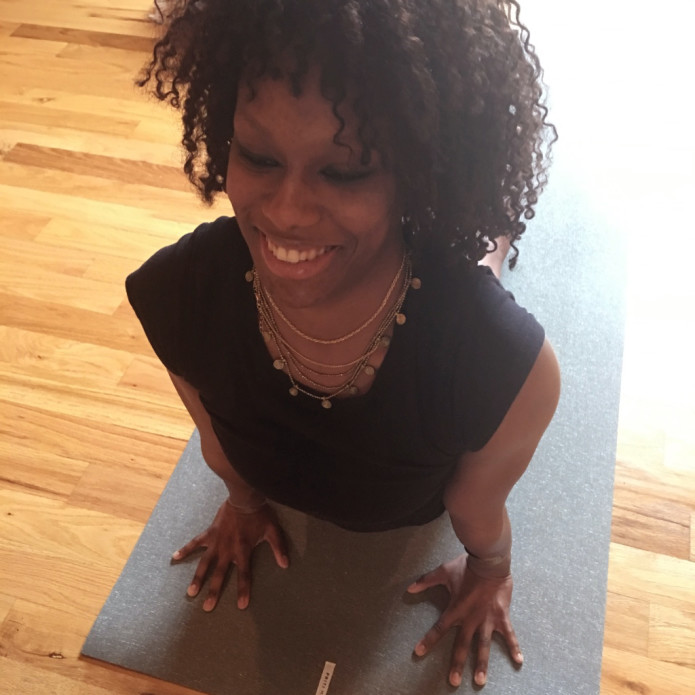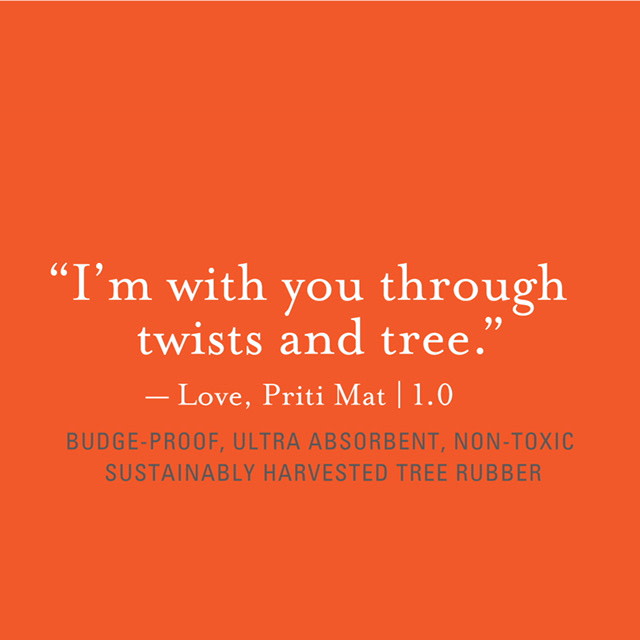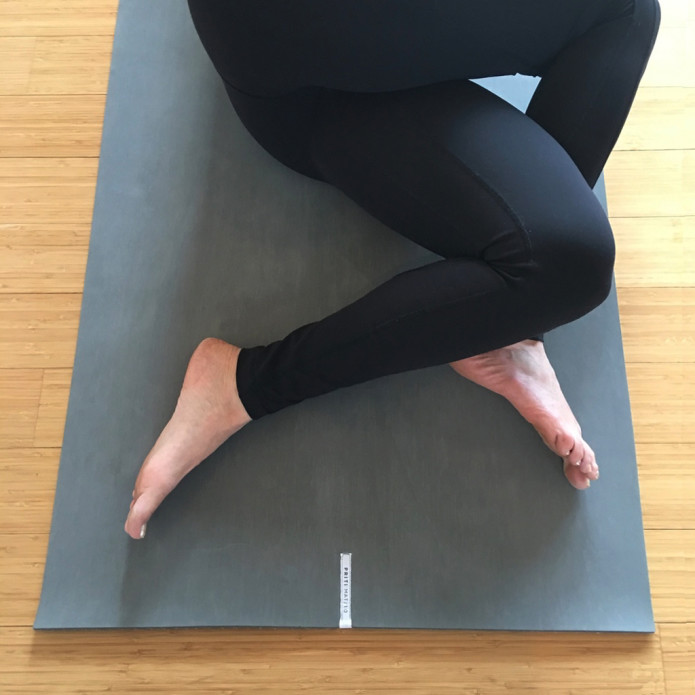 why are we raising money?
After designing our mat, we convinced our one-of-a-kind, needle-in-a-PVC-stack manufacturer to produce a limited sampling for testing. Once we compiled data and qualitative, we were convinced we pinned the tail on the donkey.
Thanks to you, we have successfully reached our initial funding goal! This allows us to place our first minimum quantity mat order and send them to you asap!
 
stretch goals
We are excited to stretch our body and mat offerings.
We'd like to keep our Priti Mat Line growing healthy— developing enough product and a variety of offerings. Since we met our initial goal, we'd like to show you our plans to grow:
— Raise the quantity of our first order: need $12,500 total
— Introduce second new color and order minimum quantity: need $20,000 total
— Add a third new color and order minimum quantity:  need $27,500 total
— To develop proprietary mat accessories: need $32,500 total
— To develop a thin, travel mat, first color, minimum run: need $40,000 total
These stretch goals require capital to expand with R&D, production and marketing our expanded line.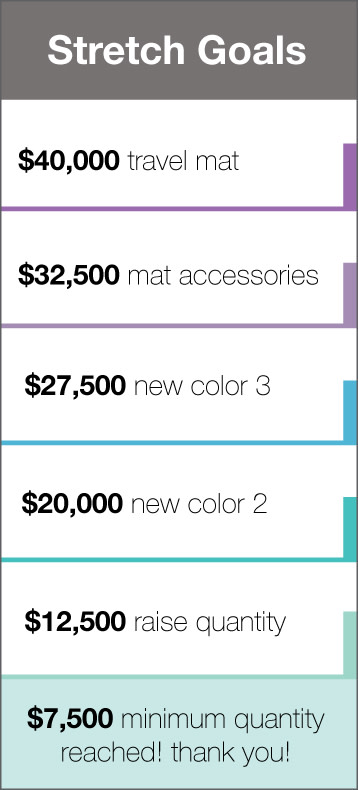 two sides to every story.
Our Priti Mat is reversible! Two distinct practice surfaces allow you the freedom to change things up depending on your style of yoga. The mesh side is designed with a soft texture and the matte side has a super smooth texture.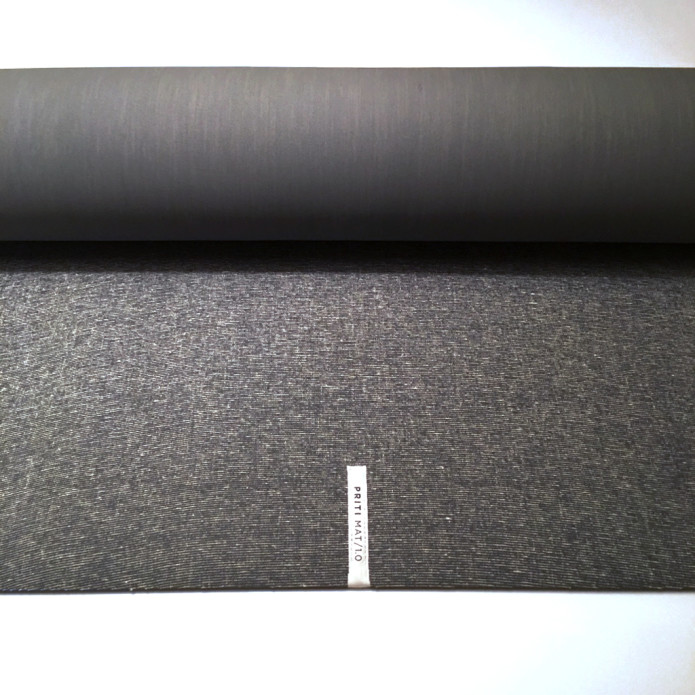 a) woven side: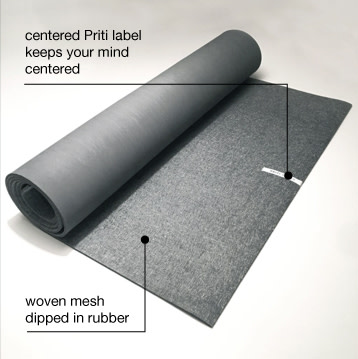 b) matte side: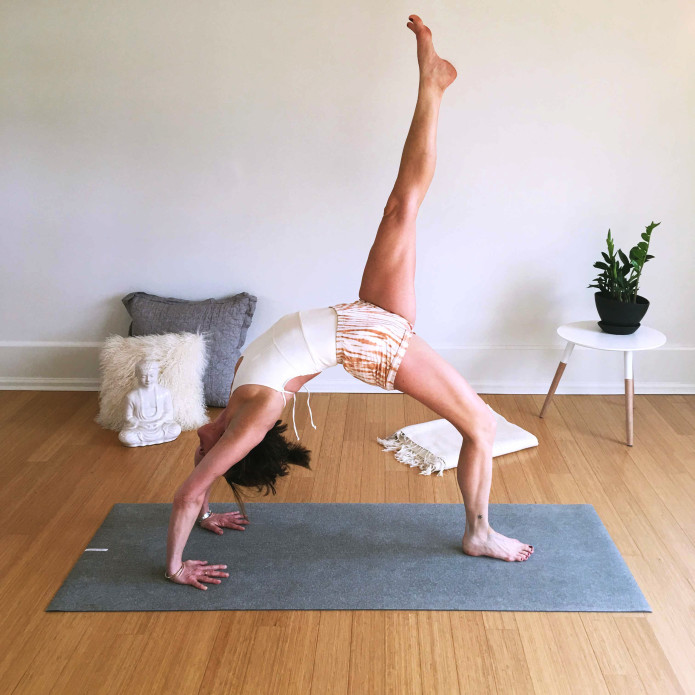 testimonials

"She Arrived…"
"She arrived in the mail today & I am totally in #love." #thisismyyoga #embodiedliving
— Erin Labadie on Apr 25, 2017
Erin Labadie is a E-RYT 200/RYT500/RPYT/YACEP Yoga Teacher with a focus in Restorative, Flow & Restore, Meditation, and Mentorship.
 
"Beautiful product!"
"I had to write to tell you how IN LOVE i am with my new yoga mat! Actually, I thought I was ordering a smaller (thinner etc.) "travel mat." I was surprised when I received it how much larger it was. However, It is gorgeous & I love the color & mat texture. Great job on the design. I may have to order a second 1 for my home. 🙂 Just wanted to give the feedback. Once again, a beautiful product! It will surely inspire my practice. Thank you again! Sincerely, Linda
— Linda Jaseck on Apr 25, 2017
Linda Jaseck is an Independent Yoga Instructor & Urban Zen Integrative Yoga Therapist™
"Love, love, love the mats!"
—Rebecca Peters on Apr 25, 2017
Becca Peters is the owner and creative mind behind Metta Mindfulness + Meditation Center in Salt Lake City, Utah. She is also a therapist in private practice as well as an educator in Mindfulness for UCLA and Compassion Cultivation Training for Stanford. 
"Unique/Priceless/Cherished"
"Finally, found it! After more than 25 years of yoga practice this is the only mat you will ever need. Perfect for my Yin practice and all my standing postures. It's also so beautiful I can leave it in the middle of my living room all day!" — Jacquie Ruderman on Jan 14, 2017
Jacquie Ruderman is an E-RYT 500HR certified yoga instructor (yin, restorative and vinyasa flow.)
 
"Pretty Priti."
"I must admit…I am a sucker for aesthetics. I bought this mat because it is beautiful to look at (though I did know that it was tried and tested successfully for function.) Like a favorite piece of clothing, this mat just feels right. Each side has its own texture. I find that I am using the heathered cloth like side for seated asanas/ meditation/ study and flip it over for extra traction for my more "grittier" type practice. It's kind of like a yin/yang mat or two mats in one. The Priti mat is both pretty and and practical." — Laurie Fusco on Jan 14, 2017
Laurie Fusco is a YTT 500 Certified Yoga Teacher
" Finally have a mat that I can relate to."
"Finally have a mat that I can relate to: firm enough to feel the energy rebound as well as the ability to melt into it. The Priti Mat is double sided; the weightier side doesn't slide…it supports as well as repels perspiration. And it's not smelly or sticky. If u care about your practice, care about your props, a creative leap ahead of the ordinary." 
— Christopher Ray Mankowski on Dec 30, 2016
Christopher Ray Mankowski ​ is a E-RYT 500 Certified Yoga Teacher
what our mentors are saying:
Bobbi Brown: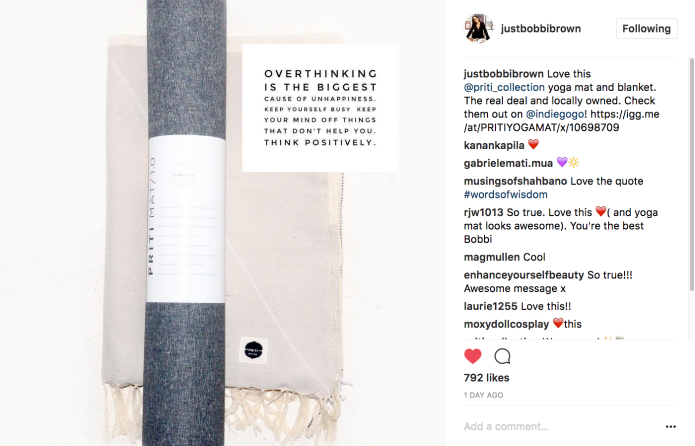 Elena Brower: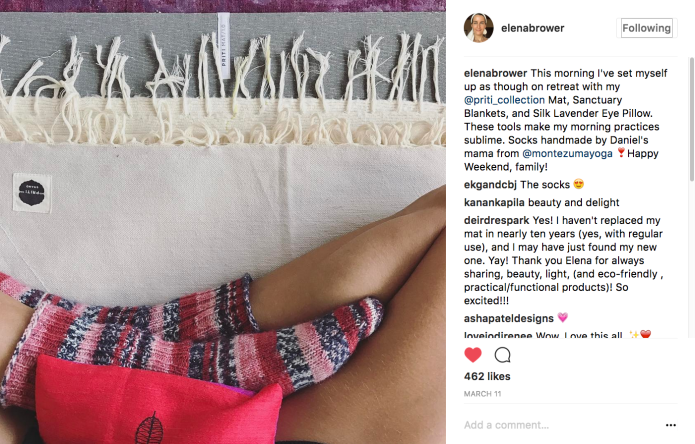 Amanda Harding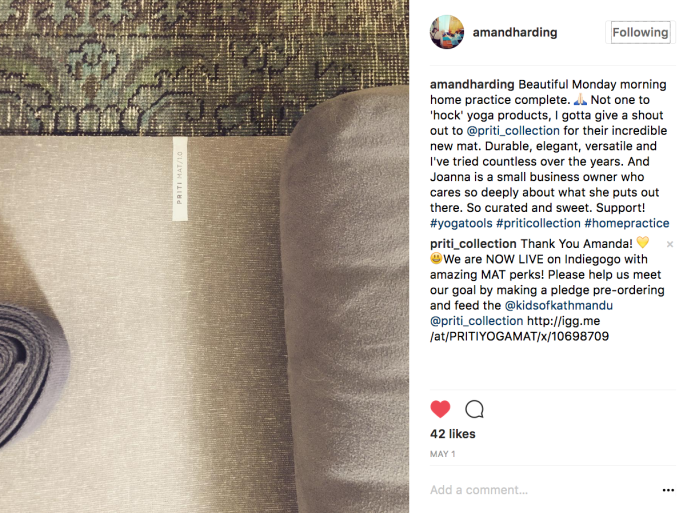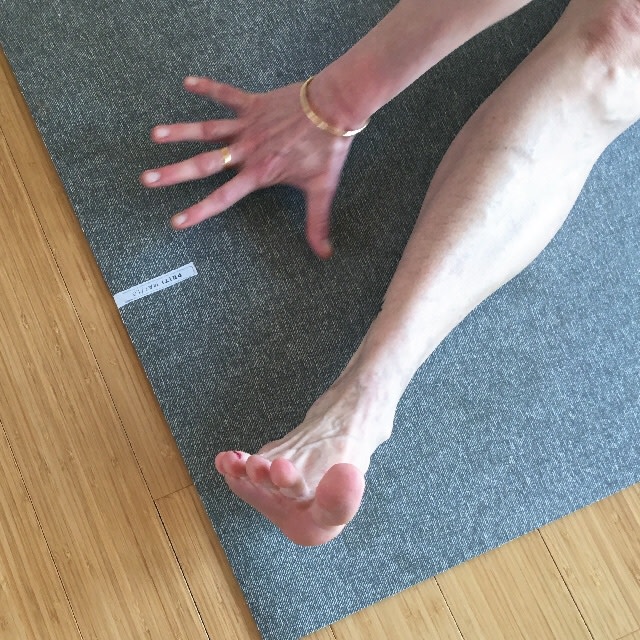 specifications
PRITI MAT | 1.0
– 26" wide X 71" long (66 Cm X 180 Cm)
– 3/16″ thick (4.7625 Cm)
– weighs 6.4 lbs. (2.9 Kg)  
– cotton/poly mesh fabric dipped in 100% natural rubber.
– made from non-amazon harvested tree rubber
– tightly woven mesh fabric resists stretching or tearing
– no pvc, toxic plasticizers or harmful dyes
– 99% latex free
Every Priti Mat is unique. There may be variances in thickness +-0.3mm which could affect the exact weights.
CARE
Your Priti Mat can be cleaned by wiping with a 20/1 mixture of water and vinegar or a 50/50 mixture of water and organic apple cider vinegar. Let mat drip or air dry or blot it dry.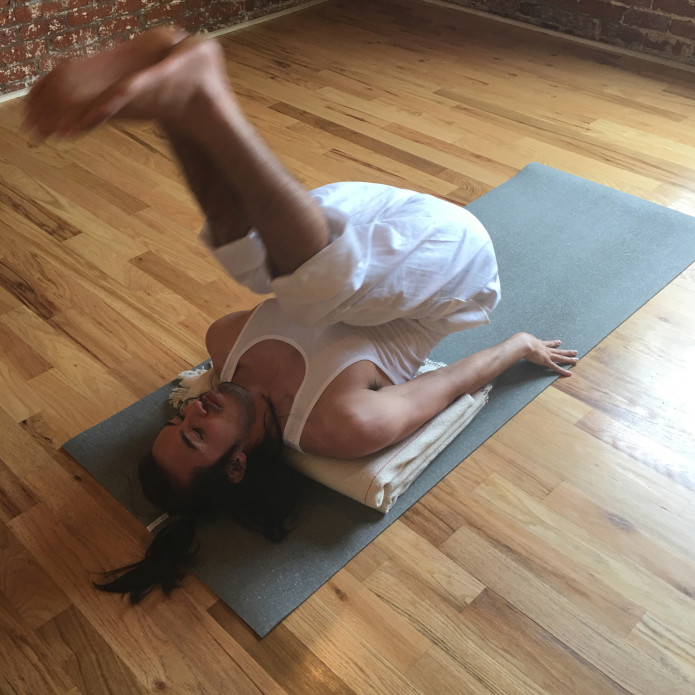 your rewards
Here are what your perks look like. You can claim one perk at a time. So, if you'd like to select more than one perk— you will need to make one contribution at a time. A portion of your donation will go directly to the Kids of Kathmandu.
 
Stretch Goal Mat Special!
Featured Exclusively on Indiegogo InDemand. Ships out within 3-5 business days. A portion of your donation will go directly to the Kids of Kathmandu.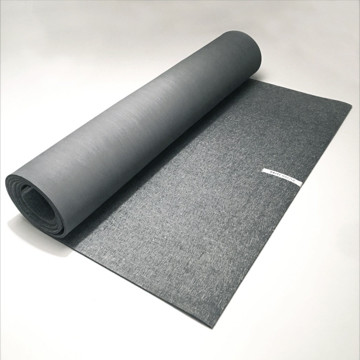 2) Limited Edition Postcard Set: $50
Because you love us and believe in us. No need for any merch. You simply would like to help out and donate to our cause. To thank you for your generosity, we will send you a limited edition Priti postcard set— a collection of yoga teachers posing in the Iyengar, Yin and Vinyasa traditions. We'd like to help you improve those rusty handwriting skills and go full-on snail mail and write to your peopes. Will ship right after our campaign. A portion of your donation will go directly to the Kids of Kathmandu. Free shipping!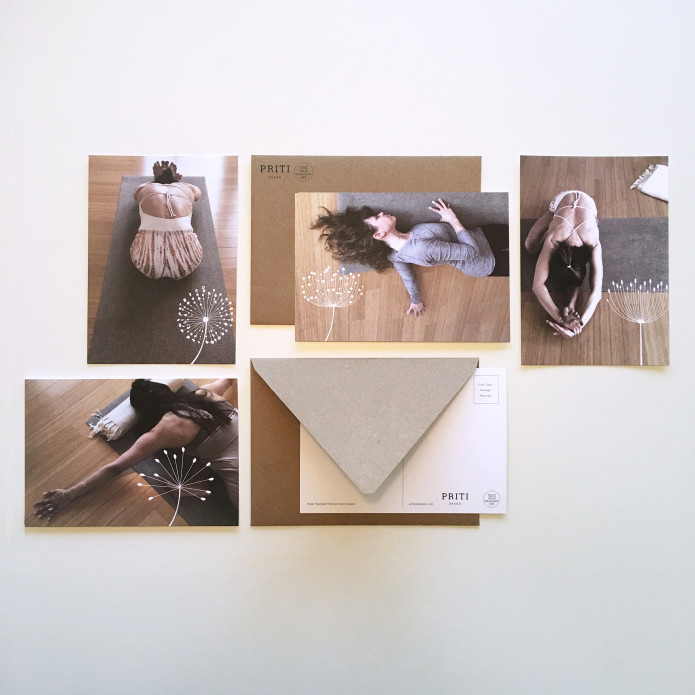 3) Yoga Mat and Blanket Duo: $125

SAVE $58! (30% OFF MSRP) Your pledge will yield one each of our Priti Mat | 1.0 in charcoal and our handwoven 100% cotton "Art of Folding" yoga blanket in putty Color with color-coded folding lines and red blanket stitched edges— designed to support your practice, yet beautiful enough to transition to the couch or bed.  A portion of your donation will go directly to the Kids of Kathmandu.

X2) Double Up: $135
Pledge two (2) Priti Mats. Plain and simple. Buy one, gift one. SAVE $33 (20%) A portion of your donation will go directly to the Kids of Kathmandu.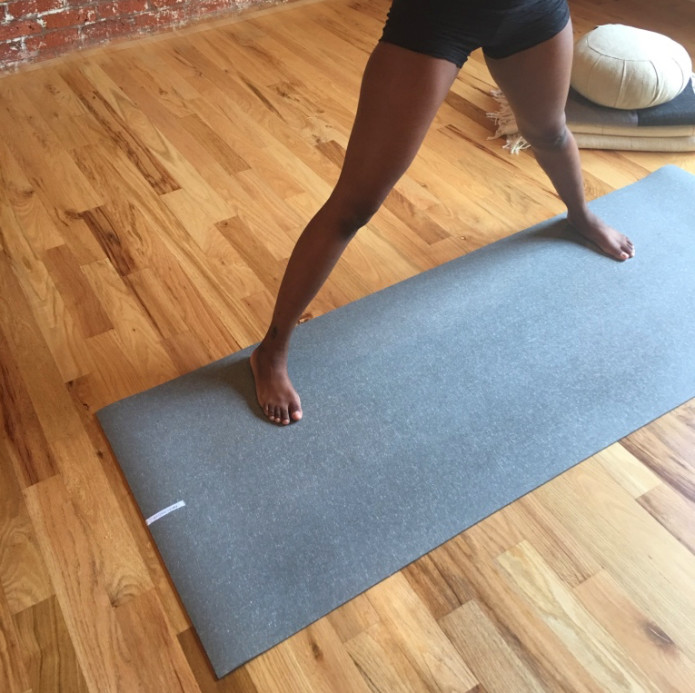 5) Mat and Private: $275

Save $55! Receive our Mat in charcoal & enjoy a fantastic 75 min. private yoga and Ayurvedic session with Kanan Kapila, LCSW, E-RYT 500. Discover your body type and receive a balancing home practice sequence. Free follow-up yoga class at The Vastu Yoga, Verona, NJ Session can be either online or local in Verona, NJ. A portion of your donation will go directly to the Kids of Kathmandu.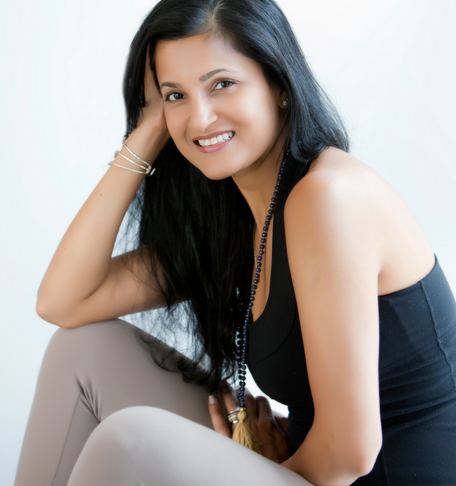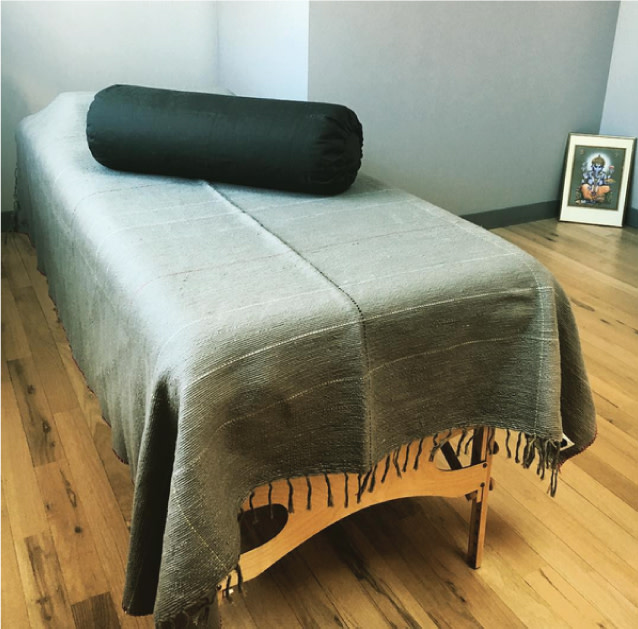 6) Precious Home Studio: $325
Save $166! (35% OFF MSRP) Receive six (6) Priti Yoga Mats in charcoal gray to outfit your beautiful domestic yoga space. A portion of your donation will go directly to the Kids of Kathmandu.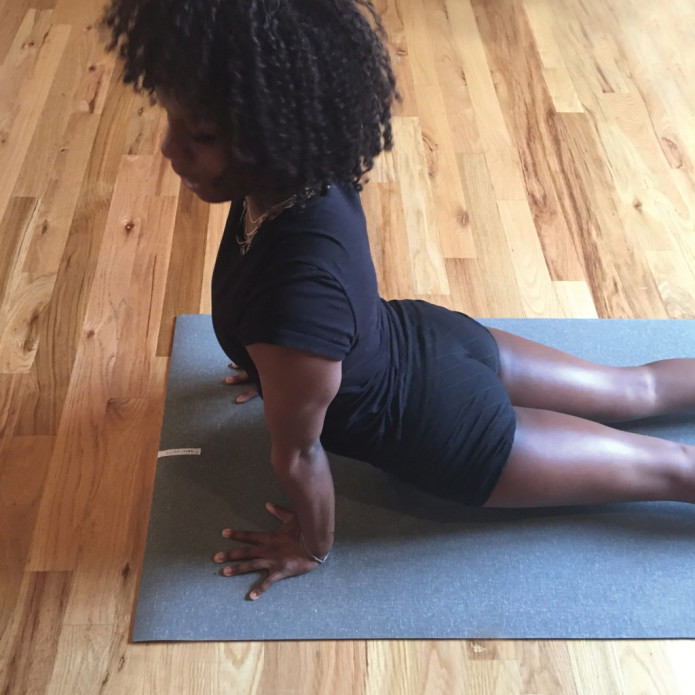 7) Boutique Studio: $500

Save $320! (40% OFF MSRP) Pledge to receive ten (10) Priti Yoga Mats in charcoal gray to maintain health and well-being at your amazing boutique yoga studio. A portion of your donation will go directly to the Kids of Kathmandu.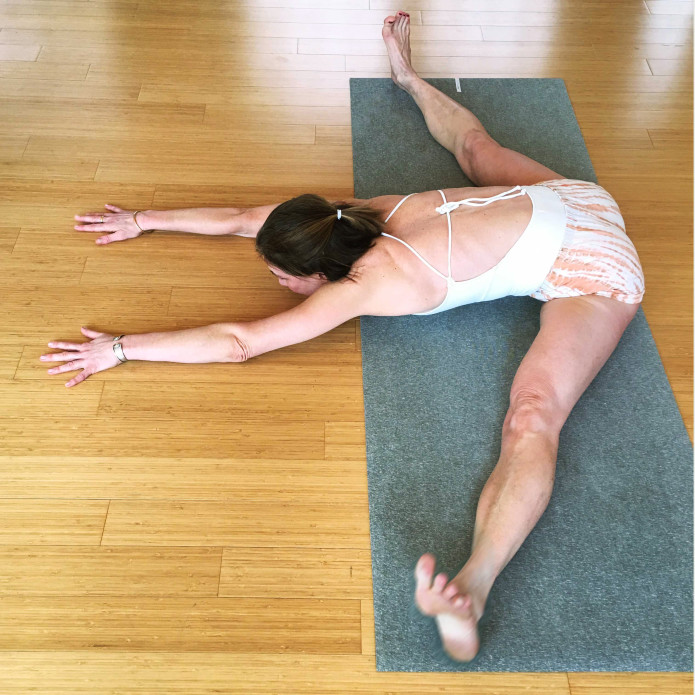 8) Pro Studio Special: $1,100
Save $740! (40% OFF MSRP) Receive ten (10) quantity each of our Priti Mat | 1.0 in charcoal and our handwoven 100% cotton "Art of Folding" yoga blanket with color-coded folding lines— great teaching tool for supportive asanas. Sturdy and well-made for studio use. Blanket colors: putty or charcoal. A portion of your donation will go directly to the Kids of Kathmandu.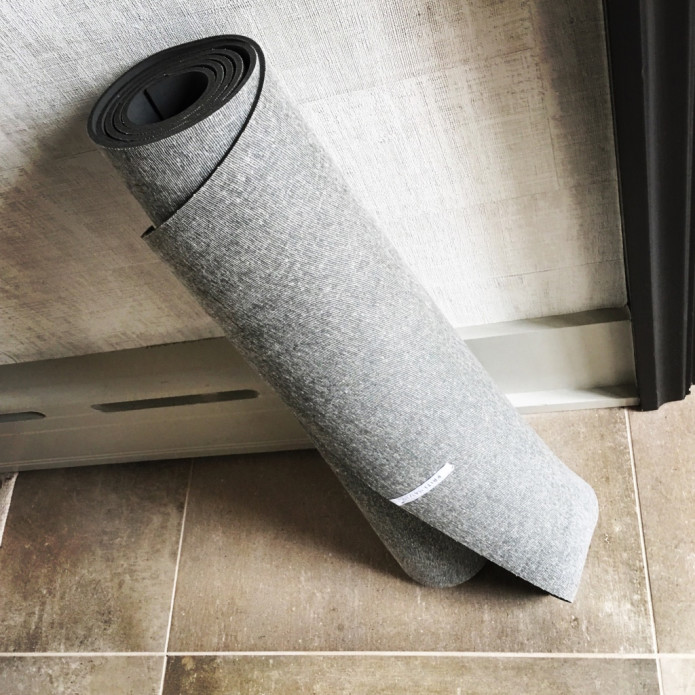 9) Living The Green Dream: $1,250
Receive thirty (30) Priti Mats in charcoal gray. Live the green dream in your large teaching facility. Save $1230! (50% OFF MSRP) A portion of your donation will go directly to the Kids of Kathmandu.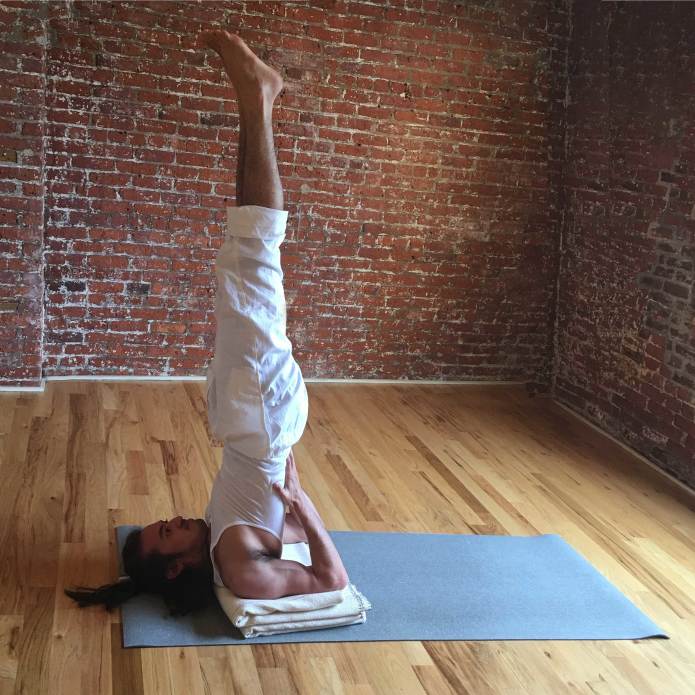 about pvc
Each year thousands yoga mats are sold in the U.S. and almost all yoga mats are made from PVC. The main ingredient in PVC is vinyl chloride, which is a known human carcinogen. PVC can contain chemicals like phthalates and is toxic during every stage of its life cycle.
It is toxic during its manufacture; it is toxic to the end consumers; and it is toxic during its disposal. As consumers, we are exposed to PVC, through inhalation and skin contact. "Irina Webb from ireadlabelsforyou.com states, "If you are not careful you may expose yourself to toxic chemicals in your yoga mat. You may end up inhaling potentially harmful chemicals and absorb them through your skin."
PVC (polyvinyl chloride) can contain chemicals like phthalates, which are linked to reproductive issues including shorter pregnancy duration and premature breast development in girls, and they can leach out over time, especially in warmer temperatures like those found in many hot yoga studios. Phthalate particles then cling to dust, which can be inhaled.
Also, dioxins are byproducts of PVC yoga mats' manufacturing and disposal. Dioxins are a group of toxic chemicals that share a similar chemical structure and induce harm through a similar mechanism. They have been classified as a human carcinogen. They are on the U.S. Environmental Protection Agency's list of priority pollutants. In addition, they are persistent (meaning, they do not break down easily in the environment) and bio-accumulative (meaning they build up in our bodies)."
 
Is your yoga mat free of PVC?
Manufacturers caught on to the idea that consumers are concerned about exposure to toxic chemicals. So they get very crafty with their product descriptions. With PVC yoga mats, you might read that they are free of toxic phthalates, lead, BPA, etc., which does not mean that that the yoga mat is free of PVC. Always ask the manufacturer by email whether the yoga mat you are looking to buy is free of PVC.

about the kids of kathmandu
Kids of Kathmandu focuses on education for marginalized children in Nepal. In response to the April 2015 earthquake, they spearheaded an international partnership that completed six new schools in 2016 with two more opening in 2017. These schools, built in the most devastated districts are earthquake resistant and uniquely designed, providing over 1,200 children with a safe and inspired place to learn.
Kids of Kathmandu also provides comprehensive support for 45 children at the NYCDS orphanage, to build a nurturing and progressive environment towards an educated future.
 
Feed the Kids of Kathmandu
Priti is proud to support the orphanage by providing blankets and donations. Your contribution in this campaign will help provide food directly to the children. A percentage of the proceeds will be donated directly to Kids of Kathmandu. To understand the difference in value, one dollar per day will feed one child for the whole day!    kidsofkathmandu.org    Luci Light Campaign seen in our video by MPOWERD  #lightupnepal and #giveluci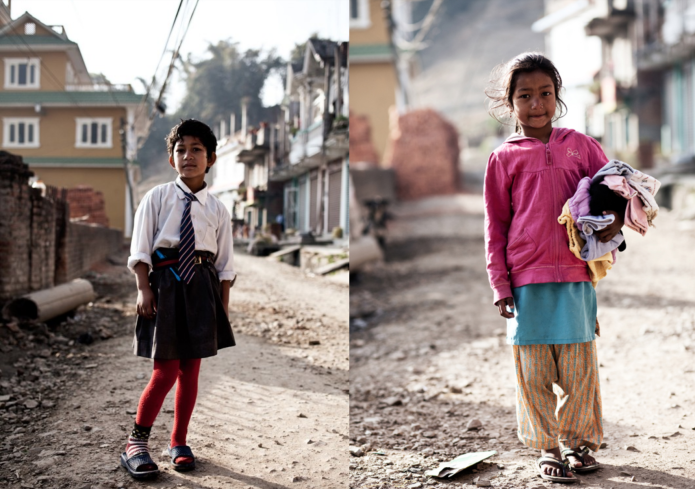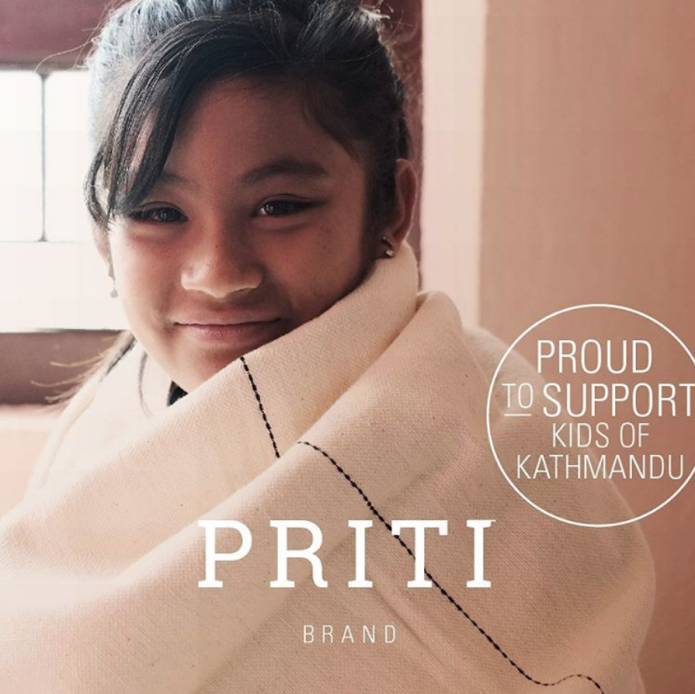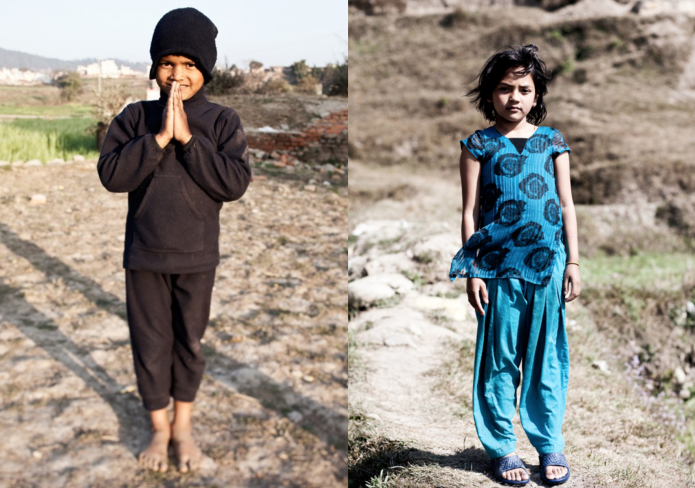 thank you.
The Priti Yoga Mat | 1.0 by The Priti Collection. Beautiful, thoughtful and totally enhancing your practice and good health while protecting our world.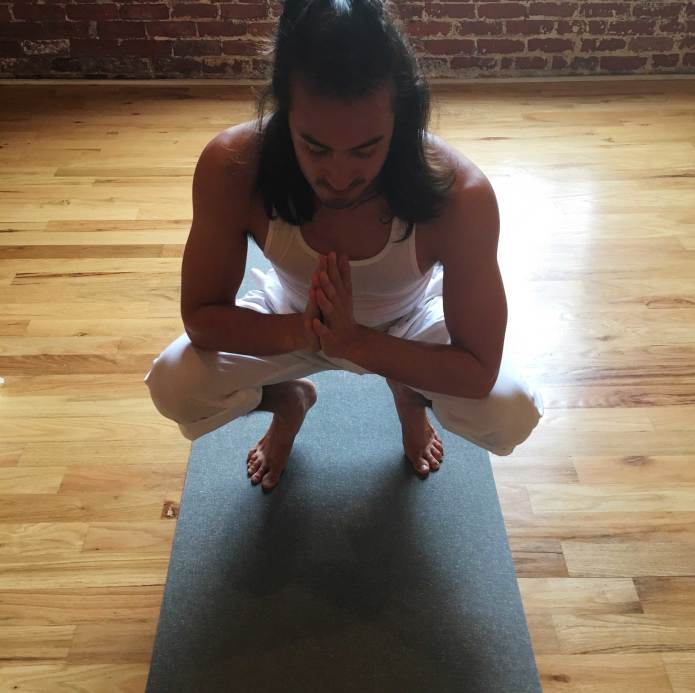 Thank you for letting us turn our ideas into meaningful products. This is our first campaign. With your help, we can sell enough mats to meet the high quantity minimum orders. We hope our backers love what we do.
namaste.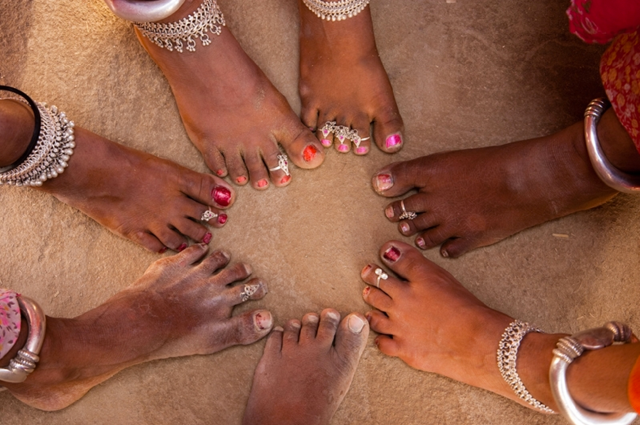 With Gratitude and Much Love: Ruth and Robert Feldheim, Lezle Stein, Jessica Feldheim, Michele Feldheim, Lewis Zelnick, Lila Zelnick, Lisa Rotell, Kanan Kapila, DeMane Davis, Ojas Tambe, Laurie Fusco, Jacquie Ruderman, Anupam Manish, Leah Caplan, Elena Brower, Bill Hovard, Barbara Messenger, Whitney Old, Sam Friedman, Misha Hajj and Kenny Baron.
 
got a question?
Please don't hesitate to connect with us at [email protected] Need more info?  Visit Priti.