Pulp. Wine made easy | The new way to discover unique wines

PULP. WINE MADE EASY.
 
We all enjoy a good wine, but choosing a bottle we really like in a shop or restaurant is always a confusing task.
Here's the thing: You don't need to be a sommelier to figure out the right wine for you. That's why we are here.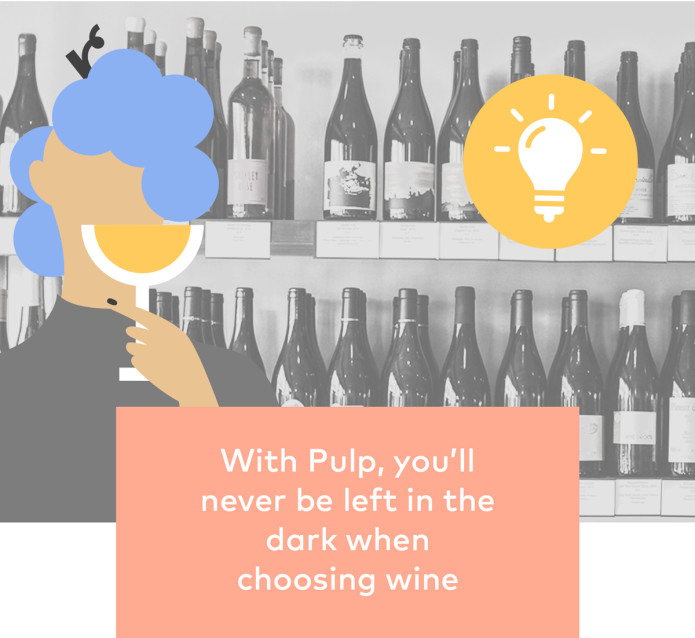 WHAT'S UNIQUE ABOUT PULP
Pulp is the only wine club that:
Brings you the most diverse selection of wine from independent producers
Has developed a unique and fun way for you to discover wines you love
Gives you the most accurate personalised wine recommendations tailored to your taste
Lets you buy wines you tried and love at great value directly from the vineyards

HOW PULP WORKS
1. Delightful wine delivered
Each month, you receive 2 sets of half bottles of outstanding wines from independent producers straight to your doorstep. Our wine tasting boxes let you explore a different theme every month – one time you discover the components of wine, another time it's about full or light bodies wines.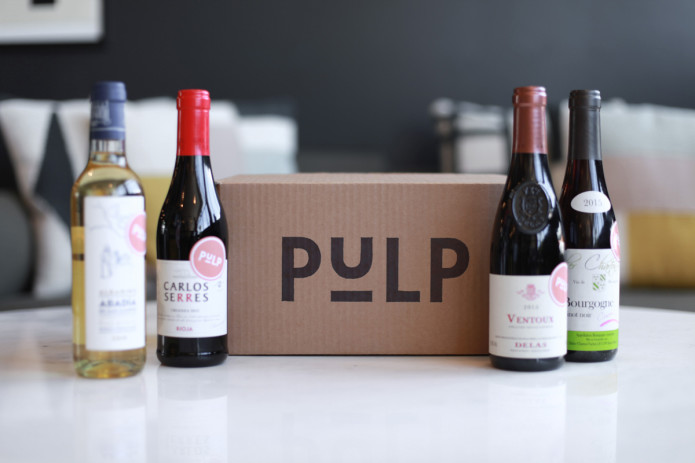 2. Uncork your Wine ID
Each time you taste and compare different wines, you can tap the app to give the thumbs-up or thumbs-down. Over time, our tech learns which elements you like or dislike about wine and will send you the most accurate wine recommendations tailored to your personal taste. We call this your 'Wine ID' – the perfect combination of all the elements that delight your tastebuds.
3. Get your personal wine recommendations
Now that we know your taste, we can create your virtual wine cellar, a collection of bespoke recommendations that match your wine taste. Imagine your 'Wine ID' as your personal pocket wine guide for every wine shop run or restaurant order, and you can also order your perfect matches directly from our online wine shop.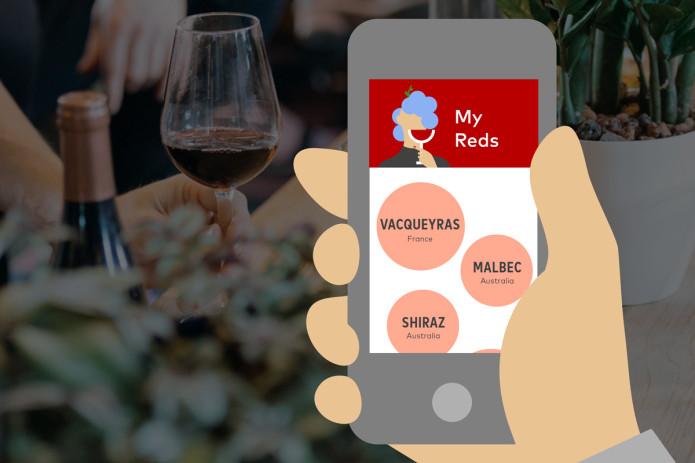 As featured in: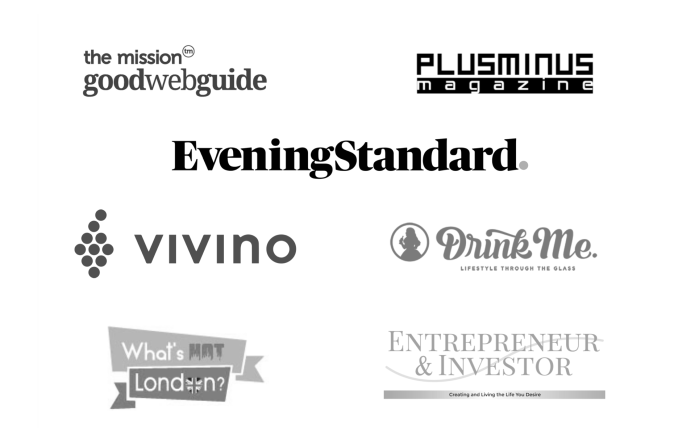 OUR WINES
UNIQUE WINES
We don't settle for the "one-wine-fits-all" approach of the wine industry, which pushes the most popular wines varieties to each and everyone of us. We handpick unique wines based on quality, diverse selection and how they exemplify our theme of the month. You won't find our wines in the supermarket.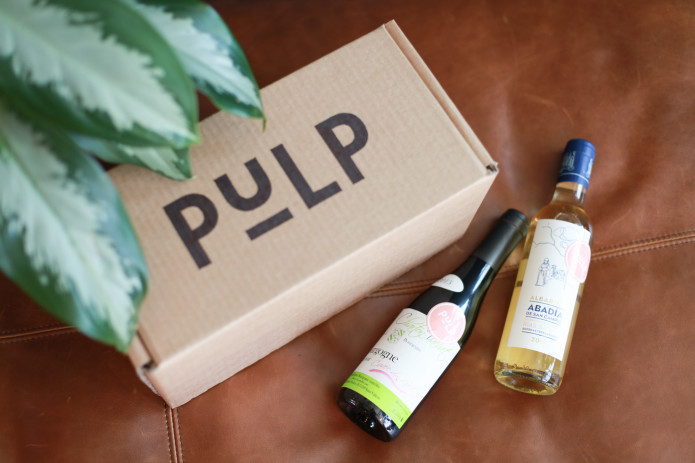 THE WINEMAKERS NETWORK
We already work directly with producers from France, Spain, Italy and Austria who are bottling wine specially for Pulp. Through your support, we are planning to expand our network to bring you unique and beautiful wines from around the globe.
CUTTING OUT THE MIDDLEMAN
Receive a monthly delivery of four wines straight from the vineyards to your doorstep. We source our wines directly from independent producers, cutting out additional cost for third parties.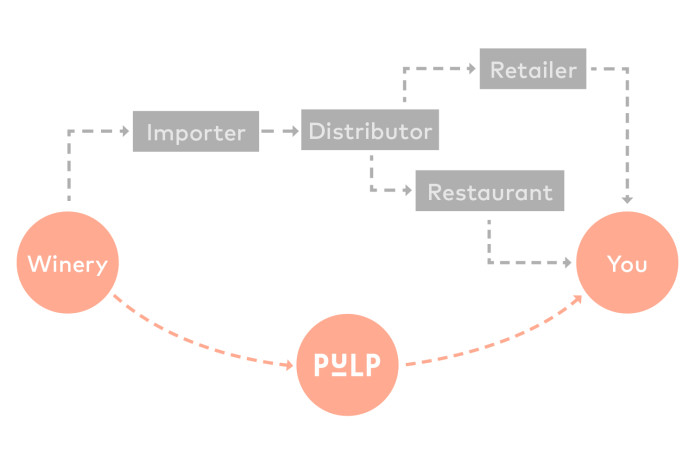 OUR TECHNOLOGY
YOUR WINE ID EXPLAINED
Over time, you will be exploring and learning about the different features and elements of wine as you taste and compare. By rating each wine according to your preference in our web app, Pulp's algorithm learns which elements of wine you like or dislike.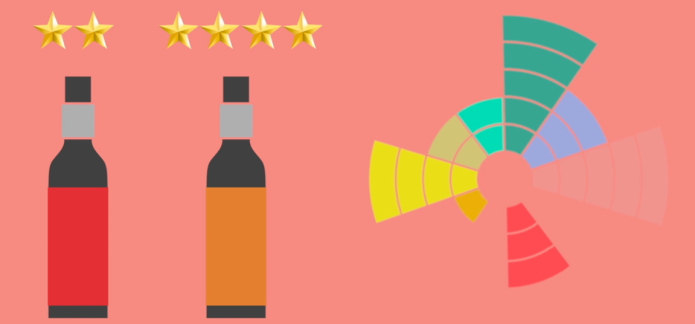 YOUR PERSONAL SOMMELIER
After you have tasted and rated 24 different wines, that's six Pulp wine tasting boxes, our tech has gathered enough data to equip you with tailored recommendations and tips for wines that will delight your tastebuds.
Our algorithm replicates what goes on in a sommeliers mind. Every wine you rate is broken down in more than 25 wine descriptors. Our algorithm looks at each one of these features, links them with your preferences and starts looking at matching alternatives.
YOUR WINE GUIDE
Through our web app, you also get access to easy bite-sized information that guides you through the monthly theme and wines in an interactive and fun way. Our wines are your learning tool with many guaranteed 'ooohh' and 'aaahh' moments!
In your wine journal you can see the details of all the wines you have tried with Pulp.
WHY HALF SIZED BOTTLES?
Our wines come in half-sized bottles (375ml) so each time you can taste and compare two wines side by side.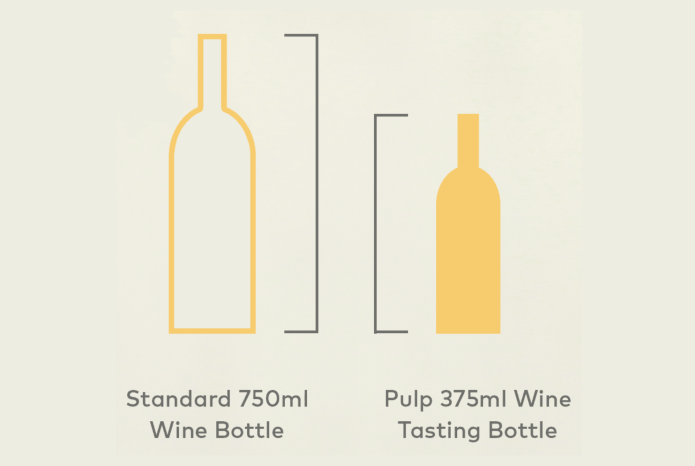 We believe that comparing different wines is the best way to appreciate the distinct features and understand which ones you prefer.
Also, it is the perfect way to try as many different bottles as possible.
But don't worry, in our shop you can find the full sized bottles of your favourites as well.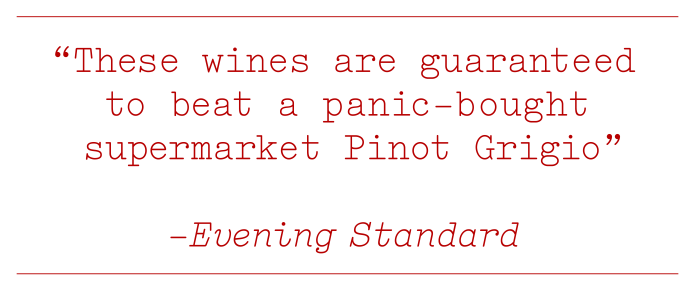 MEMBERSHIP BENEFITS
All of you who are backing our campaign, will enjoy all of these benefits for up to a year: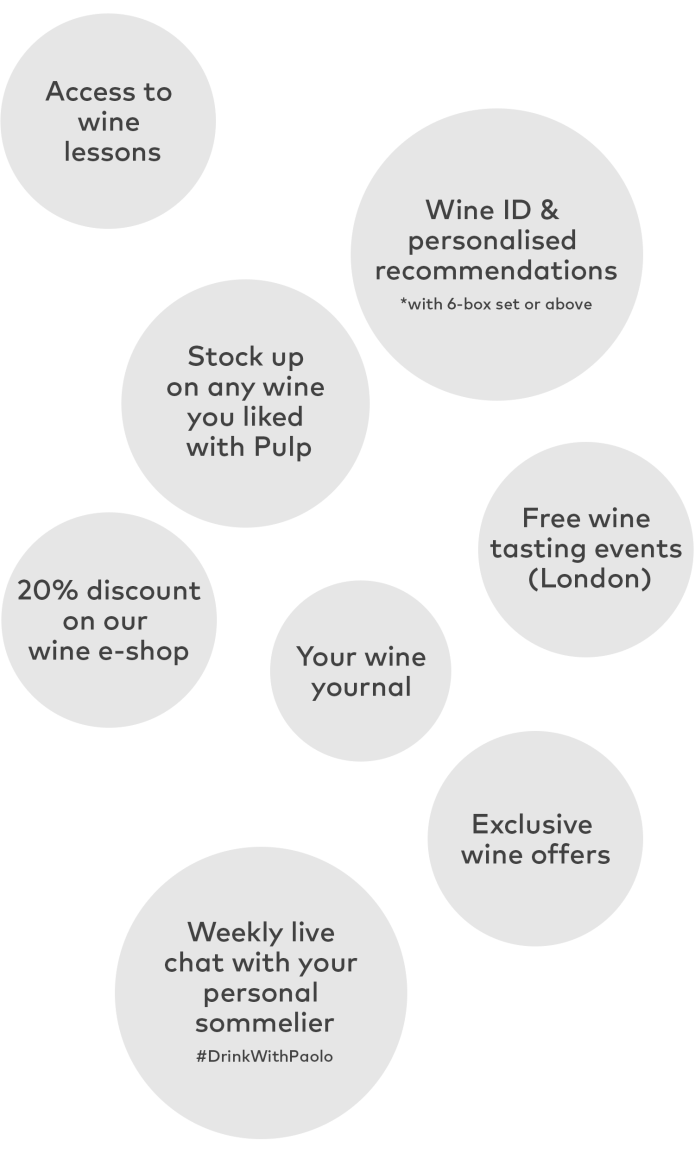 THE PERKS






MEET THE PRODUCERS
Wine producers taught us everything we know about wine. We bring customers and producers together so that you too, can learn from the people behind the craft.
REAL ABOUT WINE
Wine is not made by snobby noblemen who live in chateaux, but by real, down-to-earth people. With Pulp, you not only learn about the wine you drink but also about the people behind the craft and their stories.
WE ARE ALL THE PULP COMMUNITY
The wine industry, its experts and critics like to overcomplicate things to keep their knowledge exclusive and make wine seem only accessible to the few. Mainstream wine producers benefit from standardising wine for the masses with a 'one-wine-fits-all' approach and false hypes and awards.
That means, we're deliberately misled by marketing and, most of the time, are buying wine not worth the money we're paying. 
We're shaking up the stuffy wine industry and want each and everyone of you to join us in discovering your personal wine taste and inspire your future wine choices.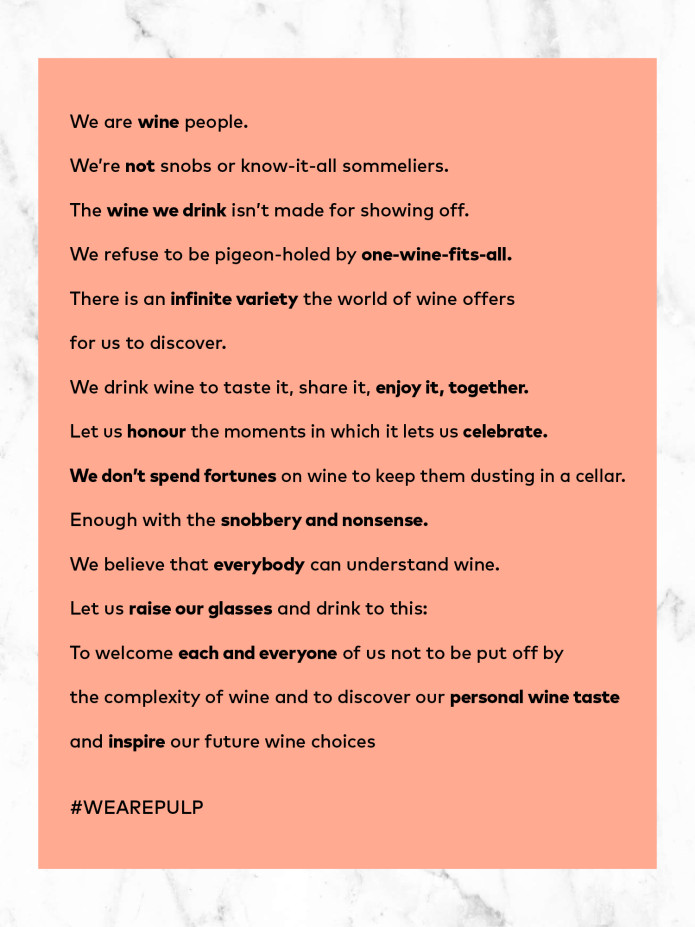 THE PULP TEAM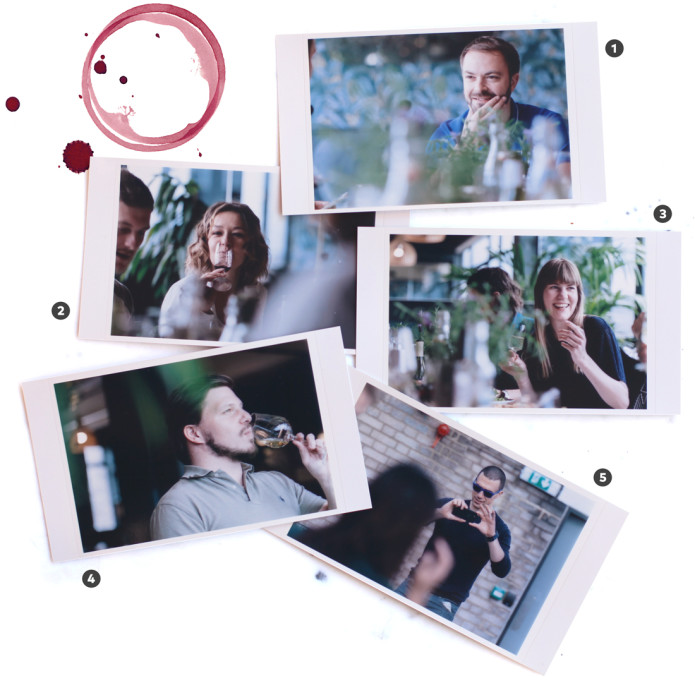 We are a small team of wine lovers based in East London.  
1. Paolo – Chief drinking officer
In front of a shelf with hundreds of unknown wines he's as happy as a kid in a candy shop.
2. Natalia – The people's person
Loves the look on people's faces when they discover something new about wine.
3. Freddy – The arty farty one
On a constant quest to find the perfect creamy white.
4. Riccardo – The doer
Procure wine, ship boxes. Once it's all done, what's left to do is to crack open a bottle of wine.
5. Mario – The numbers guy
Captured by the aesthetics of wine.

TIMELINE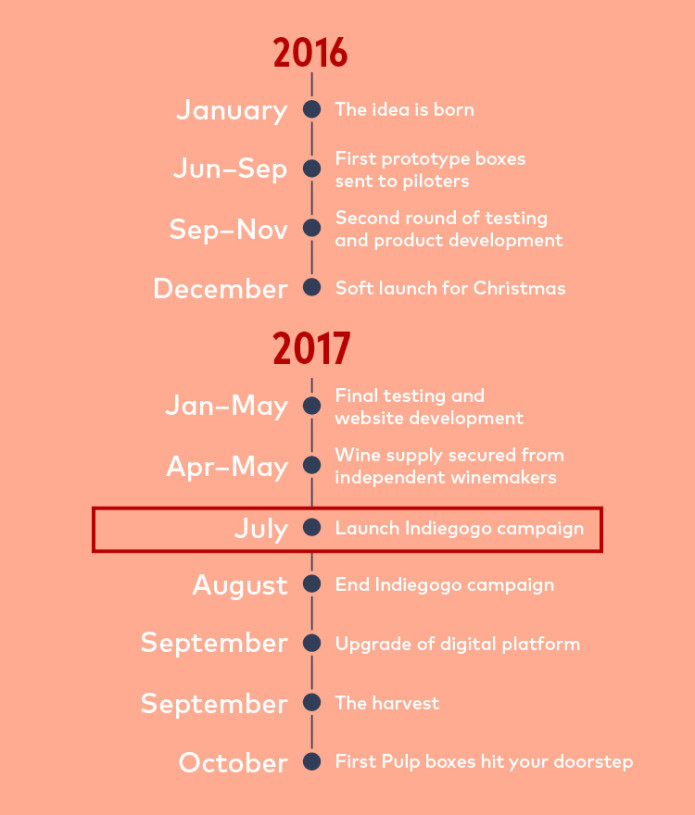 SUPPORT US
Share this campaign on:


FAQs
 
What is Pulp?
We are a small team of wine lovers based in East London. United in our passion for wine, and fed up with the snobbery of the traditional wine industry, we set out to shake it up. Come discover how easy wine can be with us! 
Who created it?
Paolo, our Co-founder and in-house sommelier, fell in love with the craftsmanship behind wine from a young age. Growing up among the vineyards of Northern Italy, it was the wine producers themselves who taught him the ins and outs of wine and understanding your palate.
Why should you be interested?
With Pulp, we help you understand what you like about wine and how to choose, so that you'll never be left in the dark at a supermarket shelf or restaurant again. 
How much does it cost?
Our early backers can get early bird discounts – see the perks list on the top right of this campaign page.
Where can we buy it?
Right here on Indiegogo! Buy yours today and be one of the first people to receive the Pulp boxes.
What do you get when you order?
You get 3 different things: (1) a physical product, (2) a digital product and (3) a year long membership:
(1) The physical product consists of 4x 375ml bottles which are delivered to your door.
(2) The digital product includes access the wine lessons which come with each box.
(3) The year long membership includes:
Weekly live chat #DrinkWithPaolo where you can ask your personal sommelier any questions
Stock up on any wine you liked with Pulp
20% discount on our wine e-shop
Exclusive wine offers
Access to the monthly wine knowledge summaries
Invitation to members events
Personalised wine recommendations (with 6-box set or above)
Your wine journal 
Which wines do Pulp boxes contain?
Each Pulp box contains different wines from our trusted artisan producers. The first boxes will include selected wines in 375ml bottles from 
What does 375ml bottle mean? Which bottle size is that?
The standard wine bottles are 750ml, however our wines come in half-sized bottles (375ml) so each time you can taste and compare at least two at the same time.
Can I find your wines in the stores?
We source our wines directly from independent producers, cutting out additional cost for third parties and we pride ourselves that our wines are most of the time not available in stores throughout the UK.
 
Where do we ship
With this Indiegogo campaign we are launching globally and our current intention is to ship globally.
What's the best way to contact us
We are looking forward to hearing from you on [email protected]