PuppyDoc – Dog Activity & Sun Exposure Tracker | Listen to what Your Dog says via PuppyDoc and resolve Separation Anxiety.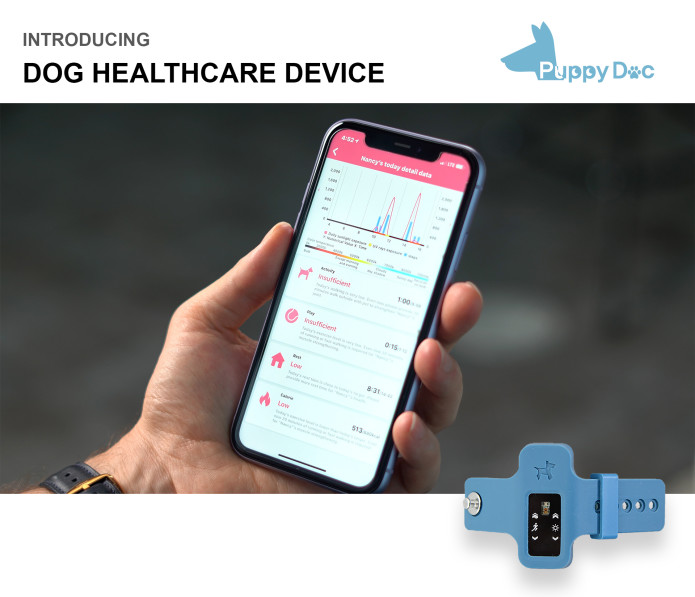 We are pleased to introduce the world's first companion animal health care device.
It's a simple solution that can help you understand your dog's daily behavioral patterns and improve your health. Puppy Doc recommends the daily amount of activity & sunbath depending on breed, age, and weather conditions.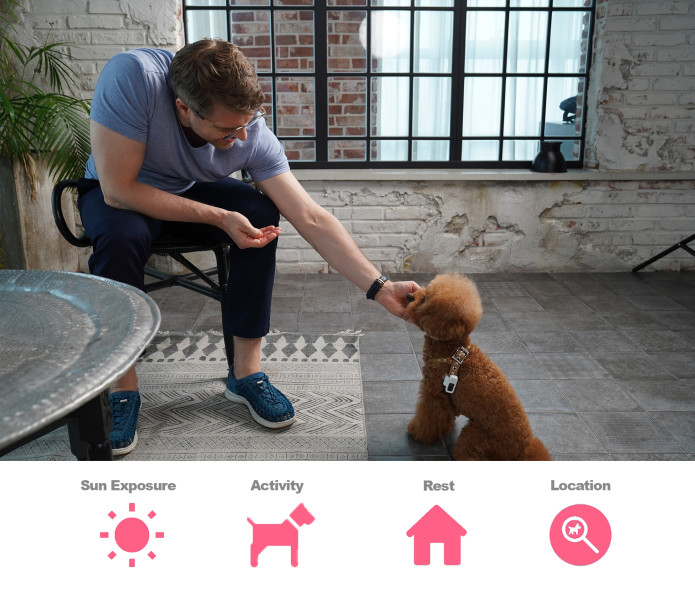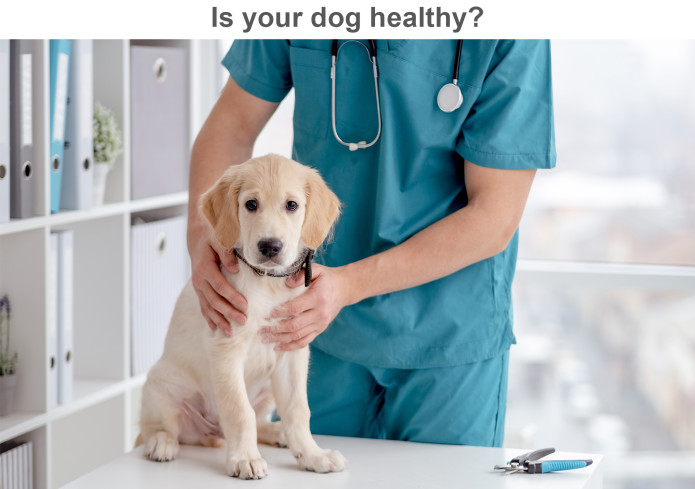 Here is just a simple way to improve your dog's health.
Exposure to morning sunlight causes melatonin rhythm phase advancement. This can effectively prevent/treat insomnia, premenstrual syndrome, and seasonal affective disorder.
Just go outside and walk under sunlight. It's a simple solution for improving your dog's physical & mental health. 

Wait…
Have you ever thought about how much time your dog should spend in the sun?  Answers vary depending on the dog's age, breeds, weight, and weather conditions.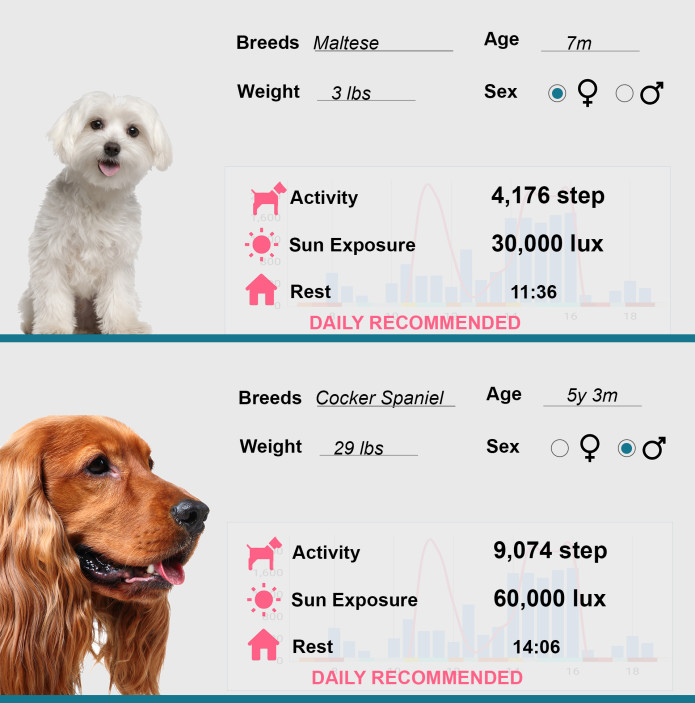 How much will your Dog need? Understand your dog better to improve your and your dog's health.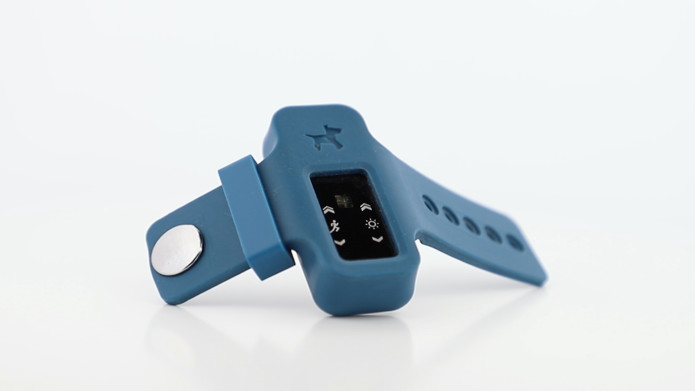 Puppydoc  |  It's a new approach to keep your dog healthy.
 How It Works.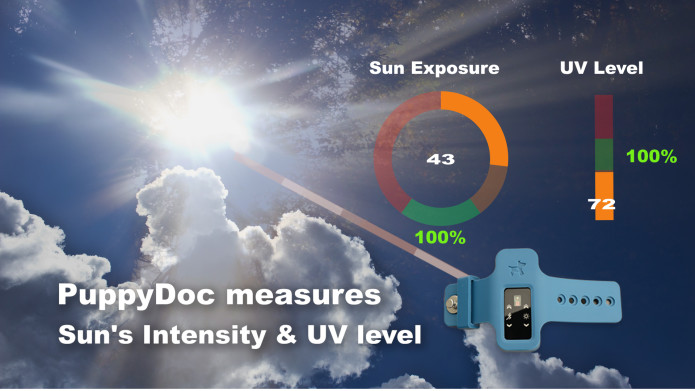 PuppyDoc measures the color and intensity of sunlight and shows the daily sunlight exposure time & UV level.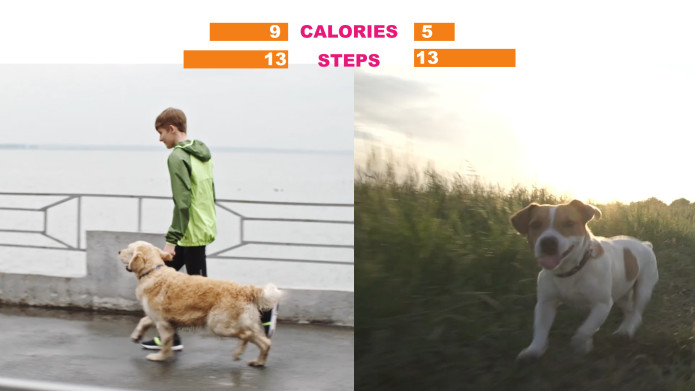 The appropriate amount of exercise varies for each puppy based on its breed and age as its muscle mass and activity are different.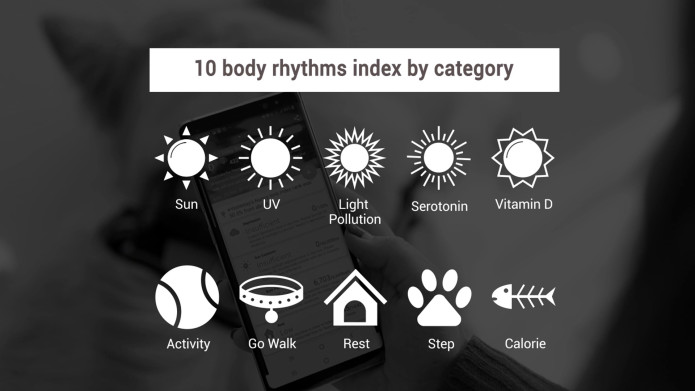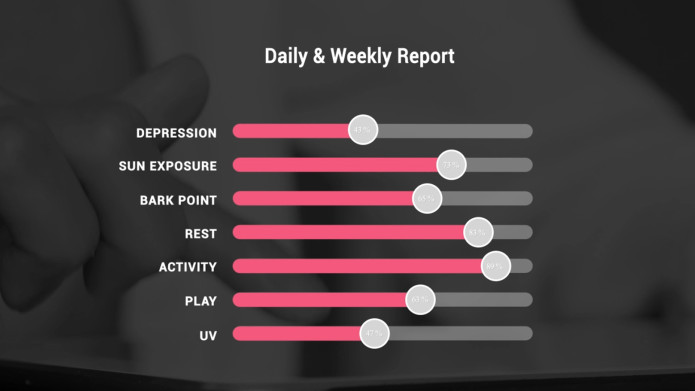 It is easy to check your dog's behavior pattern via PuppyDoc Application.
"PuppyDoc helped me understand my dog's behavioral pattern. It works well as a tracker without a subscription. "                                                          – Anna
It is essential for your dog.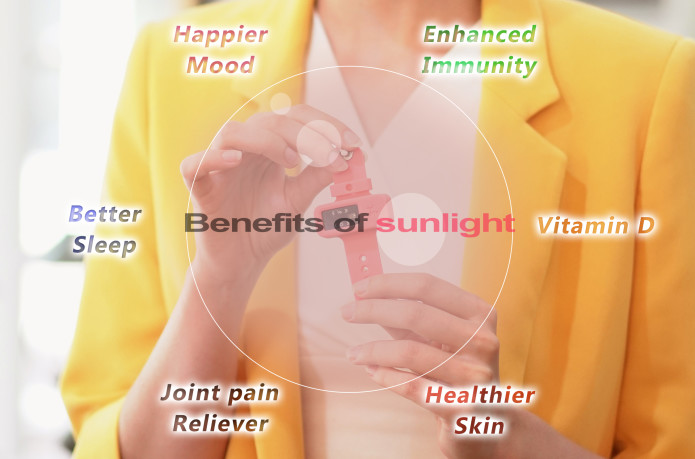 A lack of exposure to sunlight or outdoor activity may cause dogs to develop mild to aggressive residual illnesses. They may also develop separation anxiety disorders and depression. Here's another tip for free, always look for ways to expose your dog to the morning sun. It regulates melatonin secretion and enhances sound sleep by separating sleep cycles.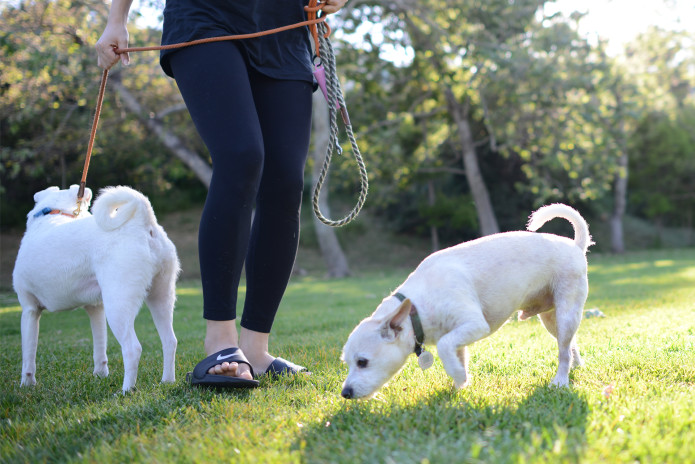 Sunbathing and physical activity are very important to a dog's mental and physical health like it is to a human. It encourages the absorption of the all-important vitamin D, calcium, and vital minerals while ensuring that they get to work in strengthening the bones and joints. It incites the production of serotonin, also known as the happy hormone. This helps provide emotional stability and lower stress levels and tension in dogs.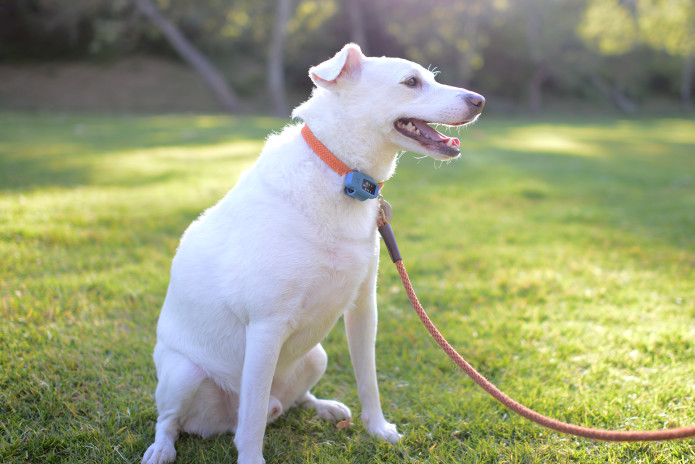 However, prolonged exposure to sunlight can cause burns or heat strokes which can be damaging. So, always prepare a bottle of water for you and your dog as you embark on a walk. One more thing, picking out a suitable time to go for a walk makes all the difference.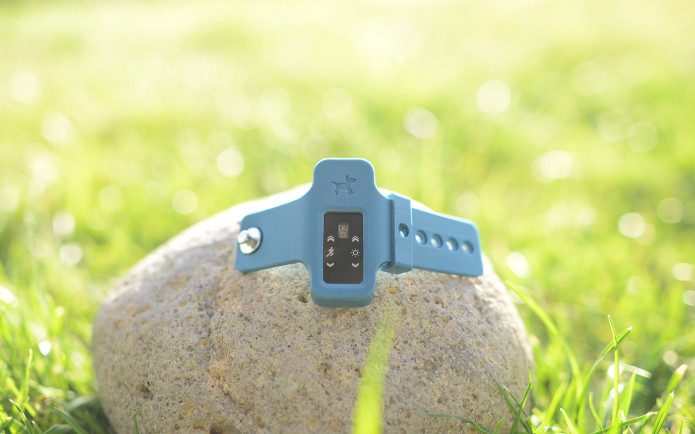 It's easy to wear on most of the collar.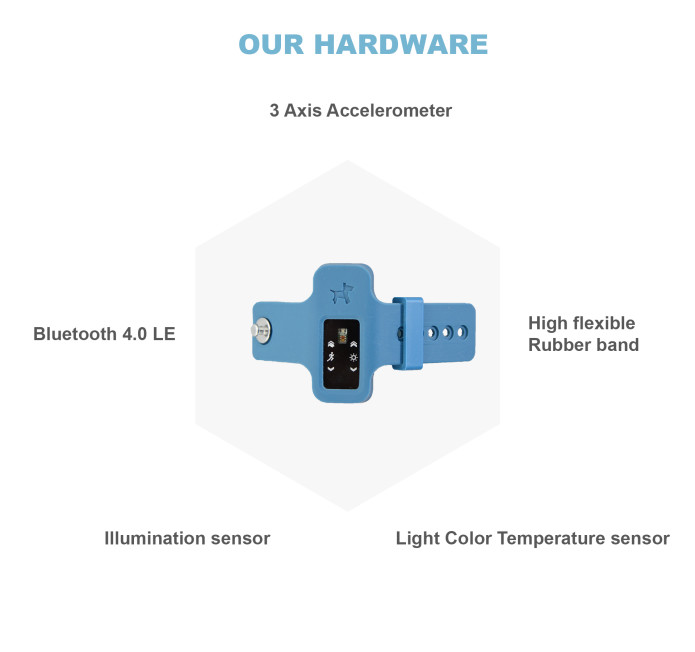 It measures light color temperature and illumination which are used to figure out the best time to take your dog out for a sunbath.
It uses a 3 Axis accelerometer to track movement in dogs and gives pet owners a nudge when it's time to rest, exercise, and sleep. It is also useful in measuring calories. 

Watch how to use Puppy Doc! It's simple and easy to use.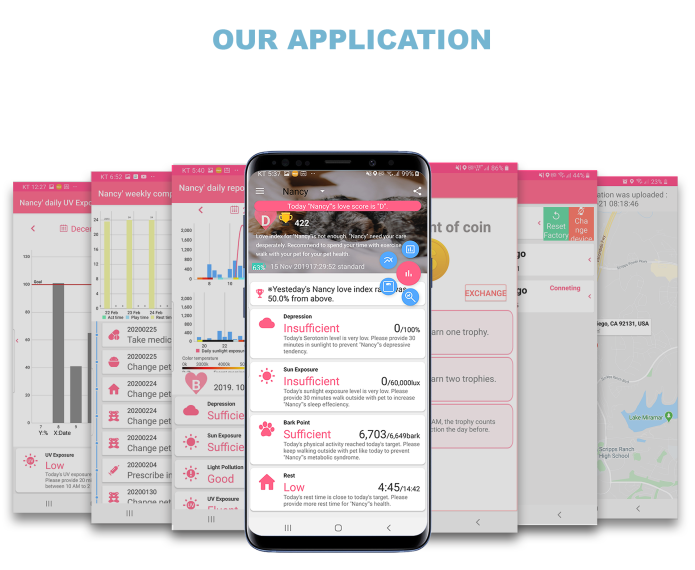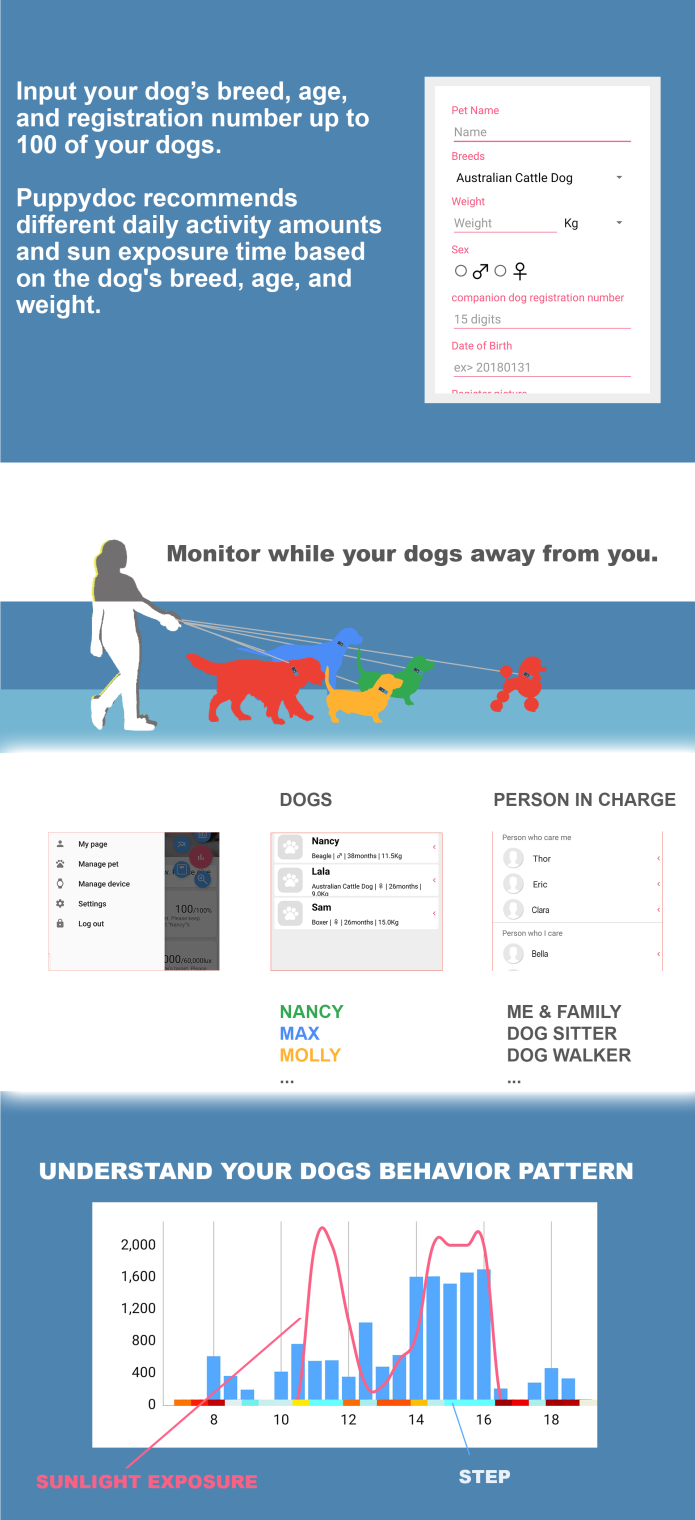 Puppies are very sociable and adorable animals. You miss them when you're away at work, vacation, or just anywhere without them.
PuppyDoc is a hearty way to deal with anxiety, loneliness, and depression by keeping in touch with your little one.  It is also a genius way to learn about your dog's lifestyle when you're not around.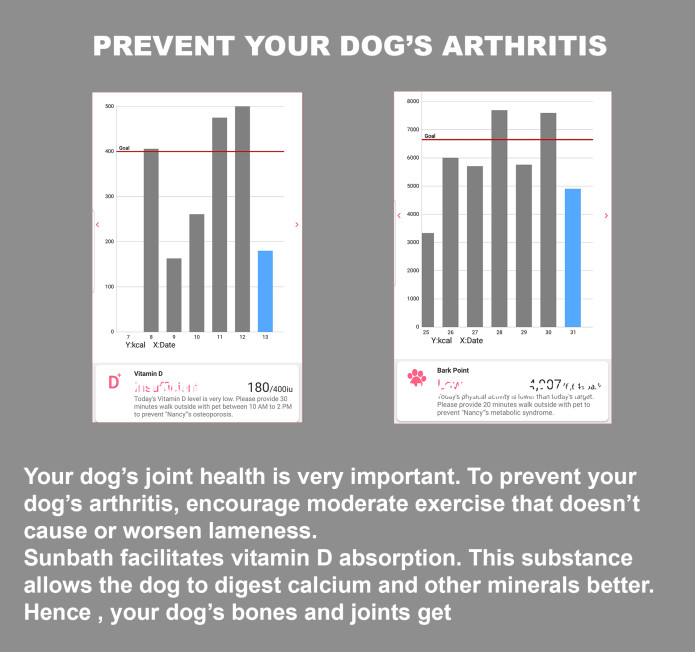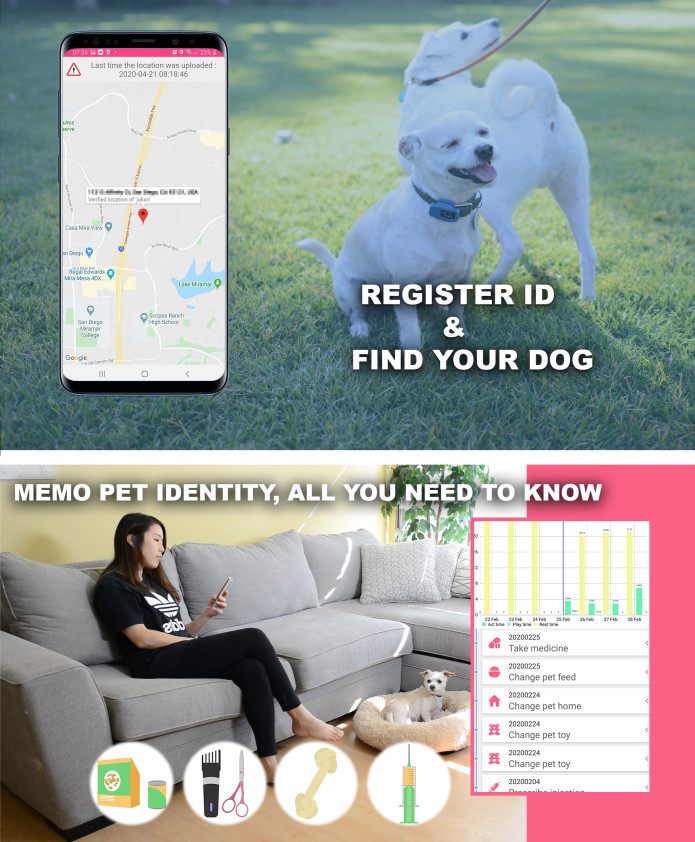 Different foods trigger a range of sensations in a puppy. If you happen to change your dog's food and are worried about how it affects your dog, you can use this app. It will allow you to monitor your four-legged friend's behavioral pattern after changing the food.