PURUS – Your Personal Air Quality Guardian | Filter free, portable, and removes 99% of harmful airborne particles & substances!
Sure, you got your household air purifiers that are oh-so-powerful. But when you are out bustling, who's there to safeguard your air quality? The situation is direr than ever, keeping your air quality clean is the number one priority.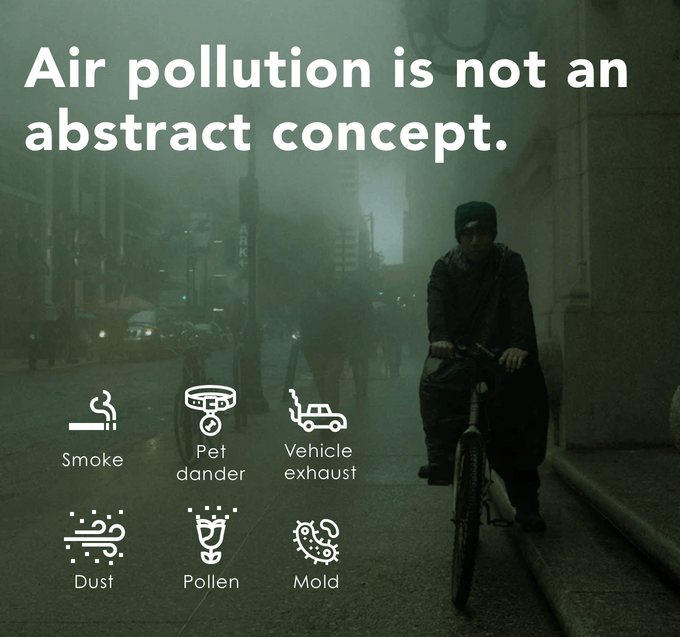 Cars, coffee shops, workspaces or your nearby gardens, these seemingly harm-free places are likely filled with harmful substances. It's easy to overlook the importance of air quality when it's something so intangible. Think of the number of harmful particles that could be brewing in your crowded coffee shop. The pet dander from Bob, your beloved pet. The pollen from the nearby park. It's literally everywhere.  

Your home air purifier can only cover so much. When you need to get mobile, you're going to need something more portable.
That brings us to PURUS Air i Plus, your personal air quality guardian. We crammed every possible bit of tech into this itty bitty package. No matter how tough your surroundings get, it's always there to make you breathe better.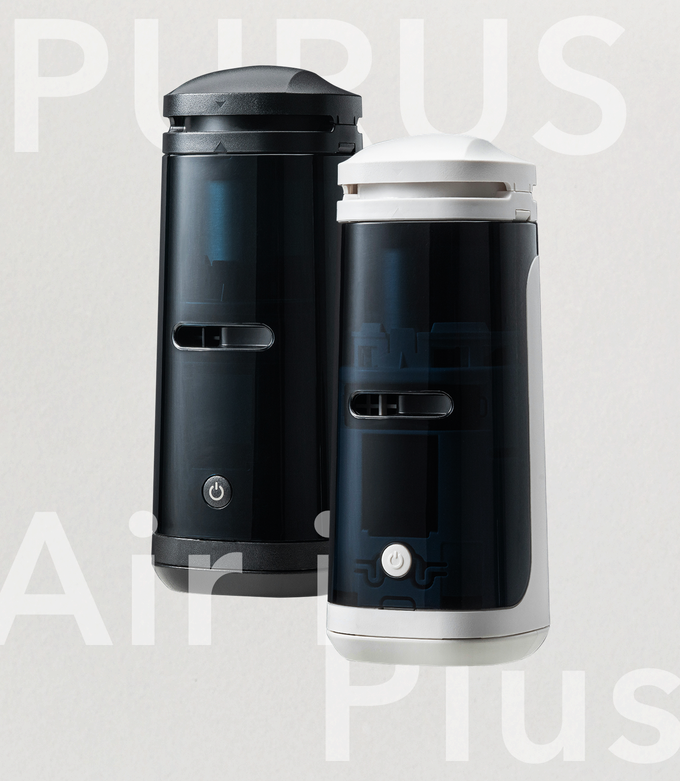 It has three essential features that we believe is most important when it comes to personal air purifiers.
 

Purify the Air Around You


 
 

Always Monitoring


 

Pretty Darn Portable

Think of it as a virtual shield that purifies the surrounding air within 1 meter diameter. The 45-degree flow directing structure of PURUS Air i Plus coupled with a powerful turbofan creates a vortex, accelerating clean air delivery. Germs as well as molds, dander, pollen and other tiny particles can all be effectively removed through the process.
Epidemiologists suggest that air borne transmission or contact with mucous membranes are most likely to happen within one meter. Families with kids and office environments are especially crucial battle fronts to prevent disease transmission. It takes PURUS Air i Plus just 5 minutes to ensure that your personal space is stir cleared of potentially harmful substances.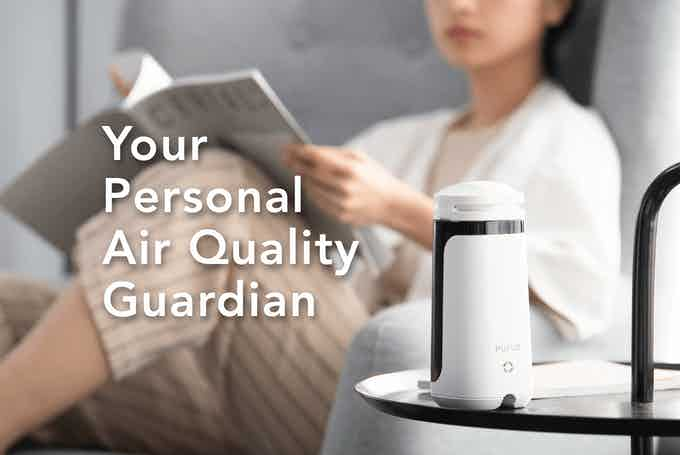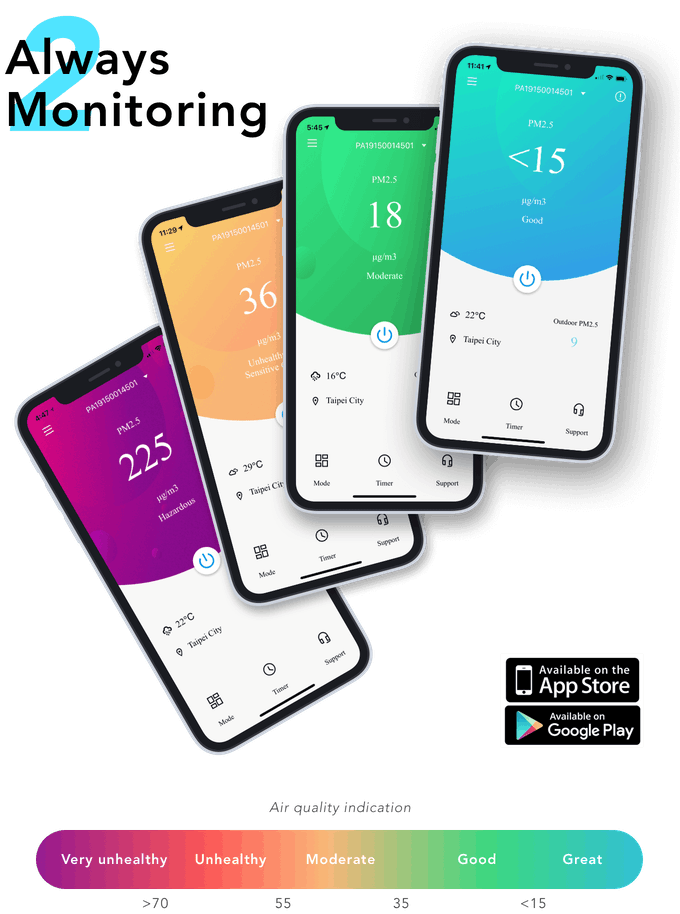 PURUS Air i Plus comes equipped with an air quality sensor that always monitors your surrounding air quality. It automatically adjusts its intensity based on the environment. No matter where you go, you'll always be aware of the surrounding air quality.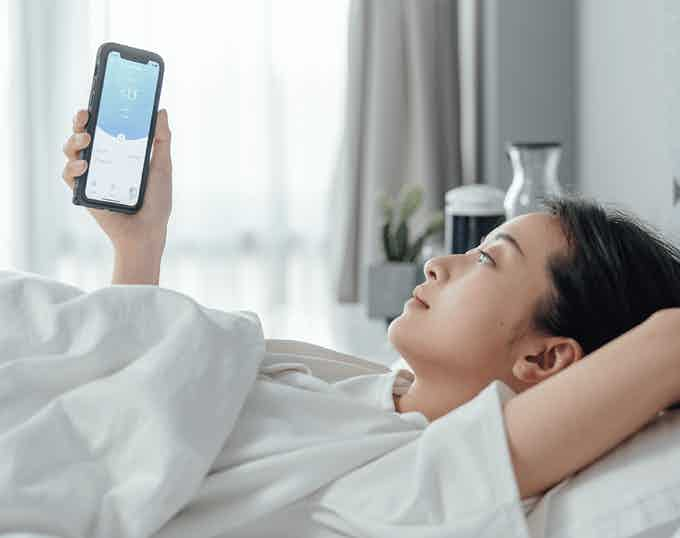 With the size of a 600ml / 20oz water bottle, you can practically carry PURUS Air i Plus everywhere you go. Think your backpack side pocket, your fancy designer bag, or simply the cup holder on your vehicle. Its small form factor is also greatly beneficial to compact spaces that are usually hard to reach. It's perfect for places like the corner of a wardrobe or bedside.

The minimalist look and compact size of PURUS Air i Plus makes it unnoticeable in most environments. It's always there in the background doing the heavy lifting for you, ensuring the optimal air quality. It is the most reliable companion to keep with you wherever you go.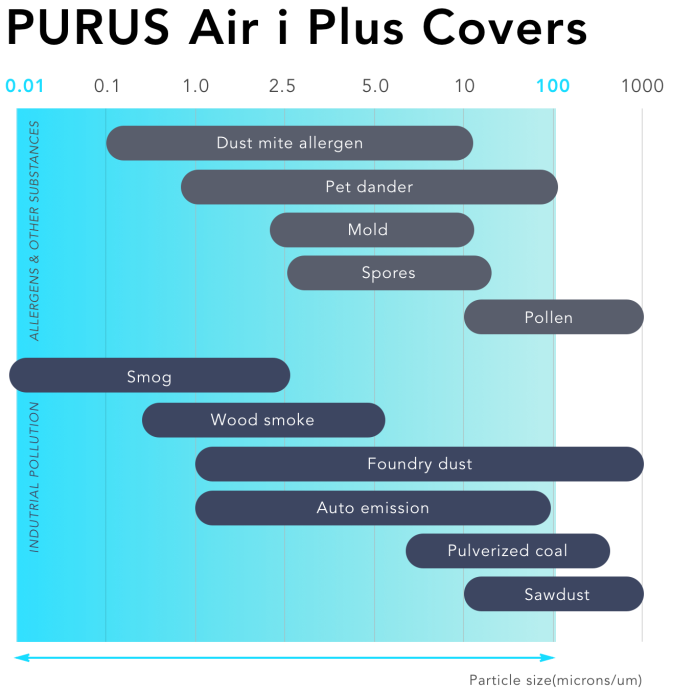 The exclusive technology inside PURUS Air i Plus effectively eliminates pollen, dust mites, PM 2.5, pet dander, mold and other tiny harmful particles in the air, down to 0.01 microns.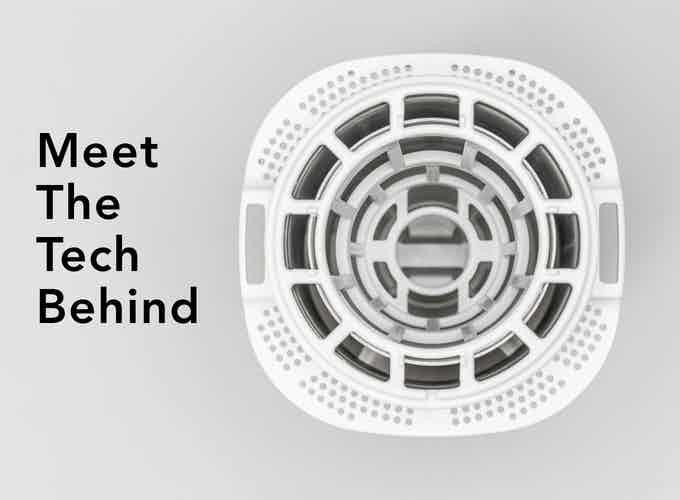 Here at PURUS, we don't just talk the talk, we back up our claims with patented technologies, scientific tests, and real hard evidence. So without further ado, here's some in depth look on how we achieve PURUS's unmatched performance.
Our exclusive patented stainless steel spiral wire-on-plate (instead of tungsten wire) forms plasma discharge with 42 electrodes, creating a long pathway for all harmful particles. In comparison to traditional electrostatic precipitators, particles have a much higher chance to be attached by electro discharge and encounter collision.
Through a process of plasma discharge, we apply as much as 4000 volts to our patented spiral wire-on-plate, killing harmful particles. The high voltage, in turn, charges the air electrically and ionizes it in the process. When small particles including pollen, dust or dander flow between the plate, they get charged and attached to the collecting plate. This method could effectively eliminate 99% of the airborne particles and germs.
Here is an experiment we did to showcase the effectiveness of PURUS's ability to prevent molds. Same environment, same loaf of bread, but results were dramatically different.

A lot of electrostatic precipitators would claim that they are "reusable" or "filter free". But in reality, the tungsten wire that is often used in traditional electrostatic precipitators would often break prematurely during the cleaning process due to oxidation caused by electric current. With our patented spiral wire-on-plate structure made of stainless steel, you can clean and wash off particles with confidence. You can simply pop off the plate every now and then, and wipe it clean with a cloth.
Your typical electrostatic precipitator has limited electrode wires in the discharge zone due to the nature of thin metal wire used for charging, thus generating a higher concentration of ozone. PURUS Air i Plus utilizes a high-density spiral wire-on-plate structure to achieve plasma discharge, effectively lowers the ozone emission rate and improves efficiency.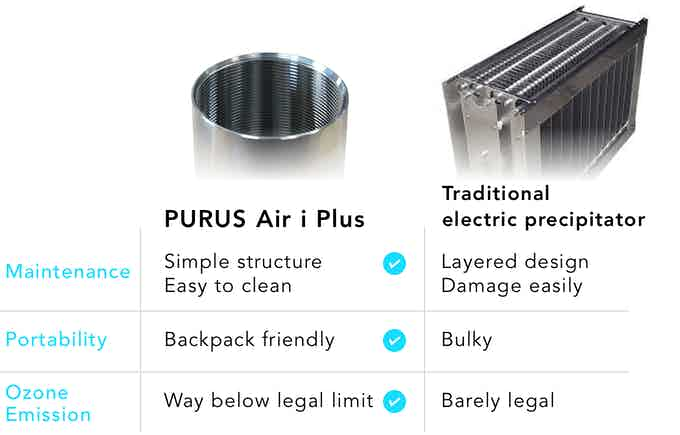 Traditional HEPA filters need to be replaced at a minimum of 6-12 months, and in areas with more serious pollution, the life span may be as short as 3 months. Furthermore, the harmful particles are not eliminated, they're simply being trapped in another space, leaving concerns for potential secondary pollutants. In fact, it's neither cheap nor safe to use HEPA air purifiers.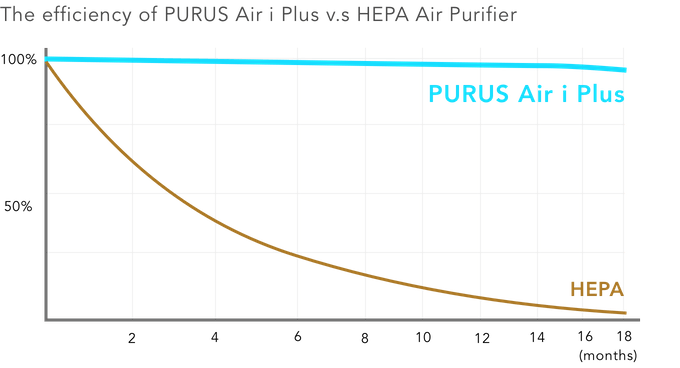 Unlike filter-based air purifiers, PURUS Air i Plus uses a durable stainless steel dust collecting plate, which can be scrubbed, rinsed, wiped and reused. You'll never have to pay any subscription fee or spend a dime on costly filter replacements.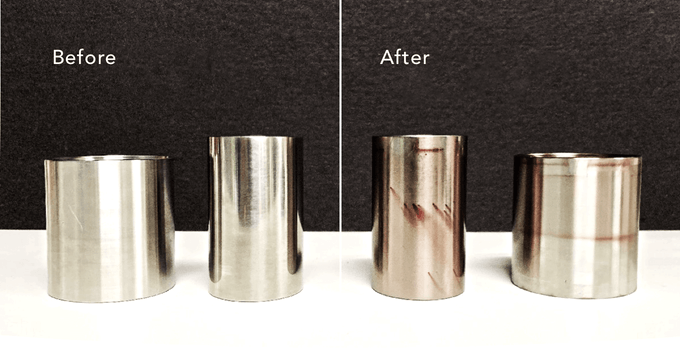 Switch between 3 presets for different speeds. There's also a 10-level intensity toggle on the app for a more personalized experience.
With a push of a button, PURUS Air i Plus will lower its intensity, making as low as 25 decibels. This is equivalent to leaves rustling on the ground. We make sure that when PURUS is operating, you can remain undisturbed when you're sleeping. Easily turn off the LED monitor through the app to avoid distraction at night.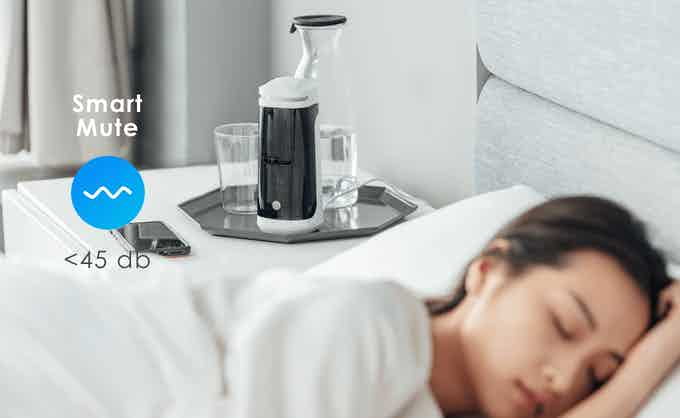 PURUS Air i Plus adjusts automatically according to the surrounding environment. If the environment you're located at is hazardous, it will activate turbo mode to accelerate the clean air delivery rate.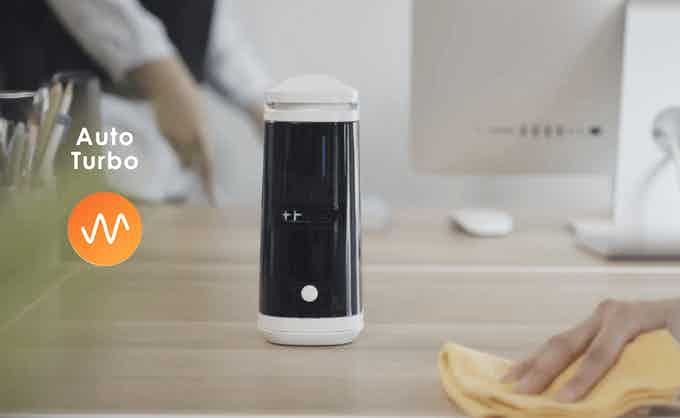 Our testing has shown that 10 hours of continuous operation, PURUS Air i Plus only consumed as low as 3 watts.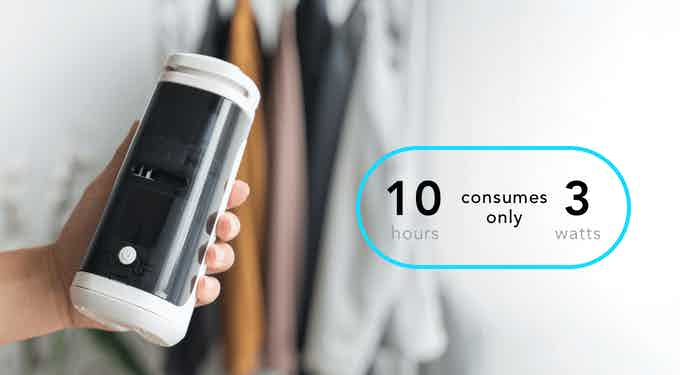 Powered by a 5V DC to USB cable, it's compatible with power banks, laptops and car chargers. Your access to clean air is no longer limited by wall plugs.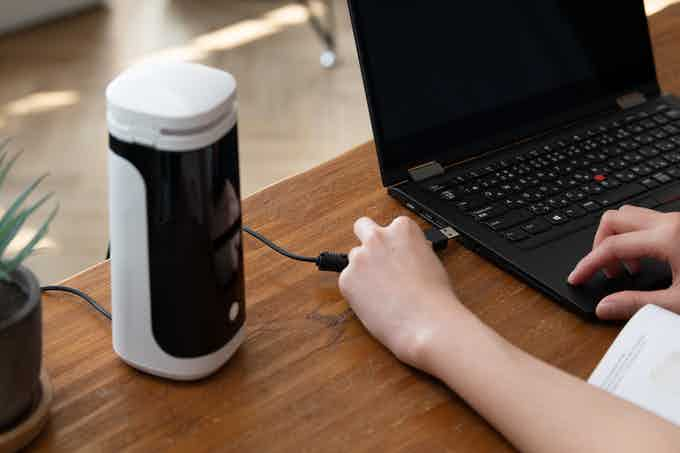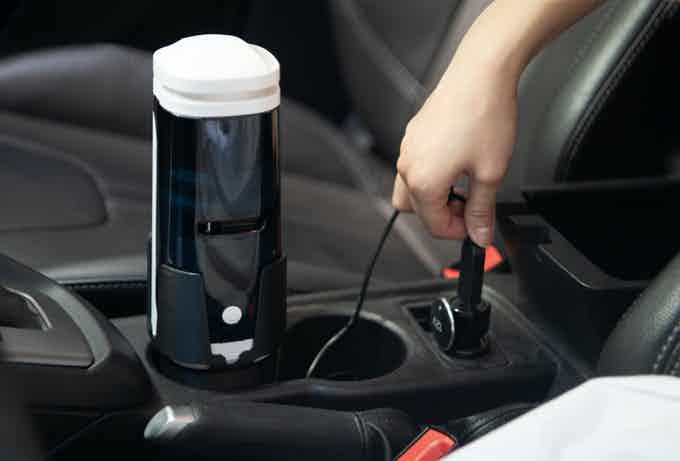 Comes with a reusable pod to further extend the functionality of your PURUS! Fill it with activated carbon, zeolite or other materials to remove VOCs, odor like cigarette smell.  

PURUS Air i Plus has been tested vigorously before going into the market, here are some stats to back up our claims.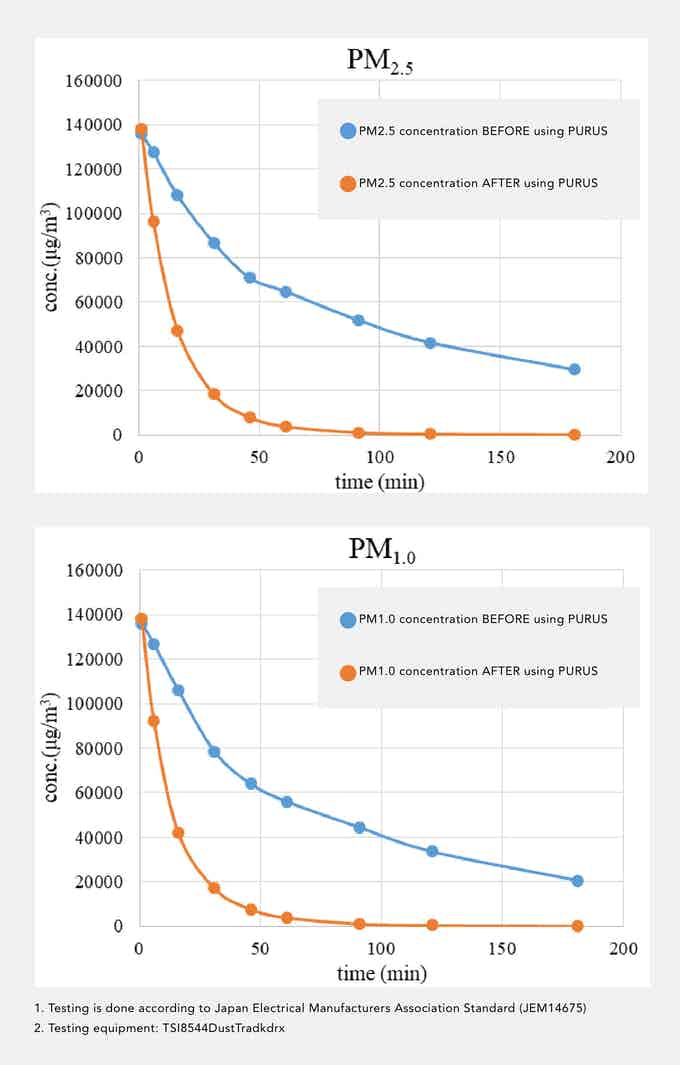 Streptococcus Pneumoniae Testing Report 
Legionella Pneumophila Testing Report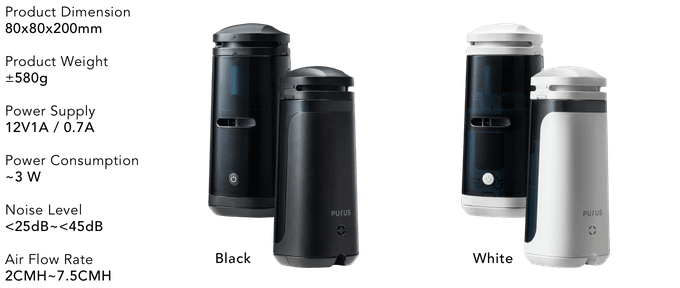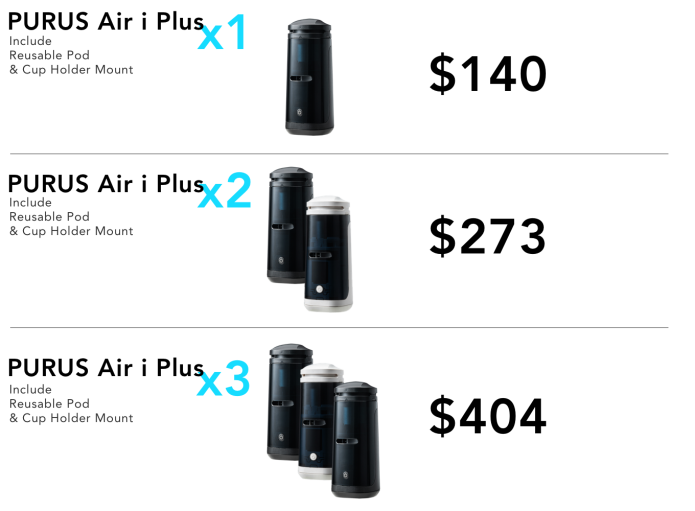 Lives are literally dependent on clean air, however, it has become a luxury to breathe without a second thought nowadays. That's exactly what drives us at PURUS, it's our first priority to seek solutions to mitigate the damage from air pollution. The team is a spin-off from Industrial Technology Research Institute (ITRI) of Taiwan, and the leader Dr. Chen has researched related technologies for many years. By adopting ITRI's patented technology of spiral electrostatic precipitators, PURUS Air i Plus achieves a small, portable form factor while providing outstanding performance and quality.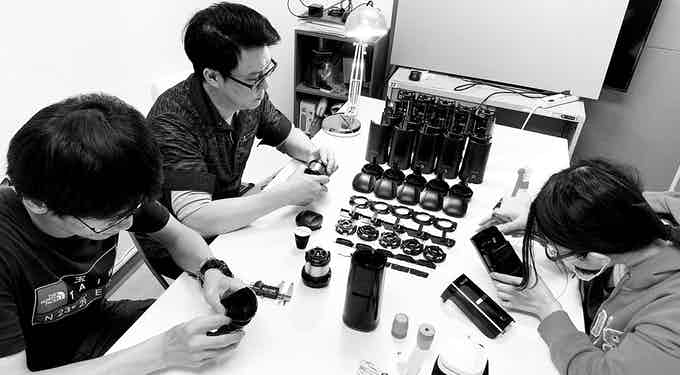 PURUS Air i Plus has underwent more than 20 times of tests and trials, and also developed numerous prototypes. It was a path full of obstacles and hardships. We're happy to report that we are finally satisfied with the end result. Through the launch of PURUS Air i Plus, we hope to make our world a more sustainable environment.