Reimagine The Litter Box | Modern – Ridiculously Easy To Clean
Boxscoop history and forward vision…
2017 through 2018 we were consumed with the idea of designing a litter box that actually helps cats and their humans.  In the start of 2018 we put everything we had into producing Boxscoop 1. The idea was to spend our capital making a great product instead of marketing an idea. Naively, we figured if you make a great product people will find it.
It doesn't work like that. In May 2018, with our first shipment of Boxscoops coming in, we launched a flexible goal on Indiegogo to find an audience. We were unknown, Boxscoop was still on the water being shipped, and we still managed to connect with 52 amazing backers. After the campaign ended we continued to sell on our website and the numbers grew exponentially. At the beginning it was 1 per week, then 1 per day, then 10 per day, and the final weekend we sold out in September we sold 300+ in 3 days. September 17, 2018 we were completely out of stock.
Where we are going now…
It was expensive producing the molds and producing and shipping the Boxscoops themselves. We were left with a ton of positive and amazing feedback but without profit to continue. To scale production and make changes that will take Boxscoop to a whole new level (never stop innovating) we need 10x more sophisticated molds. Near the end of 2018 we'll launch Boxscoop 2.0 on Kickstarter and as a community we'll take Boxscoop to an infinitely better level. www.theboxscoop.com
The first Boxscoop's ever for sale: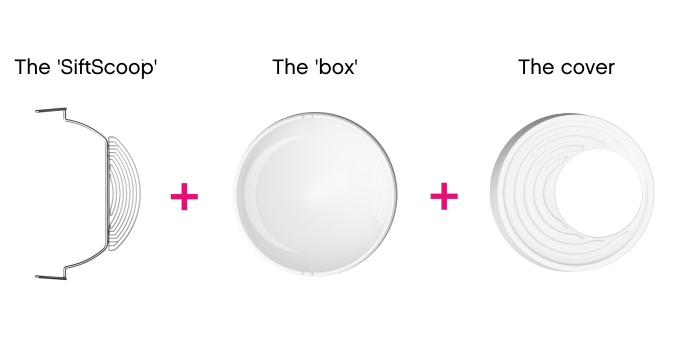 (updated June 29)
We just started shipping and already we are receiving very positive feedback! Check out our comments section as we're sure (hopefully) that more backers will want to give an update as they receive Boxscoop 🙂 Below is a snapshot of some feedback:

One of our contributors sent us this and we had to post it 🙂


Four simulated urine clumps (one near the edge, one on the edge) and 18 simulated solid waste pieces. Clean from top to bottom and leveled in seconds.


but sometimes simple is actually more difficult to achieve. The scoop is solid stainless and intricately made. Each wire is different and individually precision bent, then placed into a mold, hand welded, and then each weld is ground smooth… It's a long process to manufacture but it's this design that allows us to slice through the litter while still trapping smaller chunks.
The container is a perfectly spherical bowl with cylindrical outside walls that have very low draft for a modern appearance. Boxscoop is expensive to manufacture and expensive to ship. Realistically our price either has to go up, or we have to stop producing it— either way this is your chance to get a litter system that actually performs. Hopefully you join us and help us keep this dream alive so we can expand and together bring a better solution to the market.

(June 25, 2018)
Orders will ship in 1-3 business days. We invested everything to design and produce this first shipment. Order yours today and when you receive and love it, help us spread the word. We are a small company and once our stock sells out we won't have more until roughly 2019.