Rite Press -The 'No Mess' French Press | Create amazing, full-flavored coffee and tea at home with effortless cleanup in under 4 minutes.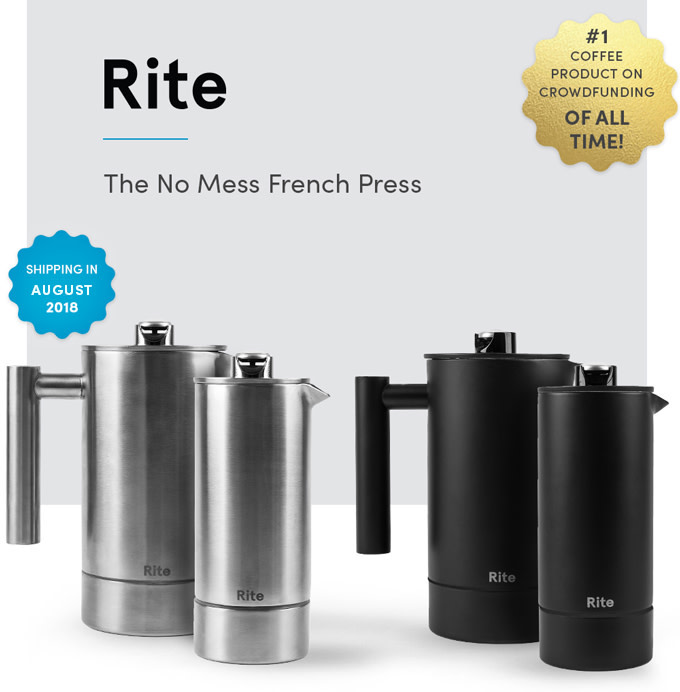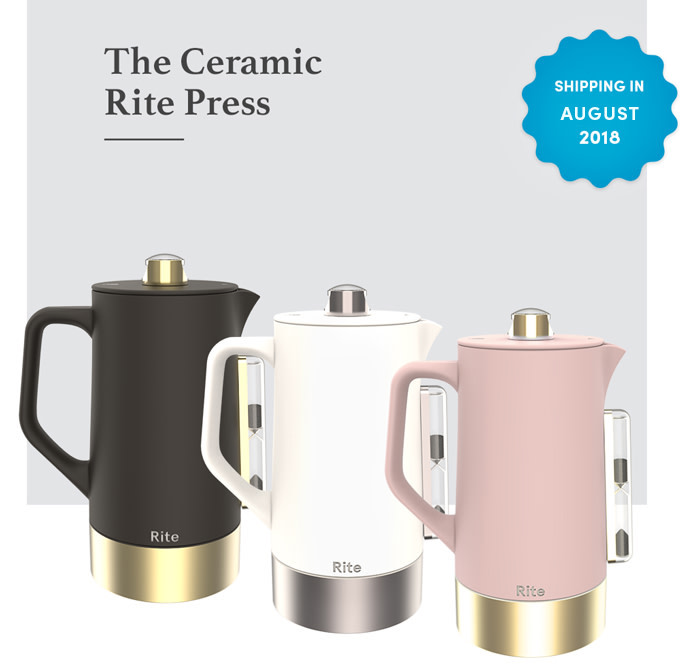 Rite Press makes coffee a breeze with a removable bottom, integrated thermometer, and built-in timer.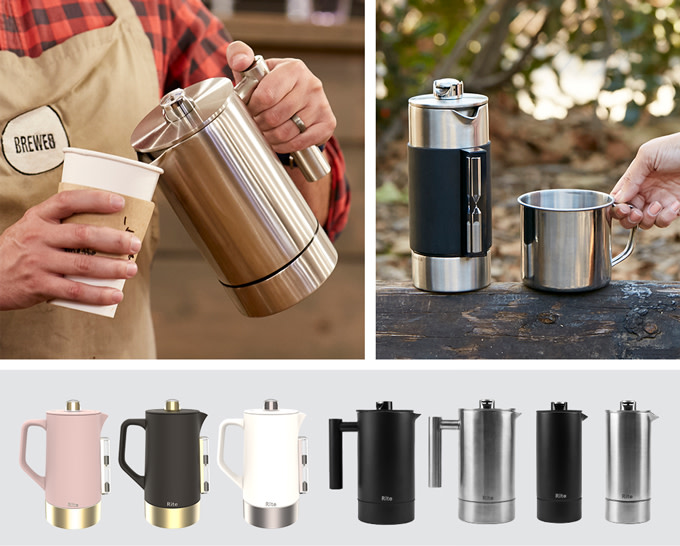 At Rite, we have built a thermometer and timer into the French Press to ensure an amazing cup of coffee every time. Our proprietary design makes coffee clean-up easy with a simple twist-off bottom. The stainless steel filter forces all the grounds into our patented removable bottom chamber, which twists off for easy cleaning.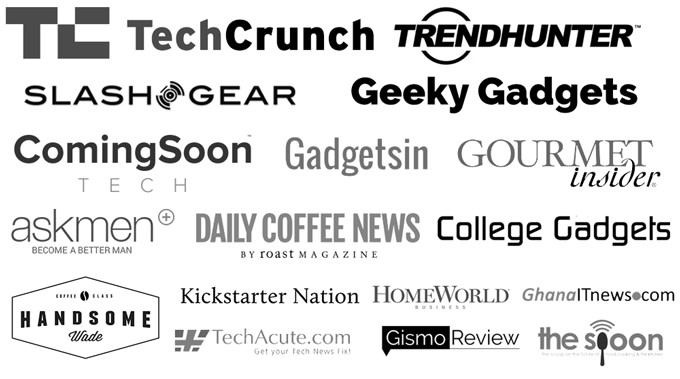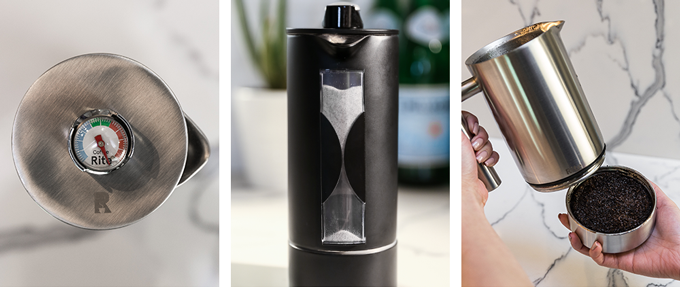 Rite Press takes coffee making to the next level with a built-in thermometer, integrated hourglass timer and a removable bottom.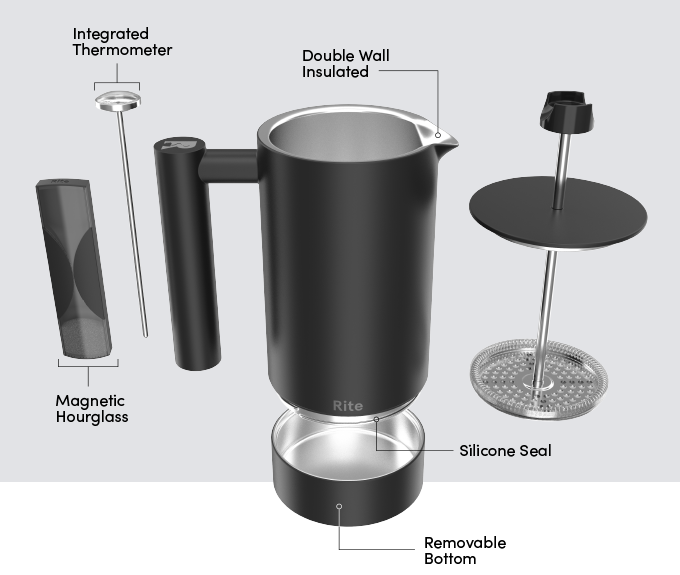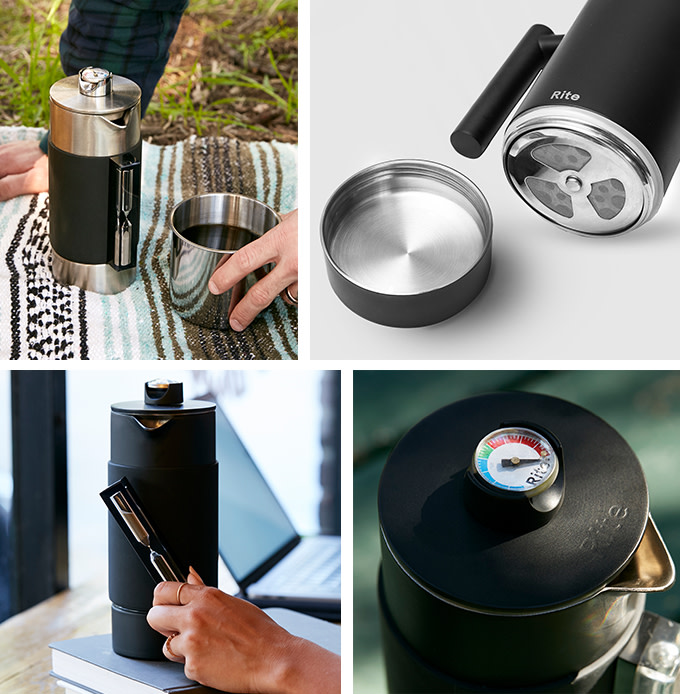 We've removed the guesswork from the perfect cup by adding the key features needed to deliver great tasting coffee consistently.

Burnt coffee is bad, having to read tiny numbers before you've had your first cup… also bad. 
Our custom designed and manufactured thermometer has a simple Blue, Green, Red scale. Blue is too cold and Red is too hot. The Green zone is centered at 200 degrees, which is the optimal temperature for a great cup of coffee.The Rite thermometer lives in the shaft of the filter so it's easy to use and is always on hand.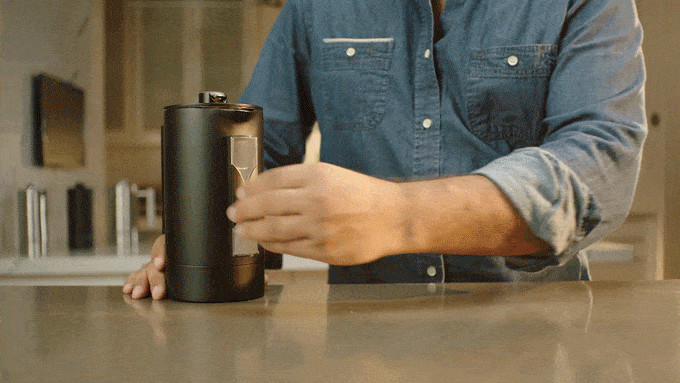 Timing is everything, especially in a coffee press. Both under- and over-brewing lead to bad-tasting coffee. Our built-in and simple to use hourglass is set for precisely 3 min and 30 seconds. When the sand is done flowing, it's time to press down the plunger and enjoy an amazing cup. The Rite timer is magnetically attached to the Rite Press.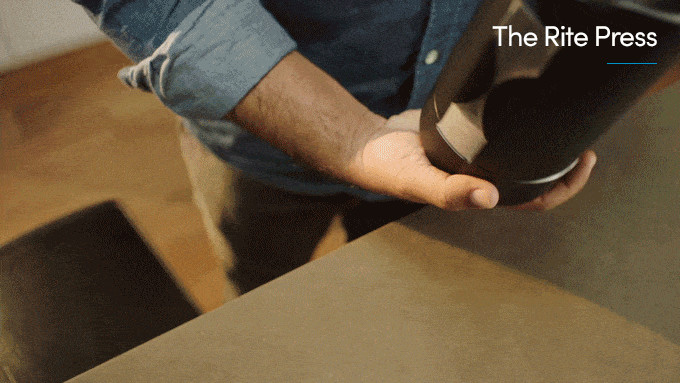 French Press cleanup is notoriously annoying. We've solved that issue with our patented removable bottom, allowing you to conserve energy, water, and time.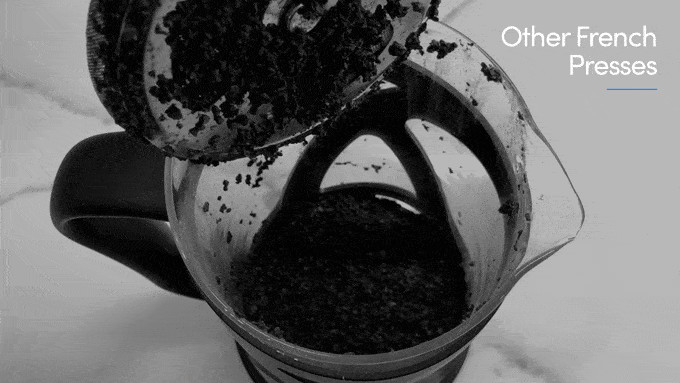 This solves the biggest French Press issue—cleanup! The bottom unscrews so you can easily dump the grounds and rinse with minimal effort. The precisely manufactured bottom is designed with two start positions allowing you to easily tighten the bottom with only one full turn. The Rite press also features a medical grade silicon seal to ensure the coffee or grounds don't drip while in use.

The Rite Press delivers full-bodied coffee with rich flavor and keeps it hot for hours.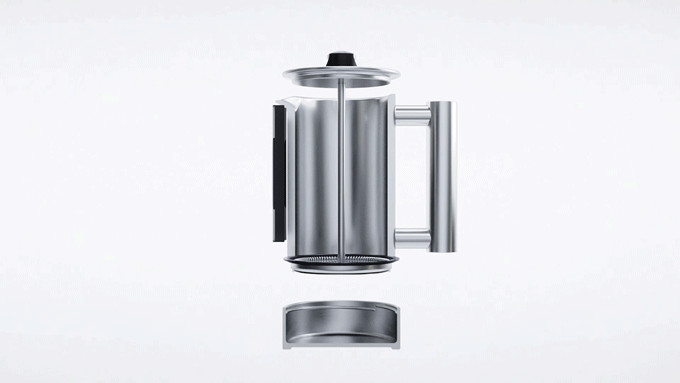 The double wall construction keeps your coffee hot for up to two hours. Hang out with loved ones and enjoy hot coffee for much longer than a standard glass French Press.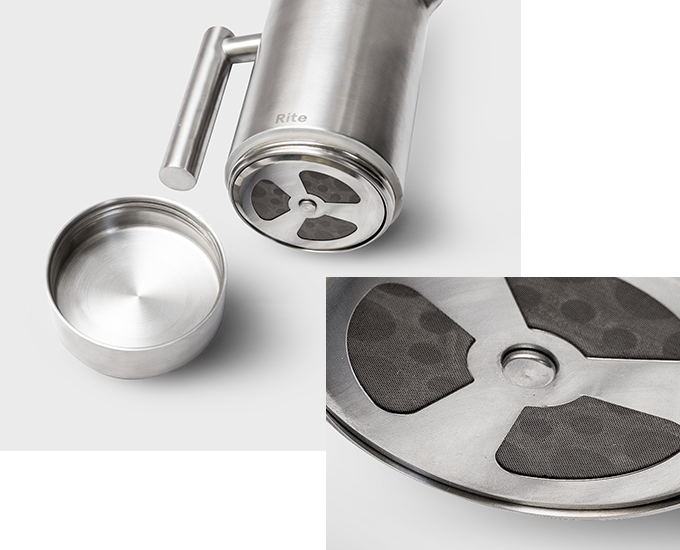 The micro mesh filter allows a full-bodied brew for your coffee while keeping the coffee grounds pushed into the removable bottom.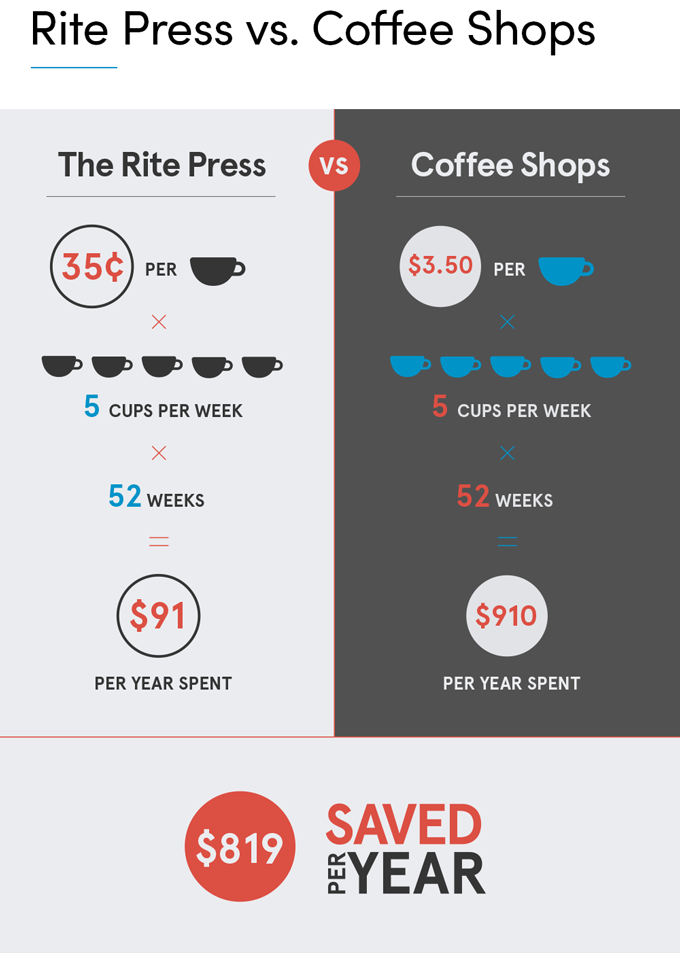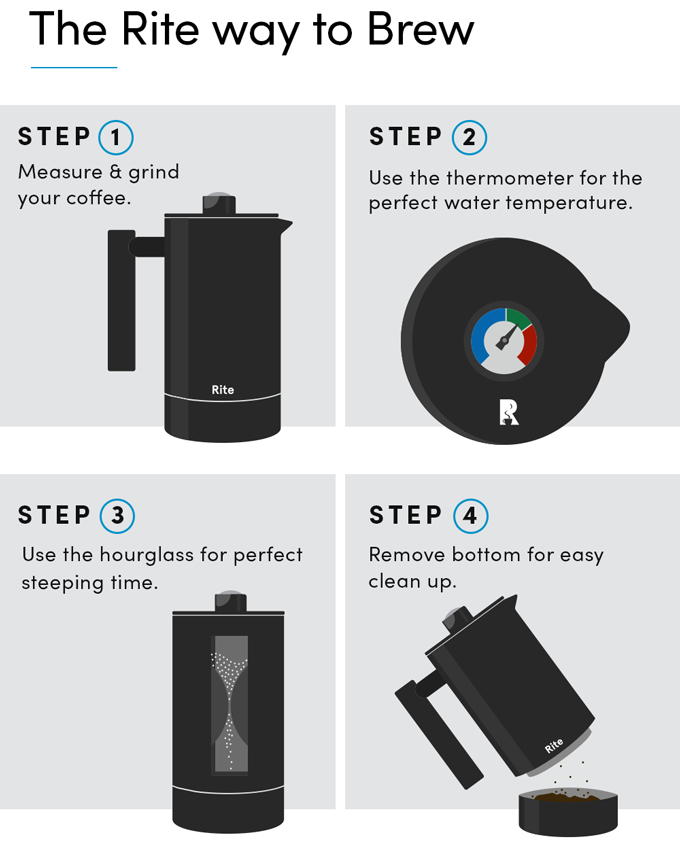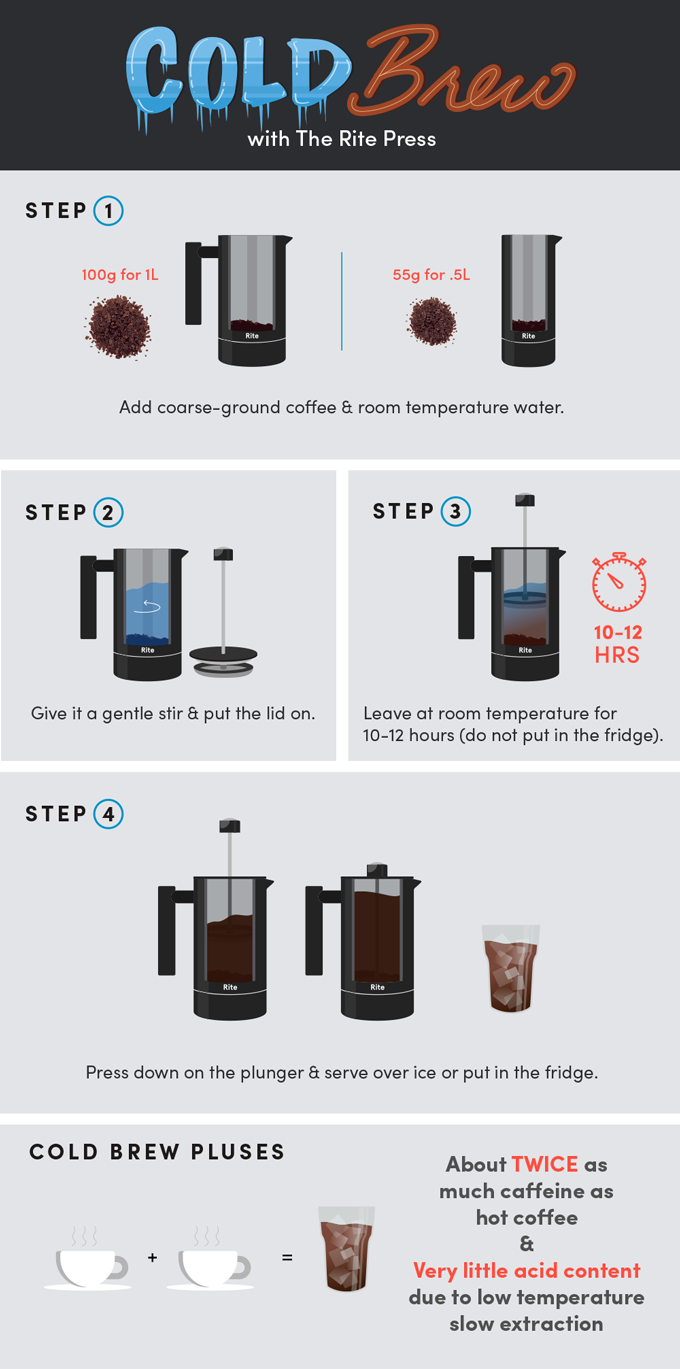 The Rite Press is even great for loose leaf tea! Steep the tea in hot water and use the filter to push the tea leaves into the removable bottom for easy cleanup.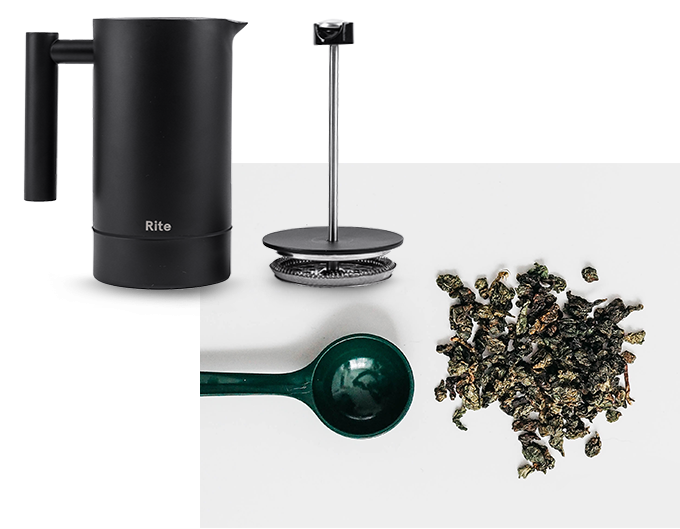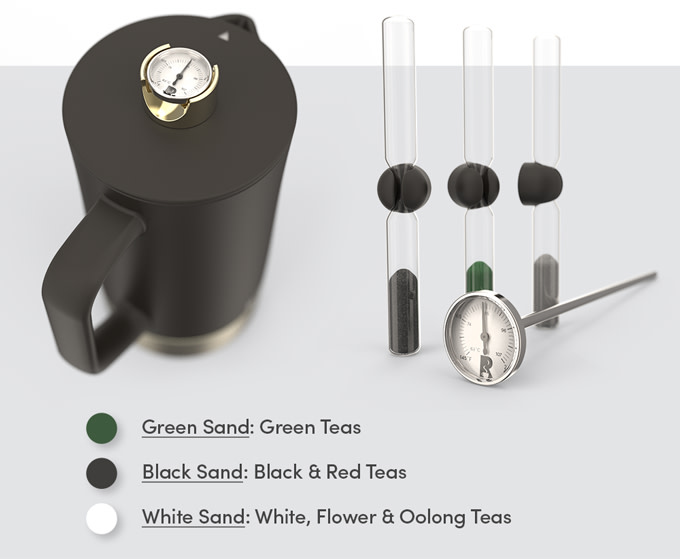 The Tea Kit features three sand timers set for the approximate times each type of tea should steep for. The sand is colored to keep selection of the Rite timer simple.
Green Sand: Green Teas.
Black Sand: Black and Red Teas
White Sand: White, Flower and Oolong Teas
The thermometer highlights the different temperature ranges for each tea and will fit into the press in place of the Coffee thermometer.
The Tea Kit will work for all Rite Presses in this campaign.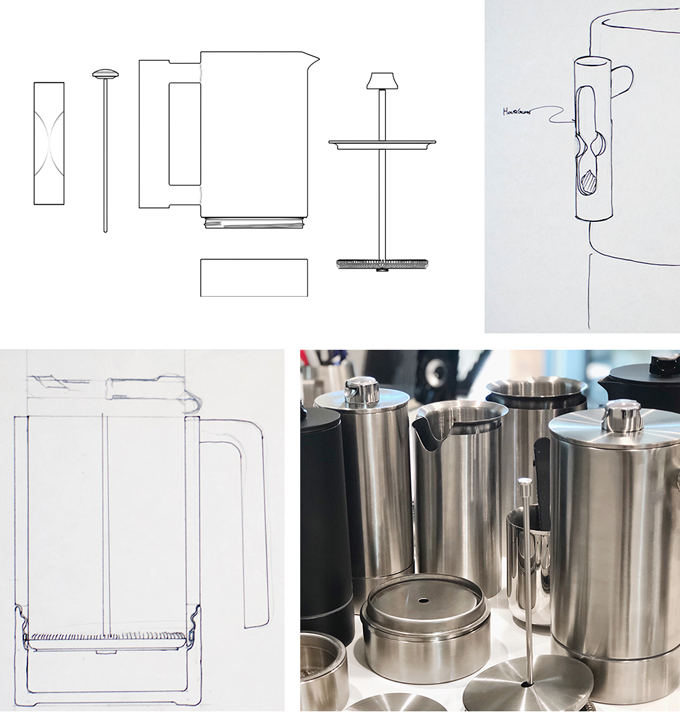 We selected our factory partners with great care. Each factory we use is inspected by the Rite team to ensure safe, responsible working conditions. Our factories meet and exceed all environmental production standards.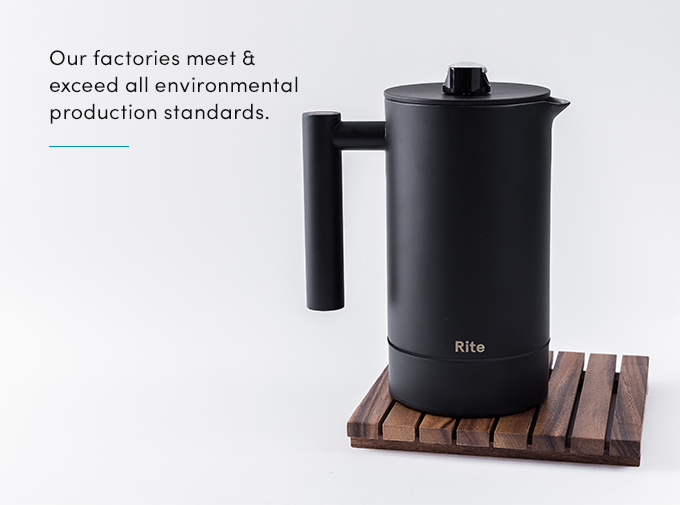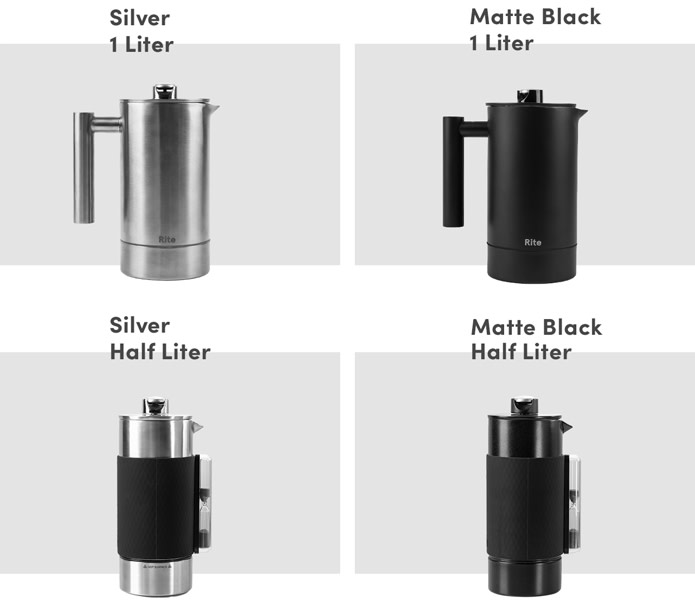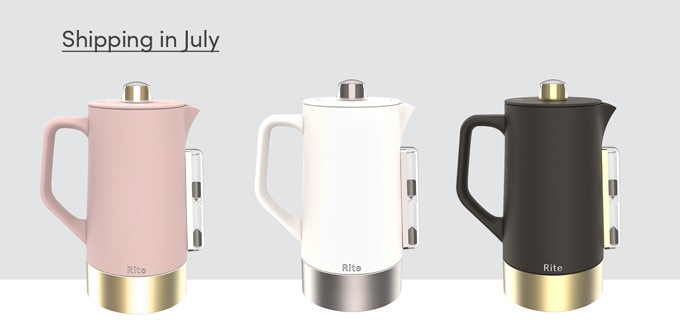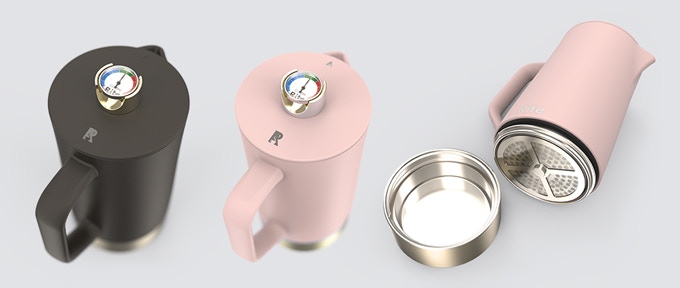 The Ceramic Rite Press is designed to enhance the beauty of your brewing ritual at every level. From the moment you open the box to reveal its classic lines… To the smooth feel of timeless ceramic under your hands… To the thousandth time you lift its elegantly balanced weight to pour your perfect cup… this Rite Press is a work of art in ceramics.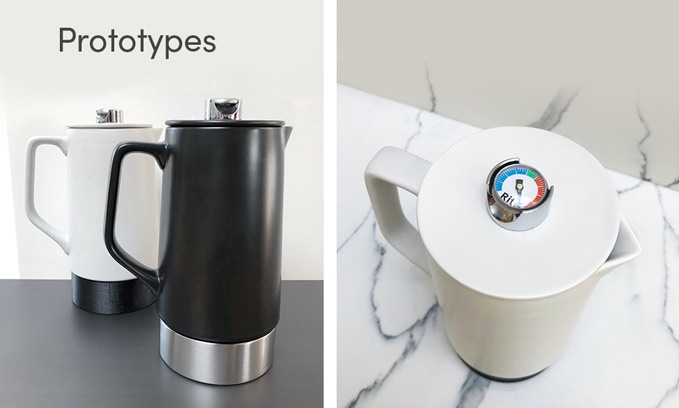 We wanted to give our fans on Indiegogo a chance to get their hands on the Ceramic Rite Press before they hit the shelves. Get them now before prices go up.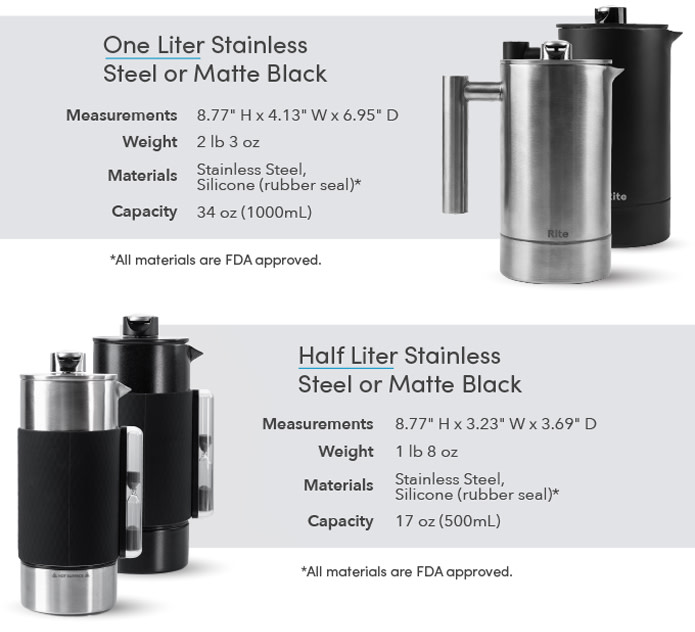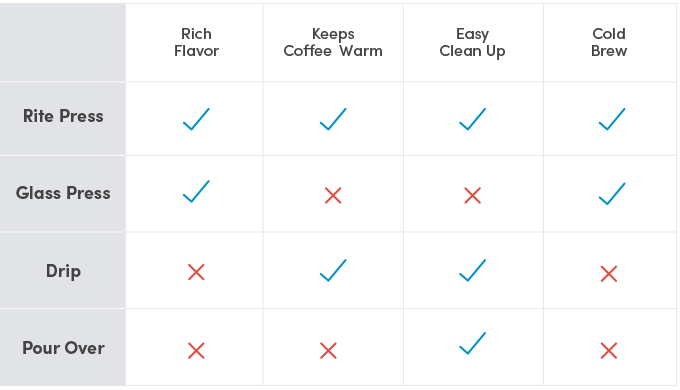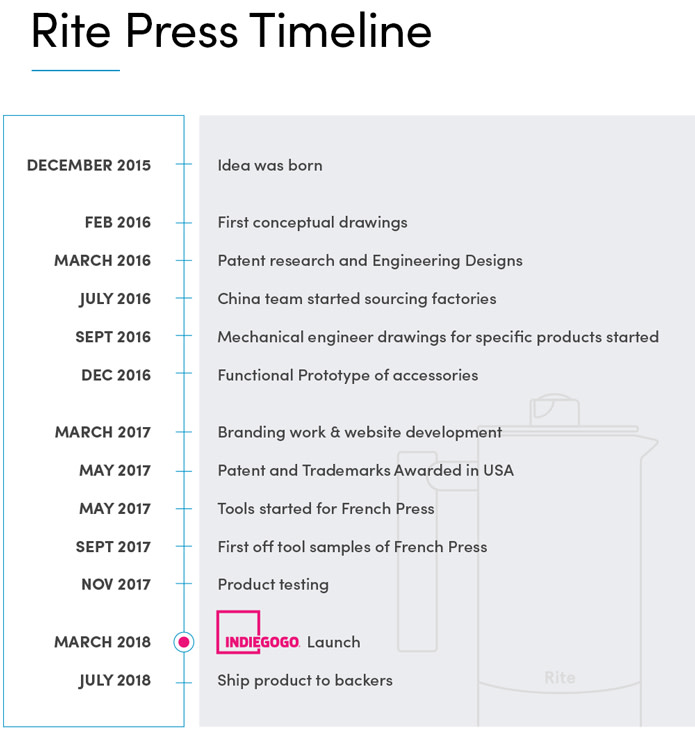 Q: How do I order additional Rite Press to my order?
If you want to add an additional Rite Press to your order on Indiegogo, you simply place a new order by selecting the perk you want and paying for it. At this time, Indiegogo does not have a feature to add multiple perks to a single transaction. If you'd like to claim multiple perks, please make a new contribution for each perk.
If you are an international backer on Indiegogo who wants to order an additional Rite Press and you can't find the perk that you want, you can email us at [email protected]
Please note that everything ordered from Indiegogo will ship in July, once we have fulfilled all of our Kickstarter pledges.
Q: How do I add the Tea Kit to my order? 
Please email us at [email protected] with your order confirmation and we will send you information on how to purchase the Tea kit.
Q: How much is shipping and handling?
Shipping and handling, which includes shipping the items to our offices, packing and fulfilling orders will cost:
$0 to the United States (including Hawaii, Puerto Rico, Alaska)
$14 to Canada
$21 for international orders (including Europe, United Kingdom, Japan, Australia)
Q: Do I have to pay customs fees? 
International backers may have to pay additional import duties and other applicable taxes to the concerned authorities upon receipt of their goods, based on the import policies of their respective countries. The duties and tax rates vary from country to country and we are unable to help you determine that for your shipment. If you wish to learn about the duties and taxes applicable to your shipment, you may want to check with the customs and border protection authority of your country.
Q: Does Rite Press prevent over-extraction? Do I need to pour the coffee into a separate container?
The Rite Press is designed to prevent over-extraction. When the filter is pressed to the bottom of a standard press, the extraction continues because there is a micro-current created in the press. The coffee at the side walls is slightly colder than that in the center of the press, and as result the coffee in the middle starts to rise and the coffee on the sides starts to fall. The two-part design of the Rite Press, combined with the silicone gasket, disrupts this process. The current in the Rite Press stays above the filter. To put it simply, Rite Press coffee is yummy for a long time.


Sargam is an engineer and visionary. He has launched thousands of products during his time at Harman International and as CEO of Agent18.

Robin is an experienced CPA and CFO with a degree in Mathematics and Economics. He manages Rite's finances.

Owen is an expert in industrial design and materials. He's in charge of the user experience and product aesthetics.

Eric specializes in kitchen and household products, with thousands of designs under his belt. He makes sure that the little details add up to a great product.

Billy is an expert at logistics. Located in China, he ensures the delivery of high-quality products in the time frame we need.

Arthur applies his engineering degree to the tooling and production process, solving problems in real time in the factory to ensure we hit our target.

Athena drives our marketing efforts from our office in LA and makes sure our team stays on track delivering best-in-class products.

Communication is Mara's passion. She ensures we're always customer-facing and transparent in all that we do.