Robo Esso – Contactless, Automated, Robot Barista. | Making espresso drinks faster, more accurately & just as delicious as a human barista.
Contactless, Automated, Robot Espresso Bar

My name is Matthew Jones. I'm a coffee roaster and cafe owner and operator. I know first hand how hard it is working through the pandemic, dealing with rising labor costs, high turnover rates and increasing real estate costs. 
I thought to myself 'How do I and other small coffee shops, pandemic proof our businesses and tackle all of these issues? How do we survive?'
I decided to automate and I want to help other small businesses do the same.
We're building a go-to market robot espresso bar that's capable of making drinks faster, more accurately, and just as delicious as a human barista. Now we need your help in building out the exterior of our first location!
Robo Esso Difference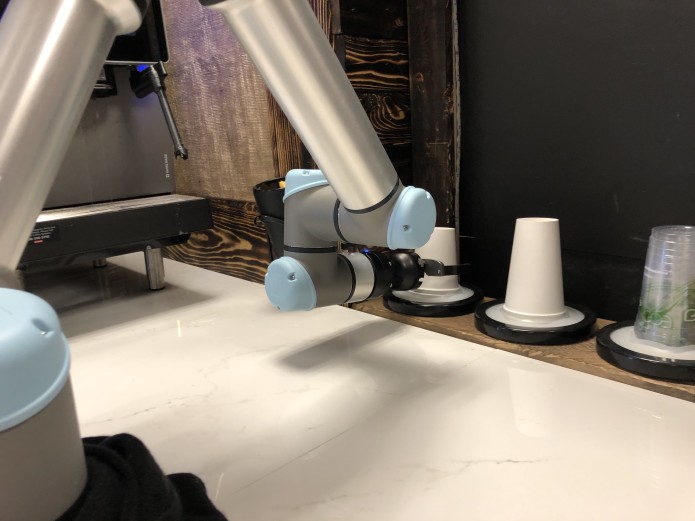 Open 24/7
Pandemic proof. By being contactless Robo Esso won't get sick or get others sick
 Significantly less labor. Only needs roughly 2 hours per day for cleaning and re-stocking
Small footprint, only 48 square feet!
Fun and entertaining to watch Robo Esso make drinks
Specialty coffee shop quality
Robo Esso is over $100,000 less expensive than other coffee robots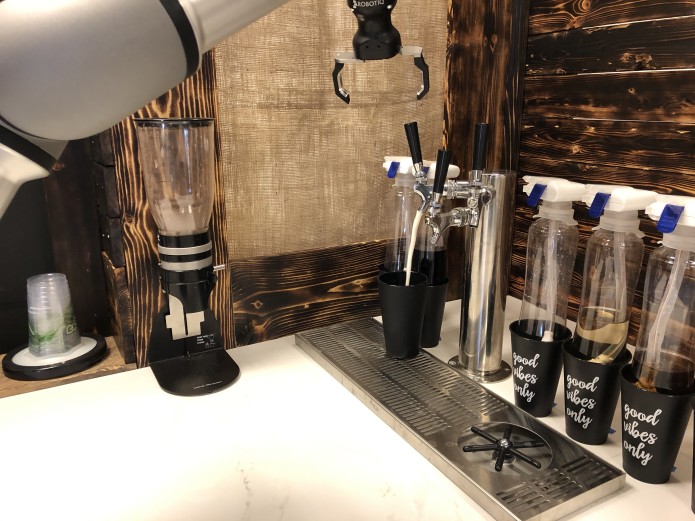 Robo Esso is Perfect for…
Coffee shops 
Hotels 
Hospitals 
Airports 
Malls 
Grocery stores 
Large office buildings/complex 
Drive thru's and much more. 
We Want to Make Automation Affordable For Small Businesses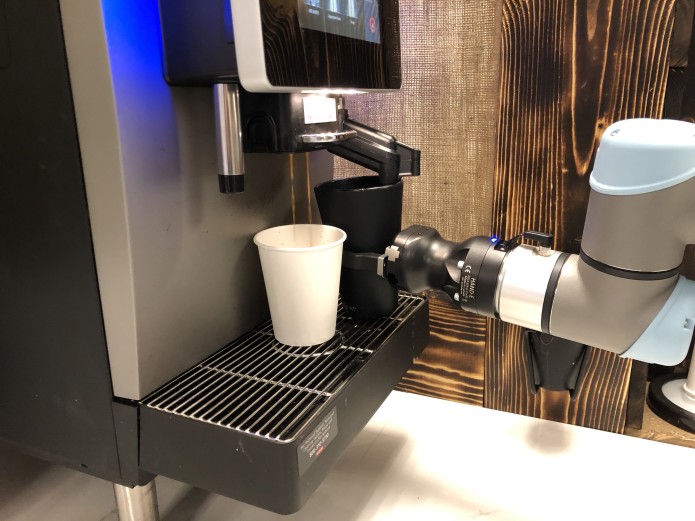 "I would love to see barista's become business owners with automation." – Matthew Jones
Robo Esso wants to put automation in the hands of small businesses, not large corporations. We have built a model that accomplishes this by making our robot barista cost less than $90k.
Here's how Robo Esso does it:
We use equipment that's right off the shelf. Instead of investing in engineers to re-invent the wheel, we used equipment that's easily available and affordable.
Robo Esso can potentially use equipment (Ice machine, espresso machine, etc) already in the coffee shop, another cost saver. 
The exterior of Robo Esso is customizable. We're currently using reclaimed wood, burning it, and shellacking it. Looks beautiful and it's affordable. We want Robo Esso owners/operators to have a say in what it looks like and be able to show some personality because behind every Robo Esso there's hard working people putting love into their business. 
What stage are we in and what's the plan?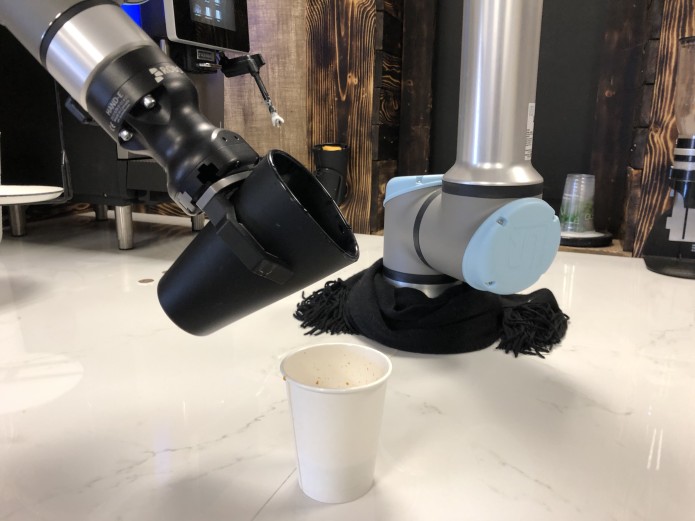 We have completed our prototype. Now we're building and programming our go-to market model. We expect it to be done in Fall 2020. Most of our energy right now is focused on cleaning up the robot's programming, designing a new ordering app and building out the exterior. 
That's where we need your help! As you can see, Robo Esso looks a bit naked and needs an exterior.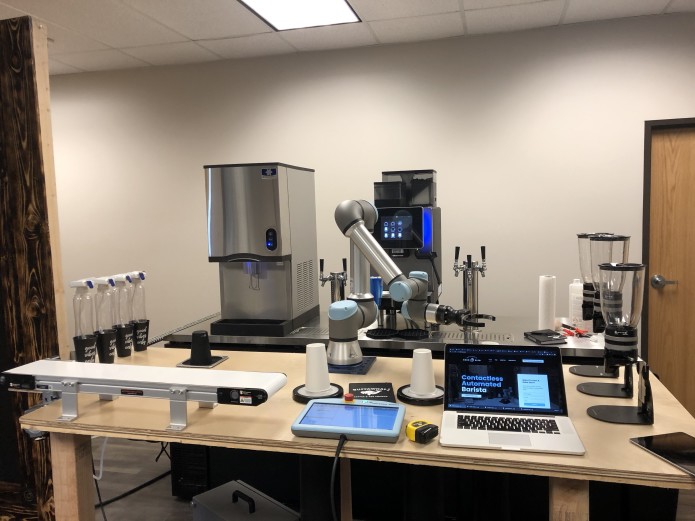 What's different in our go-to market model? Glad you asked!
Larger tap setup for more milks, cold brew and kombucha.
More powder flavor possibilities.
Contactless delivery via conveyor belt. 
Brand new ordering app that's flexible and scalable.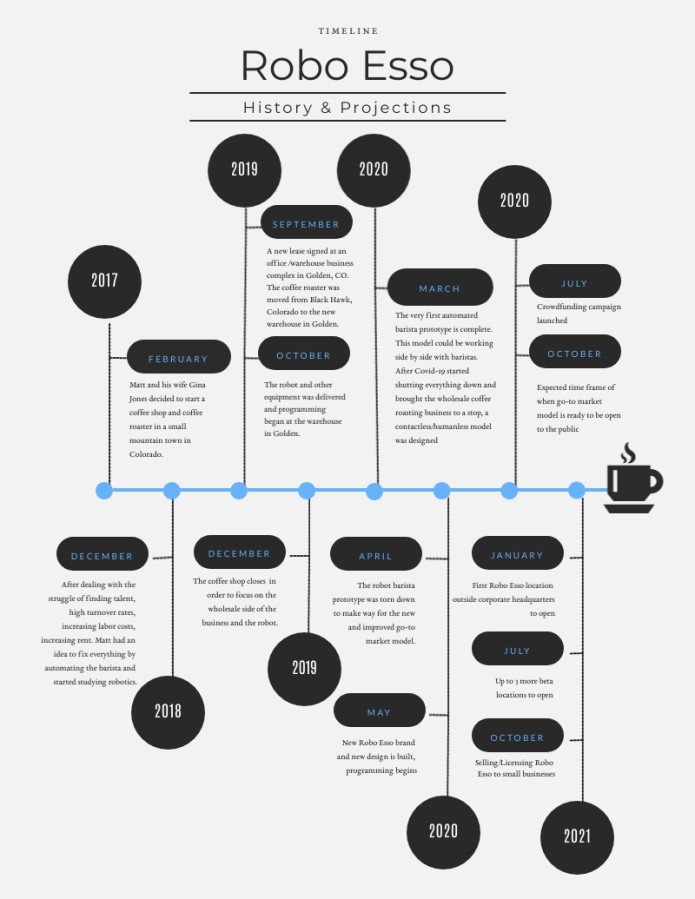 The Team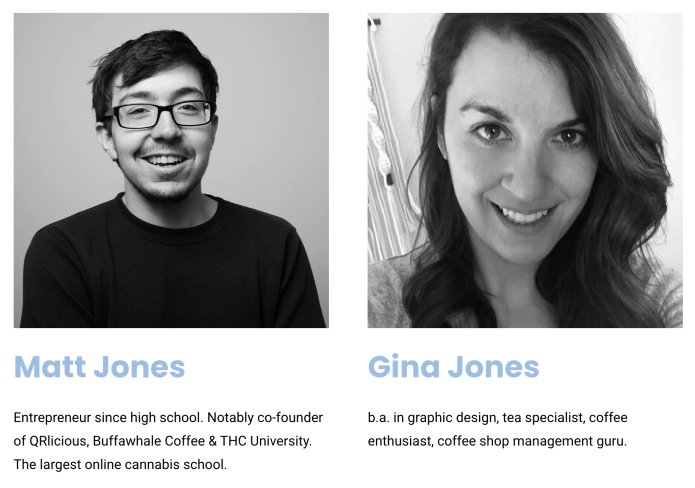 Buy Our Coffee & Tea = Funding Our Project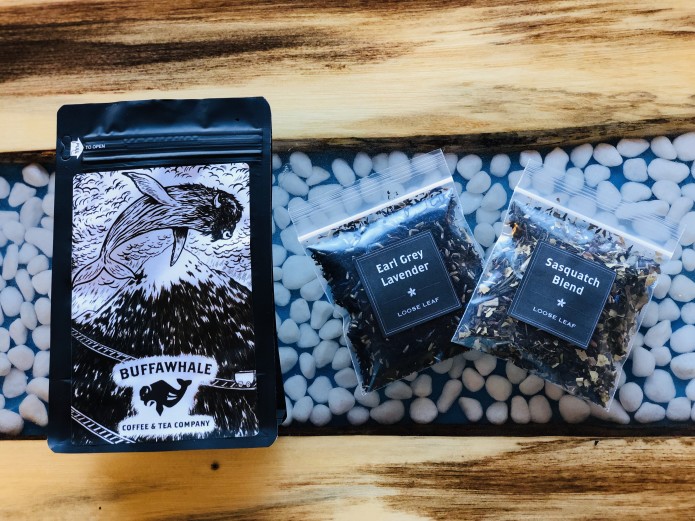 Coffee: Buffawhale coffee is organically grown and is better than fair trade. We work with farmers from all over the world. Most of our clients are hotels and restaurants but since the pandemic our business has dropped by 80%. Currently you can only get Buffawhale coffee by funding the Robo Esso project!
Tea: Our very own tea specialist is curating a unique package of 5 different teas and blends. Our teas are not only delicious but also good for you.
The Coffee Coffee Table. A coffee table made from coffee!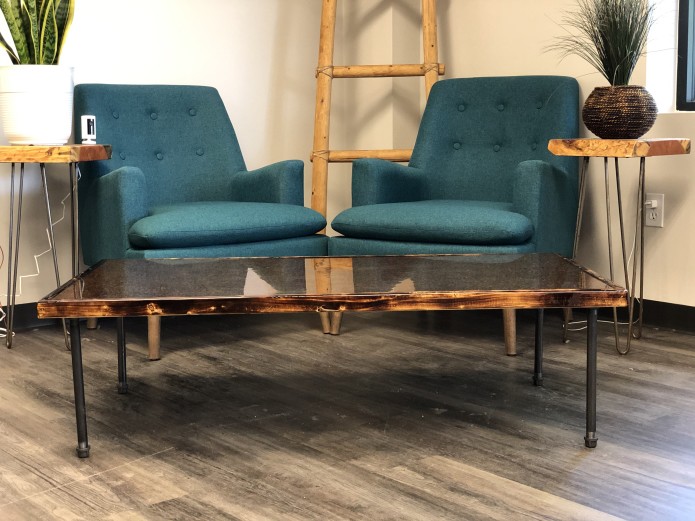 The covid-19 pandemic has disrupted supply chains almost everywhere. Thousands of pounds of coffee are now stale and undrinkable. 
When life gives you gross coffee, you build coffee coffee tables. Well that's what my brother and I did. 
We're taking gross stale coffee from local roasters and turning it into coffee coffee tables. This way it's not a total loss for those roasters.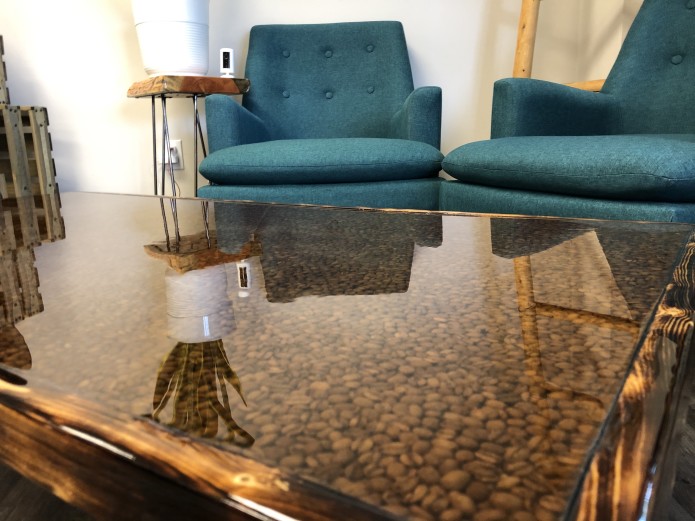 These tables are pretty amazing and if your "coffee table" at home isn't made from coffee then it's NOT a "coffee table". Call it a…
Short table in front of couch table
Water table
Beer and wine table
Rest your feet table
Call it whatever but don't call it a "coffee table" unless it's made out of coffee. 
If you're disturbed that your "coffee table" isn't made of real coffee then we have the solution for you! Get yourself a hand made, unique coffee coffee table. Made out of coffee and reclaimed wood, it's gorgeous and mesmerizing to stare into the sea of coffee beans that make up your entire table!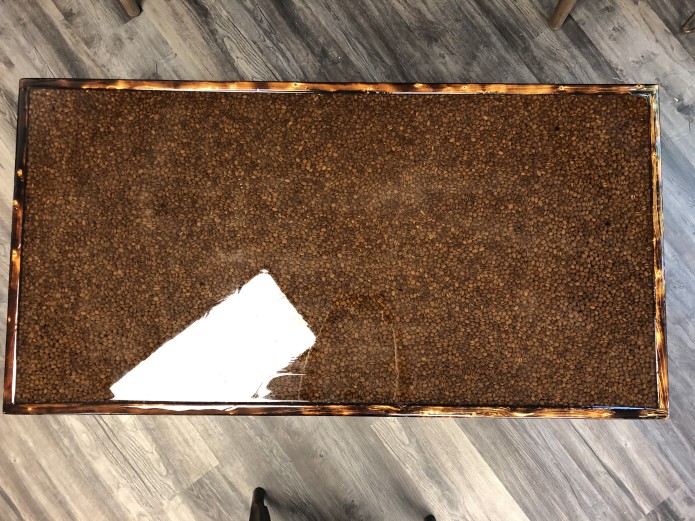 Coffee Mug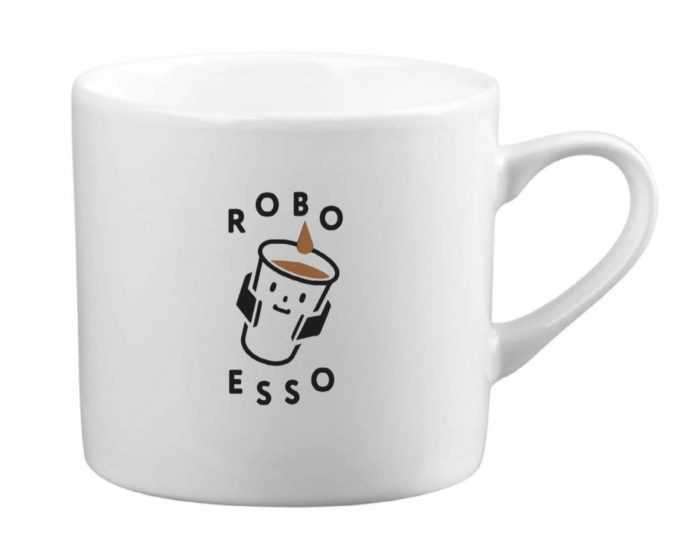 T-Shirt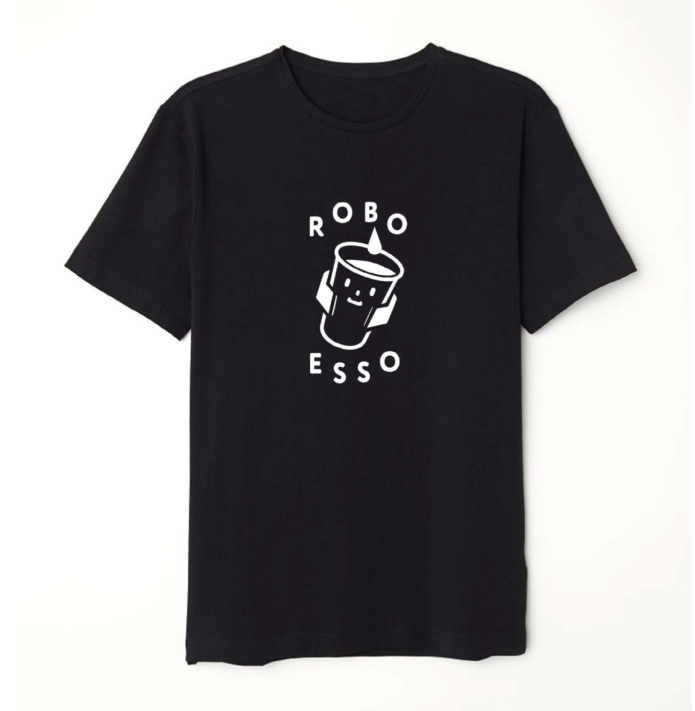 Risks & Concerns
Budgeting: 
– Risk: We run out of money before the project is finished
– Plan: Currently the project is self funded. We are lean and mean and run a tight ship. We are so close to finishing this, at this point we don't have any major expenses in equipment or labor. What's needed to get across the finish line is finishing the exterior. 
Glitches:
– Risk: Our automated system glitches too much and people don't get what they ordered
– Plan: We're currently working on back up measures to counter every problem we can imagine. For example, programming force control on the robot's gripper so it can detect if it picked up a cup or not. We need to open a few beta locations to discover issues we don't for-see and a dedicated support team is needed to be able to take control of the robot remotely.
Reward fulfillment:
– Risk: Rewards are delayed or not fulfilled
– Plan: Our team is made of successful entrepreneurs and Kickstarter campaign managers, we know how to fulfill orders, under promise and over deliver. We have more than enough coffee and tea on hand, ready to roast and ship. The coffee coffee tables are being made right now at the Robo Esso headquarters warehouse. The mugs and T-shirt are being designed and will be ordered once the campaign is done.
Other Ways You Can Help
Share our project with anyone who maybe interested in supporting it or owning their own Robo Esso.