RONY – an innovative fusion of metal and light | Two high-powered LEDs | Ultra durable housing | Six modes of operation | Weatherproof housing

 

                    Creates a directed beam in front of you and a scattered beam behind you.
                                                 Rony lights the way for both you and your friends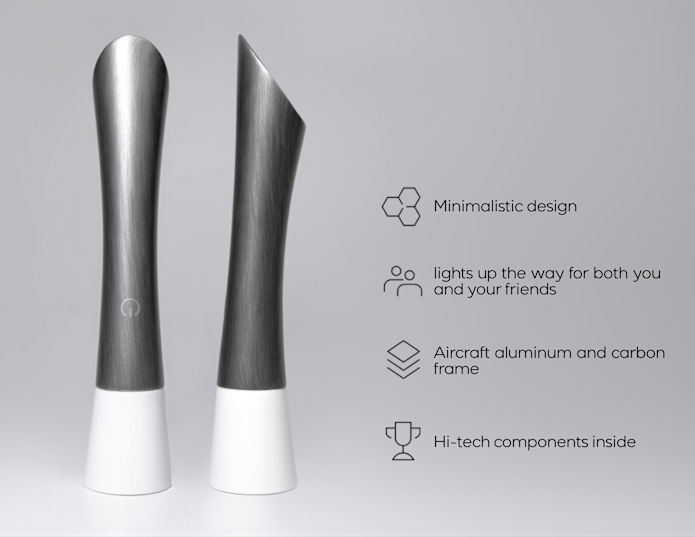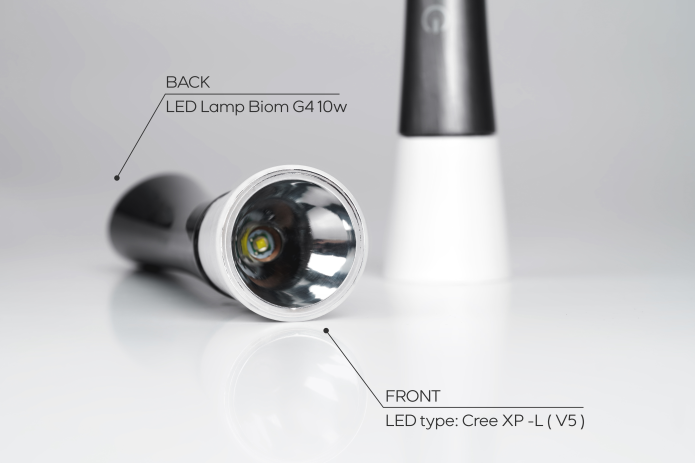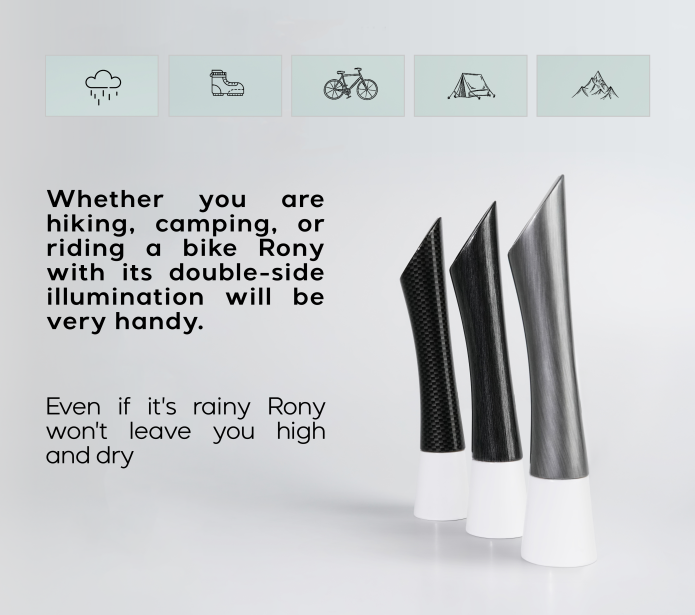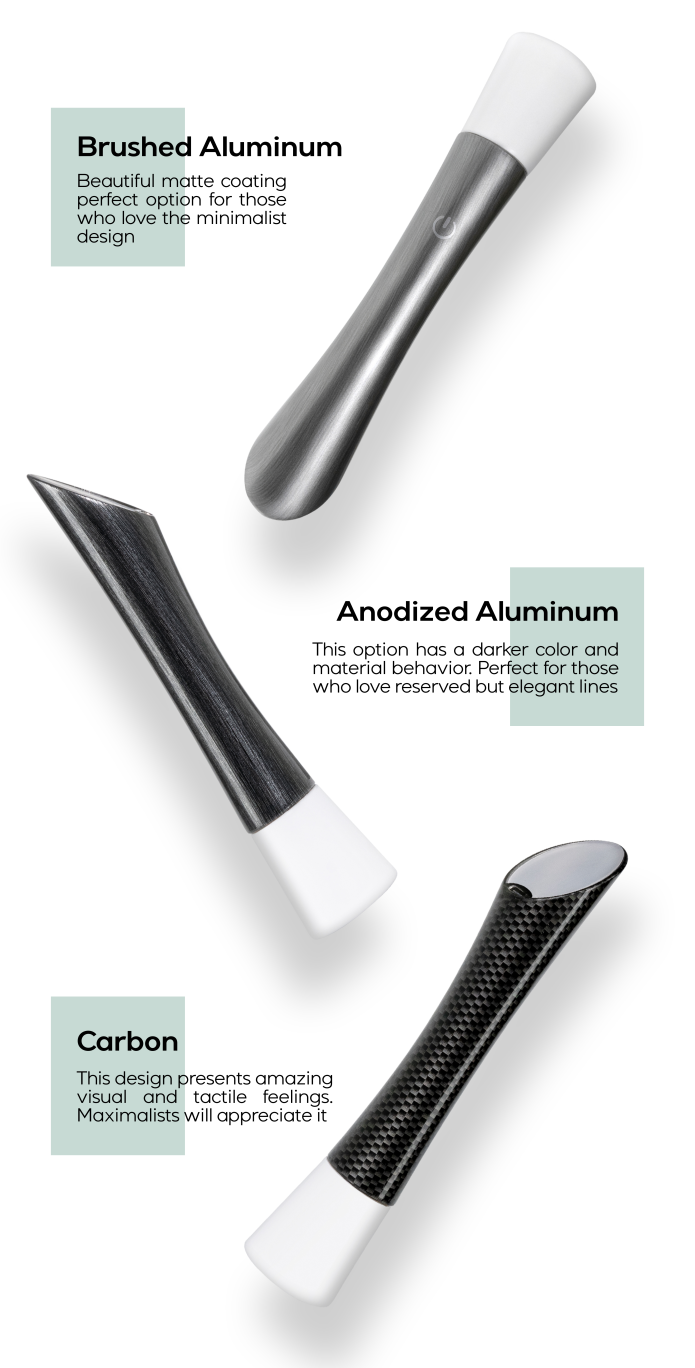 No batteries needed. Simply recharge Rony with a USB-C cable

There are many advantages to using Rony with a bike. First, the front LED is as powerful as a motorcycle headlamp. Second, the back LED creates a spot of light on the full area you are moving in. At night, while on the road, you will be completely visible to other vehicles.


Rony is all about putting you in control, giving you six separate modes that start from the lowest setting of just 20 lumens to the highest at 1500 lumens. A simple touch switches you between the modes, making it easy and quick to adjust.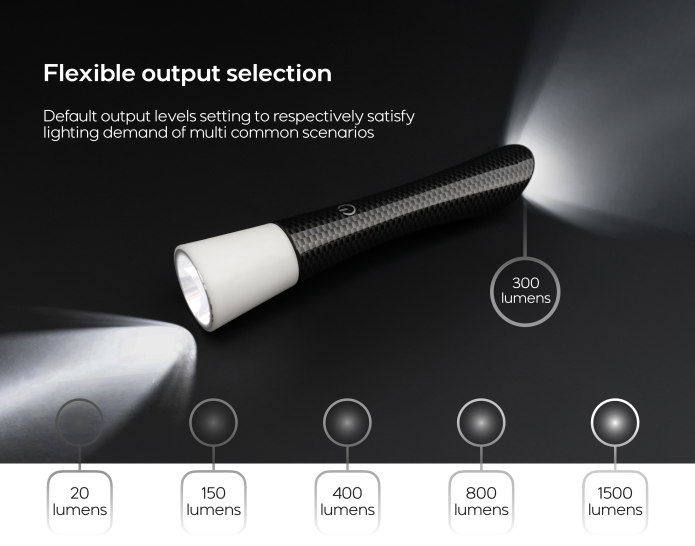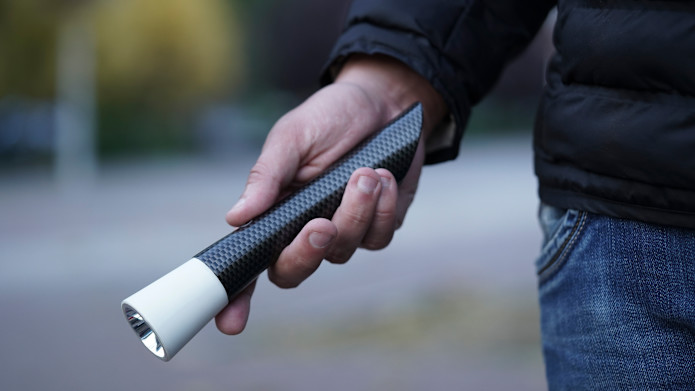 What`s in the box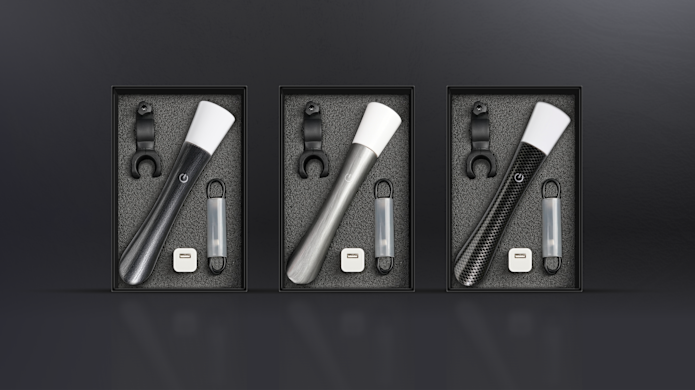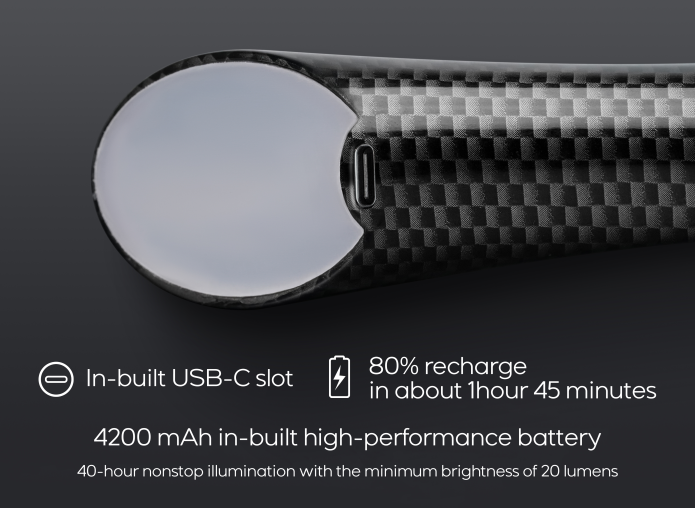 Rony can be recharged with any power source: just use the USB-C cable in the kit. The charging starts automatically after connecting. Rony knows when the battery is fully charged and automatically stops charging to prevent battery overheating and overcharging.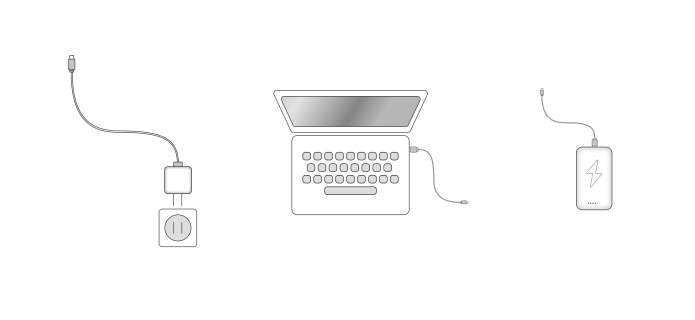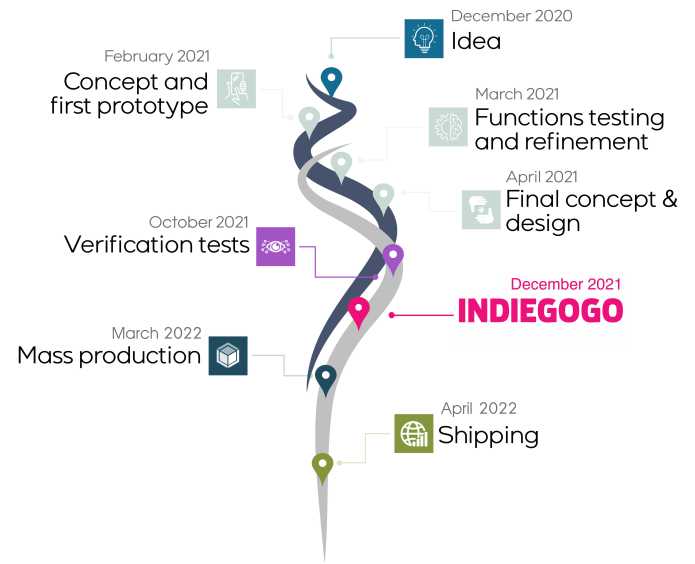 Totally ergonomic shape, small weight, and no useless details make Rony the most comfortable and enjoyable flashlight available. It doesn't take much space in your backpack, pocket, or purse.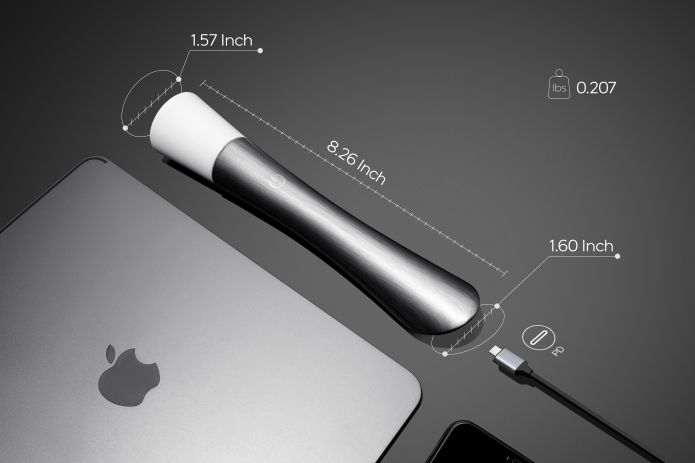 Material: aluminum, carbon
 Battery:  4200 mA·h 18650 3,7 V
 L.E.D:  Cree XP -L (V5) / LED Lamp Biom G4 10w
 Weight: 0.207 lb.
 Charging port: USB-C
 Lumens: Front – 1500 lumens / Back – 300 lumens
 Colors: grey, carbon

 

Branded flashlights are durable but high priced thanks to smart marketing. We offer the same quality with many more advantages and a reasonable price.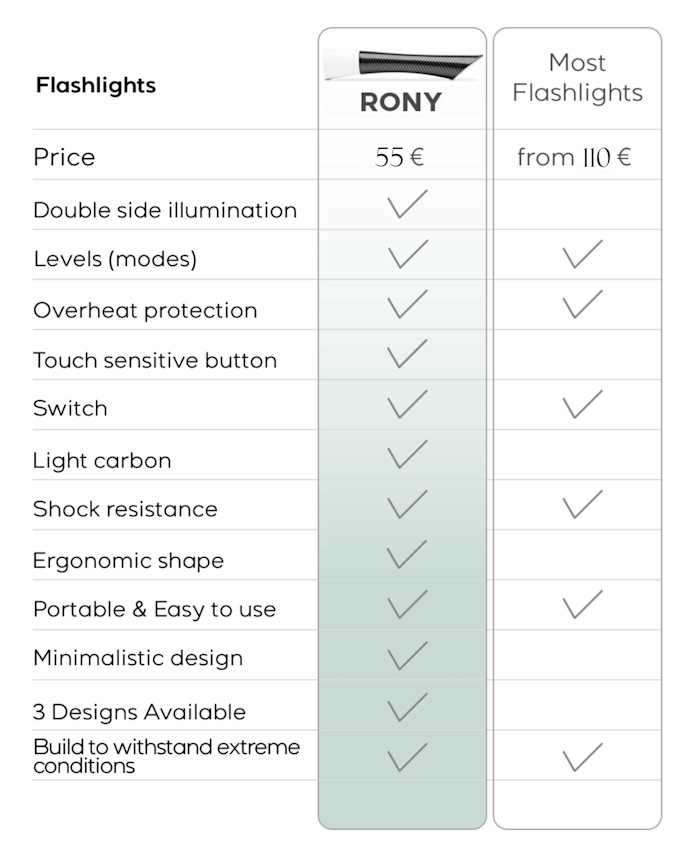 Overheat protection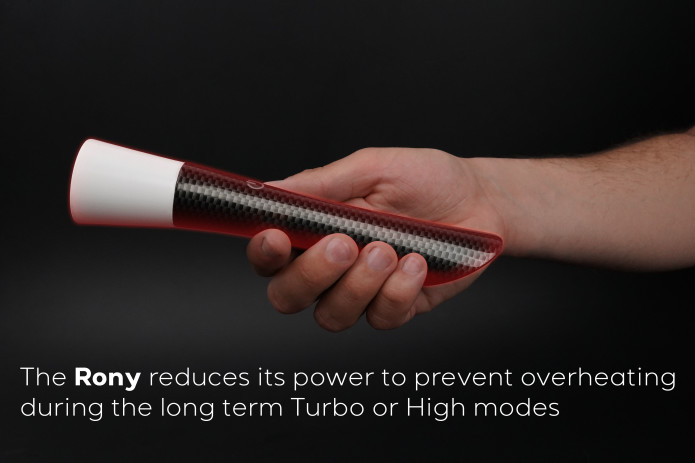 It's estimated that an astonishing 80% of all metal ever produced is still in use today. Due to the intrinsic value of metal, once made it is rarely wasted; and with good recovery systems in place, it's possible to achieve recycling rates of 90%. The entire body is made from aluminum, which is infinite in usage. When the lifecycles of both plastic and aluminum are considered, it becomes clear that aluminum is by far, the most environmentally friendly option.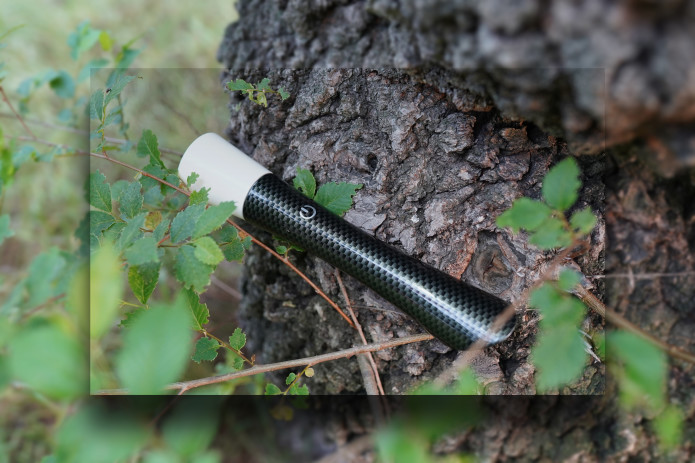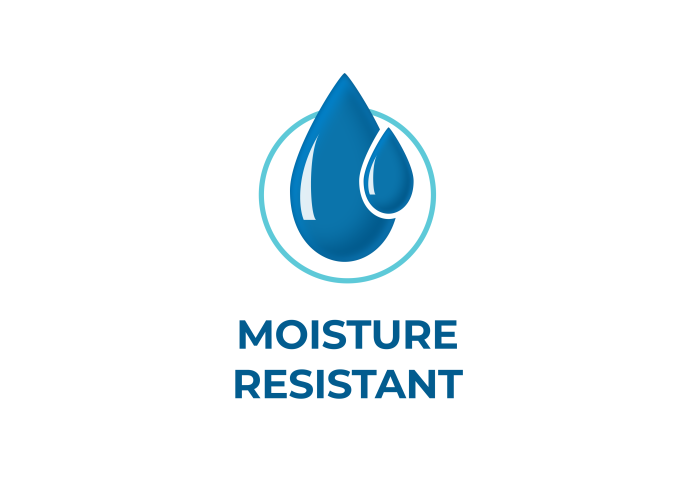 Sometimes you don't get to choose the environment you will be faced with and when things get wet, you will be glad that you have Rony with you. Rony is armored in premium aircraft-quality aluminum and there is no chance that moisture will penetrate inside and damage the inner components. Snow, rain, showers, or storms won't take Rony out of service. Rony's light will lead you through those dark and wet situations.

It started with an idea—the idea of a hi-tech and modern flashlight. After countless discussions, we finally realized how the Rony flashlight should be designed and what functions it had to have. At this stage, our industrial designer started to make the first prototype design for Rony. 
The first model was very angular, hardly ergonomic, and looked ordinary, like most flashlights on the market. However, by trial and error, we finally integrated the design and made the flashlight more laconic, smooth shaped, stylish, and comfortable to carry. The final prototype was better than we could have imagined and now you can see it for yourself.
                                                        Our first design ideas: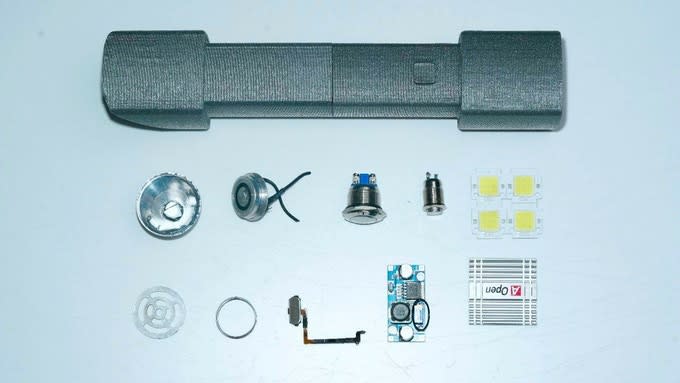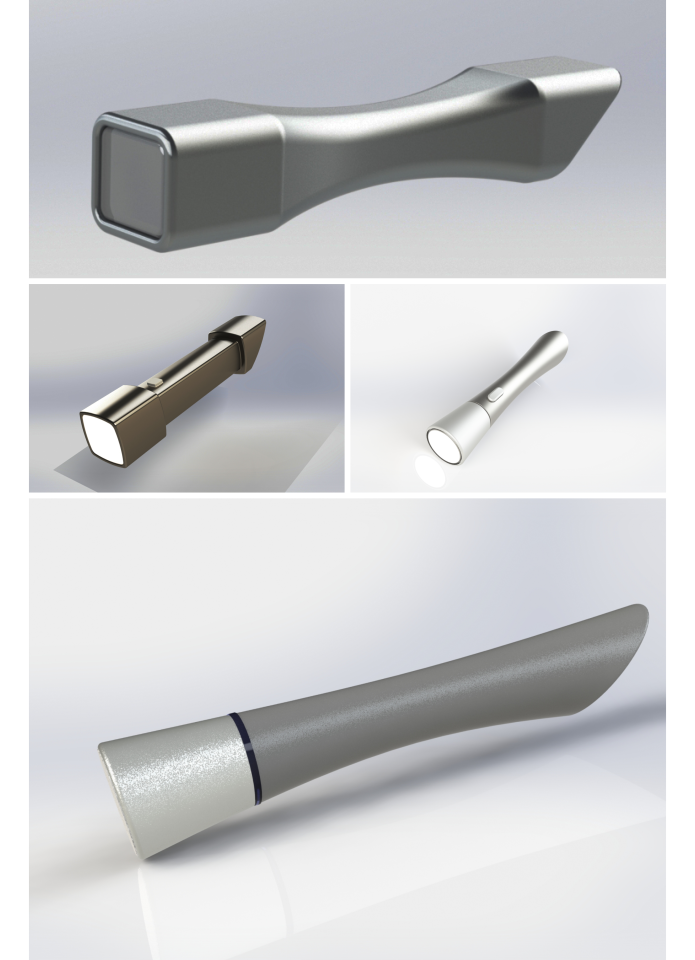 What's Inside?
As for transparency, we follow the example of Elon Musk. İt is well-known that the Tesla company offers its findings in the open access.We also don't keep our prototype components a secret. To produce Rony, we use durable and premium quality materials. İt can be described as a technical construction with an eye-catchingl design. We hope that this way, you will feel part of the team and see the birth of a unique item with your own eyes.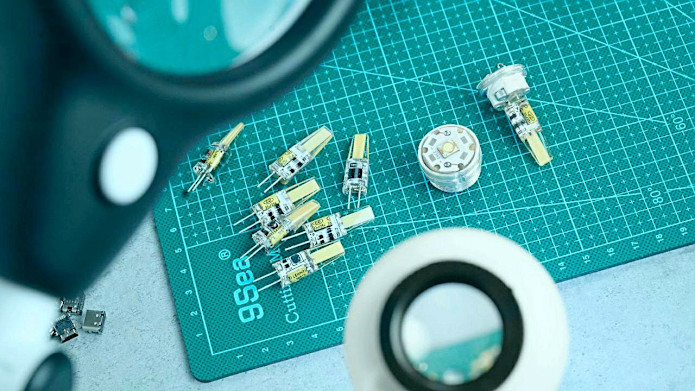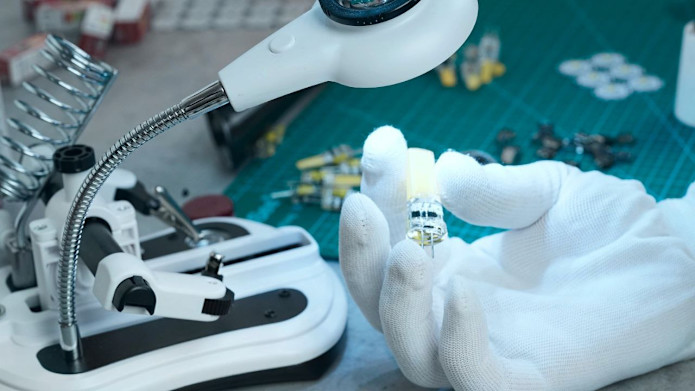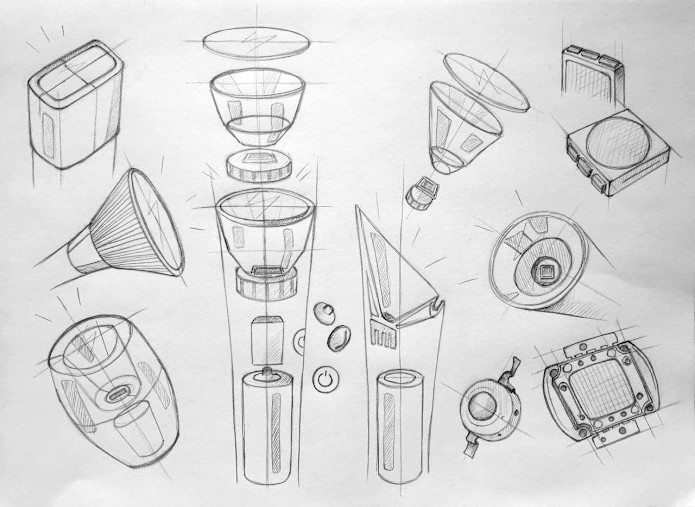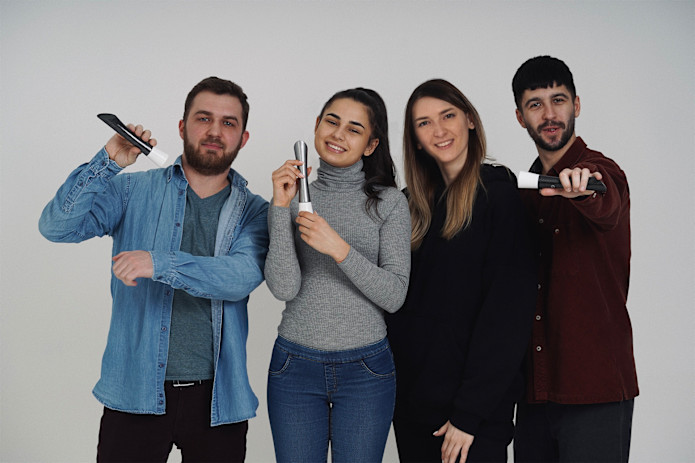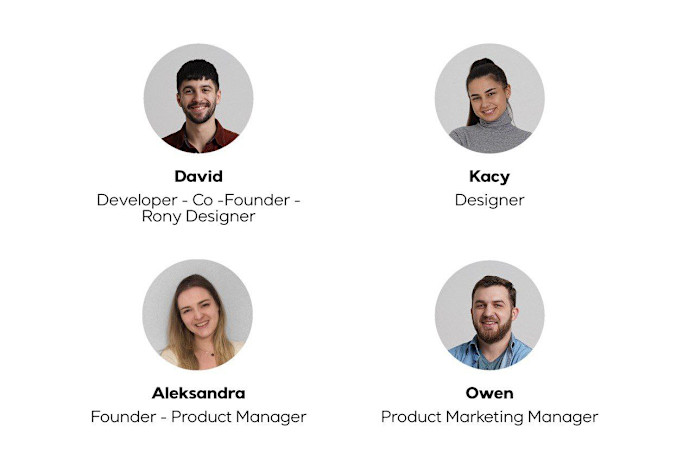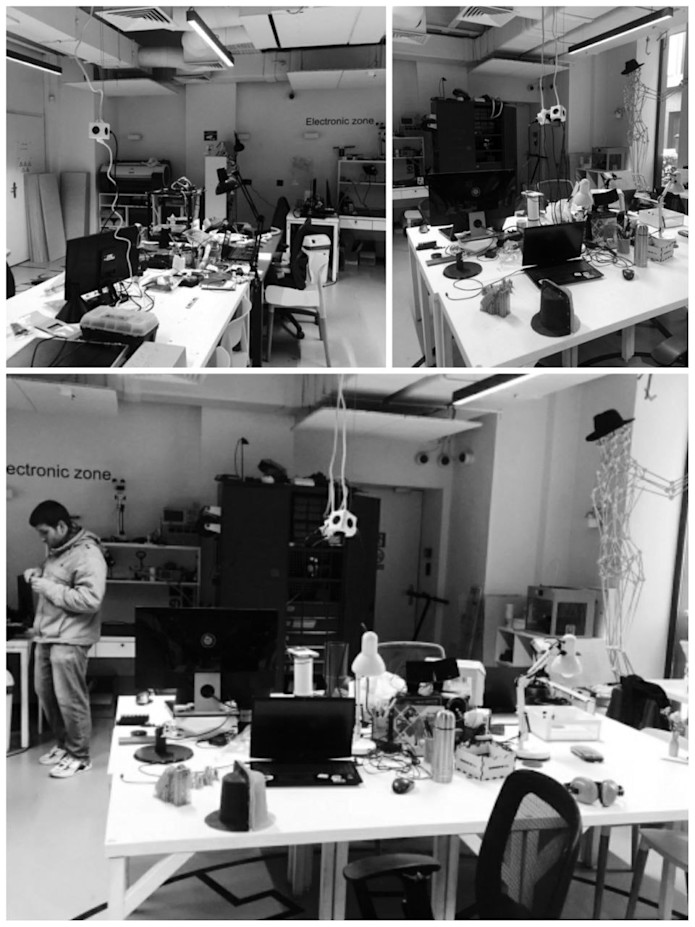 Our passion is creating the gadgets everyone will love. With the help of an amazing team of young and creative minds, we build unique gadgets for the community that appreciates innovations and exclusive design. By supporting our passion, you're helping us as we approach our goal – release the best-designed flashlight. Plus, you get to enjoy the results of our development and innovation first. Thank you!
Quick FAQ
1. Whether the bike mount is included in the scope of delivery. 
– Universal bike light holder is included in the basic Rony kit. It is suitable for all types of bikes as it has a universal attachment. 
2. How water resistant is the Rony. Can I dive with it?
– In our experience, no matter how many tests we have done, we have never been able to "sink" the Rony. At least the flashlight meets the basic requirements of IP67 waterproofing. Theoretically Rony should be able to withstand deep diving, but no such tests were conducted 
3. Rony uses two LEDs, does this mean the battery life will be significantly lower than in a classic flashlight with one LED? 
– We use a sufficiently large 4200mAh battery which gives the torch a high power reserve. In addition the rear LED "biom g4 5v" has a very low power consumption. So overall the runtime of the torch is comparable to top manufacturers like Nitecore or Fenix.
4. Can the battery be replaced with another battery? 
– Rony is a flashlight with a built-in battery. The flashlight can be disassembled into components if you wish, but we do not advise you to do so. Your battery will last a very long time, we use high quality Samsung batteries in the design.
5. Why don't you use replacement batteries? 
– For your convenience. To charge a 18650 battery, you need a separate charger. Thanks to the battery built in the Rony is a battery charger in its own right. Therefore you only need a UCB-C cord and a power supply to power the flashlight. 
6. Will my phone charge if I connect it with a Rony.
– Yes, the flashlight has such a function. Its battery capacity is enough to recharge your phone and not to charge it several times in a row.
7. How long does it take to fully charge the Rony?
– It takes approximately 3 hours to fully charge a fully discharged battery.
8. Is there a warranty on the Rony?
 – A full one-year warranty is provided on all components.                                                     
The warranty does not cover breakage and physical damage to the lantern.
9. Can I use Rony on my bike in the rain? Is it water resistant?
 The lantern is protected against splashing water and dust from any direction