s-pot: The Engine Behind Your Plant's Bloom | Auto-watering system, Samsung horticulture LED light & other intelligent gardening features

This is a moving image. Wait for it to load.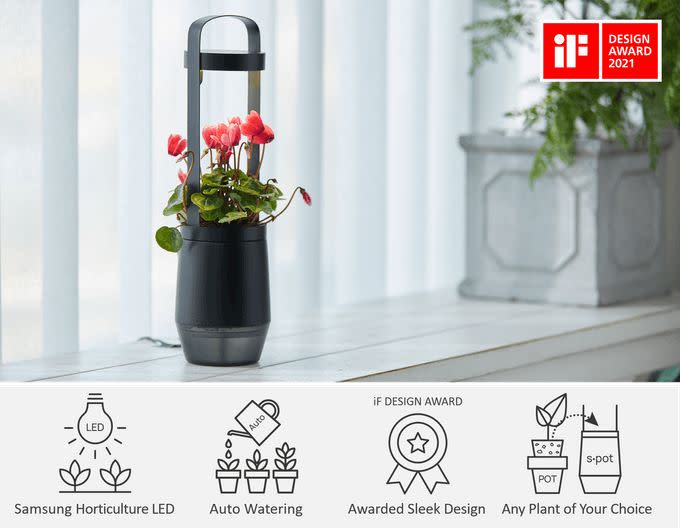 The intelligent s•pot provides ideal conditions for your plants to thrive, making it the sustainable, sophisticated, and innovative choice for proven brown thumbers and anyone looking to take that first step into indoor gardening.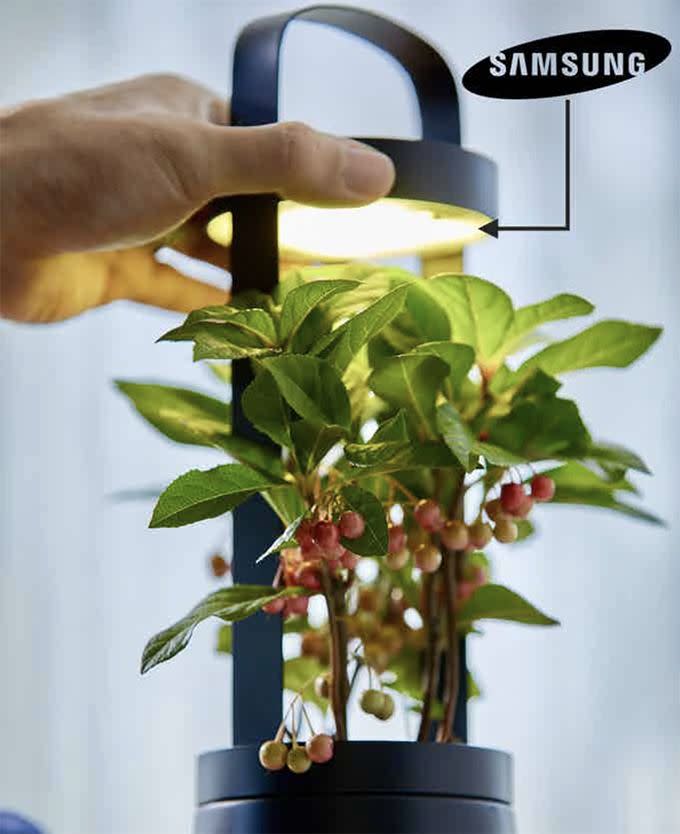 Samsung, a world leader in advanced digital component solutions, developed the full-spectrum horticulture lighting technology, which we have equipped the s•pot with that allows this pot to cultivate plants indoors at any time in any climate.

 Plant growth comparison test according to spectrum.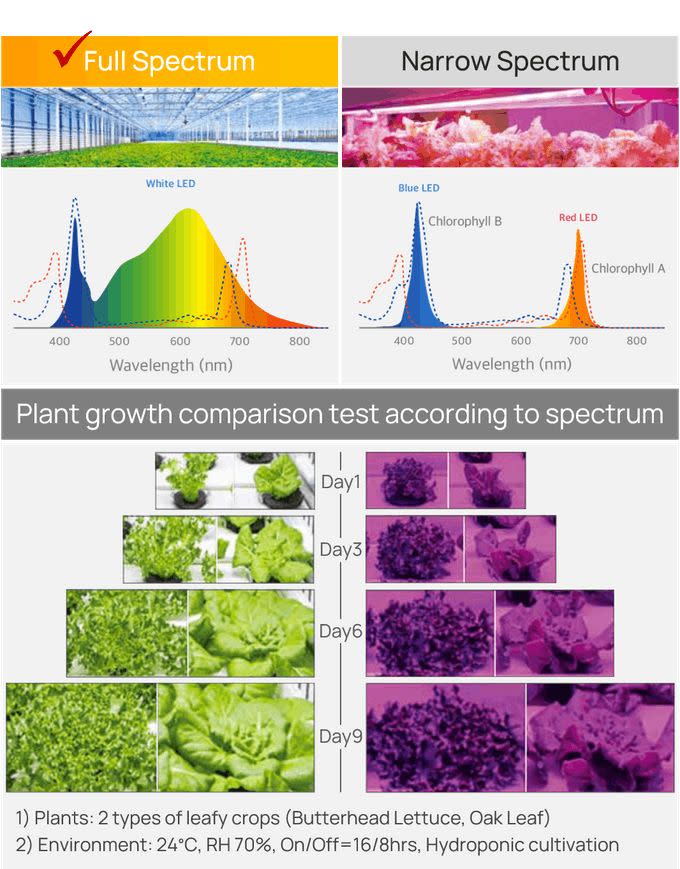 Compared to traditional LED lighting, Samsung's full-spectrum-based LEDs promote healthier and more balanced plant growth by activating photosynthesis, enhancing plant immunity, and increasing nutritional value. 
The full-spectrum treatments outperformed the narrow ones by consistently showing healthier growth under full-spectrum lighting.


The water from the water tank is delivered straight to the roots of the plant. The Jiffy Pot absorbs water from the wick of the water supply and the plant absorbs the right amount of water from the Jiffy Pot.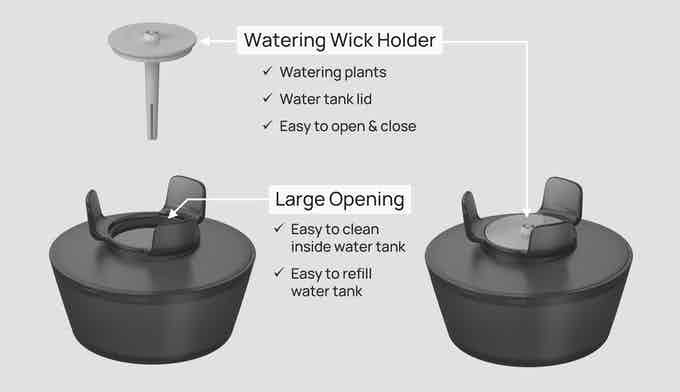 In addition, the large-capacity water tank has a large opening, so watering and cleaning are very easy.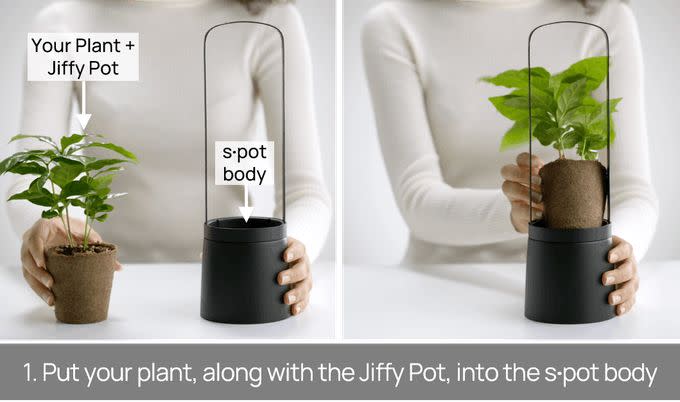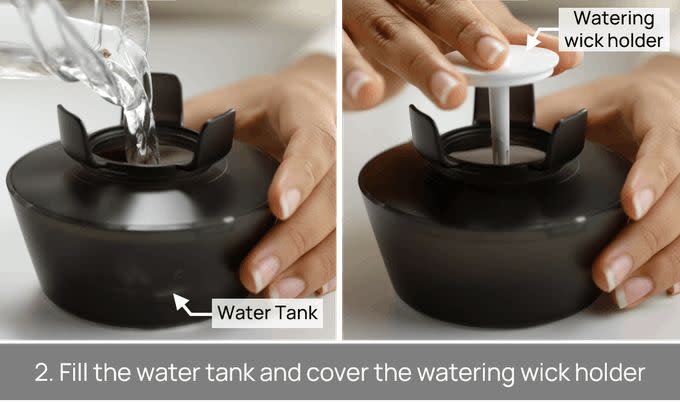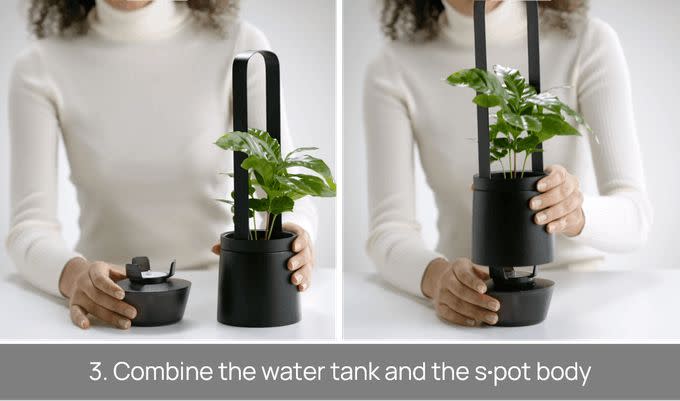 This is a video of planting sweet basil seeds in 's•pot' and growing them for 35 days. It was filmed in a dark office. Water was replenished once.
  There is a right way to water your plants: our self-watering technology provides your plant with just the right amount of water, straight to the roots. Low maintenance for you, superior care for your plants.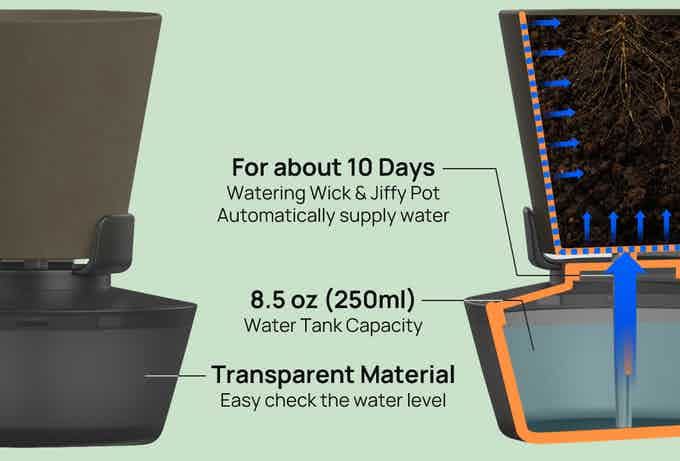 The water tank stores up to 8.5oz (250ml) of water. Once the water tank is filled, it automatically supplies water to plants for up to 10 days.
(The maximum water supply period may vary depending on the type, size, and environmental conditions of the plant.)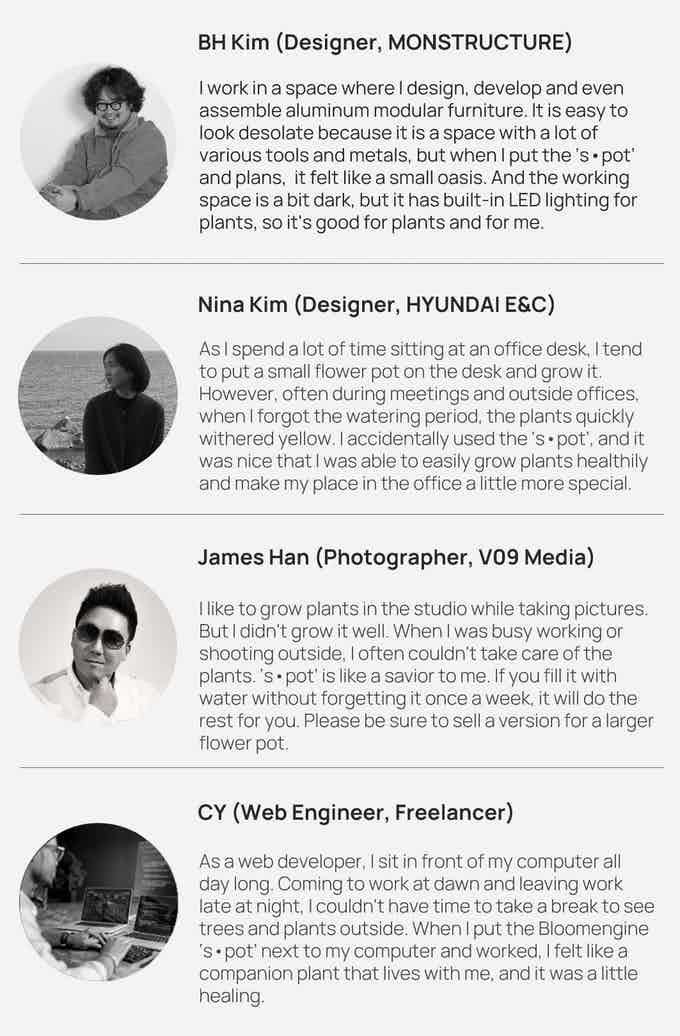 Bloomengine s•pot is designed to provide users with a New Indoor Gardening Experience by carefully selecting advanced technology and lasting materials. We want you to experience the awe of witnessing the marriage between powerful technology and beautiful design.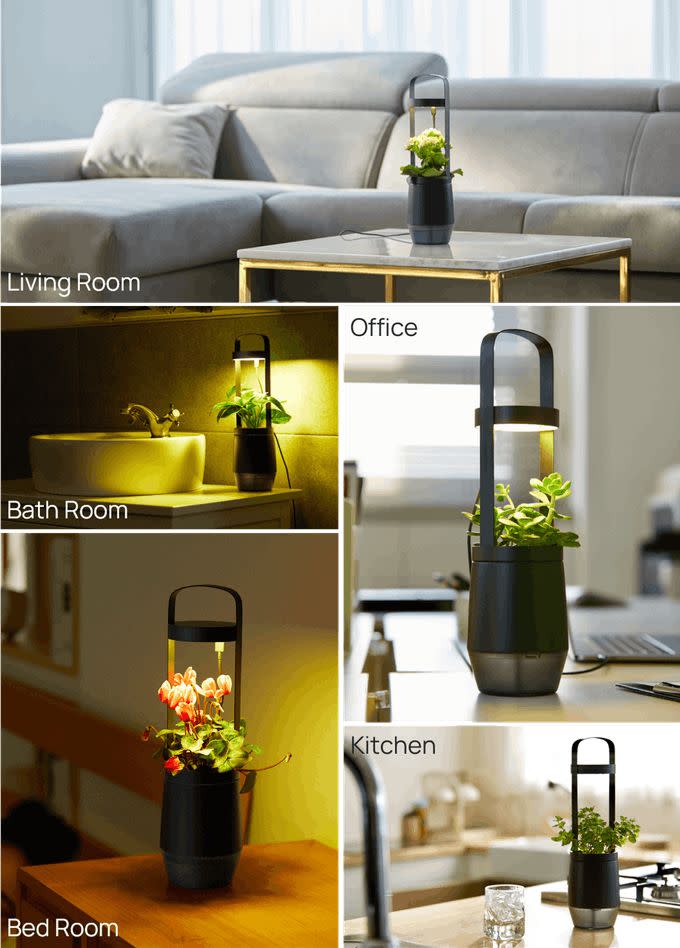 The sleek, modern design along with a matte black finish transforms your greenery into works of art and elevates the ambiance in any bedroom, living room, or other space of your choice.
Grow many plants & herbs of your choice.
※ Recommended size: plants sold in pots of 4-5 inches in diameter, which are common and popular in the market. (Plants/seeds/soil are not included in the s•pot package and must be acquired separately.)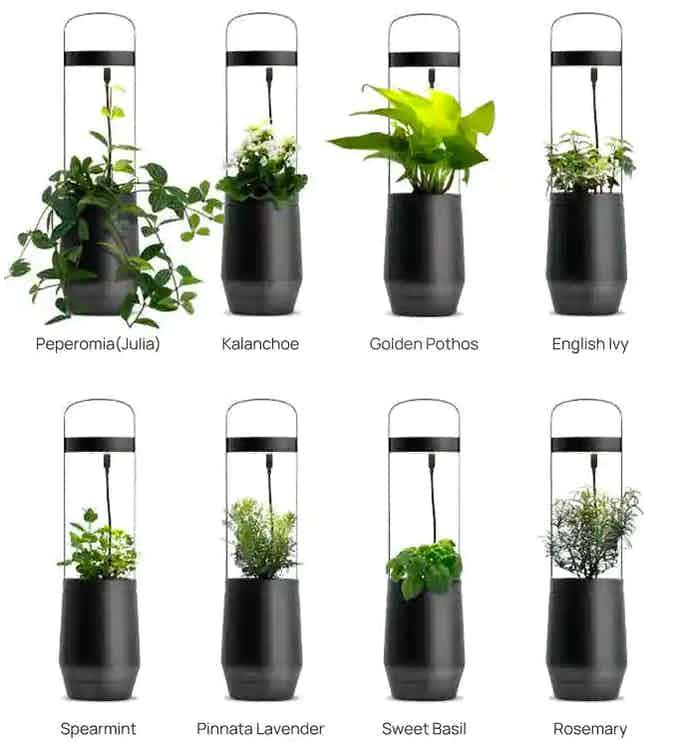 These are some examples of plants. You can grow many more types of plants.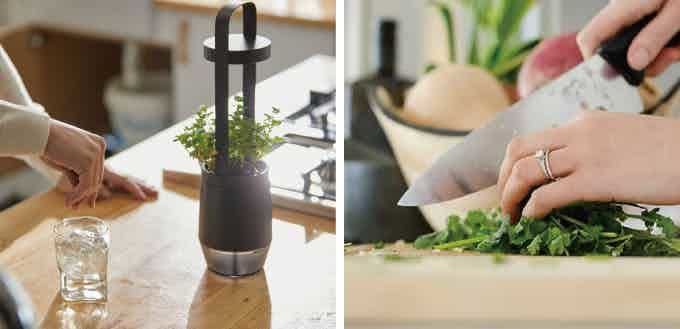 Whether you're looking to grow some mint for your nightcap cocktails or some basil for your next pasta dish, the s∙pot can grow it all and more!


The lighting's height and intensity can be adjusted to provide the right amount of luminosity for each plant.
 Brightness levels per plant type: 100% recommended for herbs and succulents, 50% for foliage plants.
The light settings may differ depending on the plant type, size, and indoor environment. 

The s•pot's U-frame adds functionality to your window, wall, or ceiling by turning it into a space for growing plants. Its unique design allows for easy transportation and portability. It also facilitates growing trailing plants indoors by using a wall hook.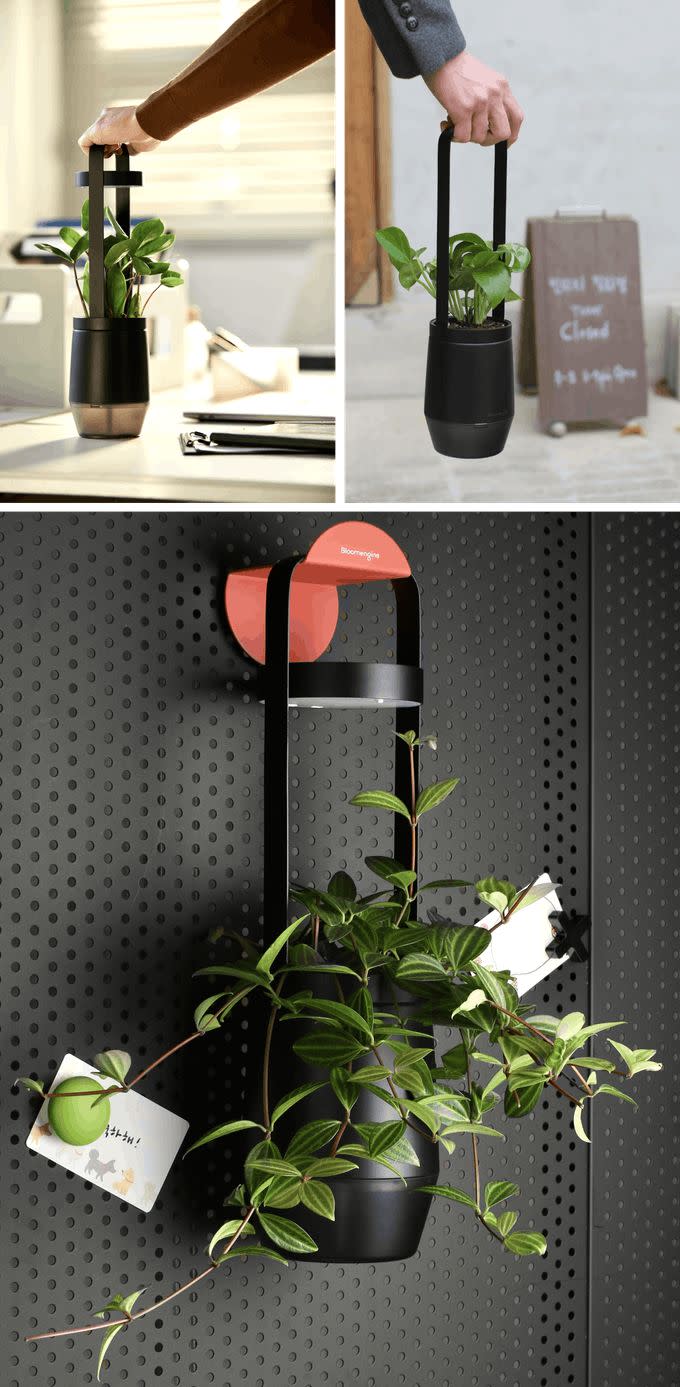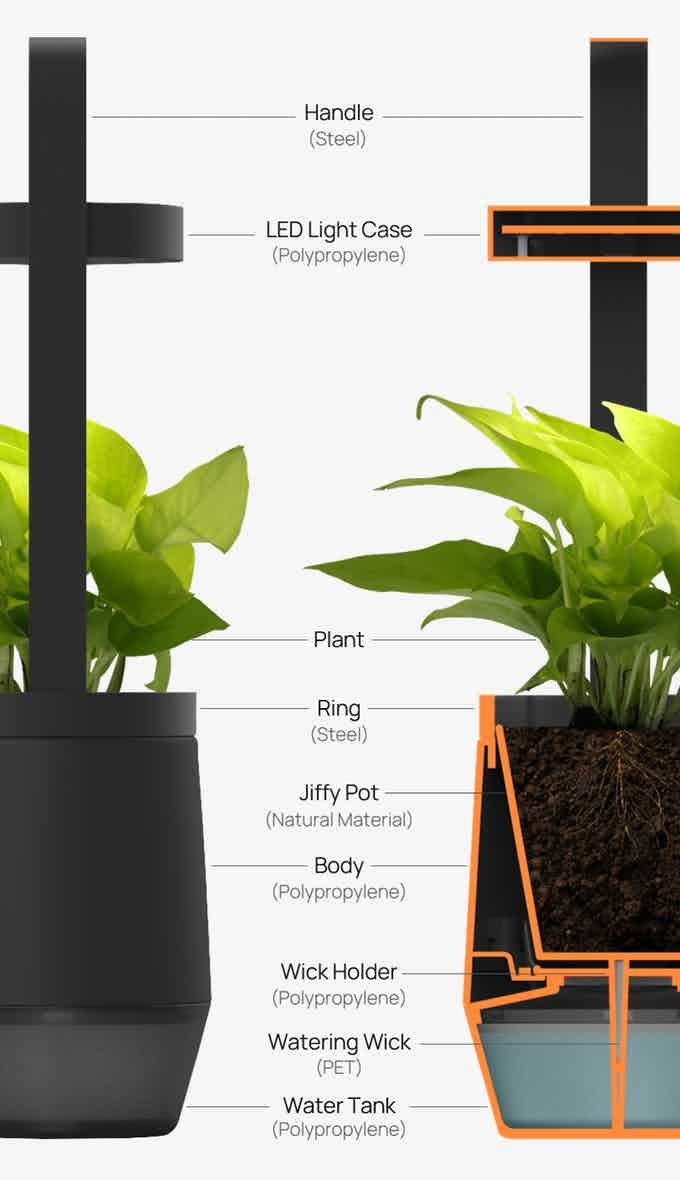 The s•pot is designed to be sustainable and long-lasting. The materials are recyclable and eco-friendly structures (BPA-free Polypropylene, Steel, No glue, Minimum use of screws).

You can connect multiple s•pots to one power source. Connect up to six s•pots by using a USB-C power adapter, three for a USB-A power adapter, and one to a PC.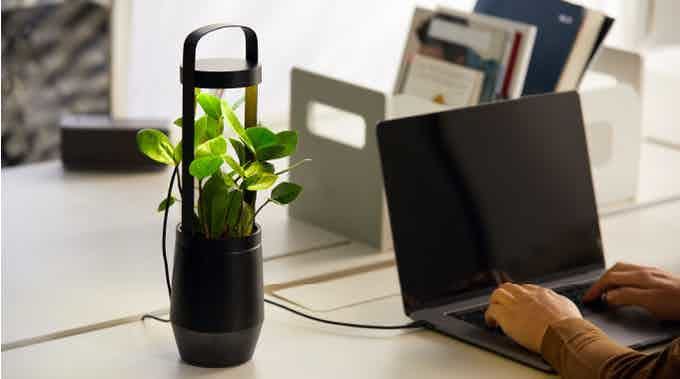 One s•pot can be connected to the USB port of a PC or notebook.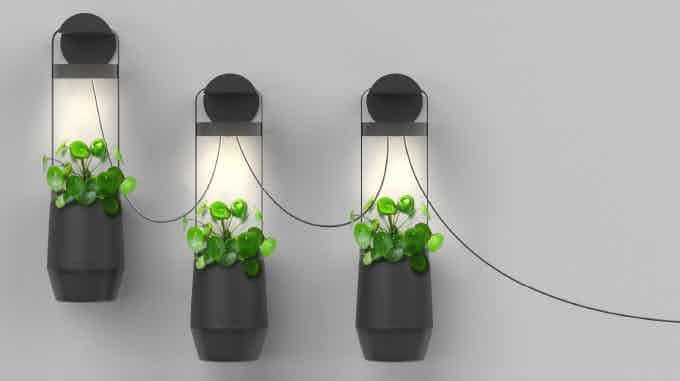 Up to 3 s•pots can be connected to the USB-A type power adapter.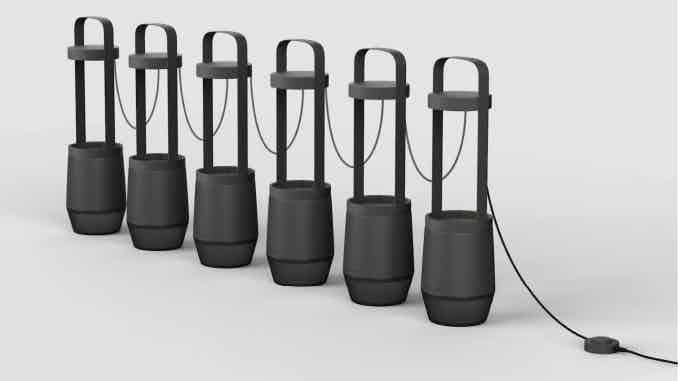 Up to 6 s•pots can be connected to the USB-C type power adapter. The power adapter must support PD and be connected to the optional timer.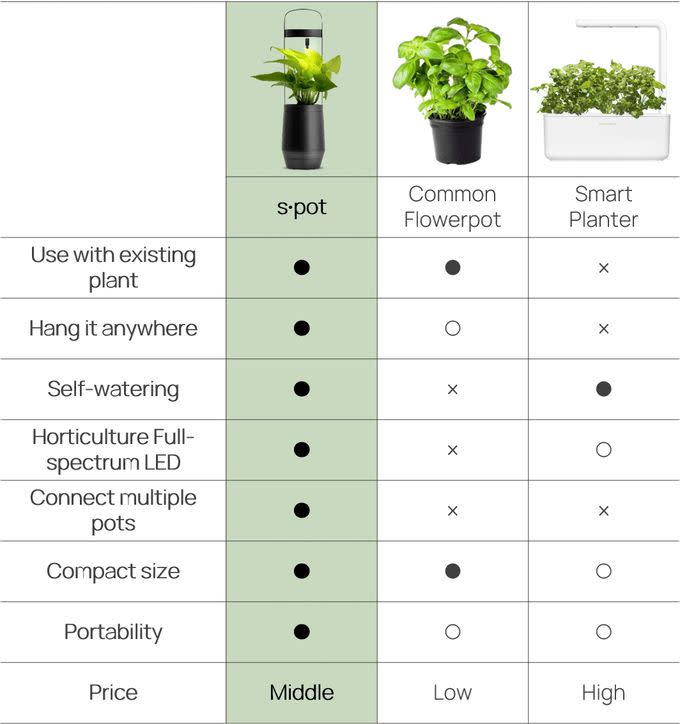 Compared to traditional flowerpots and smart planters in the existing market, s•pot is superior in function, design, and ease of use.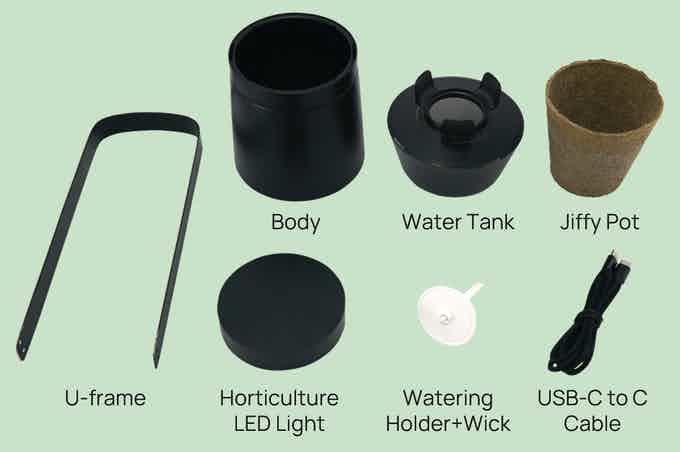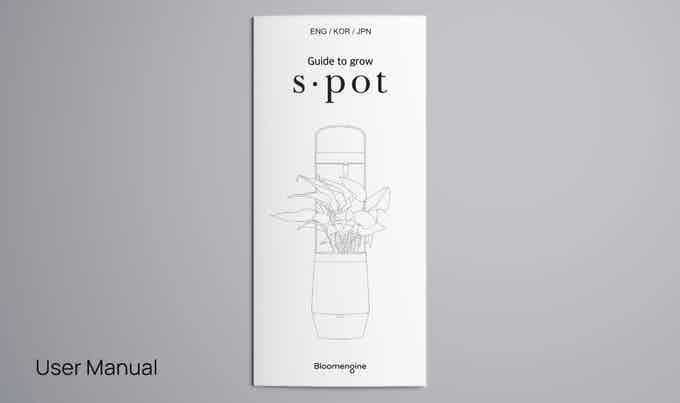 Each box comes with the following: U-frame × 1, Body × 1, Water Tank × 1, Horticulture LED Light × 1, Watering Holder+Wick × 1, Jiffy Pot × 1, USB-C to C Cable × 1, User Manual × 1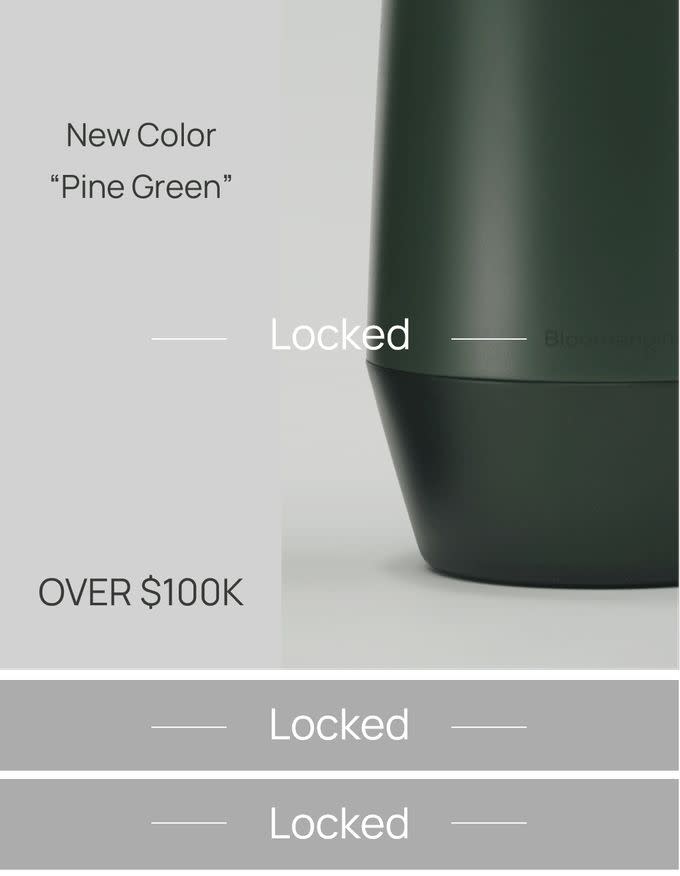 ※ Prepare for using Plant Pot + Jiffy Pot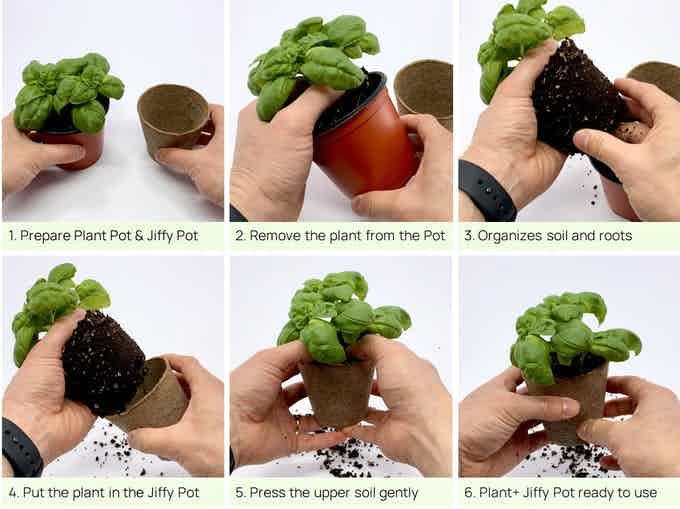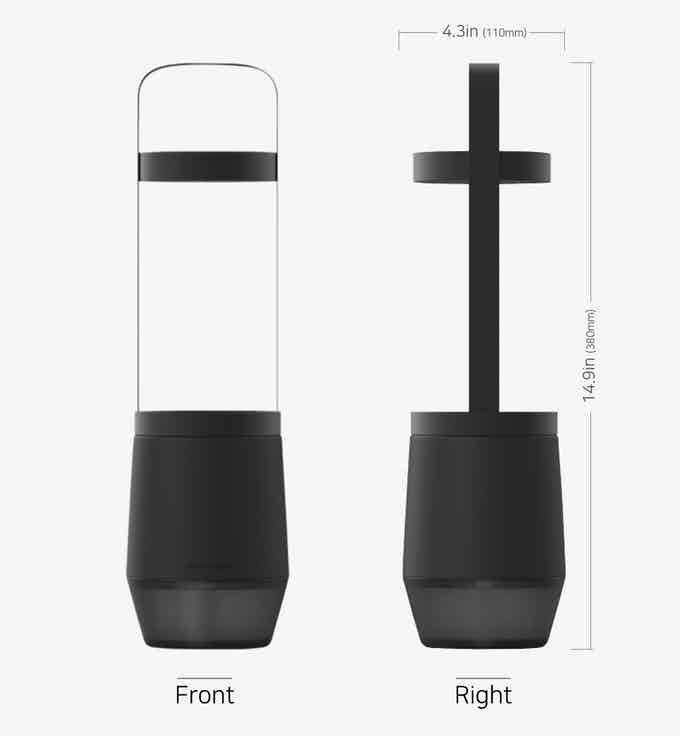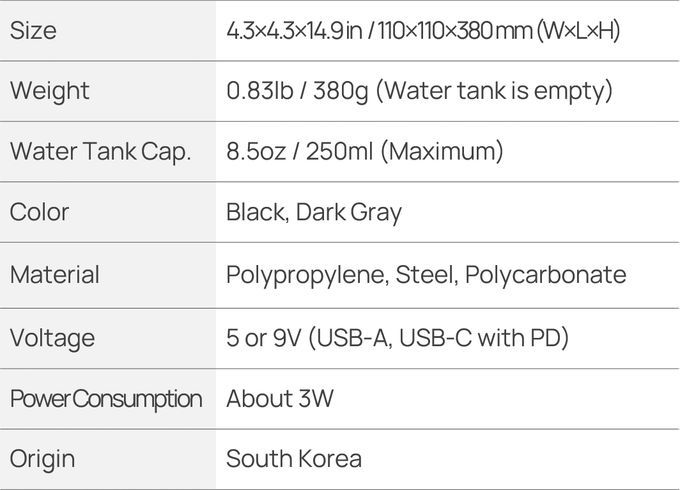 Early design mock-up & final mock-up with electronic circuits for testing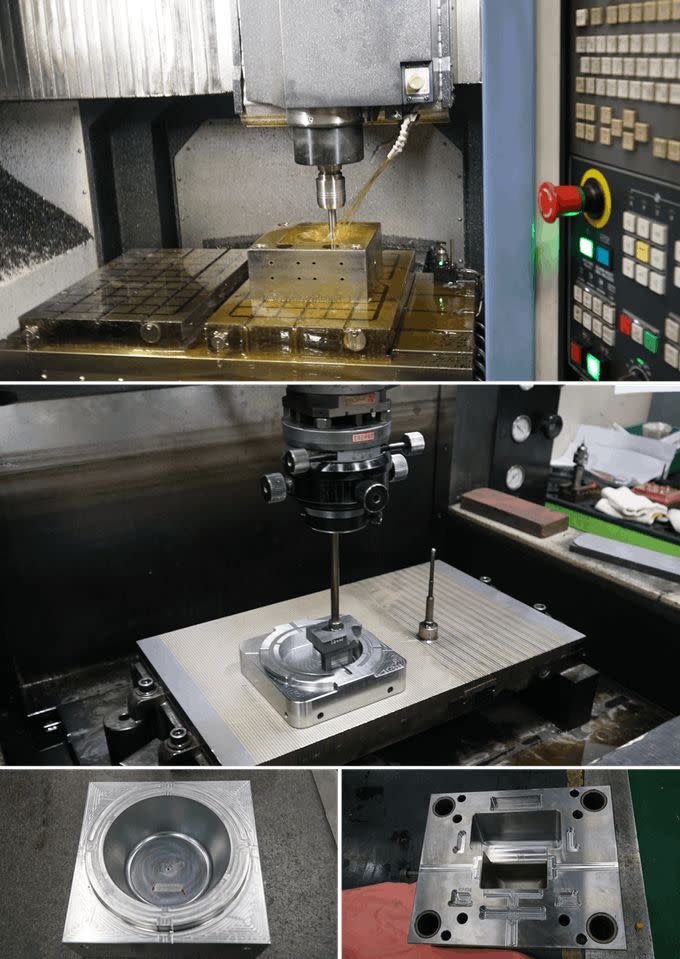 Currently, the injection mold design is finished and production is in progress.
As we developed, released, and sold smart planters, we received various feedbacks from the market and our customers.
Using that as a foundation, we designed the s•pot and completed the development with various Korean partners by materializing the product concept.
We have completed the prototyping and designing of the mold to begin production.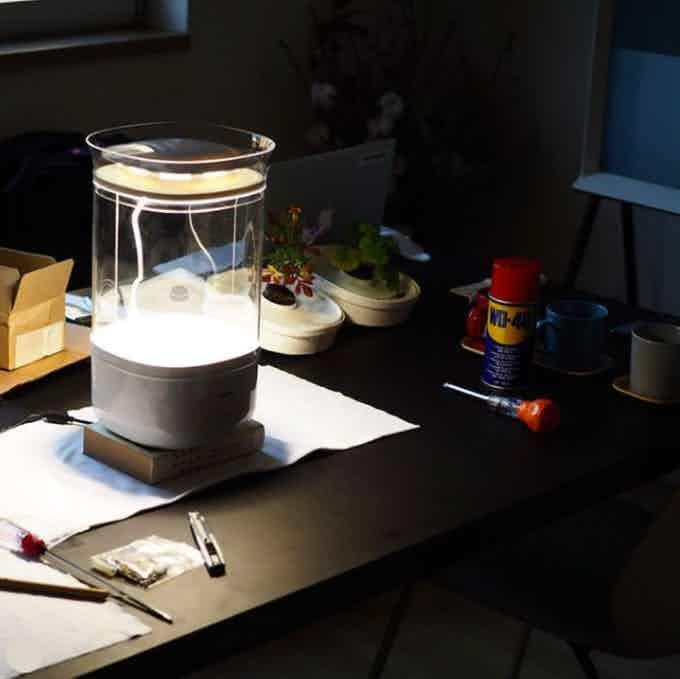 After our first successful Kickstarter campaign, we received a lot of positive and constructive feedback. We listened to our backers and applied your feedback to this next-generation intelligent plant pot in order to create a superior product. We've kept the elements you loved and improved others on a whole new level with the latest horticulture innovations. 
At your request, Bloomengine proudly presents the superior s.pot, the intelligent plant pot that is looking to change the indoor gardening game.
Our core value is to provide the best experience in growing indoor plants. This led us to integrate the latest technology and a user-friendly design. Testing multiple prototypes, communicating with past/potential customers, and developing a better experience has been a great journey.  Now, we are so thrilled to bring this effortless yet complex product to life thanks to your support.