SANDSARA | The Kinetic Sculpture That Draws Infinite Patterns On Sand.

We have been in love with the concept of kinetic sand sculptures ever since we saw them for the first time, but everything available in the market is either too bulky, too expensive or both. Any other options require advanced DIY skills. We wanted to create a no-compromise, affordable art piece that would allow anyone to enjoy a mesmerizing kinetic sand sculpture at home.
So we spent the past year and a half building dozens of prototypes and refining our design, and now we are proud to finally be able to share it with the world. SANDSARA has been obsessively engineered down to the smallest detail to reach our goal of making an affordable sculpture without sacrificing on quality.

Sometimes, it feels like every single second of our lives is filled up with something to do. For millennia, Eastern philosophies have known of the benefits and importance of the simple act of doing nothing, even if it's just for a few minutes at a time.
There is something about SANDSARA that connects to a very primal and deep part of our brains. Maybe it's the perpetually changing patterns drawn in a bed of very fine sand, maybe it's the surprising motion of the sphere that appears to move by magic, or maybe is knowing that every time you look at it, the pattern will be unique and soon will be gone forever.
Whatever that something might be, when you walk past it, it is impossible to ignore. Like looking at the waves crash on the beach or staring into a bonfire. Your mind wanders. Suddenly you are doing nothing but being in the moment.
The name SANDSARA is a reference to Samsara, a concept essential to many Eastern religions like Hinduism and Buddhism. It is meant to represent the infinite cycle in which everything is born, lives, dies, and is reborn.
It implies all of our actions are connected with the universe. All the things that have happened before have brought us to the place we are standing right now. And every action we do today will affect everything else in the future. Everything is chained in a never-ending cycle.
Seeing the sequence of new patterns forming while erasing the previous ones, made us think of this beautiful concept that fits perfectly with our purpose of creating an experience that lets you take a break, reflect and restart.
Beautiful inside & out
Spending so much time and effort perfecting the inner workings resulted in the development of an extremely compact, yet powerful mechanism that opened the door to an outer shape, unlike anything that exists out there.
Don't let the streamlined and subtle design fool you, thanks to our innovative mechanism, SANDSARA is able to move the sphere right into the very edge, thus allowing it to draw large paths that fill 100% of the sand bed. With all of that wasted space gone, we focused on creating an elegant form that immediately catches the attention of everyone who enters the room.
Infinite artworks in one single object
Creating new paths for SANDSARA is incredibly simple. Not only will you be able to choose from over 100 patterns from our growing library, but building your own patterns is very easy, as it understands X and Y coordinates. 
Our iOS and Android app also allow you to download new patterns or translate existing polar or .svg ones, which means you will be able to load pretty much any path you want. The possibilities really are endless.
Experiment with motion. Create new trajectories. Enjoy all the designs you can imagine. 
Living art
SANDSARA is not just a captivating piece of art. After spending some time appreciating it, it seems like something greater. Like a new kind of life form creating unique and surprising patterns, always evolving. 

A gift to make a difference
We express ourselves in many direct ways, but also by the things we give on special occasions. SANDSARA is the perfect gift for those who enjoy harmony and elegance. A unique present that will stay in their memory forever.
The Frame
Every part of SANDSARA is exceptional, making it an outstanding product. We designed a beautiful frame that outlines the sand patterns and gives a fine touch without stealing your attention. The 45° chamfer in the edges is a subtle detail that merges the wooden frame with the sand bed into one.

Our Collection
Our unique mechanism allowed us to build SANDSARA in irregular, complex shapes. We wanted it to be a beautiful object on its own.
The Halo
The design is sober and timeless. It blends in perfectly in any room, the complex sand patterns are contrasted with the subtle circular shape.
The Stelle
Its form is meant to be the center of attention in any space. The design is eye-catching and it immediately becomes a conversation piece. The sand patterns precisely delineate the six-pointed star shape for an extra dose of wonder.
Choose your favorite or collect them both!
Note: All paths are compatible with both The Halo and The Stelle out of the box, the internal software features a shape avoidance feature that makes sure paths fill out 100% of the sand bed of each shape.
The technical details
One of our main goals was to keep the overall size of SANDSARA as small as possible while maintaining a larger surface for sand patterns. 
To achieve this, we developed our own custom mechanism based on a SCARA design.
Compared to cartesian or polar designs, SCARA provides unique advantages to maximize the usable area and keep the overall footprint small. This allows us to create The Stelle, which would be impossible using other kinds of mechanisms. 
 While using SCARA provided additional challenges in the logic and software, as the X and Y positions needed to be solved using inverse kinematics, it was a challenge we enjoyed and was quite worth it.
The final result is a streamlined piece of art that wastes no space and has a large sand bed, allowing the patterns to go right into the edge of the frame.
We wanted to allow anyone to very easily create new patterns for SANDSARA. Programs are simple .txt files with XY coordinates, we handle all the complicated inverse kinematics math internally. For the Stelle, the software even handles the shape-avoidance, this means the exact same programs work in either the Halo or the Stelle. 
Programs can be created in any way you want from purely mathematical methods to manually describing trajectories point by point, we will also provide a handy POLAR or SVG to XY converter, so existing programs can be translated to SANDSARA. Programs can be loaded just as easily, using our iOS or Android app to send them via Bluetooth.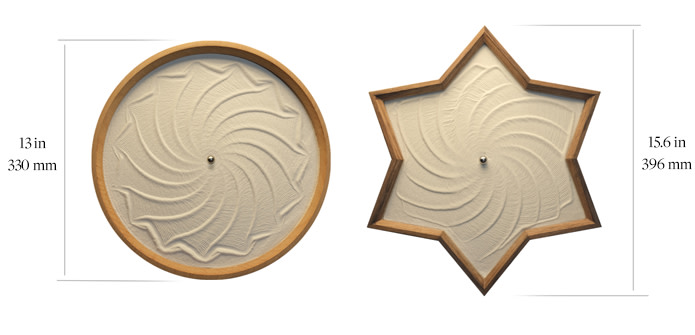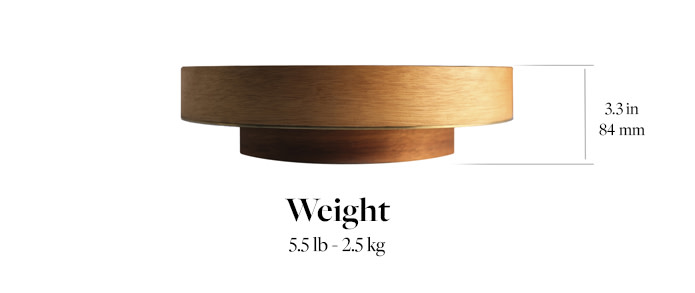 Add ons
One of the strategies we used to try to keep the product accessible to everyone was to make some of the features optional. While all of our versions share the same solid wood frame and identical mechanism and electronics, we offer some upgrades for people who want to crack it up to eleven. 
The AURA add-on integrates customizable RGB lighting beneath the bed of sand. Taking advantage of a phenomenon known as Frustrated Total Internal Reflection, light is spread evenly throughout the surface, and the whole sand bed appears to be made out of light. Ridges look darker as sand accumulates and the sphere leaves a trail of light anywhere it passes.


Ideal if you have pets or kids, or if you want to keep dust and impurities away from the sand.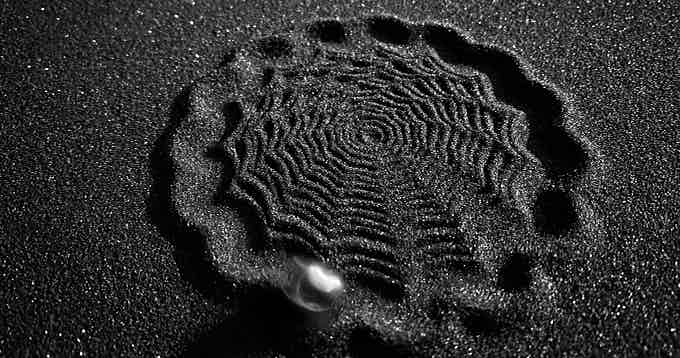 A perfect and simple way to customize your SANDSARA, The Black Sand gives a unique touch and gives the patterns a new personality.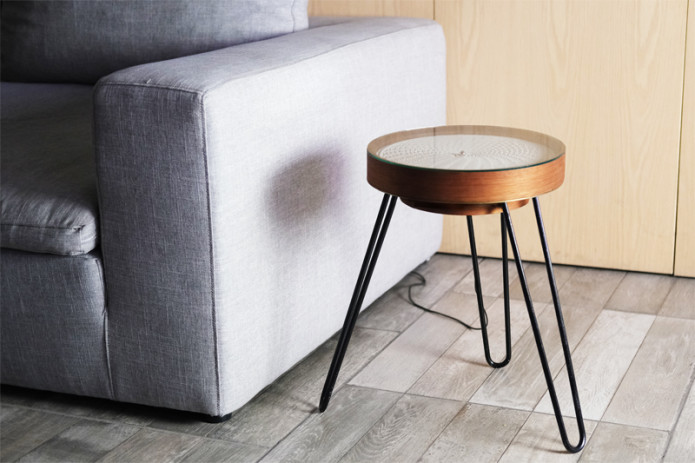 This elegant support is going to let you display your piece wherever you want. It has the exact dimensions to hold it securely, and if you also get the tempered glass cover, you'll have a beautiful side table that is going to make your room an unforgettable space.
You'll be able to include the Add ons to your order, once you receive your fulfillment survey in your email. If you have any questions, please send us a message to [email protected]
Rewards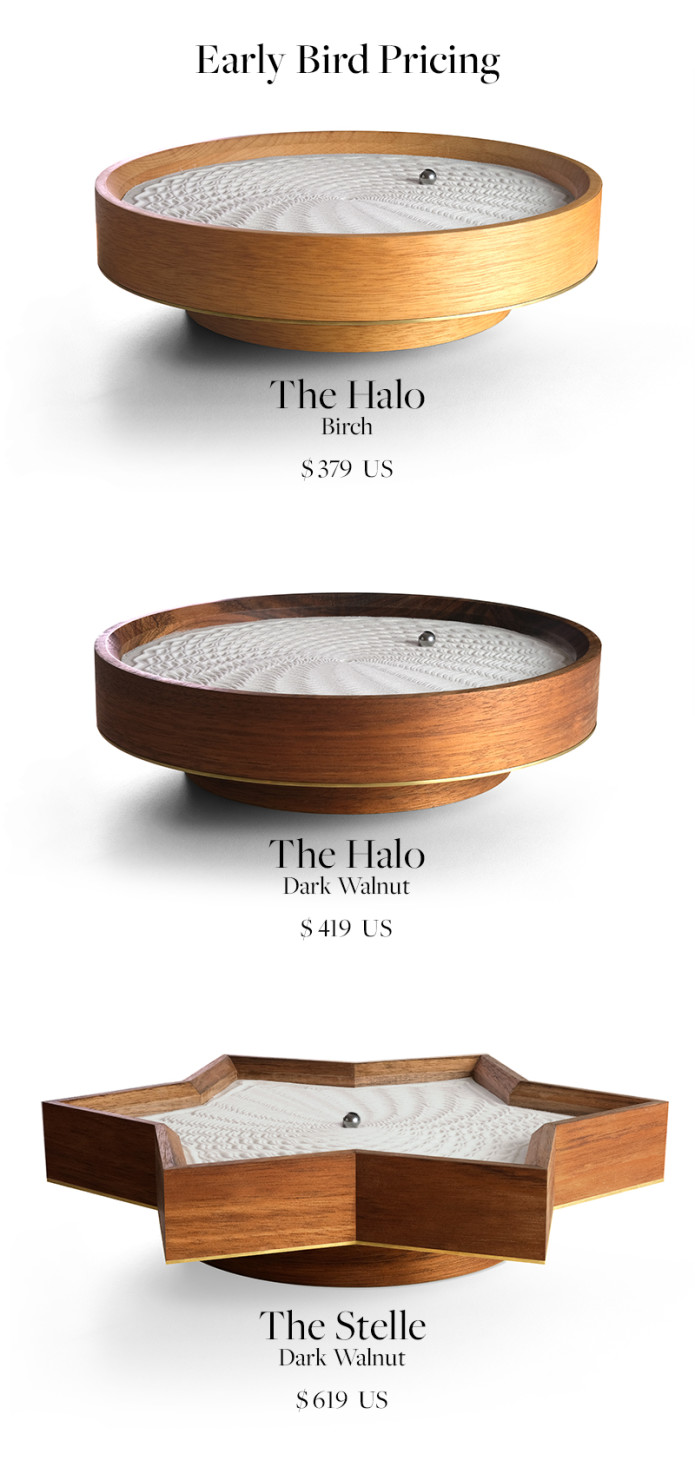 Our team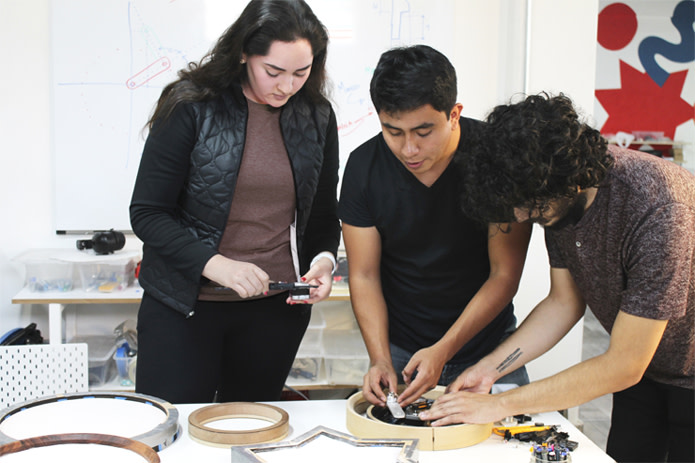 I've been obsessed with creating SANDSARA since a long time ago. One of my closest friends and I launched the first version of this product on Kickstarter in 2018, and it was more than 700% funded!
Seeing such a good response from the backers during the campaign, made us realize we had something special in our hands and we could make an even greater product, so we decided to go back to the workshop and create the best possible version.
I worked with engineers, programmers, and designers who were as passionate about the project as I was. We were dedicated to improving every single part of our project until we did it.
Greater mechanism. Exquisite design details. A wooden shape like nothing ever seen before. New features we are sure you will love. Now that we are fully satisfied with SANDSARA all we need is your help. Back this project so we can make it reality!
Shipping
To offer you the best possible price on shipping, we decided to charge for it in the post-campaign surveys. This will allow us to customize shipping methods and carriers based on exact shipping weight and content, instead of setting a fixed higher price to cover every single possible option.
The process is simple, once the project ends you will receive an email with a link to fill out your address and pay for shipping according to your order. Prices may vary according to your country and the weight of your package.
Since shipping prices are calculated just before sending the rewards and are based on your specific reward selection and location, we can't provide an exact shipping cost. However, we created this handy table with some possible reward and location combinations using current shipping rates so you can get a sense of how much shipping will be for your specific order.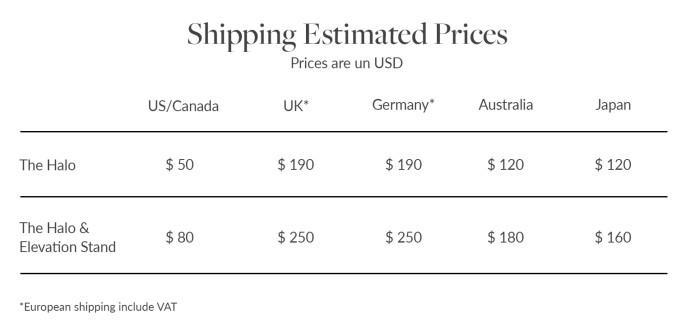 This project is promoted by Jellop, the ad tech power behind the best Kickstarters with 1,200+ successful Kickstarter projects with over $470M raised between them.
More than $15,000,000 has been raised with Sprint's support