Sated. Ready to Drink Keto Meal Shake | Sated. Ready to Drink Keto Meal Shakes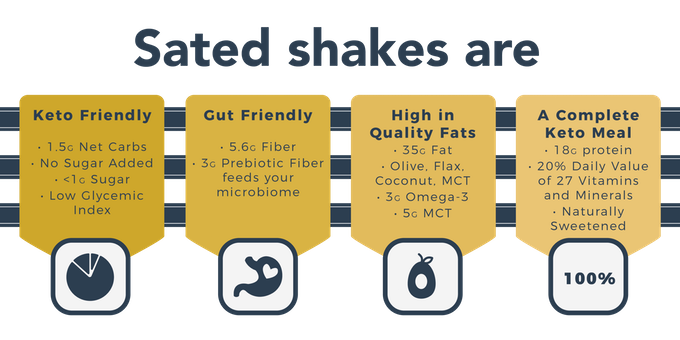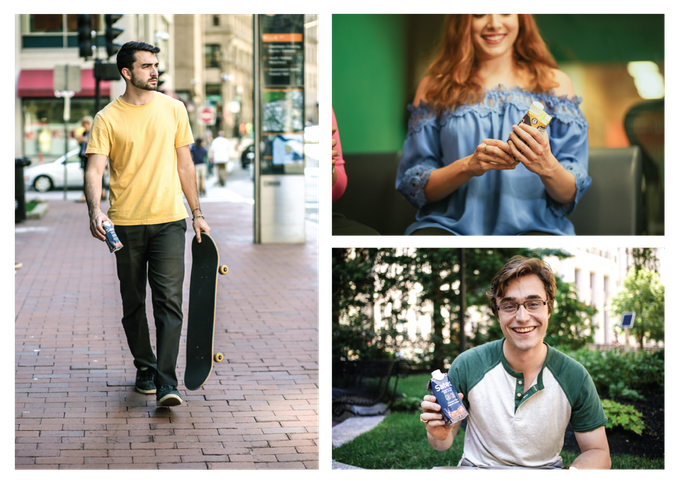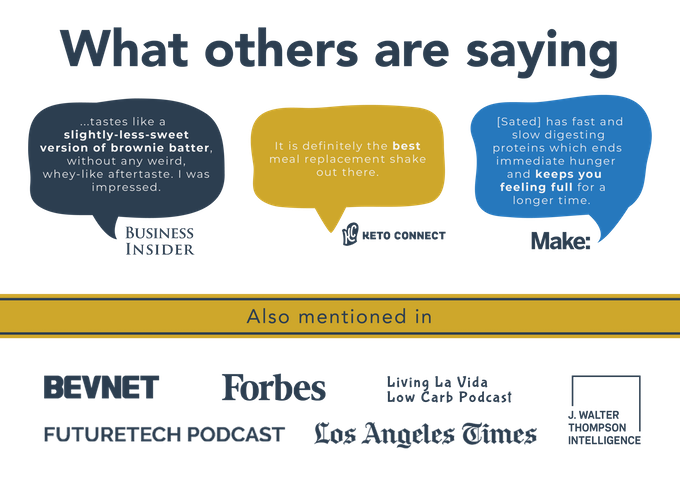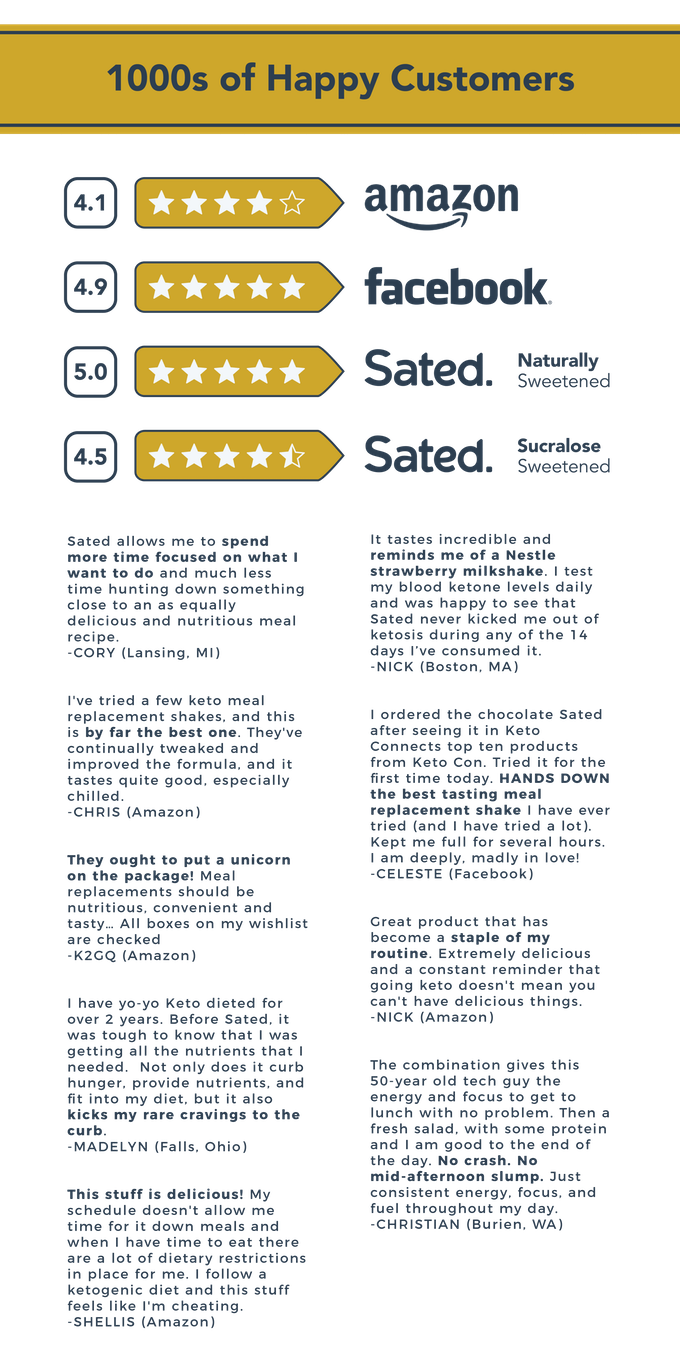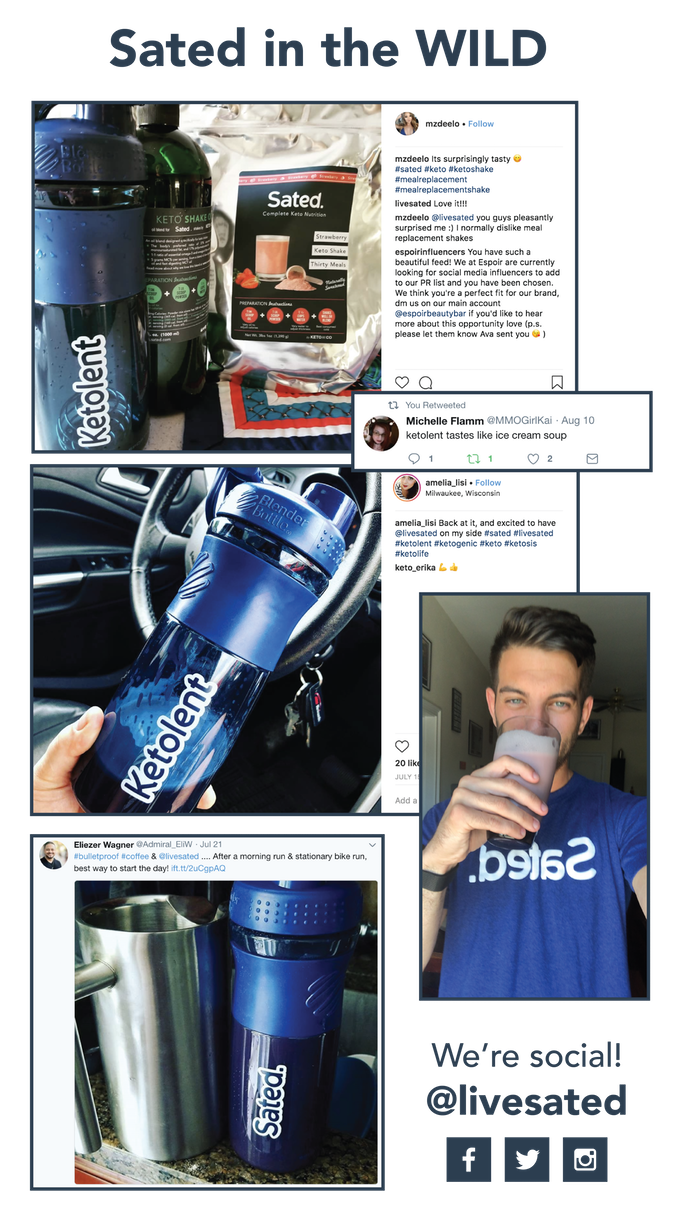 How Does it Taste? 
Pretty good.
100% Satisfaction Guaranteed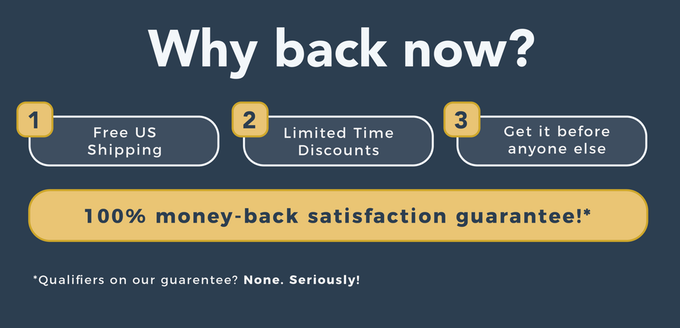 If you don't love it, for any reason, send it back and we'll refund all of your money. We'll even pay return shipping.
For pre-sale orders of more than 1 case, one case will ship first to sample so you can make sure you love it and it fits into your lifestyle. Once you give us the go ahead, the rest of your order will ship on whatever schedule you like. 
If you order more than one case, we will ship it to you on whatever schedule you want (all at once, one a month, two a year, etc)
International: If you'd like to buy the item from a foreign country, Reship.com offers international reshipping. Each 18 pack weighs about 15lbs at 14 x 7.5 x 5.625 inches.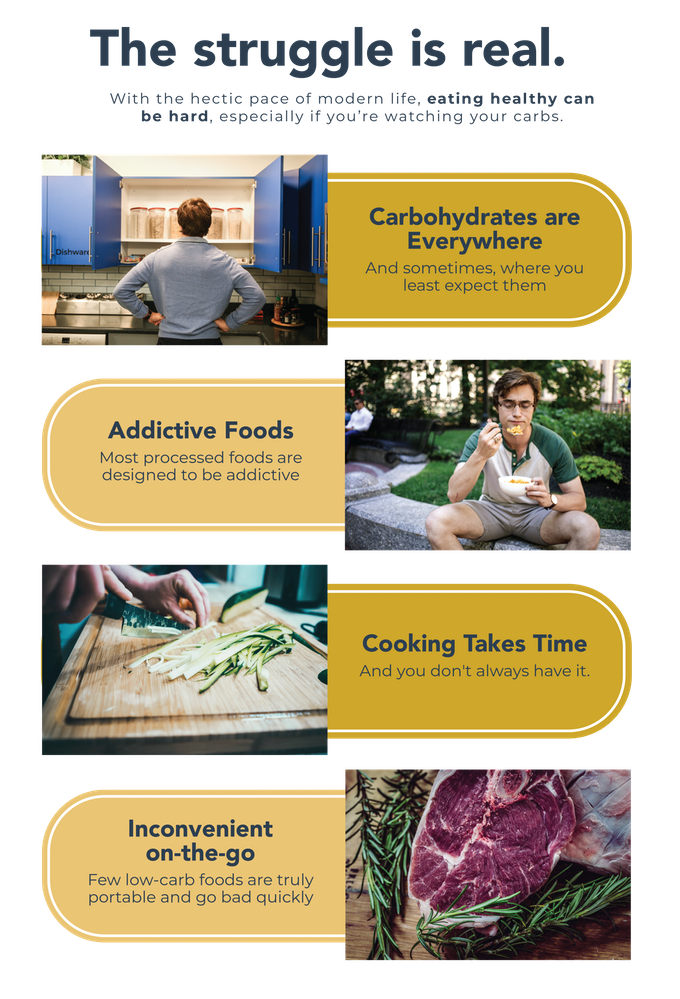 Let's Talk Nutrition and Satiety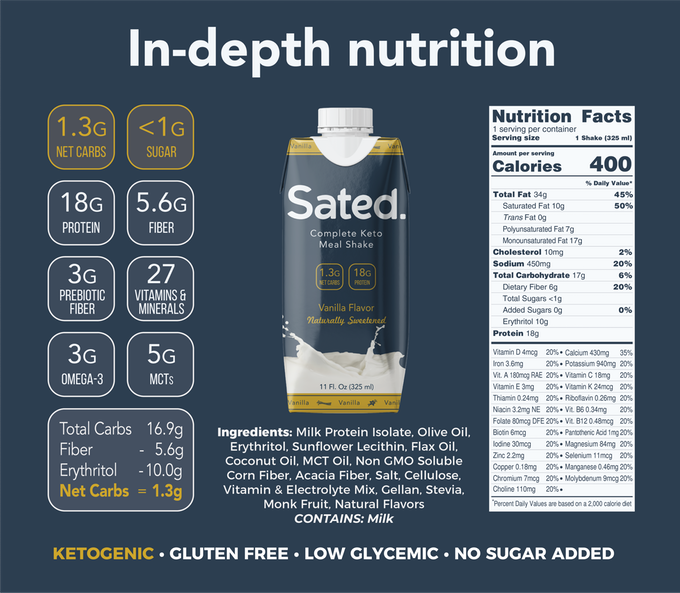 The above ingredients are for the base Vanilla formula.  Other flavors will usually have additional ingredients added (e.g. chocolate adds cocoa powder, strawberry adds freeze dried strawberry and freeze dried beet, mocha adds cocoa powder and coffee) the extra ingredients will add up to 1 gram of net carbohydrates.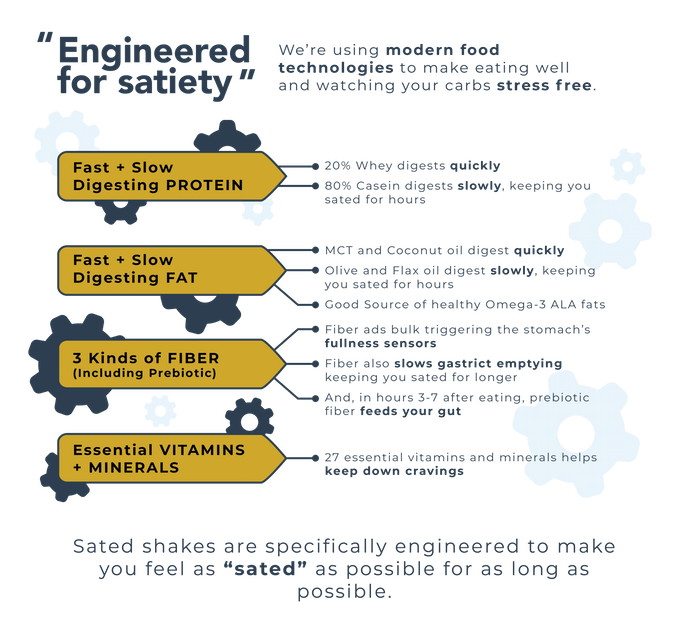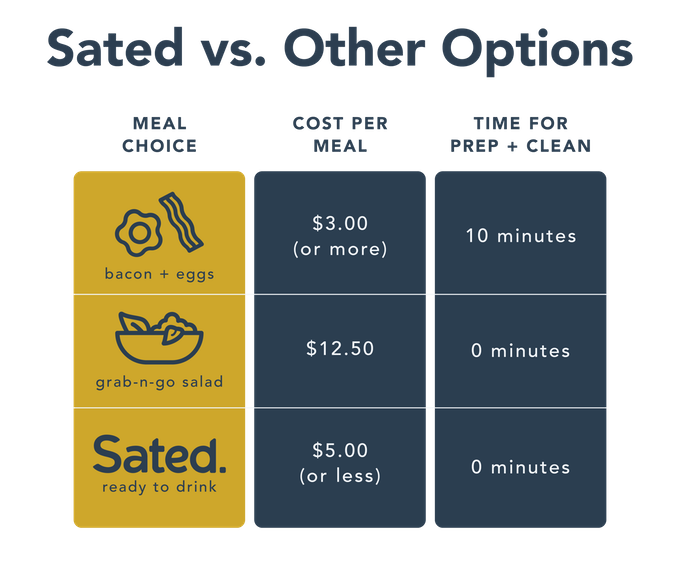 These are all great options. You don't have to be anti-cooking to love the convenience of Sated shakes.  When you have time to cook, cook. Whenever you don't, there's Sated.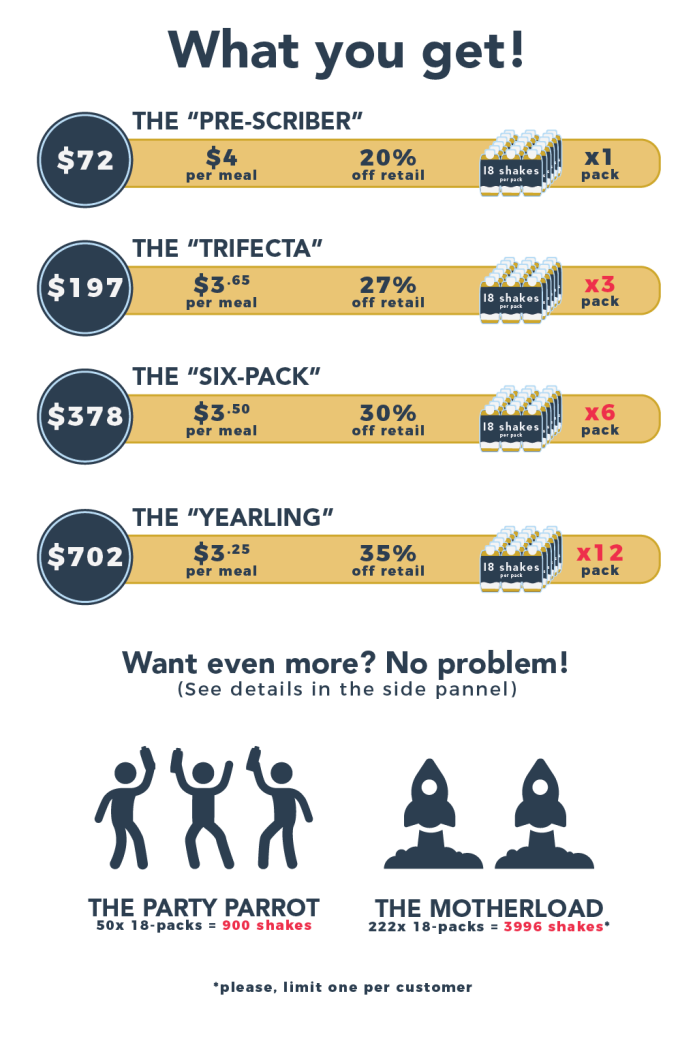 Flavors
Vanilla and Chocolate.
Production
Sated started producing out of a small shared kitchen and shipping out of Ted's apartment. Fast forward four years and we've grown into our own 10,000 square foot manufacturing and warehouse facility with contract manufacturers and warehouses across the country.  
Since our customers rely on us for their meals, we take our job of getting the product to customers quickly and consistently very seriously. We are proud to be able to say that 99% of our orders have shipped next business day, and that the longest stock-out on our shakes was just 4 days. 
We're excited to take our experience in manufacturing, shipping and outstanding customer service and extend it to the ready to drink product line and our Kickstarter backers! Welcome to the Sated family.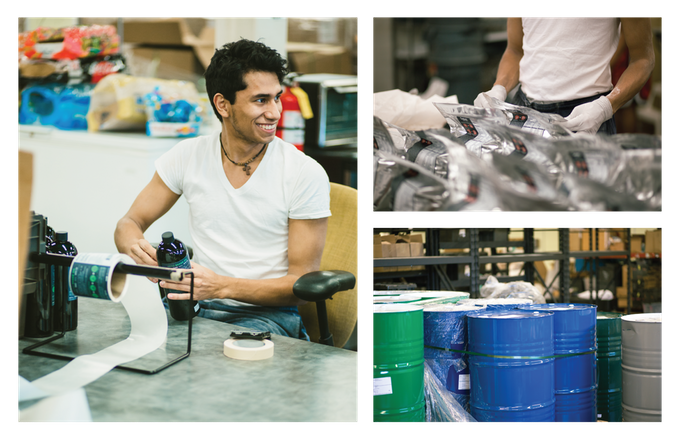 Timeline
We started selling our first keto meal shake in December of 2014.  After selling out of that first run in just 5 days, we've more than doubled every year since.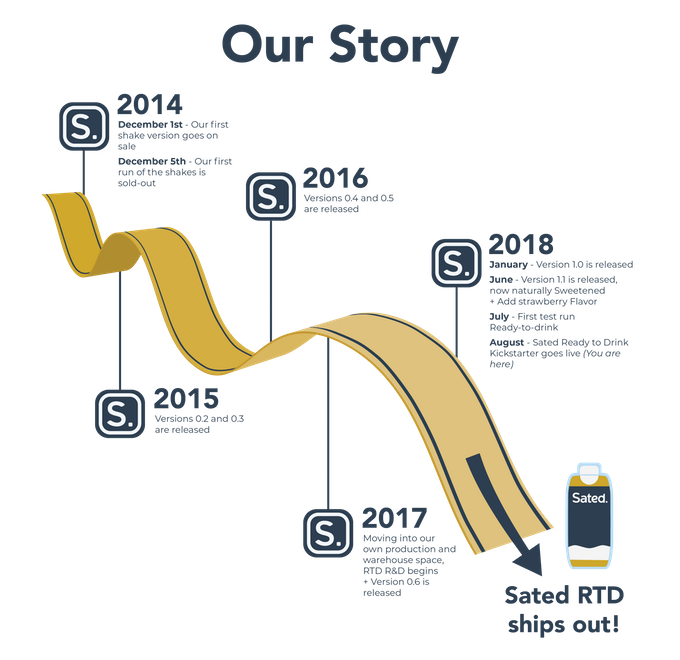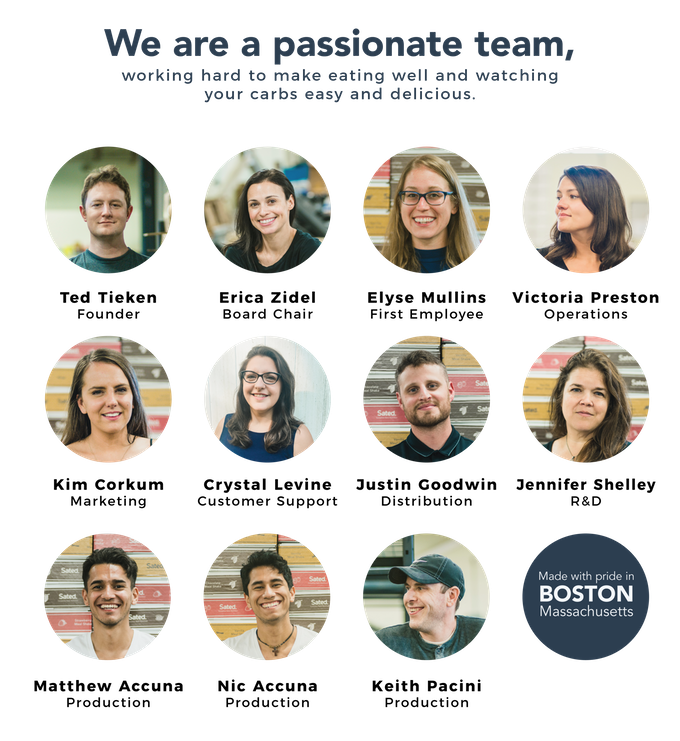 Let's Talk
Questions?  Comments? Concerns?  Our official discussion forum for this campagin is at reddit.com/r/sated
Prefer to email us instead?  [email protected]
Want it faster?  Sated's Mix-it-yourself keto meal replacement shakes ship next business day, with our same 100% money back guarantee. 
Want to help spread the word? Share the love with our referral program and possibly earn your reward for free!
Want to find us on Twitter, Facebook, or Instagram?  <– follow those links @livesated and #livesated