Saucy Mouth Truck- Food To Fill Your Face! | Help us live our bay dream life by running a Food Truck in Bonavista, Newfoundland.

Who the heck are we?
Brad Gover is a self-proclaimed gastronome who has worked in the food business for over ten years, taking on numerous kitchen roles in restaurants in St. John's, Newfoundland and Whistler, British Columbia.He is also a film and media producer who is very active in the local film industry. Brad likes old Hollywood movies, Jeopardy and has a cat named Marvin.
Allyson Howse has over ten years of experience in the food service industry in Newfoundland and Nova Scotia. She has also been involved in tourism on the East Coast of Canada, Ghana and Peru, and has visited and dined in over 20 countries.  She has worked in the Nonprofit and Charitable sectors for over ten years, raising thousands of dollars for organizations through innovative events, like Drag Bingo! Allyson likes horror movies, hot tubs and has a pug named Charlie.
What We Needs & What You Gets
We are hoping to raise 10,000 bucks though this campaign! It might seem like a whole bunch, but the restaurant business is hella expensive. Specifically, we are looking for funds to help us with the following things:
Equipment-$1500- Like a commercial rice cooker, Food processor, Lemon Juicer, etc.
Generator- $5000- This is to help us come serve you at your event outside of Bonavista.
Electric Hook up- $1500- Our 30amp plug and meter is not cheap. Thanks Barry! Ha
Compostable/Recyclable Packaging- $1400- Gotta take care of the planet, yo. 
Soda Machine- $600- How else we gonna get you fresh bubblies?
We have set up all kinds of sweet perks to get your engine revving and give you some great reasons to throw us some bills. However, If we don't make out entire goal, it's ok! Every penny we raise here will go into getting our business up and running and fabulous.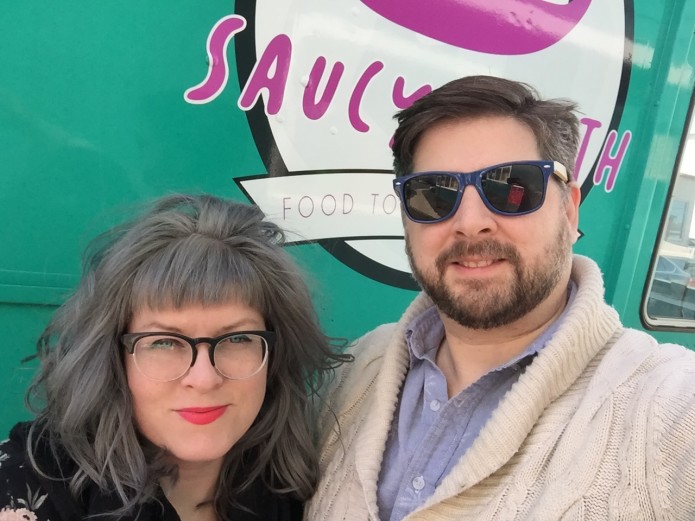 Lend these Lovebirds a Hand!
We are so excited to open a business together, and to add to the already amazing list of businesses in Bonavista. Keeping our rural communities vibrant and our culture alive is so important in Newfoundland.
We also think that keeping our minds on how much waste we produce, supporting local where possible, reducing our ecological footprint, and offering healthy options that EVERYONE can eat are great goals and are the cornerstones of our business model. 
What's Tough
Opening a food truck in Newfoundland ain't easy. Nobody lives here for the winter weather, amiright? For that matter, opening any type of food based business anywhere is tough. About 50% close within their first year. EEP!
However, the overhead for a Food Truck is MUCH less that opening a brick and mortar establishment, so that reduces our risk by A LOT. And we are fully mobile, which means that we can follow the opportunities as they present themselves. Lastly, there are only a small handful of food trucks in the province, and not one that is doing what we are! 
All we know is that we have put everything we have into Saucy Mouth, and overcome SO MANY hurdles on the way. And THAT'S why we think we are going to do well….we are just going deal with what comes up and keep on truckin'.
Got no Cash? Ain't no thing!
Not everyone has a few bucks to share, and that's totally cool. You can still support us by sharing our IndieGogo page, liking and following us on Facebook, Instagram, and Twitter. You can find us at @SaucyMouthTruck, so get right on that will ya?