Save the Grape, Drink the Grape | Invest in Pinot Noir from the award-winning Willamette Valley and drink it at half price.

Hi! I'm Mai, and I started maivino because I wanted to make high-quality wine affordable for all by eliminating waste in the wine industry.


This year, while sourcing for red wine, I was shocked to learn from a 2nd generation winegrower/maker from Willamette Valley, that tons of high-quality, Pinot Noir from the award-winning Willamette Valley, were going to be left to rot on the vine. 
These grapes were not getting picked because when there is a glut of wine in the market, small growers who don't have long-term contracts have a hard time finding buyers. Many are forced to make wine and risk not selling it, while others will just let the grapes die. 
That's when eureka struck – I realized, that if I saved these grapes, I could deliver high-quality wine at half the price.  So in October, I headed to Oregon to put a down payment on the grapes and help harvest it. I now need your help to make these grapes into fine wine. Your upside? By investing in these wines, you'll get Pinot Noir from the award-winning Willamette Valley at half the price.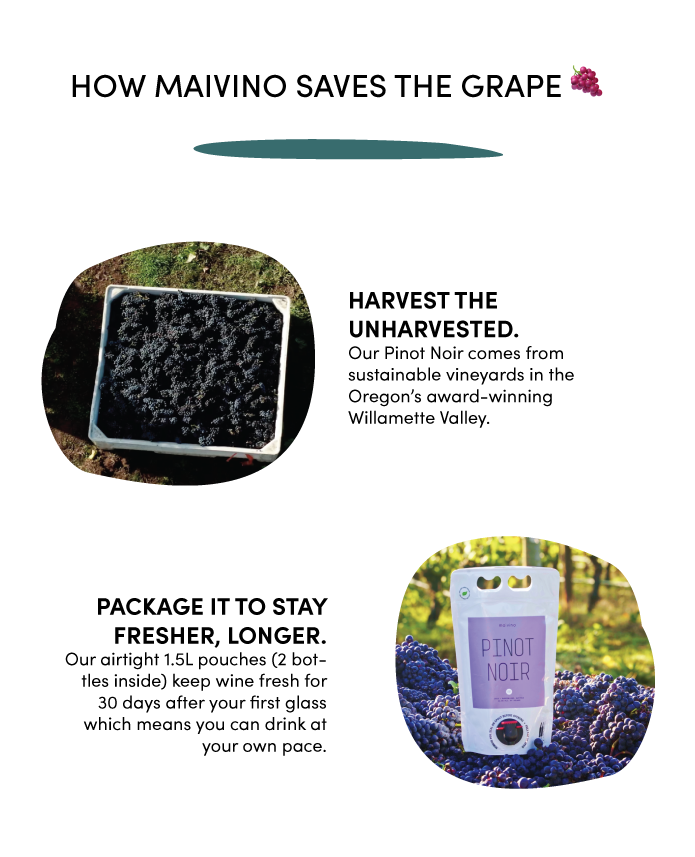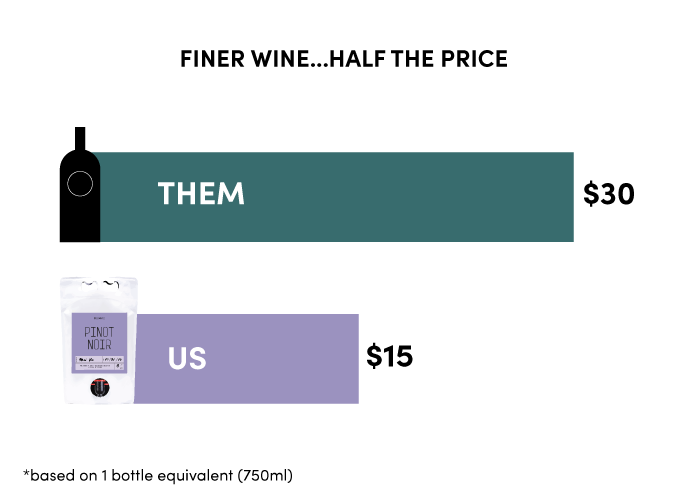 Our winemaker uses the same grapes to make wine that has a 4.2 rating on Vivino and retails at $30. By saving these wines we can deliver them at half the price.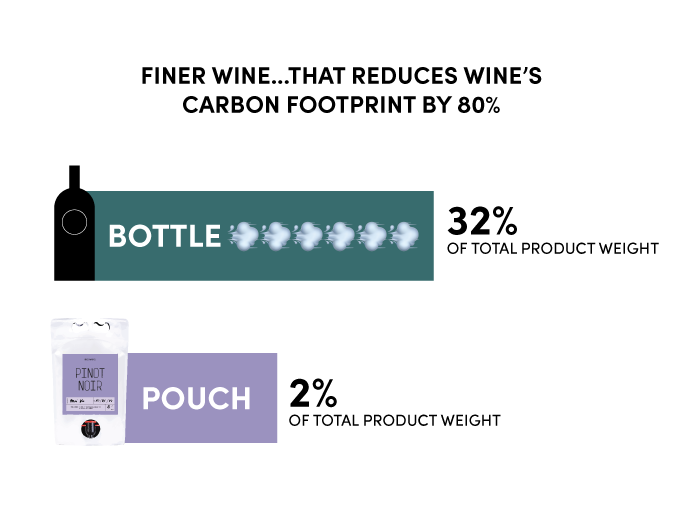 Not only are we reducing grape waste, but also lowering wine's overall carbon footprint by 80%. The transportation of our lightweight packaging produces drastically fewer greenhouse gases compared to that of a bottle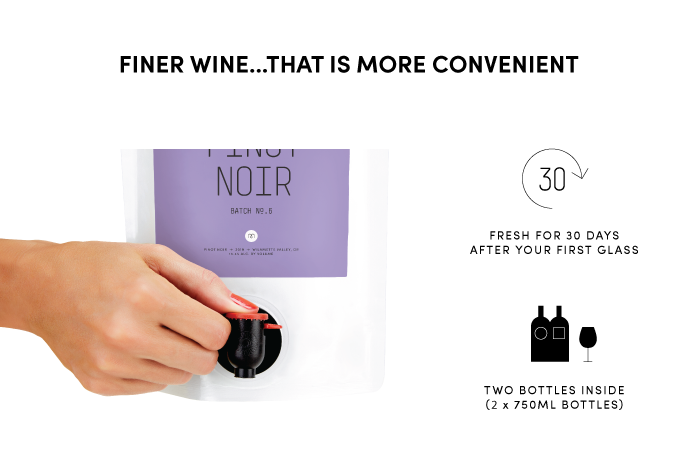 We package wines in an airtight pouch that keeps the wine fresh for 30 days after opening which means you don't have to commit to the bottle. 

Backers will receive their name or the name of their choice on the front label. Once the reward has been purchased, backers will be emailed for names.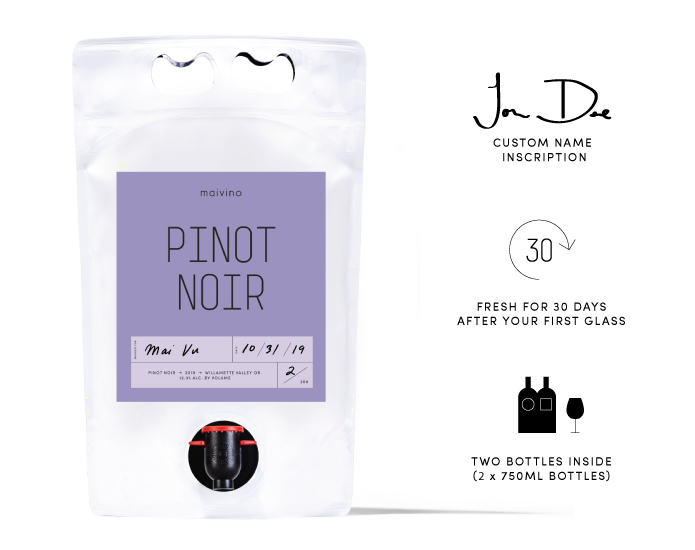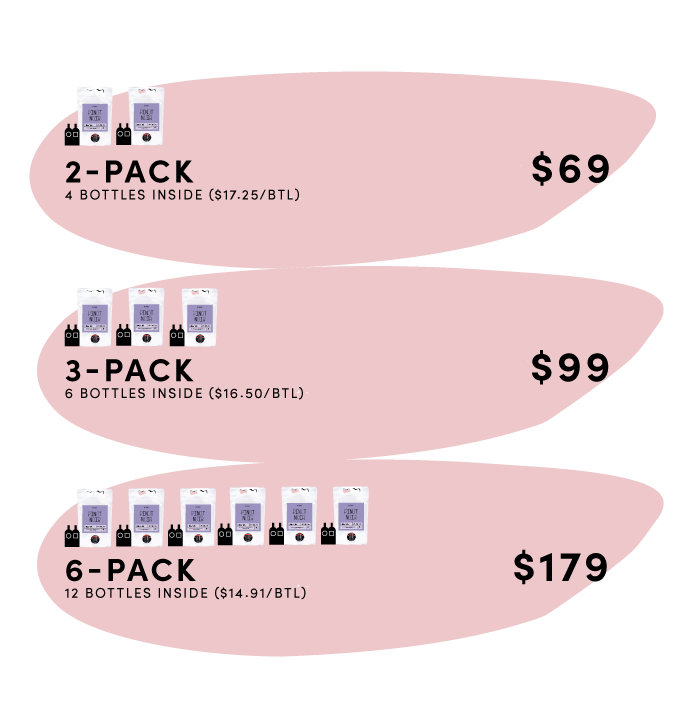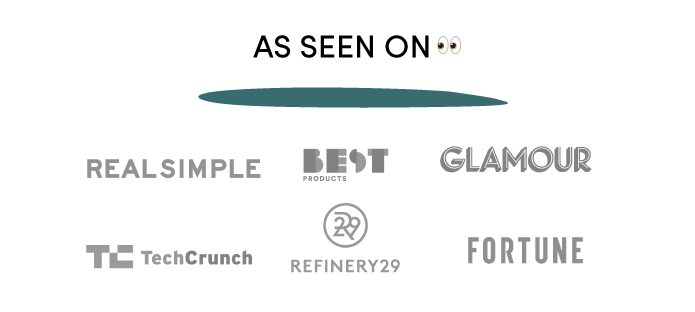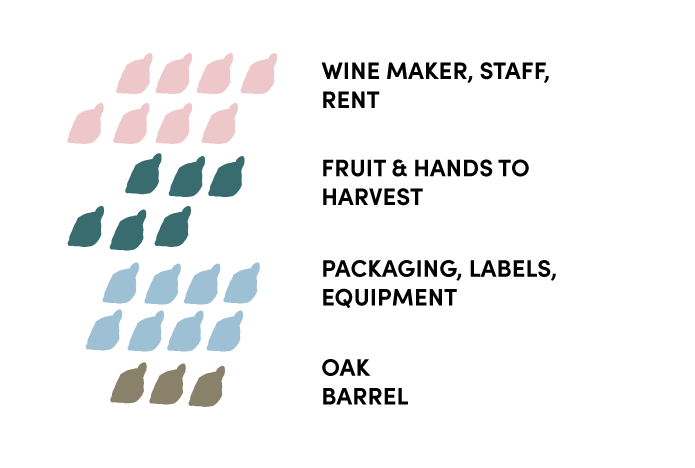 Making wine takes time. Our Pinot Noir is hand-harvested at the break of dawn. It's not an easy task, but it means that we've touched every grape and removed all the funky ones. That requires land, experienced hands-on deck, and great equipment. However, wine is not all romance – the cost of making is more than sweat. Making it includes all the unsexy stuff – packaging, tape, labels, rent, the works.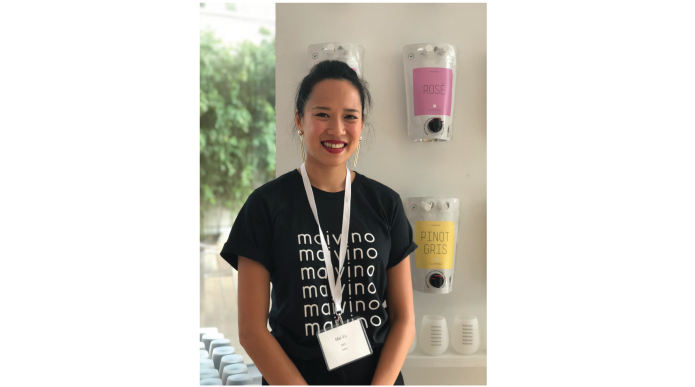 As an advertising executive, you're paid to tell stories, some true and some less true. After an exhausting decade of storytelling, I came to the realization I just wanted to tell the truth. Lucky for me, this thirst to tell the truth coincidentally happened to overlap with my love of wine.
My eureka moment happened while drinking bagged wine. LOL. It was the first time I had it since Franzia in college, but it was surprisingly tasty the first day, the second day, and thirty days after that. Out of intrigue, I started down the rabbit hole of researching the industry, taking WSET certification courses, and befriending winemakers and growers only to realize that the wine world was backward and those that end up paying for it are the consumer. 
These events inspired me to create a company that great wines without trappings of tradition. Though we use different techniques to get great wines, our ethos remains constant – high-quality wine at affordable prices. 

In case of failure to send the reward, we will give a full refund. We acknowledge that because of the regulations and our shipping capabilities we will not be able to ship to  RI, AL, DE, UT, MI or overseas. We recommend using your work address for delivery as alcohol shipments require an adult signature upon delivery to avoid the carrier returning your order