SCRUBBIO 8-in-1: Eco Multifunctional Magic Brush | First Magnetic Multifunctional Silicone Brush for Kitchen & Bathroom. Preserve Nature & Save Money.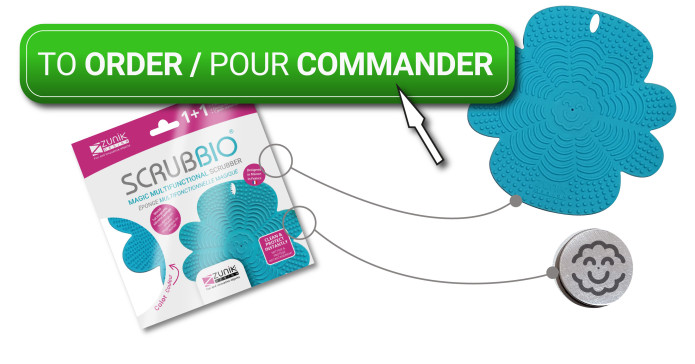 CLICK HERE TO ORDER YOUR SCRUBBIO
CLIQUEZ ICI POUR COMMANDER VOS SCRUBBIO
Texts translated into French have the sign (FR) before.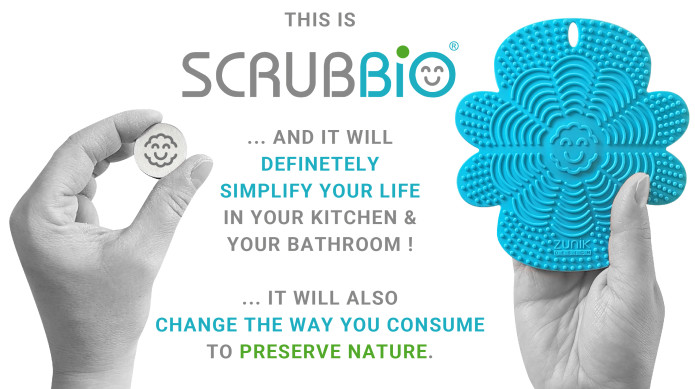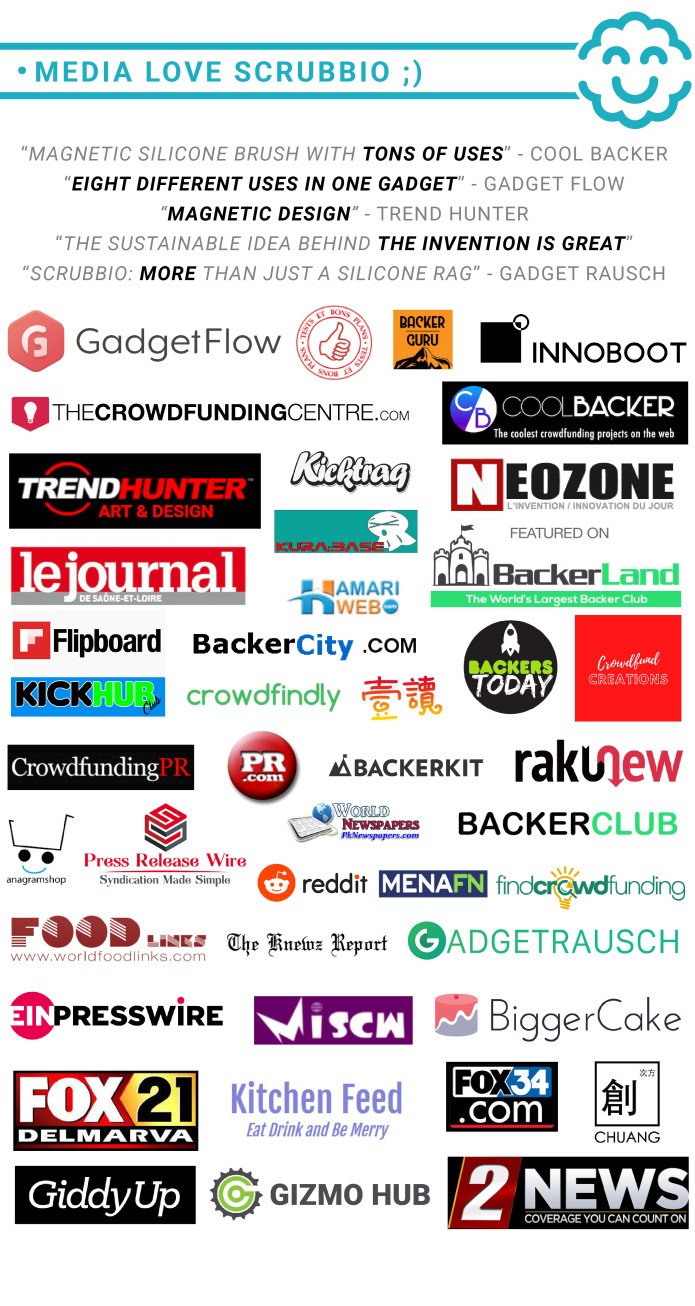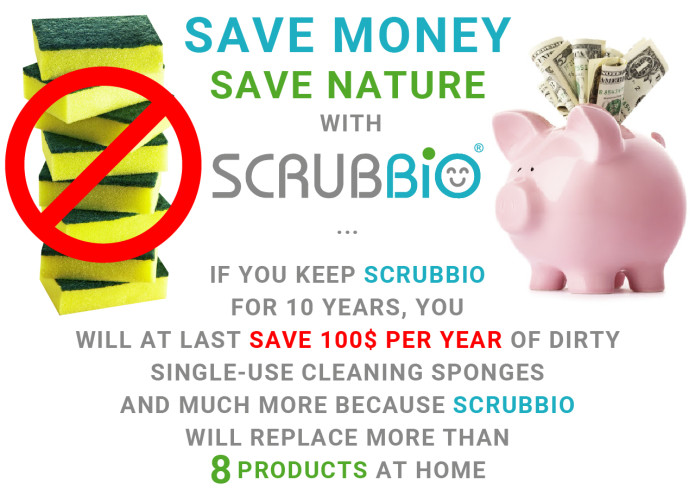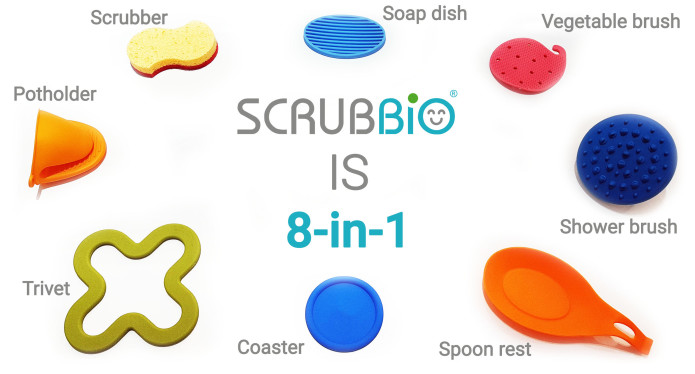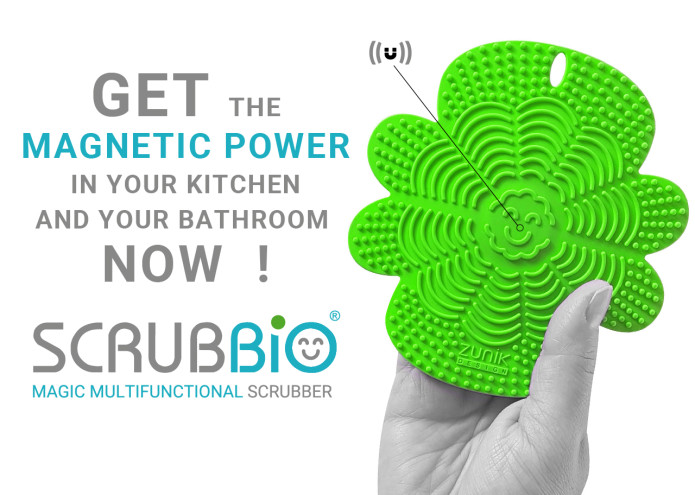 Scrubbio is the latest generation of environmentally friendly silicone Brush for Kitchen & Bathroom. Magic for your Daily Life & Ultra Durable to preserve Nature.
Scrubbio is 8-in-1 multifunctional made with recyclable & ultra durable high quality silicone.
It is magic ! With its magnetic power, you can put it where you need it most and is therefore instantly accessible.
Scrubbio can be uses as :
A Dish brush
A Potholder
A Trivet
A Soap dish
A Vegetable brush
A Coaster
A Spoon rest
A Scrubber for bathroom 
And even much more …
(FR) Scrubbio est la dernière génération de brosses en silicone écologiques pour la cuisine et la salle de bain. Magique pour votre vie quotidienne et ultra durable pour préserver la nature.
Scrubbio est multifonction 8-en-1 fabriquée avec du silicone recyclable et ultra durable de haute qualité.
C'est magique ! Grâce à sa puissance magnétique, vous pouvez la déposer là où vous en avez le plus besoin. Elle reste ainsi instantanément accessible partout.
Scrubbio peut être utilisée comme:
Brosse à vaisselle
Manique
Dessous-de-plat
Porte-savon 
Brosse à légumes
Sous-verre
Repose cuillère
Brosse pour salle de bain
Et bien plus encore …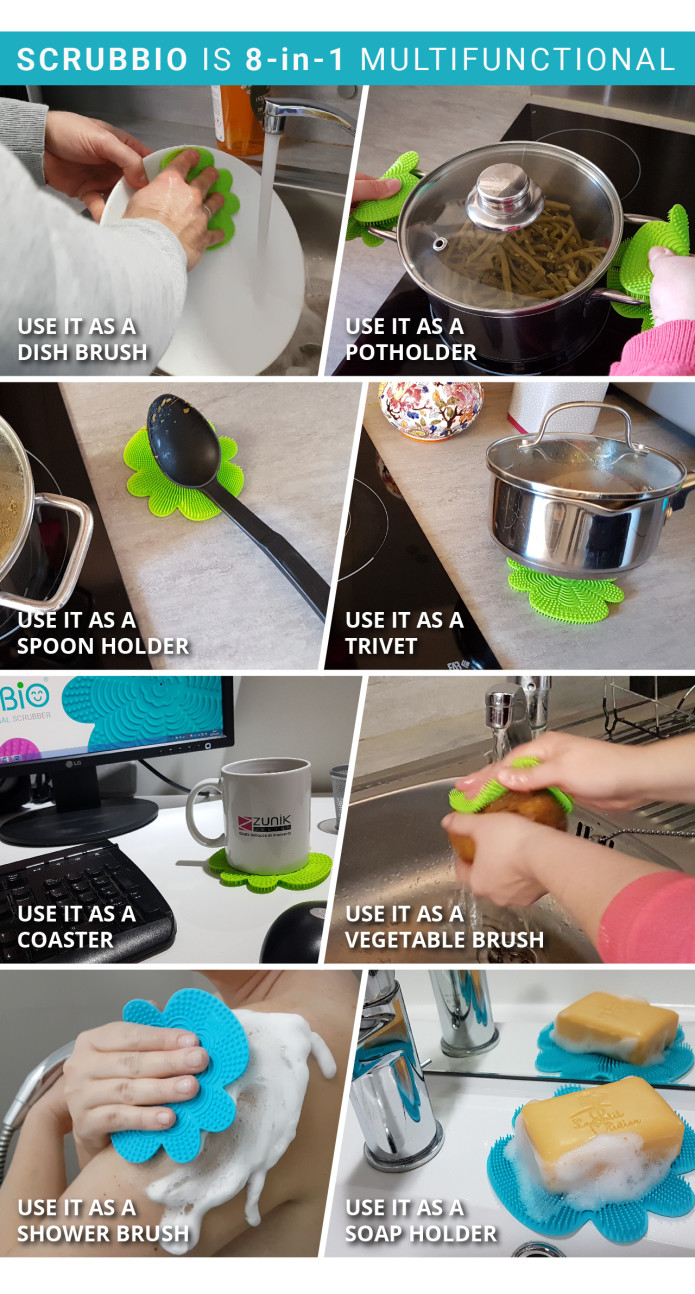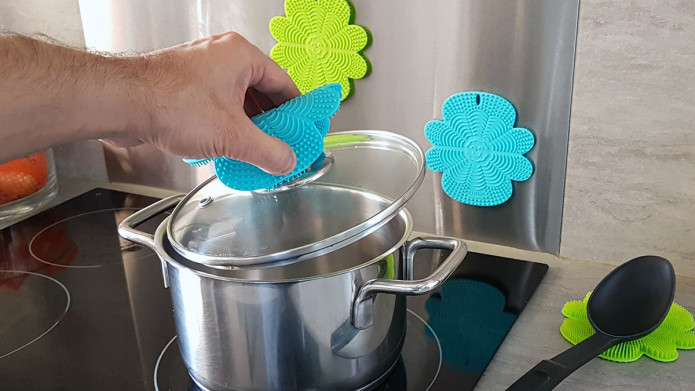 We are Designers and we are constantly looking for solutions to simplify our daily lives adapted to our times.
The 2 main daily observations that created Scrubbio are:
We have far too many similar items in our kitchen & bathroom.
To preserve Nature, we must drastically reduce our production of single-use products & daily products. We have to reduce our mass production.
We need more durable products.
This is why we created Scrubbio: to replace all similar and single-use products with only a simple product, thereby considerably reducing our production.
This product replaces many other products in your home and will decrease global production. You could also keep it and use it for years. Scrubbio is made with a recyclable & ultra-durable silicone.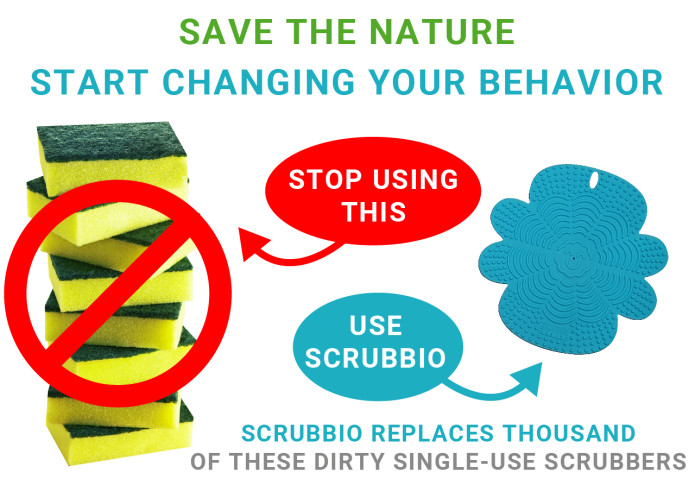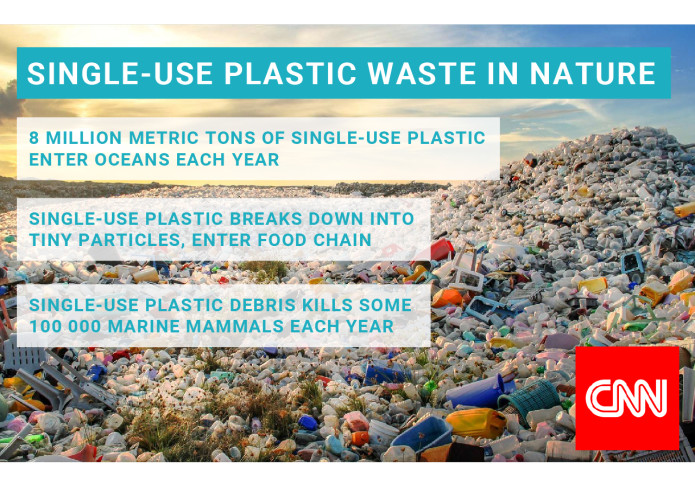 We must reduce our production of products to save nature. We have to produce durable and recyclable items easily.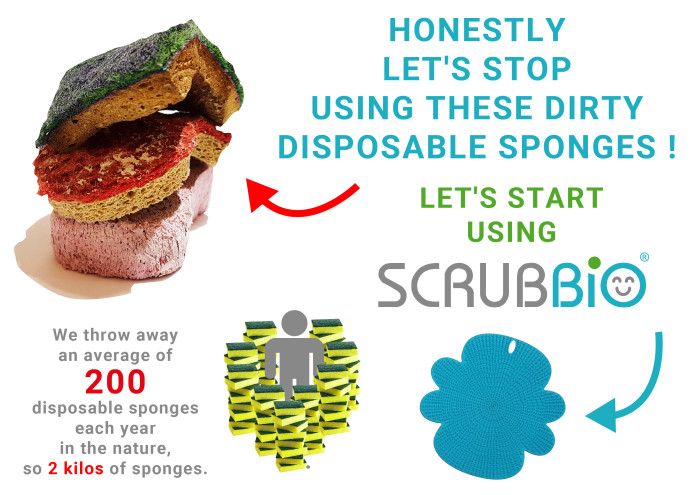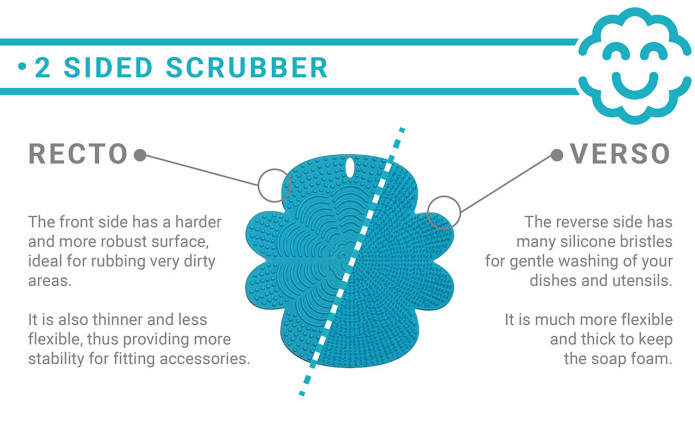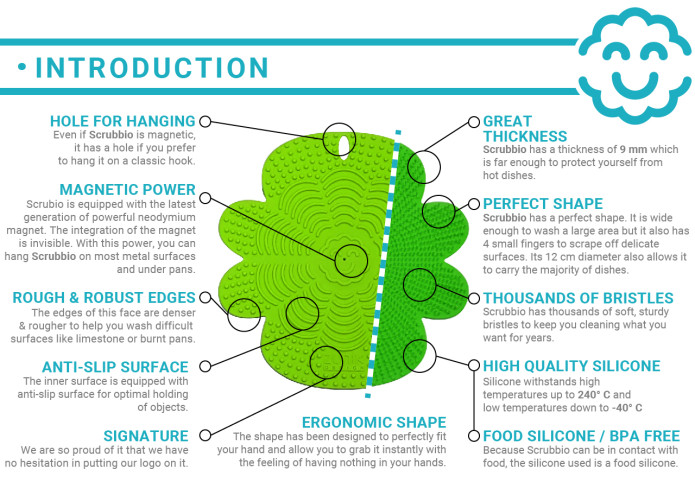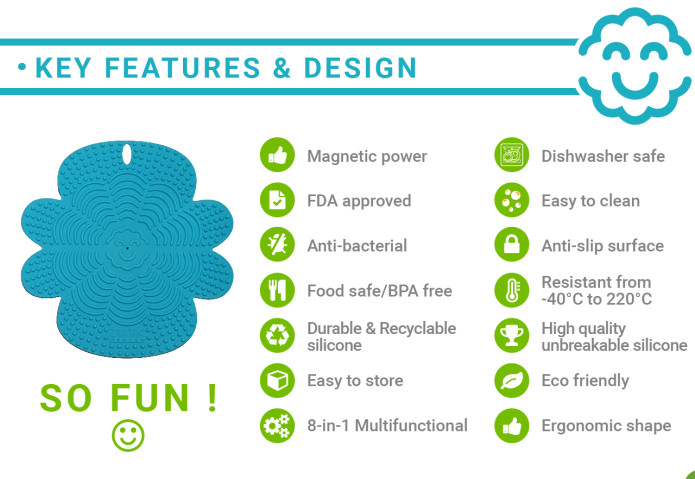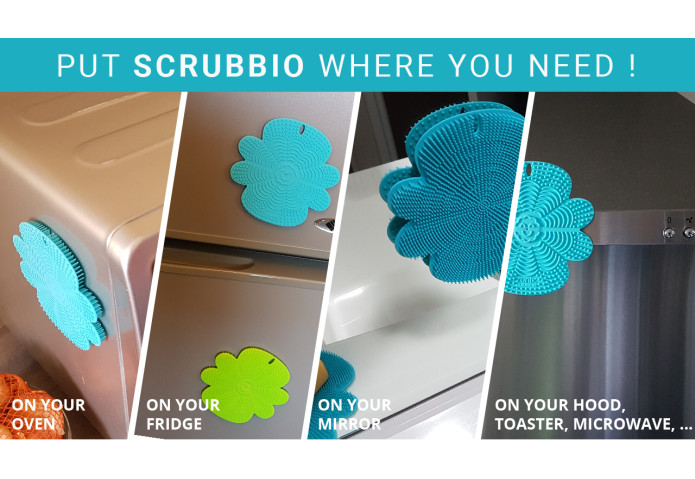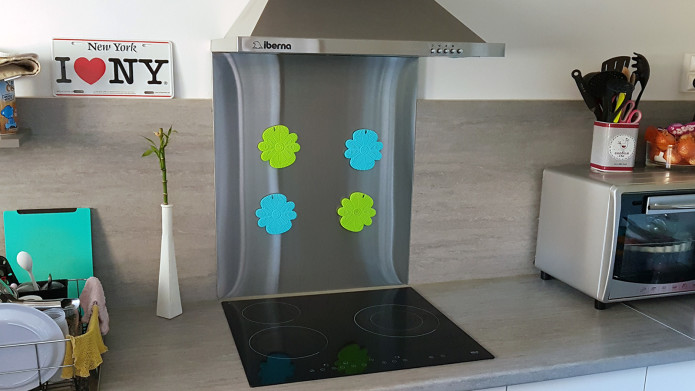 So FUN! Throw SCRUBBIO on any metal surface you want as a fridge or a credenza.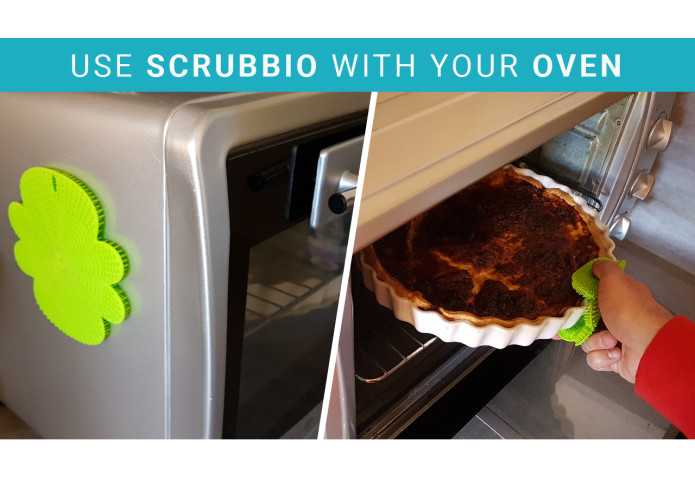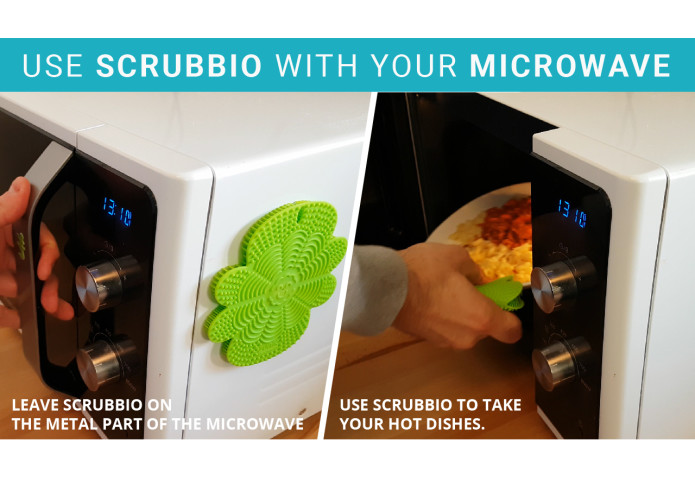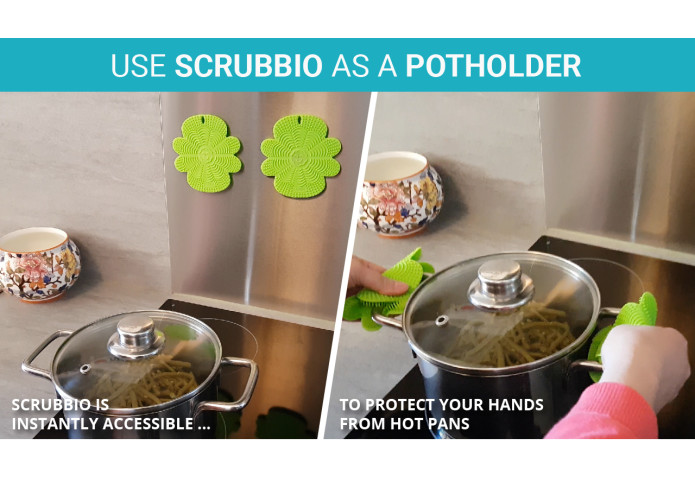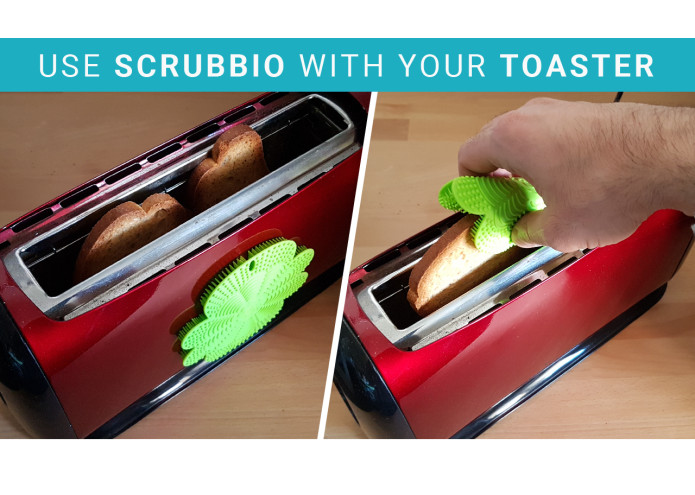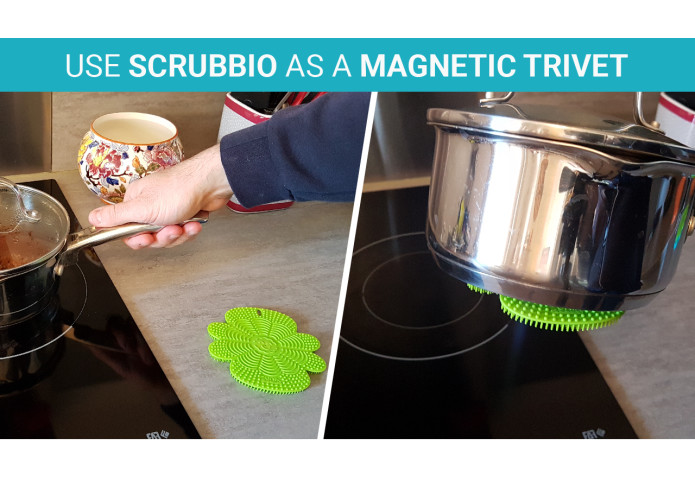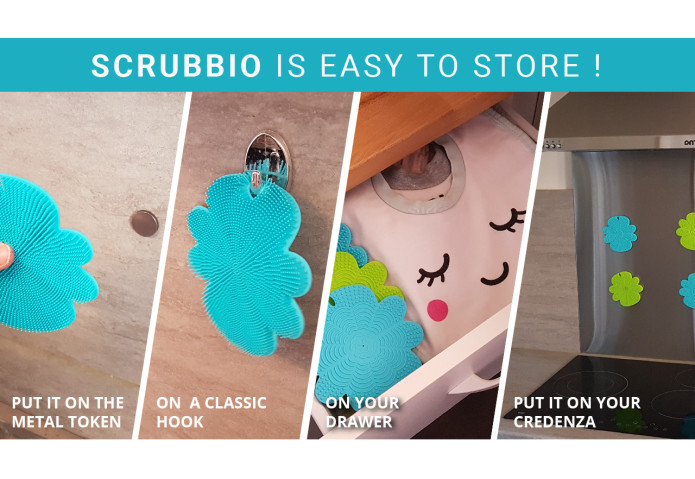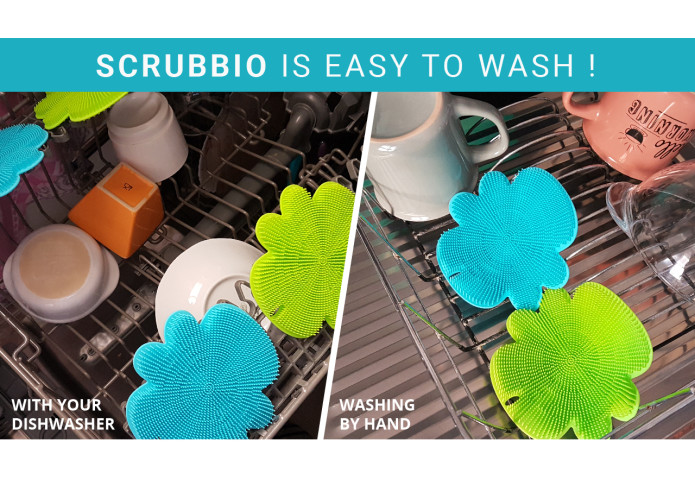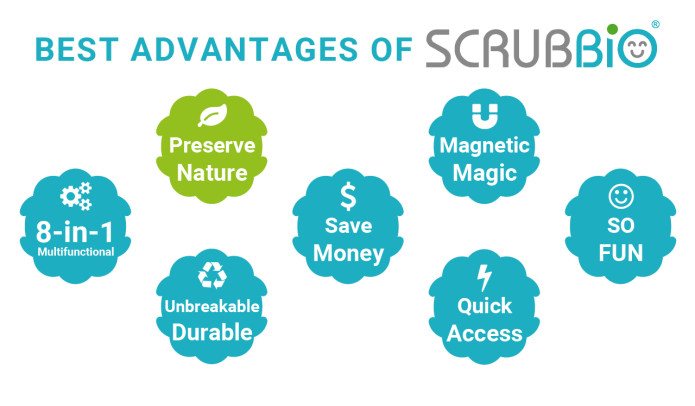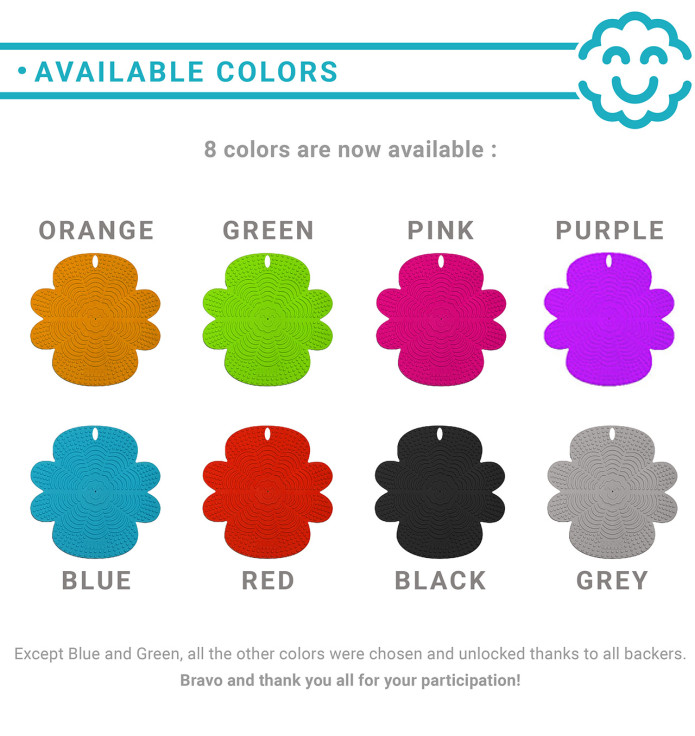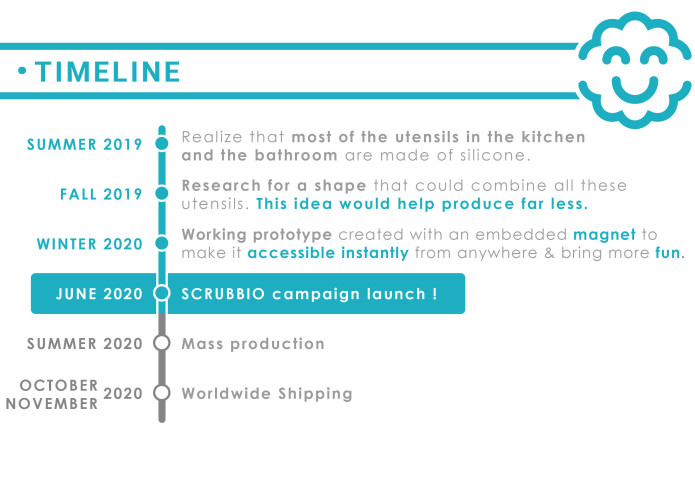 Worldwide shipping on the way :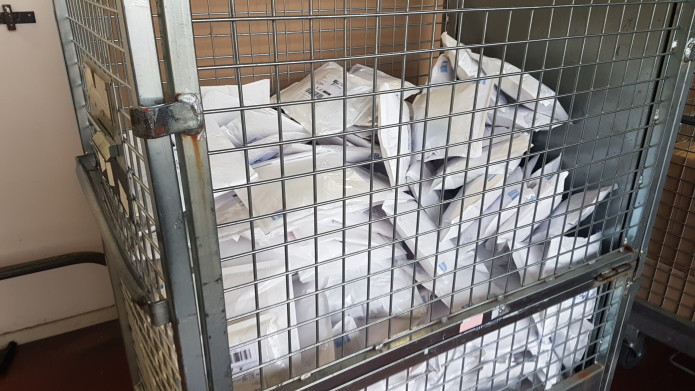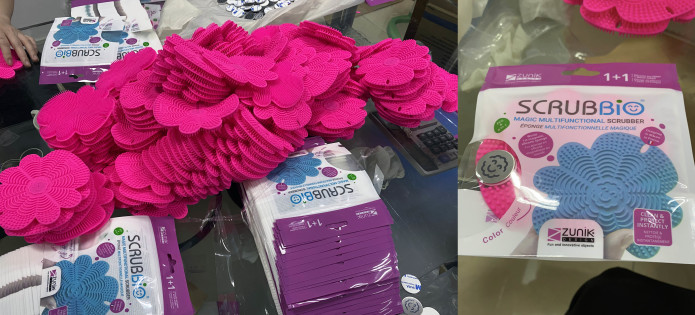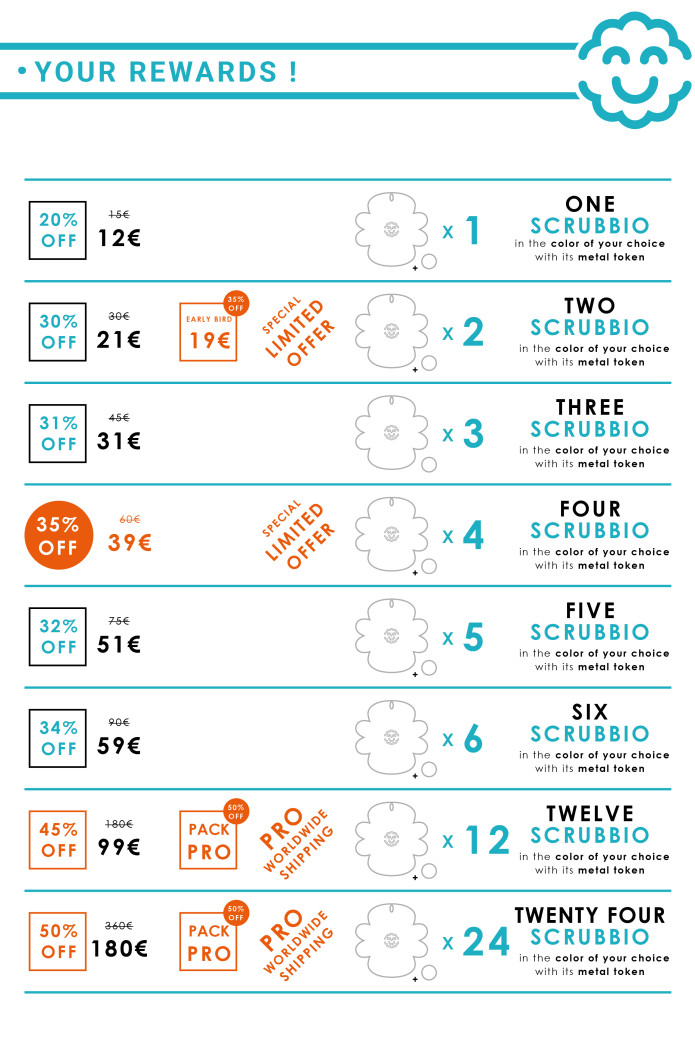 No risk of receiving a broken product because Scrubbio is unbreakable 😉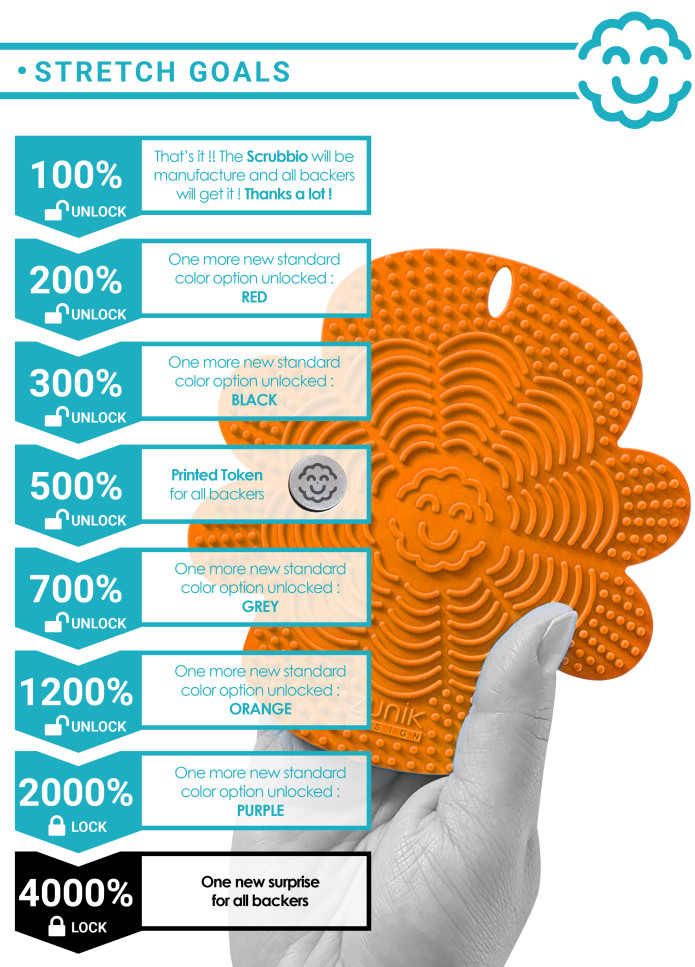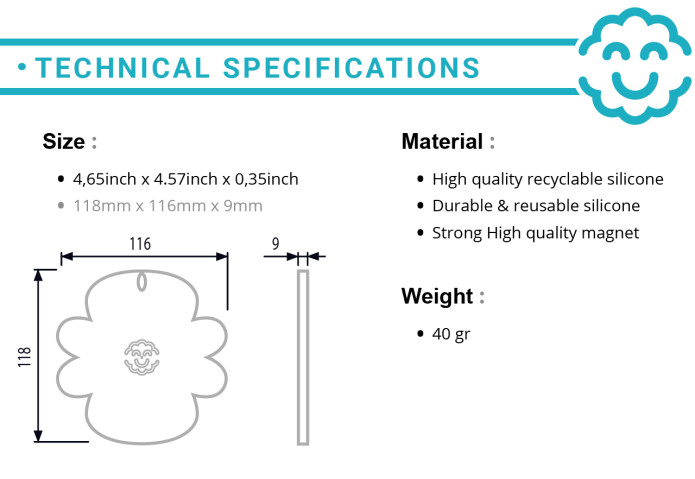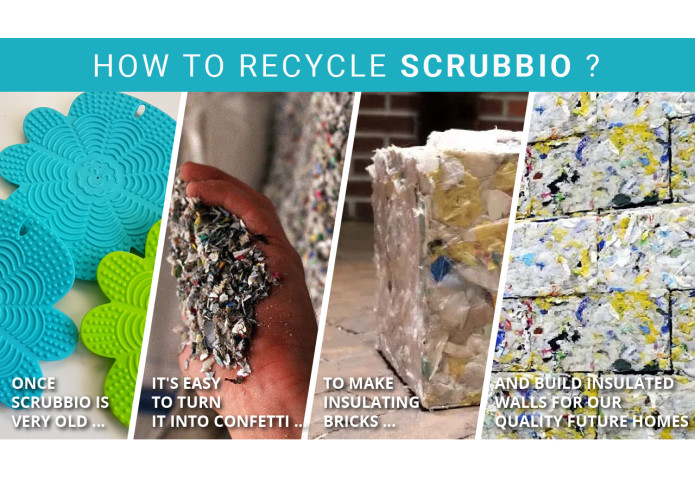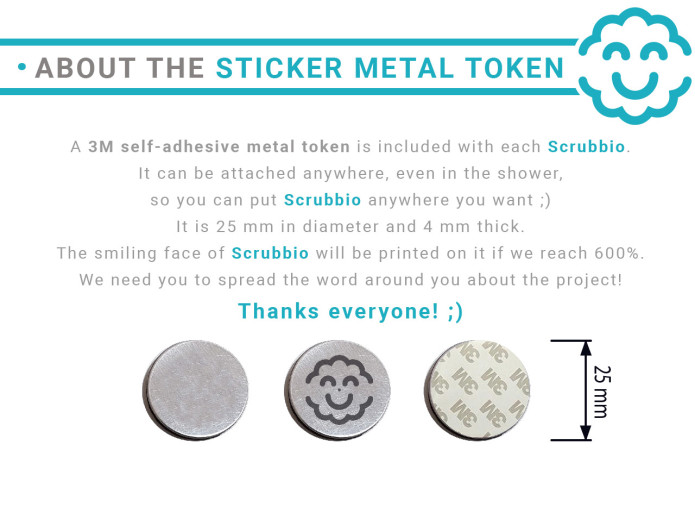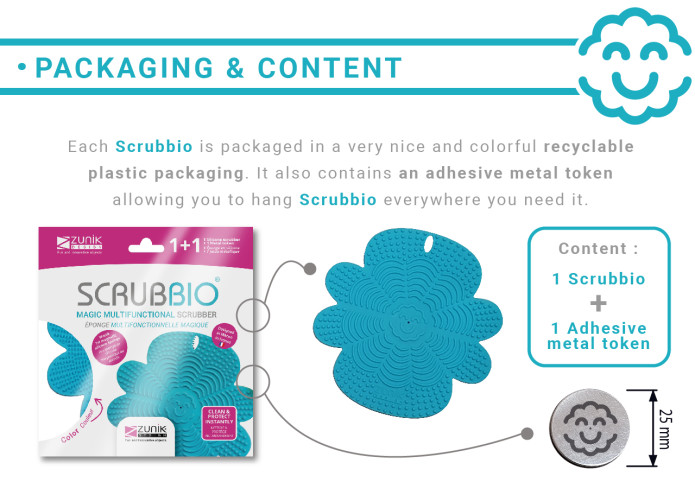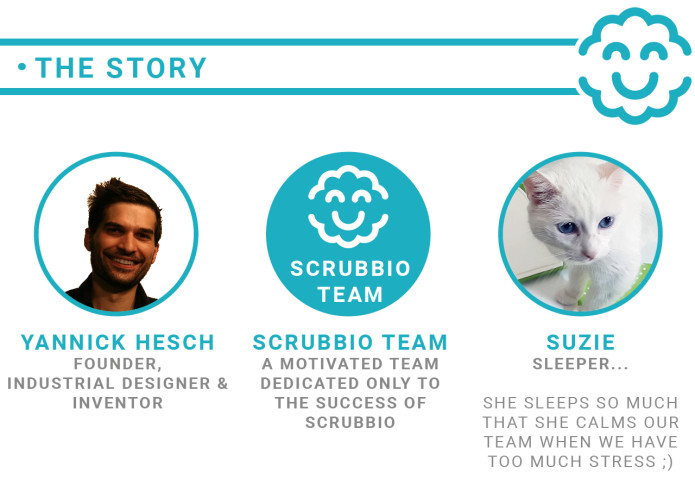 Yannick HESCH was born in France. He  studied at the European  Design Institute of France and obtained a  Master of Industrial Design at the University of Salford in England. He  has worked for more than 15 years as an industrial designer and graphic  designer. He works between Lyon and Paris and has already advised more  than 300 companies. He is passionate about everyday objects because he  thinks that one lives better when one is surrounded by beautiful and  good objects. He loves cooking and that why he has invented the ORIBOARD, the MEOMITT & of course SCRUBBIO 😉 He has already won many awards for his work, including a medal at the Lépine International  Competition.
For the SCRUBBIO, this time, he will lead this project !
(FR) Yannick HESCH est né en France. Il a  étudié à l'Institut  Européen du Design de France et à obtenu un Master  de design industriel à  l'Université de Salford en Angleterre. Il  travaille depuis plus de 15  ans comme designer industriel et graphiste. Il travaille entre Lyon et Paris et a déjà conseillé plus de 300  entreprises. Il est passionné par  les objets du quotidien car il pense  que l'on vit mieux quand on est entouré de beaux et bons objets. Il  adore cuisiné et c'est pour cela  qu'il a inventé l'ORIBOARD, MEOMITT et bien sur SCRUBBIO 😉 Il a obtenu de nombreux prix dont la  Médaille de bronze du Concours  Lépine et le Prix Lumières de la Société  Lyonnaise des Inventeurs et  des Artistes Industriels (SLIAI).

The SCRUBBIO TEAM was specially created for this project to monitor mass production, respond to your requests and make deliveries. It is ready to deliver thousands of SCRUBBIO worldwide before Christmas.
(FR) L'équipe SCRUBBIO a été créé spécialement pour ce projet pour suivre la production, répondre à vos demandes et réaliser les livraisons. Elle est prête à livrer des milliers de SCRUBBIO dans le monde entier avant Noël. 
SUZIE, the cat, is perfectly integrated into the project. She loves SCRUBBIO to get rid of his hair and have caresses. She also loves to play but is still very elegant and calm. She brings us a lot of happiness and helps the whole team to reduce their stress. Thanks Suzie.
(FR) SUZIE, le chat, est parfaitement intégré au projet. Il adore SCRUBBIO pour se débarrasser de ses poils et avoir des carresses. Elle adore aussi jouer mais est toujours très élégante et calme. Elle nous apporte beaucoup de bonheur et aide toute l'équipe à réduire son stress. Merci Suzie.