Searzall Pro | Power of Searzall, now in an even better Pro Edition
When we introduced the original Searzall almost a decade ago, we revolutionized hand-held cooking by putting the power of a bed of coals right in your palm. We've sold over 250,000 original Searzalls worldwide, and now we're coming to you with the next generation: the Searzall Pro.
What is it?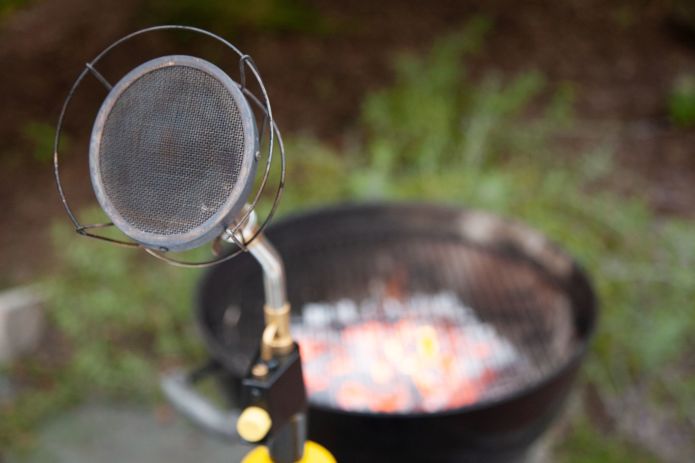 The Searzall Pro puts the power of controlled fire in your hands – instantly. This carefully-engineered blowtorch attachment shapes and moderates the naked torch flame to make it infinitely more cooking and flavor-friendly.
Torches are great for soldering, but are problematic in the kitchen. They give food a fuel-like off-flavor known as "torch-taste." The Searzall Pro eliminates torch-taste by forcing the torch's flame through two layers of fine, heatproof alloy mesh, converting most of the flame into infra-red, radiant heat –a cook's best friend. Now you can beautifully finish sous-vide and low-temperature meats and other foods without the unsavory aromas typically associated with a blowtorch, and without breaking the bank for large and expensive professional equipment.
Searzall Pro Features
The Searzall Pro is the result of seven years of our research plus in-the-field feedback from home and professional cooks, caterers, and food stylists.
What we've improved:
The Searzall Pro has 50% more searing area than the original 
The Searzall Pro spreads out the heat super evenly with its new, game-changing (and patent pending!) palladium-coated conical inner screen.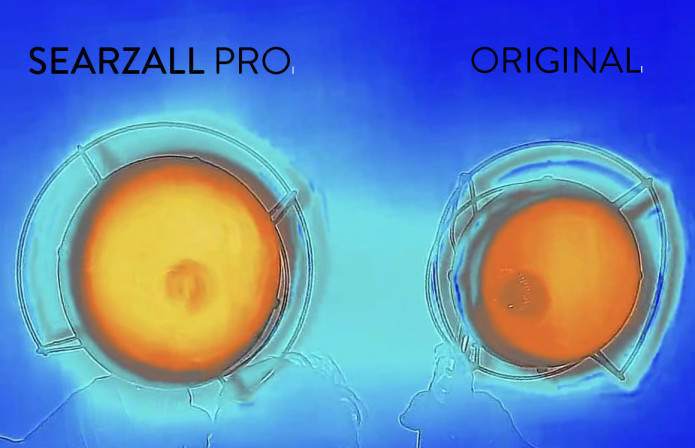 The Searzall Pro is compatible with MAPP gas. And with MAPP gas, this Searzall Pro is MUCH faster than the original.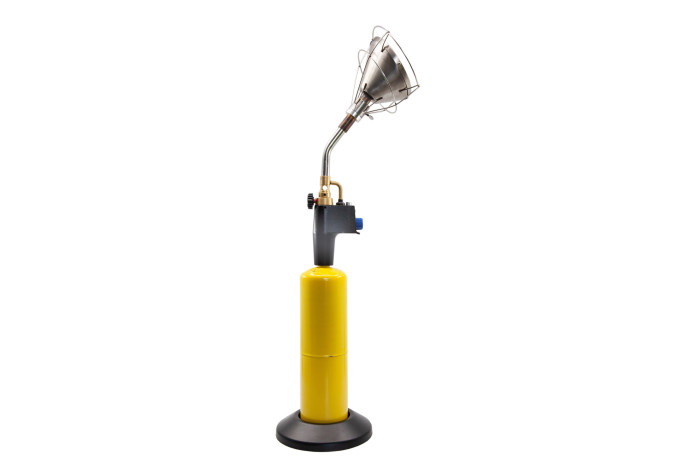 The Searzall Pro comes ready-to-use. No need to pre-season the screens.
The Searzall Pro is easier on your wrist due to its improved face angle.
We now offer torches specially designed for your Searzall Pro – so you can get the maximum amount of searing power out of your unit  (we are still finalizing the exact details of the torch, so it might not look exactly like it does in the video). And you can use this high-quality torch without a Searzall attached too, for all your torching needs – soldering, anyone?
We now offer Searzall-compatible IsoPro  (i.e. "camping gas") torches for folks who live in countries where MAPP gas and propane are hard to find (like Korea, Japan, China, and parts of Europe).
We now offer a tank foot-attachment that lets you use those skinny blue propane and yellow MAPP gas tanks safely. (You can use this foot with your original Searzall, too – but not with MAPP gas. MAPP gas will obliterate the original Searzall screens. For MAPP gas users, you gotta go Searzall Pro!) 
What we have NOT changed:
The Searzall Pro doesn't weigh one ounce more than the original, despite the increased power.
The Searzall Pro heats up, and cools down, just as quickly.
The Searzall Pro has no increase in height. In fact, it's a bit shorter than the original.
The Searzall Pro uses the same adapter bushing as the original…so if you already have an original, just swap out the head for the Pro and you're ready to sear.
How does it work?
The flame from a naked blowtorch is both too hot AND too concentrated to use on most foods –causing unpleasant "torch taste." With  Searzall technology, the flame from the torch passes through two screens that convert the energy from the naked flame into more useful (and better tasting) radiant heat. The inner screen on the original Searzall was flat — which works fine at its size.  For the Searzall Pro we have increased the surface area without adding weight or height. How? By developing a patent pending, palladium-coated conical inner screen that shapes the flame and spreads the heat evenly, thereby avoiding the hot-spot and burn-through that increased power and surface are would inflict on a flat screen.  After the flame passes through the inner screen it hits a second layer of high-temperature mesh which further evens out  the heat and produces the characteristic burning "orange eye" of the Searzall. The screen are held in place by a stainless steel outer cone that is lined with high-temperature, light-weight ceramic insulation. This insulation heats very quickly, re-radiating massive amounts of heat back through the front of the Searzall while also preventing the exterior cone from overheating. The result: a hand-held radiant broiler that heats up instantly. Remember: because the Searzall Pro is made of lightweight materials, it heats up very quickly, and it cools down quickly too. The wire safety cage around the outside of the Searzall Pro prevents the hot cone from touching you, or surfaces around you. A cut-out at the bottom of the cage lets you get the searing face directly up against food that is on a plate or grill.
What can you do with it?
The Searzall Pro is your perfect kitchen touch-up tool, always ready for:
Searing sous vide steak
Putting a hard crust on fish
Crisping poultry skin
Browning scallops
Finishing shrimp without overcooking them
Melting cheese on burgers – in one go, with the burger-sized Searzall Pro!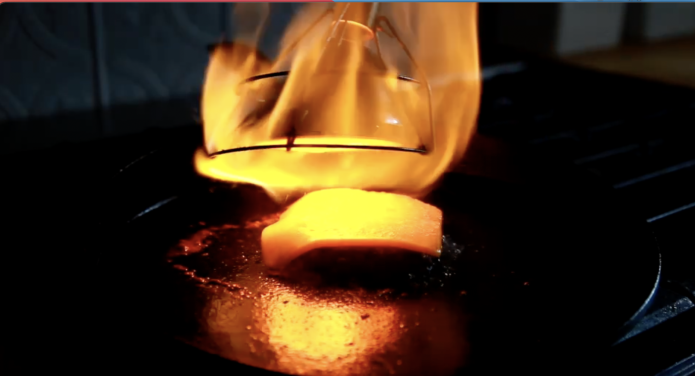 Reheating pizza
Making S'mores
Cooking the raw whites on top of fried eggs
Grilled cheese
Toasting pie meringue 
Melting cheese on nachos
You name it!
Why do you need a Searzall Pro?
The Searzall was originally designed for sous-vide cooking–the backbone of the modern culinary revolution. By using very accurate cooking equipment like the immersion circulator, sous-vide allows us to cook foods with flawless consistency. The problem is, sous-vide leaves the surface of foods pale and crust-less. Professional chefs have long known that the best way to get a really good crusty-cooked surface on sous-vide foods is by using fire –very hot fire. Unfortunately, that sort of heat isn't available to most people –especially at home. Dave Arnold, the founder of Booker and Dax, thought long and hard about this problem during the years he taught sous-vide and low-temperature cooking to thousands of students at the French Culinary Institute in New York City. The Searzall was his answer. While sous-vide and low temperature cooking was the impetus for Dave's invention, it is only the tip of the iceberg. The Searzall Pro's power is instant and portable. Carry it to a picnic, a catering event, your mom's house at the holidays, and be cooking in seconds. Whether you are preparing fish at the beach, toasting cheese on a burger at a cookout, fixing up the holiday roast, or finishing off that 6-hour sous-vide rib-steak, the Searzall Pro is your best buddy. You don't always know in advance when you will need a Searzall, but it doesn't matter: the Searzall Pro is always at the ready, providing instant, easy to use, portable heat. 
Torch Taste
Anyone who has used a naked torch in the kitchen is familiar with the unpleasant phenomenon of torch taste. Torch taste is bad. For years we assumed that torch taste was caused by the fuel itself –by propane and butane, and the chemicals added to them. Not true! Tests run for us at University of California, Davis indicate that torch taste is caused by the creation of new, unpleasant chemical compounds on the food when the heat is too high. We did a chemical analysis of food cooked with a naked torch and with a Searzall Pro, and found that the Searzall Pro did, in fact, eliminate torch-taste (see chart below). Our extensive taste tests yielded the same result.
The flame from a regular blowtorch is designed for soldering and welding, and its intense, focused heat can be far too aggressive for food. Even in the hands of the most experienced cooks, the torch is notorious for charring food in some spots while leaving other underdone. With the Searzall Pro, the temperature is high enough to create a great sear, but it's also even and controlled – even more even than the original Searzall. The heat is spread out and softened, and the results are predictable and delicious.
Searzall vs the Competition
Naked Torch: The naked torch is no good for meats or breads, cheese, or most foods with fats. We use a naked torch for crème brûlée.
Electric Heat Gun: The heat gun does not produce a torch taste, but has a lot less power than the Searzall Pro, and it is tethered to an electrical outlet.
Knock-offs: Since the Searzall first debuted in 2014, many other companies have imitated our product, but never successfully. Some of them never reach a high enough temperature, others produce toxic fumes and create small bits of burnt particles that rain out of them onto your food. Our units have been rigorously tested with a variety of different materials, and what you'll get is the best possible searing device on the market. 
Pan: Pans on home burners can never match the Searzall Pro. Professional restaurant ranges have burners in excess of 30,000 Btu's per hour of gas, and these burners can adequately sear meat in a pan. A pro range will allow you to cook a lot more product, and it doesn't need the constant attention that a Searzall Pro requires. Unfortunately, panned meat tastes different from broiled meat. Even restaurant ranges are not as good as a Searzall Pro for applications like foie gras, and a pan can't toast cheese.
Broiler: Broilers can cook a lot more product at once than a Searzall Pro can, but home broilers have inadequate power for cooking fish and finishing low temperature and sous-vide meats. Home broilers are good for melting cheese, but the Searzall Pro is often more convenient. Restaurant Salamanders have adequate power for most applications except finishing sous-vide and low temperature meats, but are not portable and are expensive. Commercial Deck broilers are awesome, but most people don't have access to one.
Which Torch do I Need?
If you need a new torch or are unhappy with your current torch, we recommend your get our Searzall Pro compatible torch! This is an important decision, as you MUST use a Searzall compatible torch, and should be based on what gases you have access to (also see the FAQ section for our approved list of torches). If you have access to MAPP gas, that is our preferred gas to be used with the Searzall Pro and is what will get you that maximum searing power! However, if you don't have access to MAPP, then we recommend propane. The MAPP/Propane compatible torch will automatically come with a tank holder so that you can use the thinner 14.1 ounce MAPP or Propane gas tanks. When selecting your torch at checkout, be sure to select the MAPP/Propane compatible torch. 
If you do not have access to either gas, then the Searzall Pro can be used with IsoPro gas, please be sure to select the appropriate torch! Note that the the Searzall Pro can only be used with our proprietary, IsoPro compatible, torch head.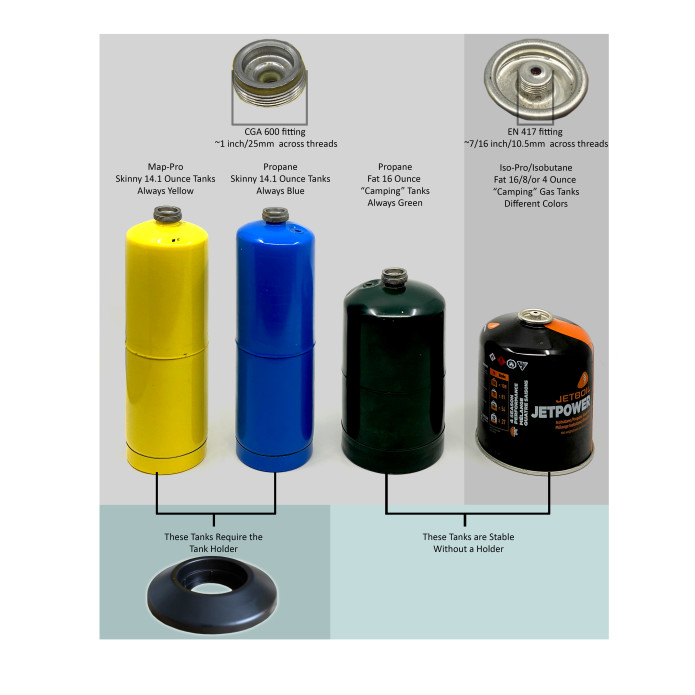 In Conclusion: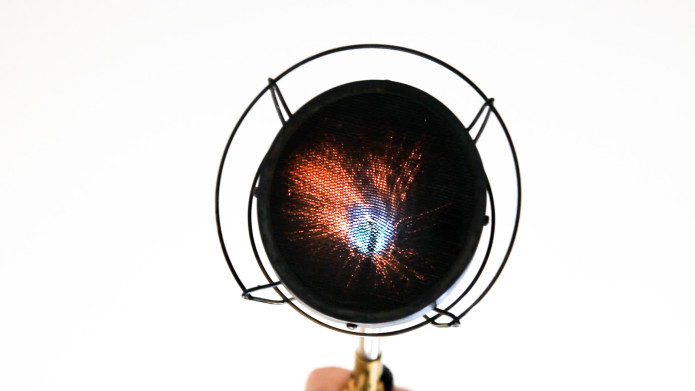 We've been selling Searzalls since 2014.  Our company, Booker and Dax,  has run two successful crowd-funding campaigns, and we know how to deliver.  We want to get the Searzall Pro into your hands to give you an even better cooking tool that will help make you a Pro in the kitchen.