ShowerShroom Ultra: A Drain Protection Revolution | An Anti-Clog Drain Protector Hair Strainer for Shower Stall and Shower Tub Drains from TubShroom Co.
We're proud to be protecting nearly 5 million homes from clogged drains, costly plumber visits and–most importantly–toxic liquid chemicals. Now we're back with our next crowdfunding campaign to bring you the most advanced drain protection solution ever created: The all-new ShowerShroom® Ultra. Tell your plumber to lose your number. The revolution in drain protection is here.
A Revolution in Drain Protection
Our story began in late 2015 with the launch of our original award-winning TubShroom® Drain Protector right here on Indigogo. The market and user response was phenomenal, to say the least. We knew we had to keep innovating in the drain protection space in order to help our customers protect every drain in their home, simply and effectively. So we came out with SinkShroom for bathroom sinks, and Kitchen SinkShroom for kitchen sinks, and DrainShroom to clear virtually any drain. Now, by popular demand, we'd like to introduce you to our all-new ShowerShroom Ultra. Let's begin…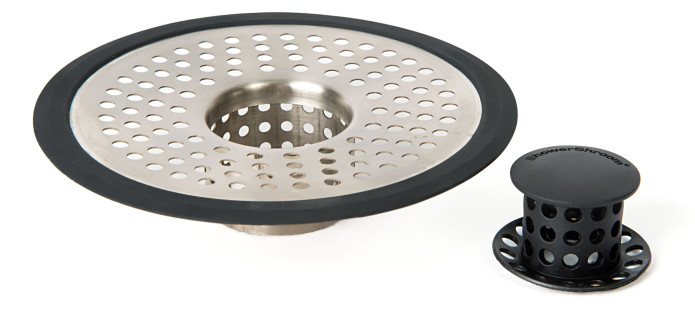 The patent-pending ShowerShroom® Ultra borrows from much of the same technology found in our original TubShroom®. To provide superior protection to every drain in the home, we knew we had to tackle the shower next. Ask yourself the following questions: How many strainers have I gone through in the past couple of years? How easy is it to clean my current strainer? Is my current strainer an eyesore? Does the water continue to back up every time I take a shower? How much do I dislike putting my hands on disgusting clumps of wet hair? We addressed all these concerns.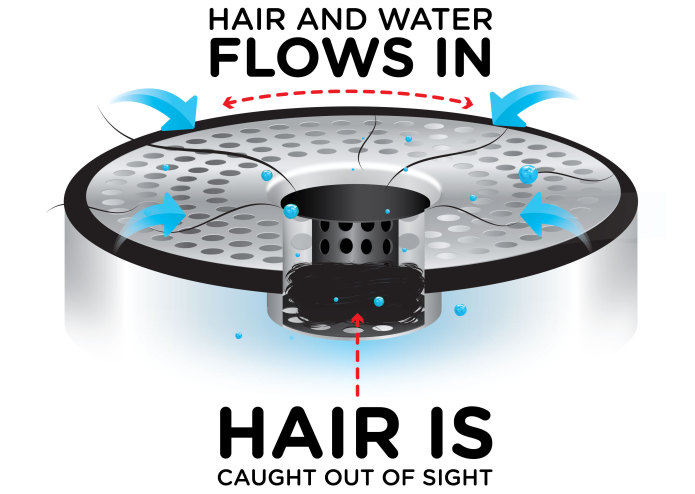 We started with the best materials out there to prevent rusting and to preserve durability. Our stainless steel strainer is made to last the test of time and it looks fabulous in any bathroom. The days of ugly and single-use strainers are gone. We've tested compatibility with a vast number of bathroom shower stall and shower tub drains out there and the fit was terrific virtually every time out. The concept is simple, but the execution is elegant.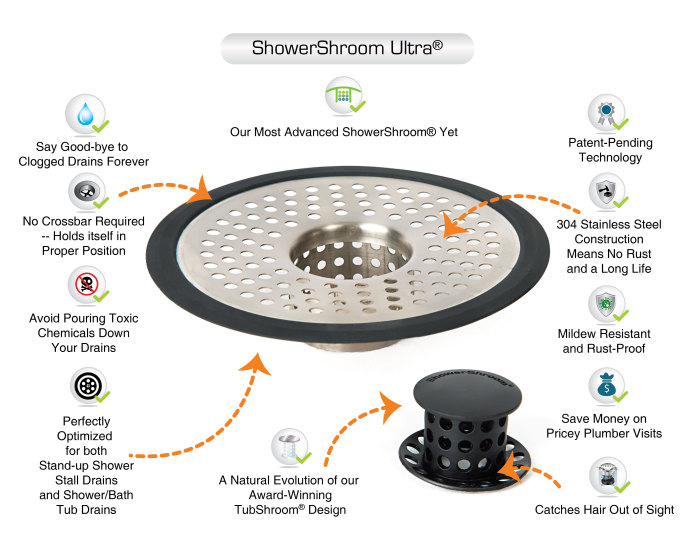 We have filled the strainer with loads of human and pet hair to test just how much it could handle and the results were impressive. We know many of you out there have long hair or have family members with long hair, so the amount of times your drains clog on a yearly basis can get unbearable. No matter how full the strainer portion was, the water continued to flow through the metal and silicone cylindrical holes and the drain remained clog-free after months of use. Mission accomplished.

Did we mention how easy it is to clean the ShowerShroom Ultra? Simply grab the center soft "Mushroom" part out of the main strainer body, then wipe off any accumulated hair with a paper towel–no mess, no fuss. Many strainers make it unnecessarily difficult to pull the hair off and the unsightly wet hair is often on display the entire time. Our calling card is ease of use. 
Just look at that beautiful piece of craftsmanship of our unit and then visualize the dinky & bland plastic colored strainers we often find littered on store shelves. The soft brushed lines and jet black center cylinder and trim really make our unit pop and matches virtually any shower stall or shower tub aesthetic. Form and function in one package.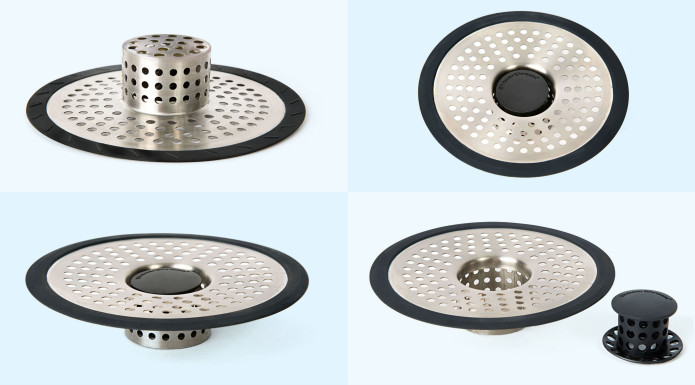 Just keep flowing, just keep flow…ing. Water gets through–hair doesn't. When clumps of hair and gunk gather in your drain, the result is slowed or clogged drains. It's time to take back your bathroom. We've engineered the ShowerShroom® Ultra to sit perfectly flat in your stand-up shower stall drain or bathtub drain, covering one edge to the other uniformly so that water faces no resistance in making its way down the drain, while all the hair gets snagged on the black strainer, out of sight. Showers and tubs have an indiscernible taper towards the drain opening so that gravity pulls water and hair where they need to go. Don't let your strainer be a hindrance to science.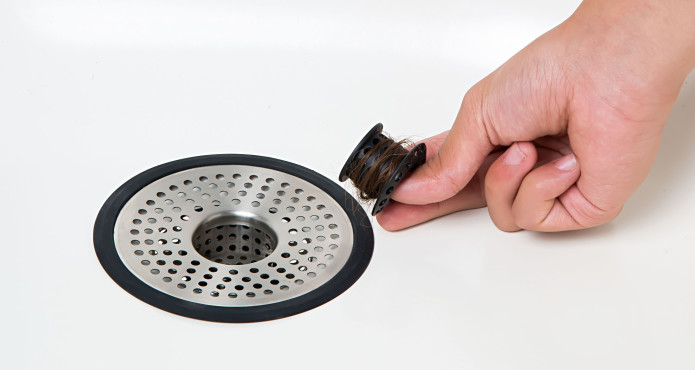 Our research shows that the vast majority of clogs occur in shower tub and shower stall drains. Virtually every home in the world has a shower or bathtub because that's where people give their kids and pets baths and where they take their showers. The number one cause of clogged drains is long hair. The longer the hair and the more people or pets in the home, the higher the likelihood of clogs. Given all this, we knew we had to optimize our ShowerShroom Ultra for both shower and bathtub drains. From the precise sizing of the cylinder to the placement of each and every hole, we put literally years of testing into this upgrade.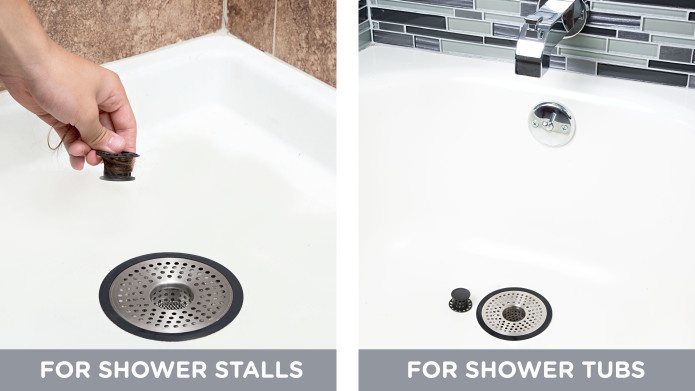 And it's nearly here! The latest evolution of our award-winning TubShroom® family of drain protectors is the ShowerShroom Ultra. We can't begin to tell you how many random 'Shroom owners have emailed us, visited us at trade shows, or just talked to us in person about how much they love their TubShroom and SinkShroom products. We want to take this moment to thank each and every one of you who have trusted us with your drains by bringing a 'Shroom product home with you.
We went back to the drawing board and figured out ways to further improve water flow. No one wants to stand in ankle-high soapy water while showering. We have not only achieved our best flow rate testing to date, we have also ensured that even abnormally shorter or wider drains get great drainage results with the ShowerShroom Ultra. As always, hair is caught out of sight and clean-up is a breeze. Now, with ShowerShroom Ultra, you can go longer (sometimes months instead of weeks) between cleanings. When the center cylinder is full of hair, just grab a paper towel or tissue paper and swipe that bundle of hair right off into the trash.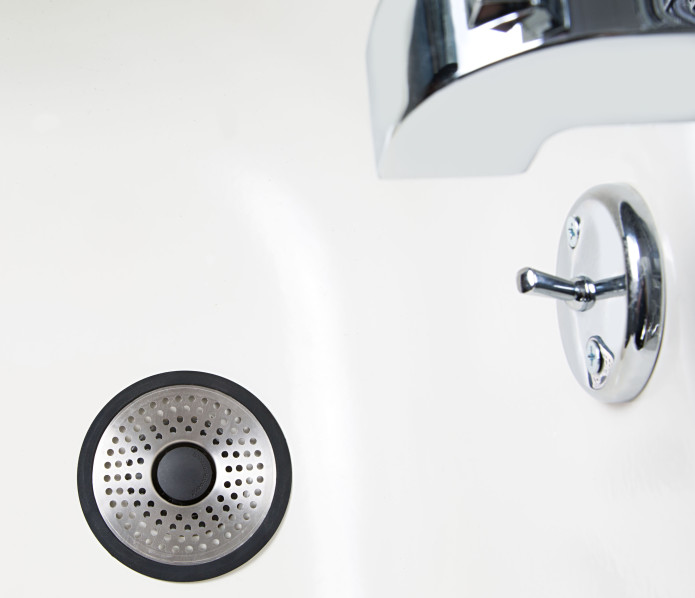 Award-Winning Add-Ons
We have been delivering cutting-edge drain protection products since 2015. We know many of you want time-saving solutions for every drain in your home so we've decided to offer some of our best complementary products in bundles with the new ShowerShroom Ultra (see the "Rewards" options on the right side of this page for all the combinations) so you could knock out two or three birds with one stone. Imagine a life entirely without clogs? The four bundle options include the TubShroom Chrome which is optimized for bathtub drains, the SinkShroom Chrome which is for bathroom sink drains, the Kitchen SinkShroom, and the DrainShroom Universal Drain Snake. Here's a brief description of each: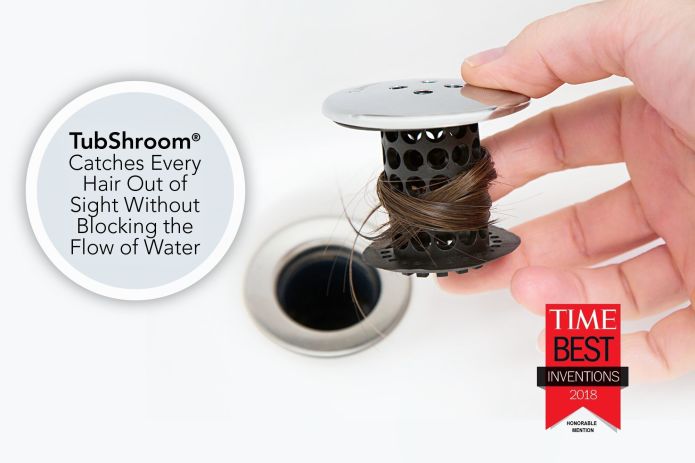 We'd like to take a moment to apologize in advance for showing all that wet hair in pictures, but there's no better way than showing exactly how well our patented TubShroom Chrome technology works than with an image. In short, there's a bottom flange that sits inside your tub drain where all the hair is neatly caught out of sight while the water continues to flow–as it should–through the dozens of strategically placed holes throughout the perfectly-sized cylinder and mushroom head.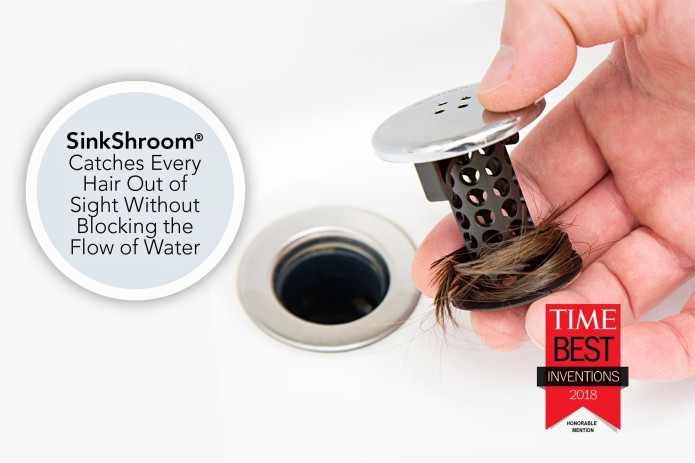 What TubShroom does for tub drains, the SinkShroom Chrome does for bathroom sink drains. Hair, jewelry, and other objects can't get past the SinkShroom. Dual "arms" help hold the unit in place so the water can continue to flow without interruption. Our original SinkShroom design raised over $100k on crowdfunding campaigns and thousands still use it to this day. 

The patent-pending Kitchen SinkShroom® borrows from much of the same technology found in our original TubShroom®. To provide superior protection to every drain in the home, we knew we had to tackle the kitchen sink next. We started with the best materials out there to prevent rusting and to preserve durability. Our stainless steel is made to last the test of time and it looks fabulous in any kitchen. The days of ugly strainers are gone. We've tested compatibility with a vast number of kitchen sink drains out there and the fit was perfect every single time. No more rising dirty dish water.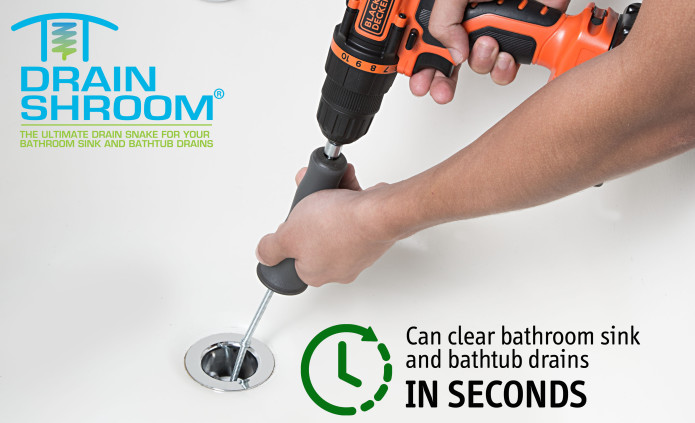 And last, but not least, we have the DrainShroom Universal Drain Snake that works with virtually any drain in your home. Coming in at a lengthy 42″, the DrainShroom gets to where it needs to and snags those nasty balls of hair with ease. The DrainShroom attaches to any power drill (note: power drill not included) to create an easy-to-use and highly effective rotating mini snake. The best part is that you can use it over and over again, but once you clear your drain and place a ShowerShroom Ultra (or other 'Shroom product in place) you shouldn't ever need to use your DrainShroom again. You could always pay it forward to a friend since you'll be living the clog-free life. 

Our ShowerShroom family of products have been around for some time and we've received a plethora of glowing media coverage and industry awards. Check out some of the key highlights below.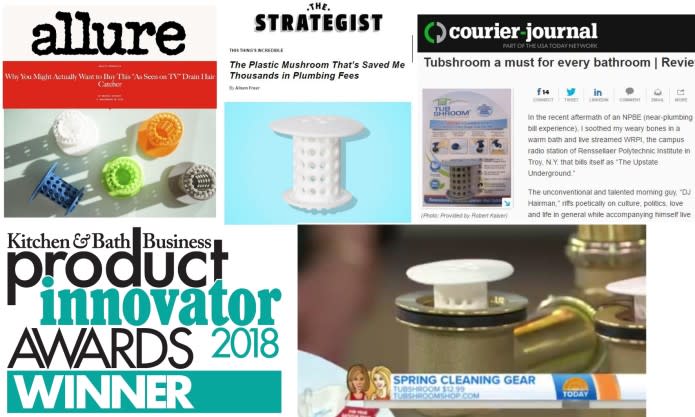 It doesn't end there. Our 'Shroom family of products have over 30,000 positive reviews all over the internet. Word of mouth has been our best form of advertisement.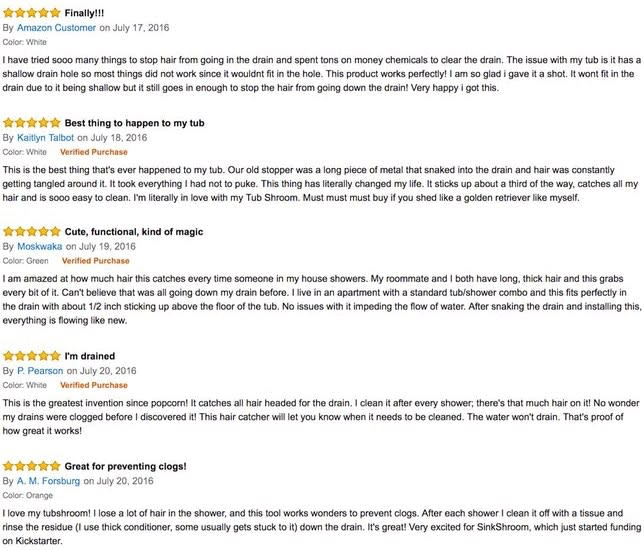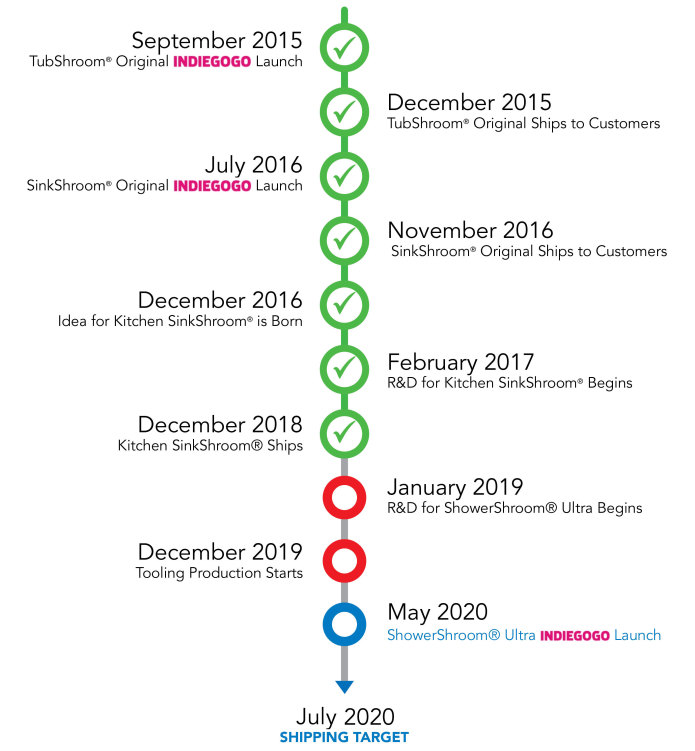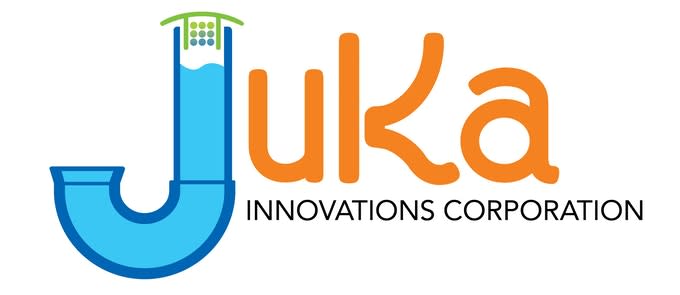 In late 2015, Juka Innovations Corporation was started in Glen Cove, NY by Serge Karnegie and Solyman Najimi–two long-time friends. Serge and his wife, Elena, were fed up with their ever-clogging bathtub drains. You see, the couple had two young daughters and multiple pets in their original apartment, so it was no surprise that their drains clogged so often. Serge perfected his original TubShroom design and, along with the help of Solyman, the duo brought it to the masses via a Indigogo campaign, which turned out to be the launchpad the fledgling company needed to go on to become the leader in drain protection that it is today. 
Dear backers,
Some of you have been with us since our very first project launched in 2015, and some of you will join the "Shroom" family for the first time. Regardless, we are very thankful for your support and trust in the quality of our products. Thanks to our early adapters, our original TubShroom was born, eventually becoming the #1 best-seller on Amazon and at many major big box retail stores. We're proud to say that since the launch in 2015, we have helped to protect close to 5 million drains worldwide.
We must say that there were a few bumps on the road. Inventory shortages, shipping delays, intellectual property battles, and more. We have had to learn the ins and outs of plumbing, drainage, and design. Furthermore, we have visited many countries around the world to compare and analyze drain types. Our goal is to protect every drain in your home and with the launch of this Indigogo campaign, we feel we have gotten that much closer. Our team's focus is on producing innovative products that save people money, solve real-world problems, and that look great.
Thank you for taking this journey with us. We promise to do our utmost to continue to provide amazing products and terrific support. Please reach out to us at [email protected] with any questions you have on our previous products or for any topic you have not seen covered in this campaign.
Sincerely,
Solyman N., Co-Founder




Will I get my Order (ie Award) in the Summer?
We are working around the clock to achieve a ship date of late June to July 2020. Unforeseen challenges may arise to prevent that, but we have been on the clock many times before and we were able to deliver on time. International orders outside of the USA will take longer to arrive due to the extra transit times, but, as always, we'll keep all of our backers in the loop throughout the process.
What drain types are supported by these products?
ShowerShroom Ultra works with stand-up shower stall drains and shower tub drains. About the bundle options: The Kitchen SinkShroom works in virtually all kitchen sink drains, which are typically about 3.25″ wide. TubShroom Chrome works in virtually all bathtub drains (typical tub drain sizes range from 1.5″ to 1.75″ wide). SinkShroom Chrome fits in virtually all bathroom sink drains, which are typically 1″ to 1.4″ wide (simply unscrew your cover or remove the single holding screw under your sink). DrainShroom attaches to any power drill (sold separately) and works with virtually any home drain. If you grab the complete bundle, you may never have to worry about clogged drains again throughout your home.
Where can I go to learn more about your past products?
You can find more information about us and our products on our official page at www.TubShroom.com. You can also check out some of our past Indigogo campaigns here and here. Here's a piece done by Allure. You might be interested in this recent Forbes article that we were featured in. Lastly, feel free to follow us on Facebook for all our latest updates.
Will these products work in international drains?
The short answer is yes. We have tested our products in many countries such as Canada, Mexico, UK, France, Japan, and more. That's not to say that we can account for every type of drain variation and every country's specific plumbing codes and drain types. We can safely say we have 99.9% compatibility in the USA and Canada and a bit less than that in most developed foreign countries, at least according to our testing, feedback, and data.
What are the product dimensions of the ShowerShroom Ultra?
The ShowerShroom Ultra is just about 5″ x 5″ x 1″. 
Do you ship internationally (outside of the USA)?
We do ship internationally to all countries. Travel time will vary, naturally. Please note that you may be responsible for duties, fees, and taxes applicable to your region.
What is your warranty and return policy?
We provide a full 3 months no-questions-asked money-back guarantee from the day you receive your package. If you don't love your product(s) and want to return it, all you have to do is reach out. If any defects or issues arise during that period, we will make it right. If you're happy with the products or service you receive from us, we're confident you will help spread the word as our customers have been doing since day one.
Do you have plans for any other types of products?
We always have multiple new projects in the works at any given time. That's what makes this fun. Some will be hits and some may be misses. Millions of gallons of acid-based liquid cleaners have been poured down the world's drains, releasing toxic fumes into homes and stripping piping integrity in the process. Sure, it can help clear out a clog, but the cost to our environment and our collective health is simply not worth it. There are greener ways to clear clogged drains (boiling hot water helps, baking soda helps, and there are reusable snakes out there like our DrainShroom product, for example). And there are more sustainable ways to keep drains clear. That's where we come in.