SkimmerMotion XTREME: Pool Surface Cleaner | Automatically keeps your pool surface clean, eliminating leaves, dust, pollen, bugs and other debris

THE WORLD'S XTREME
POOL SURFACE CLEANER

When we asked about how to improve our surface cleaner everybody wants "Eliminates Bigger Leaves", and now "Greener", right? 
So, with all the experience and information obtained over eight years with our award-winning pool surface cleaner SkimmeMotion, we have now developed the next generation of Automatic Surface Cleaners, and our newest family member: we proudly present the SkimmerMotion XTREME!
In its design, we included all the details and feedback of every customer and pool store owner.
It's the most powerful, most efficient, moving cleaning waterfall we've designed up to date. We created it to reach XTREME Levels of Performance, XTREME Simplicity, and Efficiency while maintaining a Sleek Design.
It handles much bigger leaves and more debris.
it moves around the pool to reach every corner.
It connects to your suction-side cleaner in just minutes.
Clarifies the pool.
It cleans and recycles the pool surface 6 Times More than your standard pool pump.
It's got a bigger internal "basket" design that helps keep debris more secure.
And it's Eco-Friendly / Made with recycled materials.
Use  long-lasting materials
Easy to install
FEATURES AT GLANCE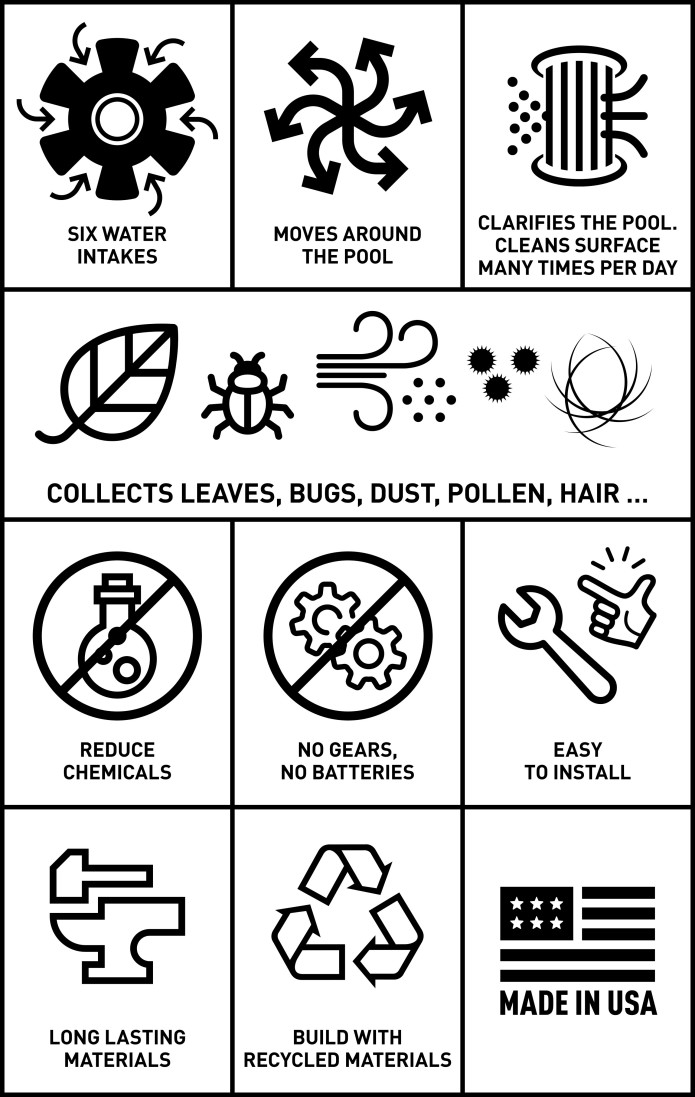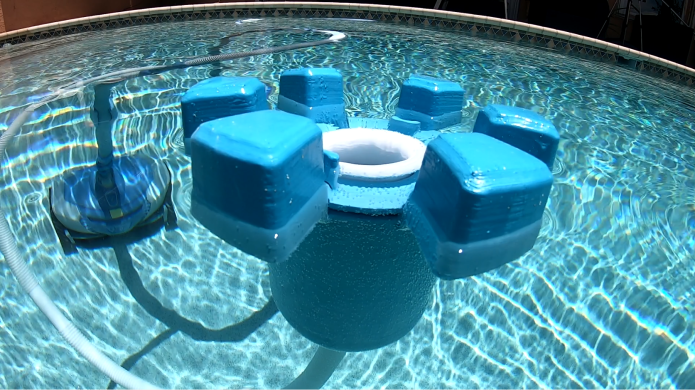 Keeps your pool surface clean all year round and it's always ready to enjoy.
The moving WATERFALL that eliminates leaves, bugs, dust, pollen, dog hair, and all debris from the pool surface.
Its continuous action focused on the surface, eliminates de debris before it mixes with the water, clarifying the pool.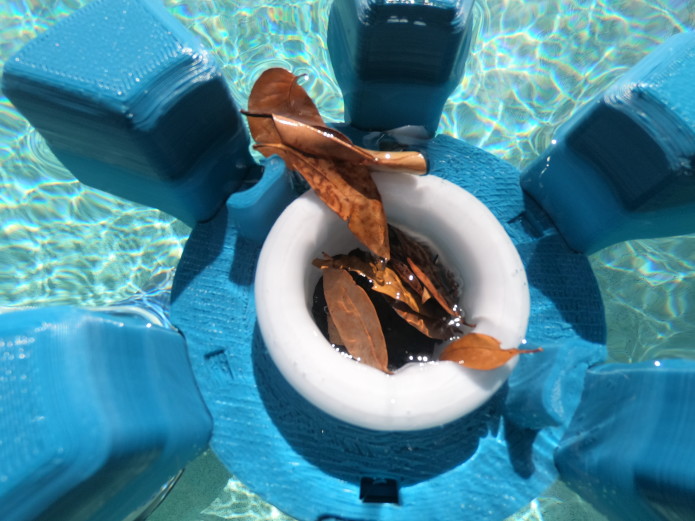 SkimmerMotion XTREME moves along your suction side cleaner to reach every corner of your pool.
Never use a pool leaf rake again.
THE INTERNAL BASKET KEEPS COLLECTED DEBRIS SECURE FOR EASY REMOVAL.
Smaller debris goes directly to the pool's filtration system.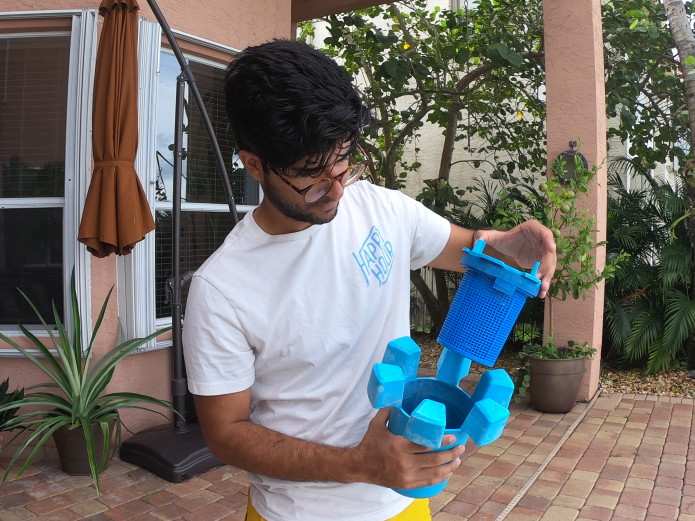 Installs in minutes.
Just insert the provided Tee-Joint between the suction side cleaner hose, adjust the suction valve and enjoy a clean pool all year round.
It comes with a hose and connectors necessary to attach it to all suction-side cleaners.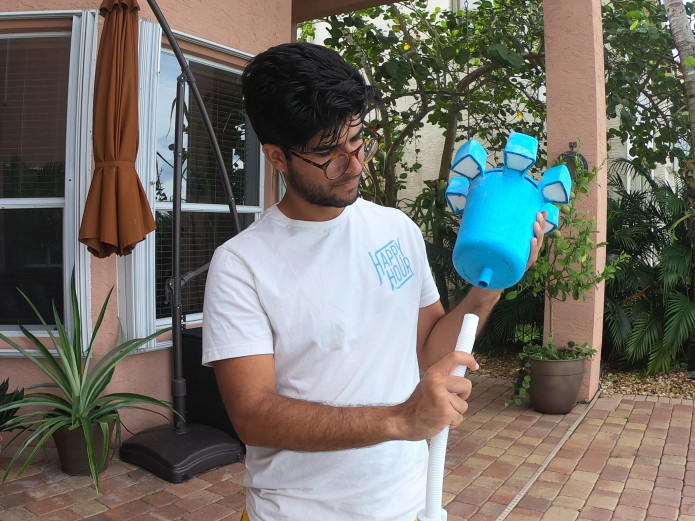 We care about the environment as much as you do. That's why we decided to make the new SkimmerMotion XTREME, with recycled materials and comes in 100% recyclable packaging. We're also making it here in the USA, to reduce our CO2 emissions and energy from transportation.
It reduces the need for chemicals and uses no batteries or electricity.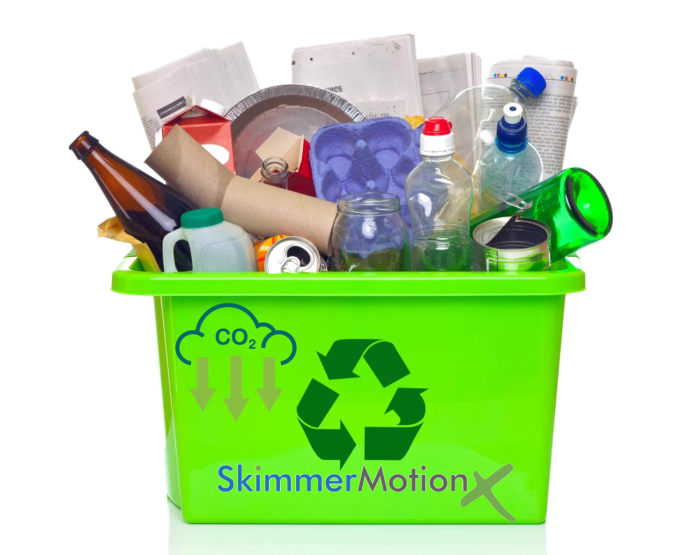 Made in the USA
We choose our injection partner 20 miles from our warehouse.
 Just compare the CO2 emissions saving transporting the parts of our products from 20  miles vs. over 8.000 miles from China or any other place.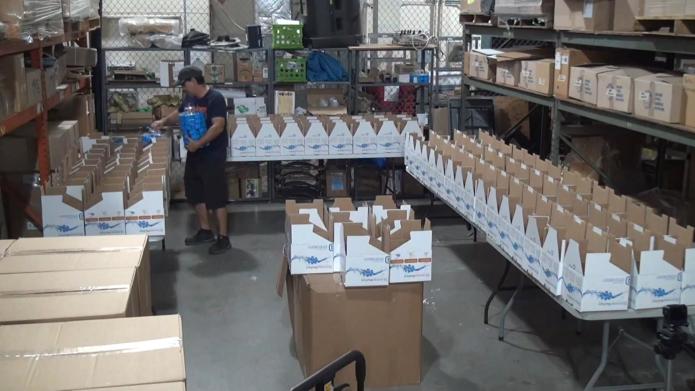 SkimmerMotion XTREME design is ready, several prototypes have been working perfectly for months.
We have everything almost ready to start production here in the USA. As soon as the molds arrive. We'll use the same infrastructure we have been using since 2013 to manufacture our Automatic Pool surface cleaner.
The construction of the molds to start producing has already started.
With your support we can accelerate the manufacturing process and buy raw material in advance, we want to launch SkimmerMotion XTREME by January 2022.
To assure the maximum project funding, we are offering One-time Unique Perks of up to 70% for early birds.
We also have the support of many pool experts backing our product for a faster start.
With your contribution, we'll be able to order the recycled raw materials, finish the box design and fine-tune our distribution & assembly process for rapid delivery.
We'll be keeping you (our backers) informed every step of the way.
The construction of the molds has already been stated, which will allow us to deliver the product on the perk's dates or earlier.
Since this is our second-generation product, we do not foresee any major obstacles to meet our perk dates.
Other Ways You Can Help
We need NOT ONLY your economical support, but we also need your help to spread the word about SkimmerMotion XTREME, share our campaign, especially with pool owners or friends.