Slice of Sauce: an All-Natural Slice of Ketchup | Bo's Original Slice of Sauce™ is a flavor-packed condiment with a clean label, no-mess experience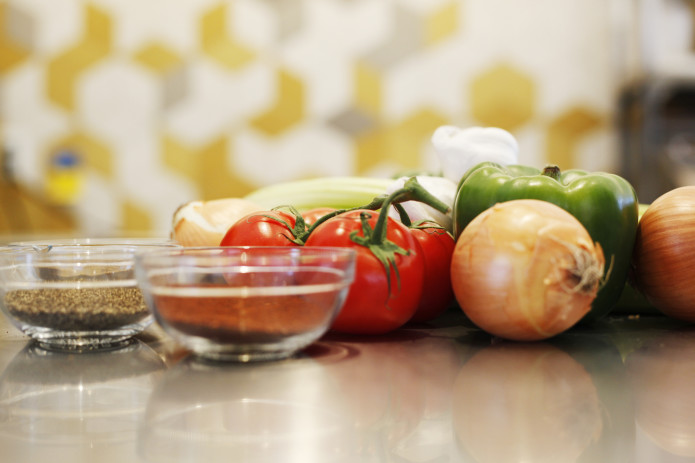 Slice of Sauce™ transforms the traditional condiment aisle with individual "slices" of Signature Recipe Ketchup in a convenient and mess-free package of 8 portions.  We are NOT individually wrapped.
Layer it onto your burgers, sandwiches, wraps and more for a delicious burst of flavor and a perfectly portioned bite every time.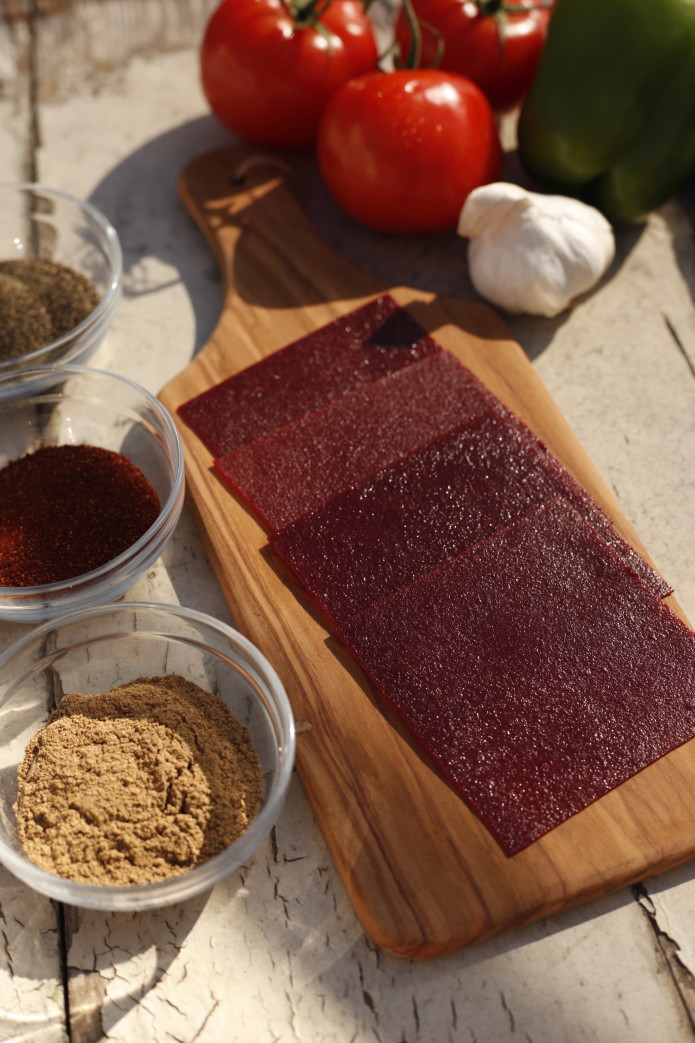 • Slice of Sauce™ is an update to ordinary condiments. The slice is a tantalizing layer of flavor and lets you enjoy a perfect bite every time.
• We've got a clean label. Our ingredients are non-GMO, gluten-free, all-natural with no artificial flavors, preservatives, or high-fructose corn syrup.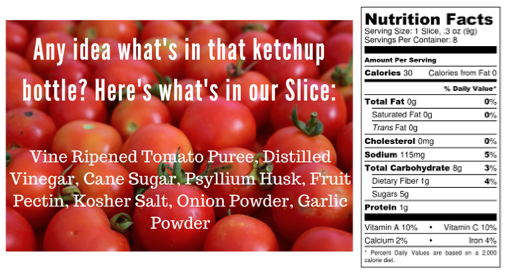 • It's so easy to add a slice. There's no sticky mess or soggy bread, no "liquidy" separation and no uneven squeezing from a part-empty bottle like with many traditional condiments.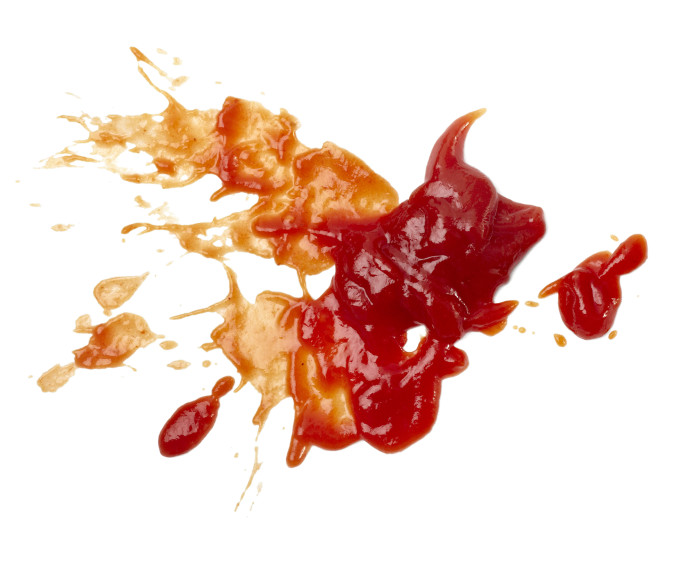 • Take it anywhere. Slice of Sauce™ needs no refrigeration, so it's great for lunchboxes, picnics, barbeques, hiking and camping, lunches at your desk or eating on the go.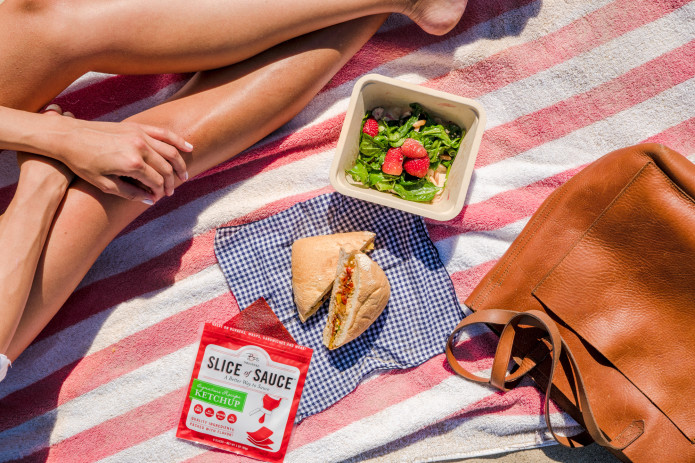 We were working with some family recipes given to us by Emily's father, a restaurateur from the Upper Peninsula of Michigan. A recipe for BBQ sauce called for braising loads of vegetables and then discarding them. In order to use as much of the whole ingredients as possible, we mixed them, ground them, and dried them. Accidentally, the result was Slice of Sauce™.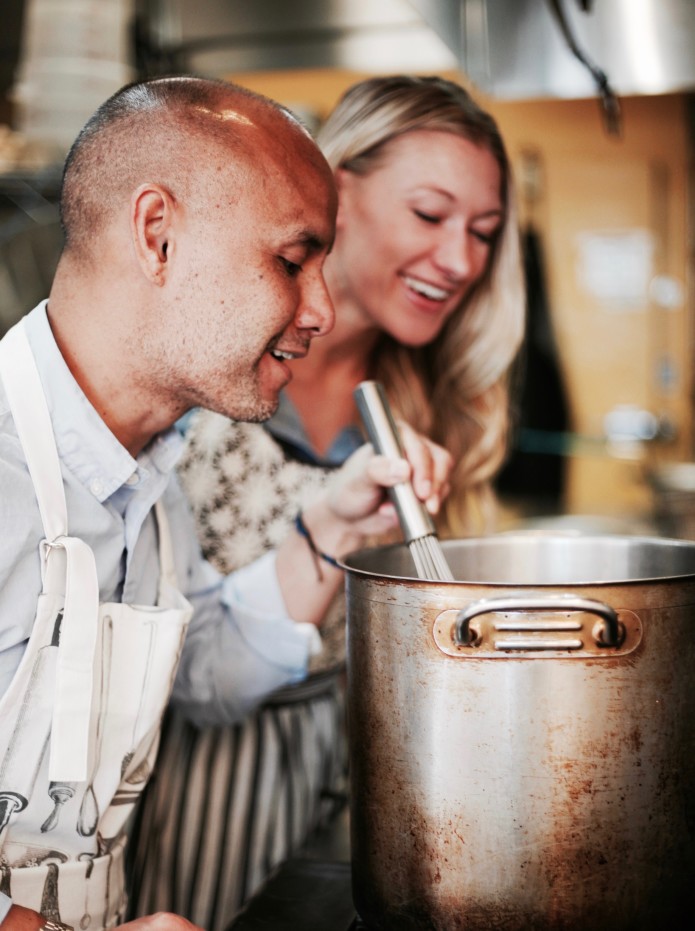 The base for that BBQ sauce was ketchup, but traditional condiments are packed with preservatives and high fructose corn syrup. Instead, we wanted to focus on using healthy, high quality ingredients so we knew we needed our own recipe. After experimenting with different flavors and our new-found "slice" process, we ended up with a Signature Recipe Ketchup that adds a delicious layer to anything from burgers and wraps to sandwiches and burritos.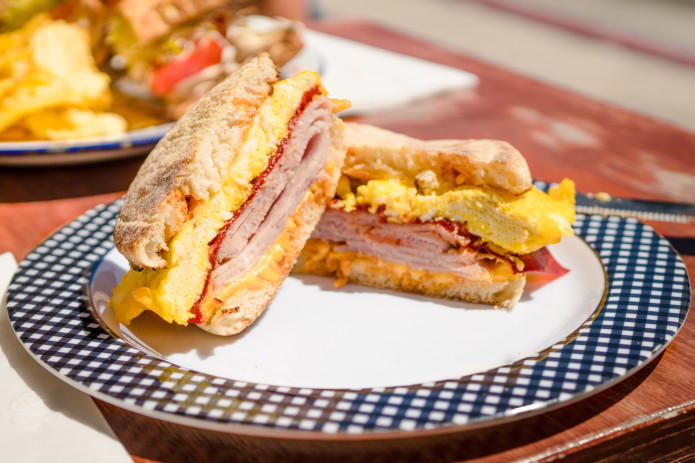 Our Founder Emily hails from the Upper Peninsula of Michigan and has a background in finance, sales, and supply chain management. She grew up in a small snowy town where her Midwestern upbringing included baking bread with her dad and playing the fiddle with her mom's bluegrass band.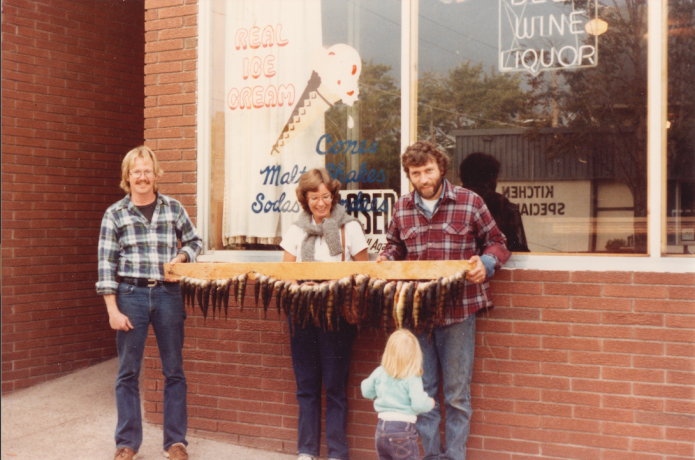 Co-Founder Thac has an MBA in finance and spent over 15 years building successful retail businesses in Los Angeles and New York City. After leaving his job and backpacking around the world, Thac returned to LA and partnered with Emily to join the Slice Age.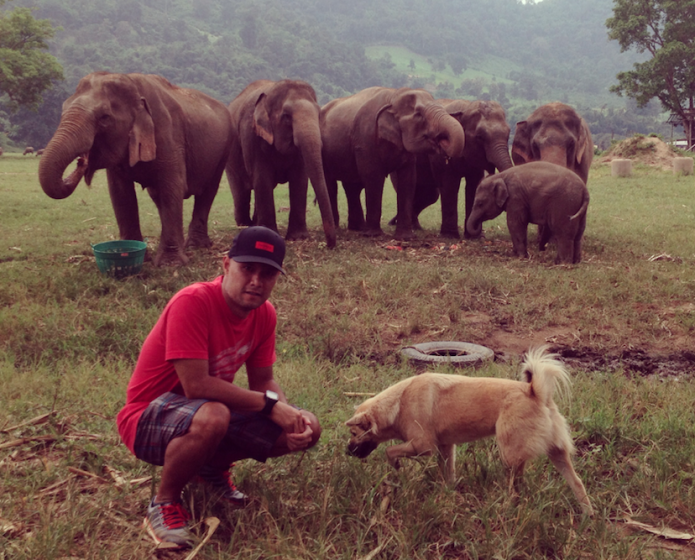 Today, Emily is the CEO and Chief Flavor Innovator, and Thac is the CFO and Executive Spreadsheet Wizard.  

We set out to share our passion for healthy living and our love of food. We want to spread awareness that products with clean labels and ingredients with integrity can also be fun.  We are deeply committed to leading the way in sustainable packaging and regenerative sourcing.
Slice of Sauce™ began in our homes but we're excited to bring it to the shelves of grocery stores everywhere. In addition, we hope Slice of Sauce™ will address a need for healthier alternatives in schools, hospitals, and the military.