SliceX: A New Kind of Kitchen Cutting Board | Slice multiple small fruits, vegetables and nuts in one swift motion!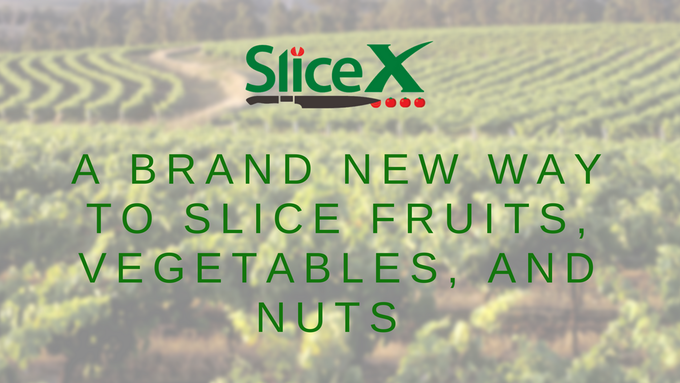 SliceX – The most versatile food slicing tool since the knife and cutting board.
Slicing fruits and vegetables ought to be faster, safer and more fun…so we created SliceX.
Slice multiple cherry tomatoes, grapes, olives, brussels sprouts, even blueberries… in one easy motion.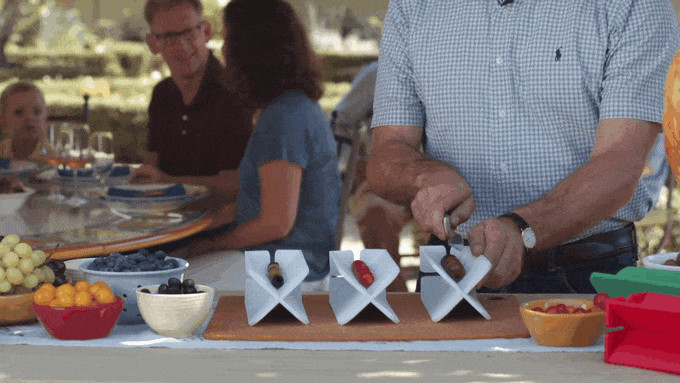 Make several orange, apple, grapefruit, even mushroom wedges at one time. Going from quarters to eighths has never been easier.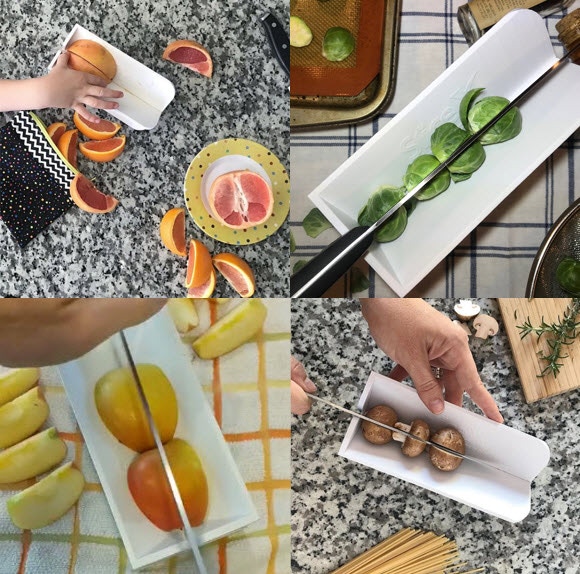 It's also handy for chopping things like seeds and nuts that tend to fly off traditional cutting boards.
Novel 3D cutting surface automatically aligns, supports and holds food still for greater slicing efficiency, safety, and ease.
As Seen On
With SliceX you don't have to pick up individual items off your cutting board. Just pour the sliced items right into your bowl from the SliceX.
SliceX is durable and washable.  It is made out of the same recyclable material as professional grade cutting boards, and it is easy on your knife blades.
SliceX comes apart into two pieces for easy storage.
Buy your SliceX and very soon you'll be looking for reasons to use it and to feel the satisfaction of easily slicing numerous items at once.
The SliceX trough lines up items of different sizes so that they can all be cut right down the middle with one cut.
The SliceX backstop holds items in place as you cut across right through them in one motion.
The SliceX knife guide ensures a straight cut right down the middle.
Each SliceX offers four slicing troughs upon rotation.
SliceX's two part design makes it easy to clean and to store.
Heavy duty HDPE plastic supports years of use.
SliceX makes slicing food much safer because your fingers don't need to hold the items you are cutting.
Why bother slicing your fruit and vegetables anyway?
Slicing cherry tomatoes makes them a lot easier to eat rather than chasing them around your plate with a fork until you finally spear one and it spurts juice onto your shirt.  Besides being a more elegant way to serve cherry tomatoes, slicing them in half releases their flavor and juices into your salad dressing, pasta sauce, etc.  Grapes are also much easier to eat when cut in half. Slicing them releases their flavor into your chicken salad, fruit salad, etc. 
Children's Food Safety Note: Grapes can be a choking hazard.  Sliced grapes are much safer to eat, especially for children.  Same goes for blueberries and hot dogs.  Food safety experts recommend cutting hot dogs and sausages lengthwise, particularly for children, and SliceX makes that a breeze, especially when they are hot to the touch.  SliceX makes a perfect baby shower gift.
SliceX Goes Both Ways:  
You can slice toward or away from the backstop and knife guide groove. Try both ways and choose the method that is most comfortable to you.
Pulling knife across SliceX:
Pushing knife across SliceX:
Yummy Things Made Easy:
Cherry Tomatoes: Green Salads; Tomato Salads; Corn Salad; Pasta Salad; Caprese Salads; Pasta Sauce; Roasted Cherry Tomatoes; Tomato Powder; Sun Dried Tomatoes; Bruschetta; Crostini; Salsas; Meat, Chicken or Fish Toppings; and Snacks.
Grapes: Fruit Salad, Chicken Salad, Waldorf Salad, Grape Salad, Dried Grapes, Filet of Sole Veronique, and Safe Kids Snacks.
Olives: Green Salad, Pizza, Chicken Dishes like Chicken Marabella, Pasta Sauces Like Pasta Puttanesca, Fish Dishes like Sicillian Swordfish, and Olive Relish
Nuts: Cookies (chocolate chip, oatmeal, Mexican wedding, rum balls etc.), Salads, Candied Nuts, Fruit Cakes, Carrot Cakes, Zucchini Bread, Banana Bread, and other Baked Goods (brownies, blondies, etc.). 
Brussels Sprouts: Roasted with honey, maple syrup, bacon, parmesan cheese, balsamic vinegar, pine nuts, au gratin, etc.; Steamed; or Pan Fried in olive oil.
Carrots (lengthwise slices): Stir Fry, Snacks, Julienne or Matchstick cuts
Apples, Oranges, Grapefruits, Mushrooms: Wedges, especially going from quarters to eighths.
Blueberries & Cranberries: Muffins, Pancakes, Crostini, Salads, or as Garnishes.
Gooseberries: Green Salads, Gooseberry Tarts, Gooseberry Scones, Chutney, Thokku, or as a Garnish.
Kumquats: Kumquat Marmalade, Fruit Salads, Kumquat Vodka, Green Salads, Preserved Kumquats.
Mozzarella Balls "Bocconcini": Caprese Salad; Tomato Salad; Bruschetta, Appetizers; Tomato & Basil Skewers; Marinated Mozzarella, Olives & Artichokes.
Check out numerous delicious recipes that will become a lot easier with your SliceX on any of our social media pages.
The Perfect Gift 
People: Foodies, Home Cooks, Vegetable Gardeners, Vegans, Vegetarians, Paleo Adherents, Chefs, Mom, Dad, Husband, Wife, Arthritis Sufferers, etc.