SmartSlydr – Automate any Sliding Door or Window | Let in the fresh air, let out the dog, and control doors & windows hands-free with SmartSlydr™.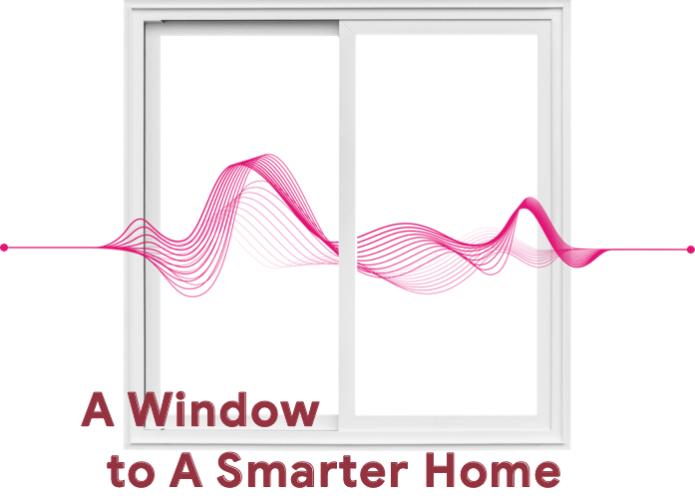 SmartSlydr™ is a motorized robotic system that can make your sliding windows and doors smart in a matter of minutes!  No tools are required for installation.
Check if your sliding doors or windows are open, or closed and locked. Control them at any time using our smartphone app – even from the comfort of your couch, bed, or computer. 
Power Windows for Car, Why Not for Home?
A home without SmartSlydr™ is like a car without Power Windows. 
In 1941 Power windows were introduced for cars, now in 2021 SmartSlydr is introduced for Smart Homes. Fasten your seat belts and BACK IT now towards your smart home journey with SmartSlydr™.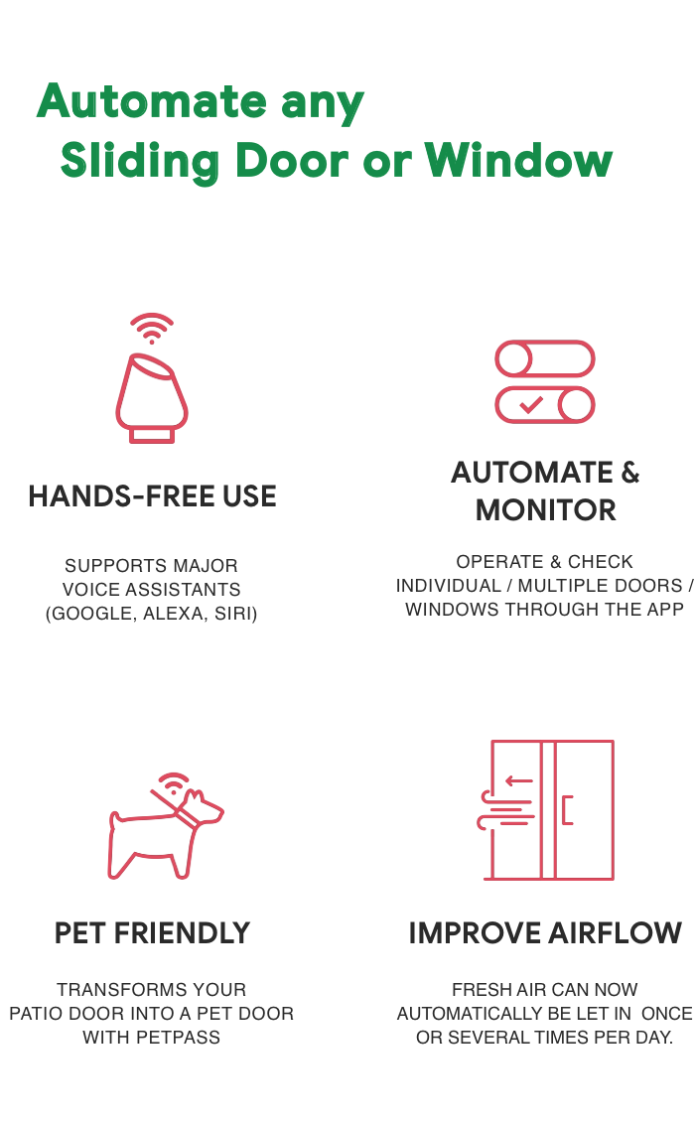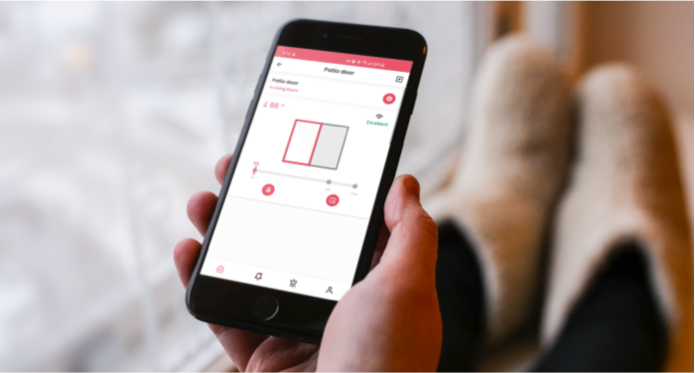 SmartSlydr™ is more than just a  home product; it's a smart home solution made with a balanced fusion of mechanical, hardware, and software design for your everyday needs. We made sure our products work with the major voice-assisted speakers in the market.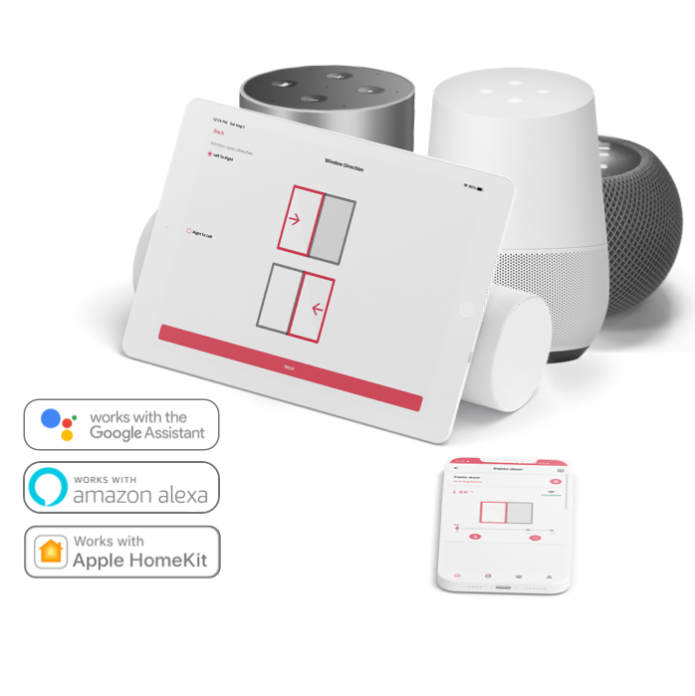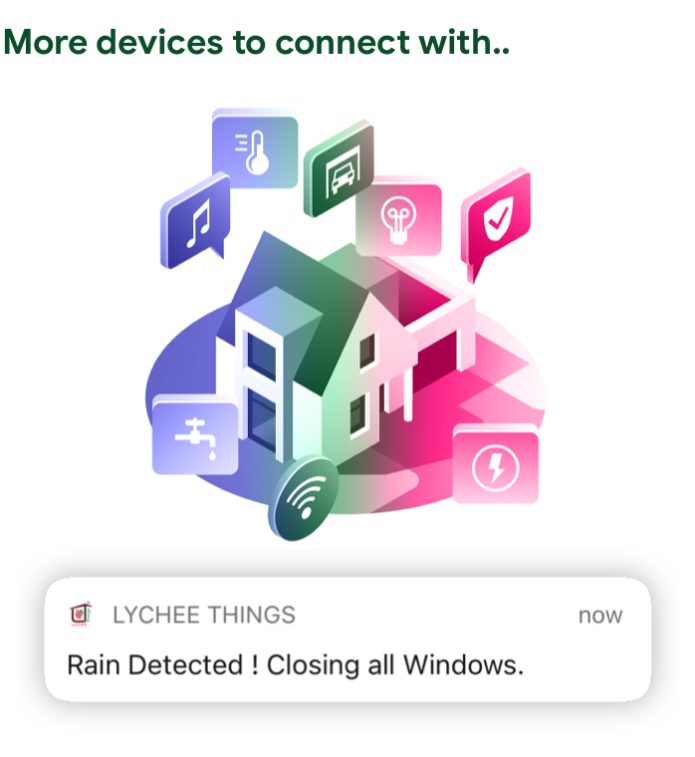 Get notifications on your smartphone to get updated with door/window activity. With future software upgrades, we will be enabling other integrated ways to use the product with other smart devices. SmartSlydr has temperature and humidity sensors that will be enabled in future software updates. With scheduled operation based on temperature sensors, smart smoke detectors, smart thermostats, weather, your location, or time of day, SmartSlydr™ can work with other smart devices to operate based on your specific need. SmarSlydr™ makes any home a truly smart home. 

DIY installation in minutes:
SmartSlydr™ attaches via 2 options: clamps (top mount, requires a screwdriver, best for doors), or adhesive strip (bottom mount, best for windows). One adhesive part attaches to the moving door/window panel on the other side of it to align SmartSlydr™.

Renting a Home?
Don't worry. You can install SmartSlydr™ without any damage and take it with you when you move.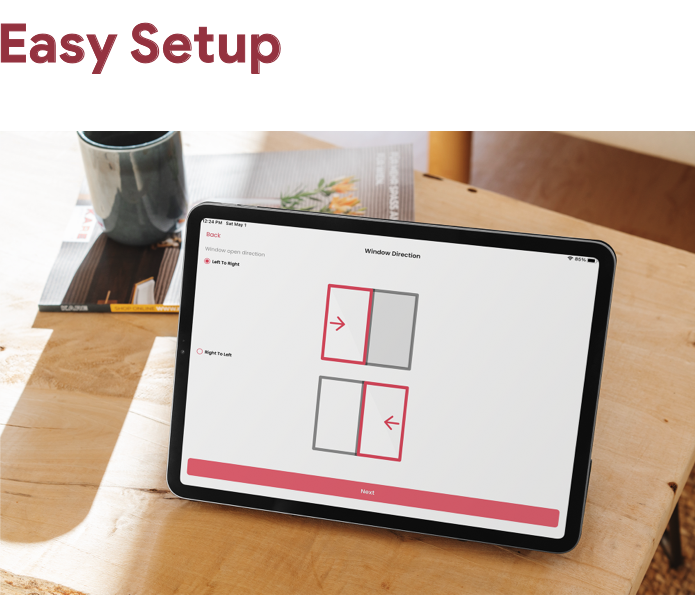 Connect your SmartSlydr™ to the power supply and configure with Smart Phone App instructions. 
Perform automated AI-enabled calibration to adjust according to Door/Window (Proprietary Algorithm)
SmartSlydr™ will open and close a few times to make final adjustments
Your smart window/door is ready to be used through the App or with the PetPass.

By using the SmarSlydr™ PetPass, you can now let your furry friend go outside, and come back in when they're ready.
Get a special notification on your smartphone when the pet is waiting near the door to be let out or back inside.
Busy with work? Watching a show, or feeling lazy in bed? If you are not available when the dog or cat needs to go out, SmarSlydr™ can do it for you.
The smartphone app offers several custom options for PetPass. Set the amount the door will open for your pet and how long the door will remain open. Also set whether the door should open automatically, or prompt you for permission via notification.
Also, your installed camera directed outside allows you to check around the door surroundings before opening. This adds security, convenience, and peace of mind.

There are 3 different primary ways to use SmartSlydr™: 
Pushing the OneButton / Using the PetPass
Through the App
Voice Assistant Speakers


Opening and closing sliding doors can be difficult, awkward, and downright troublesome for people with injuries, the elderly, or people with disabilities.
You may have a family member with a disability, or someone you know would benefit from doors/windows easily sliding open with SmartSlydr™. Give them the gift of accessibility and freedom. SmartSlydr™ opens at the push of a button, or a voice command through Alexa, Google Home, and Siri.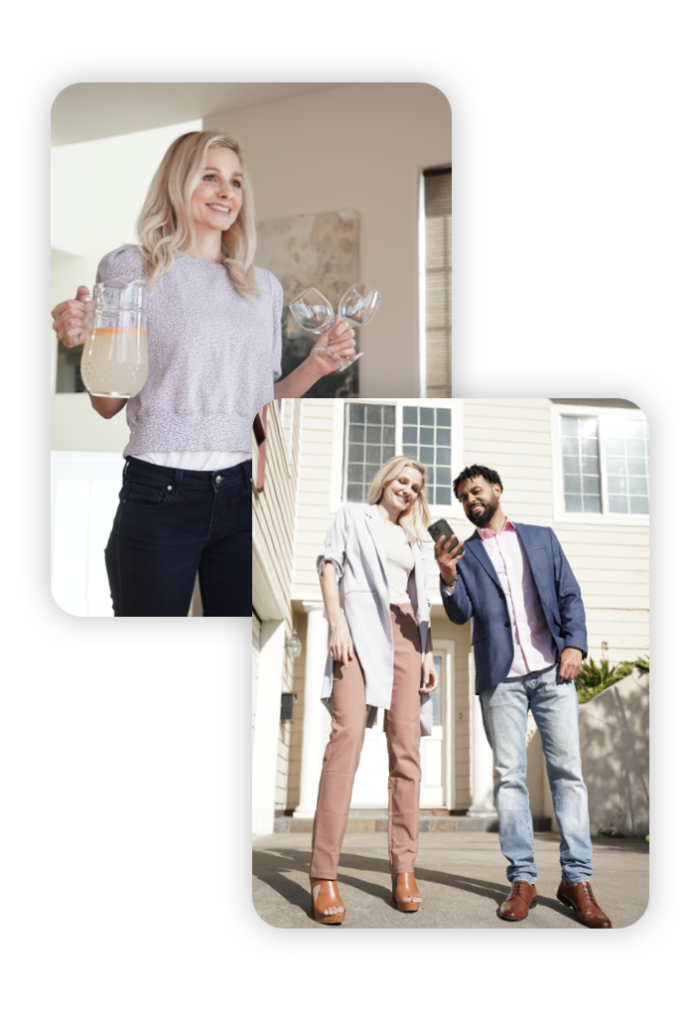 SmartSlydr™ device keeps the doors and windows locked when closed without any extra accessories. This gives you priceless peace of mind when you are asleep or on vacation. The system is also equipped with industry-standard software security protection.
Also, according to tips from the National Crime Prevention Council, just keeping your doors and windows locked can go a long way toward preventing burglars from entering your home. Sliding doors and windows with SmartSlydr remain locked when closed, and the device will send reminders if a door or window is opened out of schedule, or for longer than a certain duration.

SmartSlydr™ can also help fight SARS-CoV-2 (the virus that causes COVID-19), flu, and other viruses by increasing indoor air circulation. Don't just believe our words, visit CDC guidelines https://www.cdc.gov/coronavirus/2019-ncov/prevent-getting-sick/Improving-Ventilation-Home.html
Did you know that we spend about 90% of our lives indoors? That's why indoor air quality matters, especially in our homes. SmartSlydr makes it easy to let fresh air in.
The EPA recommends letting in fresh outdoor air each day. For more information, visit: https://www.epa.gov/report-environment/indoor-air-quality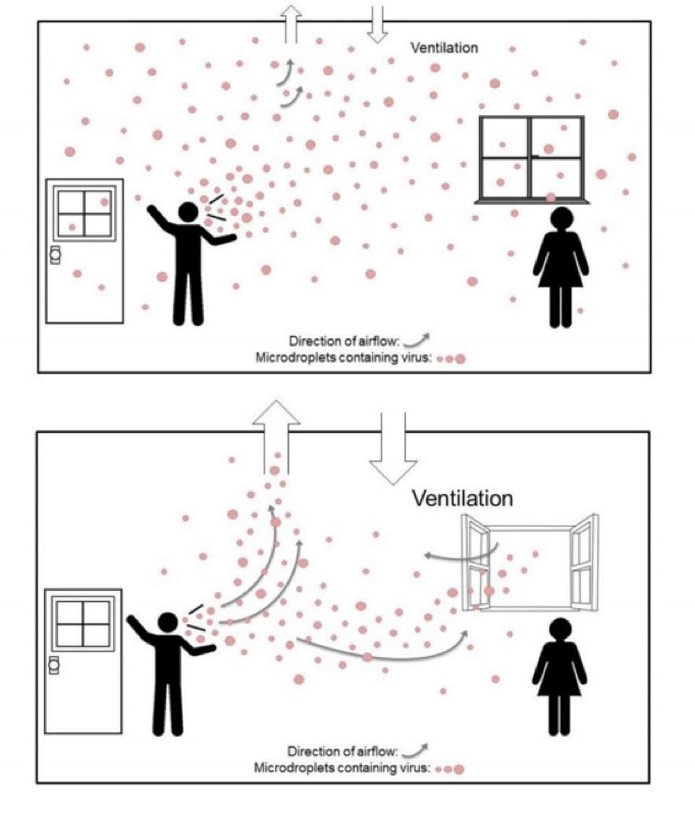 According to doctors, indoor air quality is the primary reason for 50% of respiratory illnesses in the US. Indoor concentrations of certain pollutants have also increased, and mechanical ventilation doesn't always ensure adequate air exchange.
When was the last time you opened your bedroom windows?
SmartSlydr™ is the most convenient, smart way to let in more natural air.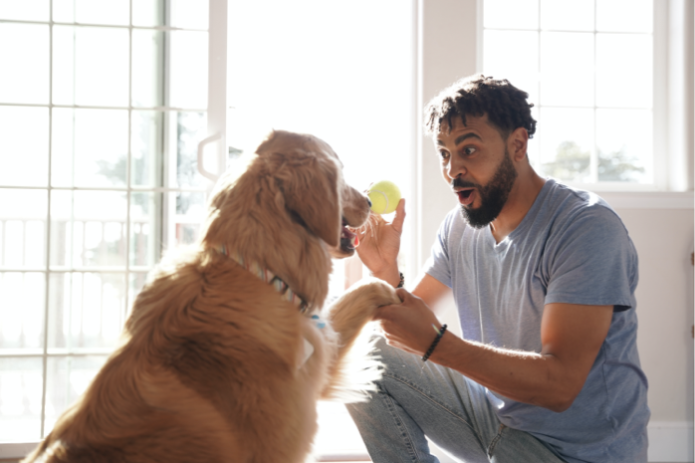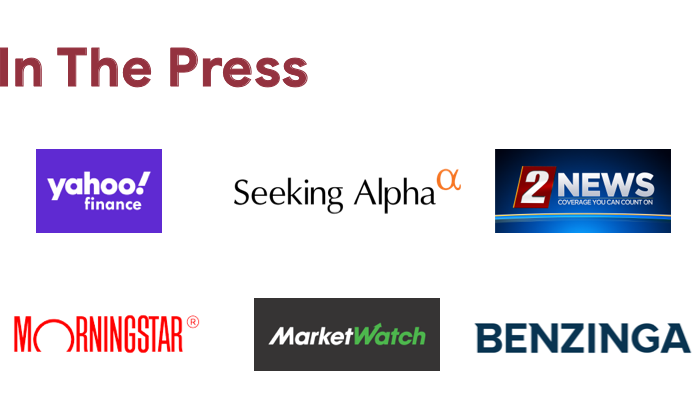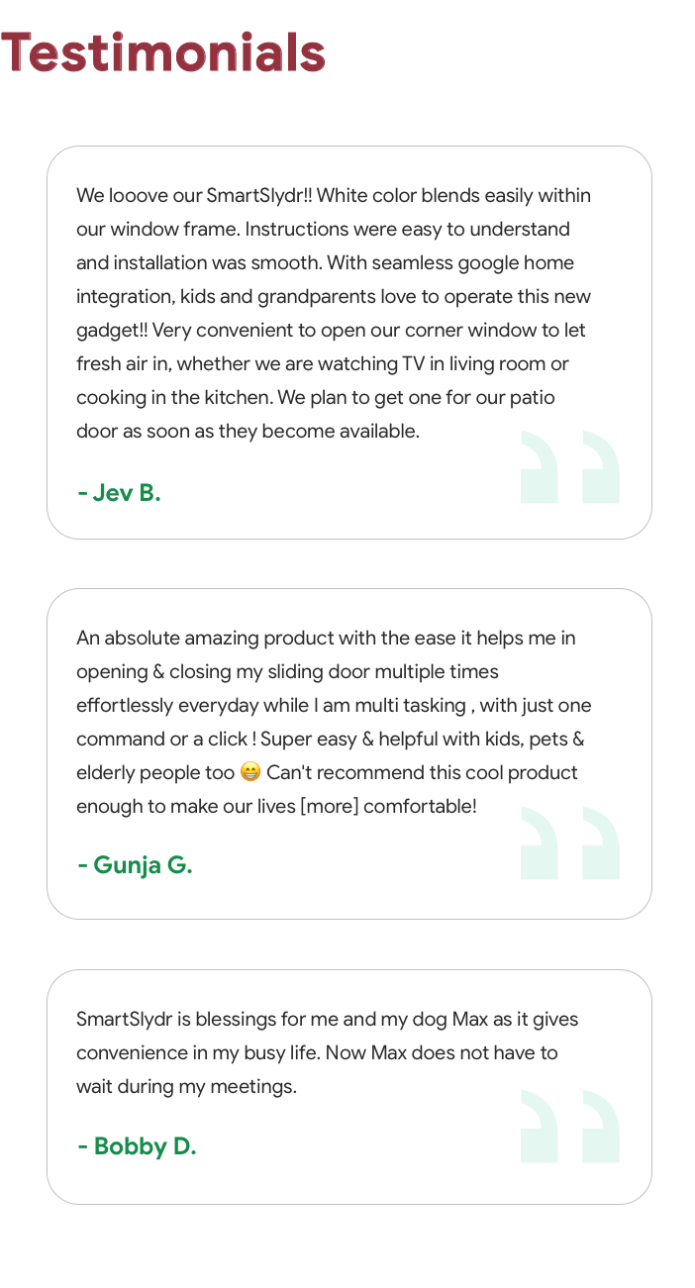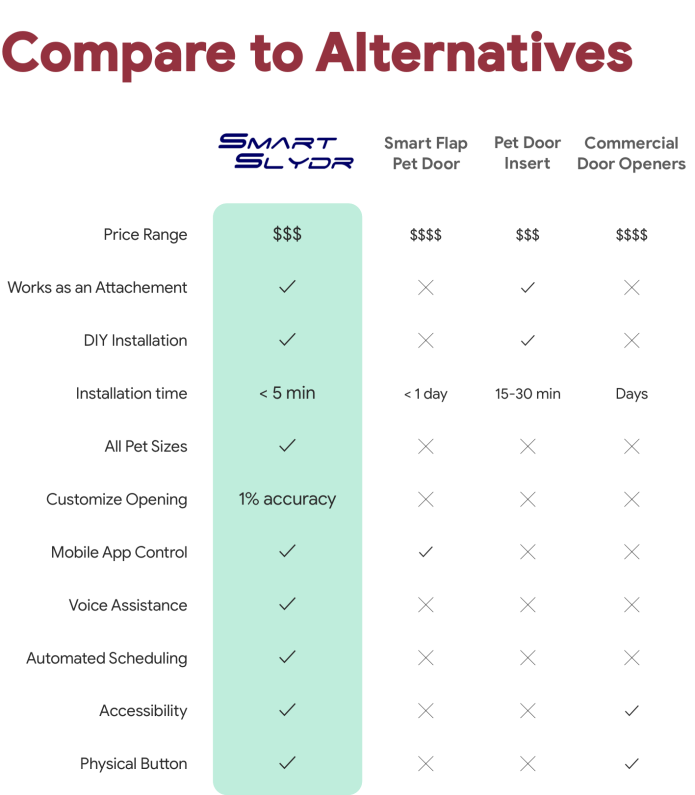 ​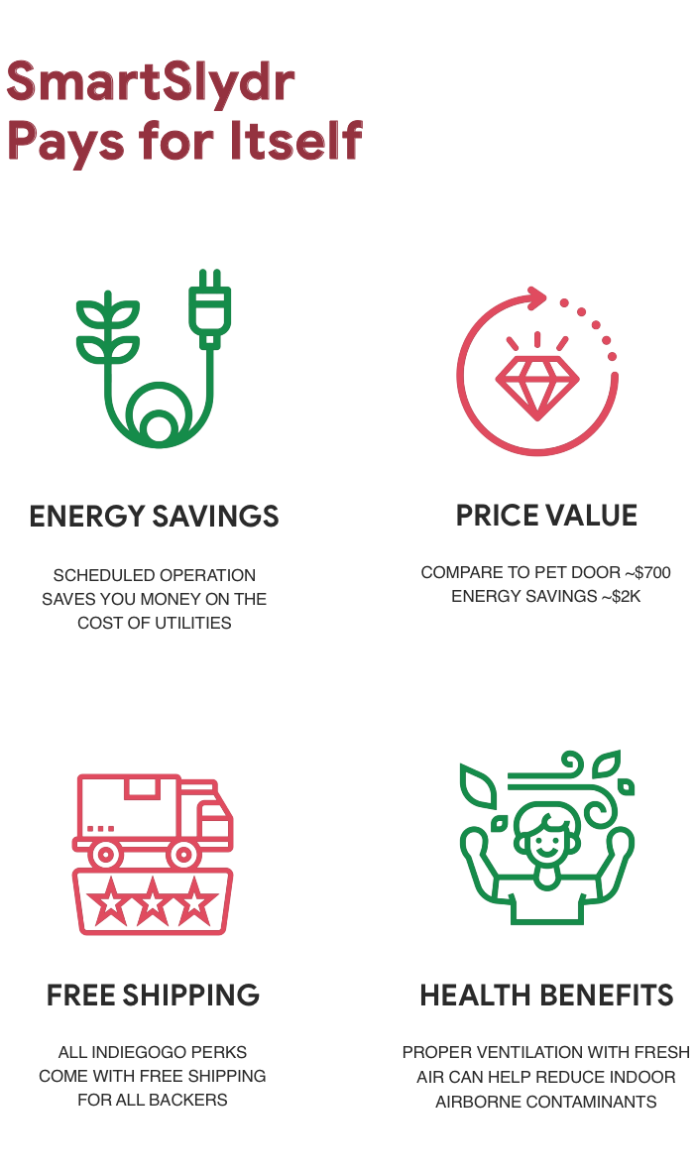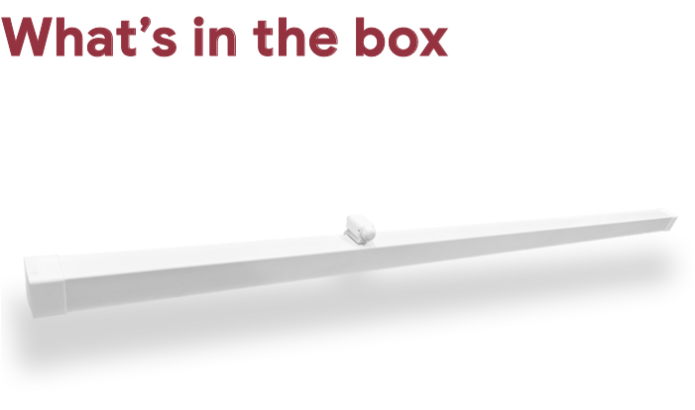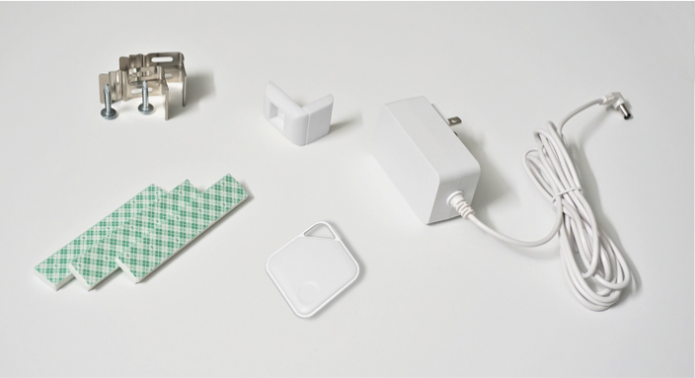 (PetPass/OneButton is included only with certain packages)

After you receive your SmartSlydr™ we can provide free remote tech support if you need any help during the installation. If our tech support can't make it work, you can ship the unit back to us for a full refund.
Please Note: If the above conditions do not work or if you are not sure, please reach out to us. We can suggest alternative methods to install SmartSlydr™ on a case-to-case basis.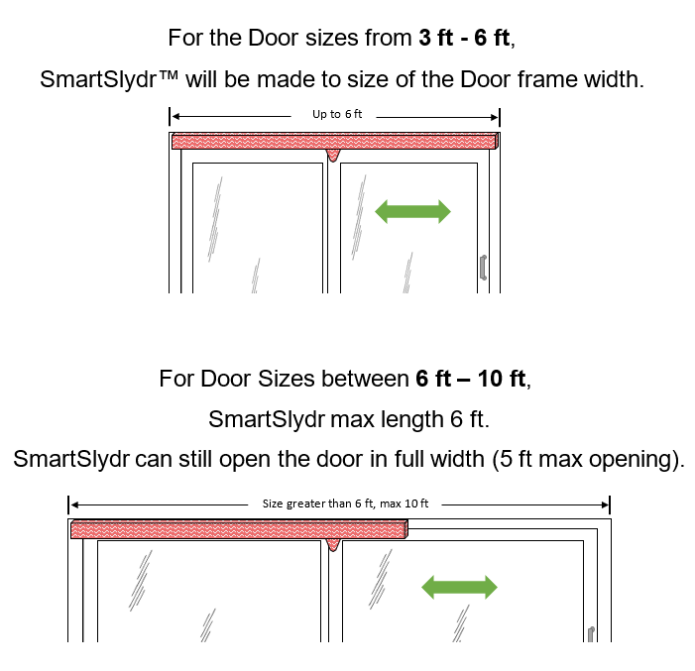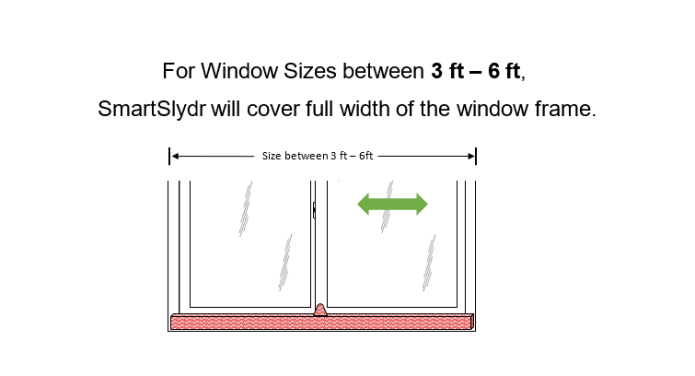 Update:
We have added support for the External moving panel as well with an adaptor. Please don't forget to provide the details with your door/window dimensions. Please refer to the gif below for reference. 
https://lycheethings.com/assets/videos/ExternalMovingPanel.mp4
Please refer to FAQs for more details. We will contact you for the length and other custom size information once you back us on Indiegogo.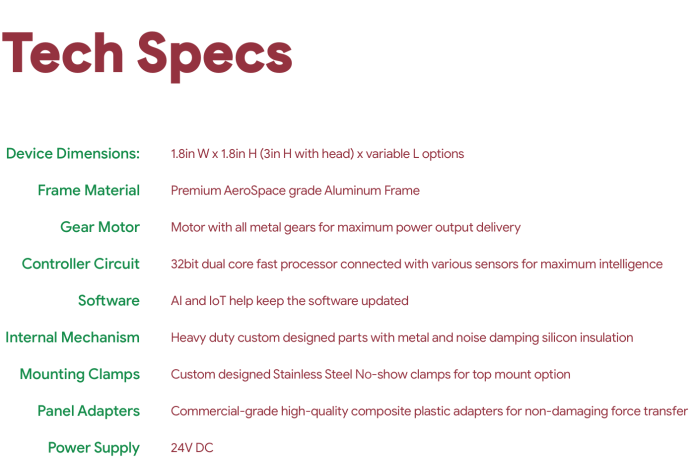 We spent the past 3 years enjoying the process of bringing Lychee Things' first product – SmartSlydr™ to life. We hand-picked each component and put a lot of thought and testing into making a user-friendly and long-lasting product. Now the development is almost complete and we need your support to meet our minimum order requirement with the manufacturer.
Currently, the Android app beta version is complete and under testing. The iOS app is also under development and we will have more updates as we get closer to the product delivery date.
Heavy Door Load testing
Just to make sure if SmartSlydr™ is capable of moving heavy doors we have put it to test with 18 lbs of weight pull. Most of the heavy sliding doors need force between 5-15 lbs pull force with 15 lbs feeling heaviest. Please check out the video below for our weight test.

As a company that makes smart devices for the home, our main concern is to make products that give you the most desirable experience. SmartSlydr™ is designed and tested with safety in mind for everyone while in operation. Small changes or further improvements may be made to the final product as we will test it again before we ship it out to you. We promise to update you promptly and explain the rationale behind any improvements or changes.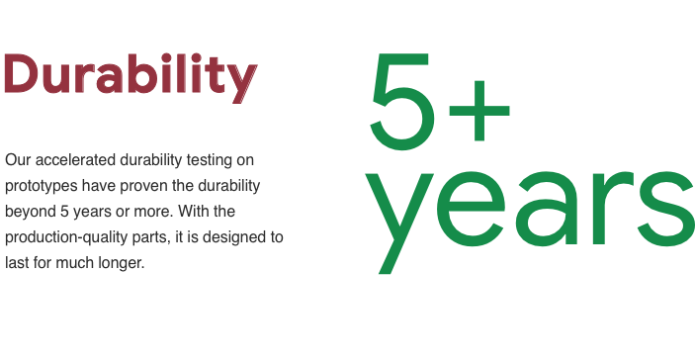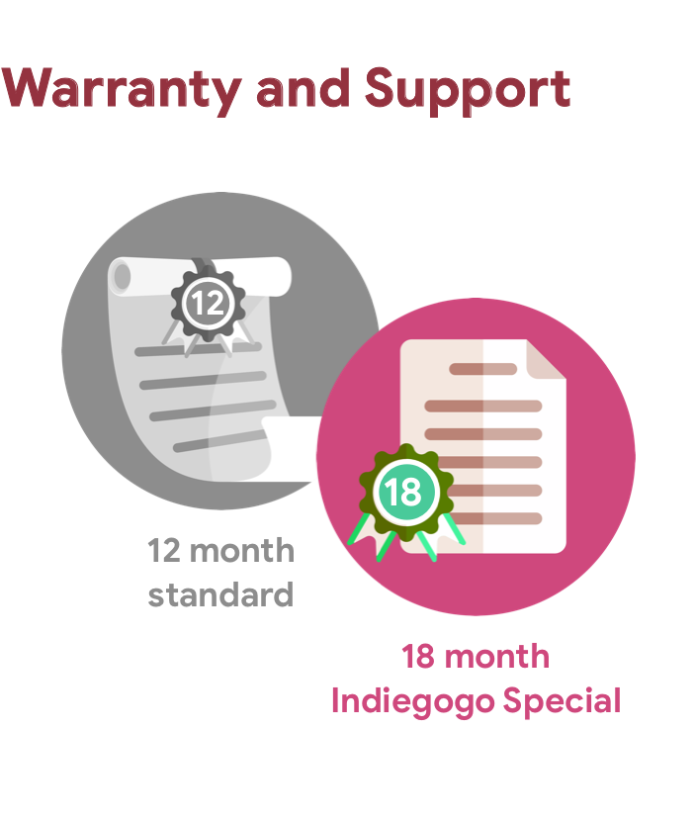 We are providing an exclusive limited warranty for our early Indiegogo backers for 18 months against defects in material, design, and workmanship.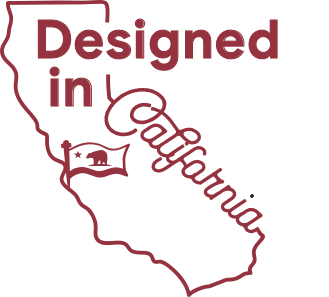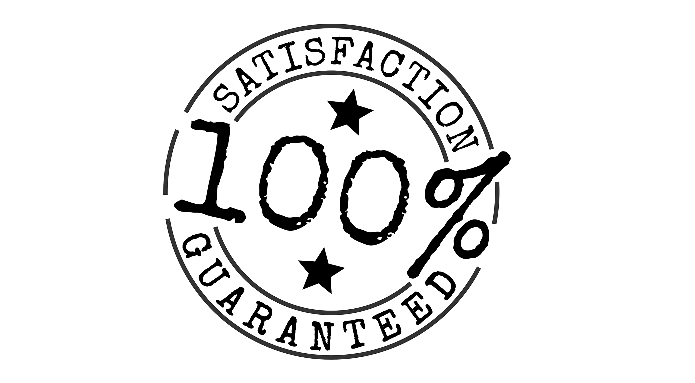 Due to any reason, if you are not satisfied with SmartSlydr™, we will issue a full refund if you ship the unit back within 30 days after receiving it.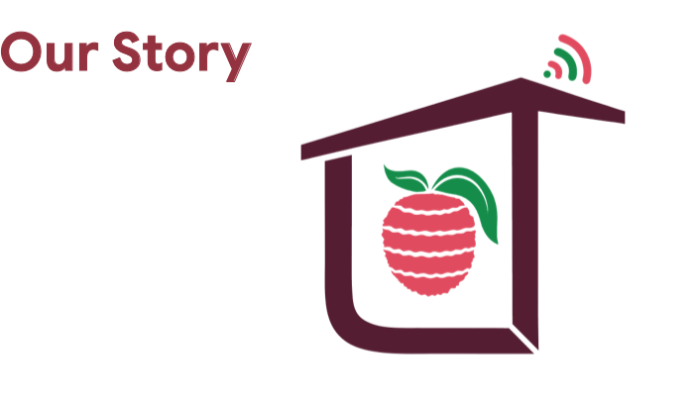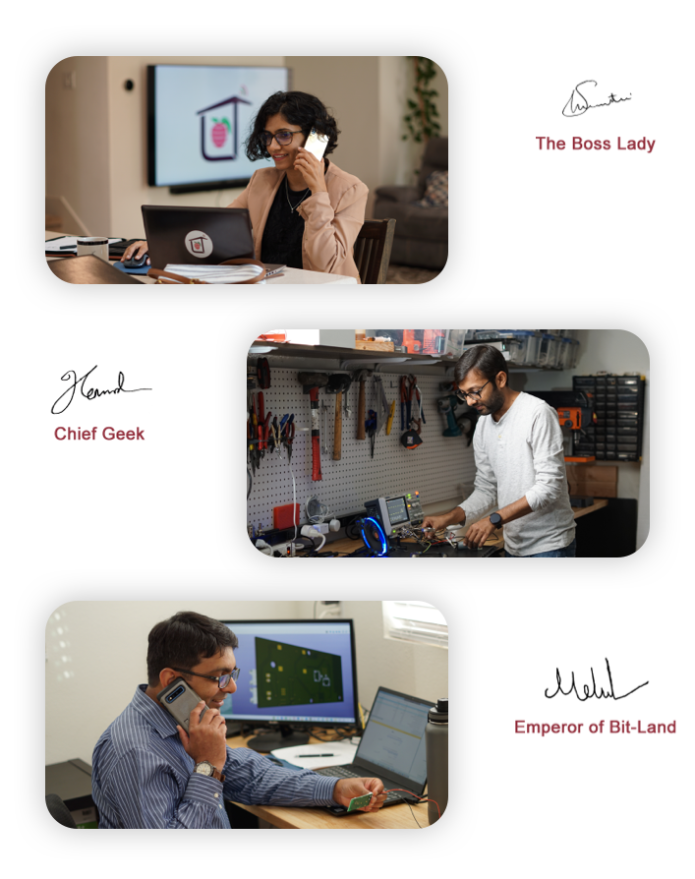 Our story started when one of our founders wanted to let the cold air inside his house during the night or early morning and to prevent the hot air from getting in during the daytime. ThisSave Changes required a lot of effort and waking up during the night or early morning and seemed cumbersome to do manually every day. Since this happened 10 years ago (in the pre-smart-home-era), he dropped the idea, due to the lack of resources and IoT infrastructure.
A few years later, he revisited the idea after purchasing the multi-story home and started worrying about monitoring the windows/doors when on vacation. After scoping out the design and early prototype, he contacted close friends who were also experts in the field of IoT. Soon LycheeThings team was complete and with added experts, they went straight to work doing the market research. SmartSlydr was born and kept on improving with different use cases and applications like PetPass, Voice Assistant Integration, One Button Control, Cloud Networking, etc. kept adding up.
Now, we are ready to share SmartSlydr™ with you!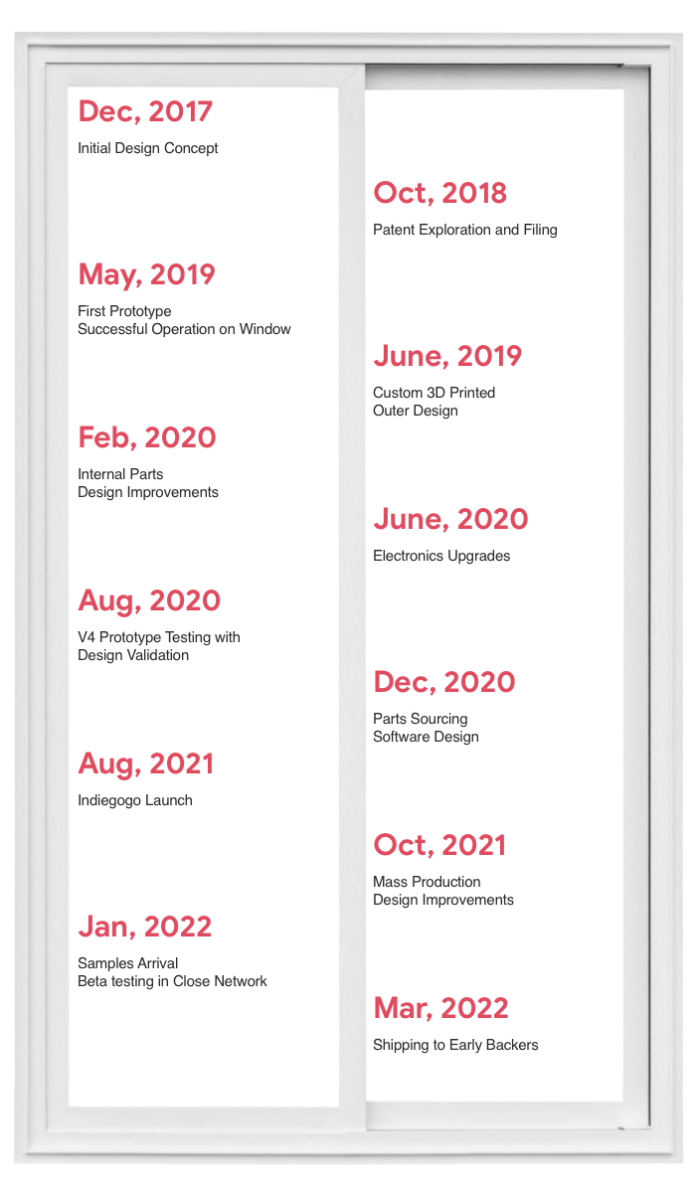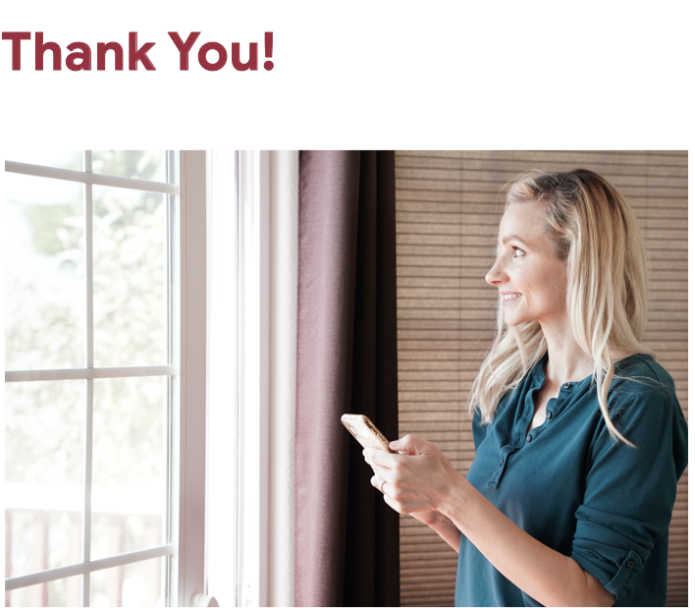 At Lychee Things, we are contributing our best to make your everyday activity healthier and more comfortable in the most natural way with a touch of technology and innovation. 
Our in-house team has experts with mechanical, electrical, software engineering as well as supply chain management with 45+ years of industry experience. We wish to bring a sense of comfort, luxury, and improved quality of life to our backers. 
Thank you for backing this campaign. Please share it with your friends so they too can enjoy the benefits of SmartSlydr™.






Although our team has significant experience working with new technology, we realize that we will encounter challenges along the way. By making plans early and taking the necessary precautions, we are confident we will deliver on our promise. The biggest challenges that we are facing are the timely supply of chips, raw materials, global shipping delays, and manufacturing delays related to the pandemic. While we are hopeful that our first backers will receive their SmartSlydr™ in March, meeting this projected date depends on how quickly our manufacturing partner can turn a prototype into a product in their factory. The pandemic has disrupted supply chains globally, and other unforeseen circumstances could also delay the shipment. We are also collecting feedback from our beta test prototypes. We promise to be fully transparent and provide our backers with regular updates throughout the campaign.
Thanks for your support, and we look forward to delivering your SmartSlydr™ to make your home even more enjoyable!