SNACKJONES: Good Snacks Delivered! | Discover the best in better-for-you snacks delivered to your doorstep.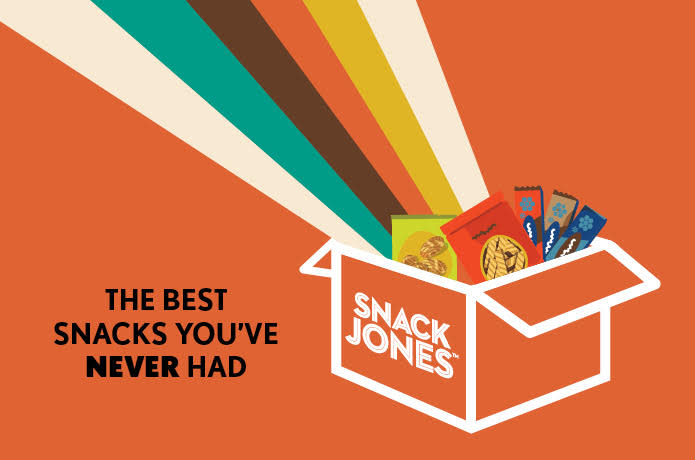 SnackJones is a next-generation e-commerce destination offering a curated selection of healthy and delicious snacks at your fingertips and delivered to your doorstep.
There are more delicious, better-for-you snack options than ever before. But you won't find them all in your grocery store and going online means searching and buying snacks in bulk from multiple retailers.
We've considered the good and bad experiences of traditional and online grocery shopping to create a differentiated and delightful experience for YOU the consumers.
We'll be officially launching soon. In the meanwhile, we're offering a special employee apprecation program for employers.
WORK FROM HOME SNACK BOX SPECIAL
Gift your WFH employees, boost morale, and build camaraderie.  
Here's how it works. 
You choose a curated snack box or build your own.
We'll send an email message to your employees to claim their free snack box.
We'll ship the snack boxes directly to your team members.
We'll refund you for unclaimed snack boxes.
SMALL SNACK PACK – $39
MEDIUM SNACK PACK – $59 
ALL BLACK-OWNED & WOMEN-OWNED BRANDS
ABOUT SNACKJONES
THE STORY
This all started in the farmers market 8 years ago.
My wife and I founded Secret Squirrel Cold Brew in an LA farmers market in 2012. We grew it from there into multiple Whole Foods regions and other stores and chains from the west coast to the east coast. In 2016 we sold the business to a multi-national group
Experiencing the start-up side and the big business side of the packaged food business got me focused on my next mission to support new & emerging food brands and to delight consumers.
THE PLATFORM
When SnackJones is up and running, you'll be able to discover, try, and buy a broad and curated selection of better-for-you snacks. The site will feature the brands and snacks you know, the ones you've wanted to try, and the ones you never knew about all at your fingertips, and ready to be delivered right to your doorstep.
To help you choose what to buy the site will make recommendations and provide tools for you to search for snacks based on dietary preferences, such as plant-based, gluten-free, allergy-friendly, and more.
CUSTOMER DELIGHT
SnackJones is on a mission to deliver moments of delight.  Delight will come from great snack products, product discovery, an easy-to-use website, useful content, remarkable experiences, and great customer service.
SUSTAINABILITY IS IMPORTANT TO US
SnackJones is constantly seeking and implementing new ways to minimize our impact on the environment. 
We use 100% RECYCLED material boxes.
We offset the CARBON FOOTPRINT of shipping to you.
We use RENEWABLE MATERIALS for all of our packaging materials.
Funds from this campaign will be used to create a plan for a zero-waste fulfillment center used to store and ship products to you.
CORPORATE RESPONSIBILITY & PHILANTHROPY
SnackJones aligns with the corporate responsibility tenets of the B-Corporation movement.  SnackJones has applied for pending status with the expectation to be fully certified in 2021.
Philanthropy is an important component of the brand and corporate culture of SnackJones.  SnackJones will support local programs related to food and nutrition, school meal payments, summer student meals, and reducing food insecurity.
Risks & Challenges
The risks and challenges of shipping the reward snack boxes revolve primarily around potential lapses in supply from our  brand partners.  In the event that a brand partner is unable to supply a product for a box then we will substitute first with a similar product and then with a similar product in value.
The risks and challenges involved in the development and execution of the SnackJones e-commerce platform and fulfillment infrastructure are inherent to launching a new business venture.  We are experienced entrepreneurs and have created a detailed business plan meant to provide awareness of and solutions for the various challenges we will meet.
Other Ways You Can Help
Every little bit counts.
Please get the word out and make some noise about our campaign.
Let us know your ideas to spread the word.
Contribute and share with your social media audience