Sola 2X | We ask for your help to usher in Sola's next decade with a delicious, fresh & ready menu and flow.
How We Got Here
When the owner of Sola Cafe &  Market, Tiffany Lach moved to Bozeman, she noticed the need more fresh, healthy and delicious food options. Having a passion for flavor and a background in the biz, she was driven to be a part of this change. In 2008 Sola Cafe opened to oohs and ahs and lines out the door. Sola offered a fresh alternative to that era of Bozeman. Throughout the past ten years, Sola has responded to the tastes of their growing community while watching the cafe-bakery trend blanket the town. Tiffany noticed more and more people craving veg-forward, bold flavored, beautiful food—food that stands on the merits of its freshness and high-quality ingredients—food that is as easy to take on the go as it is to sit and enjoy over a long conversation. Food that she loves to offer at Sola.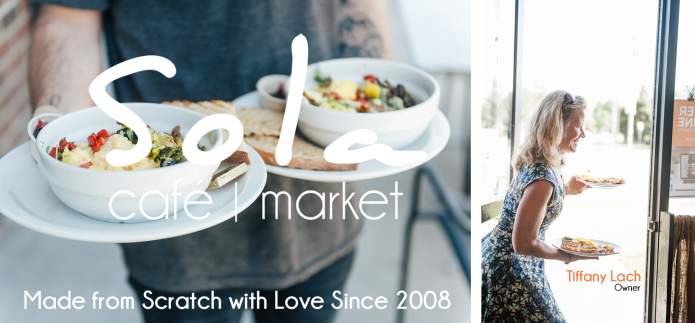 Where We Are Heading
Our focus remains 100% on our community and customers. Based on customer feedback from the last decade,  we are aiming to refine Sola, creating an experience that you crave and enjoy! Everything from the flow, food and ordering process will be reimagined based on what we have heard you say WE WANT!  
The Sola 2x concept presents an ever-changing array of fresh, prepared offerings. You will order from a visual display, based on the size portion and variety you desire. This presentation will be the perfect blend of efficiency and a healthy and delicious meal to stay or to go.
First, you'll peruse the day's offerings. Stacks of fresh-made sandwiches, urns of soups, braised meat dishes, poached wild-caught fish, and a plethora of seasonal veg salads.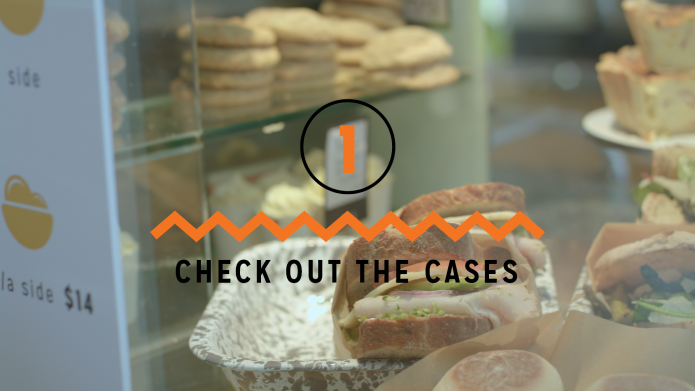 Second, you'll pick your combo size. How hungry are you? Who do you need to feed? Are you taking food to the office or to a party?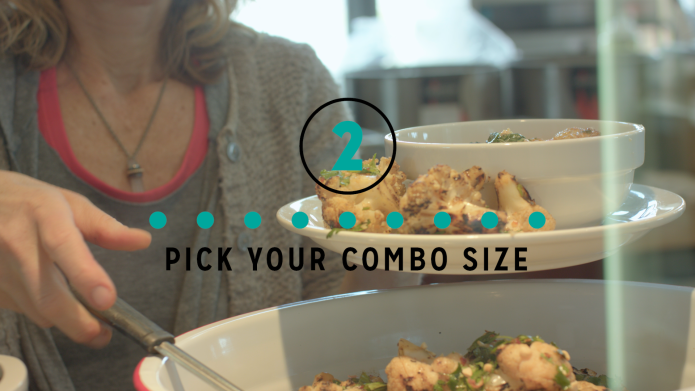 Combo Examples

Our combo sizes allow the customer to order exactly what they want. No guess work here! Our entire offerings are ready to be mixed and matched to make the perfect meal. Let us pack your lunch or put together a dinner for four.  
Thirdly, we'll serve you your delicious meal right then and there. Always fresh. No waiting.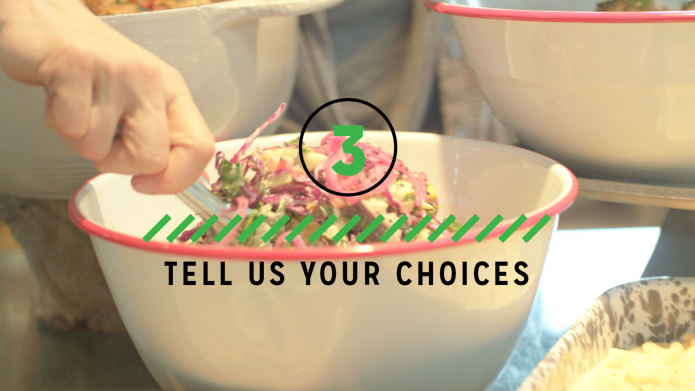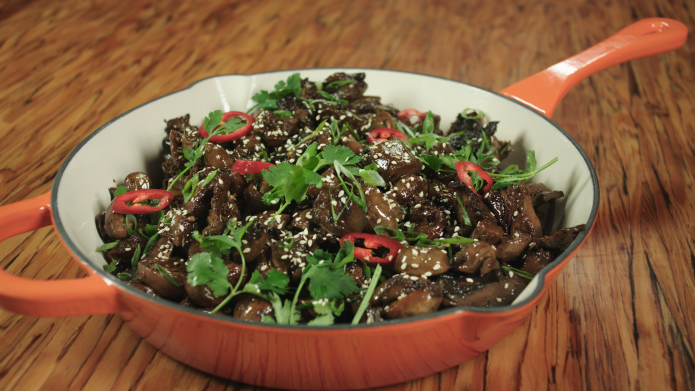 Next, head on into the dining room with your food and ENJOY! Or… if you're taking things to-go, head to the treats case, pay and get on your way.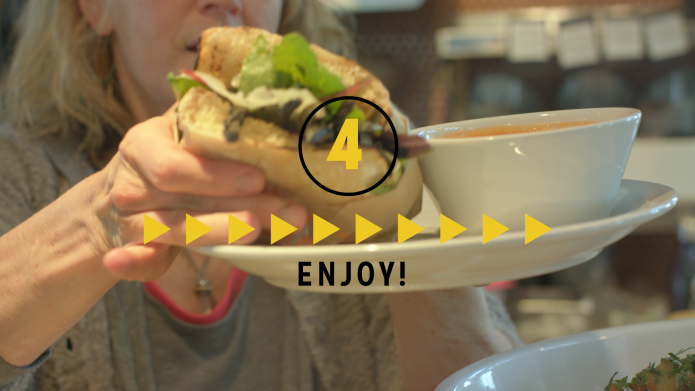 Back in the dining room… Save room for dessert!  When you're ready to take off peek at our bakery offerings. Our case is full of hand-baked treats with many gluten or dairy/egg free choices.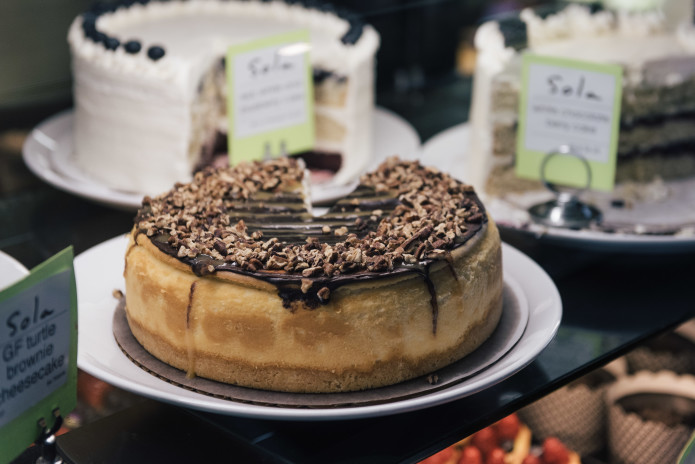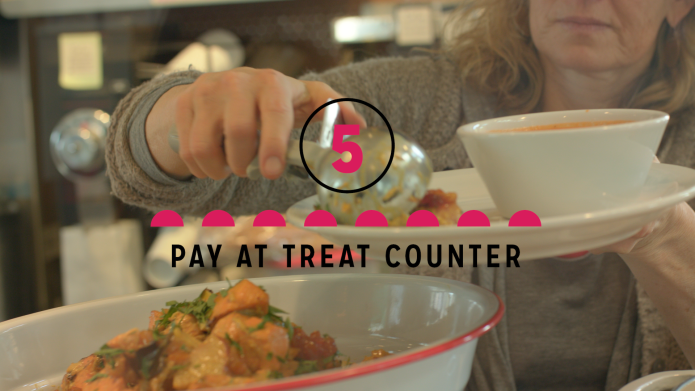 We will also offer ready to go breakfast sandwiches on house-made whole grain english muffins or bagels made fresh and waiting for you to fuel your work or play. Or on the weekends, come on in for BRUNCH.  Hit the waffle or omelet bar or try a weekend chef's breakfast skillet. You'll love how easy it is to feed everyone in the group just as they like. Don't forget to stop by the new tea bar or grab an espresso.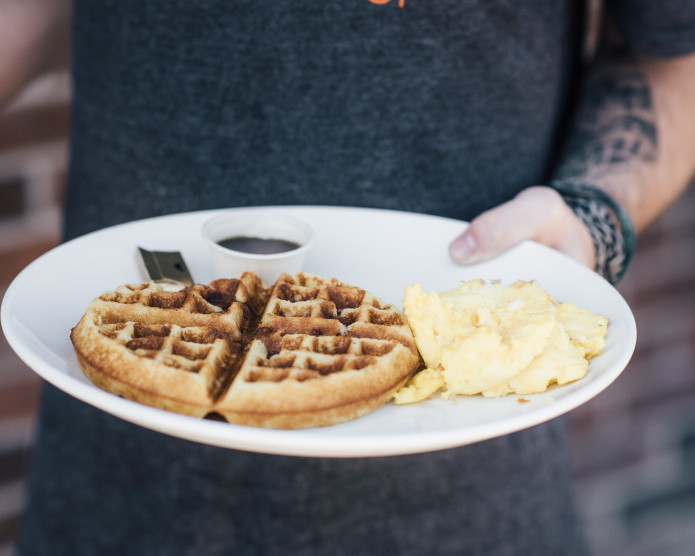 Sticking to our Roots 
Local artisans, farmers, ranches, and dairies have a place in our hearts. Without them, Sola would not exist. We are keeping this a main focus in these new changes. We want everyone to be able to enjoy our food and these gifts from the Earth, and our new concept will allow for that more easily. We aim to provide Bozeman with outstanding food that is delicious and locally-minded.
Our community will always be the inspiration. We will continue to give back to Bozeman through our partnerships, donations, and charity programs. Learn more about this philosophy here.
Thank you for an amazing first ten years! We are joyfully stirring up the new Sola 2X for you! There are many costs involved in making this menu change. We're doing it as sustainably as we can. We raised some friends and family funds to make the first wave happen and are looking to our community to help too!  Please take a look at our crowdfunding levels and perhaps find a way to make this yours!  Sola has been a ten-year labor of love and we continue to exist to serve YOU our beautiful community!  It is truly an honor to do our small part to make our world a little more kind and delightful each and every day. We are ALL in this together. Enjoy!