Son Of A John: No Preservatives-Tasty-HOT Sauces | Individually crafted home made hot sauce recipes, free of preservatives, Enjoy!

SON OF A JOHN…YOUR NEW GO TO HOT SAUCE!
I have designed these sauces to be HOT, but most importantly, to TASTE GOOD! We make the best tasting, most edible hot sauces that money can buy. All our sauces have heat AND are something that you actually crave to put on your food. 
Son Of A John was an unexpected arrival that began life as a long term project to grow Japanese Maple trees. I also started growing a garden in the back yard – because homegrown vegetables are undisputedly the best!  With dreams of bountiful harvests, I planted my garden…and along with the tomatoes, carrots, and everything else, I planted WAY too many peppers. My veggies needed to drink and I gave them rainwater. They needed to eat too, and I became a worm farmer so they had good organic fertilizer. They thrived and produced – a LOT.  What to do with all those peppers? HOT SAUCE!!! I went into the kitchen and developed my first hot sauce recipe, Light My Fire…and it was good! Very good! Thus, Son Of A John was born – the best tasting (HOT) hot sauces in the South!
Being a good cook and liking to share, I began giving bottles to friends and family.  I got rave reviews from everyone on my first sauce and went back to the kitchen to create the next two even hotter sauces, Smokin' Ghost and Ant Bite – both of which turned out just as tasty as the first…full of flavor and just as fantastic, if not BETTER!
People were trying to give me money for bottles to take to their friends and family, and more than one person told me I should start selling them because they really are THAT good! At this stage, I realize I have a knack for what I am doing. I have sold individual bottles and 3 bottle sets, which are a big time hit!  Everyone loves them!  Now, people are buying cases instead of bottles.  There is hot sauce everywhere!!  To keep up with the demand, it is time to get some help and work with a co-packer because Son Of A John has now outgrown my kitchen.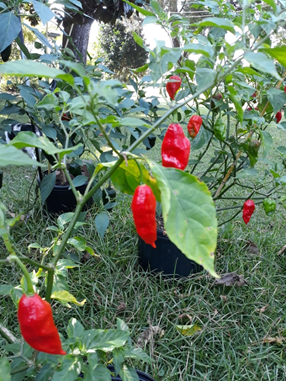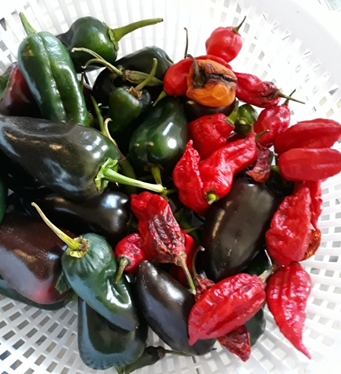 What We Need & What You Get
I need to raise $15,000 to cover the costs of product analysis in a lab, product development costs, the printed labels with nutritional content and UPC and QR codes, and the first official run for each flavor totaling 150 gallons. I am set up to accommodate on-line sales and have ties to restaurants, bars, distributors and grocery stores to get these sauces on your table (and they are asking!!). I truly appreciate everyone who helps me kick this project up to the next level.  
In exchange for your generous contributions to keep up with demand, we have some great perk packages where you can pre-order your choice of sauces in 1, 2, 3, or 12 quantities with no added shipping cost!! We are also working on getting stickers, t-shirts and some other cool stuff that we will add on as they become available.
Light My Fire– Made with habañero peppers and a unique blend of spices, this sauce is hot, sweet and smoky. Perfect for wings, pork, and just about any meat where you want to kick things up a notch! Goes great on a ton of other stuff too, so use your imaginations and your taste buds!
Smokin' Ghost – NOT for lightweights when it comes to hot sauces! This perfect blend of habañero and ghost peppers is rich and smooth with a big bite! The roasted vegetables in this one makes it truly awesome on tacos, wings, and loads of other stuff!
Ant Bite – This is a heavyweight in the hot sauce world, so unless you like truly HOT stuff, stick to Light My Fire or go get something off the shelf, but if you are adventurous and like spicy stuff, give it a try! There is a lot of spice, but a lot of sweet too, thanks to fresh Red Delicious Apples. This sauce goes with a lot if you like it HOT. Try on Asian foods, salads, meat, and even eggs – you might be surprised by how good REALLY HOT can be!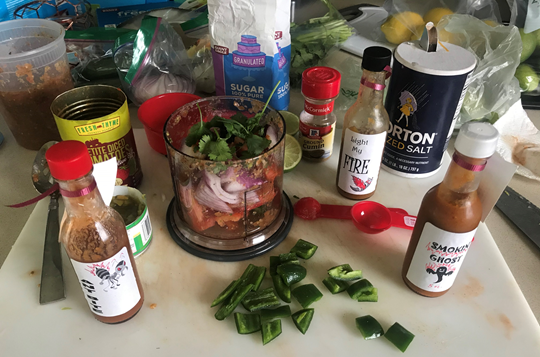 Our Commitment To YOU
We are big believers in the idea that if you are going to do something, do it well – don't skimp on quality.  Being good and kind to your customers has a way of coming back to you.  Hard work is said to be its own reward, but people who work hard tend to succeed.  And lastly, offer people a superior product for a fair price, and it will sell itself.  I am extremely proud of what I make, and I sign my name and put my phone number on every bottle that goes out my door. My sauces are really, really good, I sell them at a fair price, and I appreciate all my customers.  If that weren't enough, I seriously do love what I do, and if that doesn't count as success, I don't know what does.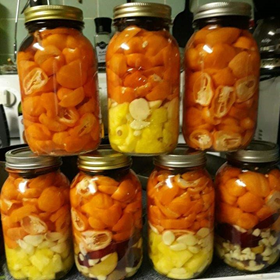 Risks & Challenges
The COVID-19 virus has made a dramatic impact on our way of life and we have all had to adjust what we do and how we do it.  We understand that many of you may be dealing with financial hardships and may not be able to contribute, but we also know that many of you are now cooking at home more than ever before and are in search of something new to season and cook with. Now is the perfect time for you to experiment in the kitchen and for us to ramp up our production. Any challenges that come my way, I am personally dedicated to overcome them to 100% complete satisfaction.
Other Ways You Can Help
If you are unable to contribute at this time, please consider sharing our campaign with your friends on Instagram and Facebook! Go to https://www.sonofajohn.com/ and sign up on our (e)mailing list