SophiPet – The Sophisticated Pet Staircase | Patented Reversible Spiral Pet Staircase w/ built-in storage & customizable body & safety rails.

SophiPet represents pet stairs elevated to your standards and tailored to your tastes. It is the world's first sophisticated pet staircase that matches your style, saves you space, and keeps you and your pet safe, healthy, and independent. Get your SophiPet before it hits the market by backing our project. Only during our campaign, you will have the chance to get your SophiPet staircase significantly below retail price.

*SophiPet Classic ELITE in dark walnut stain (Special finishing technique).
Our patented design features a reversible spiral reaching beds as high as 40" while maintaining a small 18" radius. SophiPet Elite's customizable body comprises interchangeable safety rails to guide your pet, upholstered tread cushions that reduce joint pain, and storage in every step so you can stay organized. SophiPet Elite arrives 90% pre-assembled in a compact hide-away position and the SophiPet Makers model will have a 15 minute assembly time with the easy interlocking system. Both will be 100% made in the USA by us at UncommonMakers.com.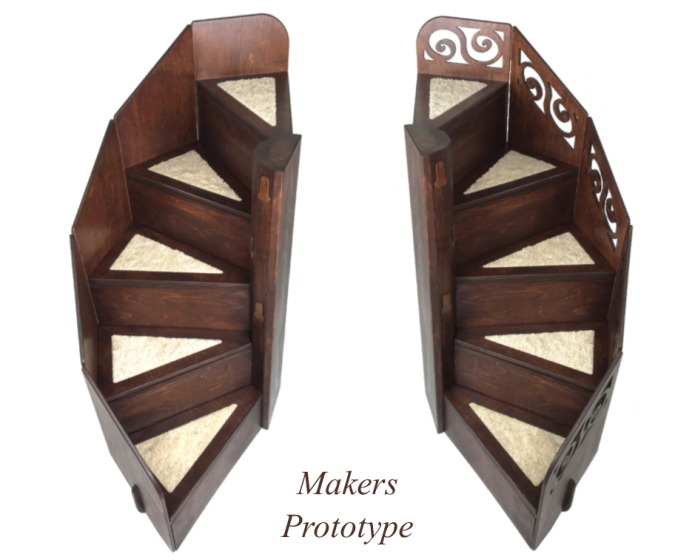 *SophiPet Makers (Classic on left, design concept on right) in dark walnut stain (Hand wiped).
OUR GOAL – Set Up SophiPet Staircase Production & Fulfillment Line
Note: Website has been updated to UncommonMakers.com coming soon!
STRETCH GOAL – Implement 3D Configuration Technology 
Note: Website has been updated to UncommonMakers.com coming soon!

The inspirational story behind SophiPet 
During the recession several years ago in a town far, far away, my wife and I decided to lift our spirits by driving around to find the perfect bridge… that we would be living under. It was at that time I began to feel the bark side of the force when my wife requested on behalf of her boss that I design and build a set of dog stairs for her boss's dog Babe, who sadly broke her back jumping from a high bed using a short step stool. Before the recession, I designed and made complex human staircases, so, after some heated discussion, and …my wife apparently using the "Jedi Mind Trick", I somehow grudgingly agreed to do it. Her boss noted in a list: "The stairs need to reach my 40" high bed, can't stick out too far in the room, and if possible, match my upscale style and bedroom décor." So I turned to the internet for inspiration.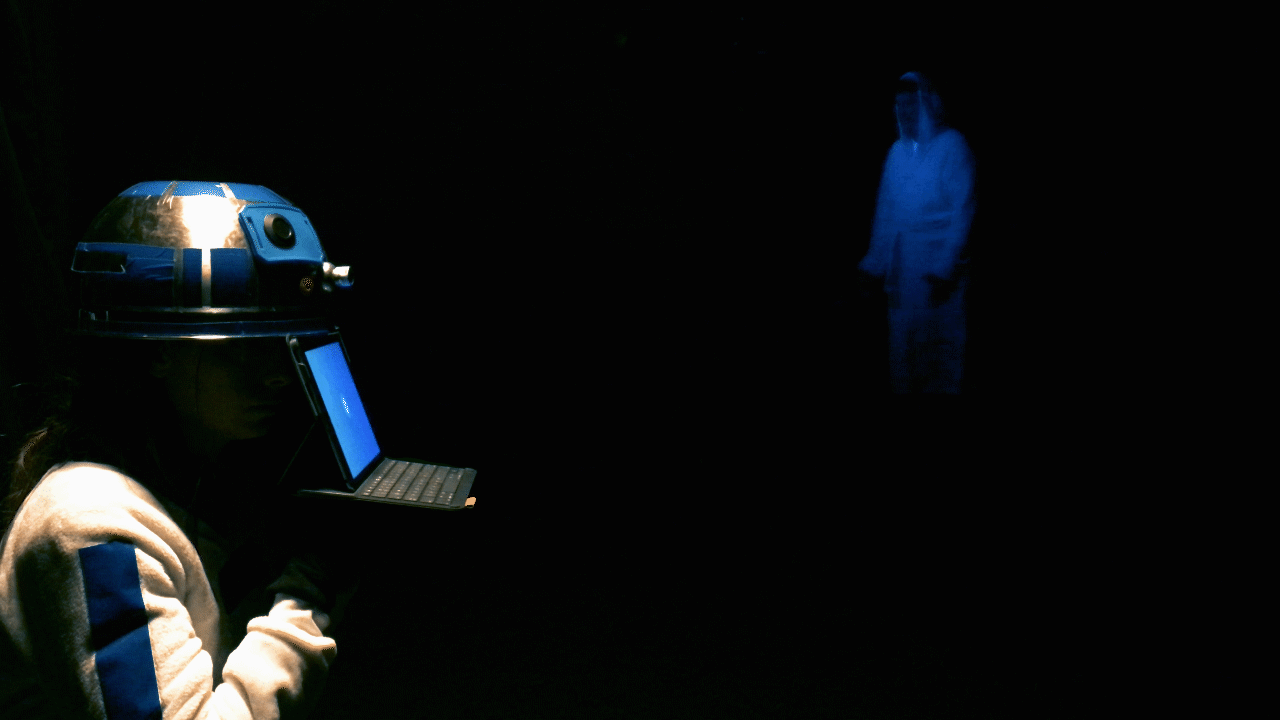 Help me Google-Wan Kenobi, you're my only hope! What I was shown is a whole galaxy of small-dog-lovin' people out there with quadrupeds getting hurt from high beds, which makes sense because it's the equivalent of a person jumping from the roof of a one-story building. Imagine doing that several times a day to be near the one you love! After seeing the feeble solutions to this preventable tragedy, I felt a great disturbance in the force. And when I later heard of "Babe's" death, I knew It was time to fulfill my destiny and "turn to the bark side" by creating the world's greatest patented pet staircase, SophiPet.  Read Full Story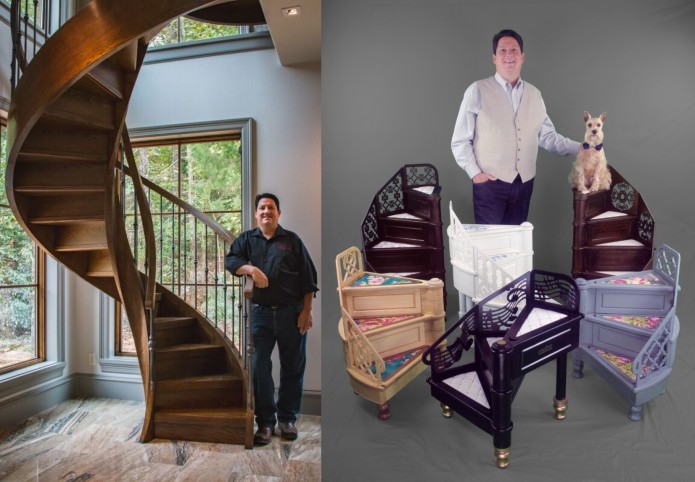 Perfect For: 
High Beds | Chairs | Couches  | Window Seals | Dogs/Cats | Young & Small Dogs/Cats | Aging Dogs/Cats | Canine Injuries | Canine Arthritis | Canine Joint and Spinal Problems | Canine Bone Disease | Canine Invertebral disk disease | Canine Bone Kneecap Problems | Canine Bone Wobblers Syndrome | Congenital Canine Bone Defects | Canine Bone Craniomandibular Osteopathy | Canine Bone Tumors | Canine Cancer | Canine Diabetes Mellitus
So…are you ready to fulfill your destiny and save some quadrupeds by backing SophiPet and Turning to the Bark Side?




Turn to the Bark Side and join the Pack by claiming your Bark Side Pack T-Shirt! As a part of the Pack, not only will you be able to share photos of you or your quadruped in the shirt with the rest of the Pack, you will have exclusive access to Bark Side offers from SophiPet.
Bark Side Pack T-Shirts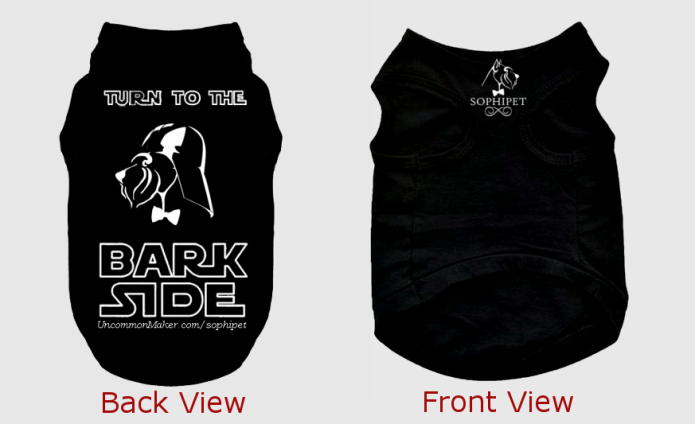 Bark Side Pack Quadruped T-Shirt | *Design is subject to change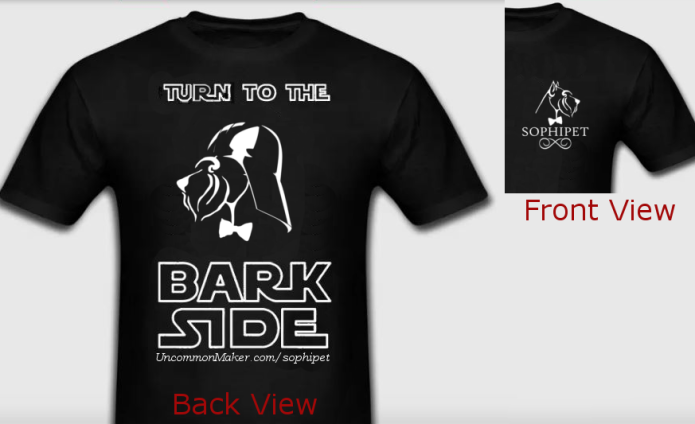 Bark Side Pack Human T-Shirt | *Design is subject to change
3 Step for beds & furniture 22″- 26″ high- Mattress & toppers count as a step
4 Step for beds & furniture 28″- 32″ high- Mattress & toppers count as a step
5 Step for beds & furniture 34″- 40″ high- Mattress & toppers count as a step
SophiPet Makers Model – Keep It Simple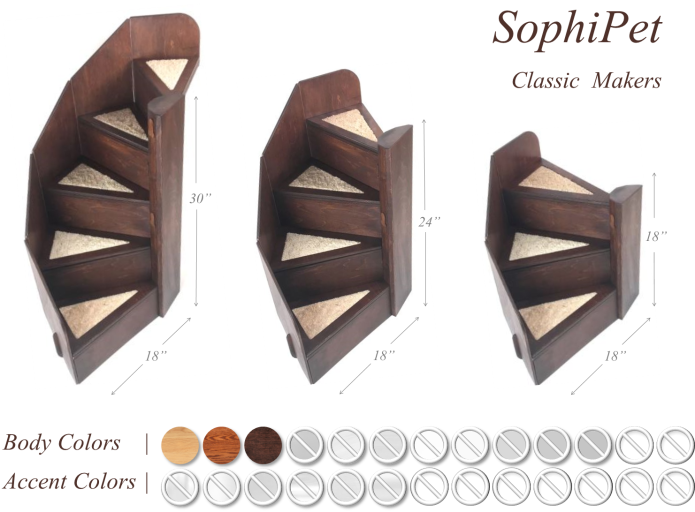 *DOES NOT interchange with SophiPet ELITE class body or accessories
The SophiPet Makers model, with interlocking panel style construction, is made of supreme grade wood for single or bulk purchase. It comes in 3 sizes and 4 color choices– Natural or Warm Mocha or Dark Walnut or White and features Classic style carpet tiles, rails, frames, and panel construction with some limited interchangeable accessories of the Makers class models. Option to purchase additional designs of rails, carpet tiles or tread cushions through our LookBook or Atelier (the SophiPet design shop) will be available on our website once open. 
SophiPet MAKERS- Interlocking Panels, Rails, Carpet Tiles & Storage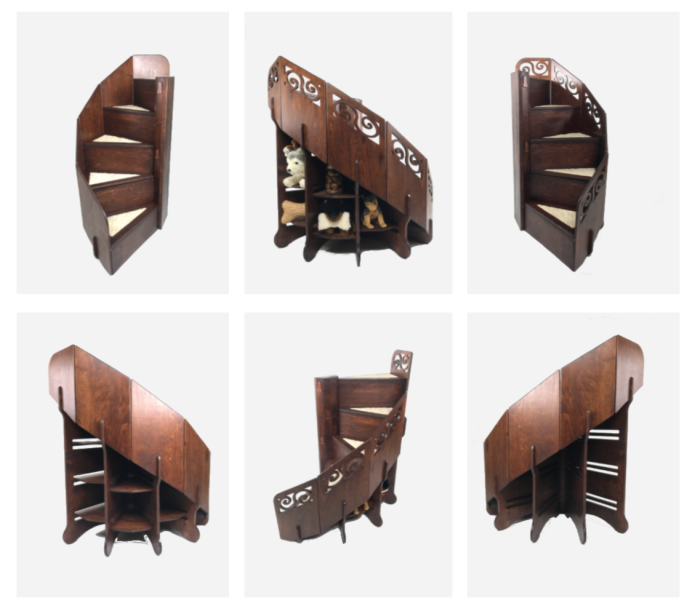 Easy interlocking panels for quick assembly, simply change rails for a new look, swap out carpet tiles with your own or with our selection of carpet tiles & tread cushions, install the included shelves to create nooks for storage or leave them out for a modest look. 
Makers Optional Rail Examples- Purchase through our website once open.

Concept rendering only and subject to change
SophiPet ELITE Model- Unlimited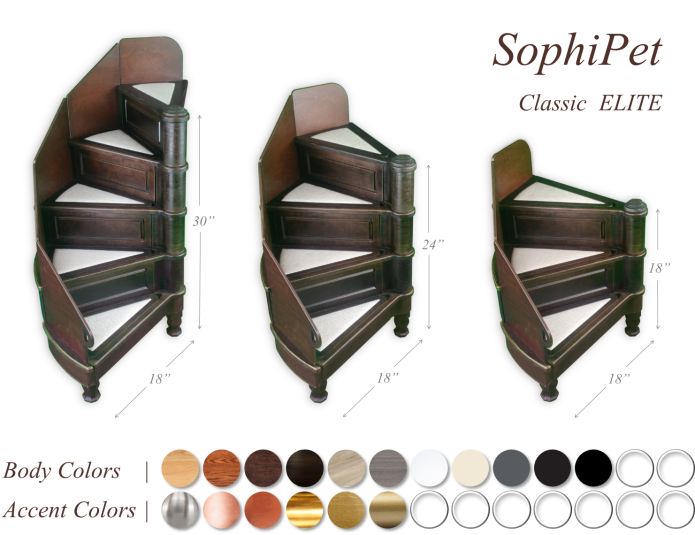 *DOES NOT interchange with SophiPet Makers models or accessories
 The SophiPet ELITE, with solid furniture style construction, is fully made of premium solid Baltic Birch wood body and accessories. Additional colors from our evolving selection. Features classic fabric tread, with option to purchase additional patterns from our evolving selection. Also features Classic accessories with option to purchase additional accessories through our LookBook or Atelier (the SophiPet design shop) available on our website once open.  
SophiPet ATELIER – Optional Additional Accessories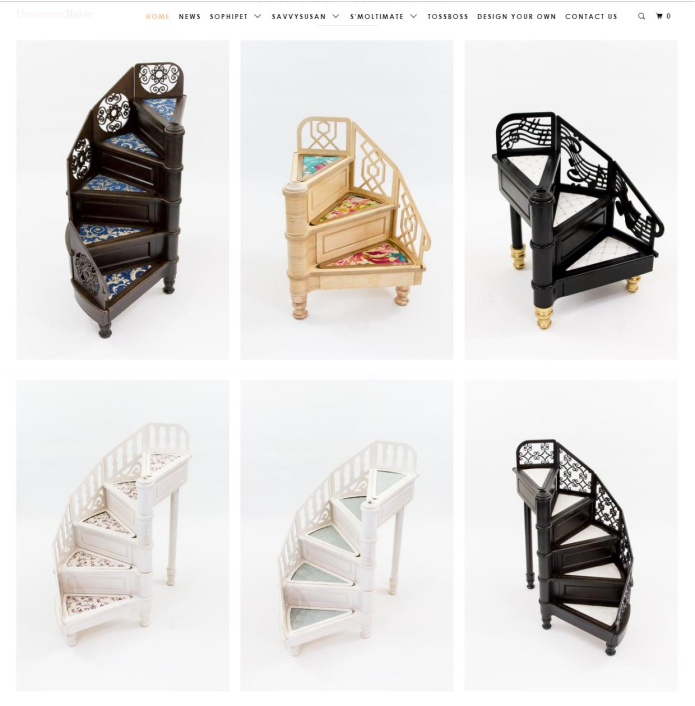 The SophiPet LookBook is where you will find all the latest styles and trends. Let our stylists and designers do the work so you don't have to!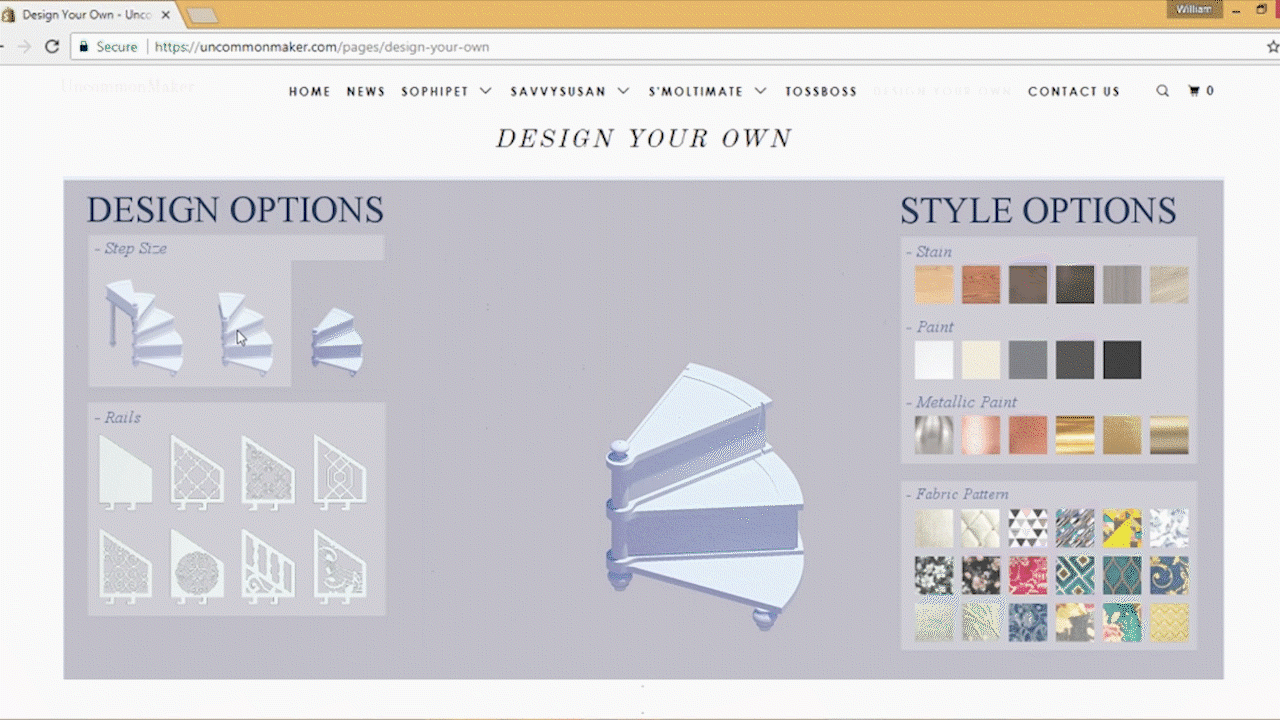 Exclusive SophiPet 3D Configuration Technology
And with our 3D configuration technology and vast library of accessories, the possibility for customization is endless. Because of our Interchangeable Modular System (IMS), you can customize by changing rail panels, upholstered tread cushions, tread frames, risers, and bun feet. Match your style and home decor or your favorite trends and seasons.  
D.I.T. – Design-It-Together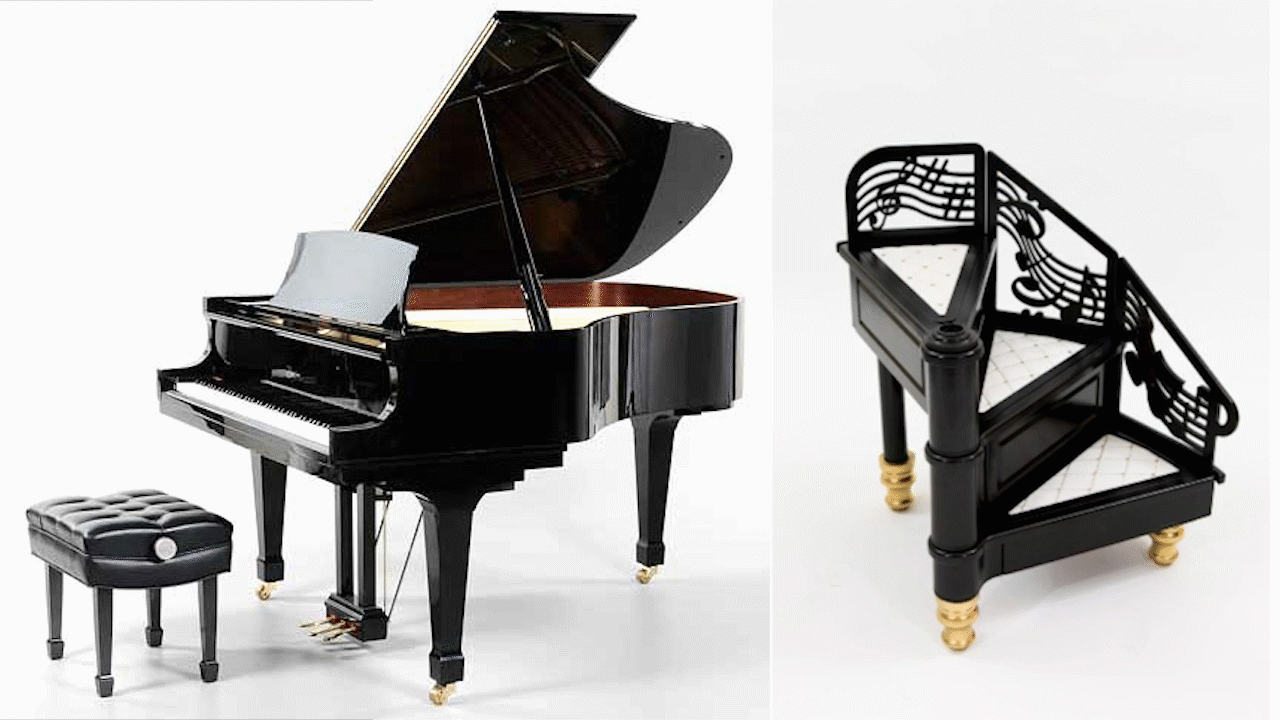 *Inventor's engraved signature included as Indiegogo Exclusive
What Inspires you?
When collaborating with a client to design a custom staircase for their home, to fit their needs & style, a checklist is taken to accomplish this. This checklist would include: What style handrail? Stain or paint & what colors? Specialty finishes: Patina, Satin Black, Pewter Vein? Which tread carpet design? etc. This is the same checklist SophiPet will offer with our D-I-T or Design-It-Together pet staircases. Alongside the inventor of SophiPet, William Moore, you and our design team can collaborate to create a custom SophiPet staircase to match your space by utilizing your photos, color swatches, and fabrics.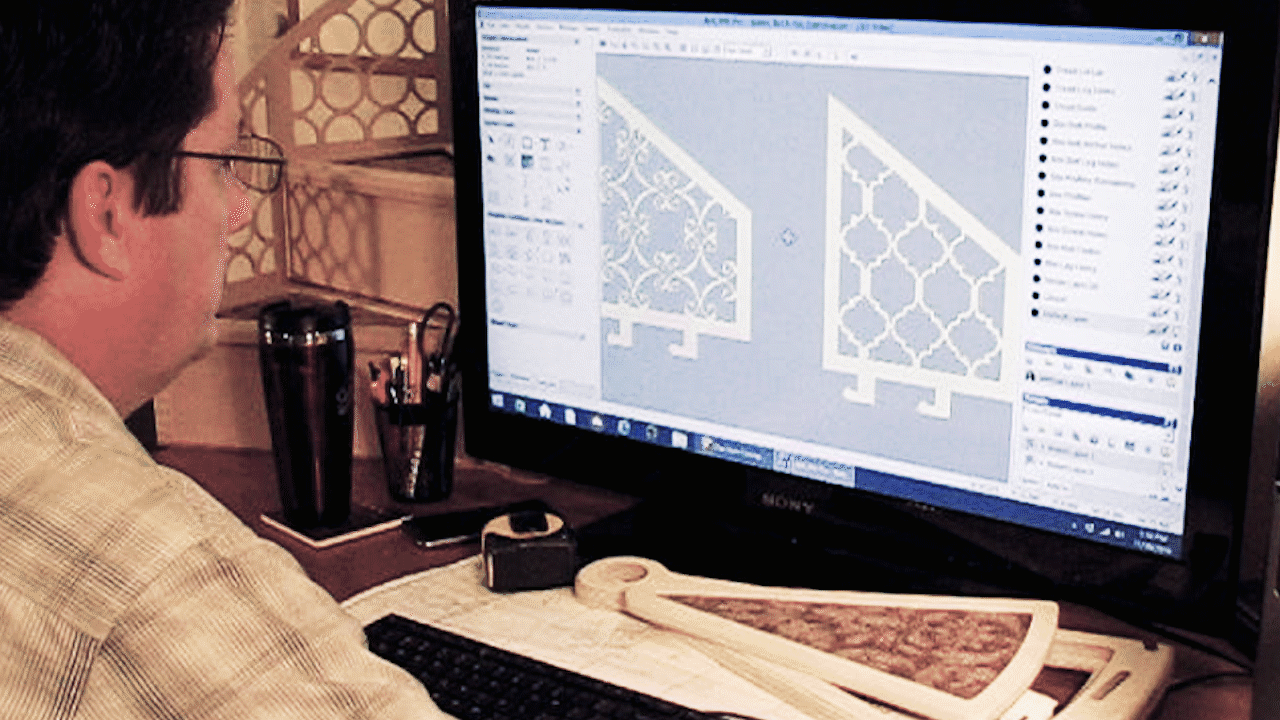 *Inventor's engraved signature included as Indiegogo Exclusive
  *All designs seen on this campaign are prototypes and are subject to change*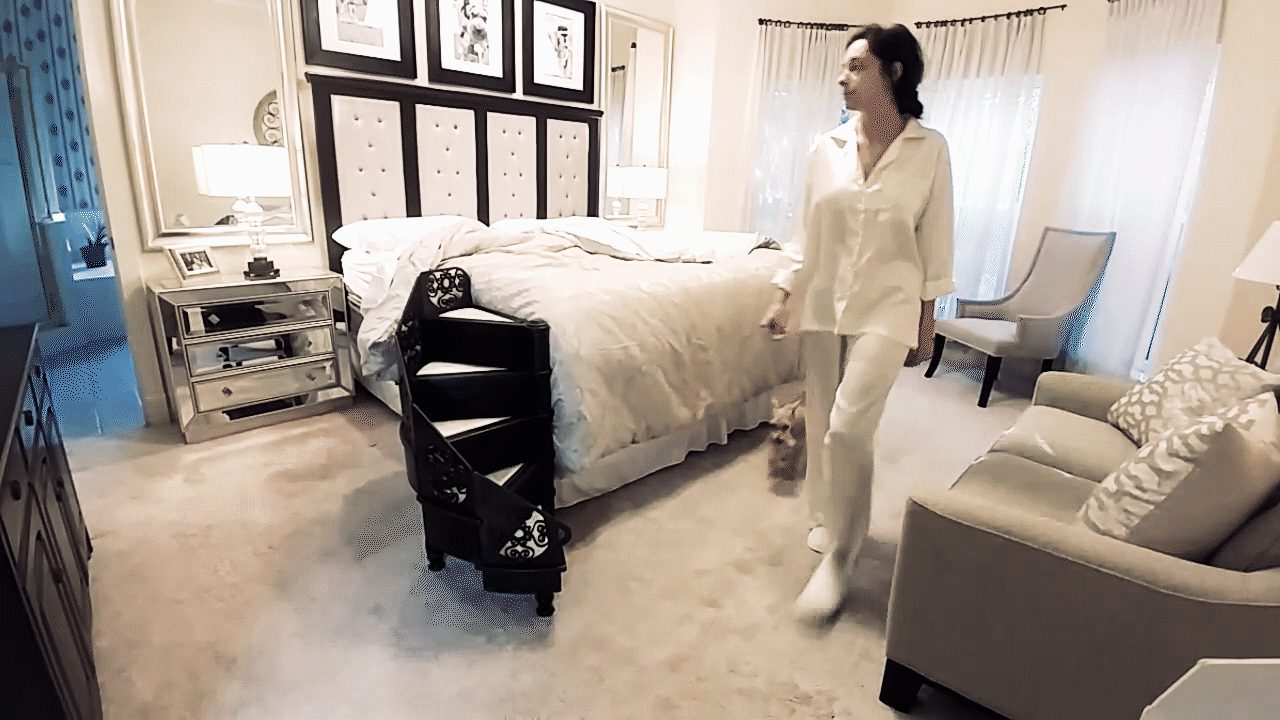 Patented Design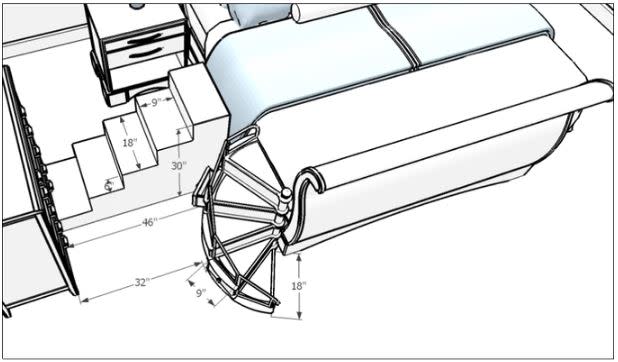 Please note that the dimensions of both stairs in the illustration are the same; however, our patented spiral design, which comes 90% Pre-Assembled for Elite models, with a small 18″ radius, allows you to reach multiple heights of furniture without extending too far, blocking your path or creating a tripping hazard.    
Reversible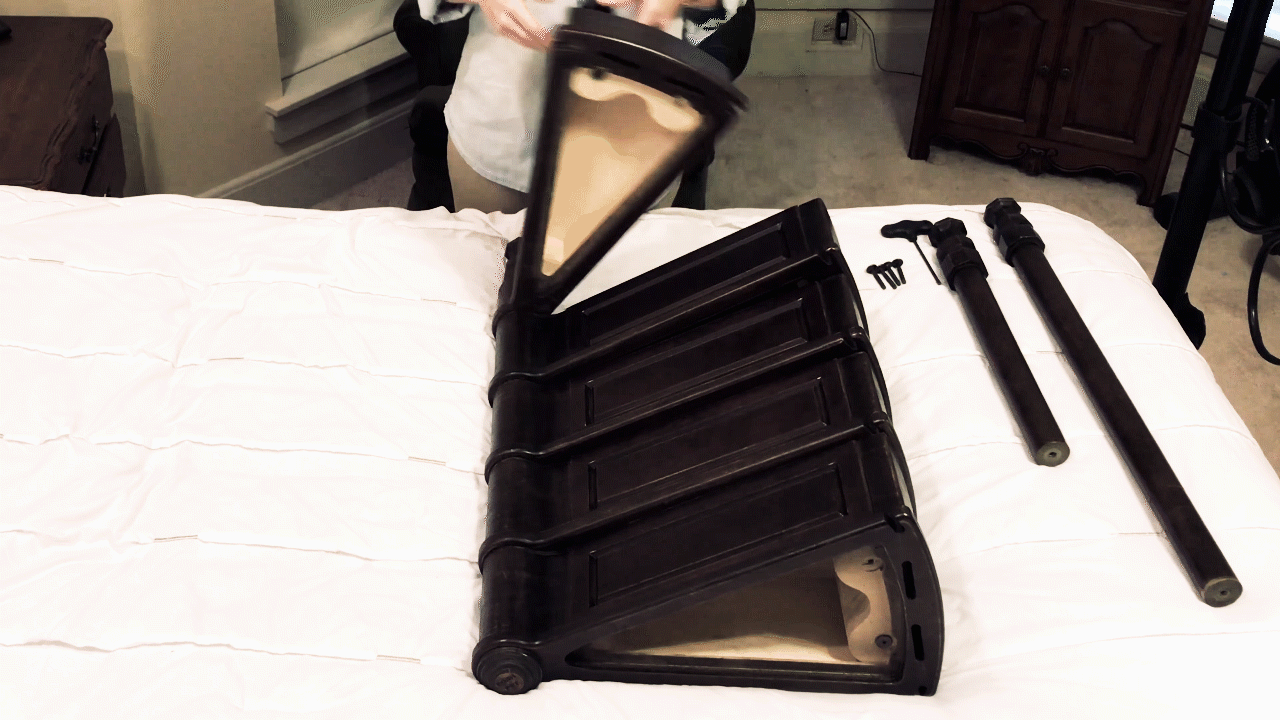 It's easily reversible for a smooth transition to any side of a bed, couch, or chair.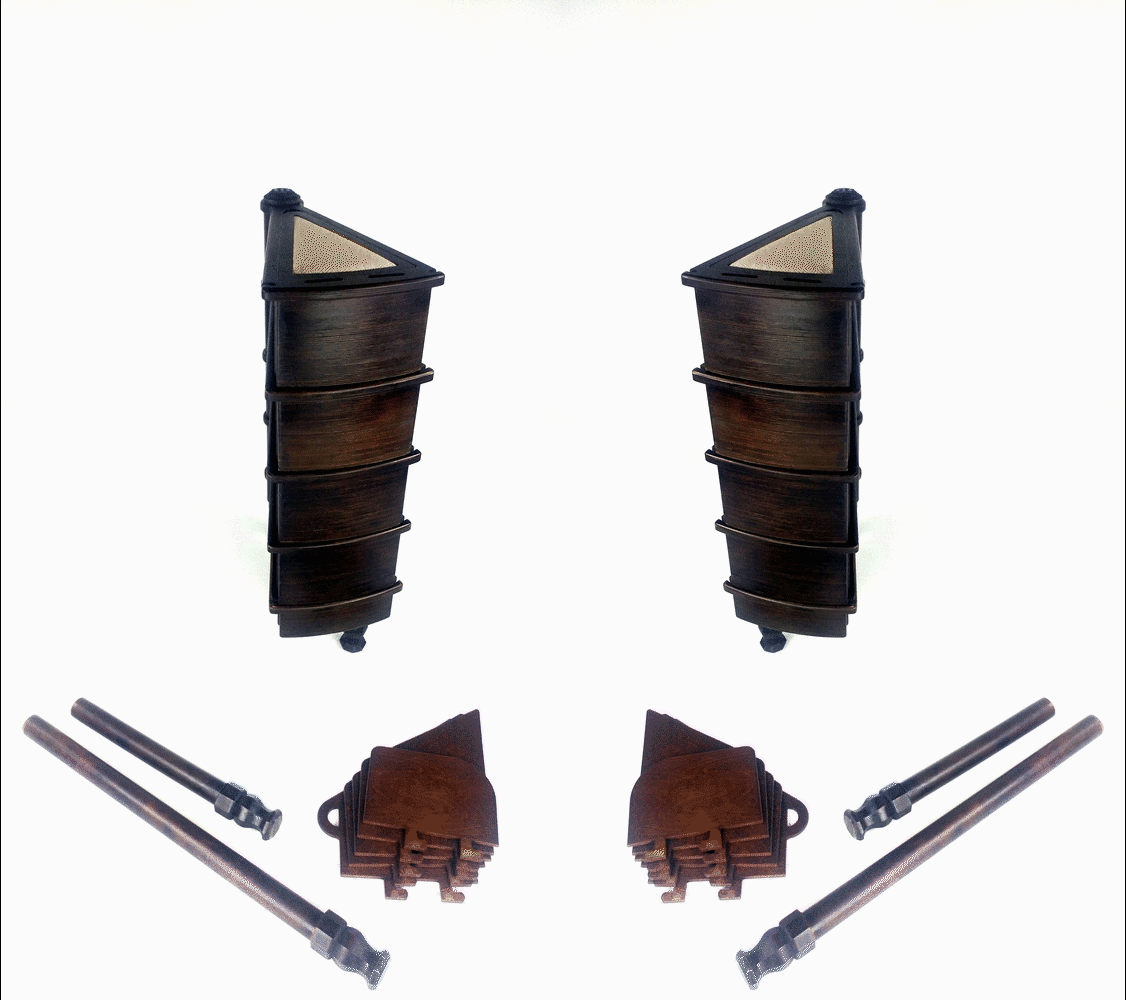 Deep Drawer Compartments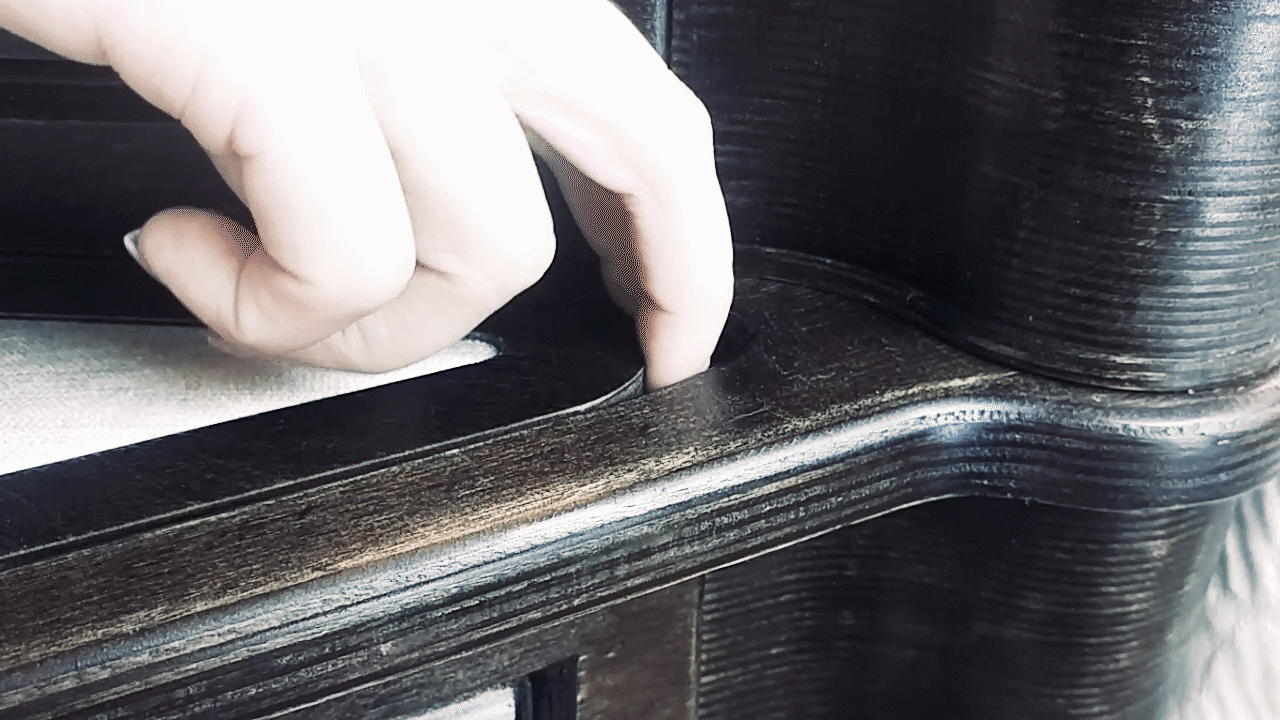 Deep drawer compartments in every step allow you to stay organized and easily store away pet essentials when not in use.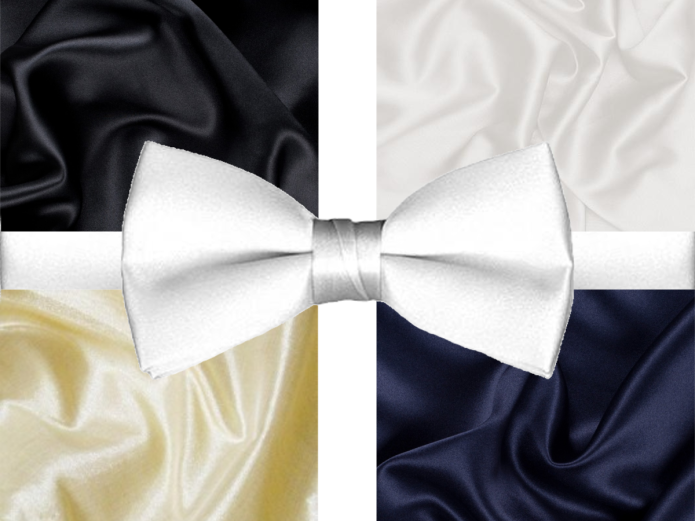 Upgrade your drawers with optional interior liners

Leg & Bun Feet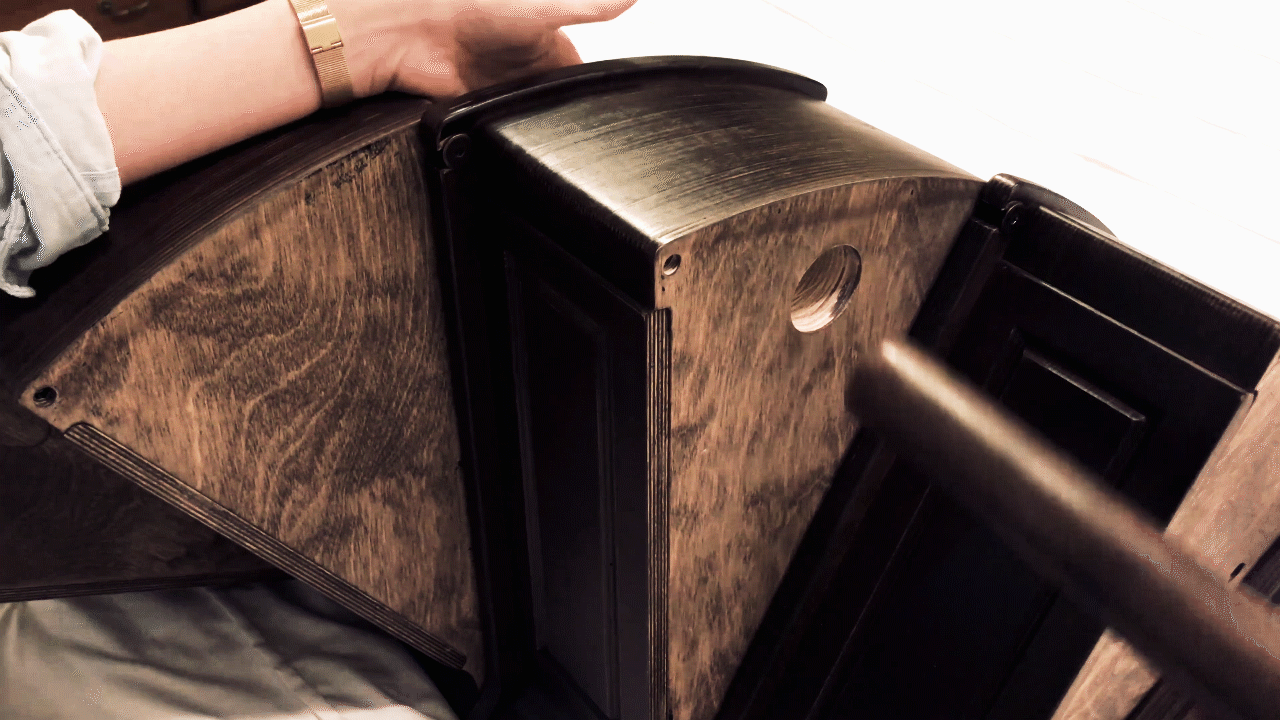 With the look of home furnishings in mind, the design of solid leg and bun feet construction allow for stability on any surface.
Upholstered Tread Cushions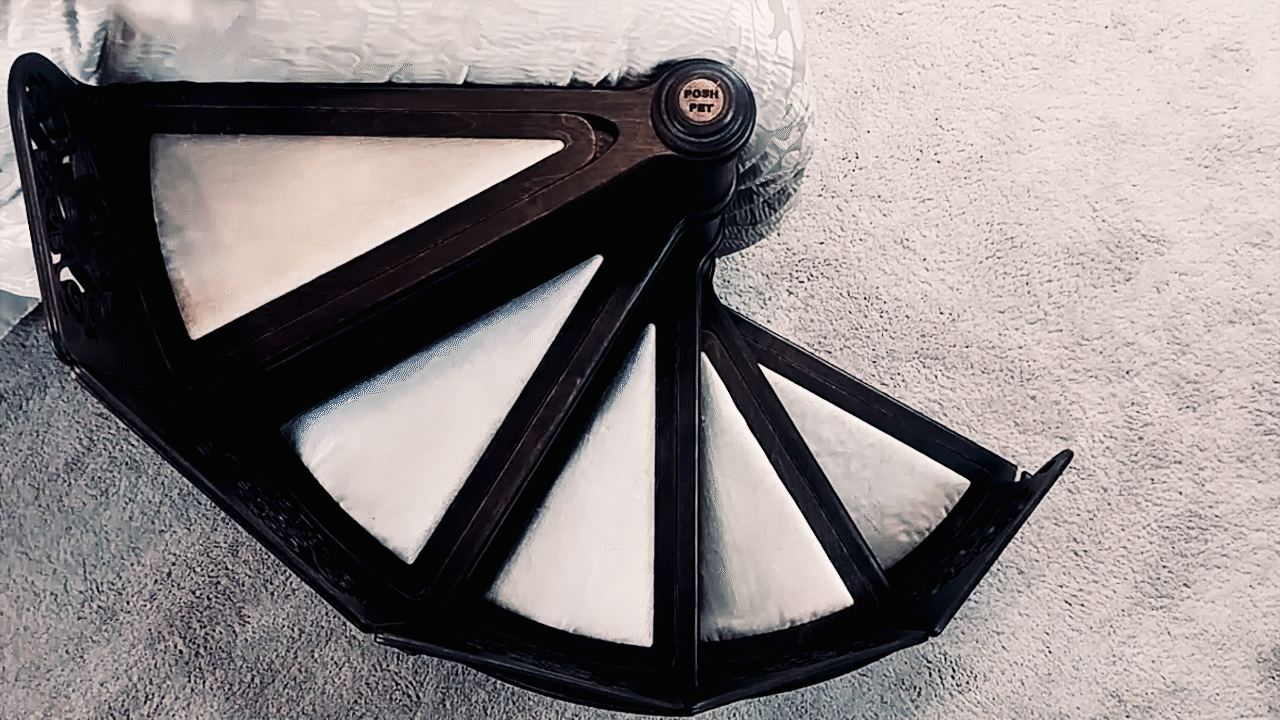 The upholstered tread cushions make it comfortable on joints and are easily washable and replaceable.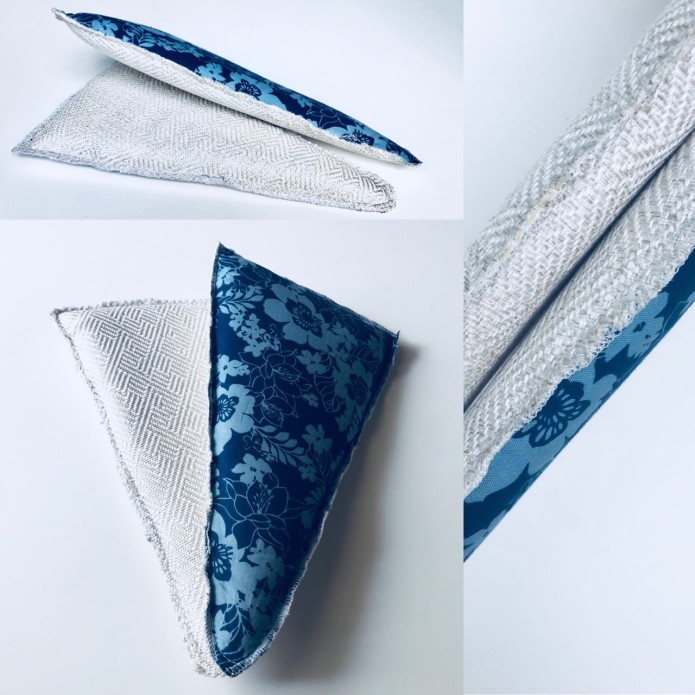 Stay classy with our all Classic tread cushion or choose to purchase an additional pattern from our Atelier.
Removable Safety Rails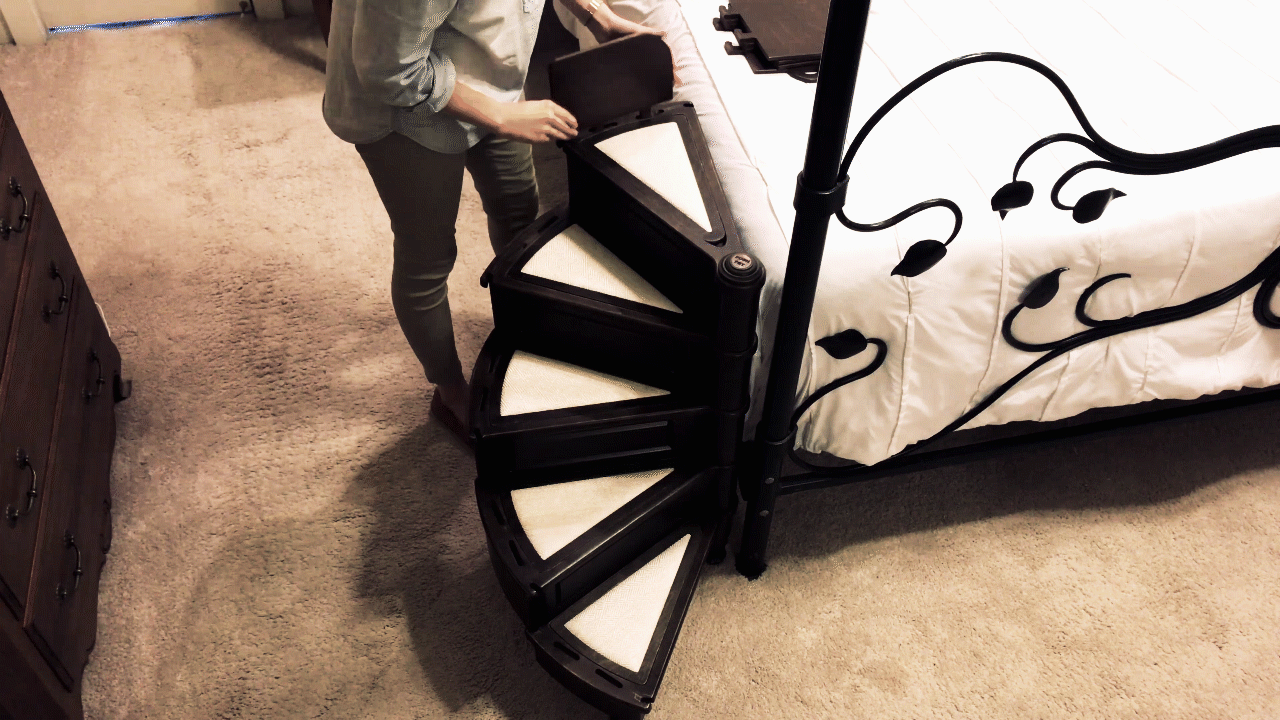 Safety rail panels provide security and a guide to keep your pet safe from falling.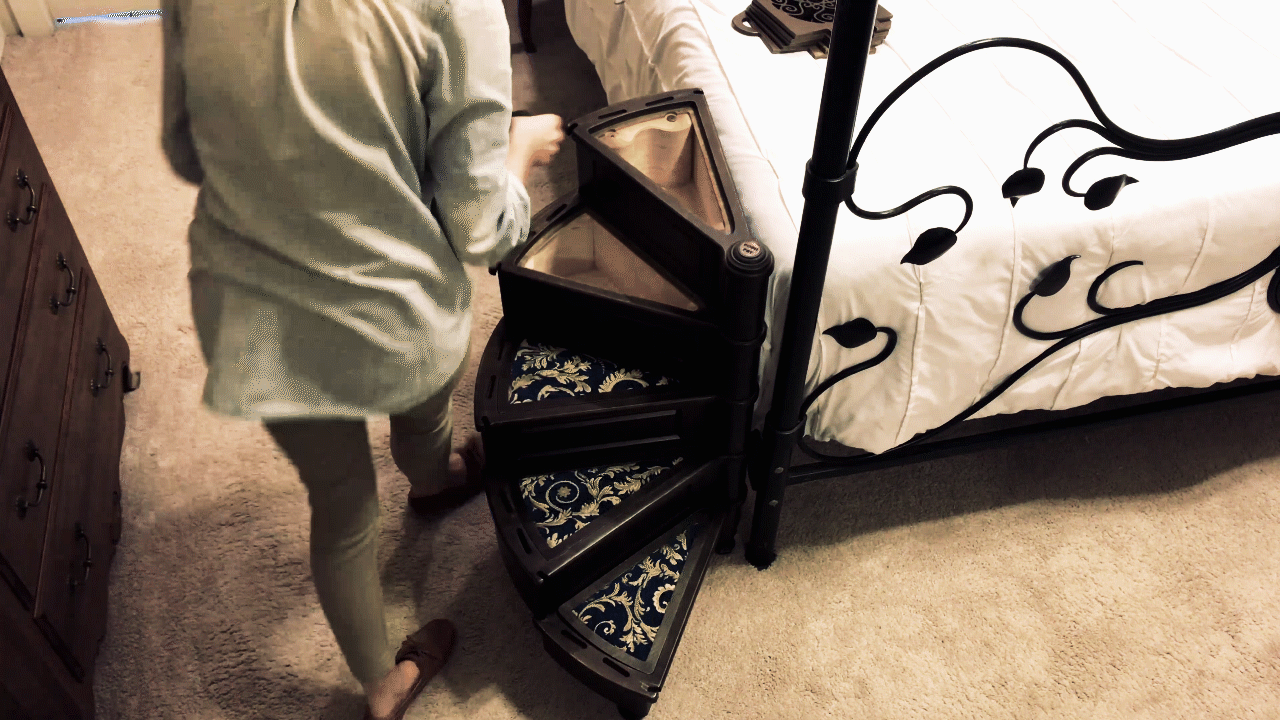 Replace only one if it gets damaged or replace them all for a new look!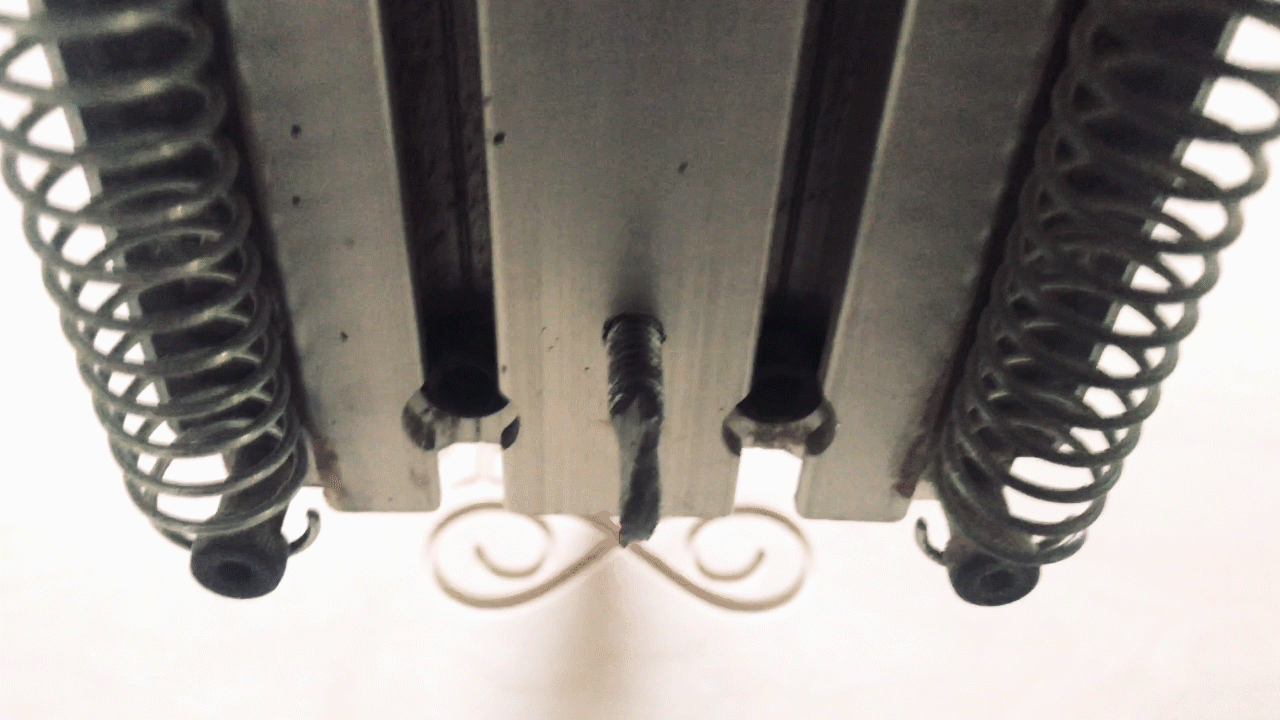 SophiPet will be made in-house by us, right here in America. Since each SophiPet staircase will be made in our production facility, we will have full control over the quality, design, and customer satisfaction. We're not relying on an overseas manufacturer to preserve our American traditions. Our manufacturing team has over 30 years experience of 3rd Generation Craftsmanship, designing & building interior staircases and decorative architectural woodwork for upscale homes & businesses. It's only natural we would put forth the same effort into SophiPet. Only SophiPet brand will look & work like human staircases, but, made solely for your pet. Bridging old-world craftsmanship with new era technology, you can take comfort that it will withstand the test of time.   
 *All designs seen on this campaign are prototypes and are subject to change*
MEET THE MAKERS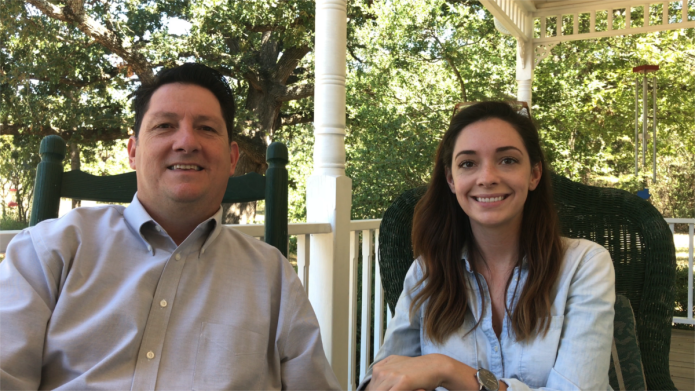 We are father & daughter co-founders and a team of award-winning product designers, patent holders, makers and strategic planners with a like-minded focus to make unimaginable products by applying uncommon design. Creative, Artistic, out of the box, inventive, craftsmanship, stylish, hard-working, dependable. All of these words define UncommonMakers. Our mission is simple….to manufacture the most creative and beautiful pet staircases and home decor products on the market.   
Interested in writing about us? Our press kit is available for download below. Please feel free to leave a message or email us directly at [email protected]

Follow Our Journey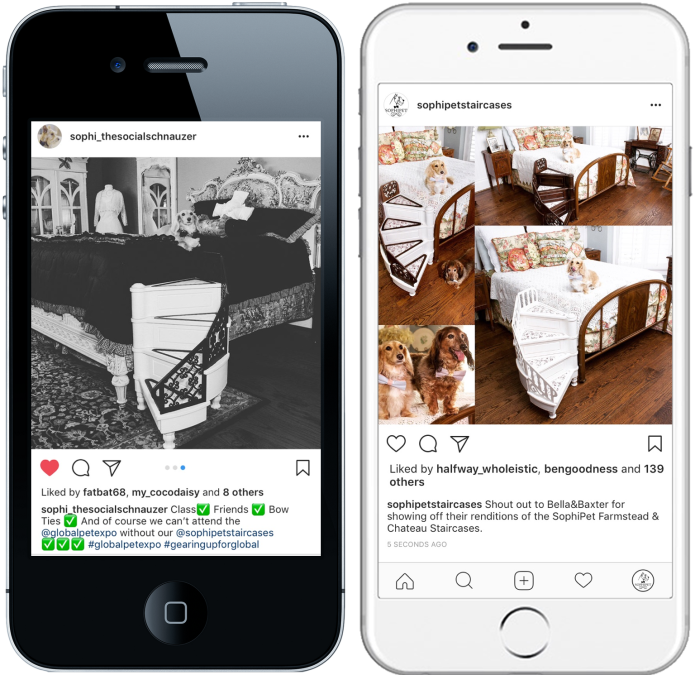 Risks and challenges
In-House Manufacturing– With our entry into the mass-production market, initially streamlining the production line is going to take some work and time; however, being familiar with logistics processes and project management, we are confident we can accomplish our objectives. With a combined 30+ years of experience in the woodwork manufacturing business, long-standing relationships with material, supplies, and packaging resources, vast knowledge & experience using production equipment (i.e. CNC Machines, wide-belt sanders, finishing processes, production saws), we have understood and adapted to the production line process on various projects over the years.
Complex Order Fulfillment – It's not hard to see the difficulty in reward fulfillment with as many rewards as we offer. In a dream world, everything works out perfectly and everyone gets their rewards exactly on time, every time. In our world, the real world, expected & unexpected problems arise from all directions. With our list of reward tiers offered, executing the fulfillment is going to take some know-how, problem solving and honing to get it running smoothly. Once funded, we are confident that our strategic planning will be able to get the job done, proactively tackling challenges and getting the rewards to you with the indiegogo definition of "on time."
Product Adjustments – Creativity and quality never ceases. Again, from experience, we find better and faster ways to produce top-of-the-line products with a little fine tuning here and there, all to better benefit your experience as the end user. Some people don't like surprises, so we aim to keep you up to date on any improvements made.
Shipping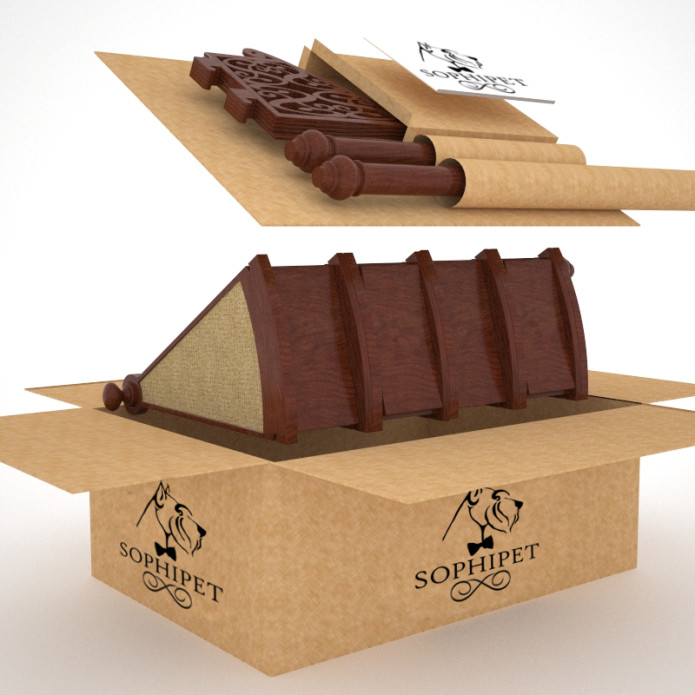 Concept rendering only and subject to change
Overseas Shipping– Initially, overseas backers will get the same discounted shipping amount as our North American backers. Although, because of other unknown factors, there are extra shipping costs to consider. Once funded, oversees and galaxy shipping logistics will be worked out, but we're not there yet. Each country is different and the process of customs, delays, extra charges is something to consider and other things we are not familiar with at this stage and can't guarantee delivery on time with the potential for smugglers, bandits and raiders trading it on the black market?? Nevertheless, you can count on… most of us to get there and face the challenges and risks head on with hopefully no causalities.
It is not unexpected that there will be dog days ahead, but with your help, we can keep the barking and howling to a minimum. In order to get your paws on one of our perks, scroll up and select the perk you want or just back us by selecting "Back This Project."