Square Off NEO & SWAP: Smart Automated Board Games | AI enabled board games with self-moving pieces which come with multiple games & a built-in coach.

We are Square Off, the brand that gave the world a renewed interest in traditional board gaming with an exciting techno-twist! These new age connected board-gaming platforms engage, entertain & teach users across all age groups, around the world.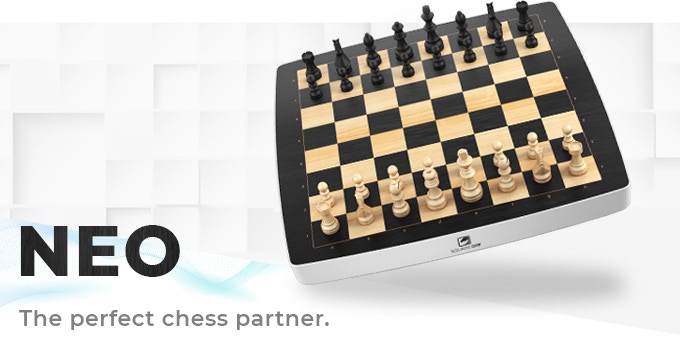 Play. Learn. Connect. Take your chess prowess to the next level with this compact, affordable, automated and state-of-the-art device. The only chess board you'd ever need.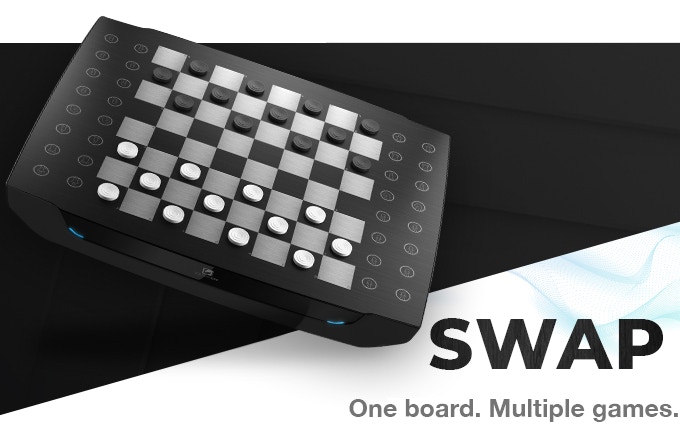 Play multiple board games on a single surface. Swap gives you the luxury to choose between its many games and the convenience of switching between them in a matter of moments. With such exciting games to play, board gaming will never be boring again.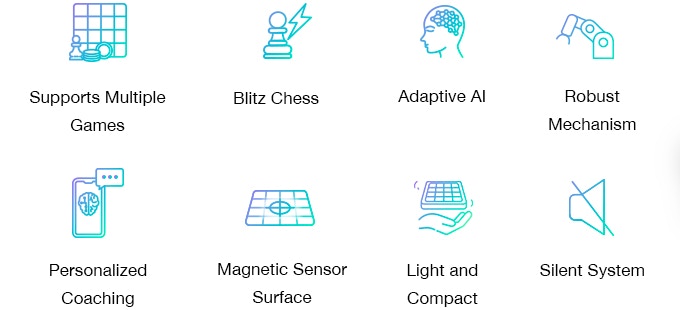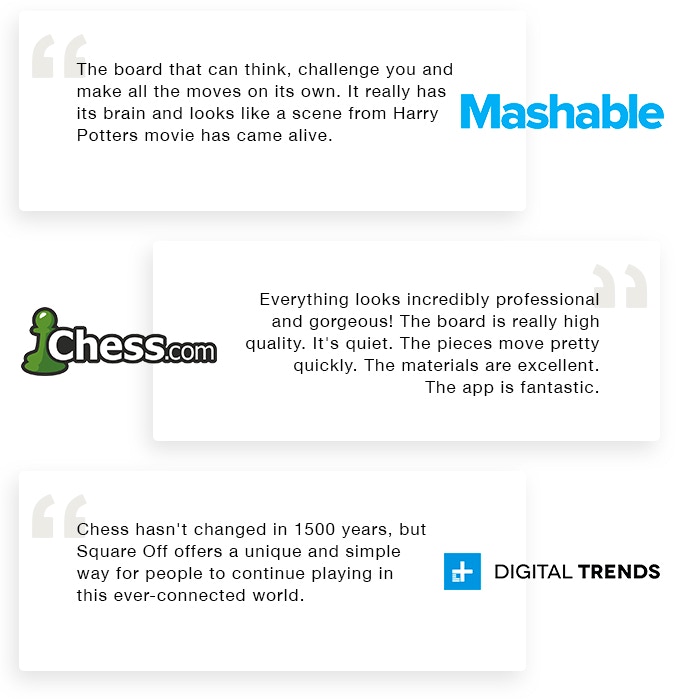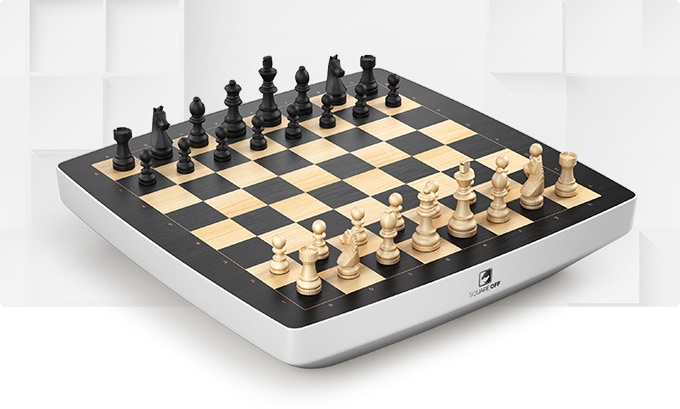 Compact, faster, and so much smarter. Square Off Neo comes with a futuristic technology. Packed with adaptive AI, personalized chess coaching, and 1.5X faster movements, this is the perfect chess partner you've been looking for.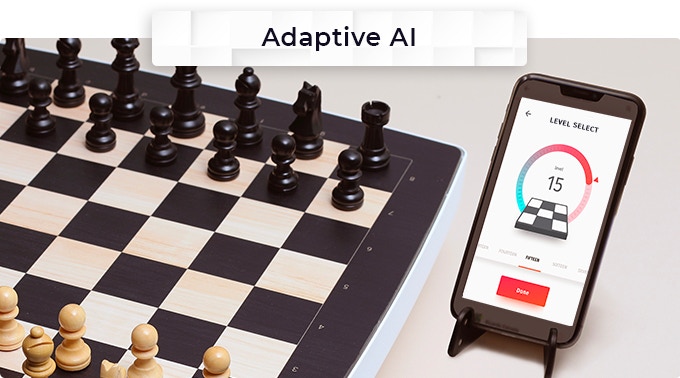 Whether you've just been introduced to the world of chess or have had a winning streak for decades, Neo's built-in AI auto-adjusts to your expertise, giving you the fight of a lifetime at every move, with 30 difficulty levels to choose from.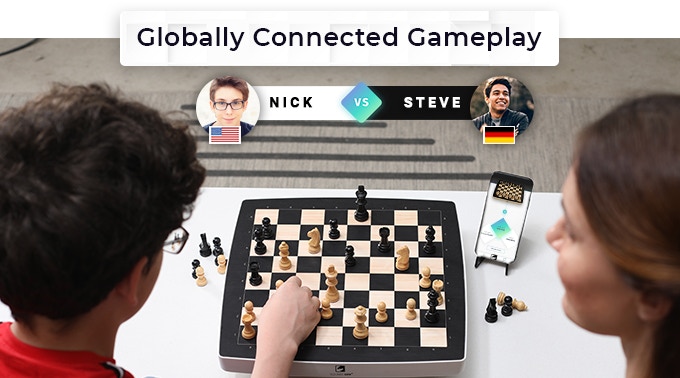 Whichever part of the globe your opponent may be in, Neo offers you a one-on-one showdown as if they were across the board. The integrated mobile app lets you connect to your friends anywhere in the world and also play with 30 million+ users on chess.com. Whether it's board versus board or board versus app, you experience all their moves right on your board.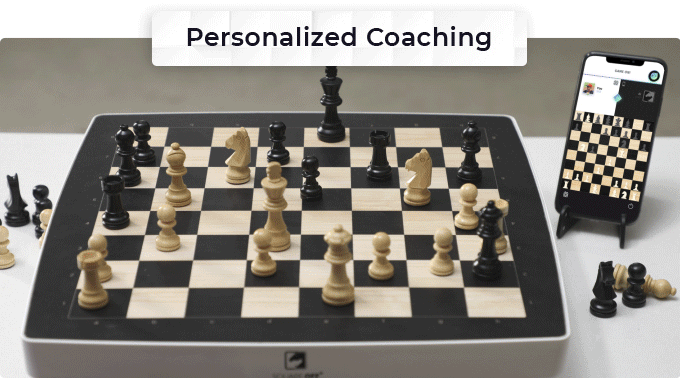 Square Off's personalized coaching has made learning as seamless as talking to a friend. Combining smart digital learning and real-time coaching across various touch points, Viktor, your personal coach, helps you improve your chess skills by customizing the lessons to match your learning curve.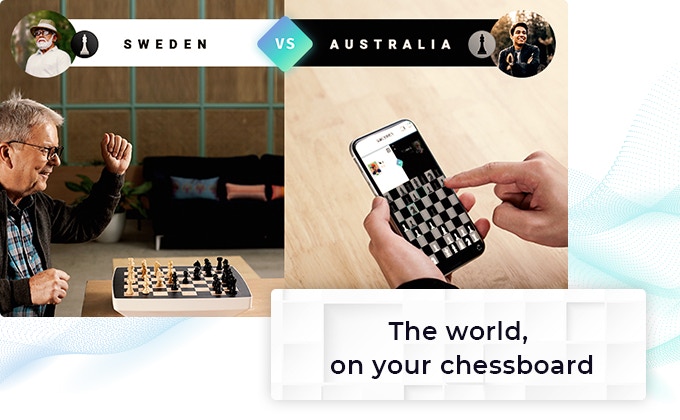 Young or old, novice or a champion, or someone just looking for some entertainment, this board is suitable for everyone. Rekindle old relations and make new connections. Play with a friend or a fellow player on Chess.com, challenge anyone, anywhere.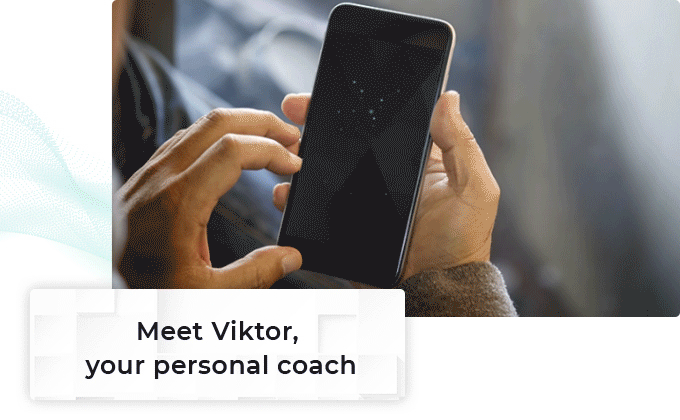 Viktor helps you learn chess and sharpen your skills with well-rounded personal training. Since Viktor is tailored and not programmed, he uses multiple touch points for coaching, ensuring a holistic learning experience. With a customised mix of smart digital learning, puzzles, challenges, practice games, real-time coaching and more, learning with Viktor is like learning with a super-smart friend, at your convenience. Viktor not only brings world-class coaching to your home, he does it at a fraction of the cost.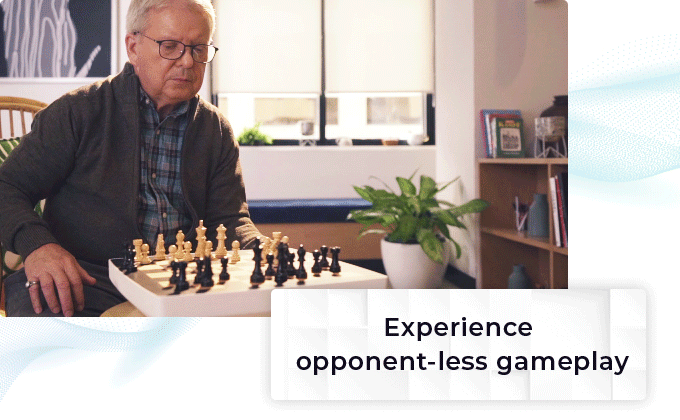 With up to 30 levels of difficulty, Neo's built-in AI now learns and adjusts its level to match yours. This means, everyone from a beginner to a professional always has the perfect chess partner right in front of them!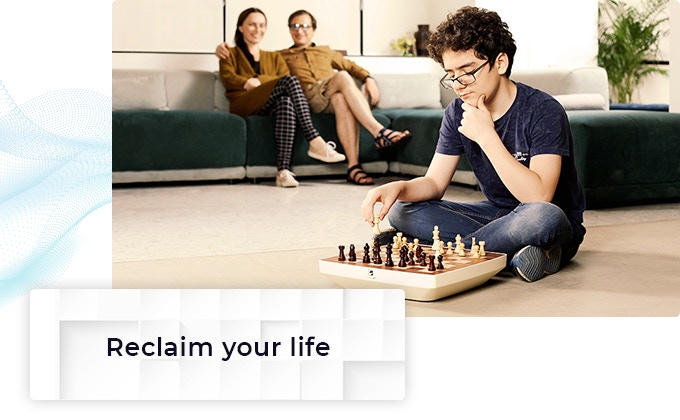 In the age of digital reckoning, everyone is now looking for experiences that take them off-screen. Our boards utilise futuristic tech to create an immersive, engaging, off-screen experience that's perfect for everyone – whether they're 6 or 60.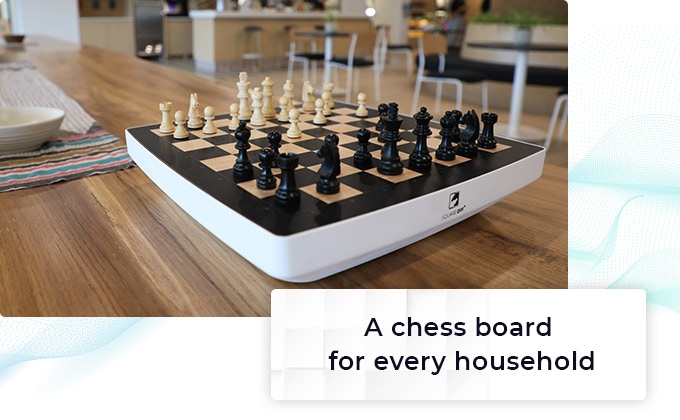 Neo thinks for itself and makes its own moves while connecting you to the world and helping you improve your game. It's the perfect companion for every chess lover. And at such an affordable price point, the choice between Neo and a regular chessboard is well, a no-brainer.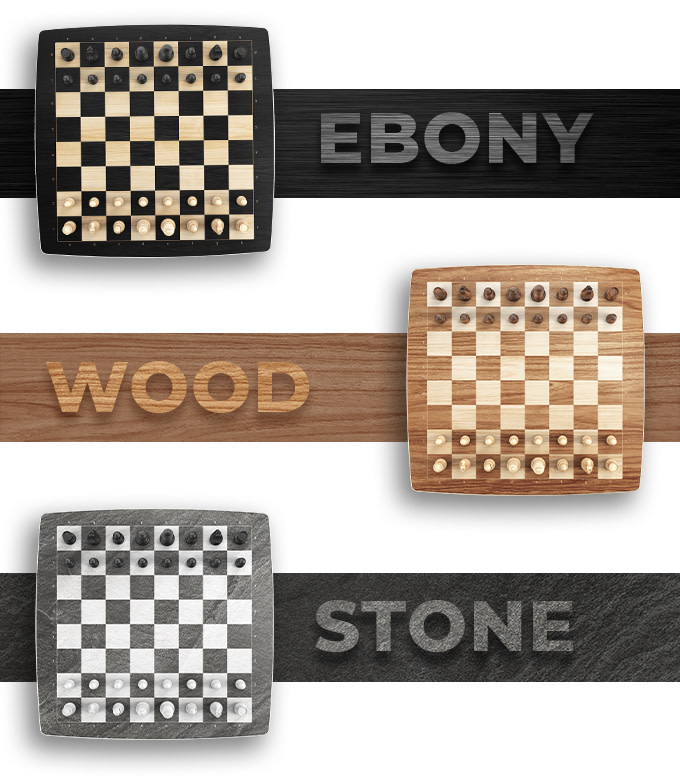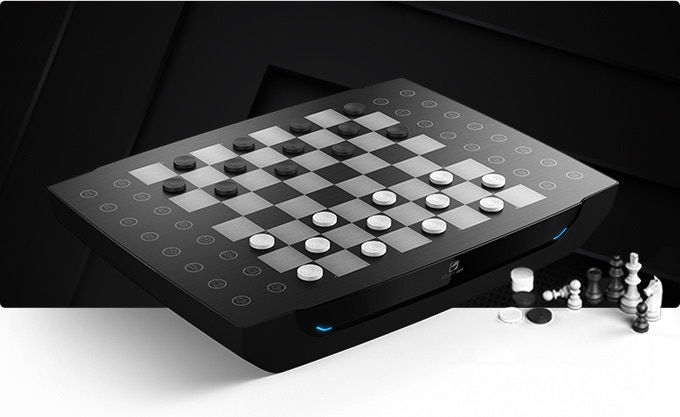 Swap between board games with a single tap. The board game allows you to play multiple games on a single surface. Completely automated and globally connected, say hello to the future of game nights.

Swap between games or develop your own. Swap comes with a choice of 4 games to begin with – Chess, Chinese Checkers, Draughts or Connect 4. With its all-new magnetic sensor surface, switch easily between games – simply select the game, change the pieces, and you're all set for a different experience. Great for game nights or to make new friends as the board connects to players all over the world!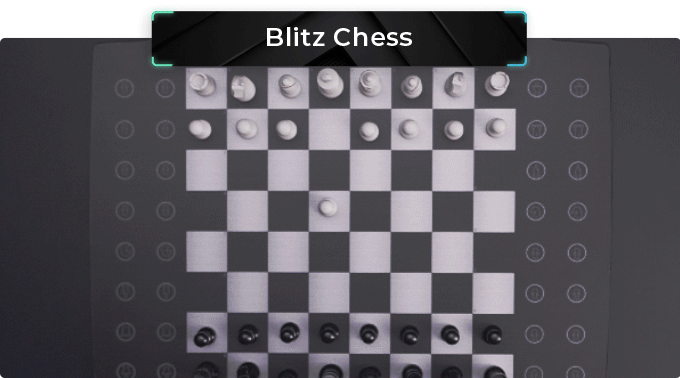 If you love chess, you gotta love blitz! With next-gen robust mechanism powering the board, our pieces zoom across the board, giving you the kind of match you've been looking forward to.
No matter if you have years of practice by your side or if you wish to give it a go for the first time, Square Off's built-in AI adapts to your expertise level, making it the perfect opponent for you to practice with.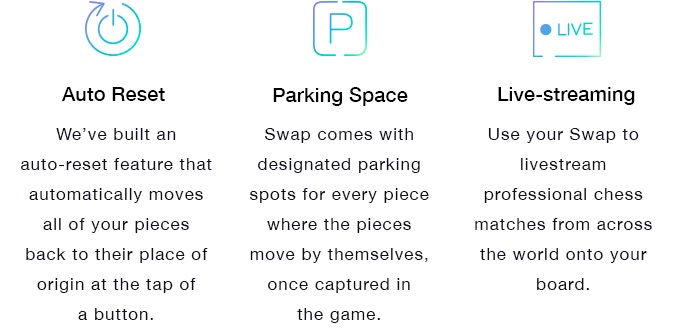 Swap is the only board game that gives you the option of many different games on the same surface. And what's more? It offers you the freedom to develop your own game – any and every game that operates on an 8×8 grid is welcome on Swap's board!
 Unlike others, we really mean it when we say that the world can be your playground. Break through borders and issue an open challenge to any and all. An old friend or a new one from chess.com's 30 million+ users, you are always connected, to everyone.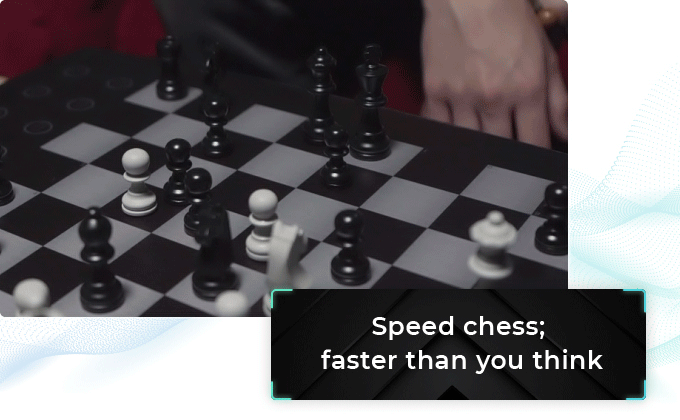 When we say Blitz, we mean it. The board makes moves almost as fast as you think, making Blitz on Swap the best speed chess experience. And you can move the pieces across the board like you always have. The magnetic sensing surface that detect every move the pieces make across that board, giving you a seamless board gaming experience.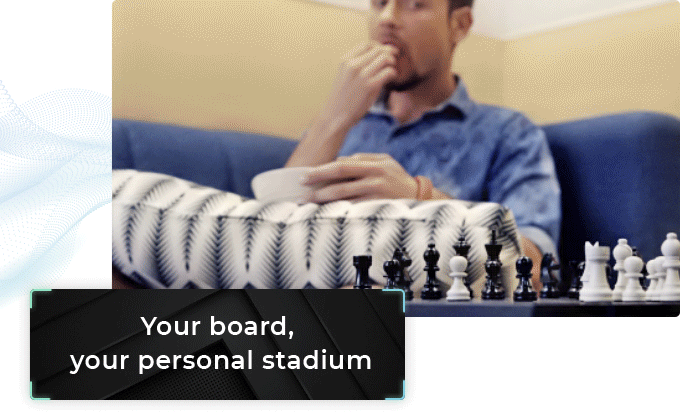 With the help of our integrated app, you can turn your surroundings into a stadium and your board into the playing field! Stream LIVE matches as they play out, directly on your board for a personal viewing experience second to none.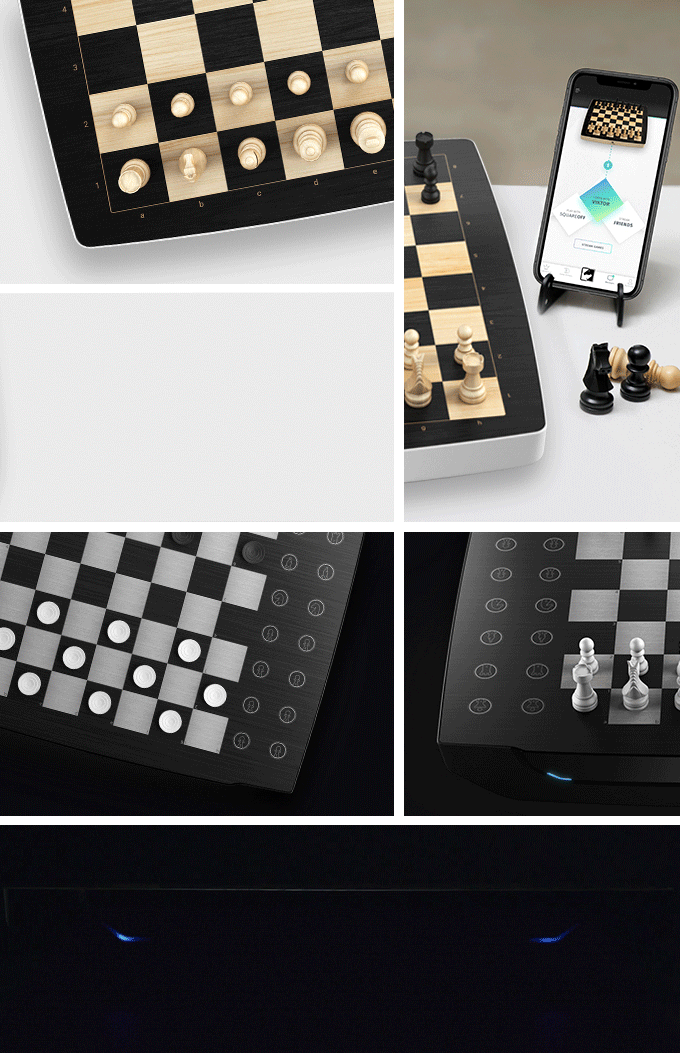 Neo and Swap are two path-breaking board games with some brilliant tech and intelligent engineering but they're also great to look at! With a lightweight body and a minimalist style, Neo has a distinctly modern look. And with a brushed metal finish and dark tones, Swap looks like the cool, futuristic gadget that it is. We've taken care to create a user experience that appeals to everyone, young or old. Though it packs some serious tech, the actual functionalities are extremely user-friendly. Add to this their smooth movements and a silent mechanism, and you get the best board gaming experience money can buy.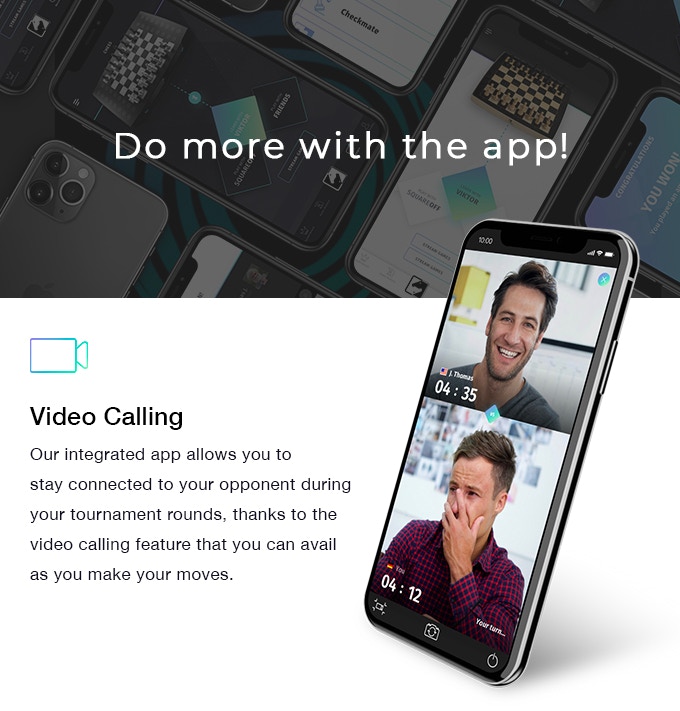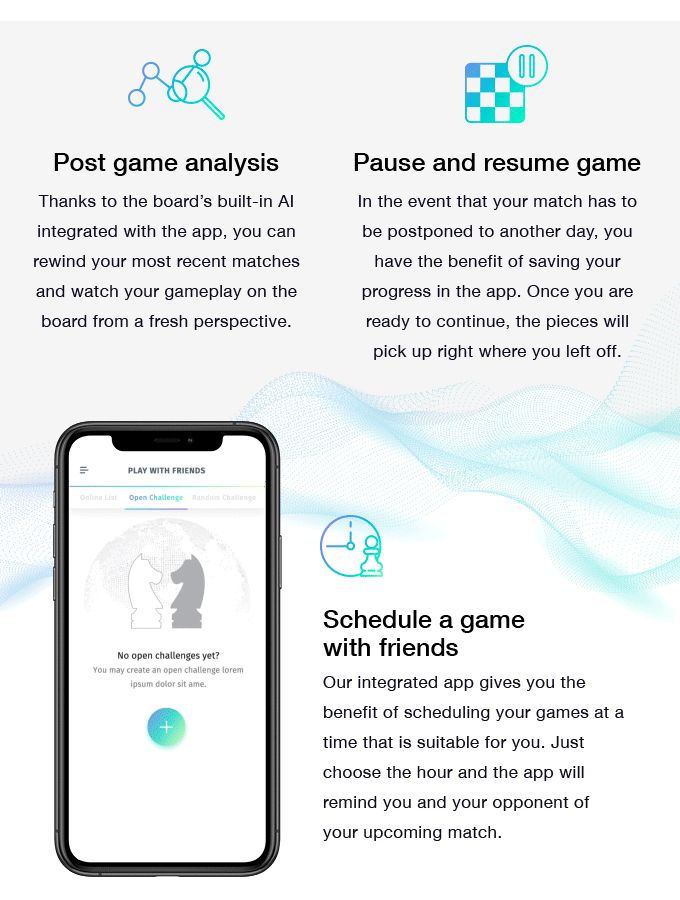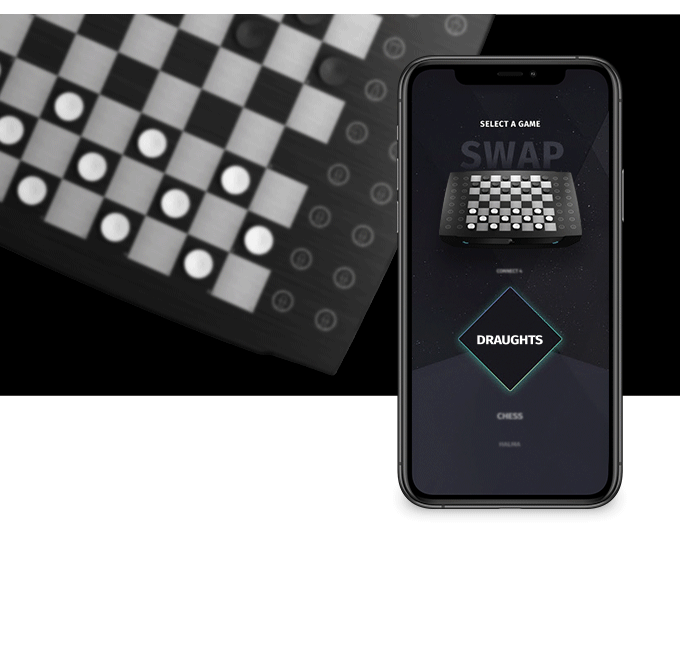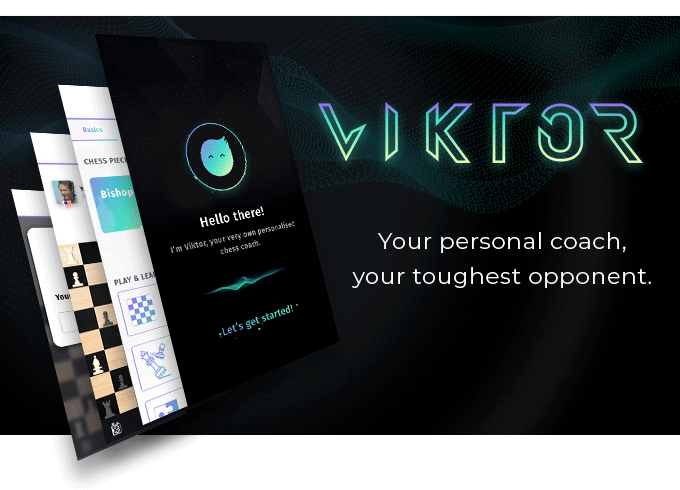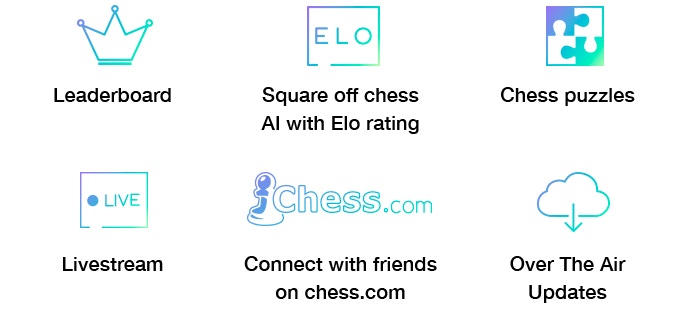 Square Off Neo and Swap are completely compatible with all other Square Off boards.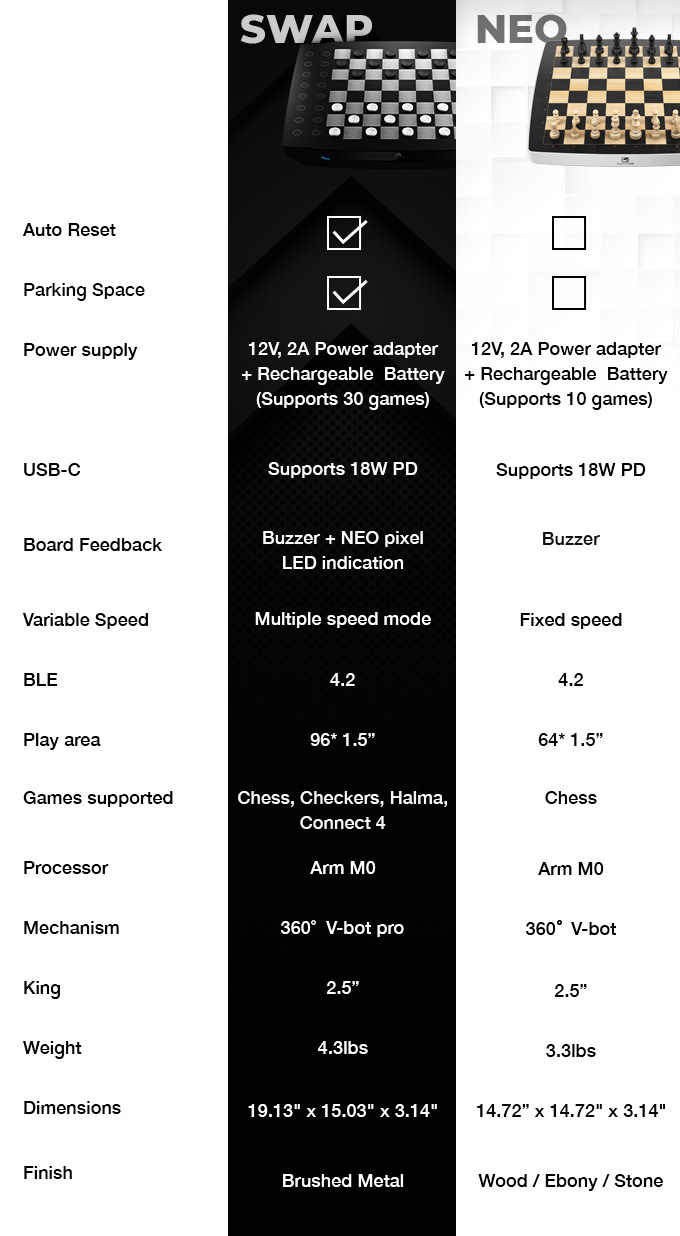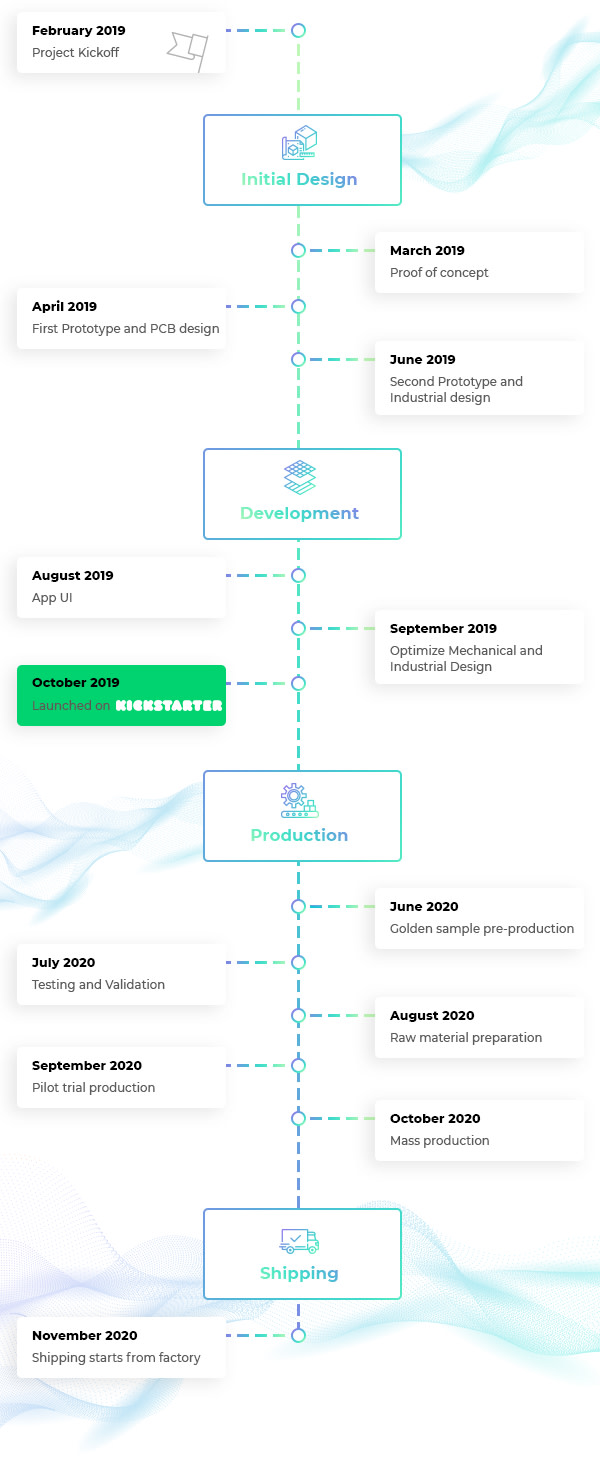 This time around, we don't just have a great idea. Along with the concept, we also have our manufacturing and shipping partners in place. Which means final delivery will be streamlined. All we need are resources and your support to bring this concept to fruition.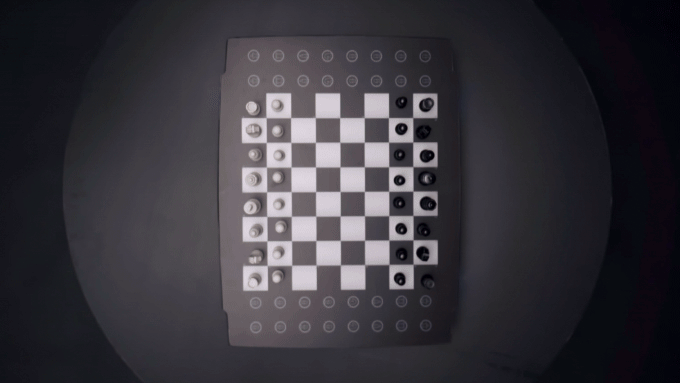 With Neo and Swap, we are one step closer to our vision of creating an automated and globally connected board game that facilitates a whole lot of different games by simply upgrading the Square Off App and replacing the top surface with another board game panel.
If you have any doubts, questions, suggestions or you just want to say hey, get in touch with us at [email protected].
Share it on your favorite social media platform


International Backers
We will ship Square Off Neo and Swap worldwide, with the exception of a few countries. Please note that you will be responsible for duties, fees and taxes applicable to your region, which in the past have ranged from 0% to 20% in the US and EU countries, to as much as 100% for certain South American countries.
Warranty
We stand firmly behind our products. Each Square Off board includes a minimum 1 year limited warranty.
Refund
We charge a 20% fee for every refund requested. This covers the platform fee + payment gateway fee + currency conversion fee which we have to incur.