STANDiT by ERARD, the only No Drill TV Wall Mount | STANDiT® by ERARD is the first TV wall mount bracket with no drilling of the wall required.
The Company
In 1961, Henri Erard began designing and manufacturing TV furniture in France to meet the demands of the then new Cathode Ray Tube (CRT) format televisions.  Over the next 50 years ERARD continued to research and develop new technologies as television designs changed and peripheral accessories such as the VCR became popular.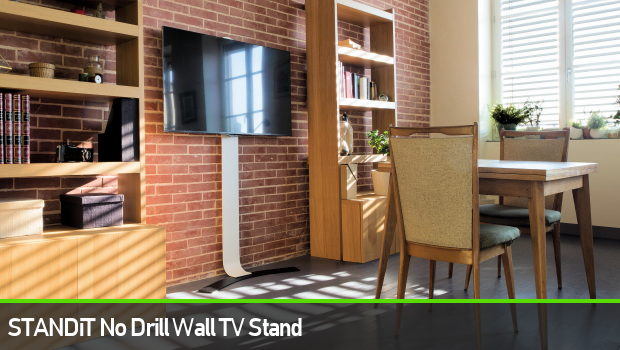 The Concept of STANDiT
ERARD's most recent innovation, STANDiT®, addresses the need to mount small, medium and large flat panel style televisions WITHOUT hiring an installer, using any tools, or causing any marks or holes in building walls. 
ERARD's objective is to supply customers with not only elegant, innovative products but also to simplify and streamline their lives.
In response to the widespread complaints from professionals and consumers about wall mounting flat panel televisions ERARD's product development team set out to find a solution.
What to do with plasterboard walls, glass walls, brick, studs, too weak and/or hard wall materials, refilling holes after drilling, etc.? The design had to be quick and easy to install, as universal as possible, compatible with different wall and floor materials, secure and stable, good looking and reasonably priced.
The design process was initiated and for several months this was the daily life of Patrick, Jean-François and their team: Drawing sketches, discussing specifications, looking for ideas, testing materials, prototyping, conducting capacity and stability tests.
STANDiT® is based on a balanced 3 points support principle. The center of gravity is lowered and virtually inside the wall so there is no risk the stand would fall even if inclined at an angle of 30 º.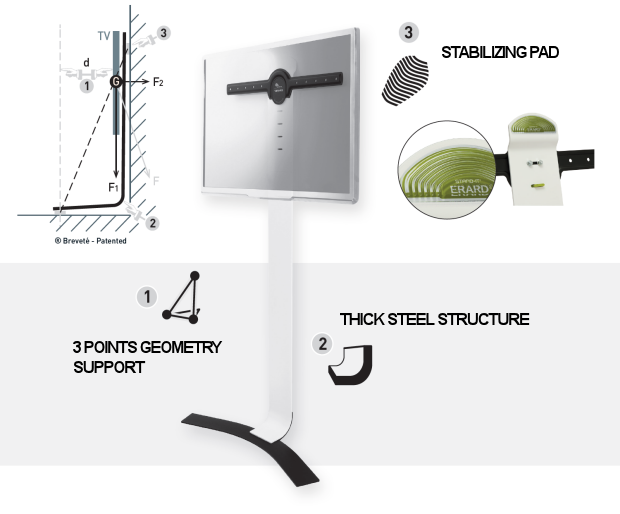 First launched in 2012 to the European market, STANDiT® received the coveted "Observeur de Design" award, a French national design prize, the next year. STANDiT® has been exhibited at trade shows in the US, Europe and the Middle East continuing to impress both pros and consumers. "Why didn't anybody think of this sooner??"
The Campaign
This  product new to the US is currently in production at ERARD's French manufacturing facility, having enjoyed robust sales in Europe for the past two years. Our goal in raising funds is to bring this product to the U.S. market and support a distribution network.
With the proper funding, we will be able to stock the product in U.S. distribution channels as well as set up a team to develop supply chains and market awareness through advertising and social media recognition.
We are hoping to raise $80,000+ in two months.
We absorbed the cost of exhibiting at this year's INFOCOMM Show in Orlando and based on the extremely positive response we received, decided to move forward with entering the U.S. market.
As the product is already in production in Europe, every backer will be sure to receive his STANDiT(s). 
Through our Indiegogo campaign, contributors will enjoy valuable discounts on each of the three sizes we offer as well as on multiple unit bundles. Therefore, at the same time we are crowdfunding we will get more and more units out to the consumer and commercial communities. More units in more homes and offices will allow us to gather feedback and reviews we can use in our marketing efforts.
The Specifications of STANDiT®
STANDiT® by ERARD has conceived a unique way so you can back your TV or screen on any type of wall with no need of drilling:
STANDiT® comes in 3 sizes, STANDiT® 400, STANDiT® 600 and STANDiT® PRO compatible with flat panel screens ranging from 40" to 90" and up to 140 lbs.
Compatible with VESA 200 to 600.
Height of the screen is adjustable on 7.8 in (200 mm) in 5 positions.
Repositionable stabilizing pads made of elastomer.
Anti-fall device for the screen.
STAND iT® is the first TV wall mount bracket with no drilling of the wall required.
Suitable for any kind of floor (carpet, ceramic, wooden, concrete, etc.).
5 minutes mounting and installation time.
Hidden guide for cables in the back.
Can be painted the color of your choice or can be left white.
Can be combined with your existing AV furniture.
The 3 versions of STANDiT®
STANDIT® comes in 3 different sizes.
STANDiT® 400
No drill wall mount for 30″-55″ Flat TV screens
For screen size 30" to 55"
Supports up to 66lbs screens
Compatible VESA 200 to 400
Max height: 4 ft. (48 in.)
Optional wall strap included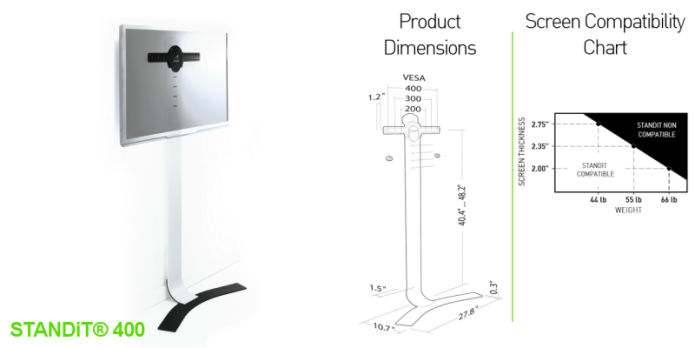 STANDiT® 600
No drill wall mount for 40″-75″ Flat TV screens
For screen size 40" to 55"
Supports up to 99lbs screens
Compatible VESA 200 to 600
Max height: 4′ 10" (58 in.)
Optional wall strap included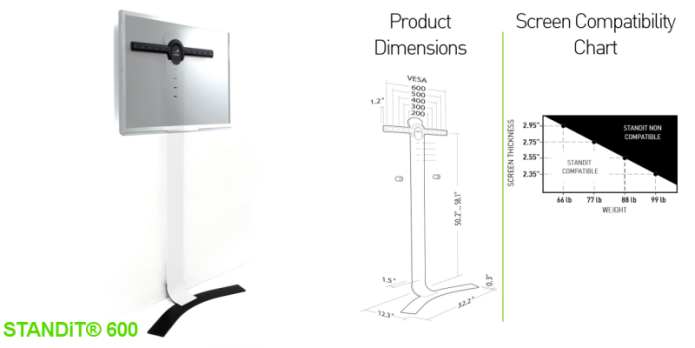 STANDiT® PRO
No drill wall mount for 40″-90″ Flat TV screens
For screen size 40" to 90"
Supports up to 110lbs screens and up to 140lbs with wall bracket
Compatible VESA 200 to 600
Max height: 5′ 7" (67 in.)
Wall bracket included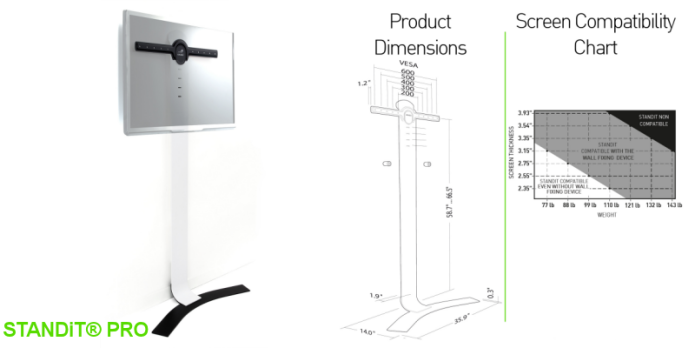 Putting it together: a piece of cake
You can assemble your STANDiT® by ERARD in no more than 5 minutes using all the included tools.
The Perks

Timeline
STANDiT is already under production in France.
Mid Sept to Mid-Nov 2017: Indiegogo Campaign
Oct to Nov 2017: Specific STANDiT® production for the US
From December 1st to December 15th 2017: Delivery to Backers
All Backers will receive their STANDiT(s) before Christmas 2017!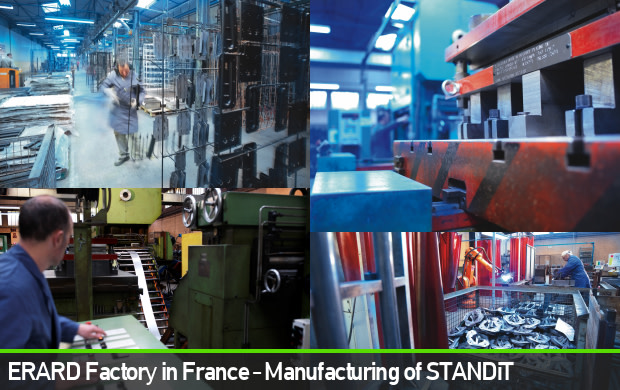 Details
Here are some detail pics of the STANDiT®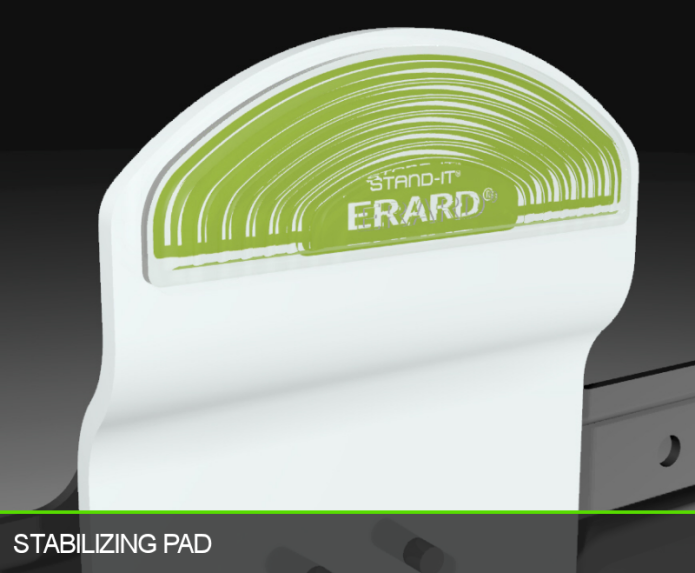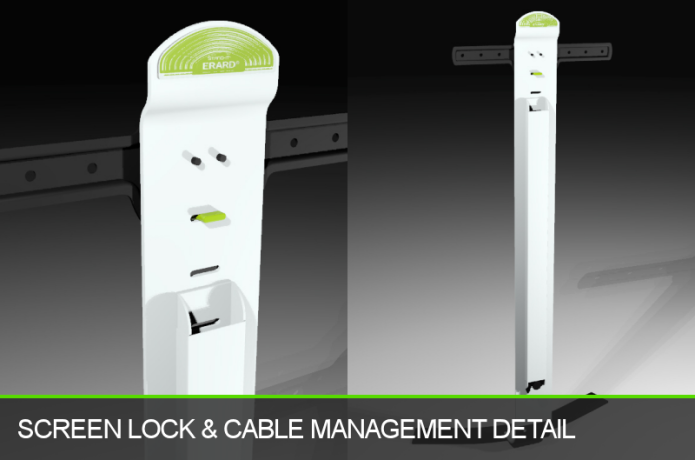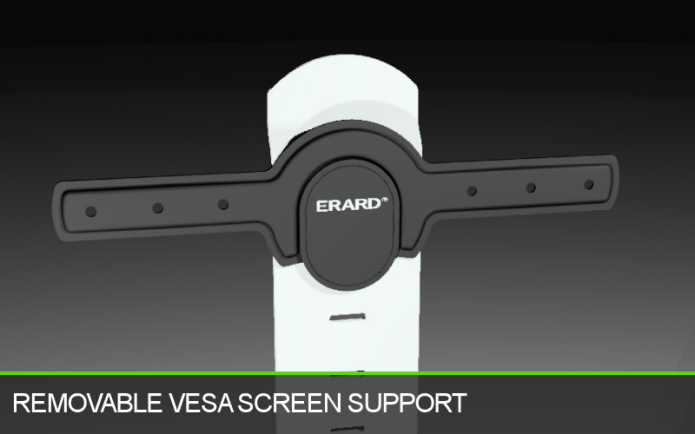 Other Ways You Can Help
We understand not everyone can help with a monetary contribution to our campaign. THAT'S OK! You can help us immensely by sharing our product campaign on your social media and don't forget to use the Indiegogo sharing tools!




FAQ
| | |
| --- | --- |
| What is STANDiT®? | STANDiT® by ERARD is a no-tools, no wall damage flat screen TV mount featuring elegant design and a small footprint. |
|   |   |
| Who created it? | STANDiT® has been created by ERARD, a French company specialized in High-End TV supports. |
|   |   |
| Why should we use it? | STANDiT® allows to wall mount a TV on any type of wall including glass wall with no hole at all. It is ideal when you want to place a TV in a place where you can't or you don't want to drill the wall. It is a real game changer for tenants or renters that want to keep their security deposit when they move! |
|   |   |
| Where can I buy it?  | Right here on Indiegogo to get an immediate discount and to be sure to be served before Xmas 2017. |
|   |   |
| Why are you crowdfunding?  | This is the way for us to check the US market is ready for the STANDiT® TV mount revolution and so start selling in the country. |
|   |   |
| Is this campaign country limited? | Yes, this campaign is limited to the US as we will only ship within the continental US. |
|   |   |
| Which TV will it work with? | STANDiT® works with most flat screen TVs on the market ranging 30" to 90" size. Be sure to choose the STANDiT® model in accordance to the TV you will be using by checking the compatibility diagrams above. STANDiT® is VESA 200 to 600 compatible. |
|   |   |
| Does it works on any type of wall? | As the force against the wall is minimal and it has a protective pad, STANDiT® can lay against any kind of stable wall including plasterboard walls, glass walls, brick, studs, any too weak and/or hard wall materials you can imagine. |
|   |   |
| Does it works on any type of floor? | STANDiT® has stabilizing pads underneath its foot that makes it stable on any kind of floor including hardwood, ceramic, concrete, carpeting, etc. |
|   |   |
| Can I move my TV easily? | Yes, STANDiT® can be moved from one place to another in a matter of seconds. The lockable and removable VESA mount helps you to separate the TV from the stand. |
|   |   |
| Does it include cable management? | Yes, STANDiT® has a cable management system in the back that totally hides all the cables from the floor to the TV. |
|   |   |
| Can I paint it? | Yes, STANDiT® comes in a nice white Epoxy finish but can be painted the color you want to match your room! |
|   |   |
| Is it really stable? | STANDiT® equipped with a TV can be leaned at 30 º and will still lean back to the wall by its own weight and the position of its center gravity.  |
|   |   |
| Is it safe for the children? | By its design, it is impossible for a toddler to move it and it would take a huge amount of strength for a child to jeopardize its stability. You can use the included strap for a total security. |
|   |   |
| Is it safe in an earthquake zone? | Yes, STANDiT® would have to lean more than 30 º to fall. In any case you can use the included strap to make impossible for it to fall during an earthquake. |
|   |   |
| Is it suitable for public spaces? | Yes, STANDiT® is perfectly suitable for public spaces, hospitals, classrooms, etc. It's very low foot print makes it perfectly stable even when stepped on. It is not an obstacle to a wheelchair. |
|   |   |
| What is included? | Each STANDiT® box comes with a STANDiT®, the adequate mounting tools, mounting instructions, necessary screws and bolts to mount your TV and a strap to secure it to the wall if you wish. |
|   |   |
| Is it easy to mount? | Yes, STANDiT® requires less than 10 minutes to be fully operational. All the mounting tools and devices are included. |
|   |   |
| When will it be shipped? | All the shipments will be made between December 1st 2017 and December 15th 2017. |
|   |   |
| How much is shipping? | Shipping is FREE to continental US for all the PERKS except for the Distributor Packs. |
|   |   |
| Where do we ship to? | We only ship to the US since this campaign amis at the US settlement of the STANDiT®. |
|   |   |