SUNCRAFT Kitchen Knife – SG2 Japanese powder steel | Game changing premium kitchen knife made of innovative new material in Japan by skilled craftsmen
About
A kitchen knife is an essential tool for good cooking. Quality knives make you confident, creative and help you cook better food. Owning one great knife enables you to enjoy its cutting experience through years because the knife will last a lifetime when cared for properly.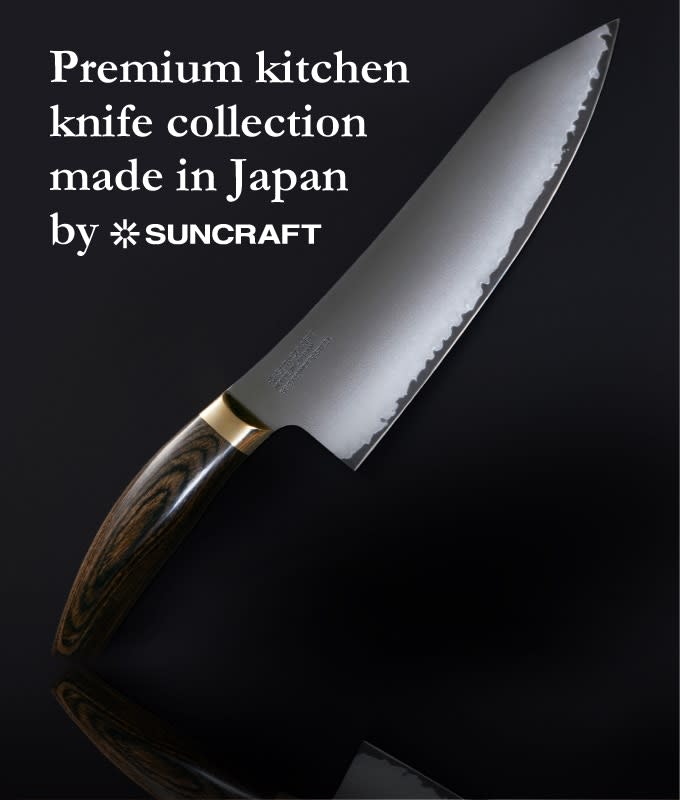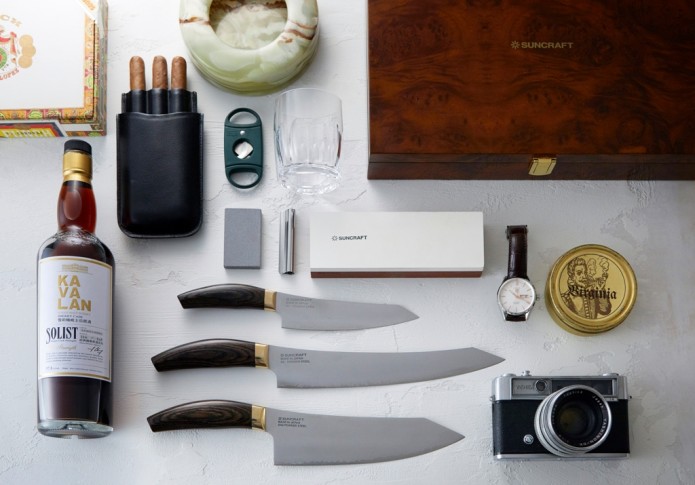 As an experienced knife manufacturer for more than 60 years in Japan, our goal is to deliver our best quality knife to as many people as possible and to satisfy them. By taking advantage of the opportunity to deliver directly to you, we are happy that we are able to offer our best knife at a special price this time.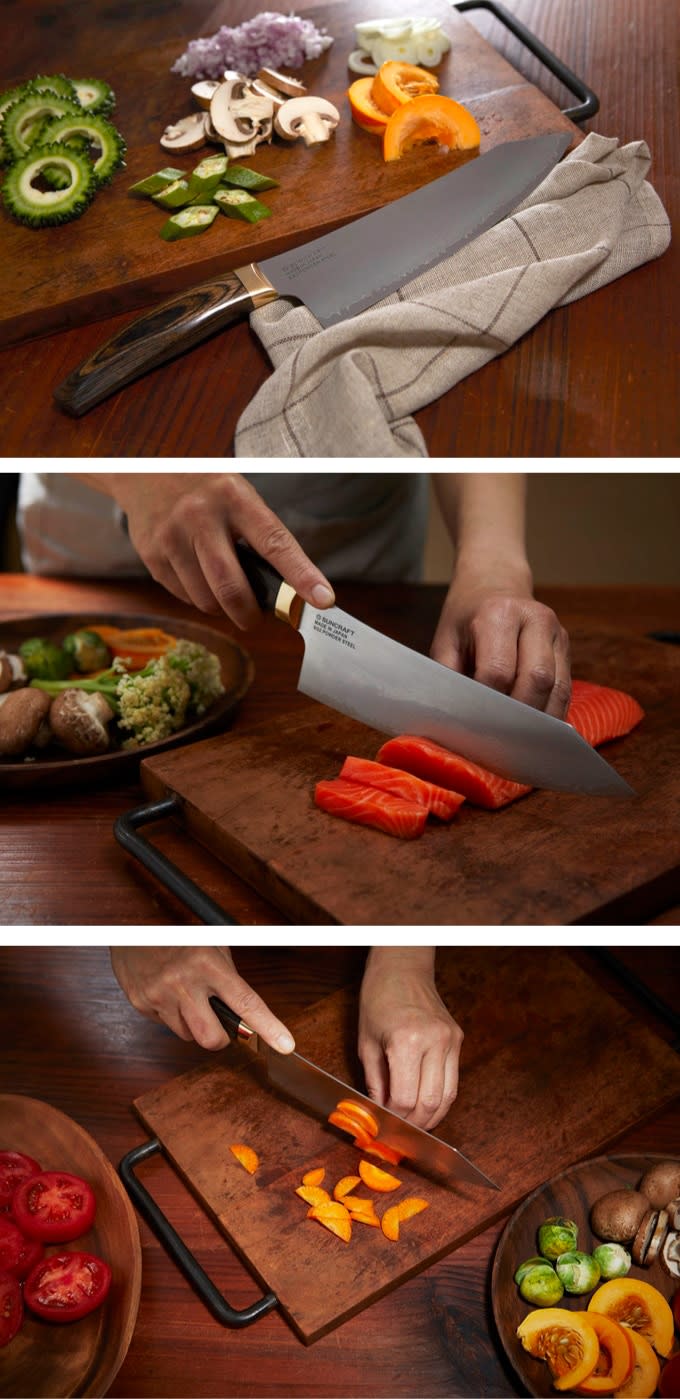 Most knives sold at retails currently are sharp at first slice but sacrifice durability for sharpness and won't hold its sharpness for a long time. 
A great knife is sharp and also stay sharp for long time. The best balance between sharpness and durability actually depends on complicating match-ups of many factors; steel materials and hardness (also match-ups of heat treatment temperatures for hardness determination), edge angles, and blade thickness and so on.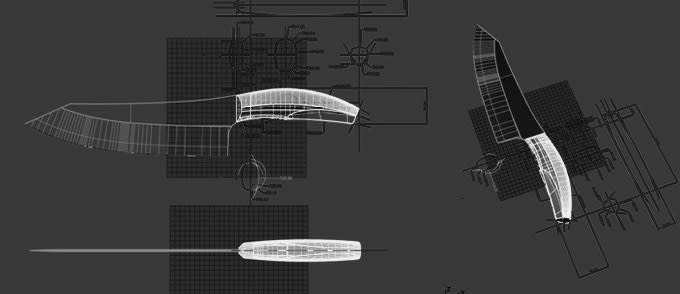 From our long experience of knife production, we have been experimenting thousands of blade profiles and finally created an incredibly sharp and durable blade.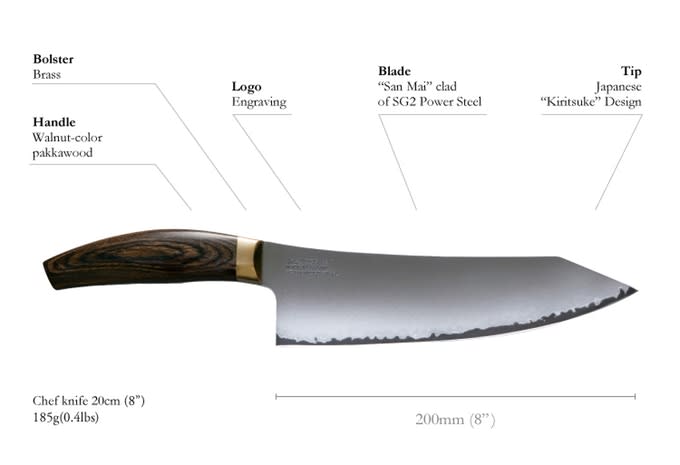 3 essential knives, Chef knife 20cm, Slicer knife 25cm and Petty knife 15cm, are in our collection.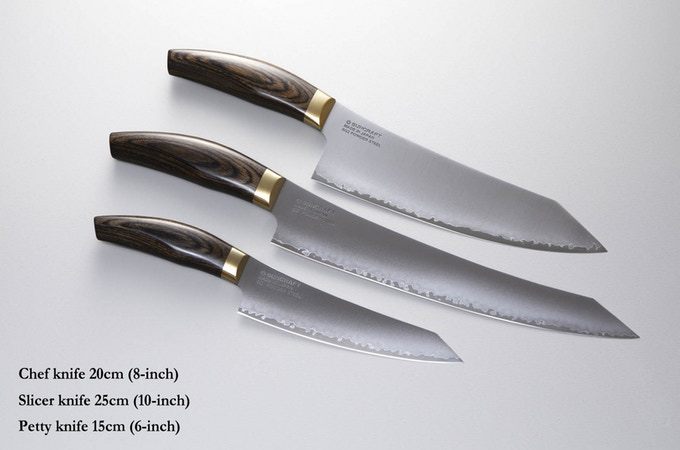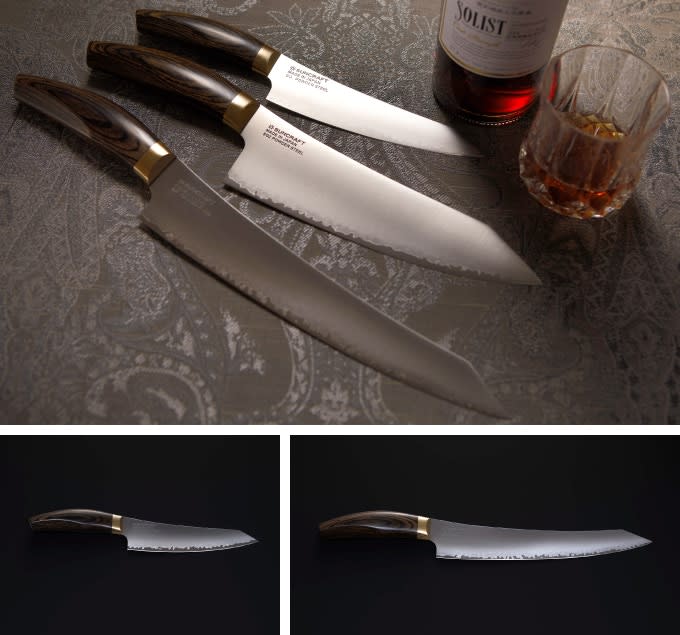 The blade material is clad steel of SG2, Powdered steel, for cutting core. It is the newer and better steel than VG-10, produced by the same alloy manufacturer in Japan.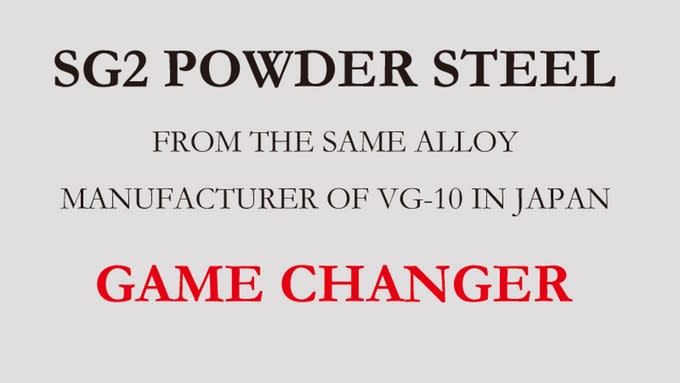 Powder metallurgy 
Super fine (nano) powder of steel elements are compressed, heated and formed into ingots. This is a totally different alloy production process from the ordinary "melting process". This special process enables a powered steel to contain much more key elements for better quality than melting-processed steel. 


Fine metallographic image
Better quality than VG-10 from the same alloy manufacturer 
VG-10 Japanese steel is currently used for the most of high quality kitchen knives in the market. Look around the other projects of successful kitchen knife on Indiegogo, they all use VG-10 stainless steel for their knife. 
SG2 powdered steel has been developed newly as the updated and better performance steel than VG-10 by the same manufacturer of VG-10 in Japan. 
SG2 actually contains 30% more of Carbon than VG-10 which decides steel hardness, 230% more of Molybdenum which contributes to anti-corrosion, and 570% more of Vanadium which contributes to sharpness durability.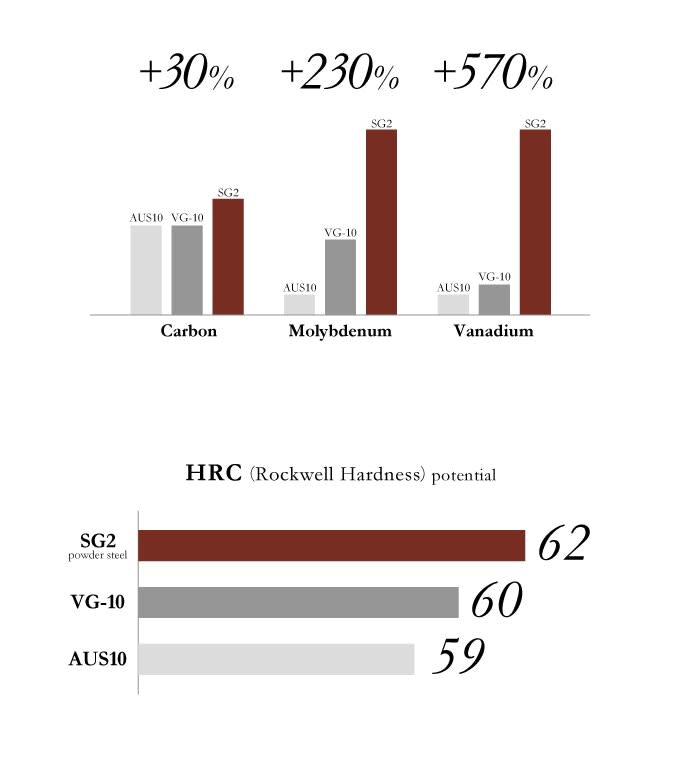 This new material enables our knife to take and hold an exquisitely fine edge with long lasting sharpness. Take a look at a test result below compared to VG-10 knife and AUS-10 knife.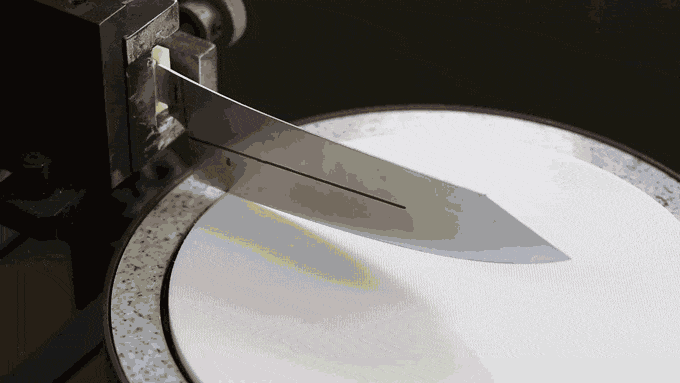 Paper cutting test for sharpness and durability definition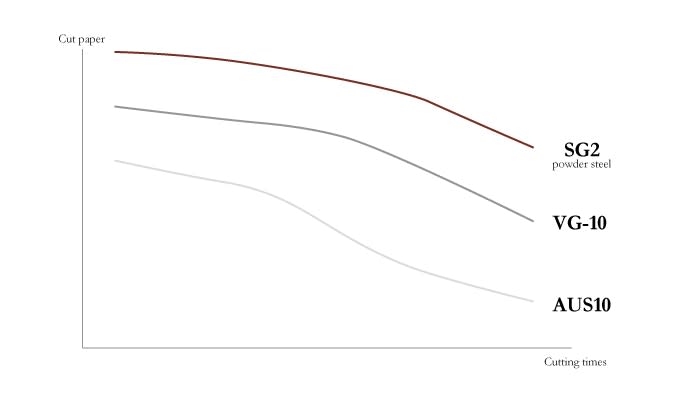 Comparison between SG2, VG-10 and AUS-10
Production difficulty 
However, it requires high techniques during knife production to draw a powder steel nature and its greatness. Therefore, not many manufacturers can carry this high level steel for their knives. 
Right now, only a few world major knife brands use this powder steel for their premium products that are sold at their highest price range, more than USD300 (MSRP). 


Our in-house well-skilled craftsmen add the edge on the blade, every single piece by hand.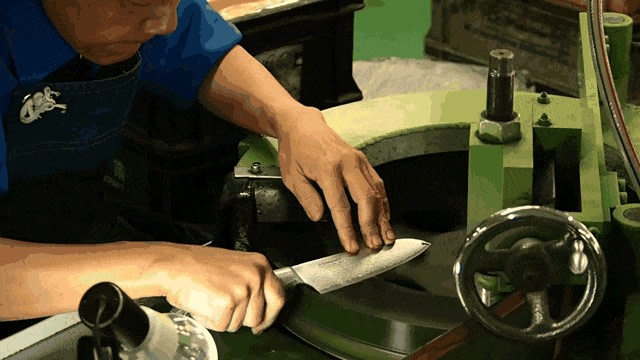 The traditional "Honbazuke" horning technique is applied. The edge is tapered to a 15 degree blade angle to make sure the knife is razor-sharp. 


Hybrid of Western and Eastern
Blade shape is combination of Japanese and western cutlery culture. Japanese traditional "Kiritsuke" tip enables you to fillet fish and meat easily because the tip goes into sharply.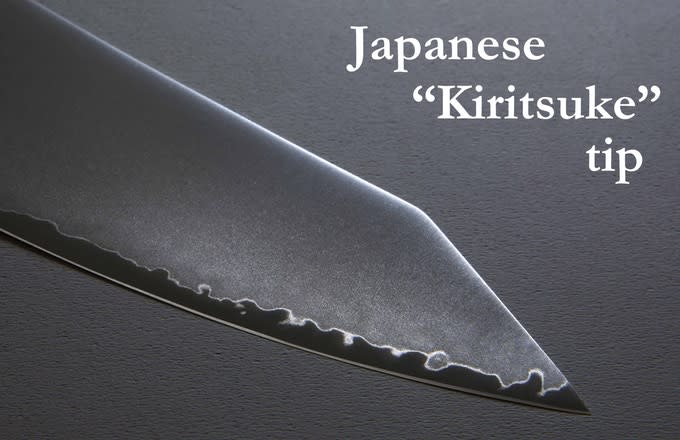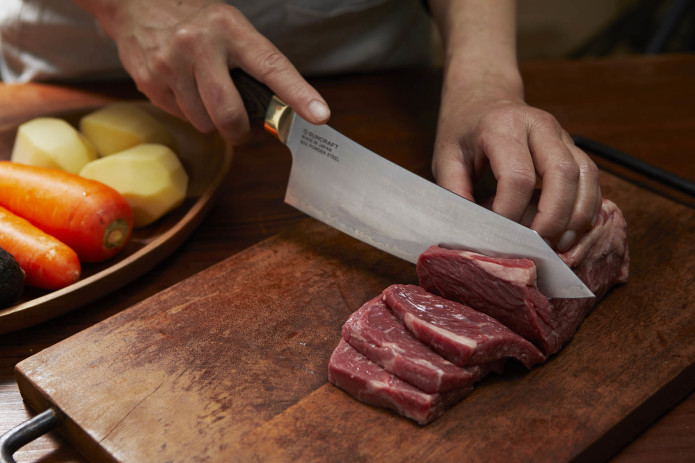 Blade width is more Western, it is wider so that your hand doesn't touch the board when you cut. We know that many people complain that their hands touch the cutting board when they use Japanese knife because it is relatively narrower than western knives. 


Not too thick, not too slim, gently curved handle is comfortable to grab. There are grooves on the handle so you can hook your fingers for perfect fit.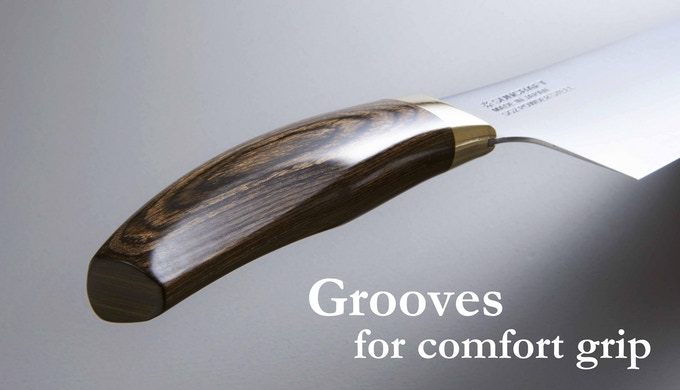 Handle material is Walnut-colored Pakkawood. Pakkawood is combination of wood material and resin compressed. It is better than natural wood handle in terms of shrinkage and durability. 
While natural wood handle tends to change color and its surface to become rough, pakkawood handle is more durable against those changes. It will even transform to fit to your palm gradually while you use the knife.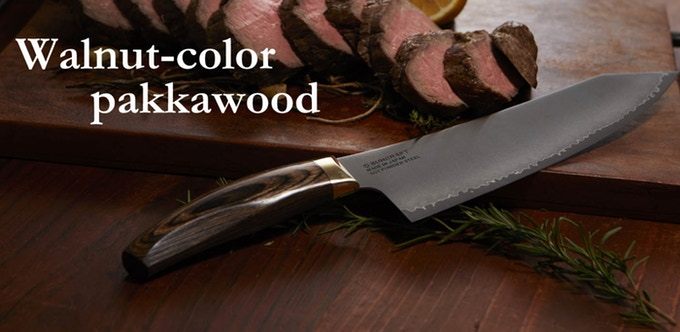 Brass bolster takes on a patina over time to a more chic, shabby and antique look. So, the knife will become your own and favorite one through years just like an old friend.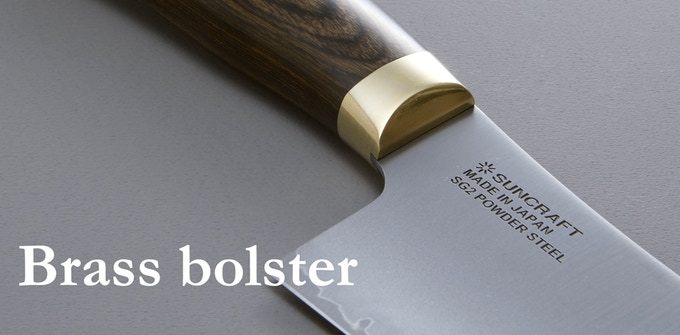 The balanced blade and handle weight provides you a comfortable and confident feel in your hand.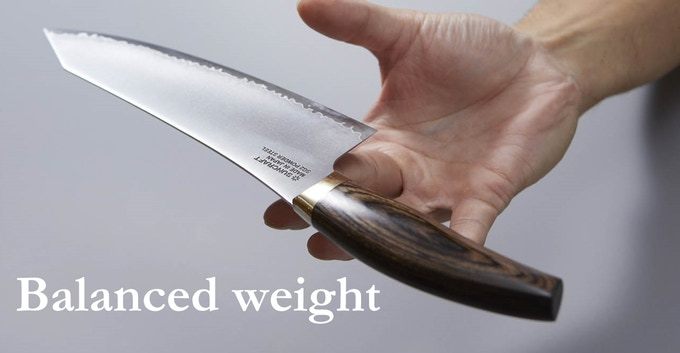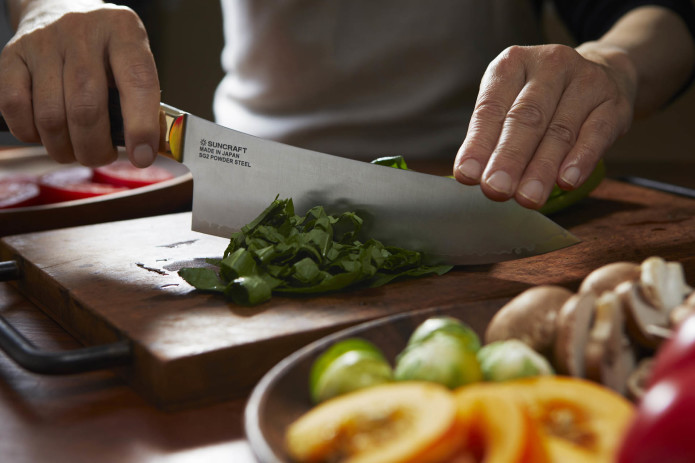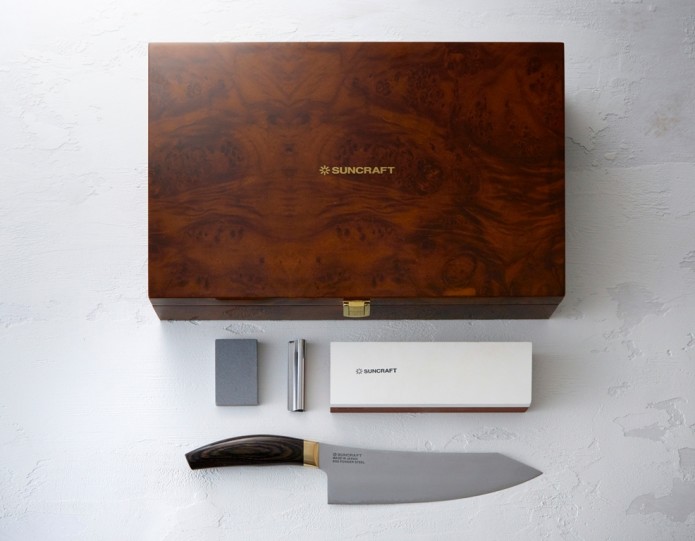 We would like our knives to be used for a long time. Especially, this high quality knife has a potential to be your life-lasting knife as long as it is taken care well. We prepared a knife care kit that enables you to maintain the sharpness and also to protect from rust.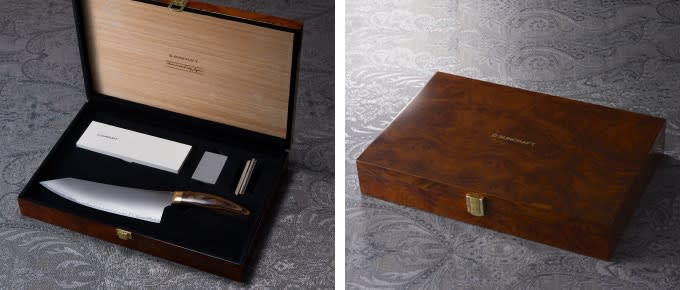 Sharpening stone : Combination of 1000/3000 grits. Space saving double sides sharpening stone enables you to maintain knife sharpness. 
Angle keeper for sharpening with stone : For those who never used stones for sharpening, this angle keeper helps you maintain proper angle of the blade applying to the stone by simply attaching it to the knife spine.
Rust eraser : It is important to take an action immediately when the knife got a spot of rust in order to prevent it from spreading. This rust eraser removes rust easily so you can keep the knife at good condition for a long time.
All the accessories including one chef knife are set into a gorgeous wooden storage box. Design is inspired from a cigar box which is an icon of the time when you enjoy yourself. We hope you can enjoy treating and maintaining the knife with our knife care set.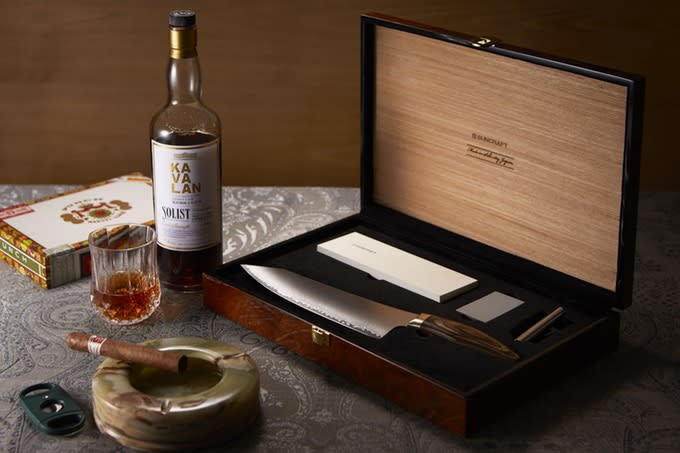 With this set, our knife can be a great gift for someone special to you.


We, SUNCRAFT, are kitchen knife manufacturer in Seki city, Japan. The company has been established in 1948 and since then, we have been producing kitchen knives for more than 60 years. All of our craftsmen in-house are well-experienced and specialists of each procedure of making knives that add up to 30 steps.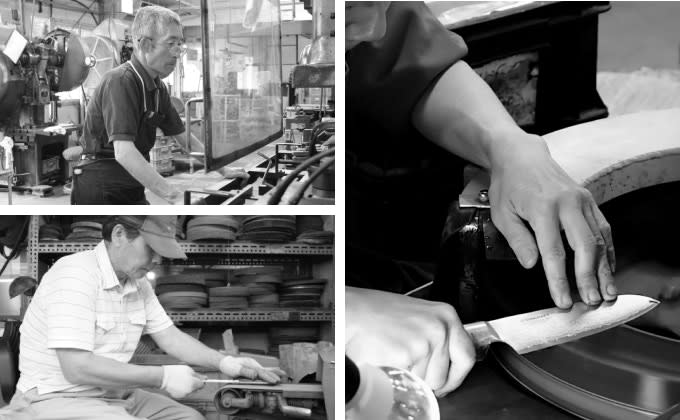 Seki city, Japan where we are located 
Seki city, Japan is globally famous of making knives. Its history of knife production has begun about 800 years ago when Samurai sword (battle sword) forging had flourished there. Throughout centuries, knife making tradition has been taken over to generations and it remains on kitchen knives today.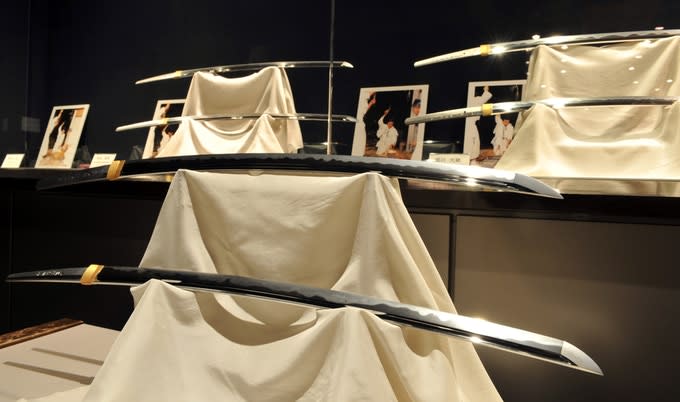 Samurai sword forged in Seki city, Japan
How we got here 
We have sketched tons of blade shapes and handle design to pursue our ideal knife and to maximize the used material features. We have made many of mock-ups to see if our idea actually corresponds with what we think the best. The last 10 months have been spent on testing the one we have ended up lastly and the knife has finally become what we cannot improve more.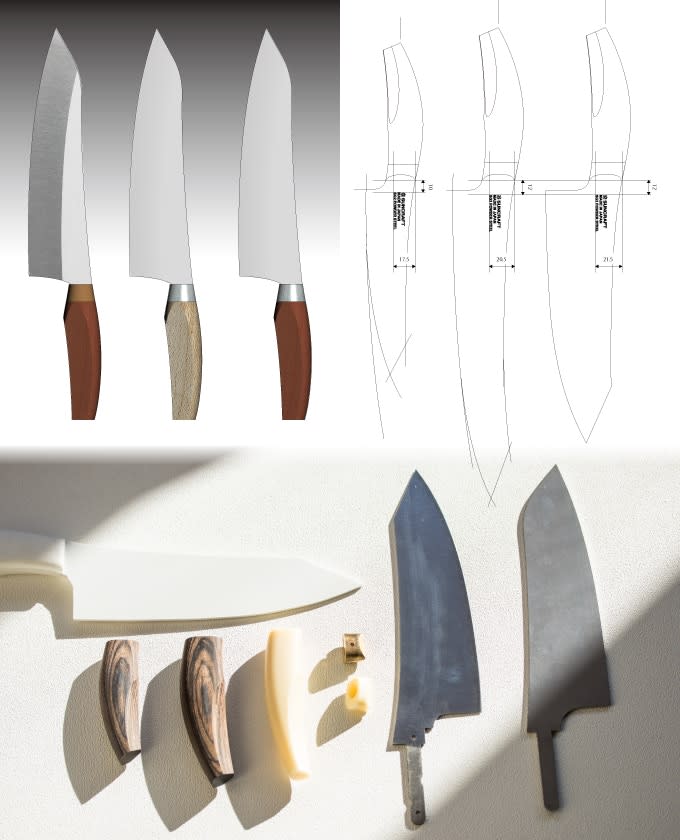 Timeline
 AUG. 2018  Campaign ends
 AUG. 2018  Material preparation
 SEP. 2018  Production starts
 OCT. 2018 Production completes & Start delivery
Risks and challenges
The funding raised through Indiegogo will be used to purchase materials. Our biggest challenge will be production delay. There might be unexpected issue during production causing the delay, however we will communicate with backers in any case. Thank you for supporting us!!