Sunrise Pillow: Wake Up Naturally With A Sunrise | Sunrise Smart Pillow wakes you with light & gentle music and reinvents how you wake and sleep

We created the Sunrise Pillow to revolutionize your mornings and your nights. It's simple to use, ultra-comfortable and wakes you naturally. With the Sunrise Pillow's Deep Sleep technology for nights & Sunrise Alarm to start your day, you can effortlessly improve your body's sleep & wake hormones thanks to the power of science & technology. Say goodbye to restless nights and groggy mornings.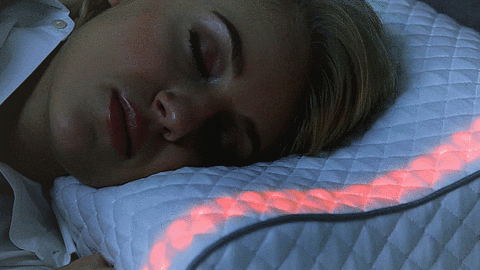 How you sleep is only half of the equation. Nature's sunrise isn't just to light the way to the work in the morning. The gently rising light starts an invigorating chain reaction that's natural and is key to being your best and feeling vibrant, every day.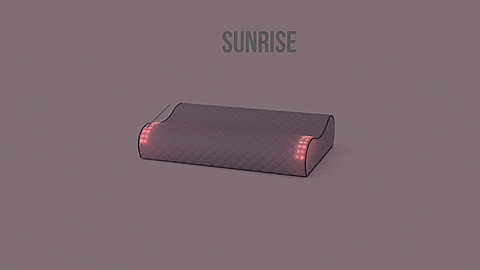 Sunrise
In the morning your pillow will simulate a full sunrise. The gradually increasing light falls on your sleeping eyelids telling your body to stop producing Melatonin (the sleep hormone) and begin producing the energy hormone. This mimics the natural wake-up process you get when waking up to nature. By controlling when the sun rises in your bedroom, you can minimize fatigue and grogginess every day.

Wireless Audio
Once your sunrise is complete, nature sounds (or your favorite music) gradually increase to ensure you're awake–completing the wake-up experience.


Smart Alarm

We all have an internal clock (aka circadian rhythm) that naturally tells us when to sleep & wake up. The Sunrise Pillow detects your sleep cycle and knows to begin the wake-up process when you're sleeping lightly. Your sunrise will start at the optimal time or up to 15 minutes before your set alarm time–to ensure you wake up feeling fully rested, every day.
For example: If you set your alarm for 9:00am but are in a light sleep at 8:50am, your sunrise will start to rise then, rather then letting you fall deeper into sleep and disturbing you later. Traditional alarms aren't smart enough to detect your sleep cycles and go off while you're in a deep sleep. This is why you wake up groggy regardless of how many hours you've slept.

Sleep Score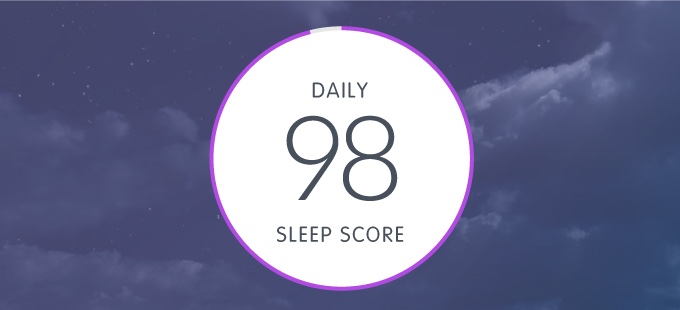 Take control of your days by improving the quality of your nights. Your sleep score gives you a better understanding of the most important factor of your day; your sleep. With the Sunrise Pillow app, your sleep trends & history show you how exercise, late nights, and even alcohol consumption affect your score, so you can perfect your sleep.

Waking up to the latest technology is one thing, but falling asleep to it is taking it to the next level. The Sunrise Pillow is equipped to wake you with a smart alarm and sunrise simulation but it can also put you to sleep with 6-deep sleep options that are sure to put you to sleep faster.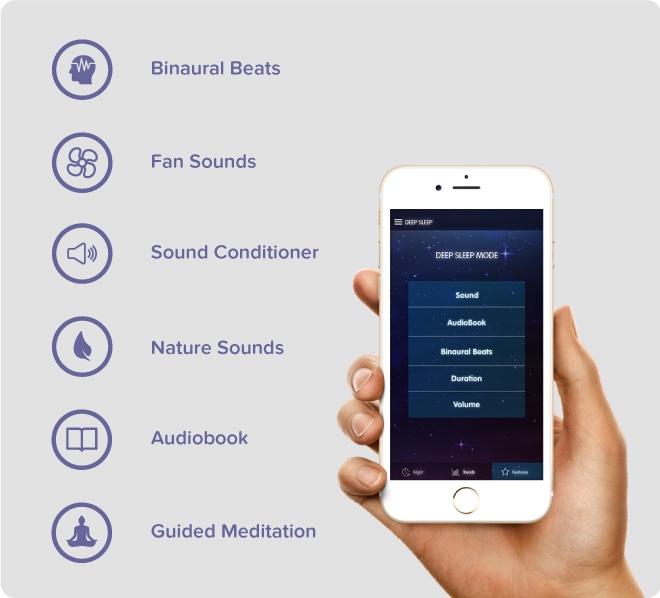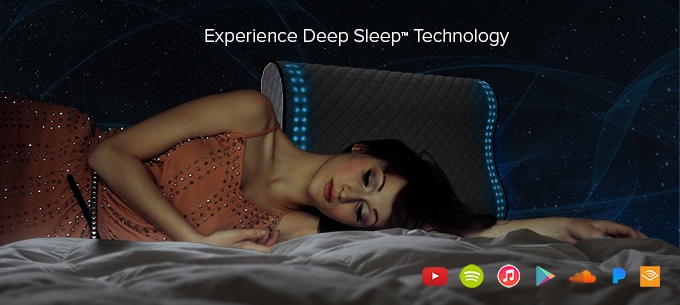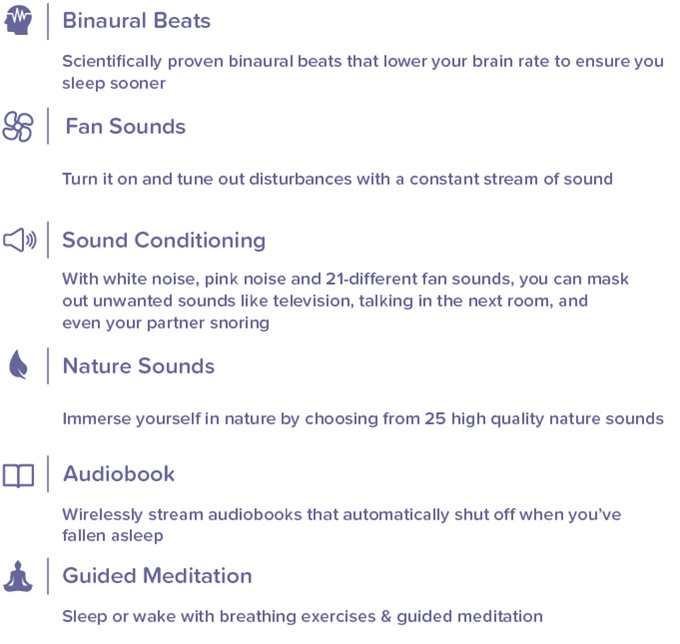 Supercharge your mornings or reboot after lunch. Studies show that exposure for 15-30 minutes of blue light can improve productivity, alertness, and also boost your ability to sleep at night. Blue light suppresses melatonin (the sleep hormone) and shifts your circadian rhythm twice as much as regular indoor lighting. Which can benefit you greatly when you want to focus and get something done.


The way we've been waking up (with ordinary alarms) is unnatural, even harmful and needs to change. Waking from a deep sleep not only sabotages your morning energy & mood but more importantly your daily momentum.
When you start the day off groggy you are more likely to make poor choices that turn into a chain reaction that negatively affects your day, week, and year.
When you wake up improperly you're likely to:
Choose bad foods
Skip the gym
Spread Nutella on everything
Rescheduling your diet for another day
Outdoors or on vacation, when the sun rises you feel incredibly excited about the day, and even happier. This is simply because a rising light naturally reduces the sleep hormone (melatonin) and increases our energy hormones before we wake up. By experience your own sunrise, you set the tone for a better day every day. Making the right choices from the moment you wake up will give you positive momentum and affect your:
Food & drink decisions
Work performance
Test scores
Energy levels – to enjoy more time with your family & friends
The way we look at traditional alarms as normal, is outdated. Virtually throwing away 50% of your sleep is unacceptable. Regular alarms neglect our sleep & wake hormones and this needs to change.
Waking to light has been gaining a lot of good attention in recent years and we want to take awareness to the next level. So please join us by backing this project at any pledge level and let's tell the world that we want to wake up right and wake up to light.
We used only the highest grade materials when designing the Sunrise Pillow. All of the intelligent components are invisibly embedded deep within premium aerated memory foam. The pillowcase is made with ultra-breathable diamond-quilt fabric to maximize comfort, cooling, and airflow. When creating the sunrise pillow, comfort and materials were at the top of our list.





Both pillow shapes are smart and have the same integrated technology. Make a pledge now and at the end of the campaign, you will receive a survey where you will make your final selection.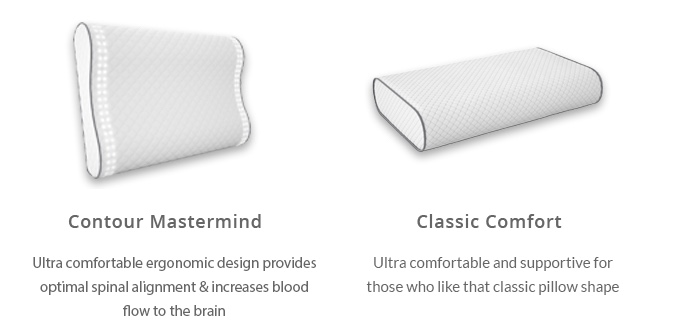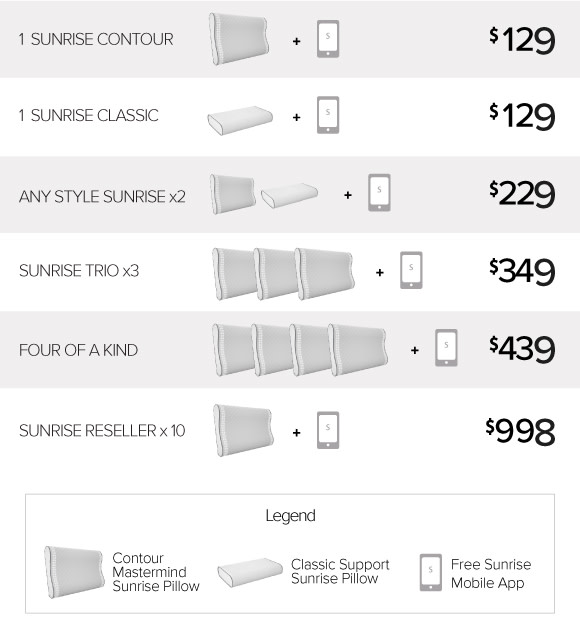 Take a look at the list below to see how the Sunrise Pillow stacks up and even includes the most popular and proven sleep devices on the market.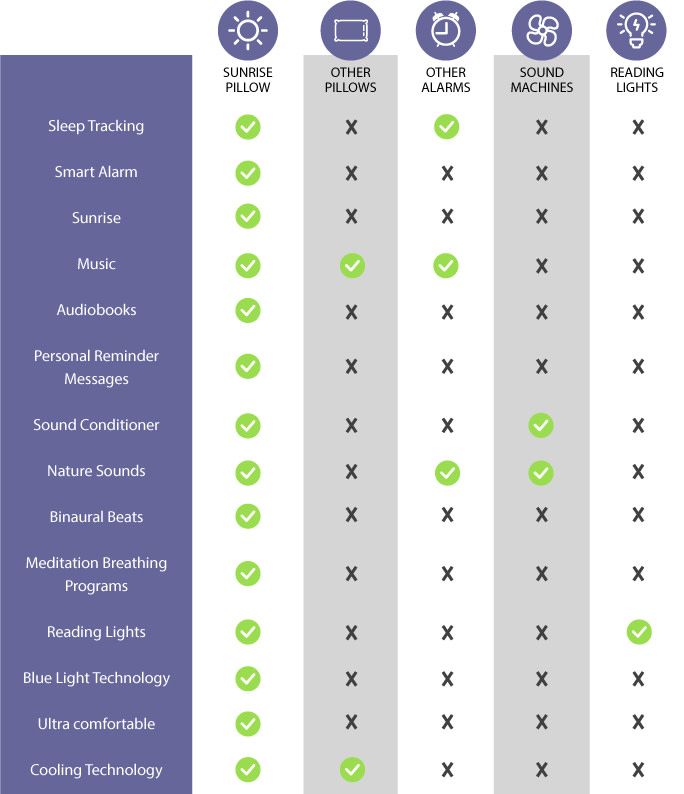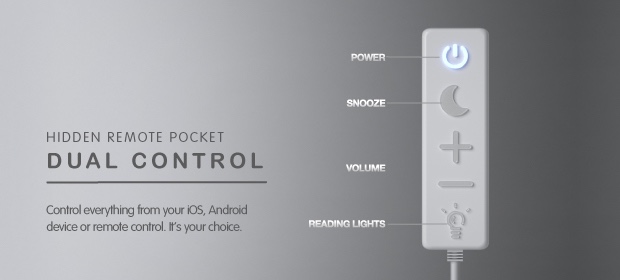 A storage pocket holds the wired remote control; an alternative way to control your Sunrise Pillow. Control everything from your iOS or Android device or use the remote control to adjust volume, reading lights, and even snooze. Conveniently recharge your Sunrise Pillow via Micro USB charging port located on the remote control.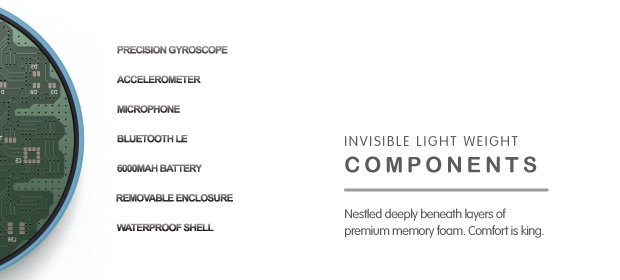 Gyroscope & Accelerometer can detect movement with precision
RGB LEDs simulate the natural sunrise and wake you vibrantly
Microphone in your Sunrise Pillow is ultra sensitive. It analyzes your breathing patterns, detects snoring and noise disturbances through the night
Bluetooth LE to easily change settings, update your Sunrise Pillow's alarm or adjust your sunrise experience
Waterproof internal components are housed in a durable waterproof enclosure.

We are Mode | M and we are based in Los Angeles, California. We enjoy being a small design company because it allows us to be agile and listen to feedback, so we can create the most intuitive user friendly products that make a positive impact on all of our lives. Productivity and energy management hold a close place in our hearts because it's a part of our core. Helping the world understand how sleep is the foundation of a better life, we spent thousands of hours sifting through the trends or gimmicks and focused on building only real world proven features that we really think you're going to like. We appreciate the opportunity to earn your business and serving you for many years to come. Thank you for sharing our project with anyone who enjoys a good sunrise.
Where We're Headed
We have selected experienced manufacturing partners with over 33 years of experience. The final stages include approving molds, verification testing and manufacturing.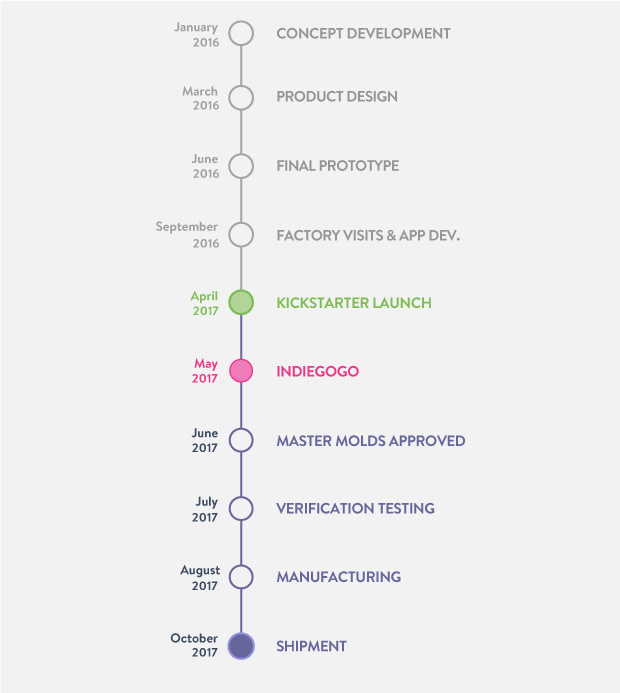 Help Out By Sharing the Sunrise Pillow With Your Friends! (#SunrisePillow) 
Help Out By Sharing the Sunrise Pillow With Your Friends! (#SunrisePillow) Like what you're seeing? Great! Don't be shy about sharing the Sunrise Pillow with your friends. We've made it super simple. Simply hit one of the buttons below. The more people who know about the Sunrise Pillow, the bigger our community will become! The larger the community, the better we'll be able to make the Sunrise Pillow! We can't do this without you!