Sweat Seal Shirt: Pit Stain Blocking Undershirt | The Ultimate Undershirt, Sweat Seal 100% Prevents Pit Stains!


Many of us were blessed with the curse of the perpetual pit stain. That ends today with Sweat Seal! The Sweat Seal Shirt was the work of 3 years of research, development, and extensive sweat testing to come up with the ultimate undershirt that truly Ends Pit Stains for good!
Our team set out to create an undershirt that was light & breathable, one that would work under any kind of shirt, and that had a familiar & natural design. Most importantly it had to 100% stop pit stains!
THAT is what the Sweat Seal Shirt is!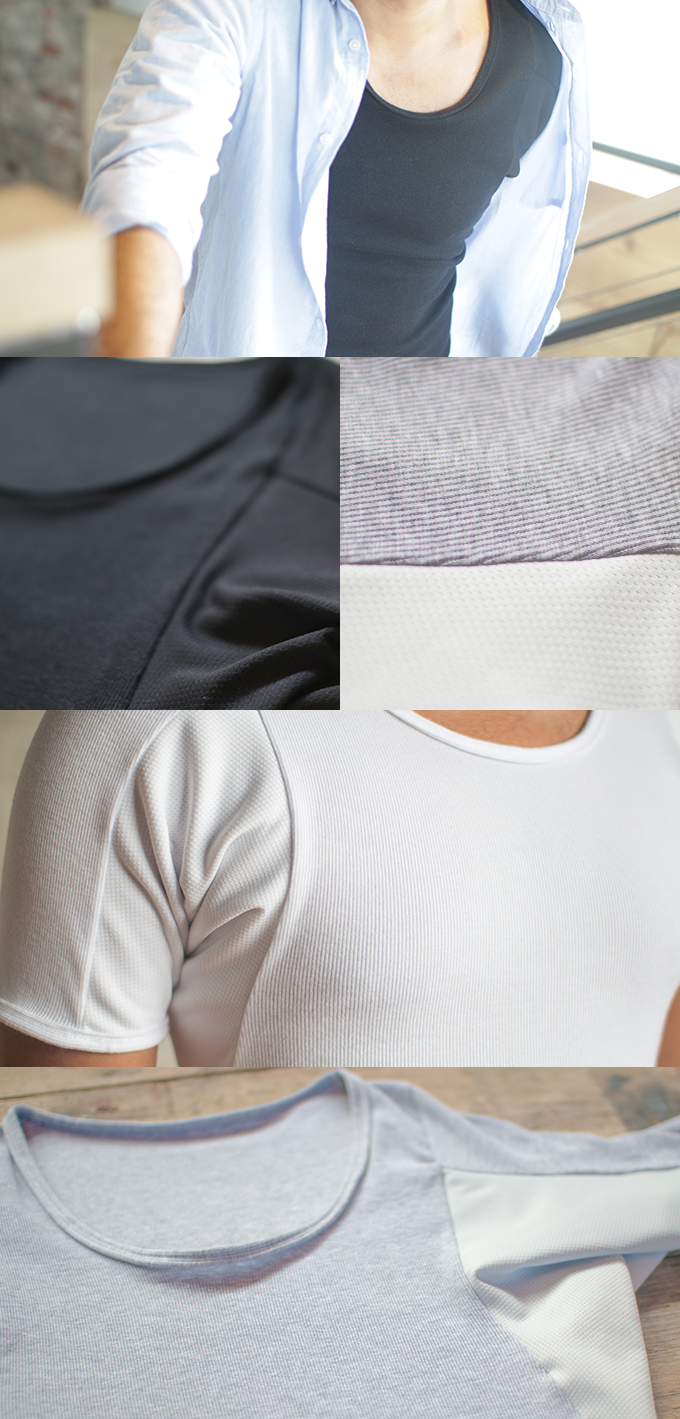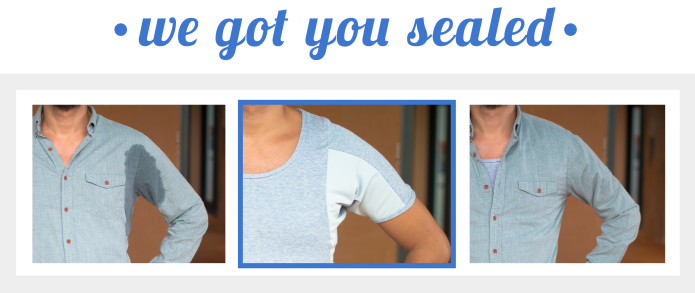 Pit Stains can come from just thinking about pit stains, and they're often brutal & unforgiving. That's why we were unrelenting in building in features that would keep you sealed and dry all day!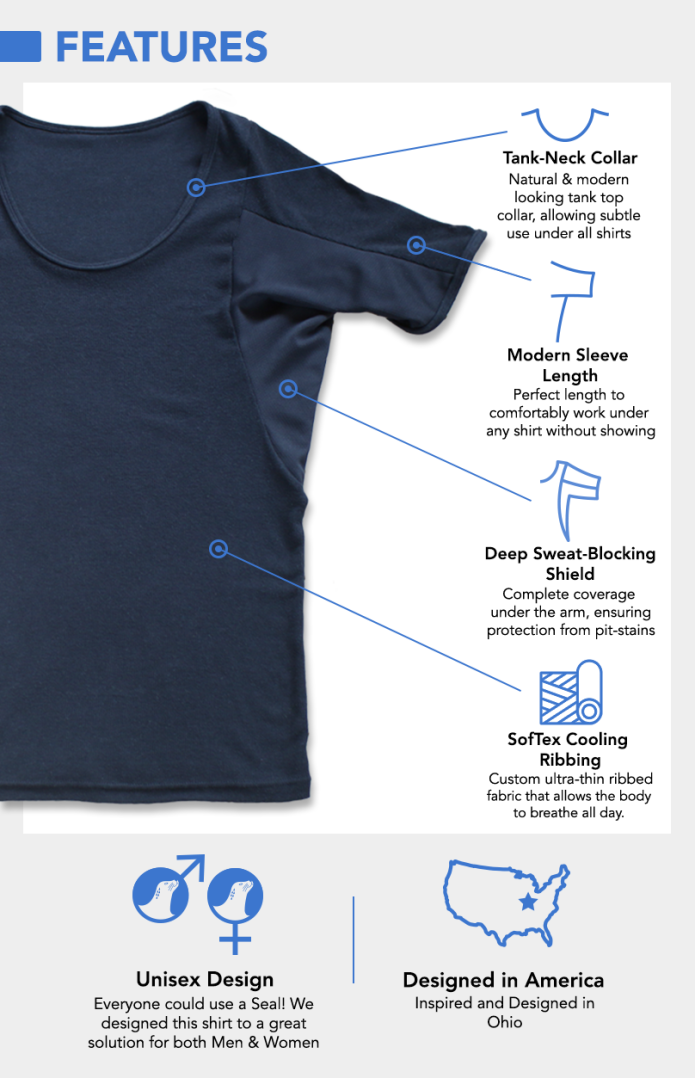 Tank-Neck Collar: Natural & modern looking tank top collar, allowing subtle use under all shirts.
Modern Sleeve Length: Perfect length to comfortably work under any shirt without showing.
Deep Sweat-Blocking Shield: Complete coverage under the arm, ensuring protection from pit stains. 
SofTex Cooling Ribbing: Custom ultra-thin ribbed fabric that allows the body to breathe all day. 

The magic behind Sweat Seal lies within our custom shield. The shield covers 100% of your underarm sweat glands, and has a 3-step system that prevents pit stains from developing under your arms. The Shield wicks away sweat from your body, and turns the captured sweat into vapor using your body's natural body heat (without raising it of course).
There are no fancy chemicals or substances anywhere in Sweat Seal, our custom fabrics do all the work and keep you sealed!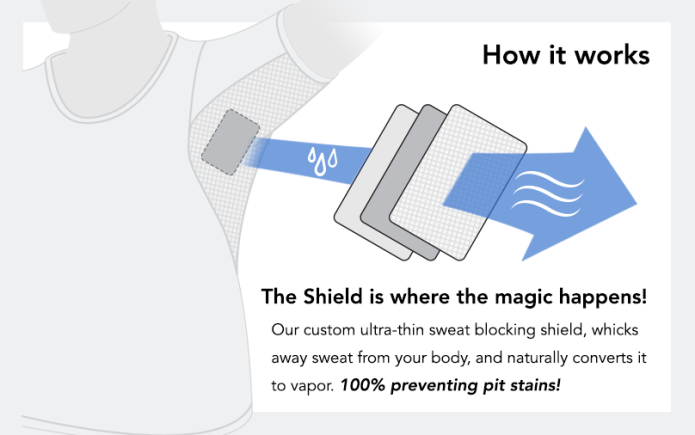 We believe that your clothes should never be a distraction from the amazingness that is you. That's why we designed Sweat Seal with a familiar pattern, so whether you're wearing Sweat Seal by itself, or beneath your favorite shirt, it'll always keep the attention on you (while keeping pit-stains at bay!)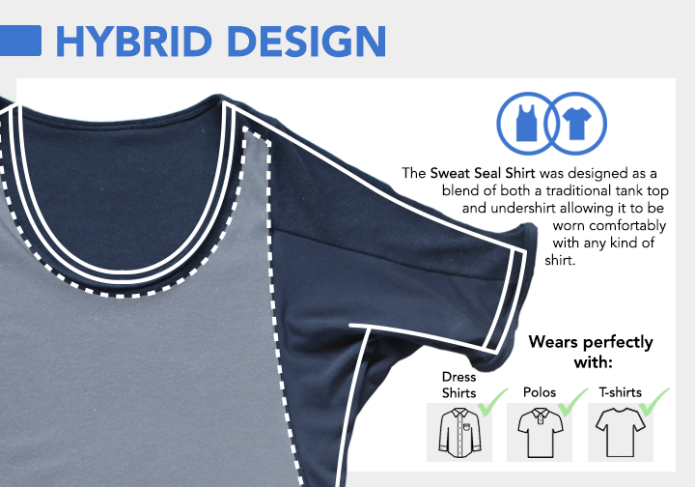 The Sweat Seal Shirt was designed as the perfect blend of both a traditional tank top and undershirt, allowing it to be worn comfortably with any kind of shirt,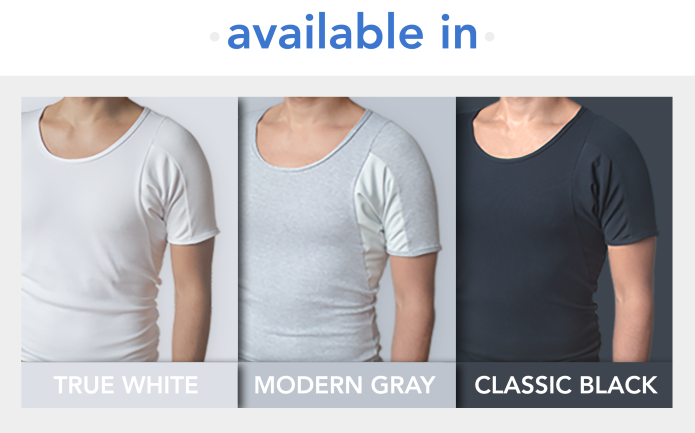 See our sizing guide below!



We want to get you sealed without having you sweat our prices! You'll never see prices like these again so grab them before they're gone! (we'll even throw in a free laptop sticker just for you being amazing)












See frequently asked questions at the bottom!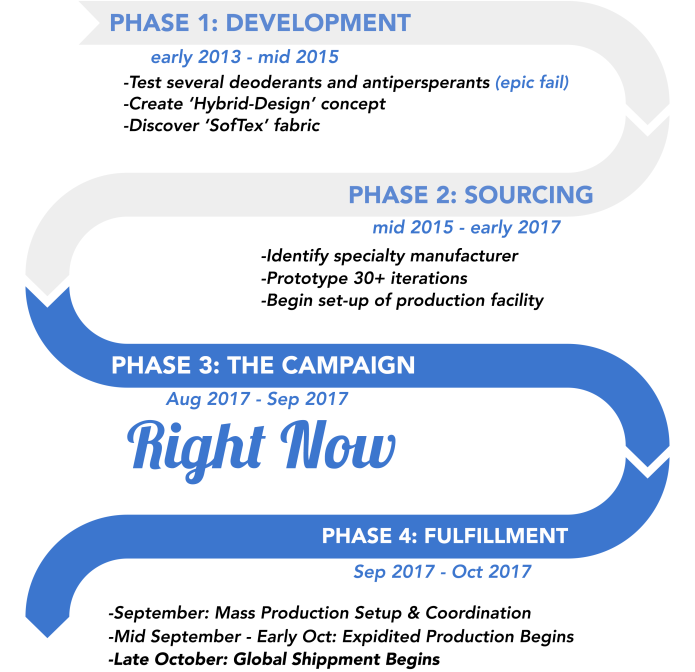 Once you purchase anything from Sweat Seal, you're part of the Seal Team! That's family to me, and with that, I commit to keeping you 100% updated along the way of getting you your shirt (and then hearing your impressions!). This really matters to me, and here's my personal email (freddy[at]sweatseal.com) if you have any questions.
The entire Sweat Seal team and I are committed to getting you your shirt as soon as humanly possible. Once the campaign ends we'll be maniacs on a mission to start shipping our first batch of shirts by October 31st. 
With that, you WILL have your shirt shipped latest by November 10th. (See campaign updates for latest shipping information) 
Please feel free to email me with any questions! I'll be sure to always get back to you quite quickly!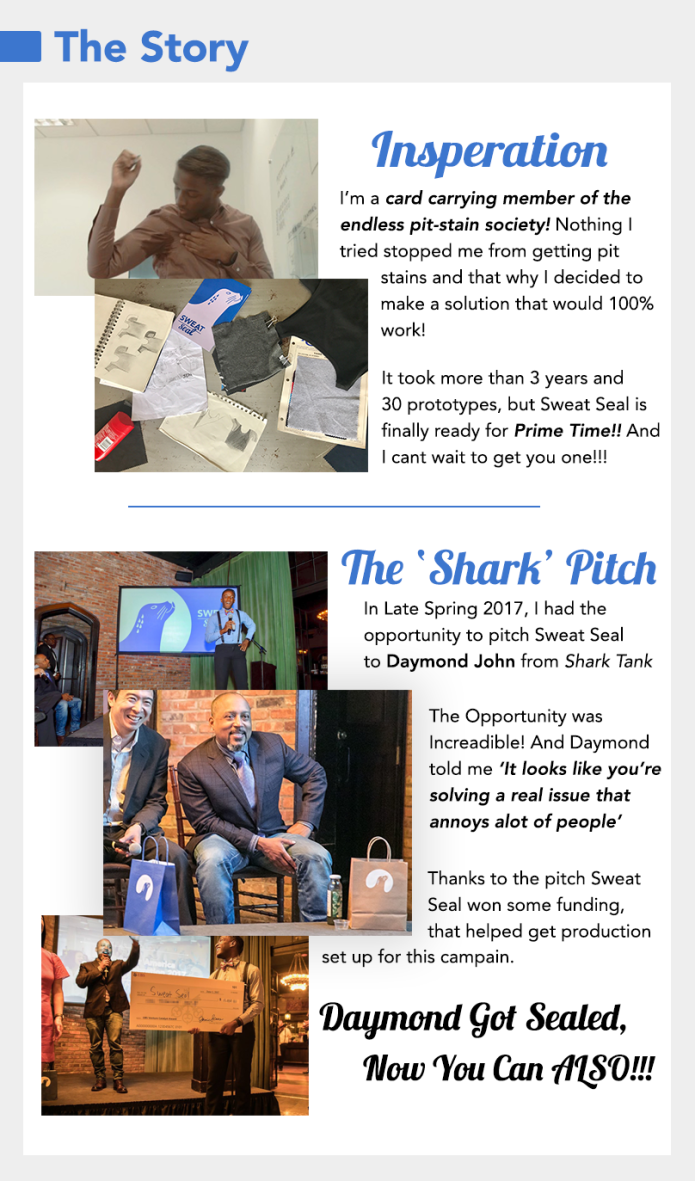 Sweat Seal is available in Sizes XS-XXXL. To determine your size, we recommend using your pant waist size and match it to the chart below. Dont worry too much if you're in-between sizes, because of the ribbed fabric either size you're in-between should fit you well!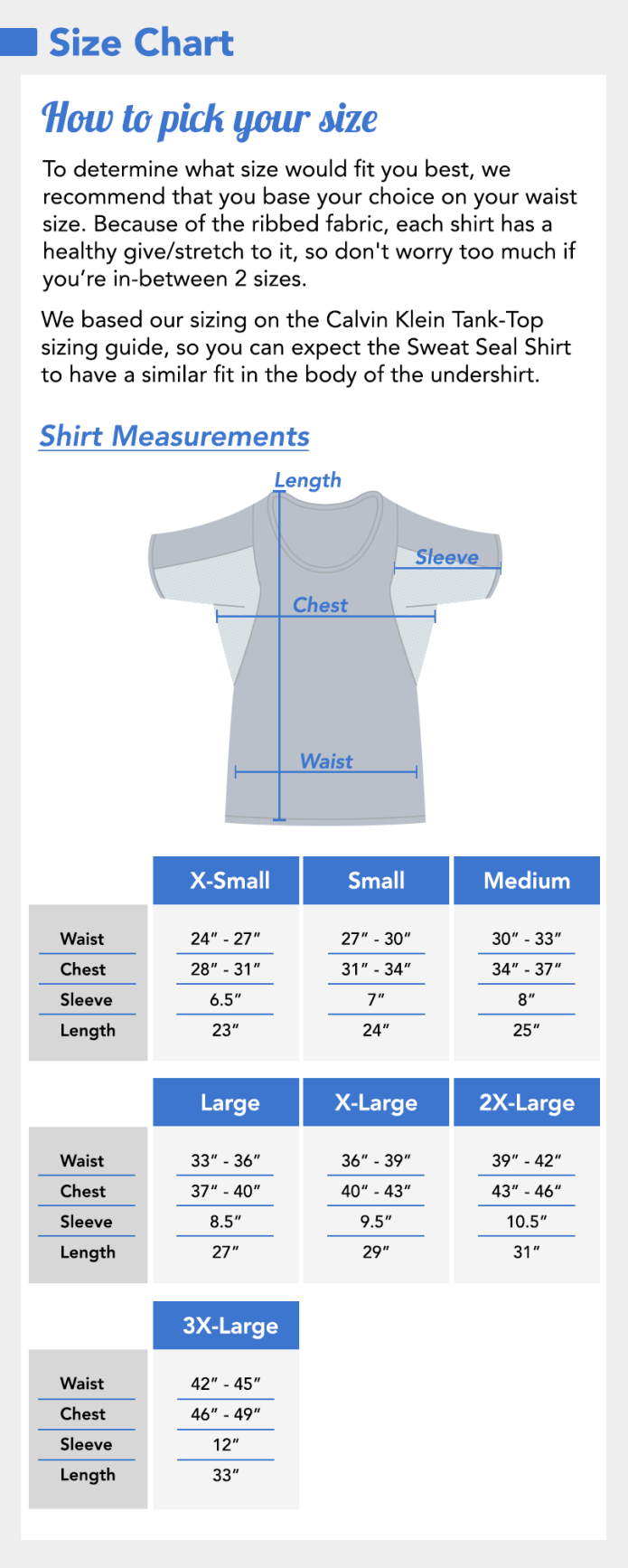 What sizes will the Sweat Seal Shirt Come in?
Sweat Seal will be available in sizes Small through XXX-Large. We have a more detailed size chart right above the FAQ section 
Hey…I sweat ALOT, Just how strong are those shields?
We tested these shirts in the middle of summer out in Moab, Utah (The Great Basin Desert) there were no pit stains in sight. Now dont forget, we only promise to end pit stains (we're still working on a comfortable solution for the back & rest of the body)
How much will each shirt cost after the campaign?
$25, so be sure to get one now! We're able to offer such steep discounts because we're just getting started and we wanna put in a large initial order so that we'll have all the systems set up for large production runs, keeping costs low. 
When will I get my shirt? I need it now!
We will begin shipping shirts in Late October! We're working as hard as possible to deliver sooner than that, and we'll keep you posted along the way. We'll be shipping in the order we received orders, so the earlier you back the campaign the earlier you get one! (12/25/17 Update: All shirts shipped the final week of December)
What is the shirt made of?
97% SofTex Polyester, 3% Spandex
Will you offer Bulk/Wholesale pricing?
Definitely in the plans! E-mail us at Freddy [-at-] SweatSeal.com and we'll start talking!
Will you ever sell a traditional crew neck undershirt?
Launching right after we begin shipping this shirt!
How do you recommend cleaning the Sweat Seal Shirt?
We recommend washing in cold water, then using a tumble dry. (You can wash it like you wash your other undershirts)
I saw a thing called Sweat Seal Shields, that still a thing?
Earlier in March we launched a campaign selling Sweat Seal: Shields, and then we met Daymond John and lets just say he switched our focus to shirts. So now everyone who purchased a box of shields are automatically upgraded to shirts!
What if it doesn't fit me? Can I exchange?
100%, We'll have a process set up for that. We are a Start Up so we can't promise the moon just yet, but you will be able to exchange. (Note: International Exchanges may be a bit tricky with duties, and VAT, but we'll figure something out!)
Who is responsible for international import, duties, VAT, and customs fees?
Any extra fees that may be added on once we ship your order to your country will be the responsibility of the backer. But no worries, we'll be in regular contact with you once you make a order to make the process of you getting your order as simple as possible!
Other questions?
Email- Freddy [-at-] SweatSeal.com