Tamarack Dry Gin & Sea Gaze Vodka | The best craft gin and vodka you've ever tried.
Made at a craft distillery in San Diego County
Craft spirits done in a thought provoking way  
This is what good spirits are supposed to taste like!  We're making a flavorful, curious gin and a smooth, clean vodka.
We've already proved that we can make really good gin.  Now we want to do it again!  
With your help, we can change the craft spirits industry by making it easier for you to pick up a new craft spirit.
The passion we have for craft spirits pushes us to explore new flavors that provoke an emotion and incite something wonderful.  Our first gin was a huge success!  Pier View Gin is a citrus forward, complex, and delightful gin that won a gold medal in competition.  It really is a fantastic gin, and now we are gearing up for the release of our second style of gin, Tamarack Dry Gin.  Also, by popular demand we will be releasing an incredibly smooth and delicate vodka made from grapes, Sea Gaze Vodka.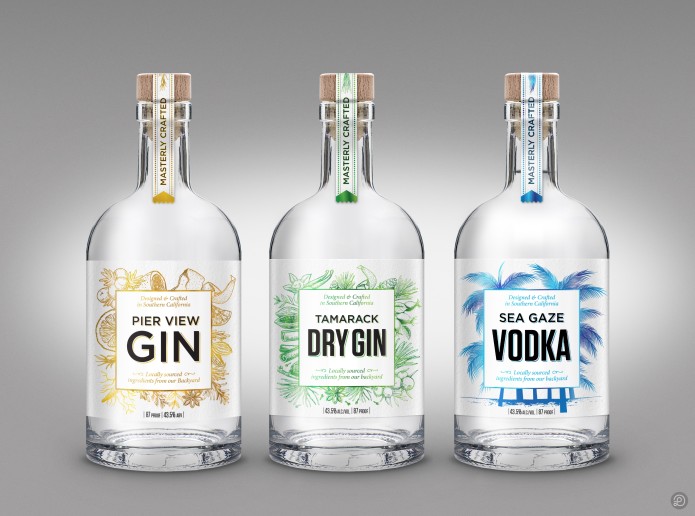 Pier View Gin next to the designs for Tamarack Dry Gin, and Sea Gaze Vodka
We have already done test batches of the gin and vodka.  Sea Gaze Vodka is going to be incredible!  Tamarack Dry Gin is going in a different direction than our first gin.  It's going to taste like you stepped into the forest with the scent of pine trees on the fresh crisp cold mountain air.  
As craft distillers we make our vodka and both of our gins in small batches.  By doing this we are able to closely monitor the "cuts", and only take the "hearts" of the run.  This yields a much smaller amount of finished spirit, but it's worth it.
But why?
You might ask, why come out with a second style of gin when you already make a great gin?  To us the answer is simple: we want people to try new new spirits and get immersed in the incredible flavors that only good craft spirits can produce!  We want to normalize the craft spirits industry.  Seems simple enough, right?  Wrong!  For us the producer, and for you the explorer of fine spirits, there are challenges that we must overcome.
Let me explain.
What we have learned in the past year of business is that access to craft spirits is hindered by the way spirits are currently sold.  Currently, you have to invest a large sum of money to purchase a large bottle of "mystery spirit" which you might not like.  If you happen to purchase something that you don't like then you are stuck with an expensive bottle that you'll never drink.  That doesn't sound like an acceptable experience.  You'll also be less likely to step out of your comfort zone again.  We've come up with a plan to change the status quo.  When trying a new spirit, 375 ml bottles offer you a smaller, more reasonable investment.  These, half-size bottles can be purchased and consumed quicker and easier than the standard 750ml bottle!  With less waste and an opportunity to try something new, you're much more likely to try new spirits.
Perks
We got creative and put together some really awesome rewards.  Pick one that you like, and your pledge will help us get to the next level!
The Spirits Club – **Exclusively for this campaign**  memberships are good for a lifetime!  If you join now, it will help us complete this project, and we will reward you for a lifetime.  After this campaign, anyone who wants to join the Spirits Club will have to pay quarterly or annual payments.  If you are at all interested I recommend signing up now!  All memberships will be receive a bottle of Pier View Gin after the campaign.
2 Rocks Glasses – These will be the perfect glassware to sip your new favorite spirit.
Leather Wrapped Flask Set – This is the ultimate flask, and it is a must have!  It is going to come in a box set with two stainless steel shot glasses.
Launch Party – We're looking forward to an awesome celebration!  We will have a special cocktail menu using the our three spirits.  Deals on cocktails all night.  You'll have the opportunity to chat with the owners.  Date, time, and location will be disclosed only to those with tickets.  We don't want everyone crashing the party.
Master Class – If you choose to learn more about the art of making craft spirits our Master Distiller Justin Wilkinson will spend the day teaching you the differences in styles, techniques, and science behind the art!  You'll also get to try different spirits to learn more about the taste.
Vouchers for spirits are for pick up at The California Spirits Company in San Marcos.
A survey will go out after the campaign to gather your information.
The plan
The plan to bring this dream to life is simple, but it has a lot of moving parts.  There's nothing here that we haven't done before.  We already have relationships with our suppliers, and sample artwork done.  We just need to follow through with the essential purchases, and spend some time sitting by the still.  From there it's all labeling and bottling.
With Justin at the helm of production and The California Spirits Company's guidance we have been able to make the connections and gain the experience we needed to work on fun projects like this.  
Our purchases should be delivered throughout January 2019.  With our bulk goods in house, it doesn't take us long to produce the spirits.  We plan to have made several runs through the still and bottled everything up by the end of February 2019.
To us this is just another day in the life of sharing our art with you.
How we got here
We started this business on a shoestring.  Rather than starting with a large sum of money, we used our passion, sweat, and time to get this business started.  Since we made our debut spirit Pier View Gin, we've made a lot of headway into the spirits industry!   We knew that we wanted to keep as much control of the production process as possible, so we found a small, local, craft distillery that would allow us to do just that.  We are eternally grateful to The California Spirits Company for all the help and guidance that has been given to us.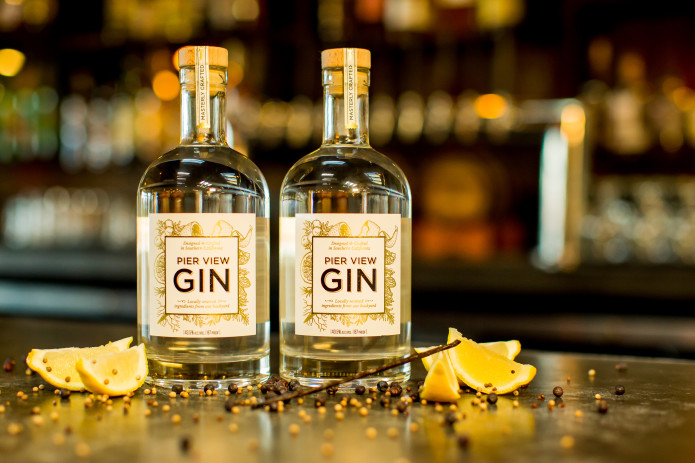 Since then we have been able to sell Pier View Gin and reinvest the money that we made time and time again to grow our batch sizes and our purchasing power.  We have come a long way, and we are grateful to YOU for loving Pier View Gin as much as we do!  Now it's time for us to take the next step.  Together, we can release another incredible gin and a smooth top shelf vodka (for less than top shelf price). 
We came from very humble beginnings, and we worked our butts off because we are believers.  We believe that we are going to help take the craft spirits industry to the next level.  We pooled together our money (just under $3,000) and opened a credit card to put together our first batch of Pier View Gin.  We spent late nights distilling and bottling that first batch; and it was a very small batch!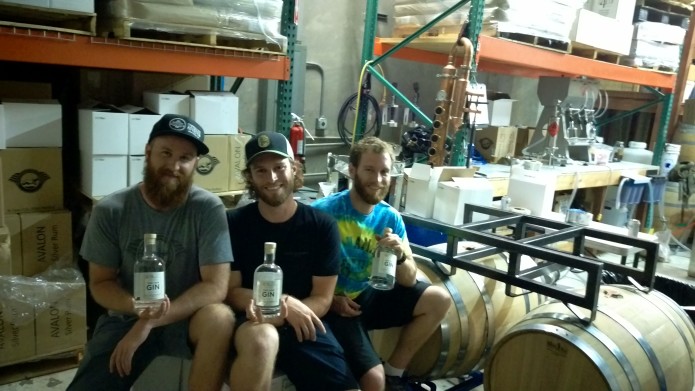 After our very first bottling of Pier View Gin. We're sitting on the entire batch (just 200 bottles)
Our team 
The three of us are in the photo above!
Justin Wilkinson (left) – Master Distiller.  Justin has been a distiller and manager at The California Spirits Company for over 2 years.  While we all collaborate on every spirit, Justin is the brain; he knows everything there is to know about making great spirits.  His palette and knowledge allows him to bring our vision to life!
Jordan Kohn (middle) – Director of Sales.  Jordan is now selling Pier View Gin as a full-time job.  Spending time talking to bartenders and customers gives him the opportunity to ask everyone what they really want from craft spirits.  Jordan was formerly a craft brewery sales manager and craft beer distribution sales representative.  He has been in the sales game for the past 10 years.
Ryan Kohn (right) – Operations.  Ryan has worn a lot of hats in his 5 years at a successful craft brewery in Vista, CA.  From managing a tasting room, to brewer, to inventory manager, he has had the unique privilege of watching a successful craft brewery grow quickly.  He has noted the keys to success along his extensive career path.  Nothing gets past this guy!
Budget
Here's a little more detail on the break down of what the funds will be allocated for:
Ingredients to make the vodka and gin.
A few pallets of bottles (750 ml & 375 ml).  Including boxes.
A lot of labels to go on all these bottles too! Including closures.
We need to pay our designer for the art work he has created.  
We also need funds to turn the ingredients into spirits and then put those spirits into bottles.
We have added funds for risk management in case things go a little over budget.
There will also be fees, of course, and we need to stay on budget so that has been added here too.
Risks & Challenges
Since we are already successfully producing Pier View Gin, we have a strong grasp on our process and suppliers.  Risks are a factor in every industry and for us, these risks come in the form of delays.  We can be delayed due to lagging bottle suppliers, or raw goods providers.  We already know that printing our brand-new labels will take the most time.  Our labels require layers of paper and textures to create a unique and identifiable label.  We will work with the same printer that we have been using to minimize lead time, but even when everything looks perfect, the job can still be delayed by acts of god…
For us, making the spirits is the easy part.  It is possible that the rewards will be delayed, but we will make every effort to produce them according to our timeline.
Other Ways You Can Help
There are plenty of ways to help us besides pledging money!
Use the Indiegogo share tools!  Indiegogo makes it really easy to help.
Tell your friends and family.  Think about people who would be really interested in this.
Share the campaign on your social media.  Tell all your followers how awesome we are, and that they should support us too!
Help us makes some noise!  This campaign won't last long, so make sure everyone hears about it.