Taste The Next Wave: Fusion & Plant-Based, Oomph! | For Those Who Treat Their Body Like A Temple But Live With Zest and Vigor. (Campaign halted 1/1/20)

The Odyssey Of A Long Shot: Oomph!
(22-Minute Read, 11 Parts In All)
My Journey, My Venture
The Brand
The Product
Traction, Testimonials & Tributes
Social Responsibility & Sustainability
What Makes Oomph! Different
Why Now
How Can You Help
What's Next
About Myself
Oomph! Brand Manifesto
Note: This campaign has been suspended indefinitely, with immediate effect from January 1, 2020. For more details, please refer to the latest update. Please do not make any donation.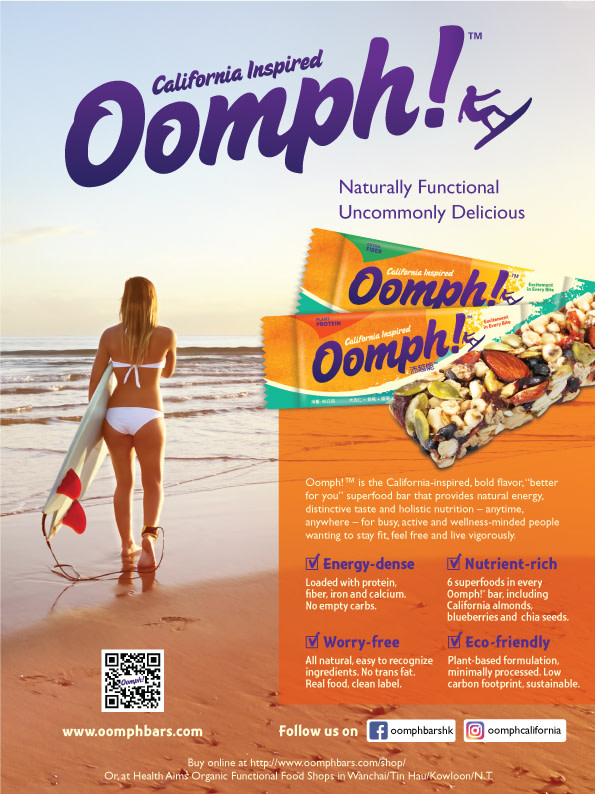 I. MY JOURNEY, MY VENTURE
We all have dreams. While some of us will risk everything to fulfill our dreams, others may bury them for family reasons or as a matter of personal sacrifice. 
As a late baby boomer, I spent a better part of my adult years raising a family, wanting to give my wife and kids the best that I can afford. To do so, I pursued a predictable career path with iconic companies like Coca-Cola, Hershey's, Kraft and Kellogg's. Despite steadily climbing the corporate ladder and enjoying promotions to various senior management positions – including at one point leading a sizable international operation with 1,000+ employees – my desire to build a meaningful business of my own and create an enduring brand never diminished. In fact, it grew stronger as the years went by.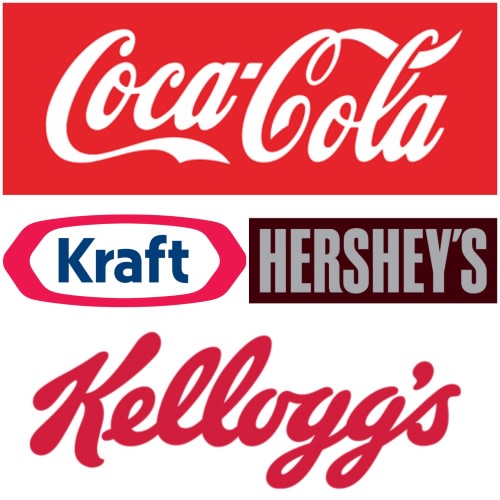 By 2014, at a time when many of my contemporaries were either reaching the pinnacle of their career or thinking about retiring early to enjoy life more, I chose to take one more shot at entrepreneurship. Learning from previous mistakes, my latest attempt would focus on an industry where I have built my career – Food & Beverage. For this particular venture, I also persuaded two trusted friends from my Hershey's and Coca-Cola days – Jeffrey and Vincent – to join me in forming Global Tree Functional Foods Limited (GTFF).
Mission Statement
GTFF exists to provide healthy and yummy alternatives for people wanting to get the optimal natural energy and purest personal enjoyment out of every eating and snacking moment.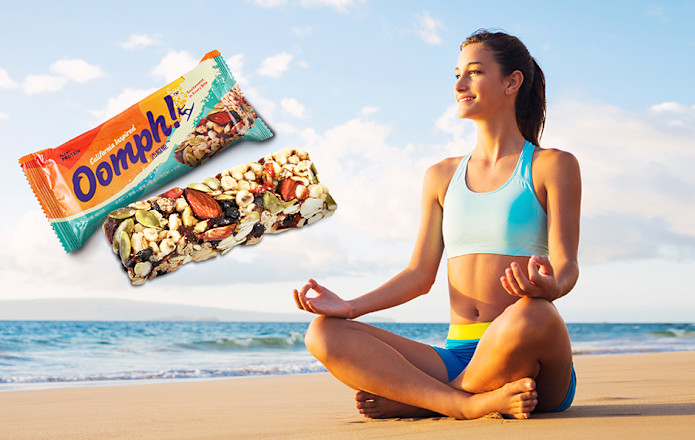 II. THE BRAND
Prior to establishing GTFF, I was living in San Francisco Bay Area and noticed that people of all ages were munching on a snack known as energy bars. My wife, too, from time to time would include them as a treat in our teenage daughter's lunchbox. Being unfamiliar with the product, and out of curiosity, I decided to try some but found the overall taste and mouthfeel to be bland and not very delectable. Surely, these bars could do much better…so I thought to myself.
After a closer examination, I found energy bars to be quite convenient and portable as: 1) a wholesome snack, 2) a mini meal, and 3) a meal replacement. Given Asia's notorious "overtime" work culture, changing lifestyle and growing health awareness, I became convinced that such a versatile product could potentially find broad acceptance outside of California, on the other end of Pacific Ocean – particularly among young professionals, office staff and service industry personnel who must toil for long hours everyday with hardly any breaks.
In addition, I wanted to create products that were not only good for our body, but also positive for our environment and the community as well. Eventually, I began to formulate ideas for a line of "triple threat" snacks (i.e. better for you, better for the society and better for our planet) aimed at Asia, with Greater China region (Hong Kong/Taiwan/China) as the initial target. The result: Oomph!
Oomph! is the plant-based, East-meets-West, fusion snack bar that provides distinctive mouthfeel, dense nutrients and wholesome goodness – anytime, anywhere –  for busy, active and wellness-minded people wanting to eat right, stay fit, feel free and live vigorously.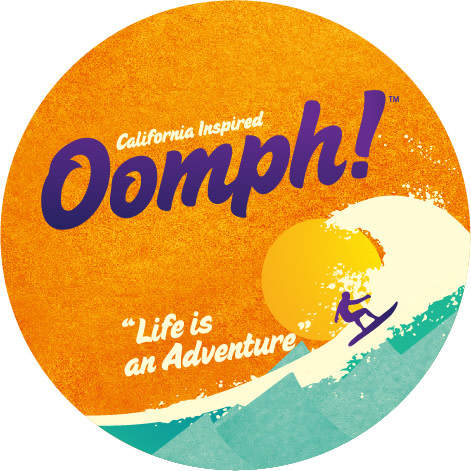 As a brand, Oomph! stands for adventure.
I firmly believe that we are all born with unlimited potential – regardless of physical limitations – and that the more we are able to express ourselves freely the happier we will be. To realize our innate talent and individual calling, it is imperative that we maintain an adventurous mindset in order to explore and discover our true passion. By doing so, our thoughts and energy can be channeled positively toward achieving a most satisfying outcome.
On a more personal level, Oomph! is the culmination of a lifetime quest to build a meaningful business of my own and create an enduring brand.
This quest started when I was hired right out of school as an entry-level sales rep by Quaker Oats to call on rural supermarkets in East Texas' backwater towns. Since then, the pursuit has taken me half way around the world: from America's ultra conservative Deep South to Asia's super modern metropolises. Along the way, I survived two near fatal accidents: one in Sydney, when I was swept away by a giant wave while ocean swimming in Bondi Beach, and another in Manzhouli, a Sino-Russian border outpost in Siberia, when I was unwittingly exposed to hypothermia. At last, with Oomph! I have found my calling and could see myself jumping out of bed every morning to do something that really excites me. No more Monday blues.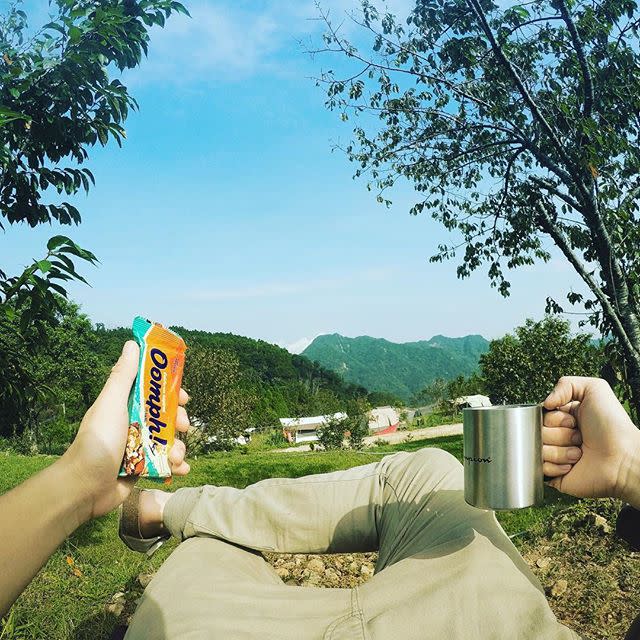 In the beginning, Oomph! was created with much help from my wife Wendy, who is a longtime vegetarian. Through hit-and-miss trials at our home kitchen in San Francisco Bay Area, which in itself is a East-West cultural melting pot, Wendy and I focused on developing naturally delicious and intrinsically nutritious snack bars that could also provide functional health benefits without any artificial fortification or enrichment. This desire prompted us to zero in on plant protein (good for muscle, hair, skin and general well-being) and dietary fiber (good for gut health and lowering blood pressure / total cholesterol levels) as the two must-haves in the first batch of Oomph! bars to be produced.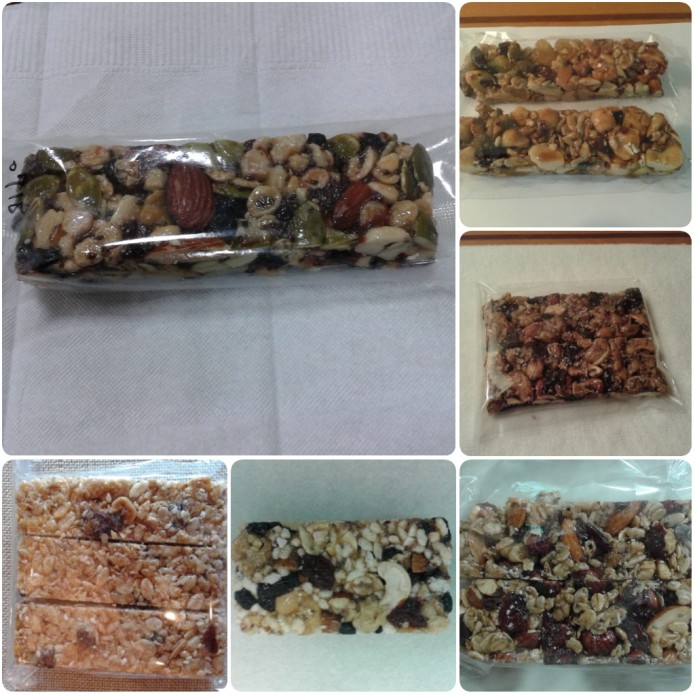 To overcome the trade-off between healthiness, freshness and tastiness, I later consulted with Western-trained nutritionists and food scientists as well as enlisted an award-winning executive pastry chef who was formerly with Shangri-La, the leading Hong Kong-based Asian luxury hotel chain, to give guidance on palatableness. The input from health and culinary experts, along with my own extensive experimentation, combined to make Oomph! a truly East-meets-West fusion snack bar that offers what I regard as the holy trinity in eating and snacking: great taste, excellent nutrition and functional health benefits. 
In accordance with our guiding principle, every Oomph! bar is minimally processed and made with 12 sustainable, gluten-free, non-GMO, single-ingredient whole foods for attaining the ideal mix in essential nutrients (i.e. protein, fiber, carbohydrates, fatty acids, vitamins and minerals). This means in each bar you will find 3 types of tree nuts, 2 types of dried fruits and 1 type of edible seeds, plus gluten-free whole grains and natural spices.
Our meticulously formulated Oomph! bars start with mountain grown chia seeds from Ecuador (for rich, all around nutrition) and wild blueberries from Canada (for most powerful antioxidants) as the base ingredients. They are then blended with different slow-roasted nuts (i.e. almond, walnut, cashew, pecan, and macadamia) and various sun-dried fruits (i.e. cherries and cranberries) to produce an incomparable mouthfeel that can best be described as crunchy, chewy and crispy all at the same time.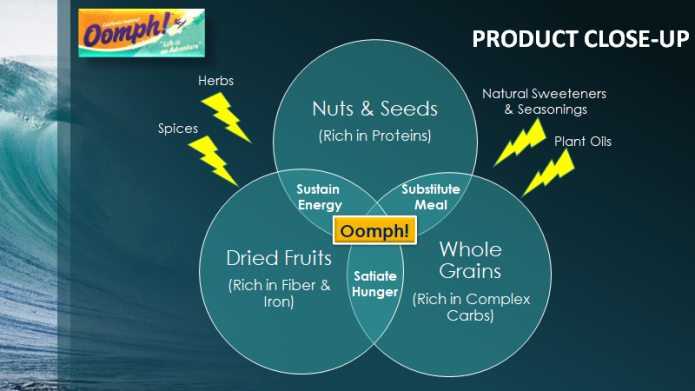 Aside from taste and nutrition, Oomph! bars are naturally rich in plant-based iron and calcium, providing more than 50% and 40%, respectively, of an adult' daily requirement. No fortification or enrichment, just pure goodness derived from nature. Iron is known for boosting stamina and reducing fatigue, while calcium is known for improving bone and muscle health. According to the World Health Organization (WHO), iron and calcium are the most common nutrient deficiencies worldwide, especially for women.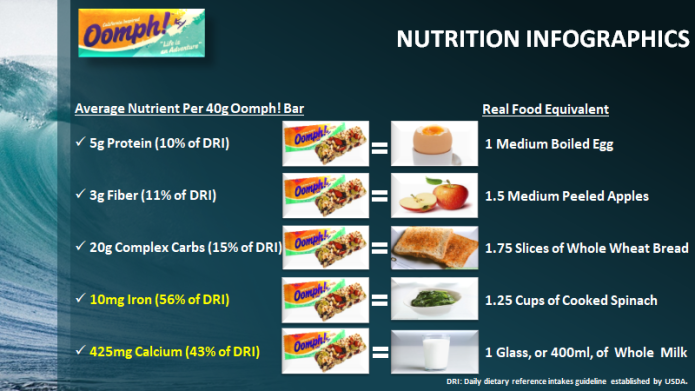 With Oomph! you can literally eat with your eyes, because what you see is what you will get. Exceptional care has been taken to ensure that each bar's journey from conception to consumption is free from overprocessing – so that the original form and nutrition quality of every ingredient is maximally retained. 
All natural ingredients
Plant-based whole foods
Eco-friendly, sustainable
6 superfoods in every bar
   =========================
Plenty of protein
Plenty of fiber
Plenty of iron
Plenty of calcium
   =========================
Low calorie
Low sugar
Low sodium
Low GI
   =========================
No trans-fat
No preservatives
No additives
No artificial flavors & colors
   =========================
Non-GMO
Suitable for vegetarians
Gluten-free
Worry-free
Oomph! Plant Protein Bar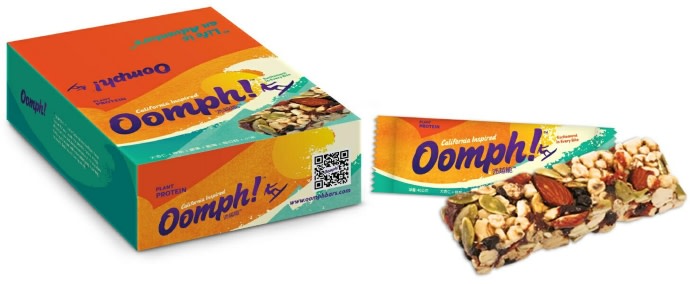 List of total ingredients in descending order, from the most amount to least, plus their origin:
Almond (US)
Walnut (US)
Cashew (Vietnam)
Dried Blueberries (Canada)
Pumpkin Seeds (US)
Organic Honey (Taiwan)
Dried Cherries (US)
Puffed Millet (Taiwan)
Cane Sugar (Taiwan)
Chia Seeds (Ecuador)
Virgin Coconut Oil (Taiwan)
Sea Salt (Australia)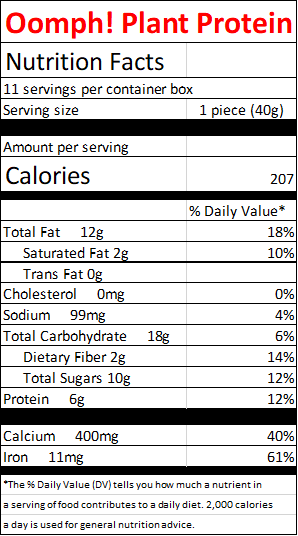 Oomph! Extra Fiber Bar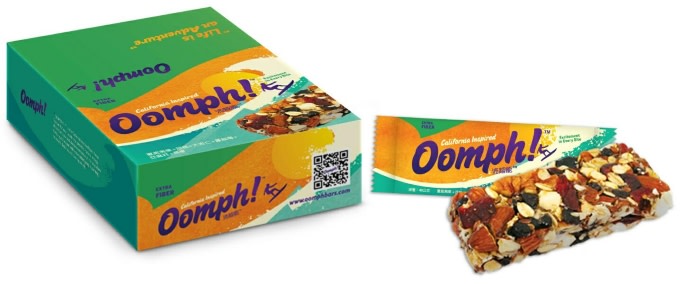 List of total ingredients in descending order, from the most amount to least, plus their origin:
Almond (US)
Pecan (US)
Dried Cranberries (Canada)
Organic Honey (Taiwan)
Macadamia (South Africa)
Rolled Oats (Australia)
Cane Sugar (Taiwan)
Chia Seeds (Ecuador)
Flax Seeds (US)
Dried Blueberries (Canada)
Sustainable Palm Oil (Malaysia)
Lemon Oil (US)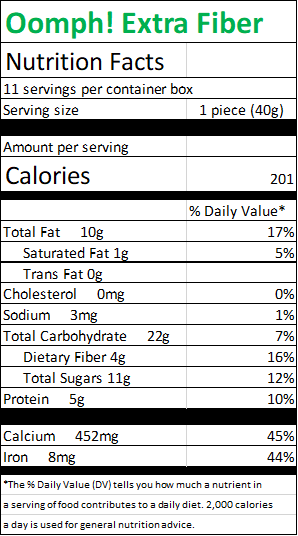 Note: Nutritional analyses on nutrient content have been conducted and verified by SGS.  
IV. TRACTION, TESTIMONIALS & TRIBUTES
Despite very limited product distribution and brand awareness due to financial and manpower constraints, we have successfully sold more than 30,000 bars in Hong Kong, Taiwan and selected cities across China since the pilot launch. Our customers have included premier business accounts, upscale retail outlets and health/natural food chain stores. We have also given away 5,000 bars for charitable donations, non-profit events sponsorship and samplings.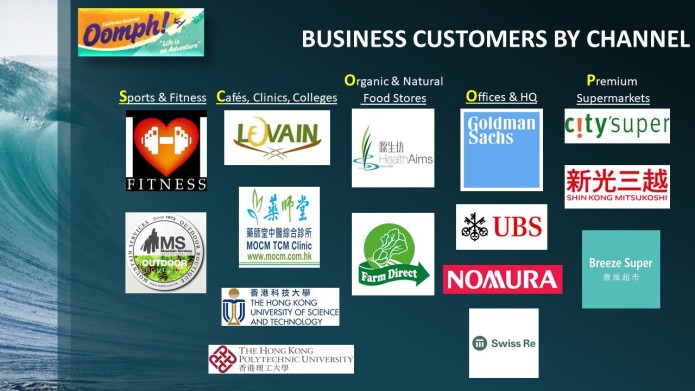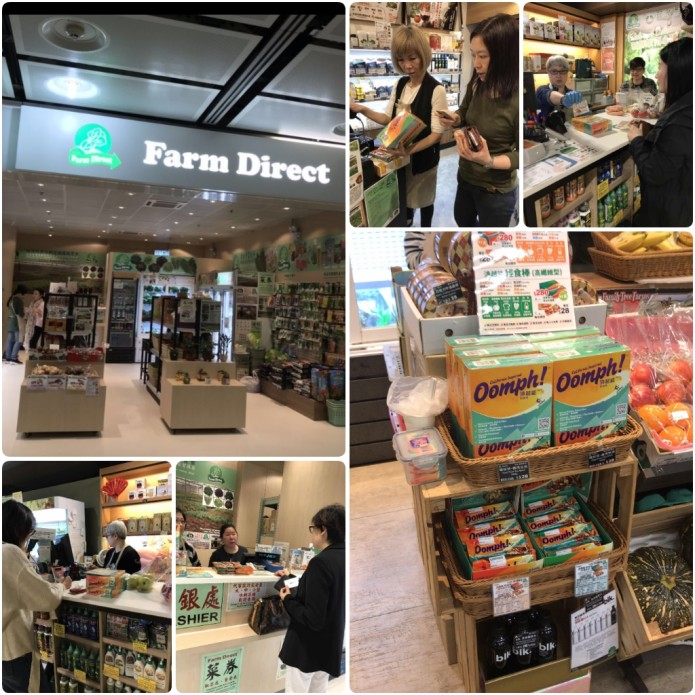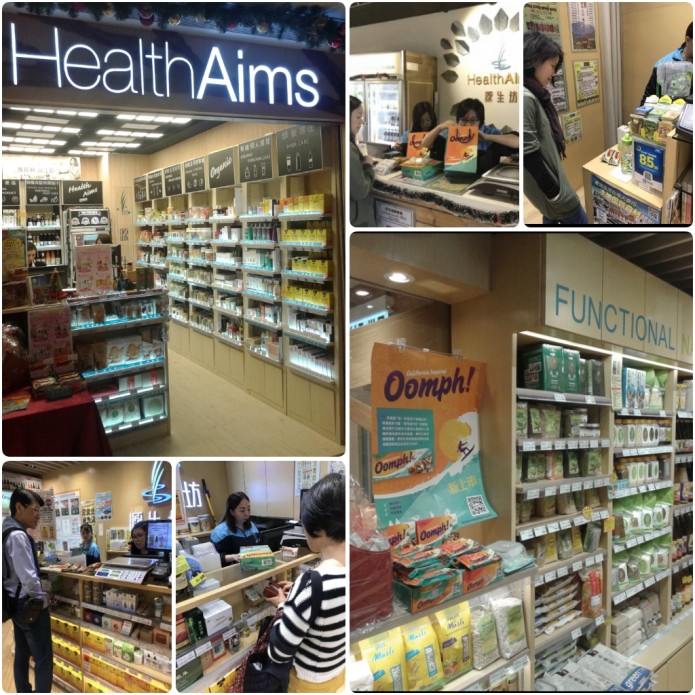 Oomph! has repeatedly beaten top US brands in informal taste tests and received highly favorable feedback from customers and the trade alike.
 I love both types. – Sabine B.
Mouthfeel 10! – Sandra B.
They're good, I like them, would like to see how we can share the goodness with others! – Nicolette T.
I shall spread the word among my friends and ask them to try out the super delicious Oomph! bars. – Akanksha G. (Ph.D. in Food and Nutritional Science)
I recently tried both flavors of your Oomph! bars and I brought them with me to a tournament in Shanghai a few weeks ago. Your bars were delicious! – Alicia L.
I love the citric taste (of Oomph! extra fiber bar) and I can really see what I eat. – Nicole C.
(With Oomph!) you see all the ingredients intact on the bar. It also doesn't break or crumble when you eat it which I like. – Kevin C.
Would happily eat the whole box, but actually one is enough. – Katie M.
(Oomph! is for) no-time to eat, I've eaten that for brunch. – Kuma C.
I really appreciate the nutritional values (of Oomph!) and they are just the kind of products I look for before a gym session or when I go hiking. – Belinda N.
The product really is very good. – Matthew C.
(Oomph! is the) perfect snack pre and post yoga. – Joey C.
It (i.e. Oomph!) was very well-received and some of our hike leaders are already asking where we could purchase in bulk. – Angela A.
I could really get addicted to this (Oomph! bar). – Yosha G.
I'm actually 6 months pregnant and have found that these types of snacks (i.e. Oomph!) have been great throughout my pregnancy. – Pristine R.
Oomph! is the Rolls-Royce of snack bars. – Ted C.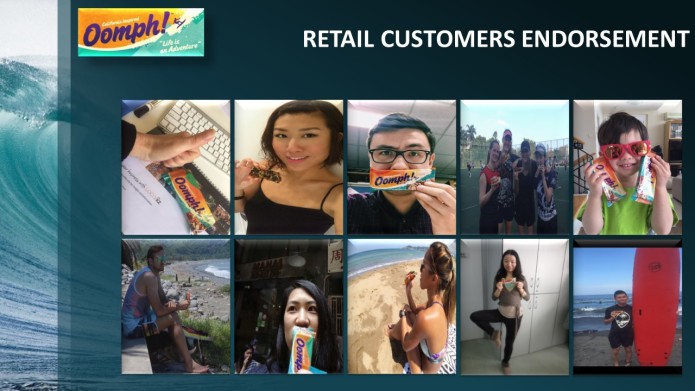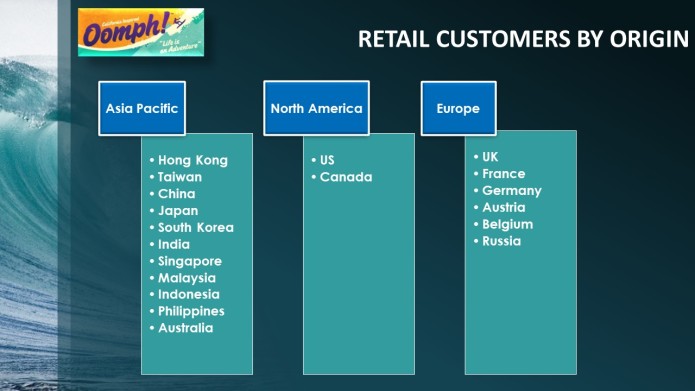 In 2018 Oomph! was chosen by Localiiz, a leading Hong Kong online lifestyle magazine targeted at expats and English-speaking professionals, as a Top Ten delicious and guilt-free snack.
Oomph! bar is a total game-changer. Not only is it genuinely delicious (we've polished off several boxes in the office), the ingredients are painstakingly sourced, all-natural, and ridiculously good for you. – Localiiz, Hong Kong
https://www.localiiz.com/top-10-tastiest-healthy-snacks-guilt-free-treats-hong-kong/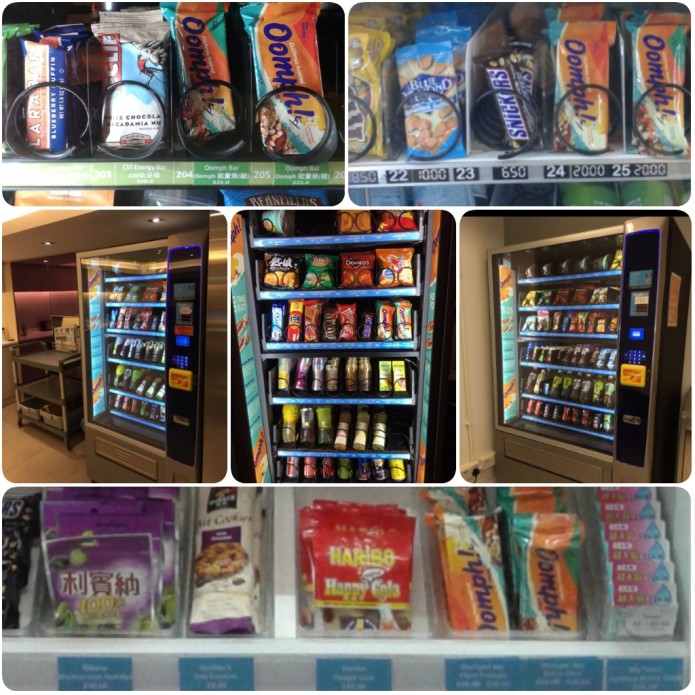 Earlier in 2017 Oomph! was picked by Sassy Mama, a leading regional online magazine in Hong Kong, Singapore and Dubai for high spending, fun-loving mothers with young children, as a Top Ten healthy snack for every member of the family.
Energy-dense? Guilt-free? Eco-friendly? Tick! When it comes to our favorite energy bar, it's no surprise that Oomph! lands on the top of the list. – Sassy Mama, Hong Kong
https://www.sassymamahk.com/food-eat-healthy-snack-lunch-box-kids-family/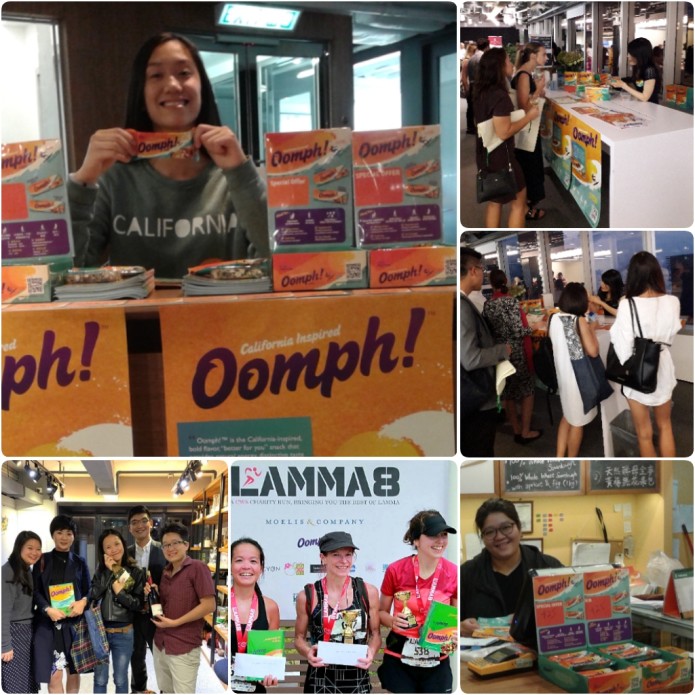 On Dec 14, 2018 GTFF, the brand owner of Oomph!, was named a Top 36 Startup in Jumpstarter, an annual global competition backed by Alibaba to showcase quality startups and promote entrepreneurship. As the only pure food company to be recognized with such an honor among a legion of FinTech, AI and mobile app startups, we could not have been more proud.
https://2019.jumpstarter.hk/en/top-hk/36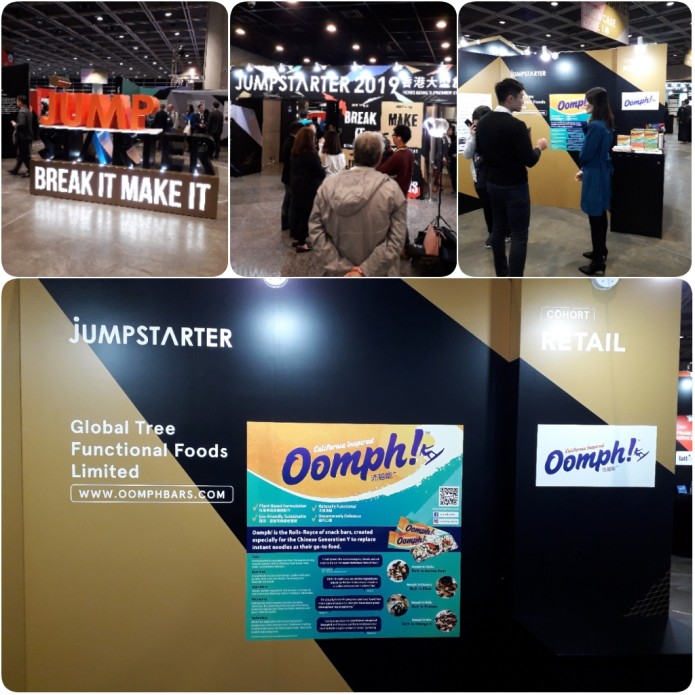 V. SOCIAL RESPONSIBILITY & SUSTAINABILITY
The WHO regards food and nutrition as a top priority and basic human right. Without adequate nourishment children, in particular, would be unable to reach their full development potential. As someone who used to go to bed at night feeling starved and undernourished as a neglected teenager following my mother's untimely death, nothing upsets me more than seeing helpless kids being stripped of their most inalienable rights for food and nourishment.
Through Oomph! I have been fortunate enough to expand my previous involvement with charities and non-profit organization by donating products and sponsoring events aimed at alleviating hunger, reducing malnutrition and helping the needy. As Oomph! continues to gain acceptance, there should be more opportunities for the brand to do more social good and make a bigger humanitarian impact.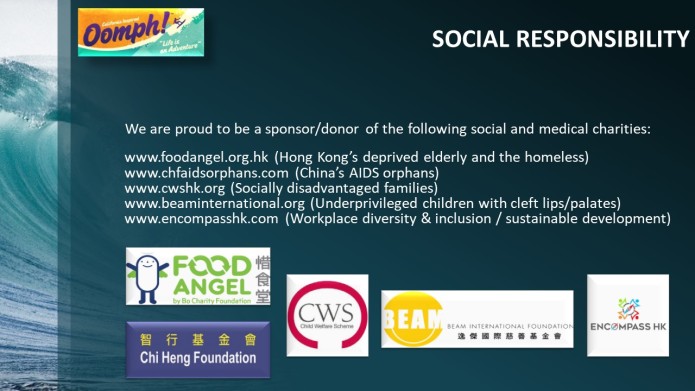 On the issue of sustainability, the United Nations has estimated that by 2050 our earth's population will have grown by as many as 2 billion people to reach a staggering total of 9.7 billion! The inevitable rise in human demand for natural resources to satisfy our expanding ecological footprint in coming decades, couple with accelerated urbanization, will most definitely exacerbate climate change. This worrisome phenomenon, if left uncontrolled, can adversely affect the world supply of food and water. Already, in recent years our environmental woes have worsen as greenhouse gas emissions and deforestation continue to rise unabated.
Let's not deceive ourselves about climate change: Unless everyone does his/her part now to mitigate the undesirable effects of global warming, come 2050 our future generation's survival may be at serious risk due to severe declines in food and water availability.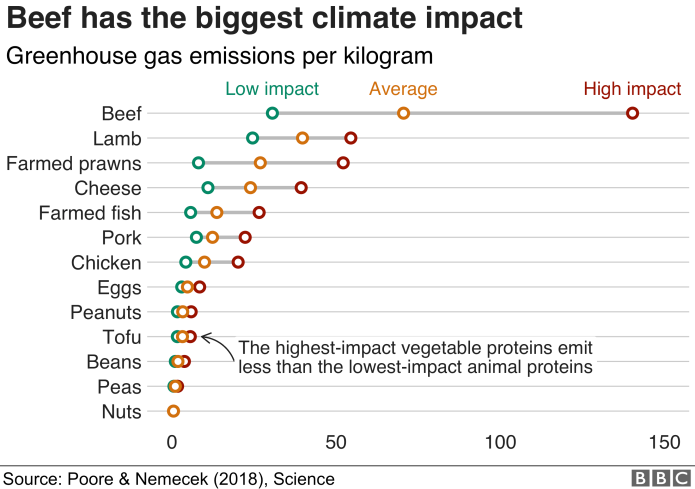 Plant-based foods, as opposed to animal-based foods, not only are healthier, more eco-friendly and require considerably less water to produce, they hold the key to our future survival – sustainability. For this very reason, we are dedicated to using plant-based ingredients for making every Oomph! bar and doing our utmost to support SDG (Sustainable Development Goal) activities.
VI. WHAT MAKES OOMPH! DIFFERENT
One might wonder, there are already zillions of snack bars in the market, why do we need another one? What is so different about Oomph! aside from being a plant-based, fusion snack bar with Eastern and Western influences?
Uncommonly Delicious Taste 
Oomph! is a wholesome snack bar with adventurous mouthfeel – one that can best be described as crunchy, chewy and crispy all at the same time. This unique East-West taste profile was developed under direct guidance from an award-winning executive pastry chef formerly with Shangri-La, the renown international luxury hotel chain from Asia. As a snack bar, Oomph! provides lasting energy with complex carbs. No empty calories.
Intrinsically Nutritious Ingredients
Oomph! is a superfood-loaded, clean label, what-you-see-is-what-you-get mini meal bar that comes complete with protein, fiber and micronutrients derived from tree nuts, dried fruits, edible seeds and gluten-free whole grains. No E numbers. No allergens. Only single-ingredient whole foods. As a mini meal bar, Oomph! can satiate hunger fast.
Naturally Functional Benefits
Oomph! is a plant-based functional food  that provides more than 50% and 40% of iron and calcium, respectively, for satisfying an adult's daily requirement. Iron boosts stamina and reduces fatigue, while calcium improves bone and muscle health. According to WHO, iron and calcium are the most common nutrient deficiency worldwide, especially for women. As a plant-based functional food, Oomph! promotes sustainable health and wellness.
By endorsing Oomph! you are affirming support for diversity, authenticity and sustainability. Above all, you are helping a long shot – an underdog – like Oomph! to continue making and promoting plant-based functional foods that are not just better for you, but better for the society and for our planet.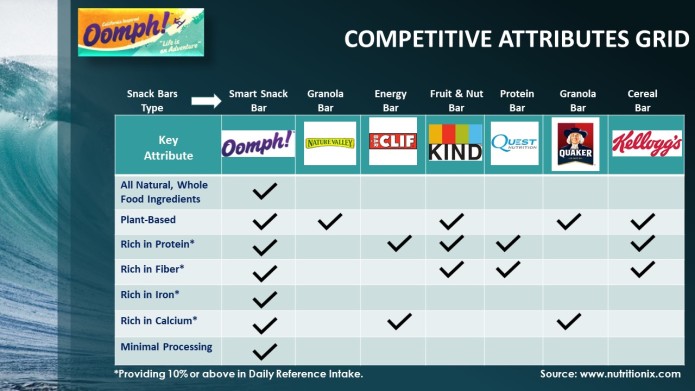 In addition, as many of us are aware, most snack bars tend to be identical in appearance. Some bars will add soy derivatives and whey protein for boosting their protein content, or use artificial sweeteners for cutting down calories. You will never find any scary-sounding chemicals or unfamiliar names listed in our bars. In Oomph! you can enjoy  our gluten-free, iron-rich bars with great peace of mind; yet, be tinged with anticipation as no two bars will ever look the same and every bite is deliciously different.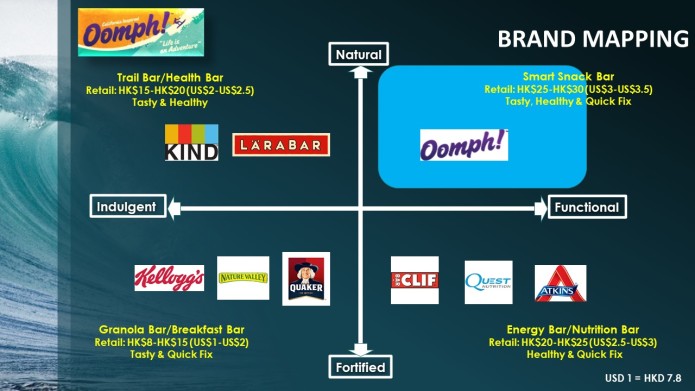 Oomph! is more than just a BFY (i.e. better for you) snack. It is a smart snack bar, the wise choice, for uncompromising consumers seeking the best value and experience in eating and snacking; namely, great taste, excellent nutrition and functional health benefits. Oomph! is the future – the Bar 4.0 – of snack bars. 
VII. WHY NOW
Since Oomph! was launched in Asia in 2016, there have been repeated requests from friends and relatives back in the US to get the product made in the States. By doing so, our creation can be appreciated by a more knowledgeable audience that is likely to be more willing to give a long shot such as Oomph! a try. After all, snack bars have become an integral part of mainstream American diet. These ubiquitous products can be seen everywhere in the US these days, with retail sales reaching an estimated USD 8 billion in 2018.
By contrast, with just USD 70 million in sales for 2018, or less than 1% of the total US demand, snack bars in Greater China are still seen as a niche product appealing mainly to English-educated health aficionados. The category itself, much to our chagrin, has also not grown as fast as we had hoped. Under such a circumstance, and unless we are able to identify another prominent market – such as the US, where Oomph! was first conceived – for expanding our fan base, it will be very difficult for the brand to achieve its full potential within the time frame that we have set and the resources that we have allocated.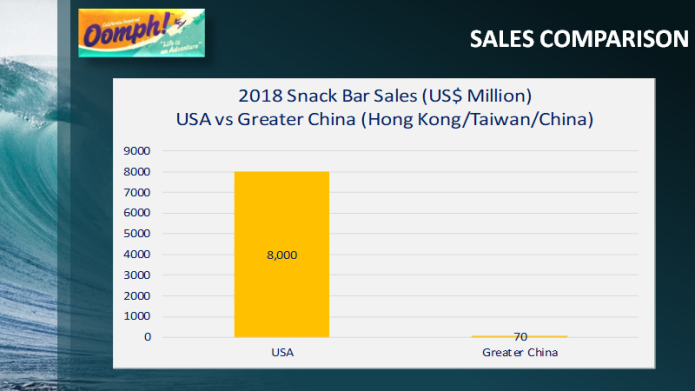 Aside from market considerations, the escalating anti-government protests since June in Hong Kong – our home base – have made it increasingly challenging for consumer-oriented businesses to thrive as retail outlets and shopping malls are forced to shut down frequently to avoid being caught in the crossfire. This turmoil, however unexpected, is a harsh reality whose fallout we now must contend with going forward. 
Lastly, with many key ingredients needed to make Oomph! bars being imported from California (i.e. almond, walnut, pecan, cherries and flax seeds), greater supply chain improvements can also be attained by having the product made close to its US sourcing origin.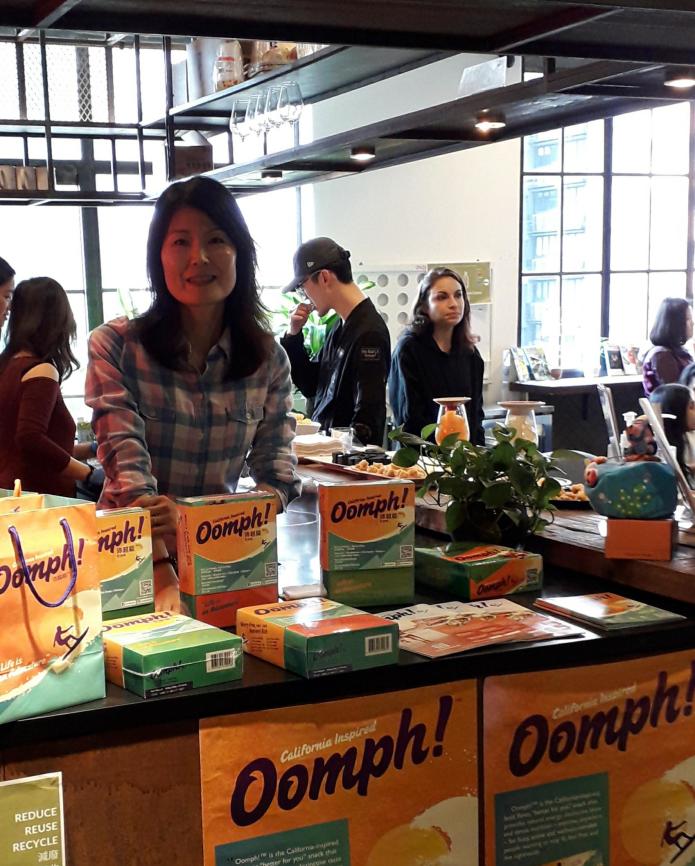 VIII. HOW YOU CAN HELP
In order for Oomph! bars to be available AND affordable in the US, it will be necessary to have them made domestically, rather than in Asia. To do so, we must raise additional funds to pay for production, packaging, shipping and marketing expenses in the US. 
In view of the above, it is our estimate that at least USD 30,000 will be required for the first batch of Oomph! bars to be delivered and marketed among our supporters and target customers across America.  
Please note that since our company was founded in 2014 my partners, friends, relatives and I have bootstrapped (i.e. self-funded) for five straight years to bring our vision of Oomph! to reality. We have thus far invested well over USD 100,000  to start everything from scratch, including essential activities such as: 1) market research, 2) product development, 3) packaging, 4) production, 5) logistics, 6) sales, 7) marketing, 8) brand communication, 9) trademark registration, 10) web design, 11) e-commerce, and 12) personnel & administration.
Needless to say, all the stakeholders and myself have a lot of skin in the game right now. We have undertaken substantial financial risks to turn Oomph! from just a drawing on the napkin paper into an exciting reality. For this particular production run in the US, however, we are asking for your support – so that our Oomph! bars can be shipped to you for trial and feedback once the campaign ends. Just as important, your timely endorsement will help Oomph! to keep moving forward and our dream to stay alive.   
IX. WHAT'S NEXT
Should we be able to raise sufficient funds from the campaign to produce Oomph! bars in the US, our next step would be to sell them online at a marketplace like Amazon, Jet or iHerb, plus subscription snack services such as Love With Food and NatureBox. Once we are able to generate favorable word-of-mouth and strong endorsement from online customers in the US, we will approach specialty food stores (Whole Foods Market, Trader Joe's, Sprouts, etc.) for listing in their outlets. With Oomph! being available online and offline, there is no telling how far the brand can go to realize its true potential.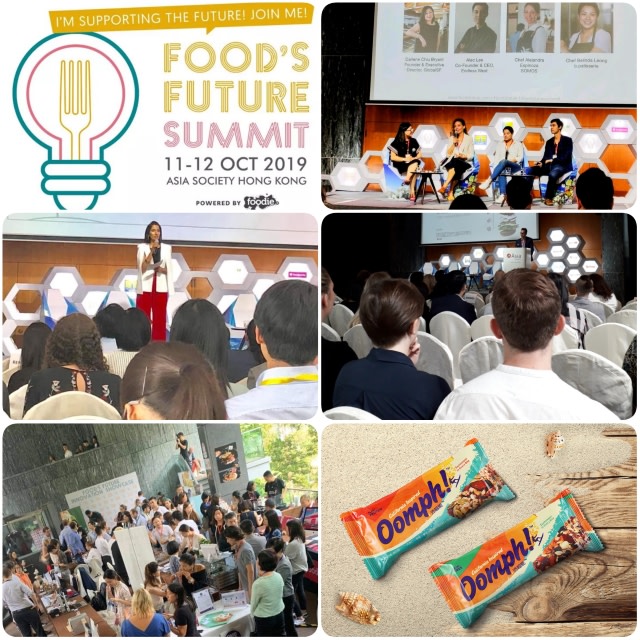 X. ABOUT MYSELF
Please go to the link below for more details about my background.
https://www.linkedin.com/in/edward-l-wang-71a07…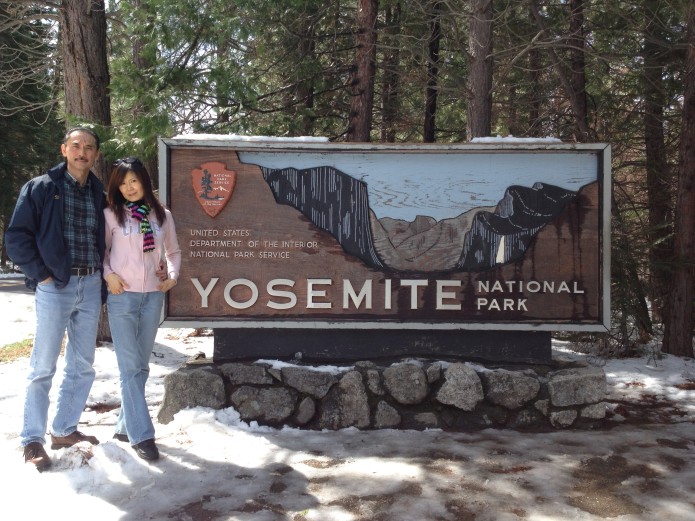 XI. BRAND MANIFESTO
Oomph! believes that life is an adventure; that we should always walk our talk; and that we are what we eat. By embracing different experiences, upholding a principled existence, and pursuing a lifestyle of health and sustainability, we can all live each day to its fullest – with a higher purpose and grater happiness.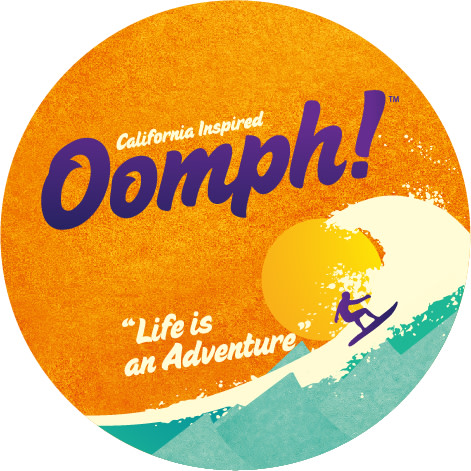 Thanks for your exceptional patience in going through our highly detailed Indiegogo crowdfunding campaign in its entirety – all eleven parts of it!
Hope you have enjoyed the introductory video written/directed/edited by my 16-year-old daughter, Ashlynn, and learning about the full story behind the creation of Oomph!
Hope, too, that my story has resonated with you in a positive way. If so, please back our campaign and share it with someone who you feel might also want to endorse our fundraising effort. Thanks again and may all your dreams come true.