TeaPlays: The Healthiest Candy to Drink! | You ate a TeaBonbon?! Congrats!That's how cool people drink tea, though steeping tastes much better!
Tea bags, the most common form of teas in the western market, are mostly made of tea dust or fanning. Blended teas, my personal favorite, however, mostly are with artificial fragrances, which look and smell amazing when open, but taste very plain after steeping. 
China has a rich heritage of tea, and now produces close to 40% of the world's consumption. Although we have high quality teas of great varieties, most of China's current tea exports are of the lowest grade! 
Our mission is to bring China's high-quality tea to the forefront, with our breadth of knowledge of how teas and herbs work by making tea drinking fun, convenient, and sharable.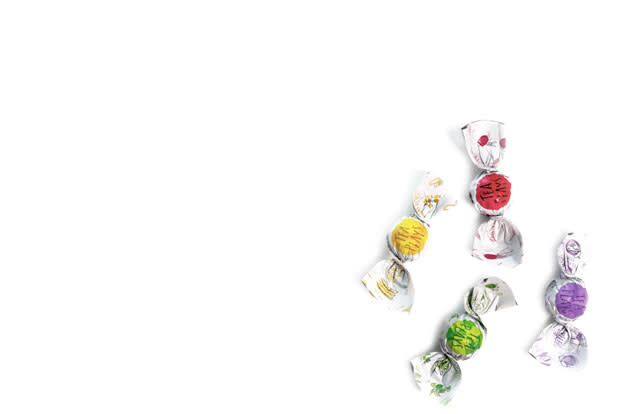 Concept of Tea Plays:
Health: Effective herbal recipes tailored to different occasions of a day.
Fun: A candy-like treat, for you or for sharing with others as a gift.
Purpose: Make a healthy impact by bringing the best quality tea and herbal knowledge to the rest of the world and in return, being able to nourish the very last link of the whole value chain, the tea farmers.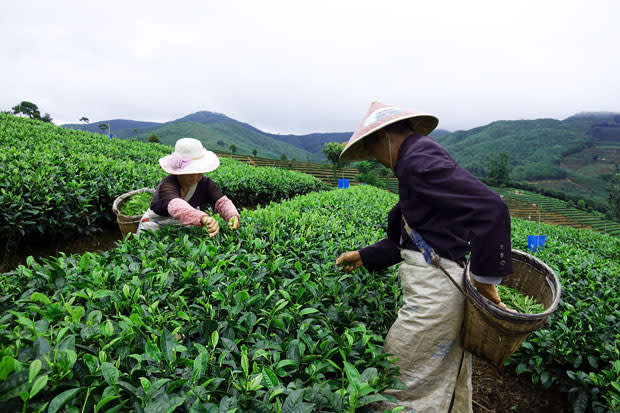 Good Morning: Refreshment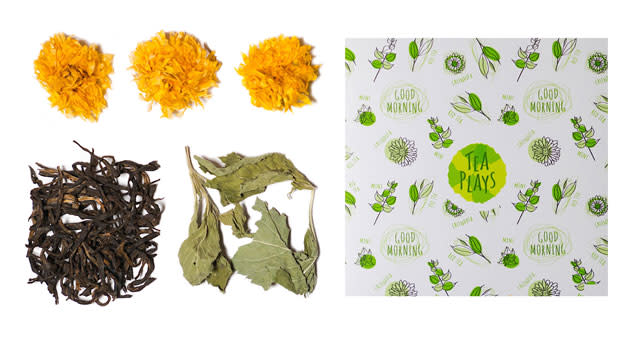 Dianhong black tea from the Yunnan area of China: selected black tea with honey aroma which is the best breakfast drink. You can add half amount of milk to the blend to enhance the rich and silky taste of your tea.
Mint: the best morning tea ingredient for its invigorating aromas, as well as its herbal function of easing queasy stomachs, calming anxiety and helping keep focused.
Calendula: a flower of the family of daisies which is traditionally used for radiation therapy and anti-inflammation treatment of skin and throat. It helps to detox for a fresh start.
Brainstorming: Energizer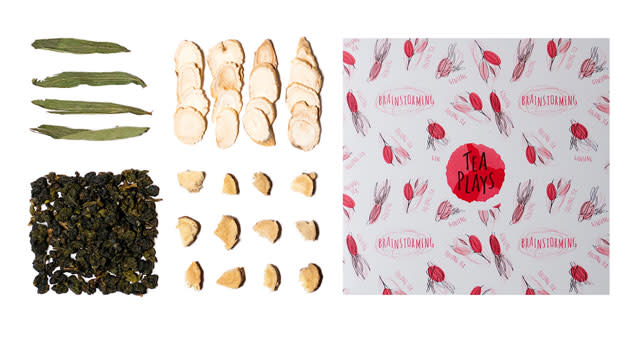 Dancong Oolong tea from the Fenghuang Mountain in Canton province, China: a partially-fermented tea from camellia sinensis plant which has the aroma of orchid. It contains caffeine and theophylline and is used to sharpen thinking skills and improve mental alertness.
Ginseng: Containing anticancer substances, it is a traditional remedy for improving thinking ability and cognition and boosting energy, when taken in a long-run. 
Licorice Roots: The natural sweetness of licorice roots helps create a positive energy to cope with your complex work, be it at the office or during a busy day of classes. 
After Lunch: Digestive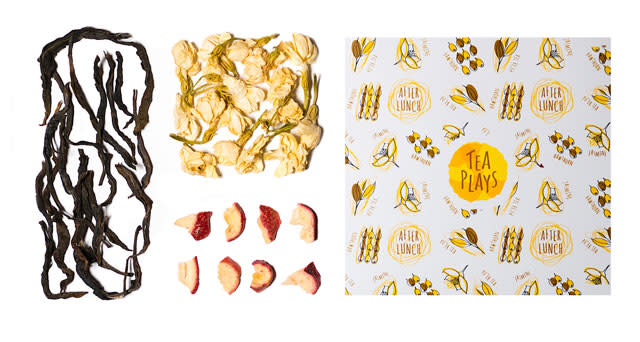 Raw Puer tea from the Yunnan area of China: an exquisite tea type for top tea lovers for its fresh smell and the sweet aftertaste. It is commonly used for weight loss, keeping a nice figure, or lowering your blood pressure.
Hawthorn: a household digestive assistants helping you ease yourself back into work after your meal.
Jasmine flower: freshens up your mouth breath after your lunch.
Sweet Home: Calming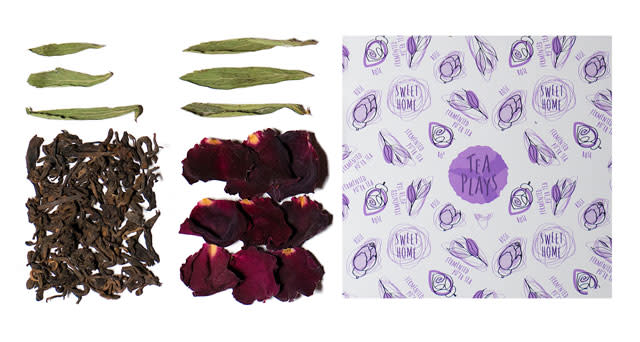 Fermented Puer tea from the Yunnan area of China: reddish-brown in color, it has an earthy smell, and very mellow taste and silky-smooth texture
Rose buds: apart from known as a powerful antioxidant herb, rose also has great calming effect on the nervous system providing relief from anxiety and stress. Its intake aids in preventing and treating symptoms of depressive disorders such as persistent feelings of sadness and hopelessness, loss of interest, irritability, and insomnia.
Stevia: a natural sweetening herb to balance the earthy flavor of Puer and add the mental happiness of this recipe.  
Your role! Invite you to come in, fund us.
Automate the process.
We want to produce it here: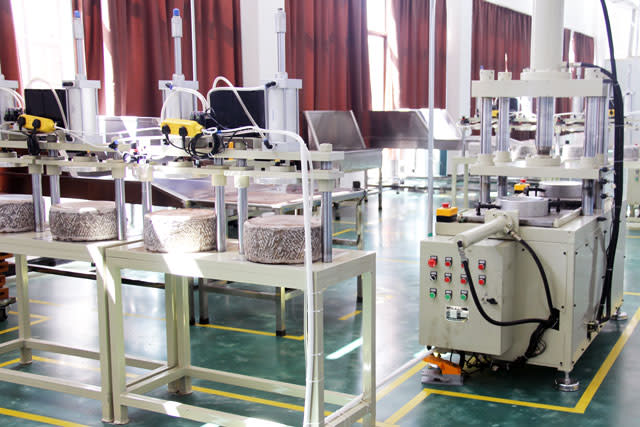 Test and Certify our product.
All the organic certifications we need to achieve:
$1      Like our concept? Support our mission!
As our earliest backers, you'll receive an e-thank-you card right after the campaign and a discount voucher later, when we launch our tea bonbons on the commercial market.
$25 + intl. shipping $29  (16% off)
Tea Plays Starter Kit Includes:
                     12x tea bonbons, 3 of each recipe
                     12x tea filters of bio-degradable PLA corn fiber material
                     1x Tea Plays Ice mode
                     1x Tea Plays laptop sticker set
 
$62 + intl. shipping $69.9  (12% off)
Most Economical Pack:
                     50x tea bonbons, early-bird price till the end of August.
                     Exclusive at Indiegogo
$100     A 30-minute Skype tea talk with our team, about our herbal knowledge and our first-hand startup story!
$106 + intl. shipping $119.9  (12% off)
"Test it in my Store!"
                      Pack of 100x tea bonbons
                      Exclusive at Indiegogo
 
$123 + intl. shipping $140  (12% off)       
 A Secret World! 
                     …Curious? You will LOVE it!
$699   Visit our tea plantation and adopt your own tea tree! (2 days in Puer)
This tea plantation trip sets off from Shanghai, where you will be greeted by Tea Plays team first. We will fly to Puer of Yunnan province, where our organic tea plantation locates, and spend the experiential day at our tea farm. You will have the first-hand knowledge of how an organic tea planation is operated and the fascinating combination of traditional tea families and their tea-making craftsmanship and the modern scientific management in China today.
This trip includes:
                     2 round-trip flights to Puer (1 stop-over in Kunminng)
                     3 nights of accommodation
                     2×3 meals of local cuisine made of organic products and
                     creative dishes with tea as ingredients at our farm.
You will learn the basic five families of Chinese teas and how they are produced, and appreciate each one with genuine tea ceremonies.
At the end of the trip, you are entitled to choose, adopt and name your own tea tree for you or on behalf of your beloved, and have the privilege of drinking teas from your own tree in the future!
Project related:
1. Why are we crowd-funding?
We want to bring you the best quality natural ingredients to your cup. Crowd-funding will help us to undertake the necessary international organic testing and to invest in facilities to guarantee the best practices in the manufacturing of our product. Invest in us if you believe in healthy and natural tea drinking!
2. What if I like your project but cannot support it financially? 
THANK YOU! We appreciate your willingness to support us, which already can go a LONG way for us and help us hit important targets along with our way! 
• Share the link of our Indiegogo project among your family and friends
• Post us on your Facebook Wall
• Share us on Instagram
• Tweet your favorite tea blend
• Write us about your passion for helping us, and we will find us a way!
 
Product related: 
1. How many Tea Bonbons can I drink per day?
The carefully crafted four bonbon set-ups are safe to drink during a day. 
2. Can Tea Bonbons replace my medication and vitamins intake?
Tea Bonbons have wellness effects, but they are not therapeutic. They can not replace your daily intake of specific drugs, vitamins, and food.
3. What happens if I eat a Tea Bonbon?
Congratulations! You are not alone, and we tried! As long as you do not get choked, you will digest the Tea Bonbon.
4. Can I drink Tea Bonbons iced in the summer time?
You can add ice-cubes to refresh your teas or cold brew your tea following our instructions "How to Play." Drinking hot tea in summer is not a risk for your health either.
5. Is the Tea Bonbon organic?
At this stage, the Tea Bonbons are not organic (since 100% organic flowers are rare!). Our goal is to become organic first by sourcing and testing organic raw material, and then further control our quality by planting in our fields all the necessary ingredients we need for crafting each Tea Bonbon in our organic tea farm!
6. Where does the Tea inside Tea Bonbon come from?
They are mostly from the region of Pu'erh, in Yunnan Province, China. Yunnan is worldwide famous among the tea connoisseurs for having the best quality teas in the world!
7. Do Tea Bonbons contain caffeine?
Different type of tea contains different amount of caffeine. Brainstorming has the most amount of caffeine, and sweet home has the least amount because of the fermentation process of its tea base, Puer. In general, whole-leaf teas also release less amount of caffeine because of its smaller contact with water. 
8. Can pregnant and breastfeeding women drink Tea Bonbons?
Just as coffee, tea intake should be reduced during pregnancy and breastfeeding stage. Good Morning Bonbon should be taken with extra caution because of the mint in the recipe. 
9. Is the Tea Bonbon becoming bitter after some time in a cup?
 No. We crafted our Tea Bonbons thinking with our customer's habits. We know you may forget to take the tea out of the mug. Therefore we balanced the ingredients of each receipt to avoid astringency and bitterness.
10. Can I put the Tea Bonbon inside a bag filter or metal filter?
Definitely yes. You can also chew and eat the tea leaves and flowers if they flow to your mouth.
11. Are you going to have more set-ups in the future?
Definitely yes. This is our beginning; we are currently working on new recipe tailoring to yoga and so on. Coming soon!
Tea Plantation related: 
1. How does an organic farm look like and its difference from ordinary tea farms?
On the process, we are glad to send you more pictures and videos of our farm if you write us an email at [email protected]. You will get a real enriching experience visiting it in person if you click on our last perk! We will take you to our farms and show how the everyday life of the tea farmers is, the authentic Chinese tea culture, and the fascinating modern management of an organic tea plantation in the combination of rich tea-making tradition and heritage.
 
2. How are the tea farmers compensated?
The farmers receive a fixed income + a variable depending on the amount of fresh tea leaves and their equivalent quality that they pick and summon. To avoid applying pesticides to the trees, our farm adopted the innovative approach, paying a bonus to the farmers who manually catch worms ($0.003/worm), and to whom bringing insects to the laboratory for analysis. With this method, we have a preventive system to avoid insect plagues. 
 
3. How is your tea farm organized?
The entire organic tea farm (300 hectares) is split into two parts, each part having a manager and a team of farmers. The farmers live in the tea mountain, so is the school where their children go to during the day. There are different regular learning and recreation activities to encourage them and other family members to have a stable and fulfilled life, e.g., Fridays tea tasting, Saturdays night school, and monthly Birthday parties, etc. If you feel like participating in any of these activities (e.g., Summer English or reading training to the children during summer holiday), do not hesitate to contact us!