Tetra: A Clearly Better Portable Dishwasher | 3 liters/quarts of water. 3 place settings. No plumbing or hoses required. Perfect for small spaces.
Meet Tetra, the World's Only Fully Self-contained Dishwasher (Patent Pending)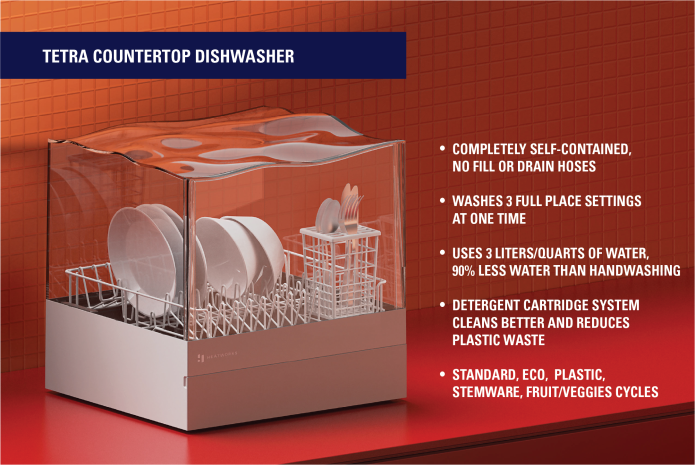 This compact, completely portable, water-saving, award-winning dishwasher can clean 3 full place settings, plastics, pots, stemware, fruits and veggies, with 3 liters/quarts of water, while you watch. It's fully self-contained; no plumbing or unsightly fill/drain hoses needed. No bulky external reservoir to keep track of or take up counter space. Perfect for small families, renters, dorm rooms, and those living in tiny houses and RVs.
Tetra was named CES 2019 Best of Innovation Honoree Award in the Home Appliance Category, the 2019 Best of CES award by Bestproducts.com, the 2019 CES Best of the Best award by Best Reviews and named a 2019 CES Top Pick by Mashable. 

Simply plug Tetra into any wall outlet.
Remove the front door.
3. Pour in 3 liters/quarts of water.
4. Load the unit.
5. Close the front door.
6. Select a cleaning cycle: STANDARD for plates, bowls, glasses, and silverware; ECO/SHORT for quick washes; STEMWARE for delicate items like wine glasses or champagne flutes; PLASTIC for items like baby bottles and bowls that typically melt in other dishwashers; and FRUIT/VEGETABLES to wash produce and other household items without detergent.
Each load goes through one wash and two rinse cycles. Tetra will also dry your dishes.
Then, when your dishes are done drying, remove the greywater tank, unscrew its lid, and dump out the wash water. It is environmentally safe.
Today's dishwashing detergents are flawed: When their components (prewash, enzymes, and spot removal) are mixed into one solution and delivered at one temperature, they lose cleaning effectiveness. That's why we joined forces with BASF to create a first-of-its-kind dosing and multi-chemistry cleaning cartridge system for Tetra that delivers optimal amounts of prewash, enzymes, and spot removal. Individually dosed. The result?
Your dishes will come out sanitized and 24% cleaner, and you won't have to replace cartridges for at least 20+ loads. Tetra will notify you when there are five washes remaining, and replacements will cost $8.99 online, which is comparable to other premium detergents. The used cartridges are recyclable.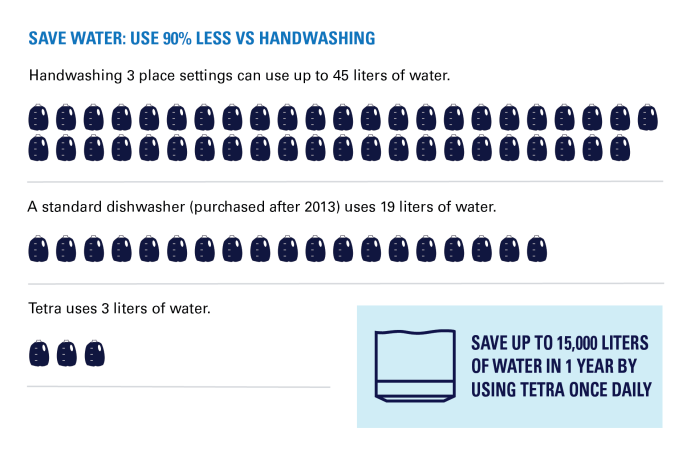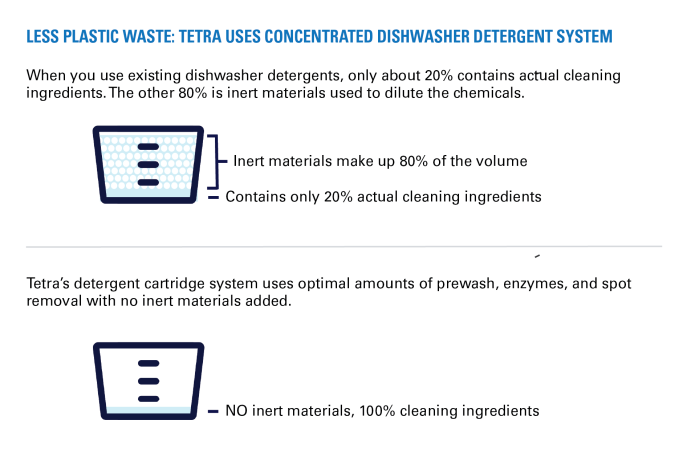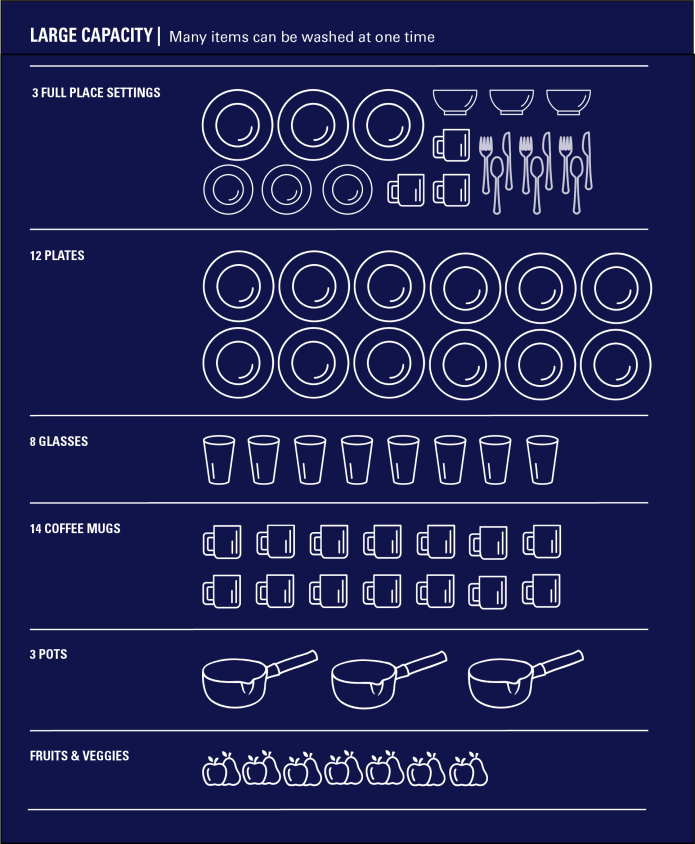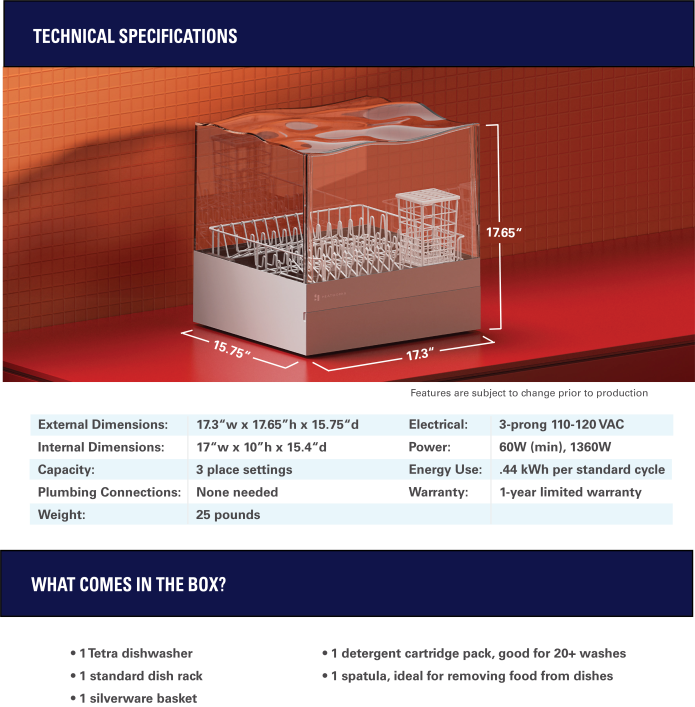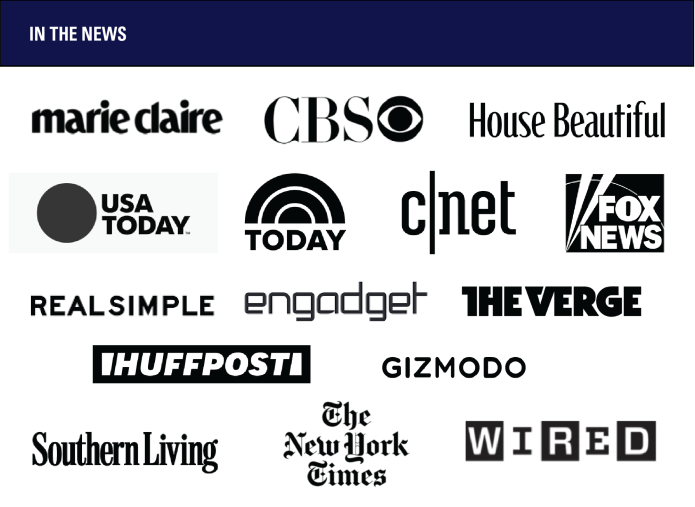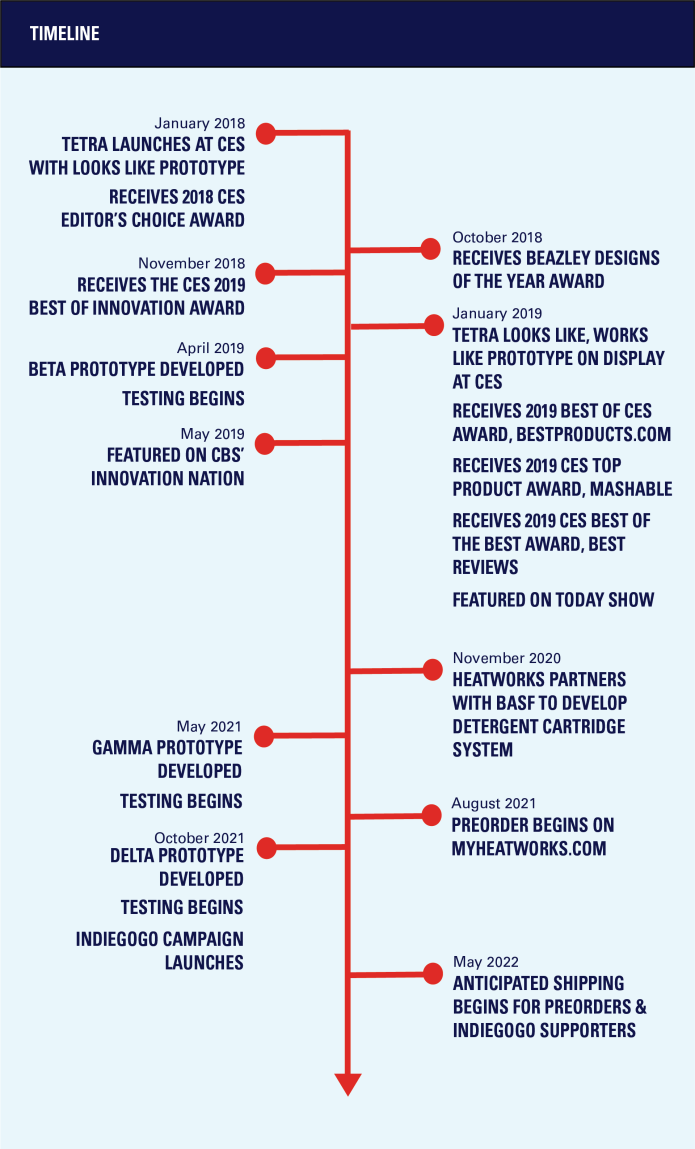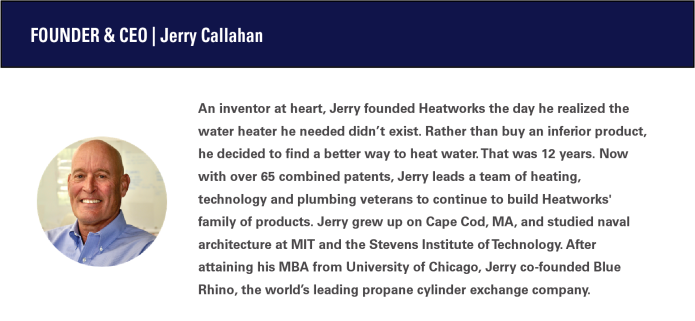 _____________________________________________________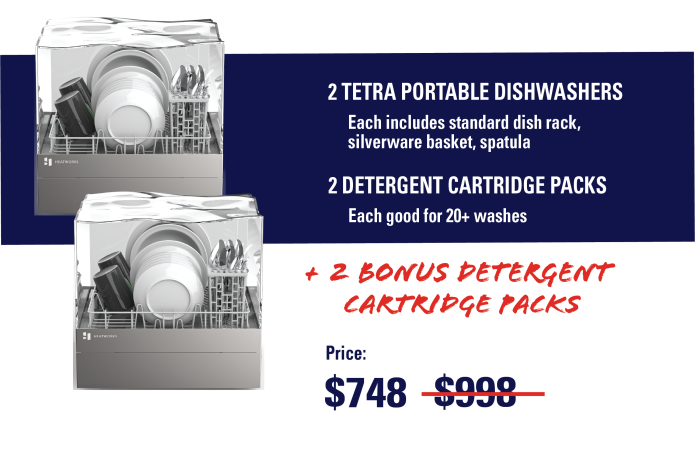 _____________________________________________________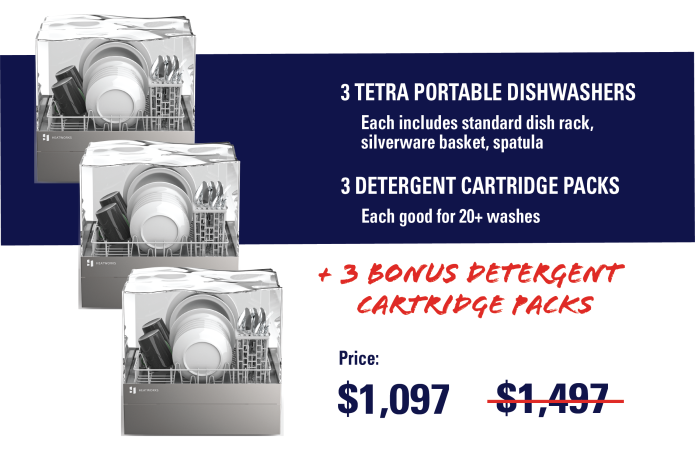 _____________________________________________________
Risks & Challenges
The Tetra Countertop Dishwasher is currently in development and has been designed and engineered by industry-leading experts with a great focus on user input and cleaning performance. Our next steps are finalizing the user interface, colors, and finishes, as well as UL certification. There may be unforeseen delays in the final testing and manufacturing phase; however, we do not anticipate any significant setbacks. All milestones and delays will be clearly communicated via product updates.