The Ausker multi-functional kitchen utensils | All the kitchen tools you need, with the multi-functional design you didn't know you were missing.

Are you ready to start cooking in a smarter, more efficient way? From the creators of the "Masters Cookware Collection", another foodie favorite accessory bundle ready to remodel the way you cook. We are proud to introduce Ausker's brand new collection of Kitchen Utensils.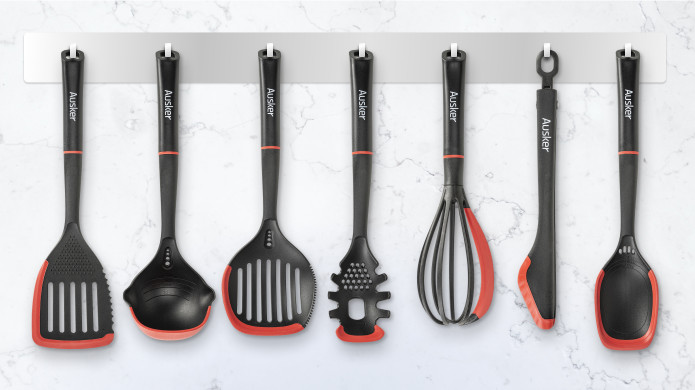 After shaping new ways to ease everyone's life in the kitchen with knives and cookware, we thought it was time to expand the range of our creations and complete the circle. Ausker's versatile Kitchen Tool Set aims to simplify your cooking experience with style while preserving your cookware from damage.
Too often we see damaged cookware or non-stick coating. Most of the time this happens due to misuse of utensils, especially steel ones. Our purpose is to help you cook better and faster while looking after your precious cookware.
This is the fourth crowdfunding project we launch, and our happy backers' list is constantly growing, project after project.
Since we founded Ausker in 2015, we reached over 15'000 customers in over 70 countries. And it is thanks to them if we can present you with this brand new product. Actually, it was our community who deliberately expressed their desire for a Tool Set via a survey we sent out after completion of the Masters Collection project. It is thanks to this constant partnership with our backers that we can deliver quality products, exactly how you need them.

The most compatible and versatile material for a Kitchen Tool Set is definitely nylon and we thought this was the perfect choice for our Tool Set bodies. We have chosen this material for its workability, flexibility, and resistance to heat and stress. Nylon can be used on any cooking surface: non-stick aluminum, steel, copper, and even cast iron. Our choice of high-quality nylon can stand very high temperatures, up to 390° F (200° C).

And yes, nylon is gentle with cookware. But we felt like it was not enough in two separate ways: efficiency, in some cases, and multifunctionality application. Therefore, we decided to develop a silicone edge where it matters the most and add a complete anti-scratch feature. You know, we make non-stick cookware, and preserving it is essential for healthy and safe cooking. On top of it, our silicone has vigorous heat resistance, up to 445° F (230° C) for normal cooking purposes.
Our soft silicone edge not only accomplishes great workability, but it allows us to bend it to our needs, creating versatility in each different Tool. All this, while being the gentlest Kitchen Tool Set you will ever see.
Versatility is nothing without efficiency. Here's why our Tool Set is made in materials that are easy to clean and non-porous, securing health and hygiene. And to make you feel even safer, we offer a 2-year long warranty if something goes wrong. All our materials are compliant with US FDA and EU Regulations, to ensure maximum safety for food contact.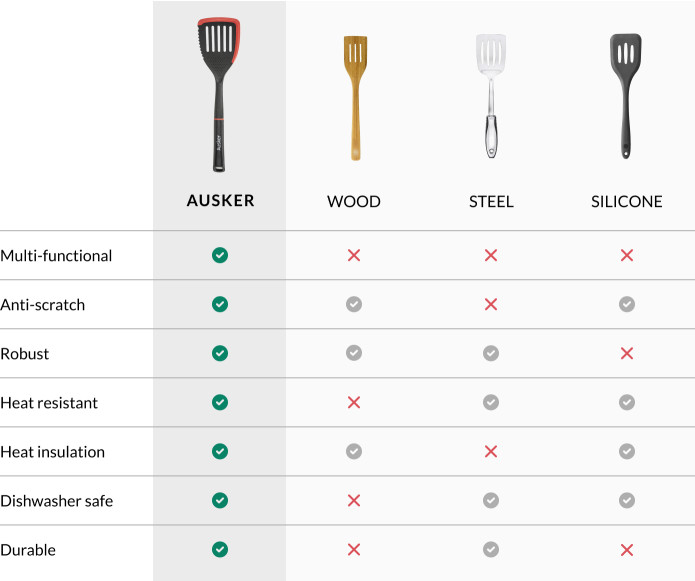 Get creative and inspired by ultra-versatility: we are confident you will be excited to try each feature our Tool Set has to offer. And when you'll be amazed by how your cooking has changed and improved, you won't be able to do without them anymore.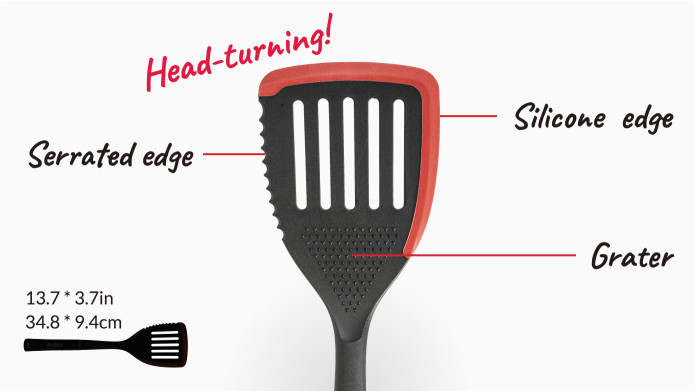 One of the most used tools in the World. It has multiple applications in the States like in Asia. A classic, essential all-rounder. We are giving it a new youth. The Slotted Turner includes a soft silicon edge for easy turning. You'll be amazed how easy it will run under your pancakes while being extra gentle on the frypan surface. We also include a serrated edge for cutting soft or half-cooked ingredients. It also features a small grater on its lower neck for garlic, ginger, shallots, or anything else you need to mince.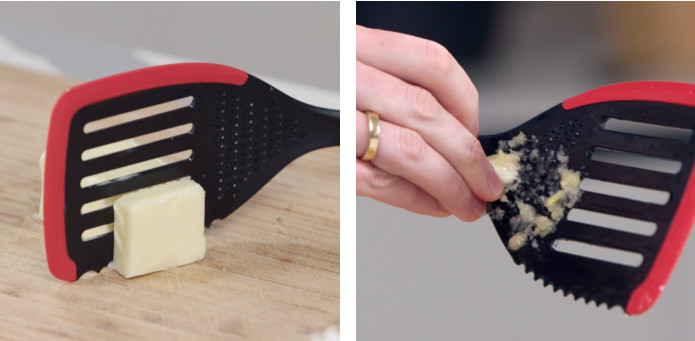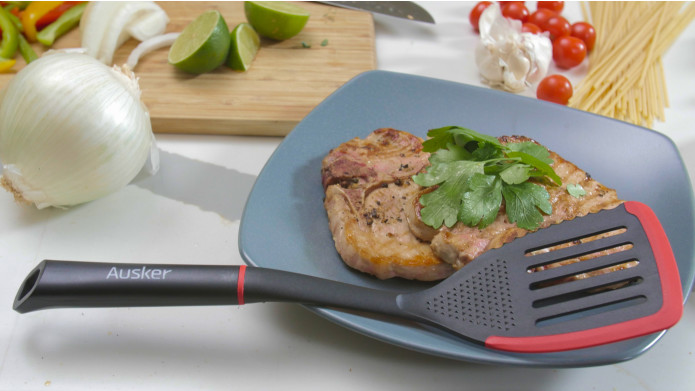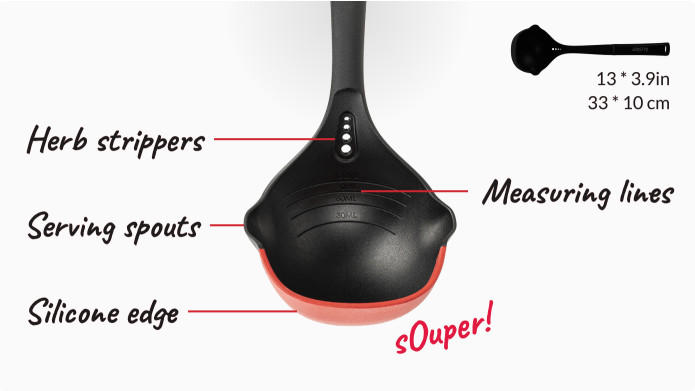 A soup's best friend. Another classic concept we try to upgrade. It features easy pouring and serving spouts, so you'll never spill a drop on your counter. The curving design, integrated with a silicon front edge promotes easy anti-scratch scooping.
In those cases when you need to be precise in your recipes, easy-to-see measuring lines for 60 (1/4 cup), 90 (1/3 cup), and 120ml (1/2 cup) will help you be always accurate.
And on its neck, we add four little holes of different sizes for perfect herb filtering.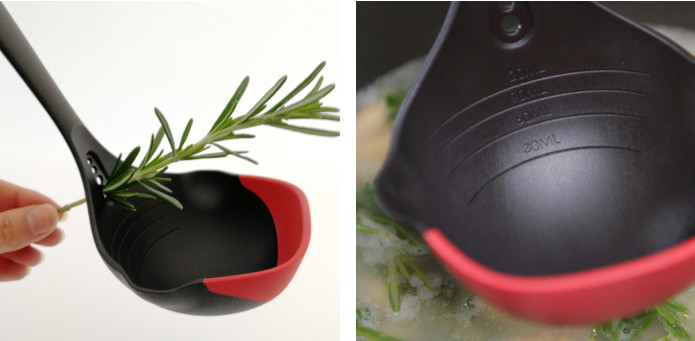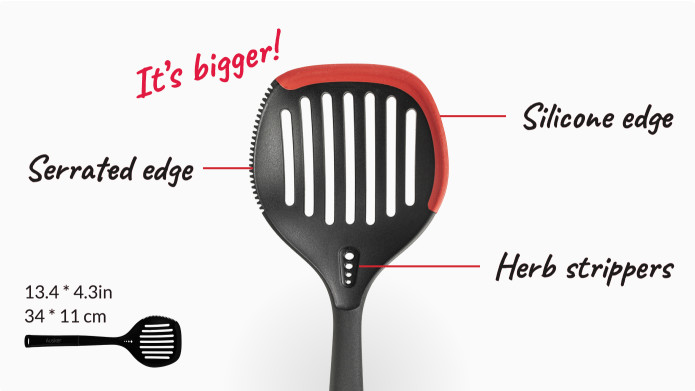 Average skimmers are often way too small. Our Skimmer is big, generous, and can welcome larger amounts of food, simplifying and accelerating your cooking processes.
Since the skimmer can be used on multiple occasions, for both wet and dry recipes, we gave him a slightly serrated edge to cut, and the most convenient four holes of varied size for easy herb filtering.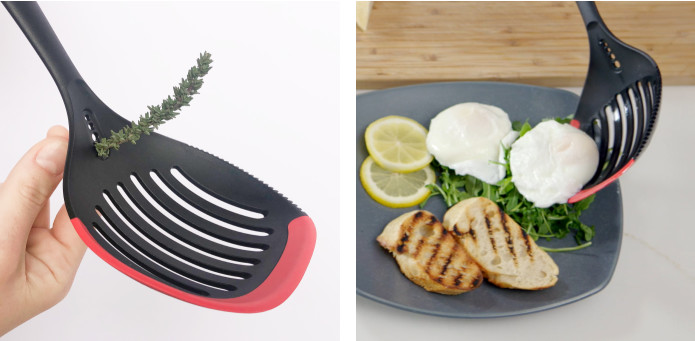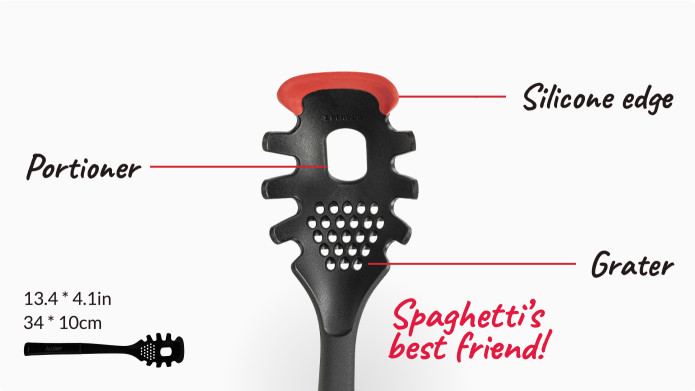 The Pasta Server will revolutionize the way you cook your favorite Italian dish.
It offers a central hole for the perfect one-portion quantity.
Like all Tools, it has a gentle silicone front edge for easy and safe pasta scooping. The edge also comes super handy when it's time to thicken your sauce efficiently scraping and deglazing the frying pan. And when your dish is ready, the built-in grater on the back of the tool will help you sprinkle parmesan on your creation.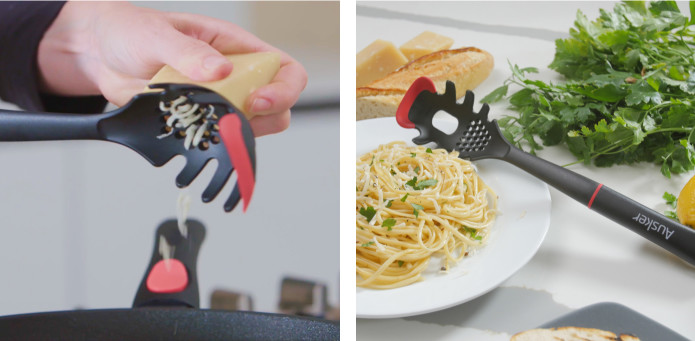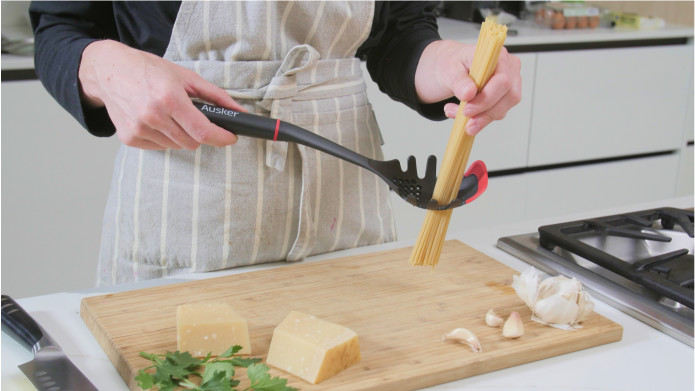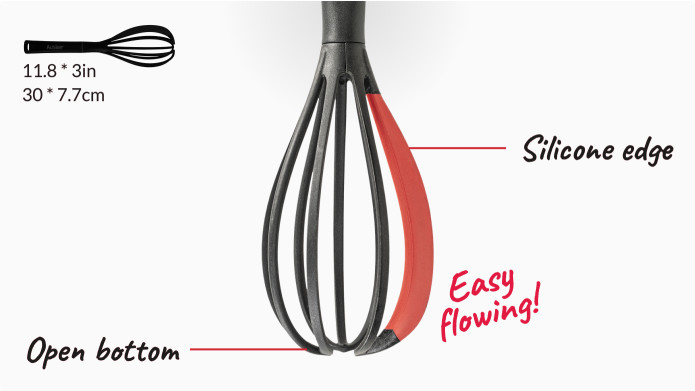 The Whisk is going to drastically improve the way you mix your recipes. It is designed to let liquids run and mix evenly, with an opening on the bottom aiming not to trap a single piece.
Its silicone-edged spoke is designed to clean every wall in your bowls, leaving nothing behind (and for your kids to clean!).
Plus, the ergonomic and perfectly balanced grip can ease the pressure on your wrist, enhancing your whipping ability with lesser fatigue.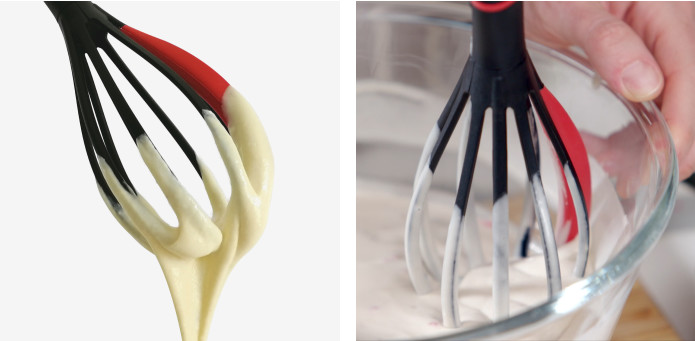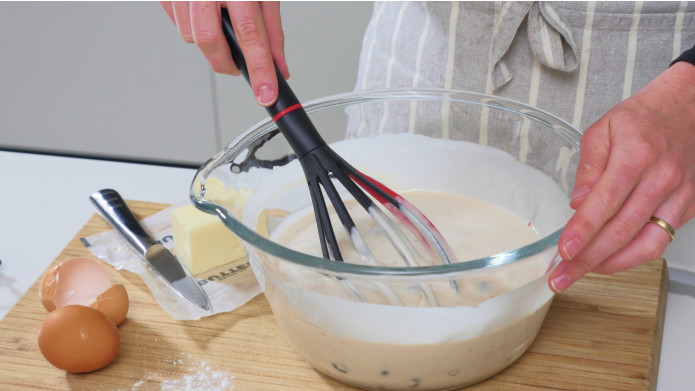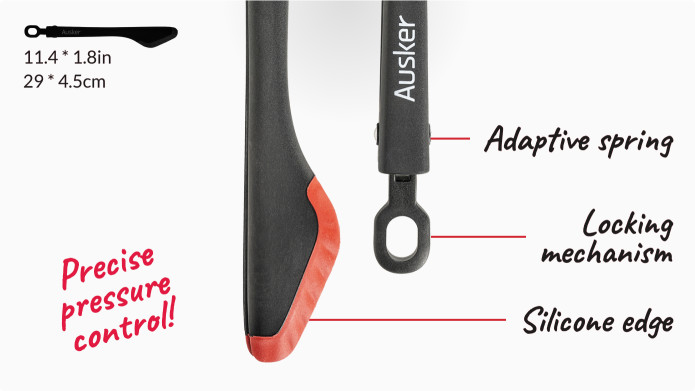 Another must-have in every kitchen, a utensil that can be used for most recipes.
Its silicone edges are gentle on food as well as on cooking surfaces, allowing you to deglaze and scrap like a pro with a light heart.
It features an adaptive spring for perfect pressure management, you will be the one to decide how much it needs to open. The spring also includes a locking mechanism for easy storage.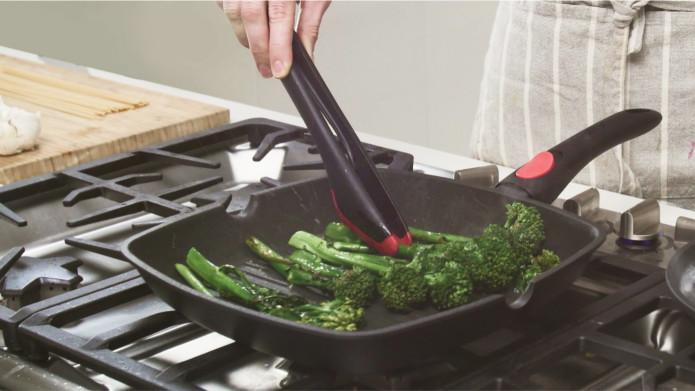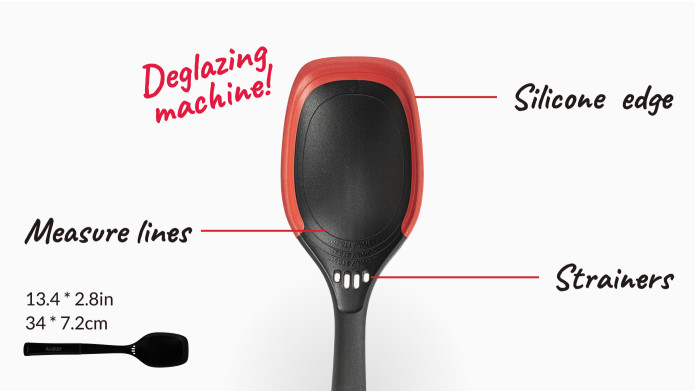 Probably the ultimate (and first ever) tool created. 
The silicone edge is a frypan saver that can help you turn and pick up your ingredients. It works magic too for deglazing.
It also offers handy filtering holes on its neck that can help to strain liquids when you need to serve your creations. Thanks to its capacity, we decided to add an integrated measuring tool, with lines indicating 1, 2, or 3 tablespoons (15, 30, and 45ml).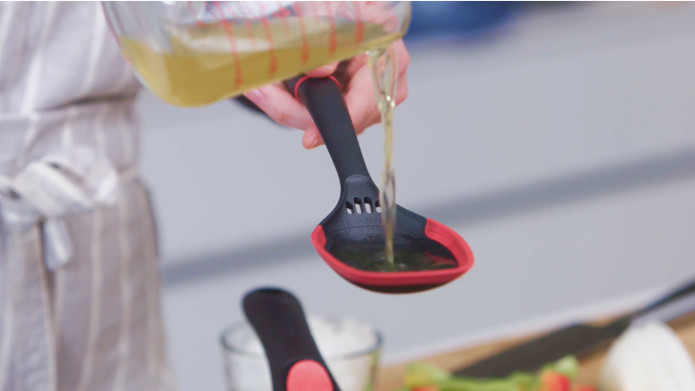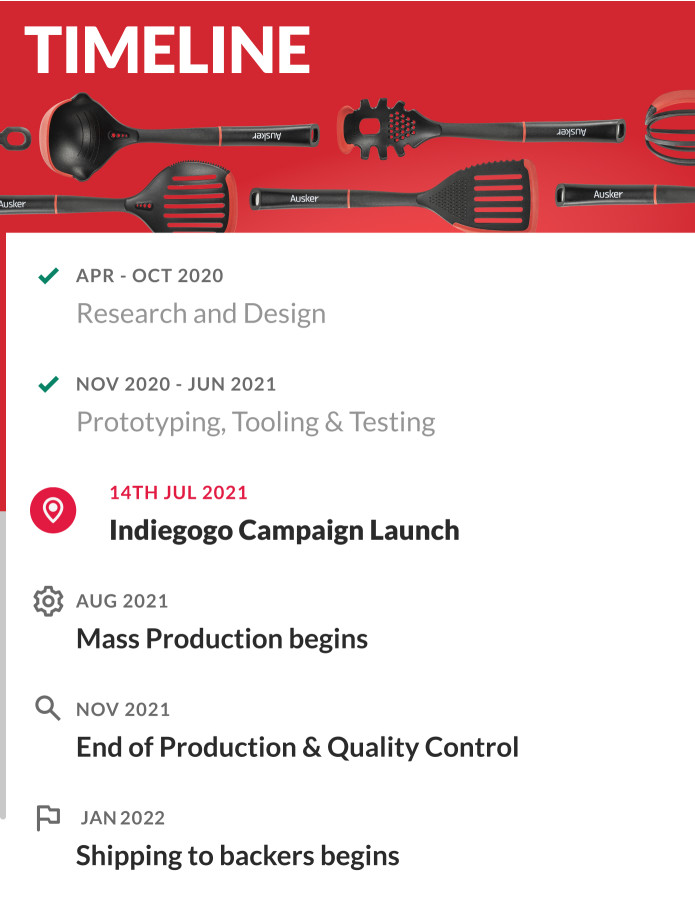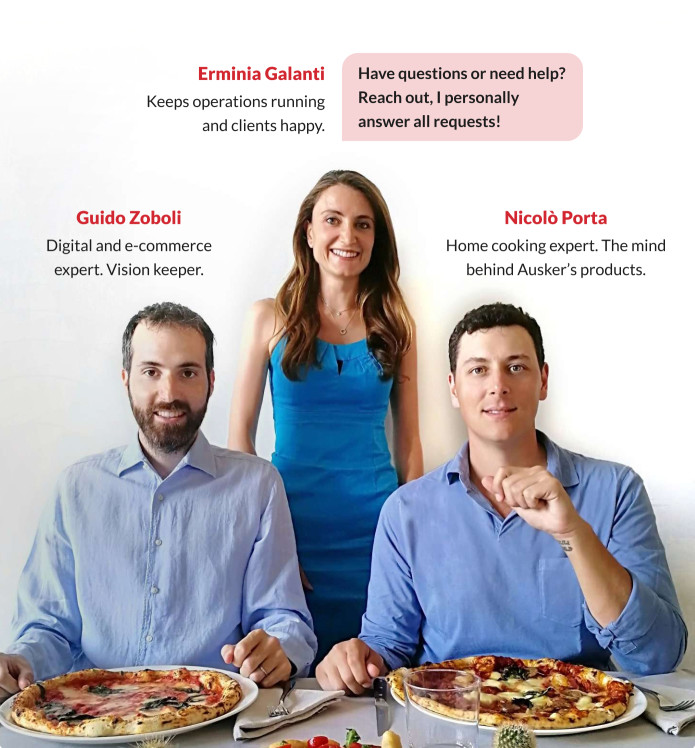 Nearly five years ago, Ausker was founded by three Italians who believed in bettering the everyday lives of others. To do that, they wanted to make their goods available to chefs, grandmothers, bachelors, newlyweds, and takeout specialists alike.
You might say we're idealists.
As the company has grown, we've continued to focus on that betterment—by leaning into the details, dreaming and ideating, and pushing each design, material, vendor, and partner until our products have been refined into something truly exceptional.
That's the promise we make to you—with this project, as with each of our goods, we'll never give you less than our very best.
To give you more than just our word, here are a few of our credentials.