The BinBox | A New Concept in Wheelie Bin Storage: Built To Look Better Through Great Design

What is it? Why build one? Why build this one?
Great questions, thanks for asking!
Wheelie Bins. You see them every day. You hate them and, looking at them now, they sure are pretty ugly. What to do?
The BinBox: We can wrap our pretty little PVC frame around ugly  wheelie bins so you only have to see them one day per week: on collection day.
So soon you can go from this view: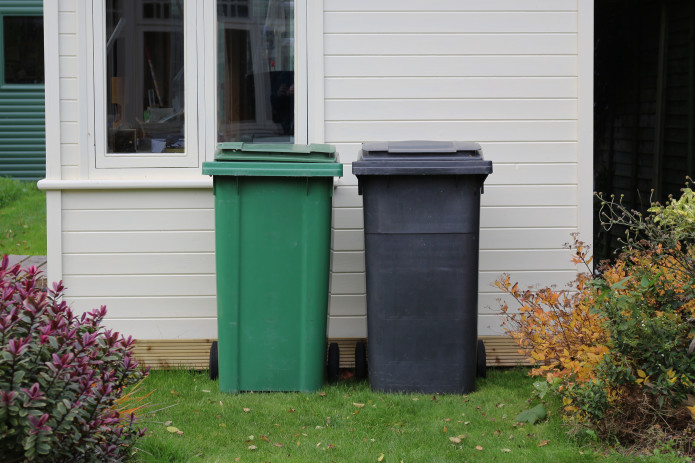 To the BinBox view: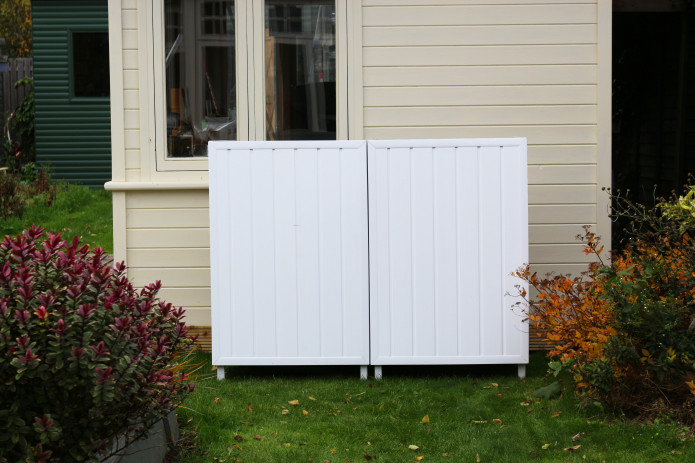 Or to the BinBox view- with style!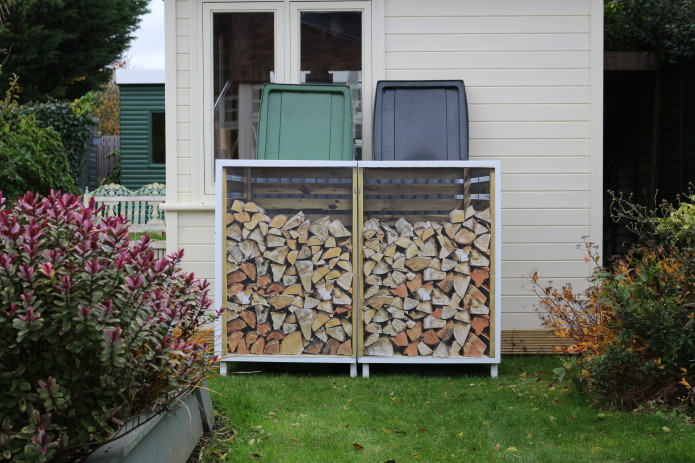 The BinBox Features
High Gloss PVC Finish (White or Ivory)
Tongue & Groove Timber Effect
Optional Poster 
Product Life: 20 years
No Maintenance / No Paint
Weather-proof / Water-proof
Designed, developed, and made in Ireland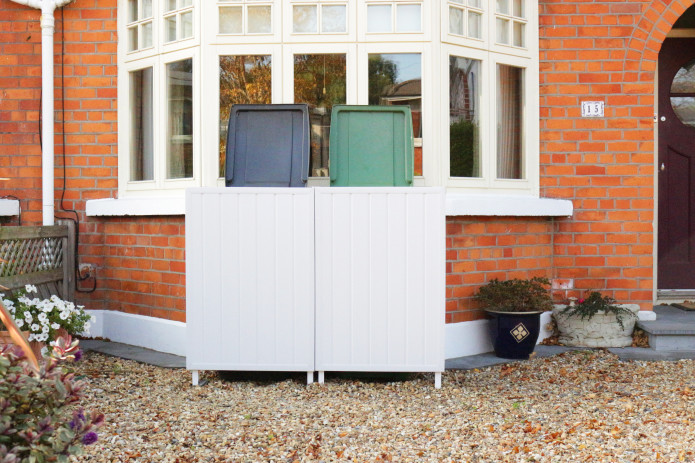 The BinBox Family
BinBox is the brainchild of a team from one family, but spread around the world! The top dog (David) came up with the BinBox concept, while Ellen, based in Lisbon, looks after Sales & Marketing. Ruth (back in Dublin) is the Graphic Design genius and Simon does the Social Media from Japan…so we cover ALL times zones and operate 24 hour cycles…We never stop!

Being the wisest ('cause he's the oldest!) David does all the product design, fabrication, engineering, purchasing etc., etc.. He has 25 years of experience in developing products for the construction industry, so he knows what is necessary to get a product like the BinBox to market. The other greenhorns are all college grads with lots of energy and enthusiasm, so they are going to do all the techie stuff while Mary is behind the scenes doing all the real work! 
Almost two years have passed from first concept to final design. A bit slow you might say, but product development is tiresome, difficult work. People often say "the simple things are the best" without ever understanding just how much time and effort it takes to create that simple product.
Yet there must be only one goal when creating the ideal product – a happy customer.
All else is subordinate and will follow on from a happy customer (things like profit, success, riches beyond our wildest dreams…)
Wheelie Bin Sizes
There are a huge range of Wheelie Bins on the market worldwide and initially we are supplying BinBox Kits to suit the most popular Wheelie Bins: up to 240 litre/52 gallon capacity (see typical dimensions below). 
If you have a mix of bin sizes in your garden, please email [email protected] or chat to us on our website and we will do our best to advise you. We will be supplying two different sizes of BinBox Kits but no need to worry about that when placing your order because we will contact you before delivery to make sure you are getting the most suitable BinBox Kit.

BinBox Dimensions

The BinBox is designed to be: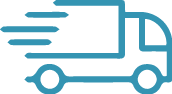 Easy to ship (flat-pack)

Easy to assemble
Other Features
Light but tough 
Weather-proof / Water-proof (essential if living in Ireland and the U.K.)
 UV proof (aka sunshine for those living in Ireland)
20-year life (yes, we have certs to prove it!)
No maintenance and no painting (garden hose will do fine)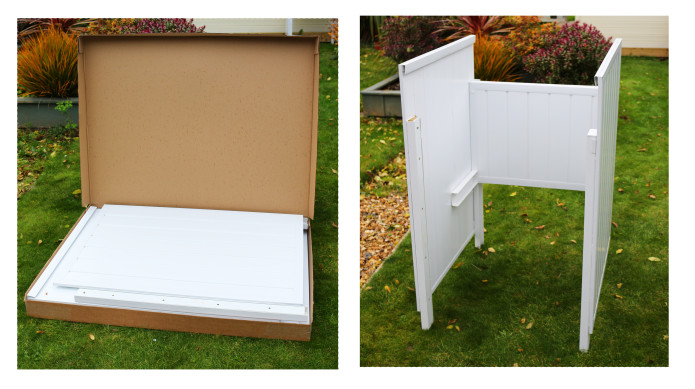 Why only a half panel in the back? Because you are going to be bashing a bin into the bottom of your BinBox for years to come! The top is missing so you can't do the same with the handle/lid. 
*Please Note: All models of the BinBox Kits which are displayed on the site are production prototypes and not the final version which will arrive on your doorstep in the New Year. Please forgive any imperfections you might observe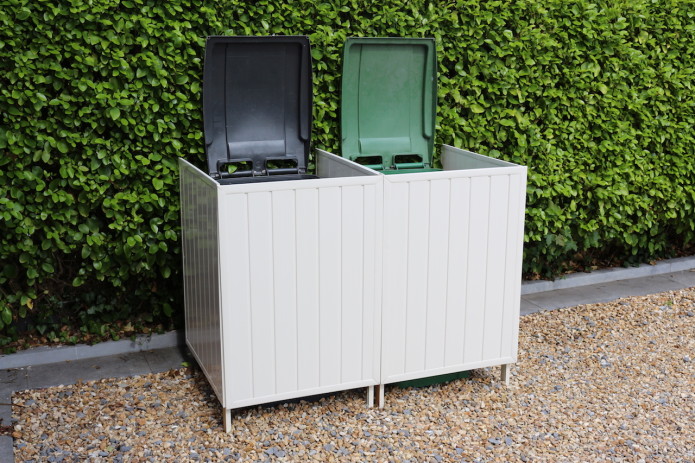 Customising The BinBox with a Poster:
 You can see a small selection of posters below, but check out our website for more options. 
The poster is optional and you can purchase at any time. Becoming a backer will give you access to the Secret Perk Section (message us here once you've ordered your BinBox, and we'll send you the link!) and there you will see the posters priced as follows:
1. Single Bin Kit……..€25.00
2. Double Bin Kit……€30.00
3. Triple Bin Kit……..€40.00
Posters are printed on outdoor banner material, so they are also weatherproof.
If included with delivery of your BinBox- no postage charge for poster but….if you order from our website after the campaign ends, there will sadly have to be a postage charge.

Funding our Project

Meeting the demand of the global market takes ducats, moolah, dosh and sometimes just plain cash. Over the past year, we have built dozens of BinBox samples in order to test materials, manufacturing, durability, assembly, functionality and after all that – spent months just making the BinBox look good.
What We Need
The BinBox will be manufactured from a Dublin location so that we can ensure assembly and quality standards for our customers, so our IndieGogo campaign will provide funds for the following resources:
– Industrial Unit for manufacture, packaging and shipping of BinBox Kits in-house
– The manufacture of extruded PVC tooling for the final version of the BinBox
– Construction of assembly line facilities
– Bulk purchasing of stock so we can keep prices competitive for our customers

We have big dreams. We hope to partner with wheelie bin distributors, big box / DIY stores,  garden centres and landscape gardeners around the world in the coming year, so that BinBox is available at a local level in order to cut shipping costs for the customer.
The Impact

We regularly speak to landscape gardeners in particular, who are asked by customers to hide wheelie bins because they ruin the look of the garden. The market is currently served either by flimsy wooden structures or expensive kits which need yearly maintenance when exposed to the elements. The BinBox allows them to provide an attractive, simple, and cost-effective way to tuck wheelie bins out of sight
Urban councils now have a way of making streets cleaner and neater for citizens and tourists, thus avoiding sights like this…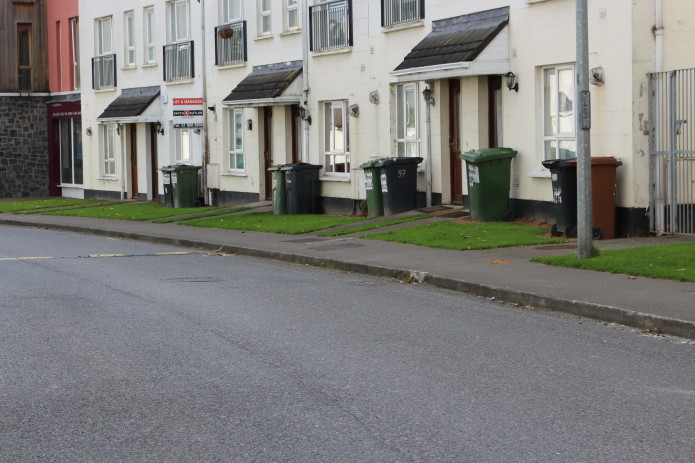 Some people just can't contribute, but that doesn't mean you can't help: